Barcelona is a historic city that's best discovered on foot, where you can amble to the seafront, gaze at cathedrals in the Gothic Quarter, and take a stroll down Las Ramblas, one of the most iconic streets in Europe. Since location is everything in this cosmopolitan city in Catalonia, we've narrowed down the best Airbnb listings in Barcelona to make the most of your vacation. 
From artfully designed flats close to the Sagrada Familia to the lavish den featured in BBC drama Killing Eve , these Airbnbs in Barcelona will make the perfect base for your sightseeing adventures. We've also added the experiences you can have at each rental, which are rated 4.8 or higher, at the time of writing. 
CHECK BOOKING OPTIONS IN BARCELONA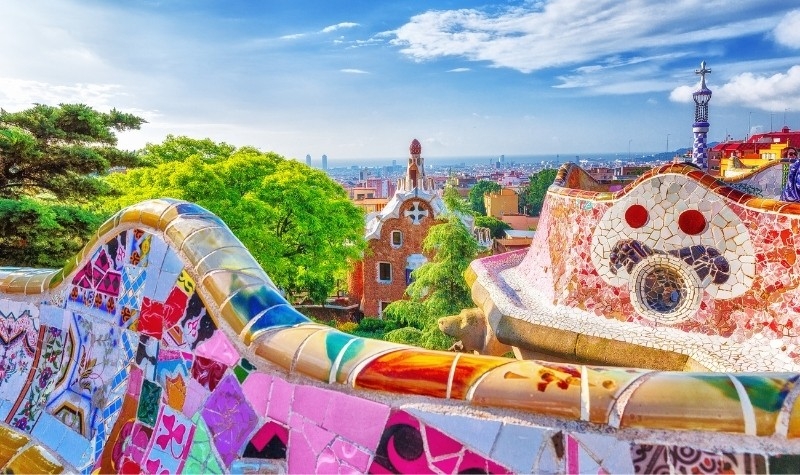 So, let's find your next crash pad from these Barcelona apartments — every bit as playful and creative as the city they call home. 
Also read: 10 Best Airbnb Homes in Spain, From Barcelona to Ibiza
Top Airbnb homes in Barcelona
1. Walk to Sagrada Familia from this luminous apartment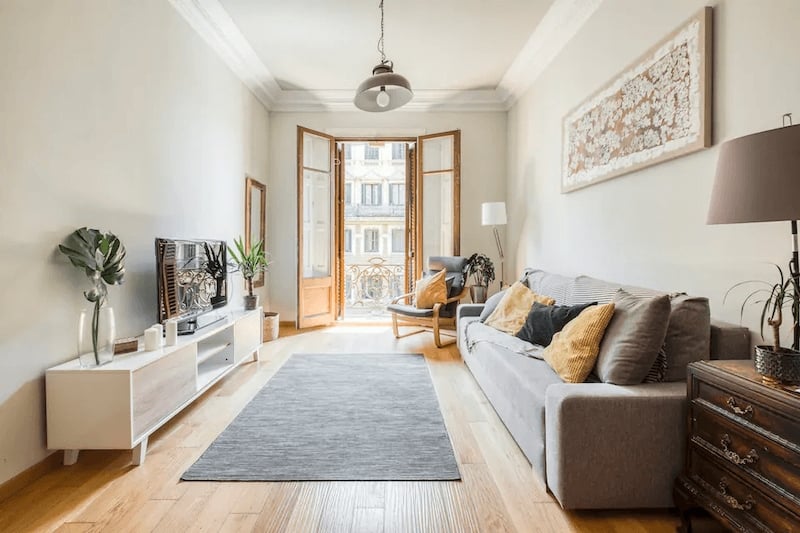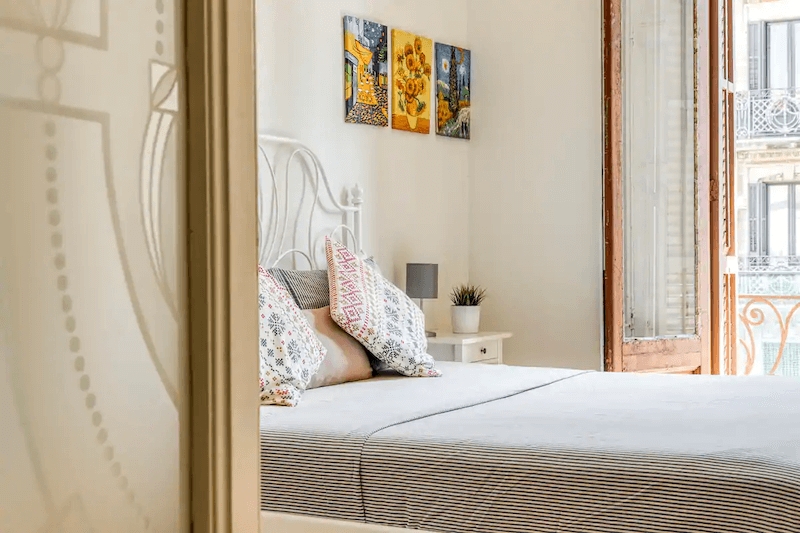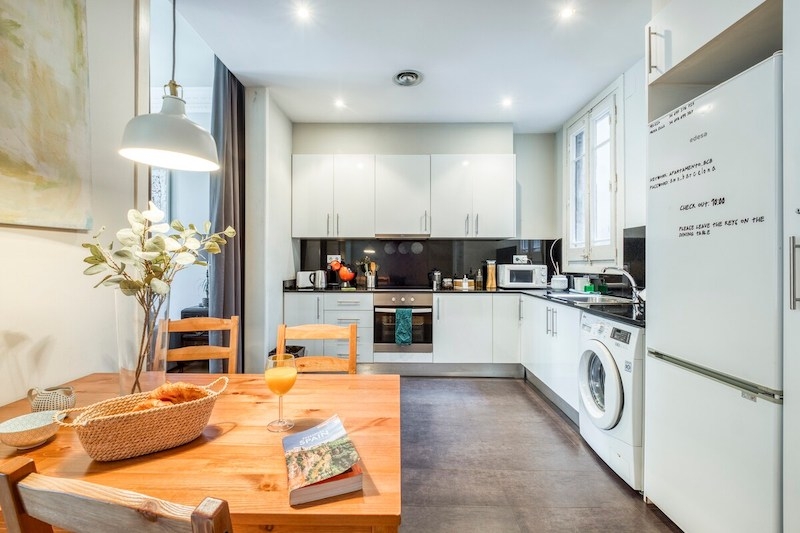 Listing type: Entire apartment
Max. no. of guests: 4
No. of bedrooms: 1
Visiting the Sagrada Familia is one of the top things to do in Barcelona , so why not get a head start? Luckily, we've found a well-lit apartment that puts you close to Antoni Gaudí's famous masterpiece. Perfect for couples or families, this Airbnb offers a spacious living area, a gorgeous kitchen and dining area, and a sizable bathroom with a tub — all generous features, considering most apartments in Barcelona. More importantly, you're only a quick stroll away to the basilica and five minutes to the nearest metro station. Learn more about this Airbnb 
2. Admire a Spanish bell tower from your balcony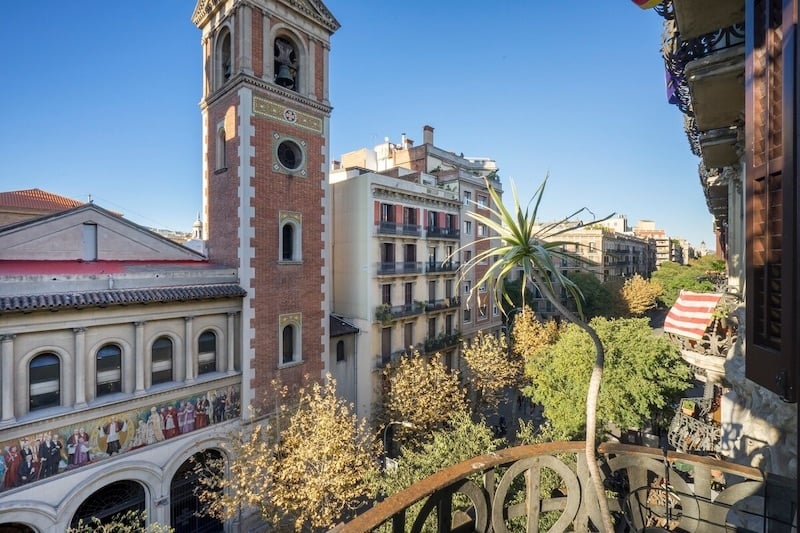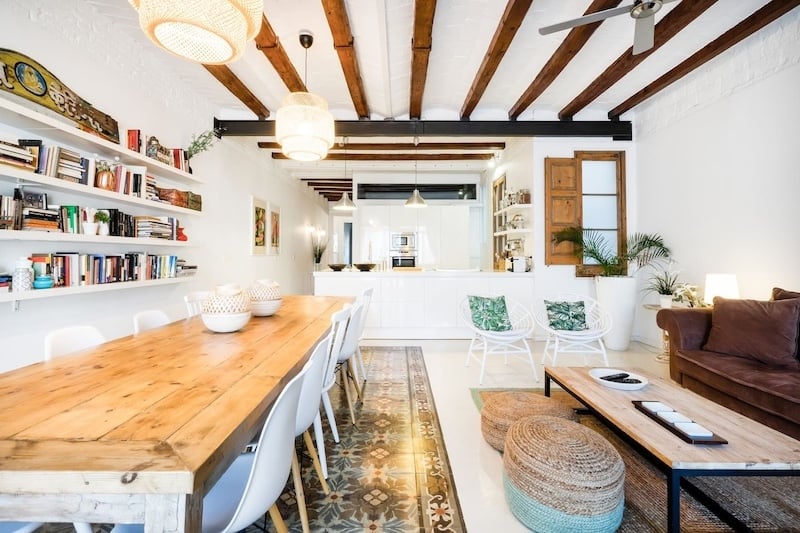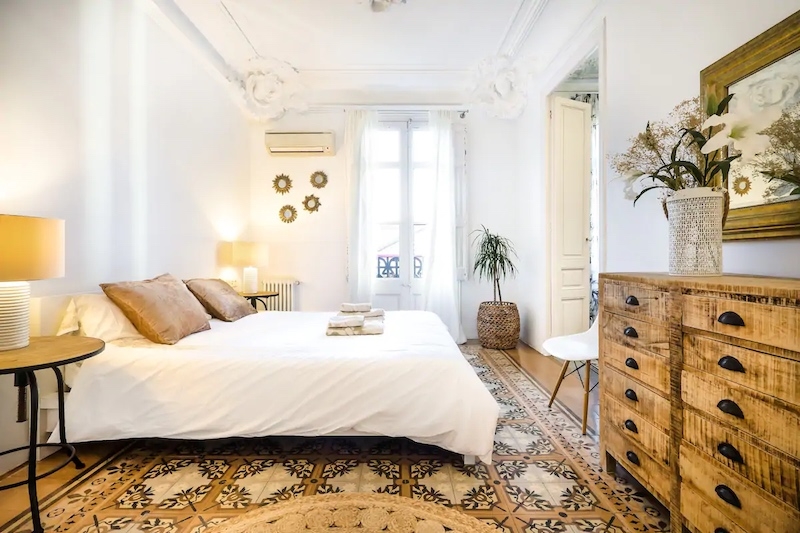 Listing type: Entire apartment 
Max. no. of guests: 8
No. of bedrooms: 3
Situated in the Eixample district of Barcelona, this Modernist apartment already wowed us with its Pinterest-worthy interiors and bookshelves. But a balcony directly facing a bell tower? Consider us impressed! 
Described as an "exquisite apartment with open spaces and light," this Airbnb in Barcelona comes equipped with hotel-style amenities. Expect a formal dining area, a polished kitchen with an island, heated towel racks, and a soaking tub to help you relax after a long day. 
3. Stay at this sunny flat in Las Ramblas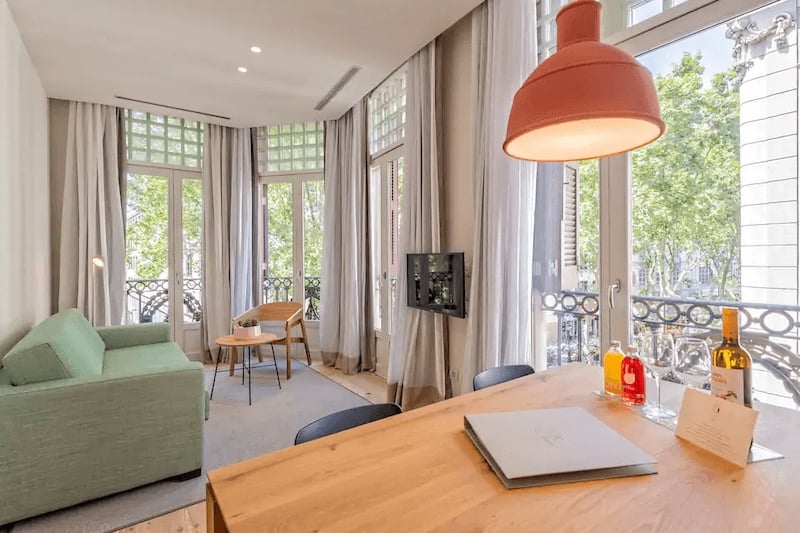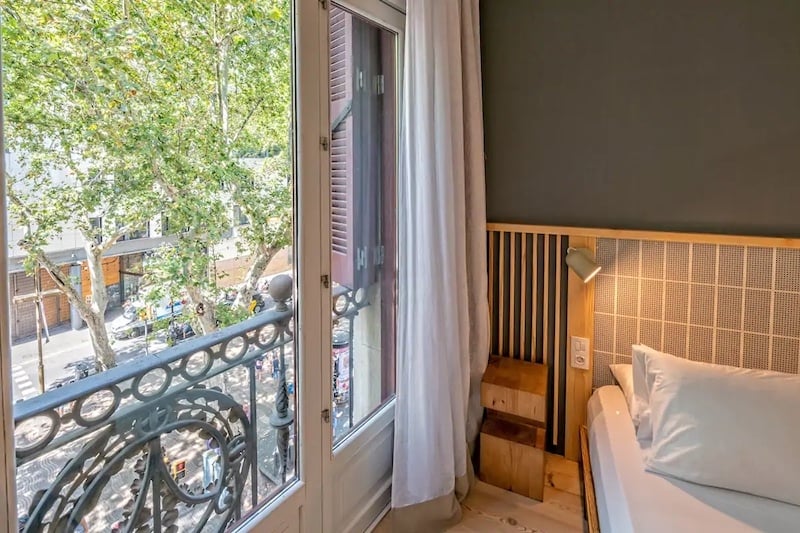 Listing type: Entire serviced apartment 
Max. no. of guests: 4
No. of bedrooms: 1
When it comes to balconies with a view, you won't even have to roll out of bed to catch a glimpse of Las Ramblas at this apartment. All you have to do is look out the window, and you're there. How amazing is that? 
Standing on top of Barcelona's most popular street, this centrally located apartment features a beautiful desk space, a well-stocked kitchen, and a comfy couch for chilling out in front of the TV. It also makes an ideal base for nearby attractions like Ciutat Vella, Palau Güell, and the Cathedral of Barcelona.
4. Enjoy your breakfast in front of Sagrada Familia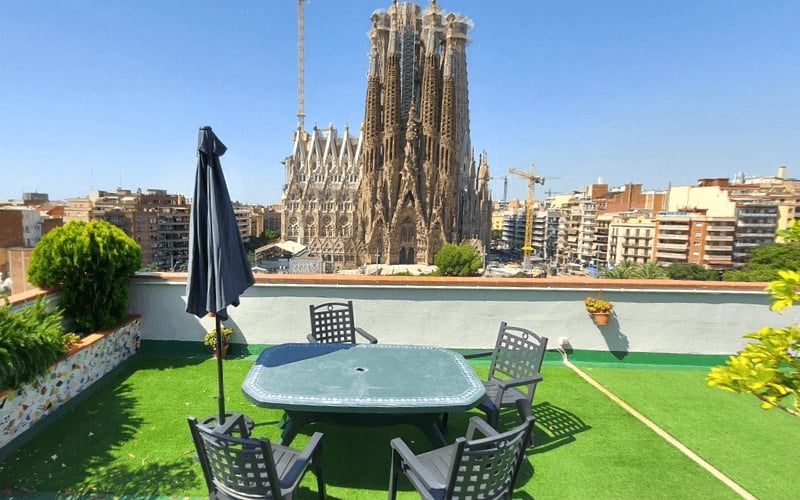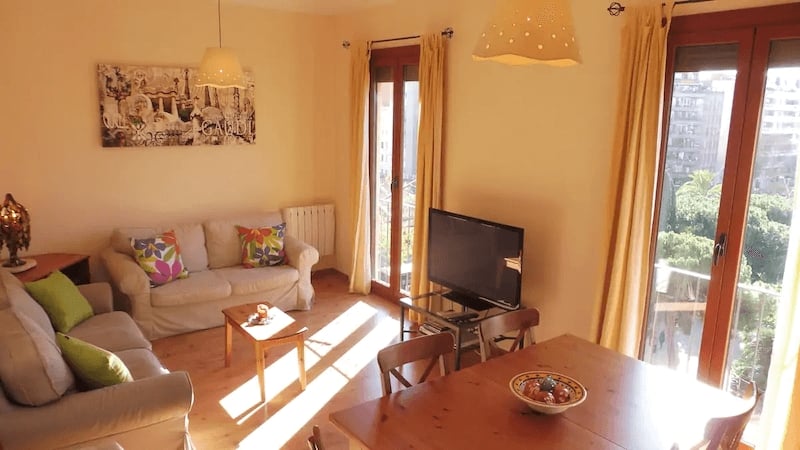 Listing type: Entire serviced apartment
Max. no. of guests: 6
No. of bedrooms: 2 
Offering possibly the most spectacular lookout in Barcelona, this serviced apartment with a rooftop terrace directly gazes at Sagrada Familia. When you're done picking up your jaw from the floor, you can savour your morning coffee at this very rooftop, all while snapping photographs of Barcelona's skyline and the church. For a true local's experience, you should know that your host, Arturo, also runs a restaurant in the building and can easily whip up  tapas , seafood paella , or traditional Catalan breakfasts for you. 
Just a heads up, though: the apartment building doesn't come with an elevator. You'll need to walk a really steep flight of stairs to your room. But considering the amazing view that waits for you upstairs, we'd say it's worth the climb. 
5. Soak up the lively vibe of Las Ramblas from this studio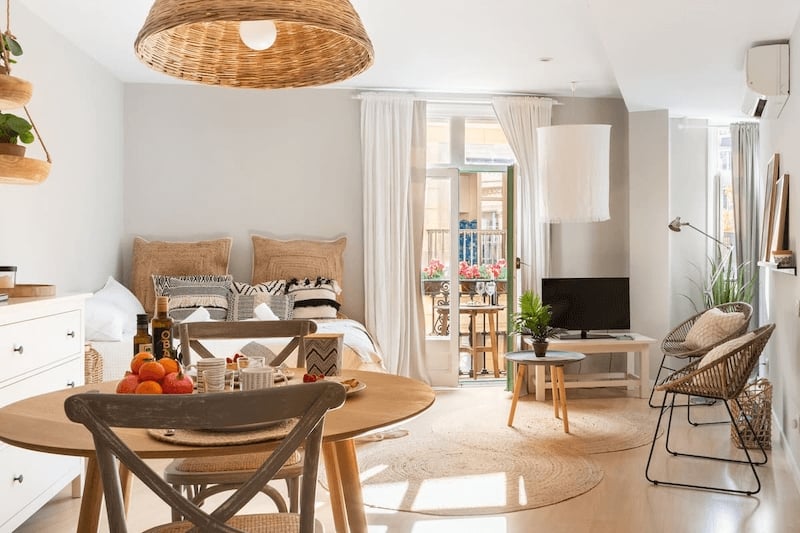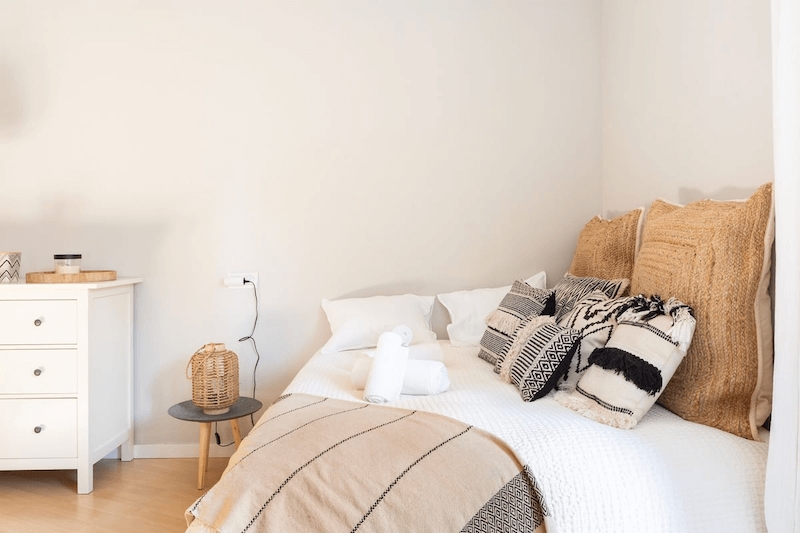 Listing type: Entire loft
Max. no. of guests: 2
No. of bedrooms: 1
Located right at the beginning of Las Ramblas, this chic and modern studio creates a relaxing space with indoor plants. It provides an all-in-one bedroom, kitchen, dining area for aperitivo , and a balcony to keep things breezy and chill. Plus, it's a great way to be at the centre of the action in Barcelona, while still having a quiet retreat to escape to whenever you need a break. Settle in for an intimate dinner, or have a glass of wine at the balcony, overlooking the vibrant street below.
6. Explore the El Born district from this elegant apartment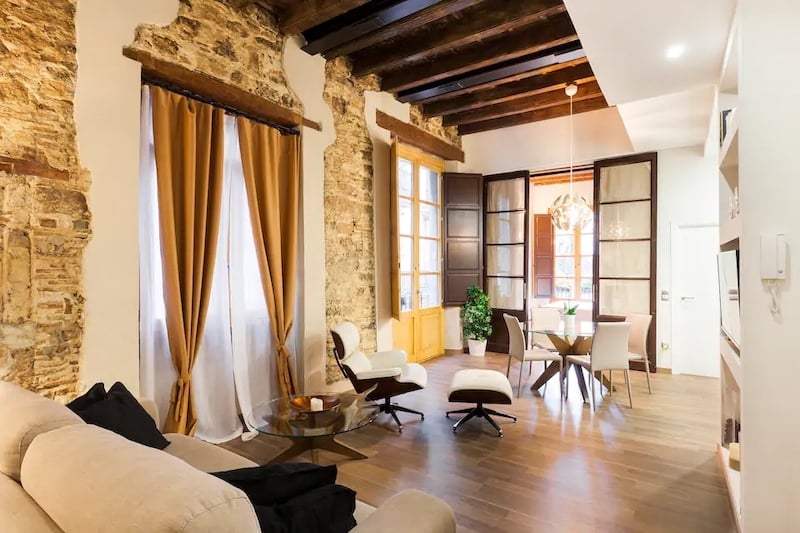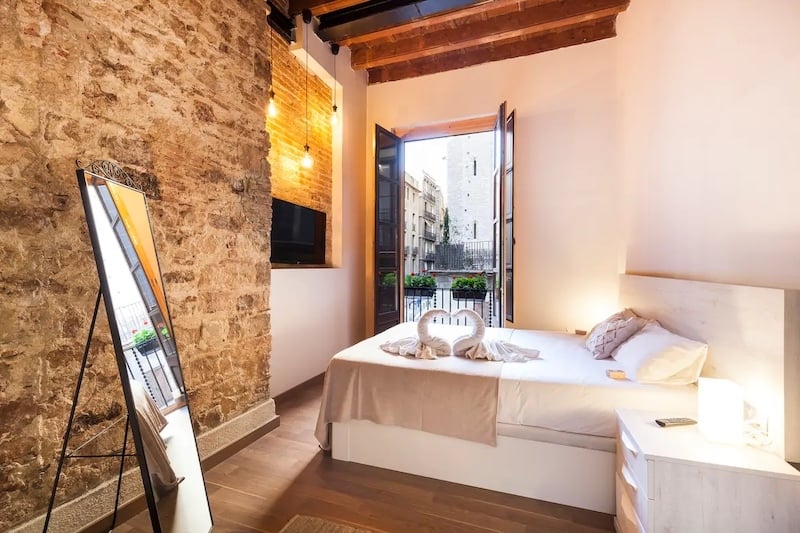 Listing type: Entire apartment 
Max. no. of guests: 6
No. of bedrooms: 2
Fancy a visit to the Picasso Museum? Or, maybe you're thinking of catching the best flamenco shows in town at the 17th century Palau Dalmases? No matter where your interests lead you in Barcelona, the Vine A Casa apartment places you close to fashion boutiques, cafés, restaurants, museums, and art venues in the trendy neighbourhood of El Born. Being a popular area, it can get a little noisy outside at times; something to keep in mind if you're a light sleeper. 
7. Visit Casa Batlló from this colourful apartment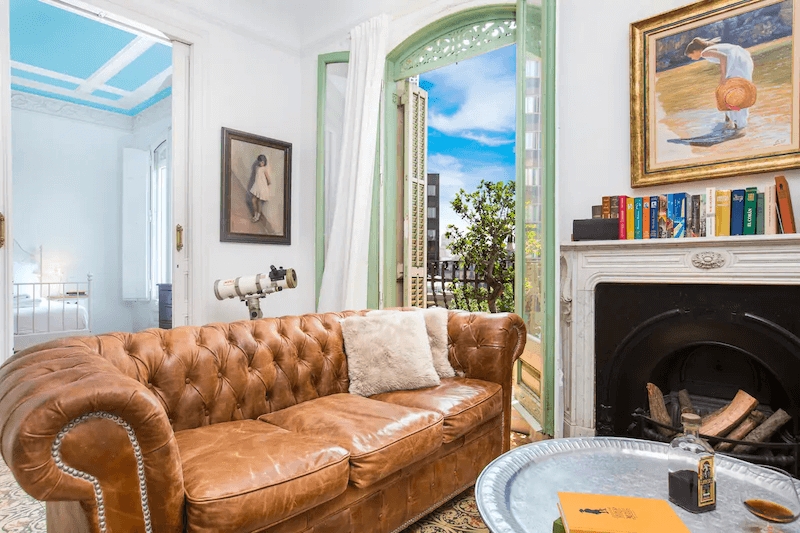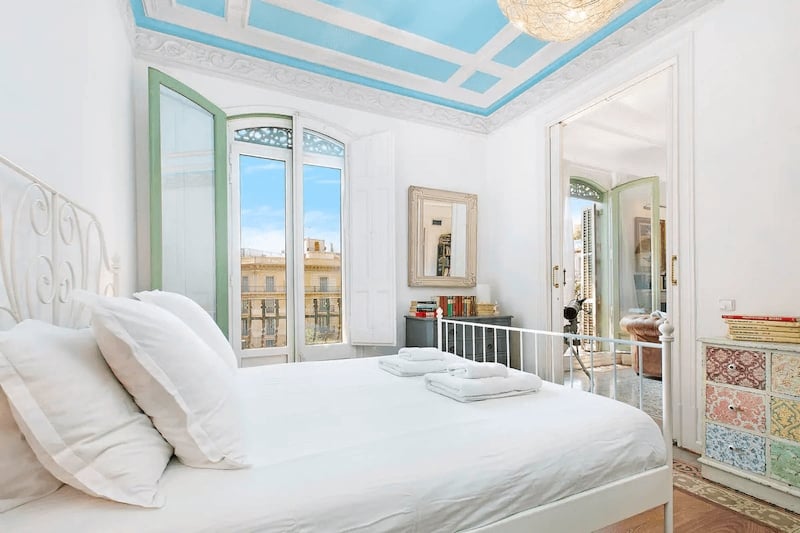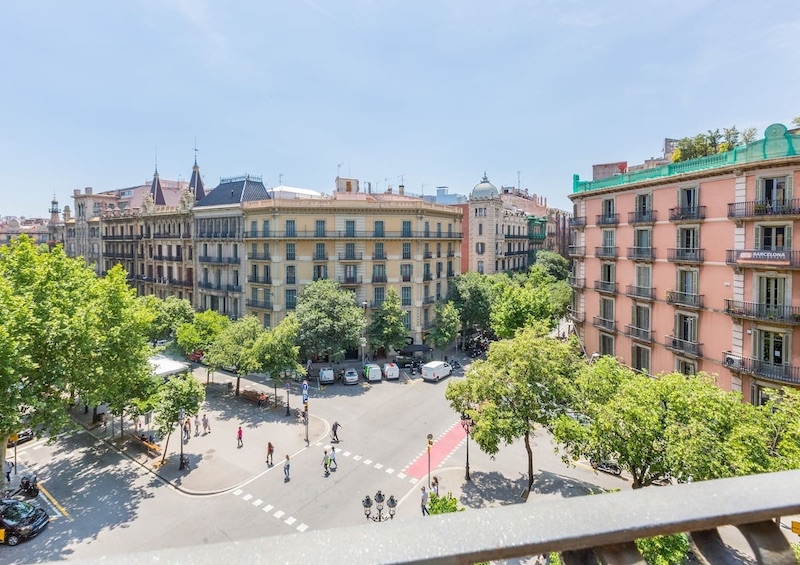 Listing type: Entire apartment 
Max. no. of guests: 6
No. of bedrooms: 3
Might we suggest this stylish apartment that takes a page off Barcelona? This classy apartment lets you relax in a cosy and colourful living room with a mini-cinema area for entertainment. Other exciting perks include a balcony, a walk-in closet, a printer (hey, you never know when you might need to print a tour voucher, right?), and a Mac desktop available for guests to use.  
This Airbnb in Barcelona is located on the fashionable boulevard of Rambla de Catalunya — not to be confused with Las Ramblas, though they are close enough to be a 10-minute walk apart. To top it all off, it's just a five-minute walk to Plaça de Catalunya and Gaudí's Casa Battló!
8. Chill at this warm and cosy loft in Gràcia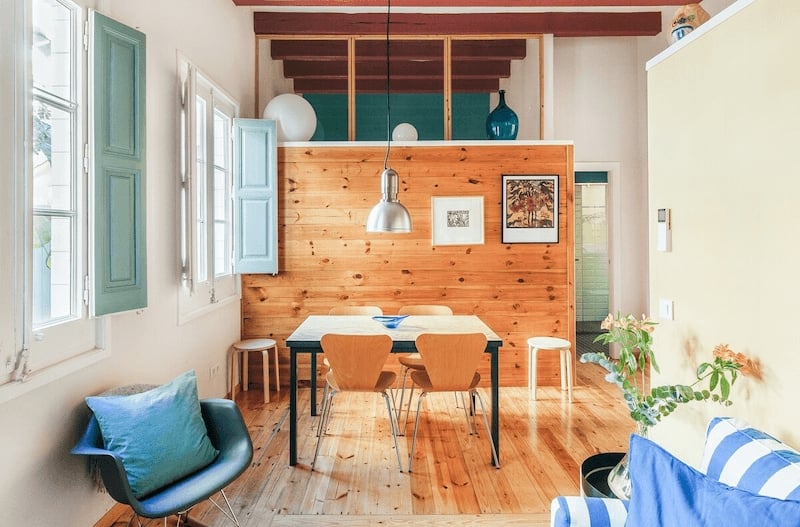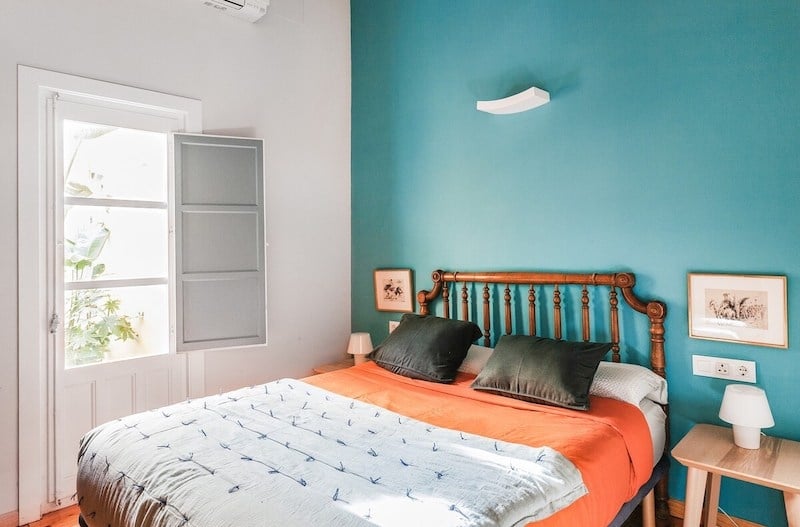 Listing type: Entire loft 
Max. no. of guests: 4
No. of bedrooms: 2
This 19th-century loft with high ceilings and a patio enjoys a secluded location in the district of Gràcia, a popular jump-off point for historic houses, designer shops, and parks in Barcelona. If you're thinking of heading to the UNESCO World Heritage Site of Park Güell, this district is a great place to start your pilgrimage. 
Meanwhile, your stay indoors will also be fulfilling. Upon entering this clean and light-filled home, it's hard not to be amazed by the generosity of your host Margot, who likes to provide guests with fresh towels, luxury soaps, and even breakfast snacks.
9. Retreat to this beautiful space for art lovers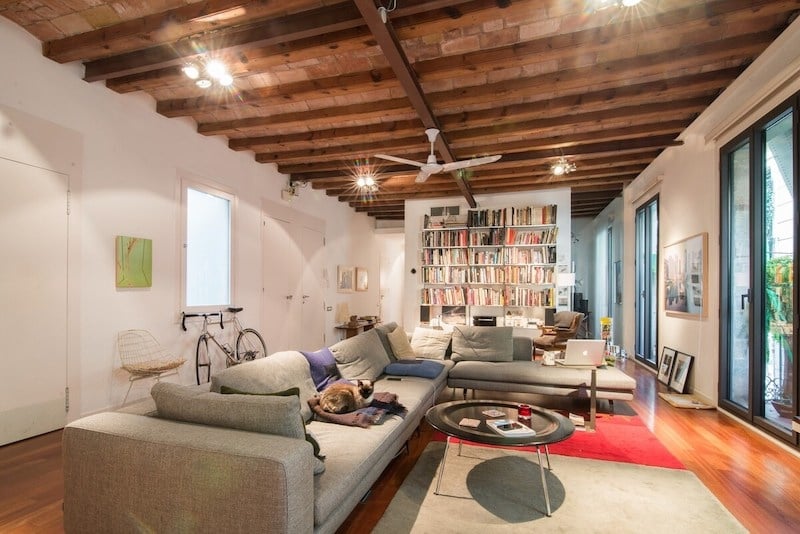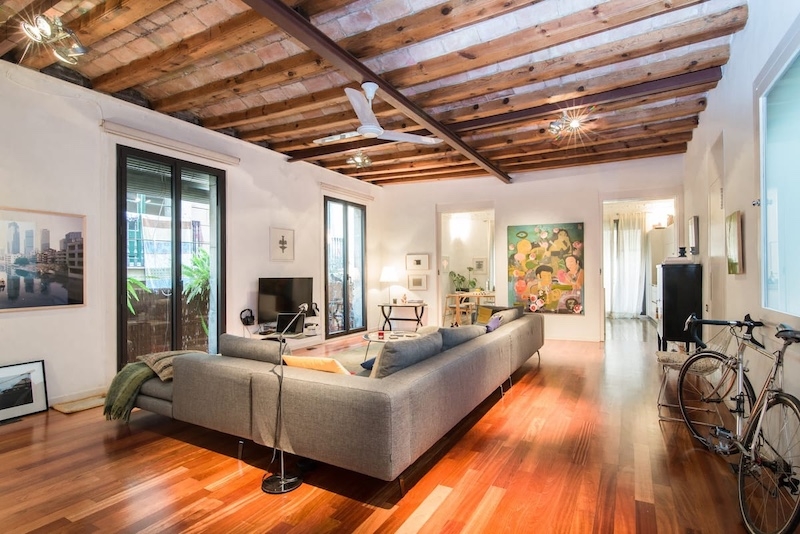 Listing type: Private room in apartment 
Max. no. of guests: 2
No. of bedrooms: 1
We can't help but fall in love with the charming vibe of this apartment in the Gothic Quarter, which so closely mirrors the old city of Barcelona right outside its doorstep. Renovated from the 1800s, the apartment stands out for its interior design, packed with books as well as modern art. You share a common sitting room with the hosts, while getting a private room and bathroom all to yourself. While it might be a bit snug for those who are travelling with family, it's perfect for solo travellers looking for a place to crash in style.
10. Channel your inner TV star at this Art Nouveau flat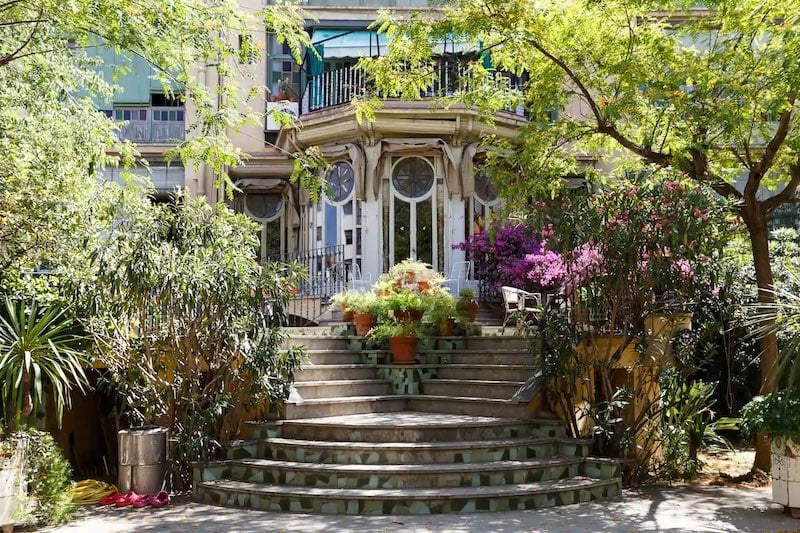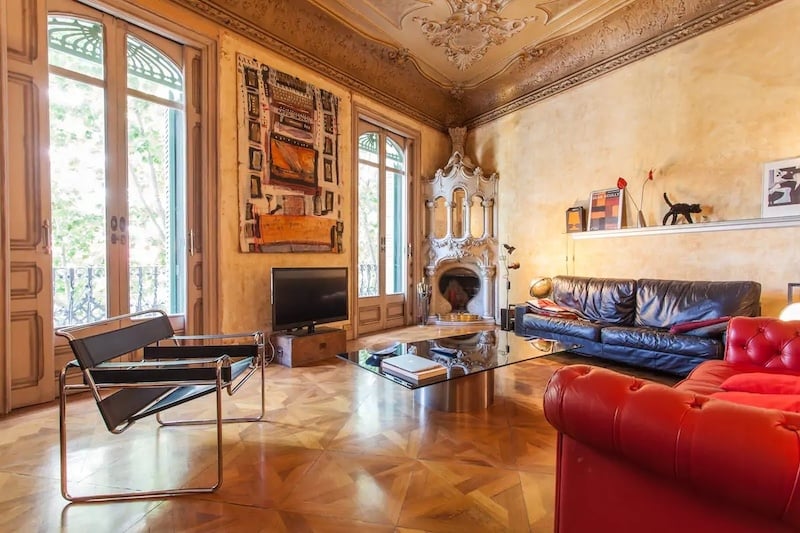 Listing type: Entire apartment 
Max. no. of guests: 4 
No. of bedrooms: 2 
For the high rollers and television junkies out there, this Art Nouveau flat might look a little familiar to you. Tucked away in Plaza Lesseps, this opulent building has become popular for appearing in famous TV shows and movies; some helmed by big-name directors, such as Pedro Almodóvar and Win Wenders. Recently, it was featured as Villanelle's apartment in the BBC spy drama Killing Eve . 
Dating back to 1906, this Spanish property called Casa Ramos is unlike any other Airbnb you might find in Barcelona. From its ornate ceilings to the majestic hallways, it's practically dripping with old-world elegance and sophistication. Stay at this architectural gem in Barcelona, and you'll be chillin' like a villain! 
Also read: 7 Airbnbs That Were Featured in Movies & TV Shows
CHECK ACCOMODATION OPTIONS IN BARCELONA
We know how difficult it can be to choose an Airbnb in Barcelona, and we hope this list of apartments can give you as many options as you need.  Thinking of visiting other cities in Spain? Check out our top picks for Airbnbs in Madrid as well!