As a young college student, I was fortunate enough to have spent a few weeks of my summer exploring two of Spain's most beautiful cities . Our first stop? The capital city, of course! Unsurprisingly, there was much to fall in love with: the enchanting cobbled streets, beautifully preserved buildings boasting of elegant architecture, and restaurants offering churros con chocolate and paella at almost every corner. To complete my experience, I had the pleasure of staying at a beautiful Airbnb in Madrid!
It didn't hurt that it was my first time staying at an Airbnb, either. I loved that our modern home away from home was hidden behind such an enchanting old facade. At our apartment, my family and I were able to get a little taste of what it would like to be locals: We would stock up on jamon and queso manchego at the nearby supermercado, watch the sunset (at around 8pm!) from our charming little balcony, and wake up to explore the streets of Madrid on foot.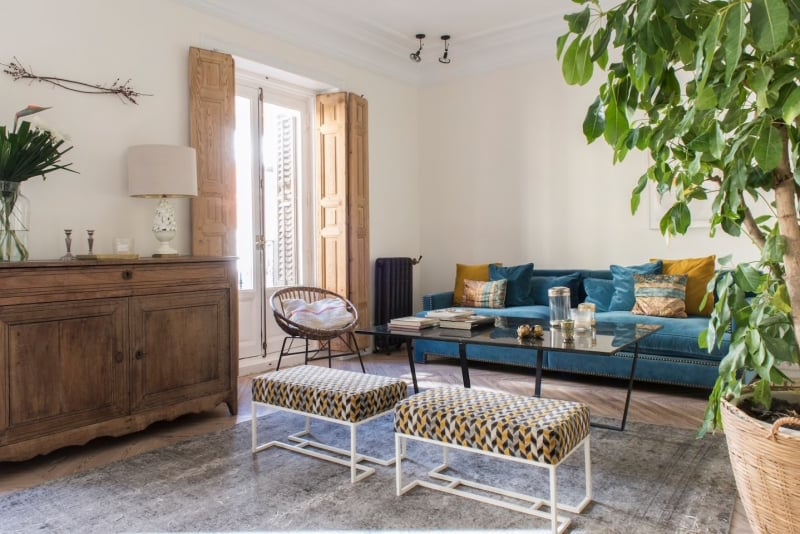 The fact that the elevator (something you would rarely find in an Airbnb in Madrid) could hardly handle the weight of our suitcases barely bothered us at all! The inevitable walk up and down several flights of stairs was something we easily grew accustomed to — to be surrounded by such beauty made it all worth it. (It helped us burn off the delicious bites we stuffed our faces with, too!)
And so it is with great pleasure that I encourage you to do the same! Take your pick from one of the top Madrid Airbnbs we've handpicked based on location, amenities, and hospitality.
Also read: Fun & Unique Things to Do in Madrid on Your First Visit
1. This charming penthouse apartment with a spacious terrace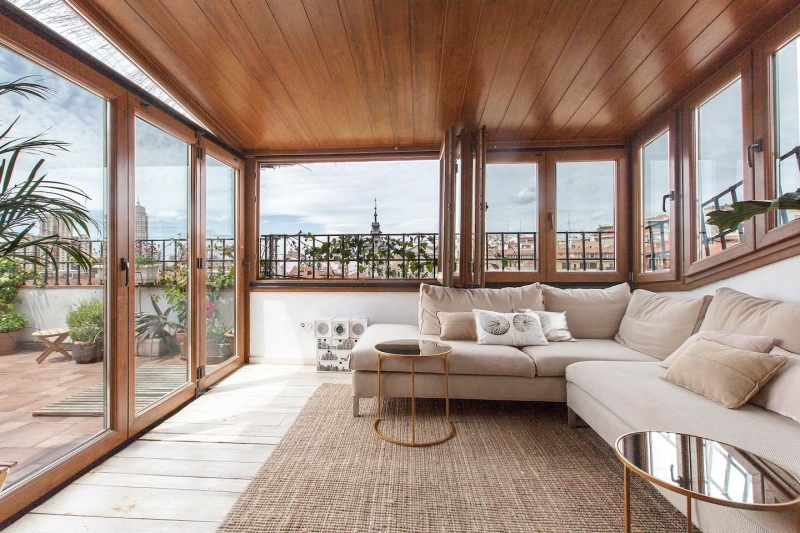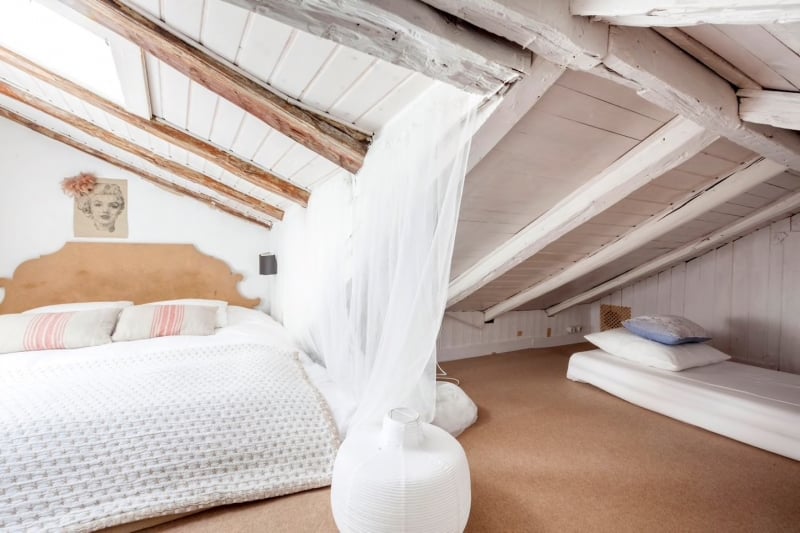 Listing name: Penthouse with terrace in downtown
Listing type: Entire home
No. of bedrooms: 1
Max. no. of guests: 2
Here's the thing about Madrid: It's such a beautiful old city, that just looking outside your window is an experience in itself. This apartment, the penthouse of a five-storey building, offers unforgettable views of Madrid's sunsets and city skyline — the perfect setting for a romantic stay, if you ask us!
But even more exciting things await you beyond the comforts of this cosy home in the trendy Malasaña area. At this Airbnb, you'll find yourself just steps away from lots of restaurants, cafés, bars, and boutiques. Popular tourist attractions such as Gran Vía, Puerta del Sol, and Plaza de España are just a short walk from here, too! Learn more about this Airbnb here.
2. This solo traveller-approved studio apartment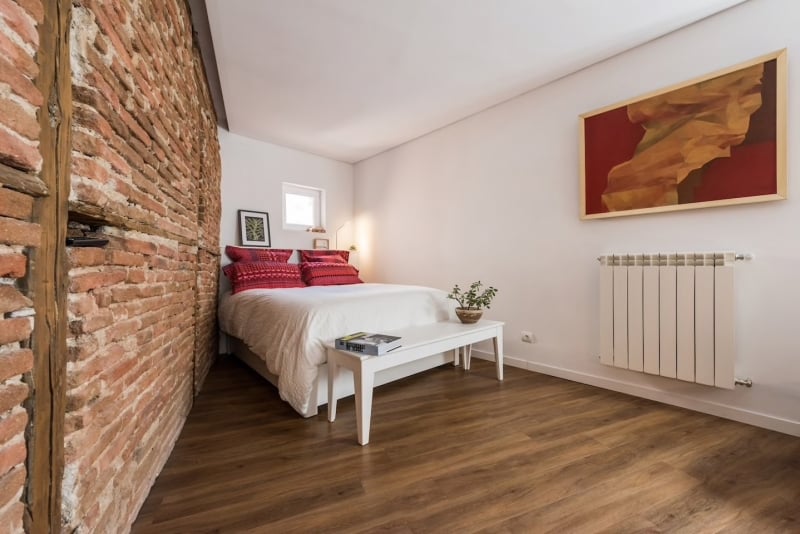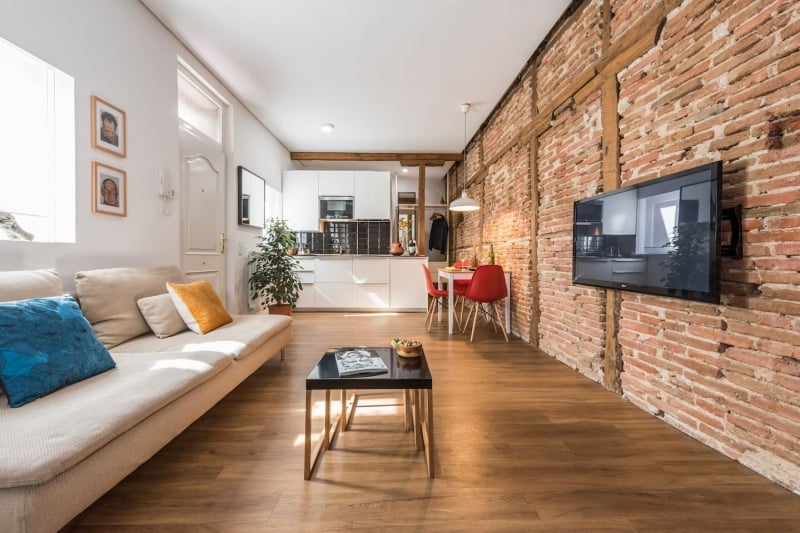 Listing name: Cosy stylish studio
Listing type: Entire home
No. of bedrooms: Studio
Max. no. of guests: 2
Travelling solo? Madrid just so happens to be the perfect destination — it's actually been named one of the safest places to travel alone in 2019 . And even better, we've already found the ideal home away from home for all you solo adventurers: this stylish studio hidden within a restored 19th-century building. Its location even places you close to several metro lines!
As cosy at it is beautifully designed, it's actually quite a spacious option for a single person! What's more, you'll be pleased to find that it's well-equipped, too. This apartment has just about everything you might need, from air conditioning and heating, to fully-stocked bathroom amenities, to a fully stocked kitchen. The complimentary beer, wine, and coffee is an extra special touch! Learn more about this Airbnb here.
3. This centrally located and budget-friendly apartment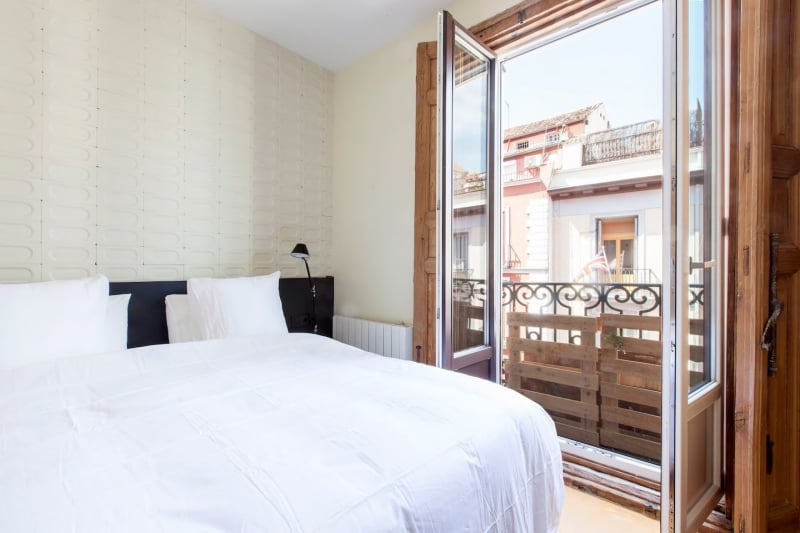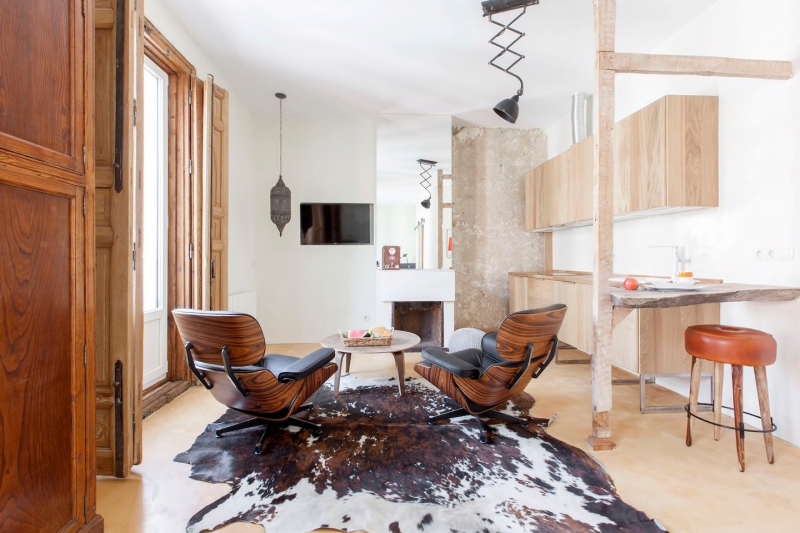 Listing name: Apartamento en Puerta del Sol, luminoso y elegante
Listing type: Entire home
No. of bedrooms: Studio
Max. no. of guests: 2
We're pretty sure this Airbnb is one of Madrid's hidden gems. It's got everything you might need in a home away from home: It's centrally located, stylishly decorated, and — best of all — budget-friendly!
With high ceilings, a fireplace, and two balconies, it's got all the elements of an authentic Spanish home. Looking to live like a local Madrilenian? This is just the place! We just love how it's close to everything — from the city's best shopping areas and tourist attractions to various modes of public transportation! Learn more about this Airbnb here.
4. This dreamy duplex along the famous Gran Vía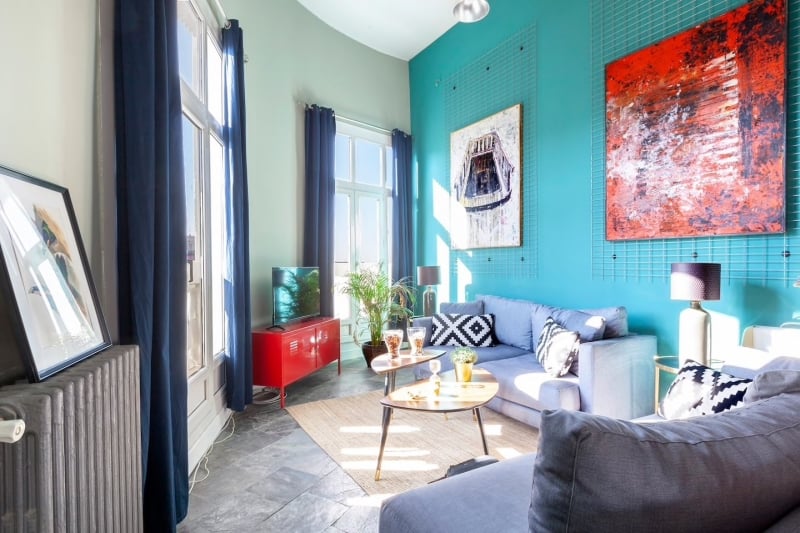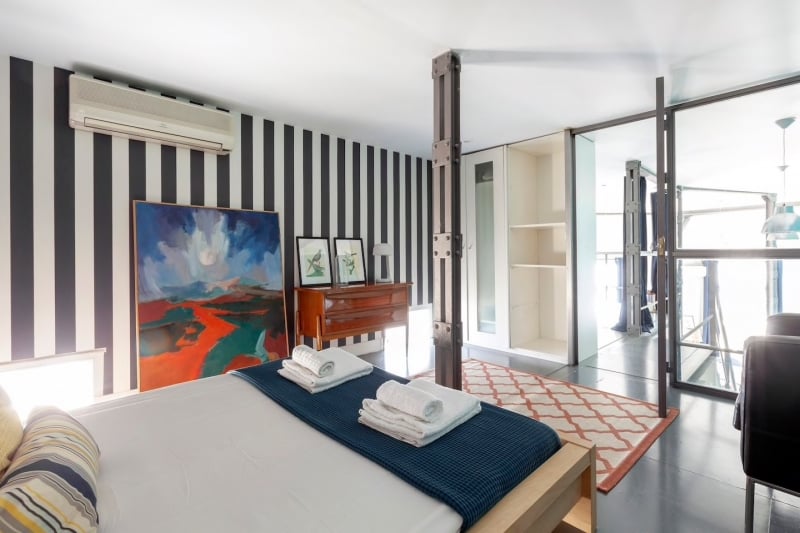 Listing name: Duplex-penthouse en GraN Via: de Madrid al cielo!!
Listing type: Entire home
No. of bedrooms: 3
Max. no. of guests: 6
How could you go wrong with an Airbnb situated along Madrid's most iconic avenue? This dreamy duplex is an ideal choice for groups who prefer to stay in the middle of all the action! A spacious top-floor apartment, it comes with two bedrooms, a generously sized common area, and a beautiful terrace. We hear it's got an excellent view of Gran Vía, especially at night.
The best part? This Airbnb comes with elevator access — something you won't usually come across on your hunt for an accommodation in Madrid! (I don't know about you, but I'm sold.) Learn more about this Airbnb here.
5. This beautiful home right by the popular Plaza Mayor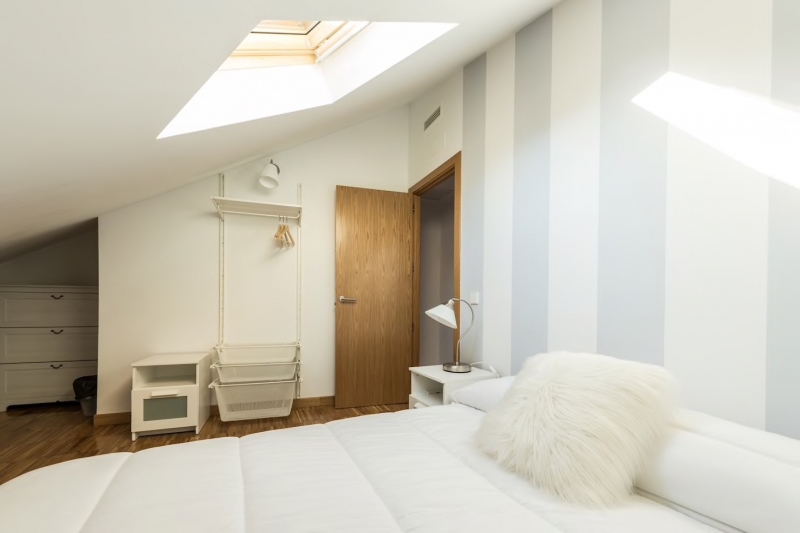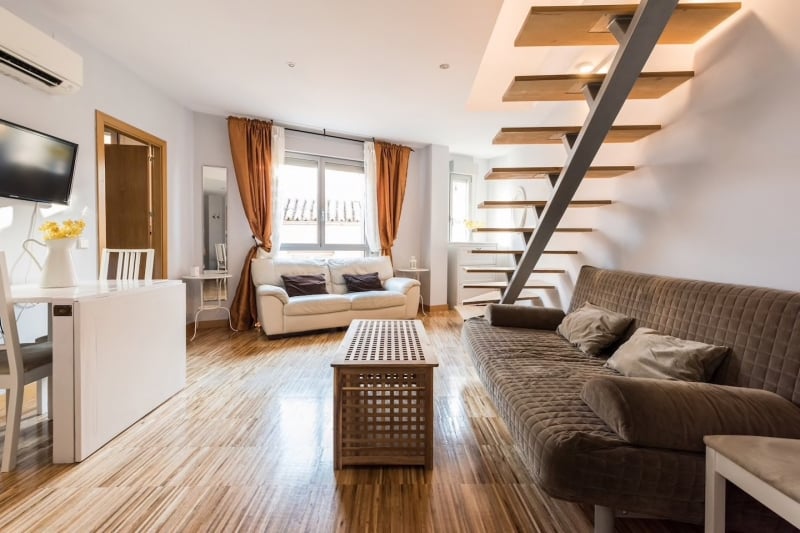 Listing name: 5 * HOUSE IN PLAZA MAYOR
Listing type: Entire home
No. of bedrooms: 3
Max. no. of guests: 10
If you and your travel buddies have your hearts set on exploring Madrid on foot, this apartment is an excellent choice for you. Here, you'll pretty much find yourself right in the centre of Madrid — the city's main square, Plaza Mayor, is just steps away.
Check out this listing's reviews, and you'll find that everyone raves about its convenient location. It's a great base for exploring much of the city's famous attractions, bustling shopping districts, and to-die-for culinary scene. And speaking of food, you must take advantage of how close you'll be to the famous Mercado de San Miguel — it's heaven on earth for foodies! Learn more about this Airbnb here.
6. This hotel-like apartment near Puerta del Sol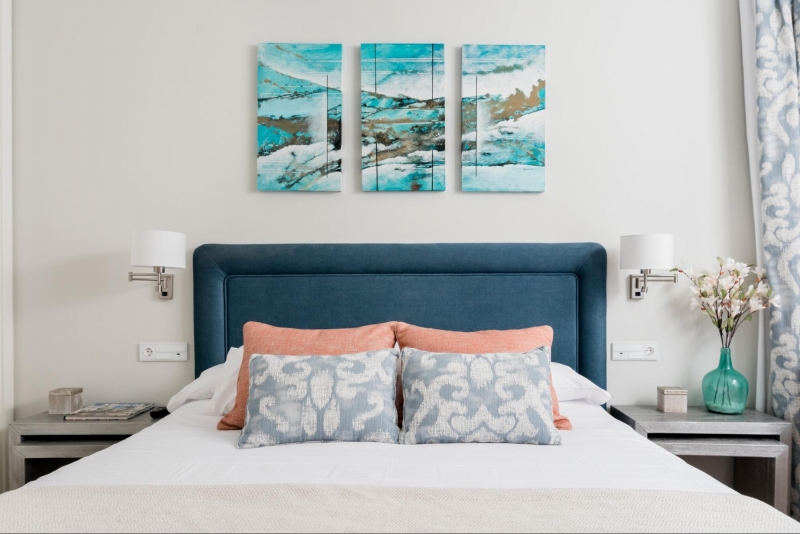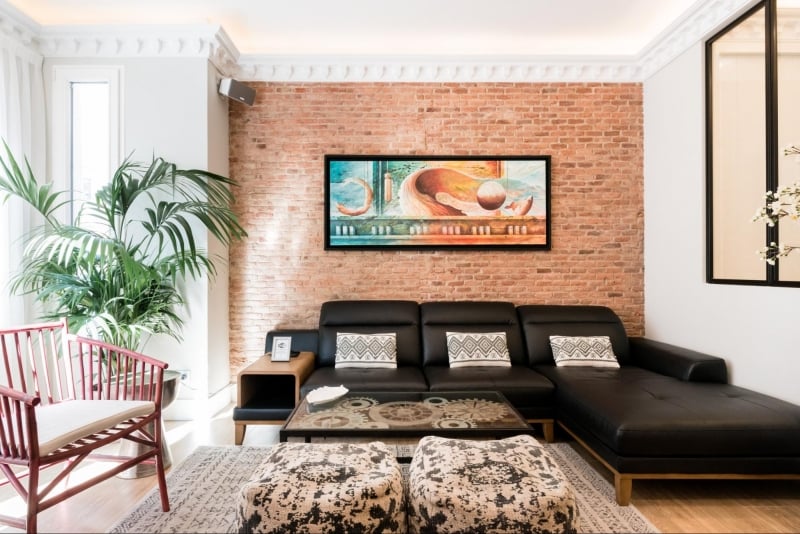 Listing name: The best luxury you can dream in Madrid center, Fifty meters from Puerto del Sol
Listing type: Entire apartment
No. of bedrooms: 3
Max. no. of guests: 6
On the lookout for something more luxurious? According to reviews, staying at this exquisite apartment is much like spending a few nights at an upscale hotel. With more than enough space for a group of six people, it's an ideal option for families visiting Madrid. Plus, you'll love that it's located near Puerta del Sol, one of the city's best-known public squares!
Equipped with lots of amenities, this apartment will leave you wanting for nothing. In addition to your usual conveniences like Wi-Fi a well-stocked kitchen, it's even got several USB outlets for charging and speakers, tablets, and TVs in every room! How cool is that? Learn more about this Airbnb here.
7. This charming home that comes with a daily breakfast buffet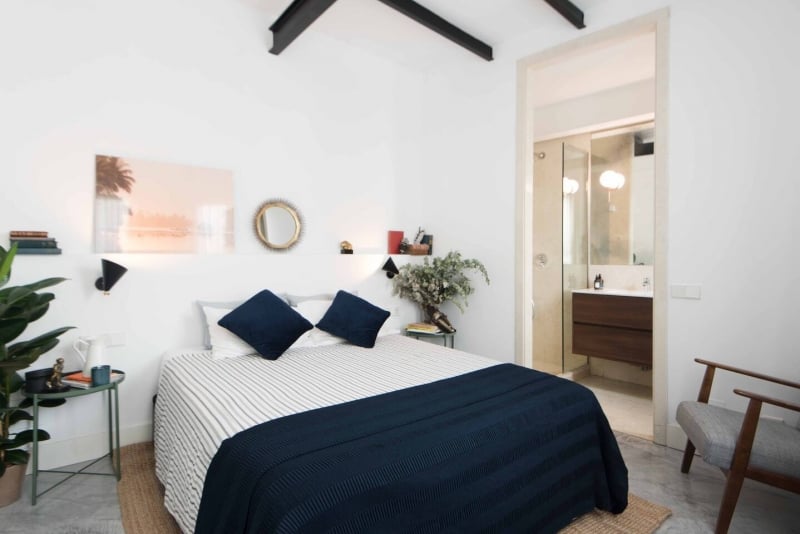 Listing name: NEW Stunning DESIGN FLAT next to MUSEO del PRADO.
Listing type: Entire home
No. of bedrooms: 3
Max. no. of guests: 6
Torn between staying at a hotel or renting an apartment? Well, at this Airbnb in Madrid, you'll be getting the best of both worlds! Here, you'll be treated to hotel-quality perks like complimentary buffet breakfasts and daily housekeeping. At the same time, you'll get to enjoy the comfort of staying at a place that feels like your own.
This downtown apartment is located at the popular Barrio de las Letras (Literary Quarter), an area known to have been home to most of Spain's greatest artists and writers. From here, you can also easily explore Madrid's Golden Triangle of Art (what they call the city's three most important museums) and a personal favourite, the breathtaking El Retiro Park! Learn more about this Airbnb here.
Note: Complimentary buffet breakfasts and daily housekeeping are not available on weekends and national holidays.
8. This well-appointed home in a trendy neighbourhood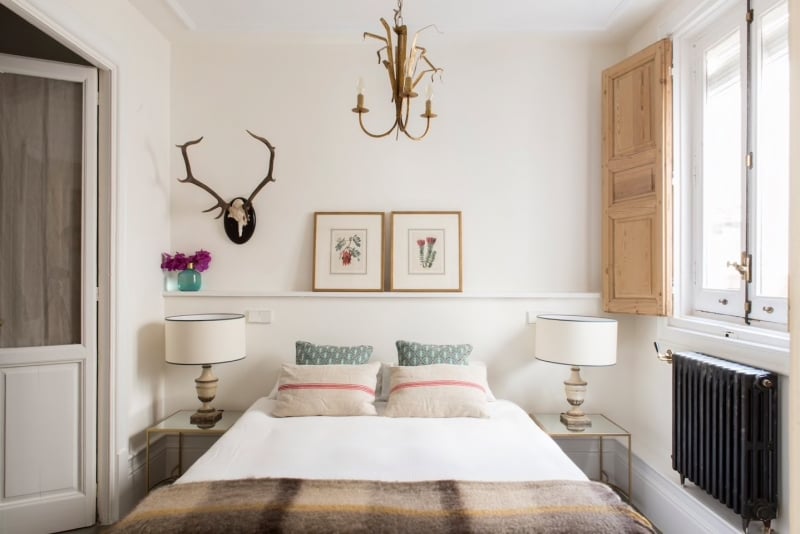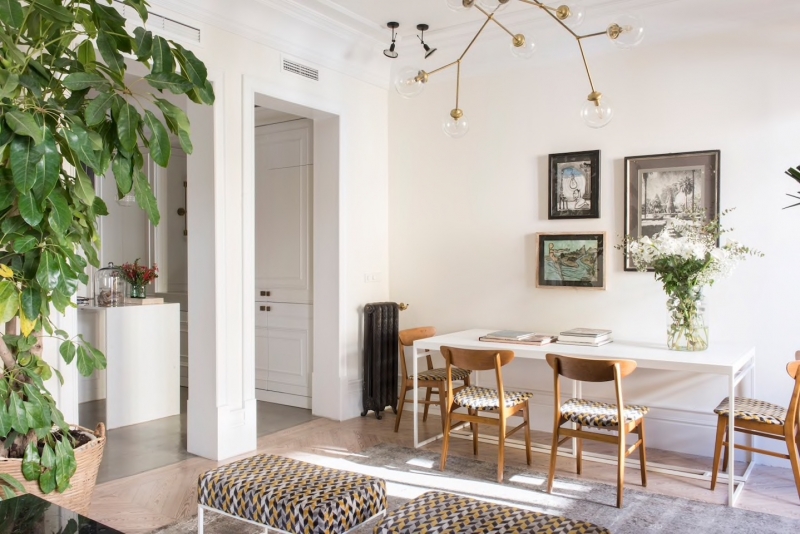 Listing name: Exclusivo apartamento en el Centro
Listing type: Entire home
No. of bedrooms: 2
Max. no. of guests: 4
Situated in a bustling neighbourhood close to the city centre, this Airbnb is a great choice for those who don't mind being right by the action — perhaps even those who love falling asleep to the sounds of a busy city! First-time visitors, in particular, will appreciate its proximity to must-visit spots such as Plaza Mayor and Puerta del Sol.
Not just a gem because of its ideal location, this beautifully renovated home is both cosy and well-appointed. As you tour the apartment, you'll easily be able to tell that all the details have been thoughtfully put together. We just love that it gets a lot of natural light — we find that it adds so much more to its charm! Learn more about this Airbnb here.
Also read: Treehouse Airbnbs: Fall in Love with These Listings from Around the World
Pick a favourite yet? Take your time! Those first few moments in your Airbnb in Madrid can really set the tone for your trip.
In my experience, I instantly fell in love the moment I set foot in our quaint little balcony — I couldn't believe that I could actually witness such beauty from my very own home away from home! In that moment, I just knew I would love exploring the city's cobbled streets. I hope your chosen accommodation makes you feel the same sense of comfort and wonder!