Forget all that work stress, it's time to treat yourself to something amazing! Check into a home away from home, complete with state-of-the-art furnishings and creature comforts we know – and YOU know – you need.
Anything else you want? Just point a finger and it's done. Here are 14 posh hotel suites perfect for the occasion. A night of luxury is worth splashing out on once in awhile – you can thank us later!
1. Oasia Hotel Novena
Image credit: Oasia Hotel Novena, Singapore
Try to resist jumping on that impossibly soft bed; it feels like pure bliss and you know it. Stretch out between a separate living and bedroom area – there's so much space you won't even know where to begin. Fill up those glasses of bubbly, it's time to feel like royalty!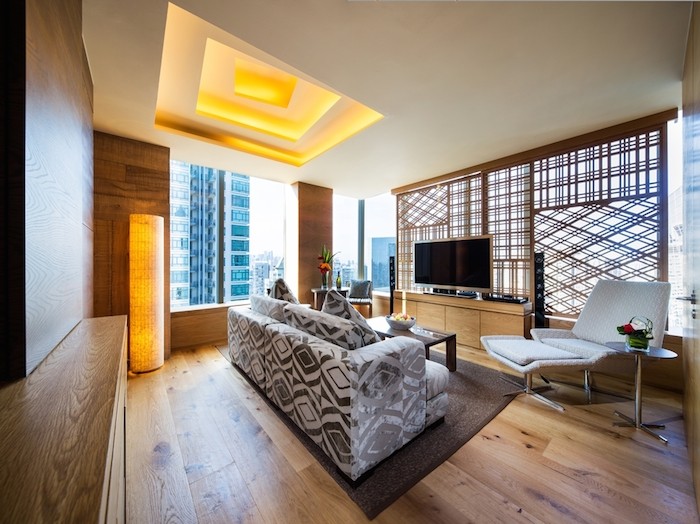 Image credit: Oasia Hotel Novena, Singapore
Pop in an action movie, and feel like the fight is happening right outside your window. Don't believe us? Let that kickass home theatre system do the talking. Chomp away those late-night hunger pangs with the complimentary snacks and drinks from the mini-bar, those calories will definitely be worth it! After all, what's a movie marathon without some good old snacks?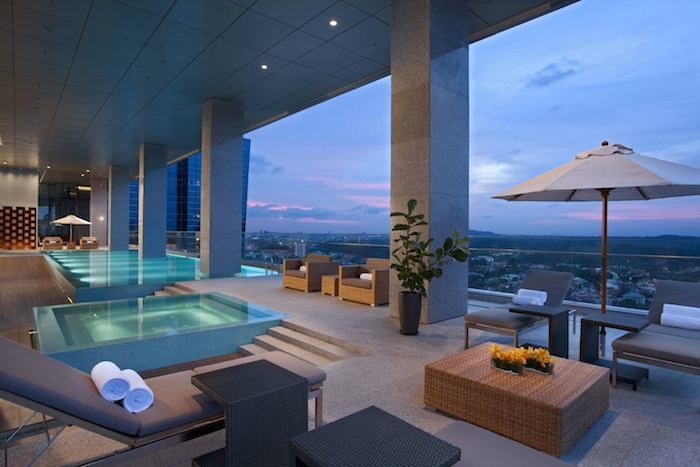 Image credit: Oasia Hotel Novena, Singapore
Feel on top of the world as you chill out in the infinity pool, exclusive for club guests only! Relish a few cherished moments of peace; the world belongs to you and you alone. Stroll over to the Living Room, and indulge in the all-you-can-drink cocktail hours. Don't hold back, trust us when we say the bartender will be more than happy to keep them coming all night!
Upgrade your stay with the exclusive Club Suite, designed by an award-winning Japanese interior designer, Takashi Sugimoto of Super Potato. Prices start from SGD390++ a night, get an additional 5% off by booking directly   HERE:

Also read: Staycations in Singapore: 12 Hotels With Infinity Pools You Will Love
2. New Majestic Hotel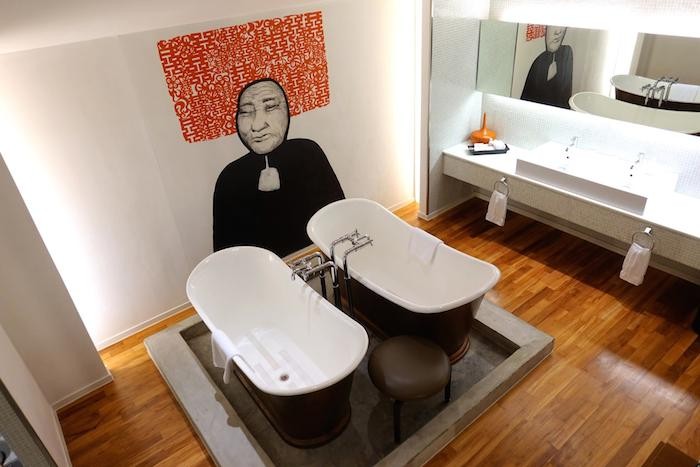 Okay, what's it with hotels and bathtubs? Think amazingly warm water, lots of frothy bubbles, and a glass of champagne by your side. Bliss? We think so too. Here at New Majestic, you don't have to share – bliss out and stretch those legs in your very own tub. Caffeine addicts can even help themselves to some Nespresso or Twinings Tea, all on the house of course! Put some Kenny G on, and let time wash over you. We won't blame you if you lose track of night and day – those wrinkly hands from the good long soak will very well be worth it.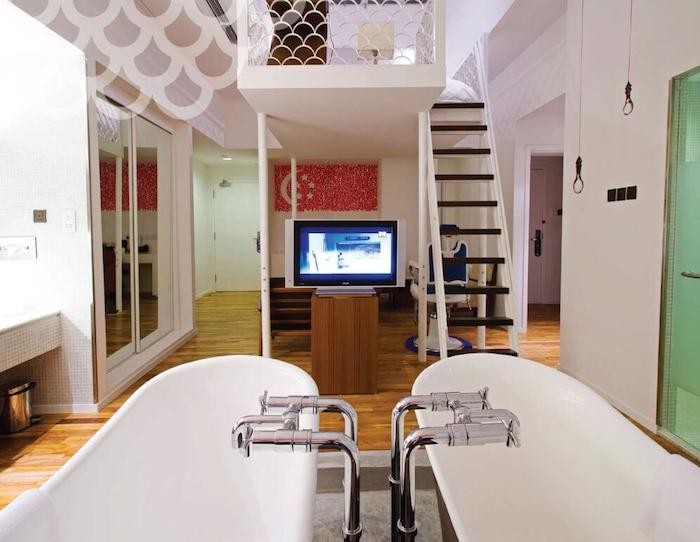 Image credit: New Majestic Hotel
Slather on some Kiehl's body lotion – we know you deserve the best, and only the best. Not enough pampering? Try the rain shower's hydro massage jets. If all that doesn't relax you, we don't know what will. Clamber up the wooden ladder to a big dreamy bed snuggled within a loft. Sweet dreams, Your Royal Highness!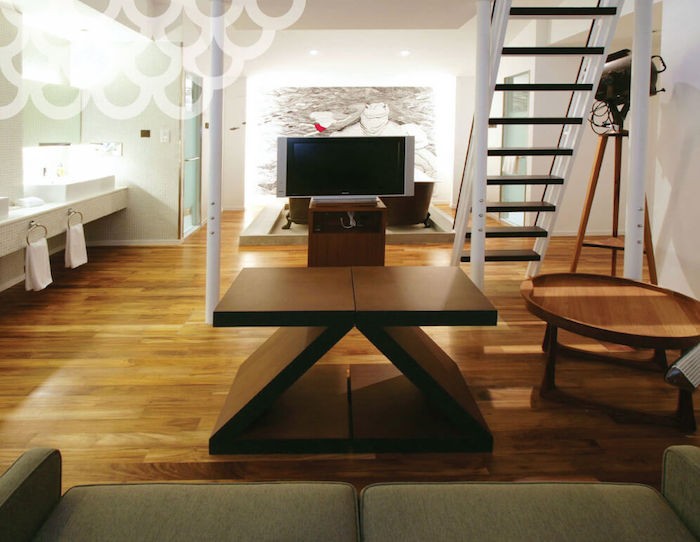 You probably won't even leave your room throughout your stay, but who can blame you? Just look at it, it's just dropdead gorgeous. Every suite comes with cable/satellite television and a comfy sofa, but hey who needs all that when you've got dual bathtubs and an irresistible bed to boot? Have an amazing weekend, mademoiselle. Prices start at SGD 399++, check it out HERE .  Good luck tearing yourself away at the end of your stay!
Also read: Staycation Ideas: 10 Hotels in Singapore With Bubbilicious Bathtubs
3. Sofitel Singapore Sentosa Resort & Spa
Everyone needs – read: needs – a good respite from city life every now and then. Come on, who doesn't? Forget all your worries, and clear your mind. After all, even Kings and Queens deserve a good break from time to time! Short of booking that plane ticket out of here, why not feel completely removed from the hustle and bustle at Sofitel Singapore Sentosa?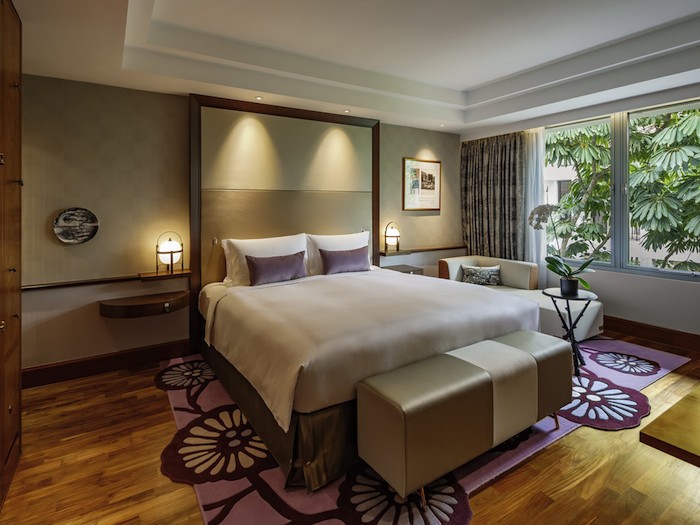 Image credit: Sofitel Singapore Sentosa Resort & Spa
This is your chance to completely unwind at a resort. Check out the swaying palm trees outside your window! Rub your legs against the smooth Bali-esque wooden flooring, and run your fingers along the intricate carvings adorning each wall. Forget you're in Singapore yet?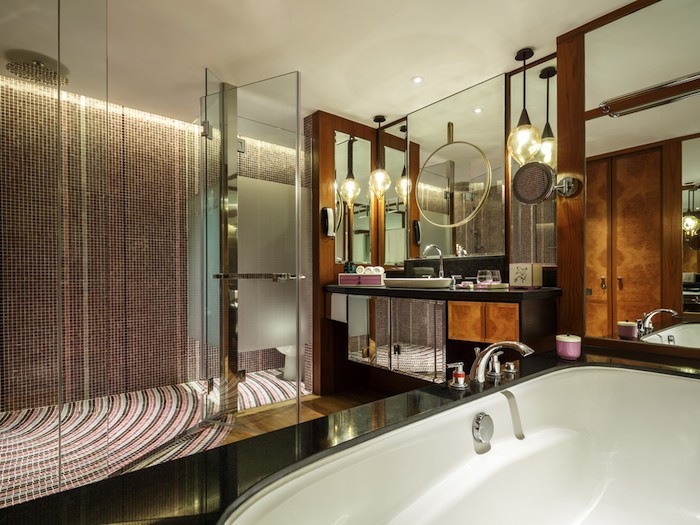 Image credit: Sofitel Singapore Sentosa Resort & Spa
Go for an invigorating soak in the pool, or simply hop over to the neighbouring Tanjong Beach. Get that glorious tan you've been dreaming of. Think: bronzed, glowing and resplendent! Now you not only feel like royalty, but even look like it too! Need any help fending off the jealous stares of those around you? Enjoy your moment in the spotlight!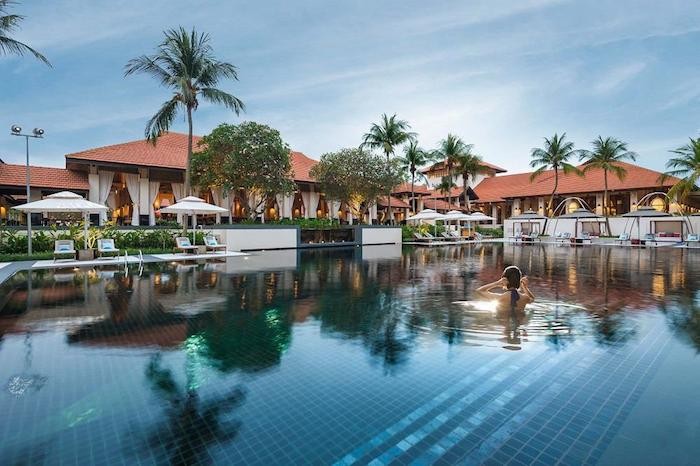 Image credit: Sofitel Singapore Sentosa Resort & Spa
Did we mention that this is a resort AND a spa? Go on and get your knots all sorted out! Treat yourself to a luxuriate session of kneading and relaxation – just close your eyes, and let the skilled masseuses take care of you. Why, you just might have found your little slice of heaven right here at Sofitel Singapore Sentosa.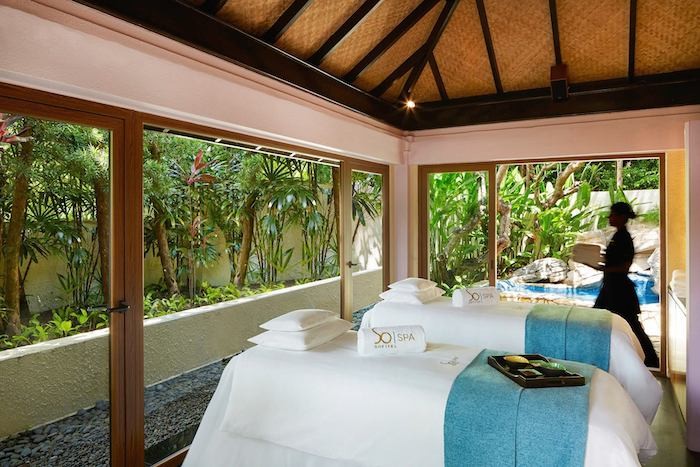 Image credit: Sofitel Singapore Sentosa Resort & Spa

4. Ocean Suite at RWS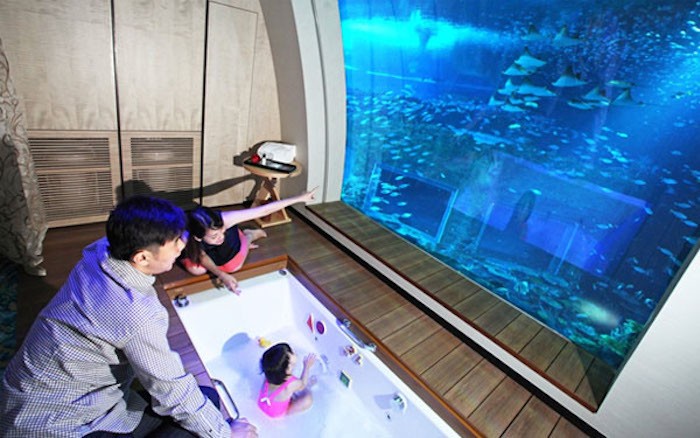 Image credit: rwsentosablog.com
Are you a fan of unconventionality? Here at RWS' Ocean suites, you not only get two levels all to yourself, but you even get to sleep among the fishes! Say what?! Yup, gaze out at the sharks, turtles and fishes from the comfort of your very own jacuzzi. What's more, a personalised butler is available round the clock to cater to your every need! Rule the seas with just a point of your finger. Prices start from SGD1400++.
5. St Regis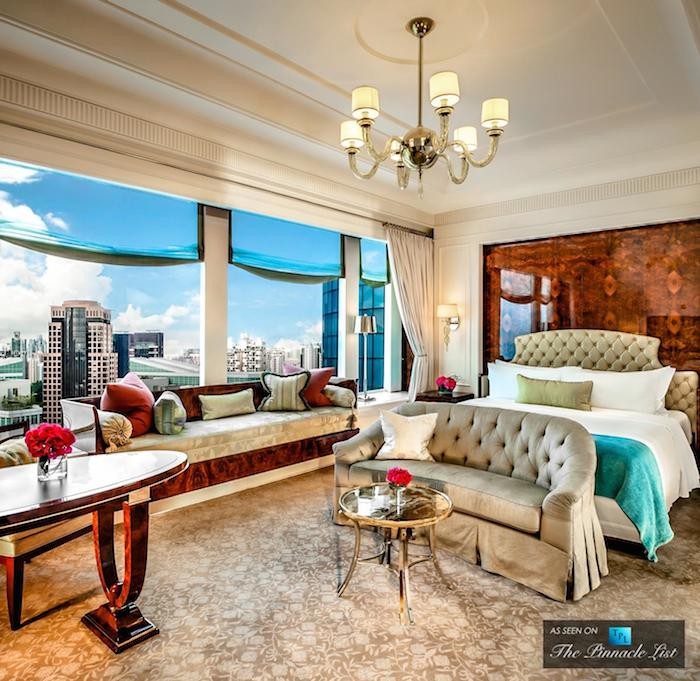 Image credit: St Regis
Well  the picture's pretty much self-explanatory – don't you already feel like royalty just looking at this suite? Wow-ee! Extravagant, classy, resplendent… St Regis' suites have it all. Just look at that plushy headrest, that velvety sofa, the sky-high ceiling and those large spotless windows! It doesn't get any more royal than this. Prices start at SGD 369++.
6. One15 Marina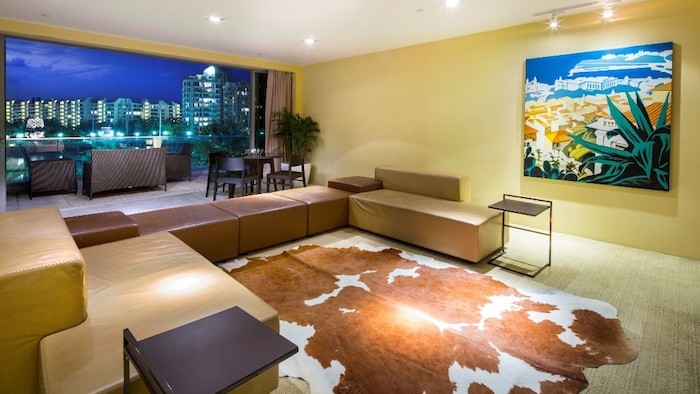 Image credit: One15 Marina
Tasteful and elegant, this two-bedroom suite at One15 Marina will make all your dreams come true. Gaze out over the countless yachts in the marina, champagne glass in one hand and lofty aspirations in the other. Feeling hungry? Skip over to Quayside Isle and literally be spoilt for choice – Greek, Japanese or Indian cuisine, anyone? Prices start from SGD 1600.
7. South Beach Hotel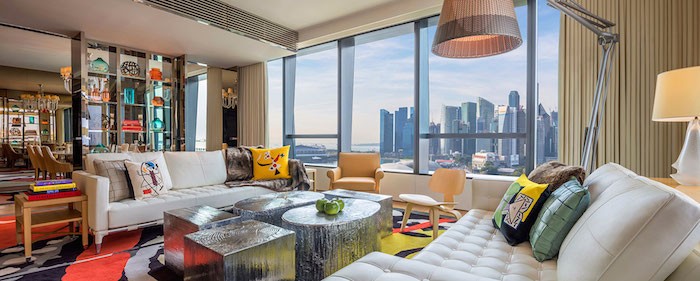 Image credit: South Beach Hotel
Charge your phones all you Instagram addicts, you're gonna loooove it here! The hotel is eclectically designed with cutting-edge furniture and quirky architecture, making for an absolutely stunning aesthetic perfect for all your candid ootd shots. With South Beach Hotel's Presidential Suite, you get a penthouse that looks simply out of this world. I mean, just look at that! It's perfect for entertaining any of your royal subjects. Check out their Deluxe and Premier suites as well, both of which are equally spectacular. Prices start at SGD450++.
8. The Elizabeth Hotel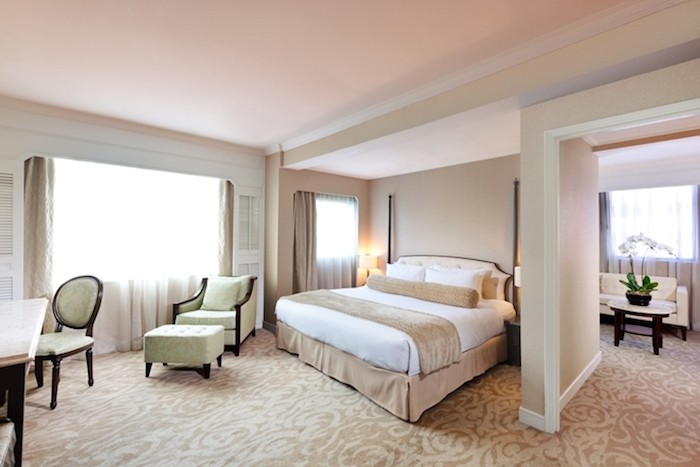 Image credit: The Elizabeth Hotel
Don't say we didn't warn you – this Executive suite is so spacious it simply makes everywhere else look small. Roll around in your own gigantic living space and bathroom, it's all yours for a night or two! Refuel with the fully-stocked mini-bar – tiny snacks and bottles never looked so good. Need more? Coming right up! After all, nothing's too much for a King or Queen. Prices start at SGD307++.
9. Adonis Hotel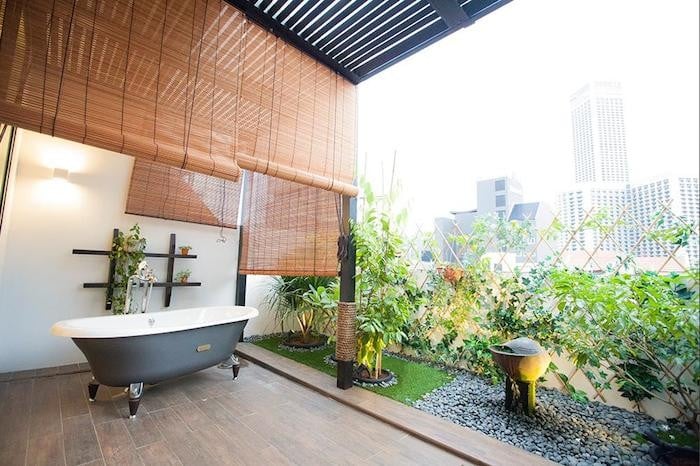 Image credit: Adonis Hotel
Space matters, and in the congested dot that is Singapore, space matters alot. How else will you feel like a King or Queen if you're cramped up in a tiny room? Here at Adonis Hotel, they've got it covered. You want space? You got it! Spread yourself out over an entire floor – yes, an entire floor! – with the breathtakingly beautiful Suite Artist. You get an outdoor bathtub and a mini garden all to yourself! Yes you heard that right, all that is yours and yours alone. Take a long soak whilst feeling on top of the world – there's really nothing like it! Prices start at SGD218 ++.
10. Hotel 1929

Image credit: Hotel 1929
Indulge in a bath under the stars with Hotel 1929's Terrace Suites. Sit back and relax in a personal vintage cast-iron tub on your own helplessly romantic rooftop veranda. Doesn't that sound delightfully exclusive? You bet! Prices start from SGD229++.
Also read: 12 Trendy Hotels in Singapore for that Ultimate Weekend Staycation
[HOT DEAL] GET 10% OFF THE BEST AVAILABLE RATES!
Wishing to escape from the hustle and bustle of life with your loved one? Look no further! Click here to get 10% off the best available rates now! You better hurry before it's gone!
11. Sofitel So Singapore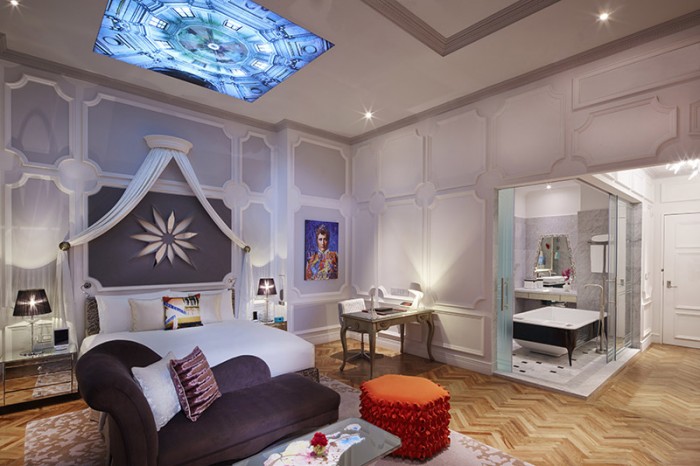 Image credit: Sofitel So
It definitely doesn't get any grander than this. Pack your most elegant dress or suit, you're definitely going to need it! Have some wine, cheese, grapes and chocolate to complete the French affair. Chic and classy is the way to go, and Sofitel So owns it hands down. You'll definitely feel like a King and Queen over in their Magnifique Suites, with 30% off their best flexible rates. Don't believe us? Check it out for yourself, prices start from SGD490++.
12. The Westin Singapore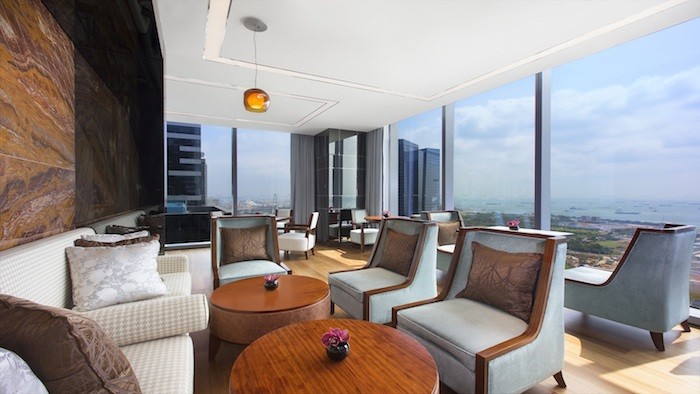 Image credit: The Westin Singapore
Splash out with The Westin's Harbor View Suite – you only have one life, live it! Check out that stunner of a view – we bet sunsets are amazing from here. Hold extravagant sojourns with all members of your royal court in this whoppingly large suite, and gaze down at all your subjects down below. Prices start from SGD2400++.
13. Marina Bay Sands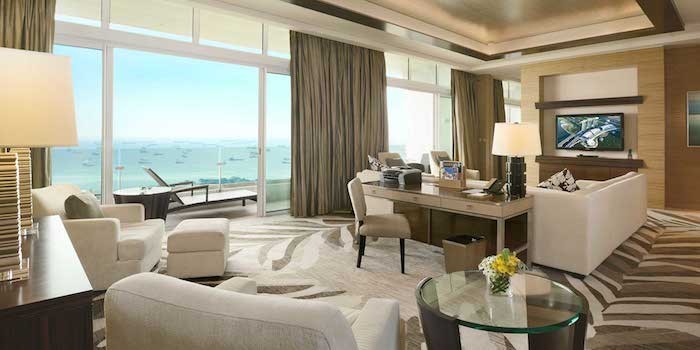 Image credit: Marina Bay Sands
And of course, we save Singapore's most iconic hotel for last. Who can forget that stunning infinity pool rivalled by no other? Here at Marina Bay Sands' Marina suite, you even get a sky-high private gym, or your very own billiards room. Talk about exclusivity! What's more, complete the entire experience with personalised butler service and a private Jacuzzi spa. We don't know about you, but we feel pretty royal already. Prices start from SGD979++.
Spoilt for choice? Don't hold back, you know you deserve to feel like a King or a Queen – even if it's just for a night or two!