For the beach lover, staying in a water bungalow on a beach far from the hustle of city life is the dream for many. For others, however, a non-traditional water bungalow that is closer to natural springs and waterfalls may be the desired getaway. Whatever your choice, Bali is perfect for a quick getaway thanks to cheap flights within the region, warm Balinese who are known to be welcoming, and the unique culture of Bali itself. To help you in planning your Bali vacation, here are the best water bungalows in Bali.
Also read: 9 Things to Know Before Going on a Dive Safari in Bali
Candidasa
The Water Garden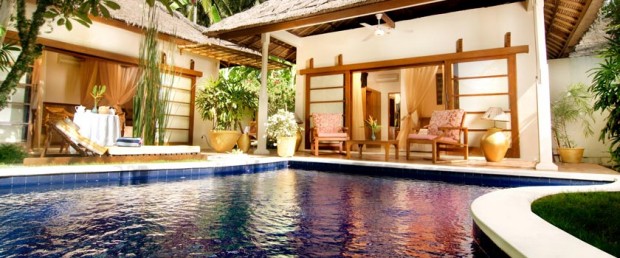 Image Credits: The Watergarden
This resort truly lives up to its name. Each villa is surrounded and hidden by lush tropical plants and water, making this a resort where you can truly go back to nature. With koi ponds right at the doorstep, the villa gives you endless opportunities to be in the embrace of nature and serenity. Spend some time in your rooms feeding the koi and enjoying being so close to the water. If you'd like to pull yourself away from your villa, you can also indulge in sunset cruises or even go on a submarine to go right into the ocean.
Nusa Dua
St. Regis Bali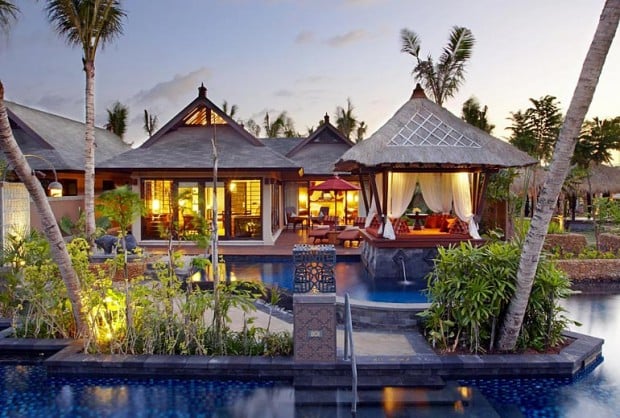 Image Credits: The St. Regis Bali Resorts
Surrounded by lagoons, St. Regis Bali boasts rooms that offer panoramic view of the ocean. Their Strand villas offer direct access to the sea, allowing those who wish to swim convenience. For those who have no desire in entering the open ocean, relaxing by or soaking in the private pool is also an option.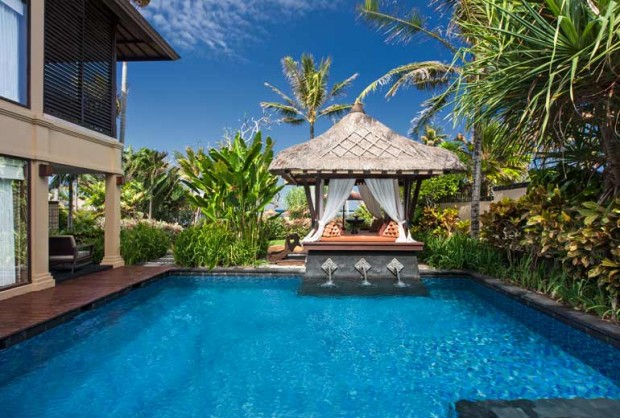 Image Credits: The St. Regis Bali Resorts
With private butler service available, St. Regis Bali offers nothing but an unparalleled experience. Talk about luxury at a beachfront location!
Sanur
Maya Sanur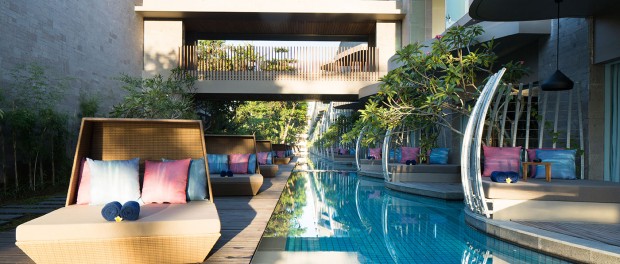 Image Credits: Maya Sanur
Though not exactly a bungalow, the rooms and rest spaces in this hotel are surrounded by the resort's lagoon pool. This is in addition to the stunning views of the sea that the resort enjoys, making the experience rival that of a real water bungalow. Choose the lagoon access rooms, which brings the lagoon pool right to your doorstep, allowing you to enjoy the water without moving more than you have to.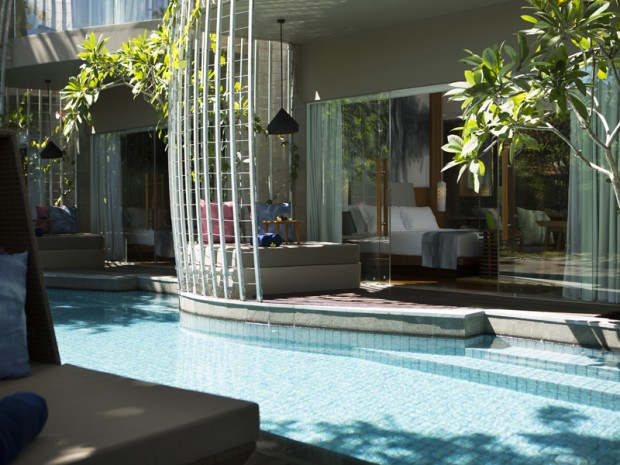 Image Credits: Maya Sanur
Each Beachfront Pool Suite also comes with its own private pool from which you can enjoy the view of the beach.
Also read: 10 Unconventional Beach & Island Honeymoon Destinations in Asia
Seminyak
The Legian Bali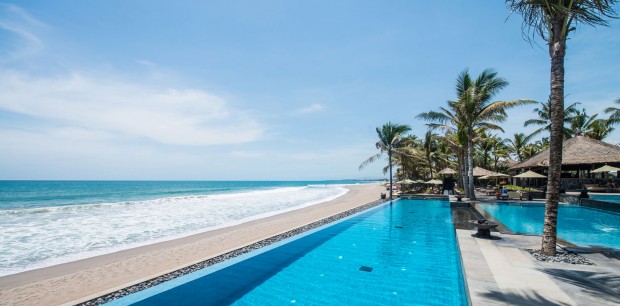 Image Credits: The Legian Bali
The Legian is conveniently located in Seminyak. With rooms boasting stunning sea views and sounds of water lapping on the beach waking you up every morning, The Legian is definitely the place to stay at when you're there on your next relaxing holiday.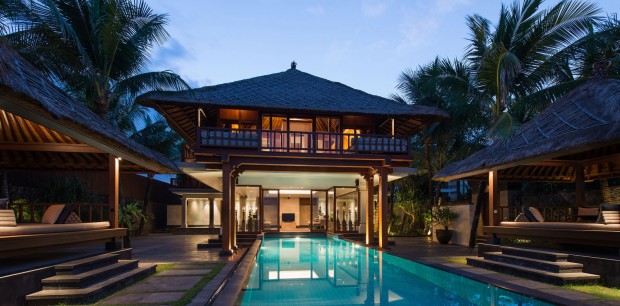 Image Credits: The Legian Bali
To get closer to the water, you may wish to book The Beach Villa, which has its own infinity pool where you can gaze at the ocean. It also gives you unlimited access to the beach which is perfect for all you beach lovers out there.
Tabanan
Bali Eco Stay Rice Water Bungalows
While Tabanan is a central area, it can still boast some lovely resorts surrounded by water, even if it may not be immediately obvious.

Image Credits: Bali Eco Stay
Bali Eco Stay is located right at the edge of the padi fields of Tabanan, on a mountain top. You can stay in your cabin and listen to the sounds of water from the natural spring, enjoy the views of the water-flooded paddy fields from the villa or go explore the waterfall (which also runs their hydrosystem) nearby. If you insist on living atop water, pick the Spring Water bungalow, which is constructed above a mountain spring.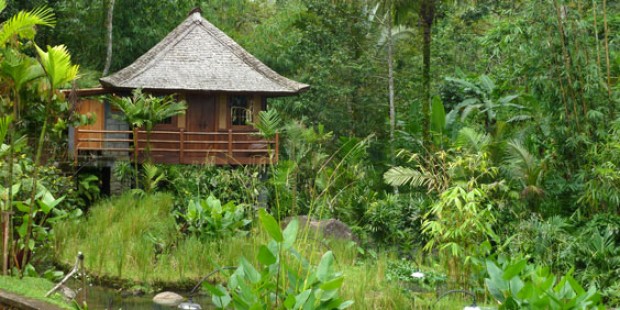 Image Credits: Bali Eco Stay
Ubud
Bambu Indah (Udang House)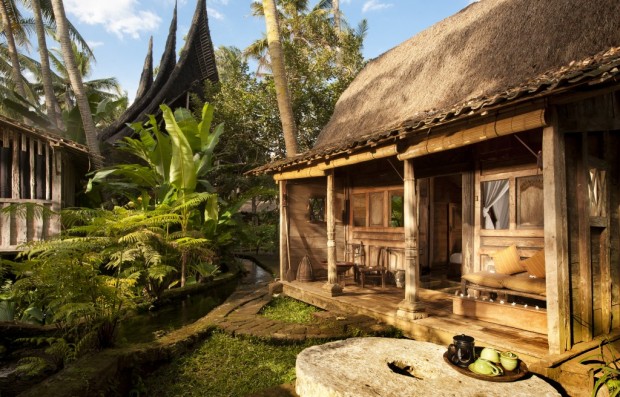 Image Credits: Bambu Indah
Udang house is built on a shrimp pond and situated right beside the source of the resort's natural pool. Guests can hear the calming sounds of water at all times. Additionally, it has glass floors for guests to enjoy the view of the pond underneath their feet and observe the shrimps in action right in the comfort of their own room.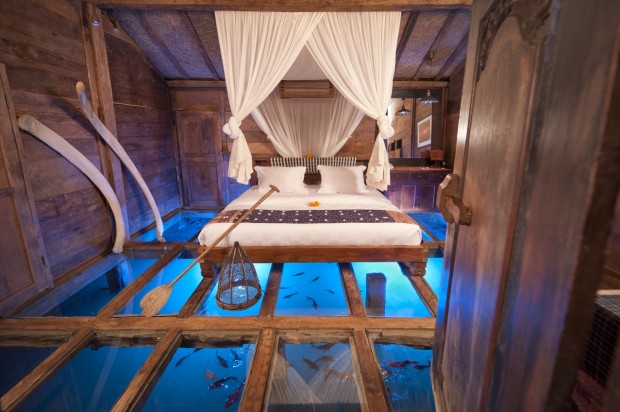 Image Credits: Bambu Indah
If you don't wish to stay all day in your room, Bambu Indah also hosts many activities for guests including village tours and hikes. The hotel's dedication to both sustainable practices and luxury living makes this a great choice for your stay in Bali.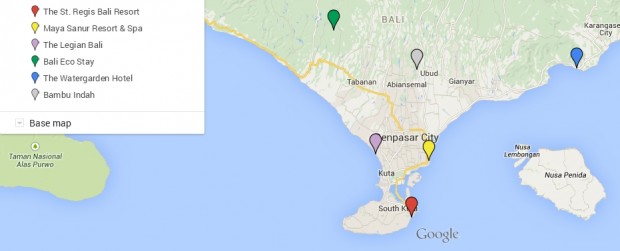 Indeed, staying in one of these villas can be an amazing vacation in itself! If you're looking for such a villa-cation, we have just the thing for you! Jetabout Holidays is offering a special offer for Alila Villas Soori, where you can have one of its amazing 1-room villas all to yourself and your loved one from just $495 a night! The package is land-only, and excludes return airfare. Book and travel by 31st March for to lock in a luxury getaway perfect for 2! 
Don't want to deal with all the hassle of planning your own trip? Look out for that perfect Bali package now!