Looking for the best New York City apartments on Airbnb? If your mental image of an Airbnb in NYC involves living out of a suitcase, prepare to be pleasantly surprised. No matter what brings you to the concrete jungle, we've rounded up the Airbnb apartments in New York for you. 
But first, a glimpse at the city. One year after the lockdown, the Big Apple is regaining its spark and emerging with new experiences to offer visitors: outdoor dining, beer gardens, drive-in movie theatres, and a newfound appreciation for its public parks. With Broadway theatres scheduled to reopen soon, the city that never sleeps is bouncing back with a vengeance.
From Brooklyn to Manhattan, these homes on Airbnb offer a great opportunity to experience New York in comfort and style. Set your sights on the greatest ones below!
CHECK BOOKING OPTIONS IN NEW YORK
Best Airbnb homes in New York City
Brooklyn
1. This historic brownstone apartment in a lively neighbourhood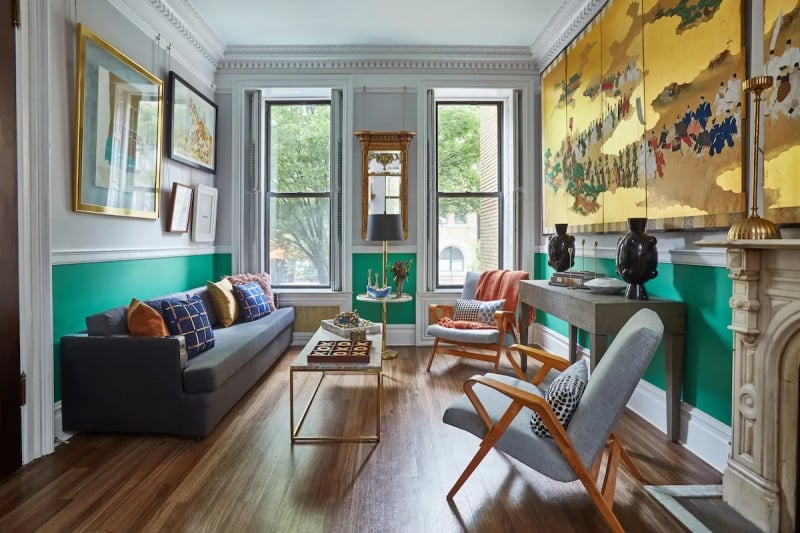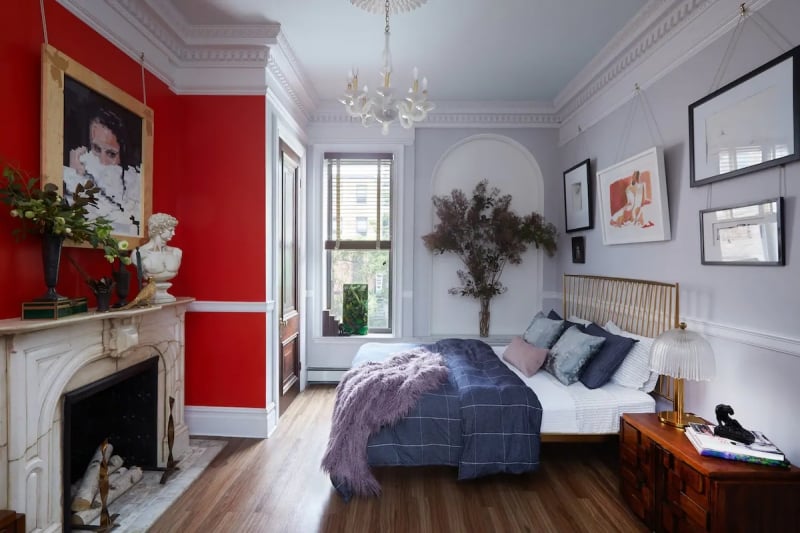 Max. no. of guests: 2
No. of bedrooms: 1 
Found in the neighbourhood of Bedford-Stuyvesan, this 120-year-old brownstone apartment has been transformed by its owners, Jarret and Dan, into a swanky, gorgeous abode befitting a fashion designer. Complete with a fully equipped kitchen and dining area, this Airbnb in Brooklyn  lets you have an entire floor all to yourself. Moreover, it enjoys fast Wi-Fi and a TV with the best streaming services, such as Netflix, Amazon Prime, Hulu, and HBO Go.
2. This charming plant lover's loft in Williamsburg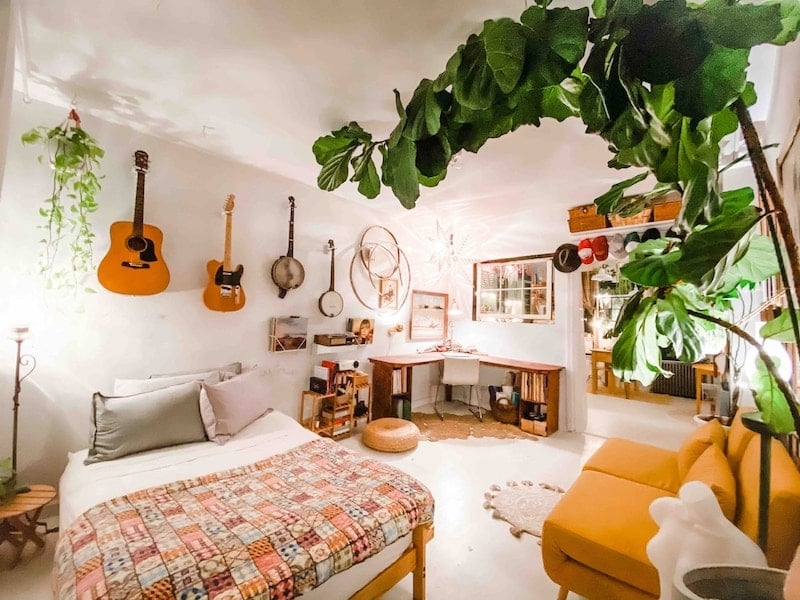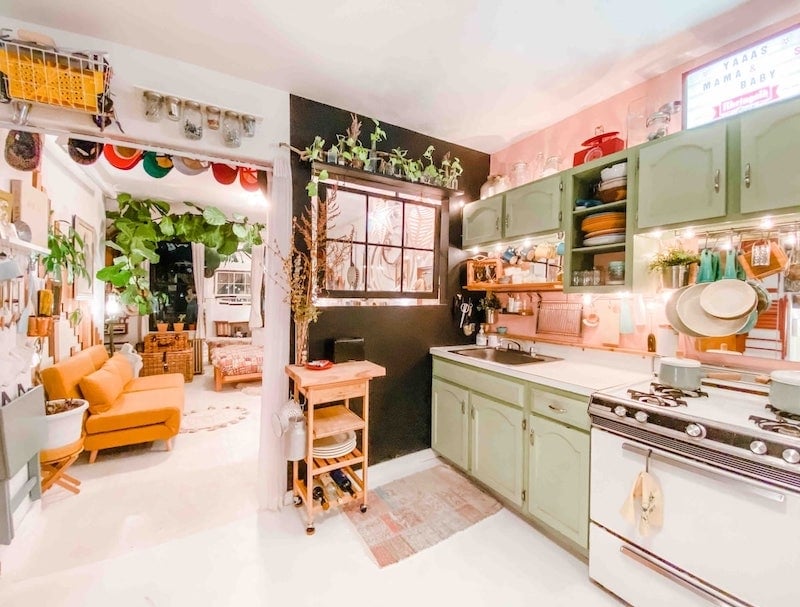 Listing type: Private room in loft 
Max. no. of guests: 2
No. of bedrooms: 1
Plant lovers and travellers with green thumbs, say hello to your next leafy corner in New York City. Fondly called the "Treehouse Cabin," this apartment in the hipster neighbourhood of Williamsburg is styled like a tiny house with DIY touches — like the owner's vinyl record collection and the projector screen for watching movies, for instance. Full of positive vibes and plant-filled nooks, the loft is as thoughtful as it is charming.
3. This tastefully decorated retreat for art lovers and creatives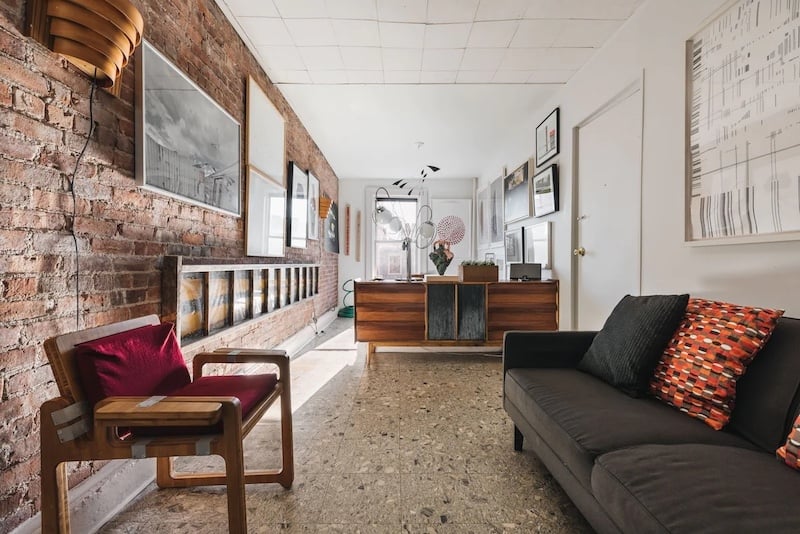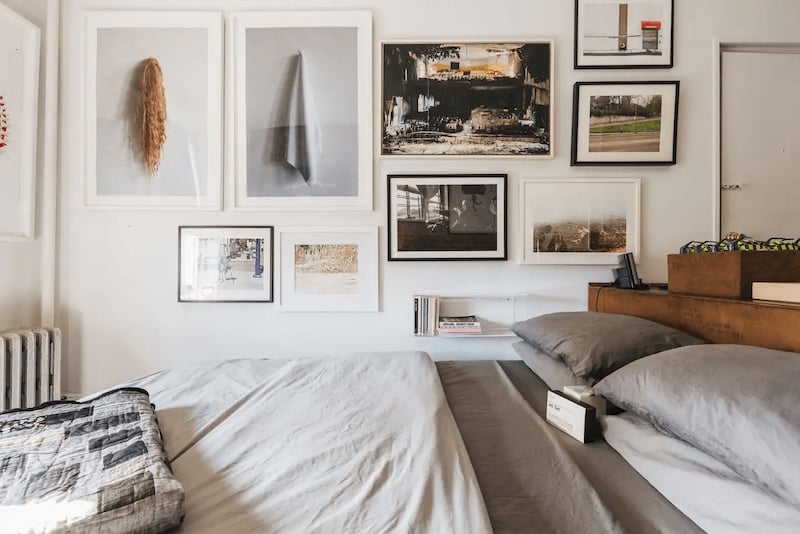 Listing type: Entire apartment 
Max. no. of guests: 2
No. of bedrooms: 1
How about immersing yourself in the creative energy of New York City as soon as you wake up? If you have an eye for art and design, you'll find plenty of inspiration from this tastefully curated apartment in Brooklyn, decorated with the host Lucien's modern art collection. 
Additionally, the proceeds from your stay will go to a good cause. Lucien donates all of the rental fees from his Airbnb to The Invisible Dog Art Center, a vibrant arts centre supporting emerging artists in New York.
4. This incredibly spacious apartment with a Jacuzzi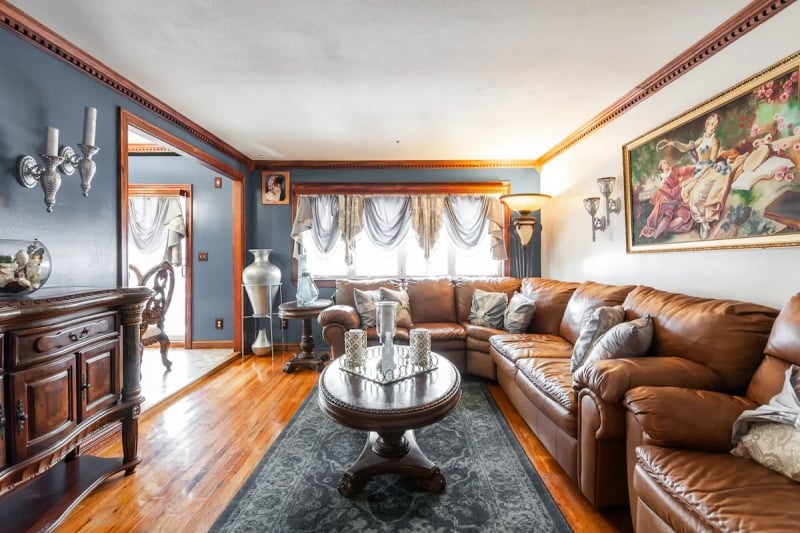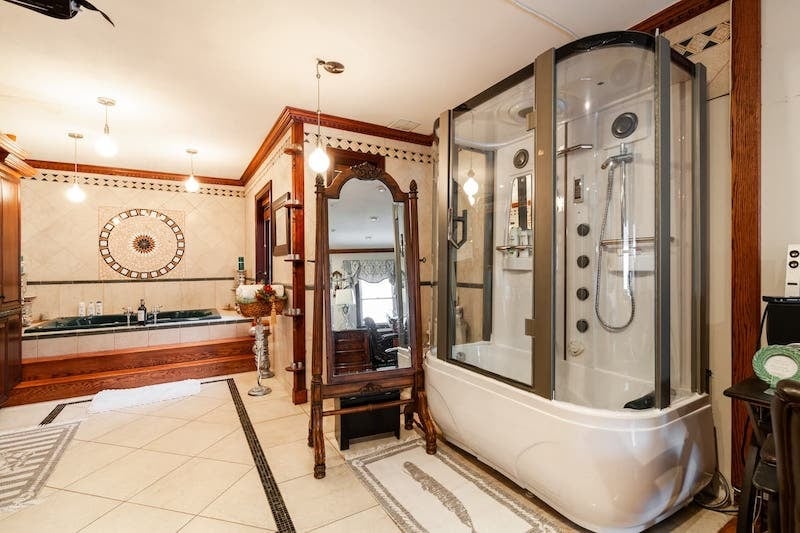 Listing type: Studio
Max. no. of guests: 4
No. of bedrooms: 2
Where to start with this gem of an apartment? This Airbnb in Brooklyn lets you live in the lap of luxury with a furnished kitchen, a full-size sofa in the living room, a large bathroom, a hot tub, and a king-size bed in the master bedroom. Don't miss your chance to lay back on the La-Z-Boy sofa in front of the 42-inch TV or soak in the Jacuzzi.
Manhattan
5. This cosy apartment in the East Village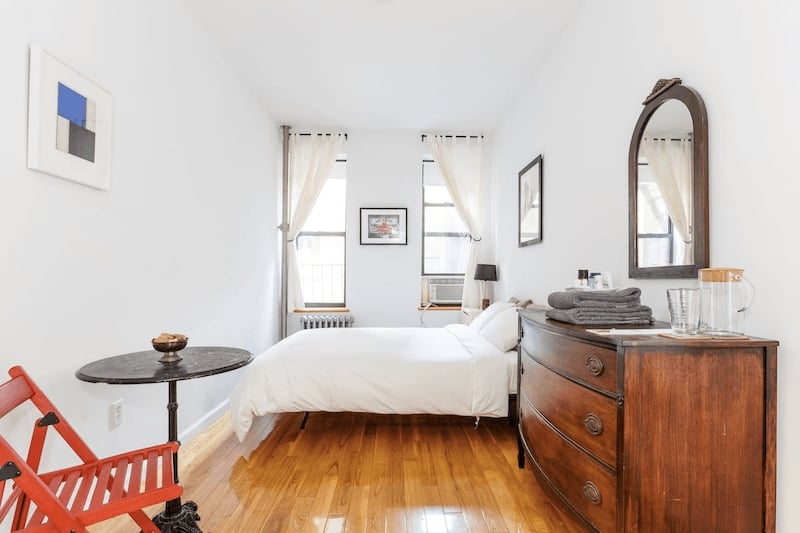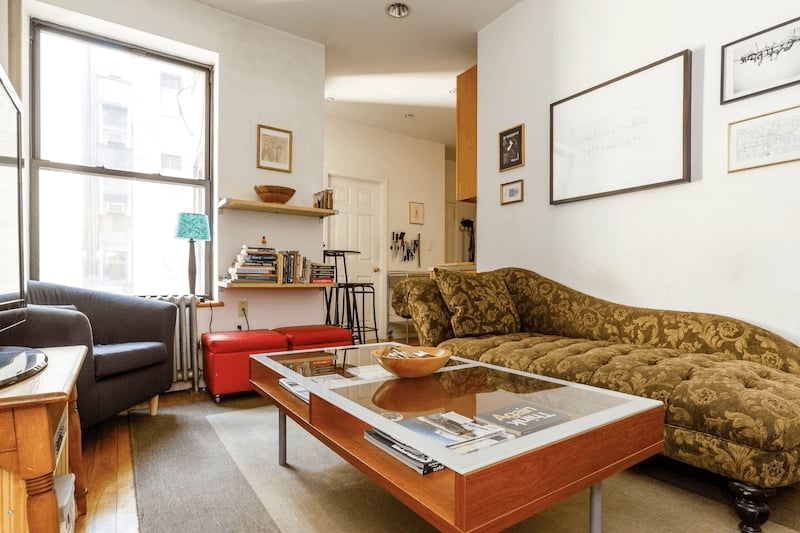 Listing type: Entire villa 
Max. no. of guests: 3
No. of bedrooms: 1
Staying in New York City doesn't mean your Airbnb should feel snug or confining. Take this Airbnb in Manhattan's East Village, for example. Both the bedroom and the living room are spacious by the city's standards, and you won't have any trouble unpacking clothes from your suitcase or stretching your legs on the sofa. Plus, you're just a short walk away from exploring New York University, Washington Square Park, and the Lower East Side.
6. This relaxing condo with city views in Hell's Kitchen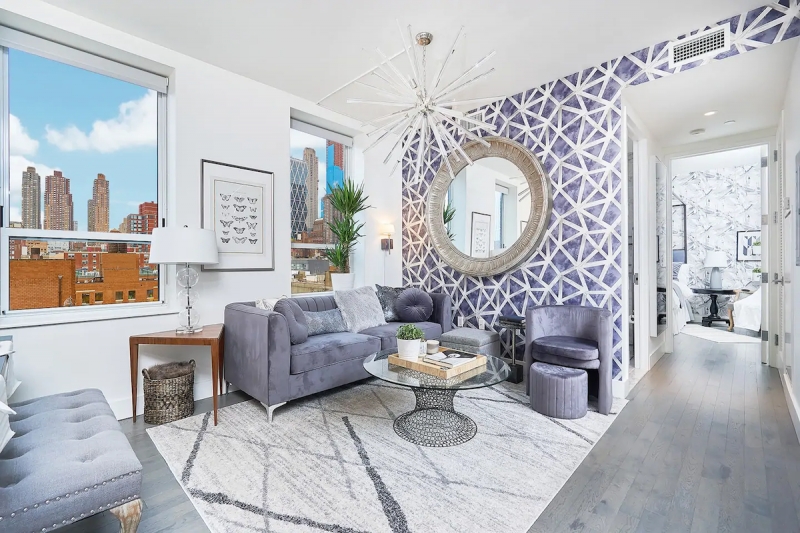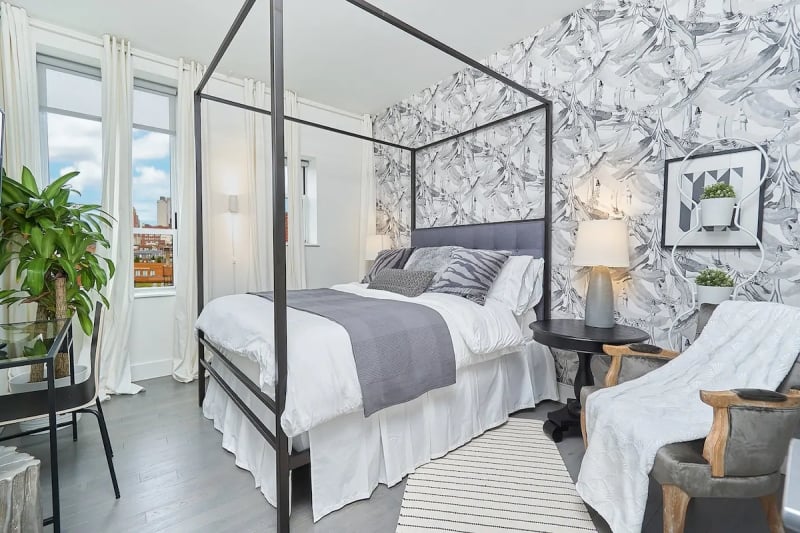 Listing type: Entire home
Max. no. of guests: 2
No. of bedrooms: 1
With a fantastic location in Hell's Kitchen, this condominium  features an open kitchen, stone counters, shiny white oak floors, a roof terrace, and more. Considering it's quite large for most apartments in NYC, we think that this Airbnb is quite a steal.  The cherry on top?  Many theatres happen to be an easy walk from this apartment. You'll be humming musical numbers in no time at all.
7. This bohemian apartment with a fireplace near Gramercy Park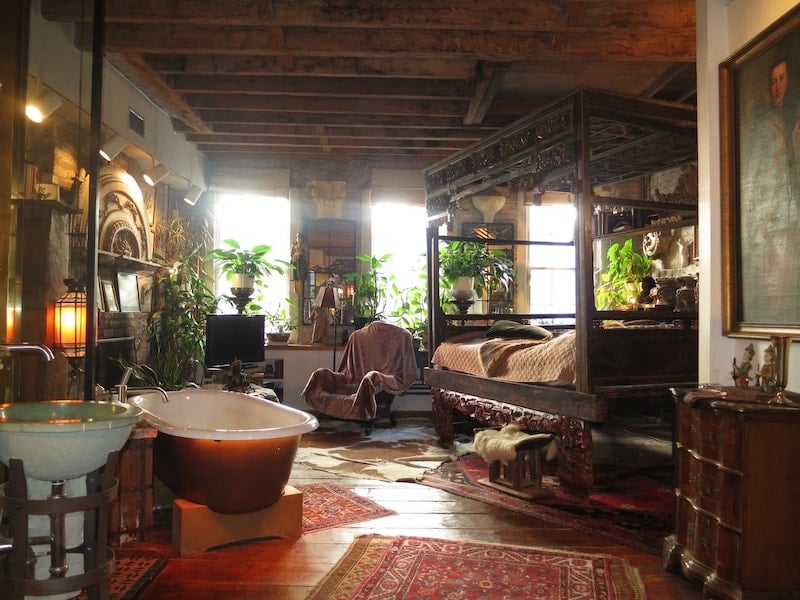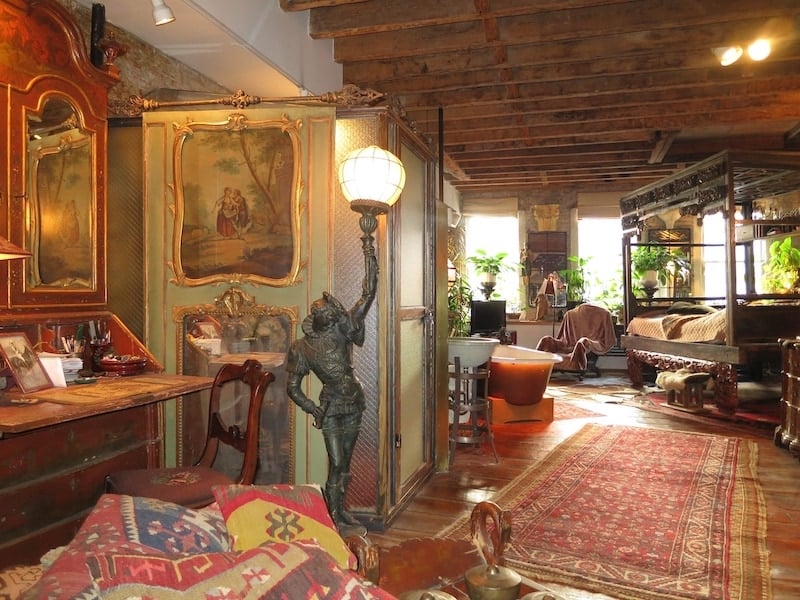 Listing type: Entire apartment 
Max. no. of guests: 2
No. of bedrooms:1
If you've always wanted to sleep in an Airbnb in NYC that looks straight out of a movie, try this unique brownstone apartment that just screams the Big Apple. The bohemian decor will certainly surprise you, whether you're soaking in the claw-foot bathtub or warming yourself by the fireplace.  Located near Gramercy Park, this eclectic retreat is approximately 10 minutes — if you can walk like a New Yorker — from the Empire State Building and Union Square.
8. This elegant three-bedroom apartment near Fifth Avenue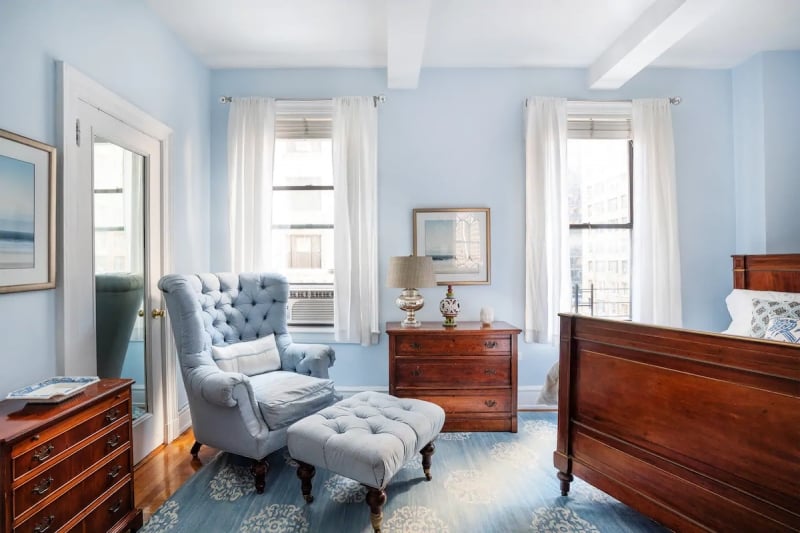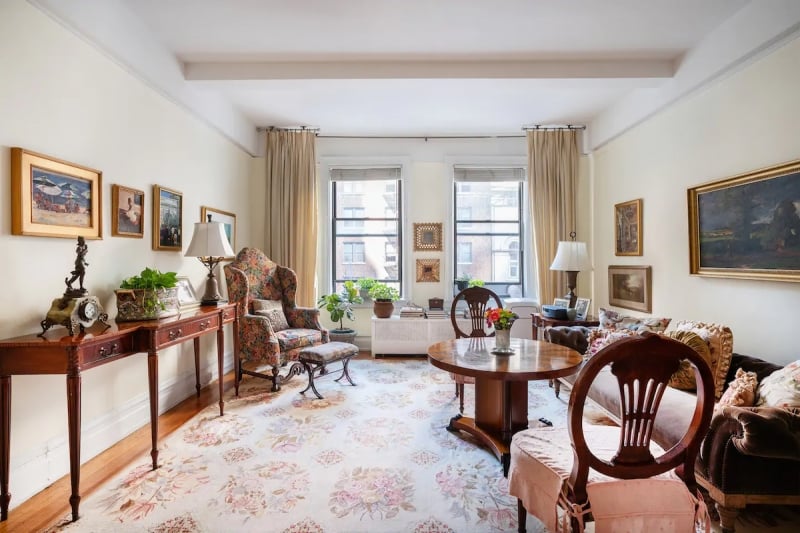 Listing name: Pre-War Gem in the Middle of Everything
Listing type: Private room in apartment
Max. no. of guests: 2
No. of bedrooms: 1
Make the most of your time in the Big Apple by staying close to where all the action is. Just a minute away from the nearest subway, this elegant Airbnb in Midtown Manhattan is only a few blocks away from Fifth Avenue, Rockefeller Center,  Central  Park, and the Museum of Modern Art (MoMA) . Other standout perks include a doorman, soft beds and chairs, and a heater to keep you warm during the winter.  Learn more about this Airbnb here . 
9. This luxurious condo with the best location near Times Square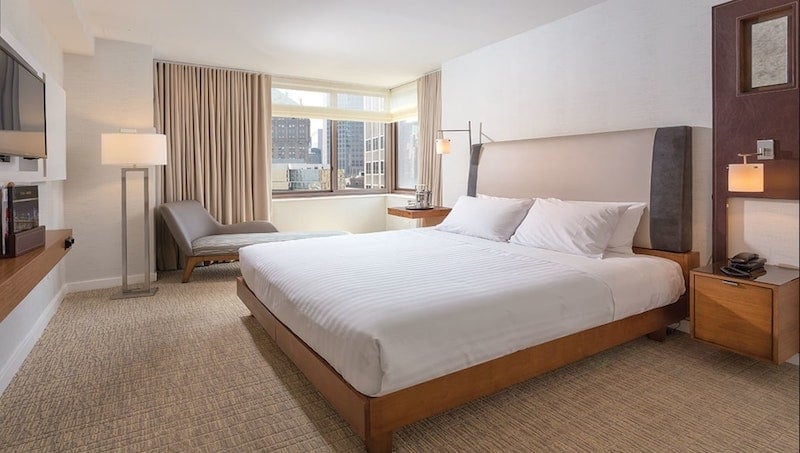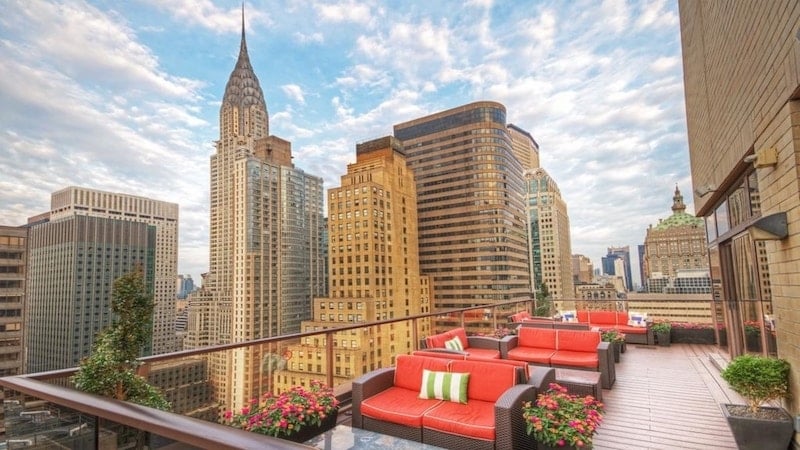 Listing type: Entire condominium 
Max. no. of guests: 4
No. of bedrooms: 1
Want to play things safe on your trip to New York? If comfort and security are on the top of your mind for accommodations, this luxurious condo in Midtown Manhattan will set you up for a stress-free vacation in the Big Apple. It ticks off all the right qualifications: cleanliness, hotel-standard amenities, and a strategic location. Anytime you need to reach Grand Central Station and Times Square, it's like taking a stroll in the park.
10. This sun-filled apartment near Chinatown and SoHo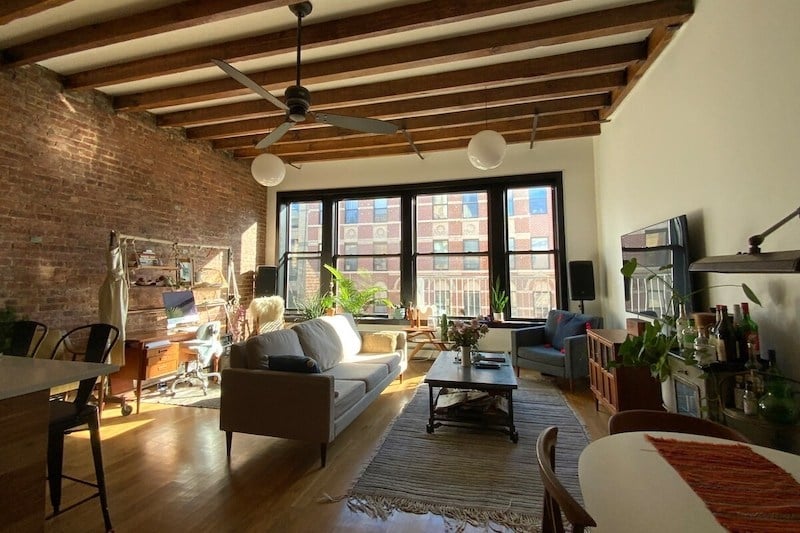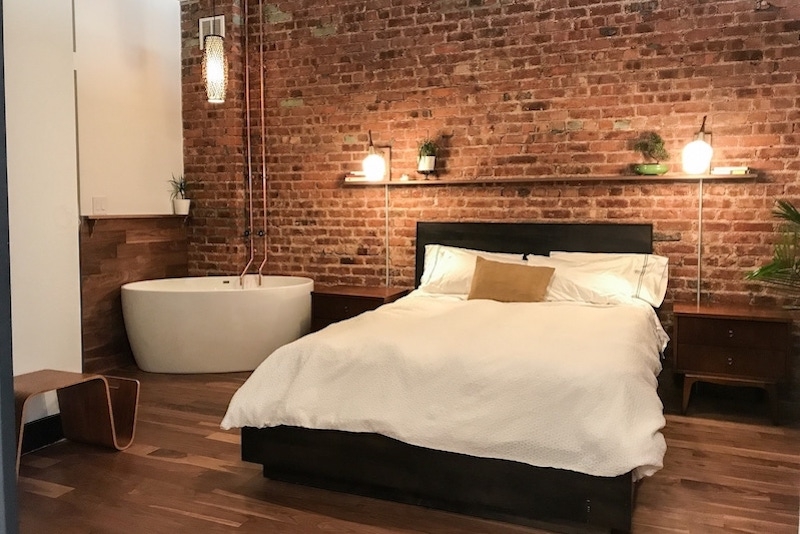 Listing type: Entire apartment 
Max. no. of guests: 4
No. of bedrooms: 1
More than your average crashpad in NY, this is an Airbnb you'll want to move into. Thanks to the high ceilings and natural light, the apartment in the Lower East Side looks photogenic without even trying. It feels like a true New Yorker's loft but with additional perks for visitors, like the bathtub in the bedroom or the iMac for remote workers.
Conveniently located near  Chinatown and SoHo, the apartment keeps you close to some of the best restaurants and shopping haunts in Manhattan.
Queens
11. This quiet apartment with a backyard in Ridgewood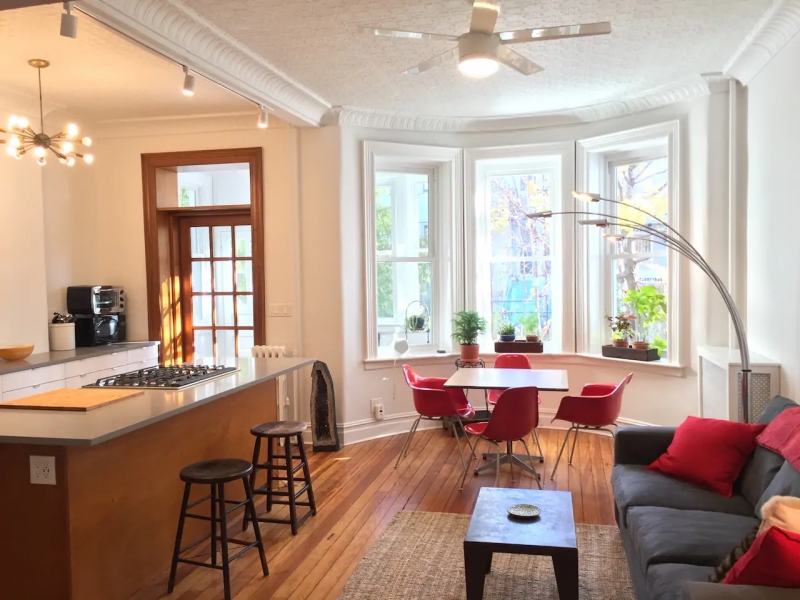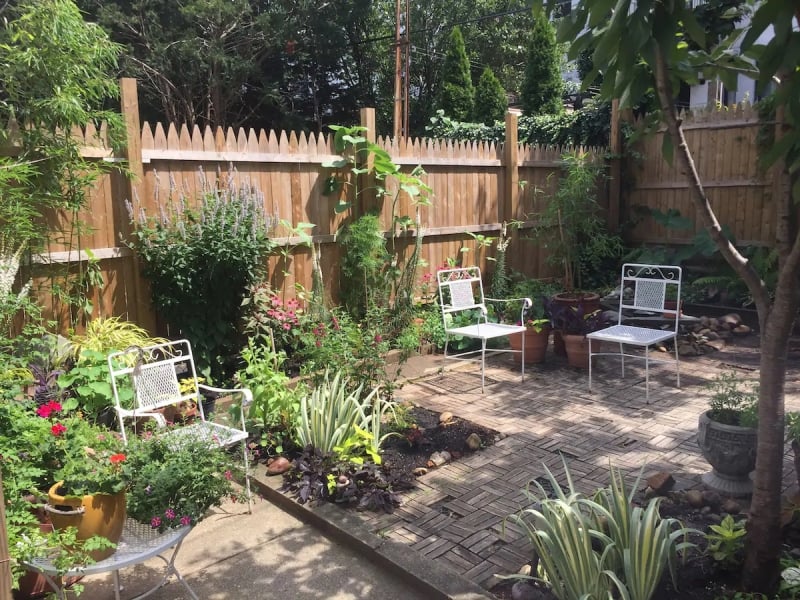 Listing type: Entire home
Max. no. of guests: 4
No. of bedrooms: 2
Dating back to 1901, this lovingly restored two-bedroom apartment in Ridgewood, Queens is perfect for guests who are looking for a quieter side of New York City. It boasts a modern kitchen, vintage furniture, hardwood floors, a cosy sunroom, and wide bay windows that let the light in. Venture outside your apartment to discover the some of the best  restaurants, cafés, shops, and art galleries in the neighbourhood.
12. This impressive loft with a roof garden and views of Manhattan's skyline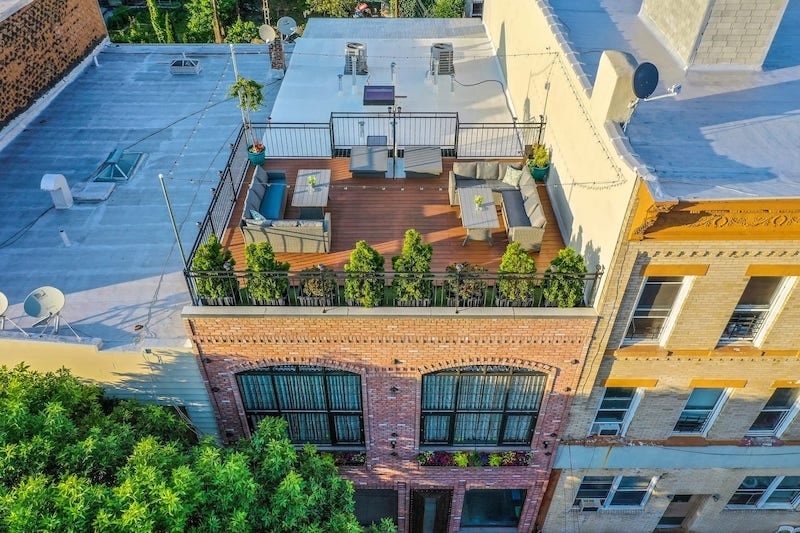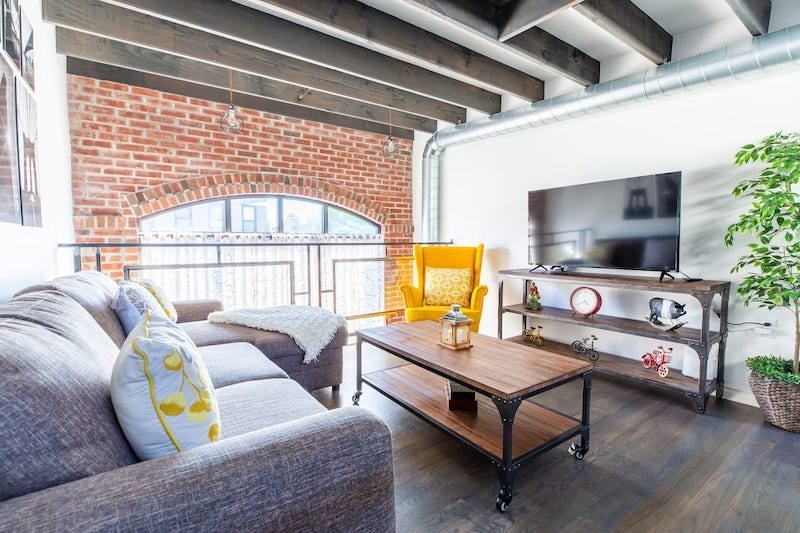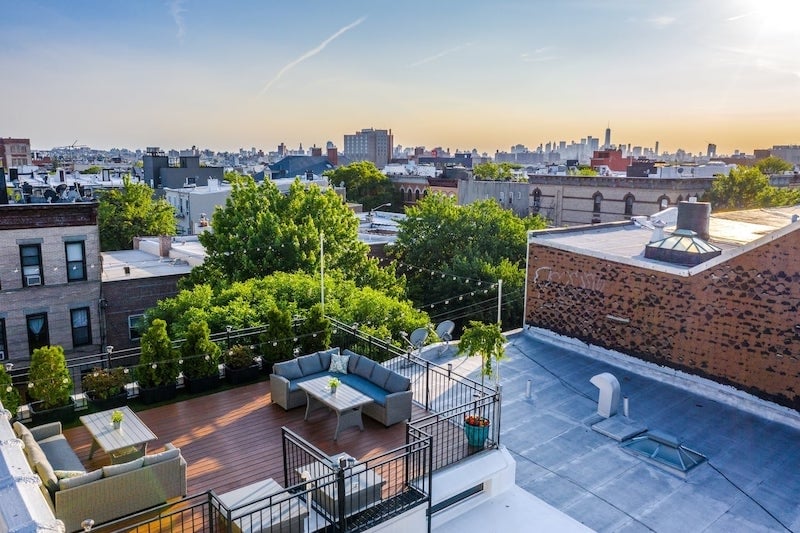 Listing type: Entire loft 
Max. no. of guests: 5
No. of bedrooms: 2
Besides "I love NY" shirts and caps, take home another souvenir from your Airbnb: a photograph of the city's iconic skyline. From its superb location to the phenomenal views from the rooftop, this Airbnb in Ridgewood, Queens rewards travellers who want to relax and slow down a little. When you're done exploring New York City for the day, come home to a comfortable bed and a Smart TV for all-day lounging.
Also read: Travelling to New York City: Expectations vs Reality
CHECK ACCOMODATION OPTIONS IN NEW YORK
Have you found the right Airbnb in New York City? If you're thinking of doing a tour of the United States, check out our recommendations for Los Angeles, San Francisco, and Hawaii as well.