Who hasn't imagined living in the Big Apple, even for a short while? Standing at a fire escape, watching the crowds pass below. Walking home under the bright lights and neon billboards, while the city is nowhere close to sleeping just yet. 
But picking an Airbnb in New York City can be challenging. Between the high rents and the apartments filled with people chasing their dreams, it can feel like trying to find a needle in a haystack. Thankfully, plenty of hidden gems are waiting for you, if you know where to look! 
With luxe interiors and easy access to public transportation, these properties will help you navigate the concrete jungle like a local. Browse through this list, and New York City will be yours to explore! 
Also read: A First-Timer's Guide to Exploring the Best of New York
1. This fabulous, art-filled brownstone home in Brooklyn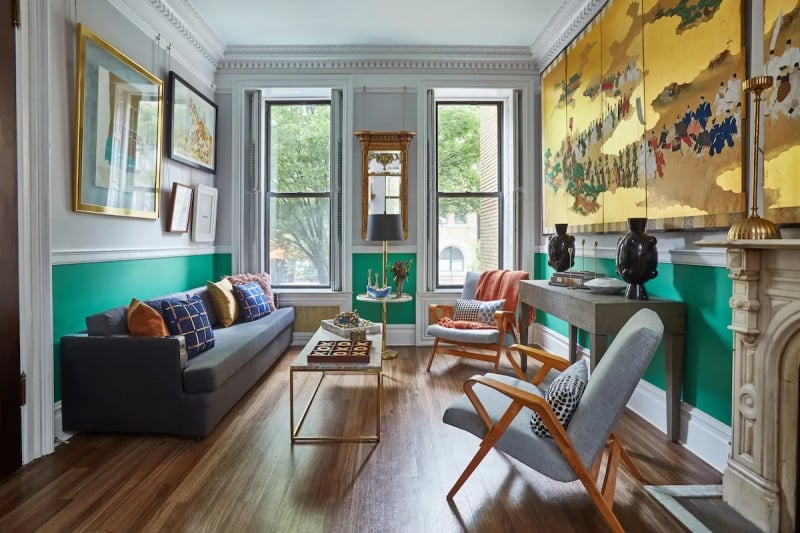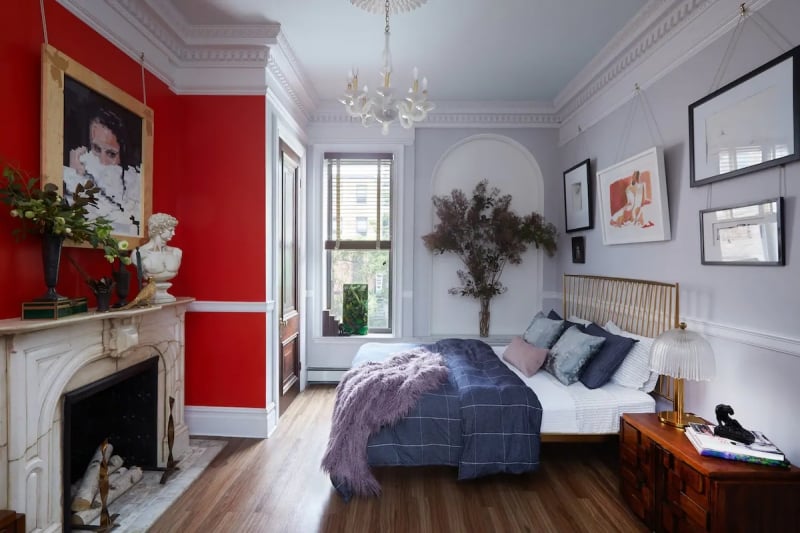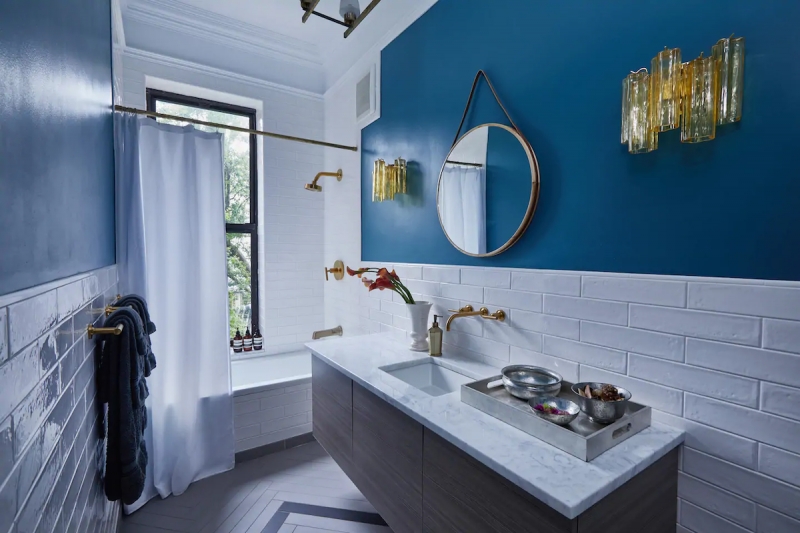 Listing name: Beautiful Brooklyn Brownstone Entire Parlor Floor 
Listing type: Entire home 
Max. no. of guests: 2
No. of bedrooms: 1 
Complete with a fully equipped kitchen and dining area, this 120-year-old brownstone home has been transformed by its owners, Jarret and Dan, into a swanky, gorgeous abode befitting a fashion designer! This artfully designed space in Brooklyn lets you have an entire floor all to yourself — and yes, that includes your own private bathroom! Every corner is squeaky clean and easy on the eyes. Bright pops of colour can be found in every room. 
Another thing to love about this Airbnb in New York? It enjoys fast Wi-Fi and a TV with all the best streaming services, such as Netflix, Amazon Prime, Hulu, and HBO Go. Learn more about this Airbnb here.
2. This dreamy apartment near Central Park and Times Square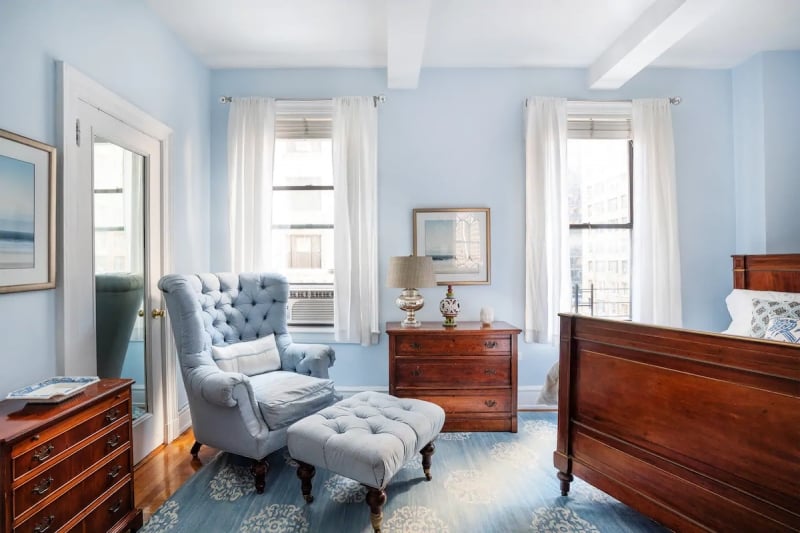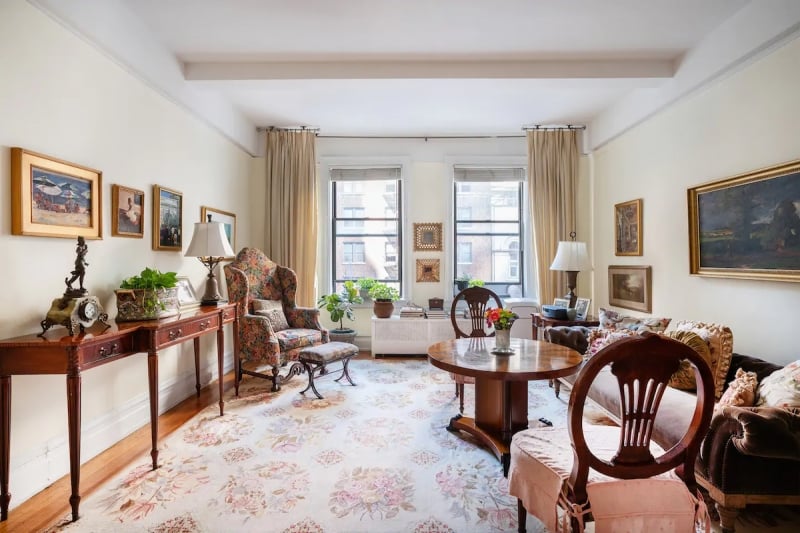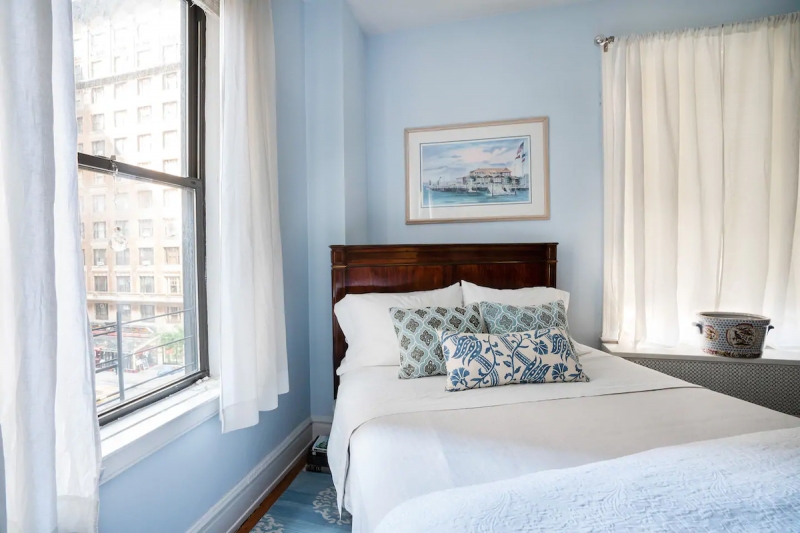 Listing name: Pre-War Gem in the Middle of Everything
Listing type: Private room in apartment
Max. no. of guests: 2
No. of bedrooms: 1
Make the most of your time in the Big Apple by keeping close to where the action is! Just a minute away from the nearest subway, this stylish nook in Midtown Manhattan is an easy walk from must-see attractions such as Times Square, Rockefeller Center, and Central Park. It features a doorman, valuable art pieces, soft beds and chairs, and a heater to keep you warm during the winter. 
Above all, Jamie, the host of this Airbnb, is a wonderful conversationalist. She makes an extra effort to help her guests feel at home during their stay. Equally warm and friendly is her well-behaved Cairn Terrier named Toto, who will be the sweetest flatmate you'll ever meet! Learn more about this Airbnb here. 
3. This lush, sun-lit retreat in a peaceful neighbourhood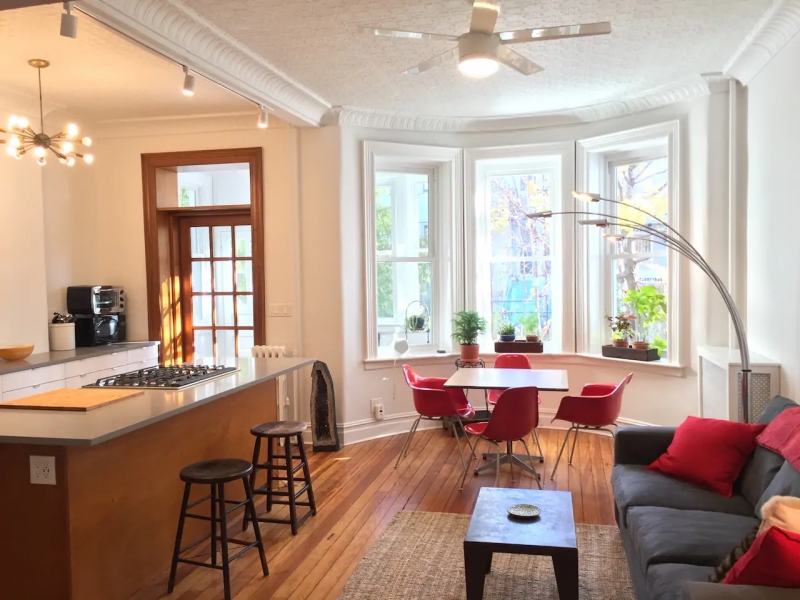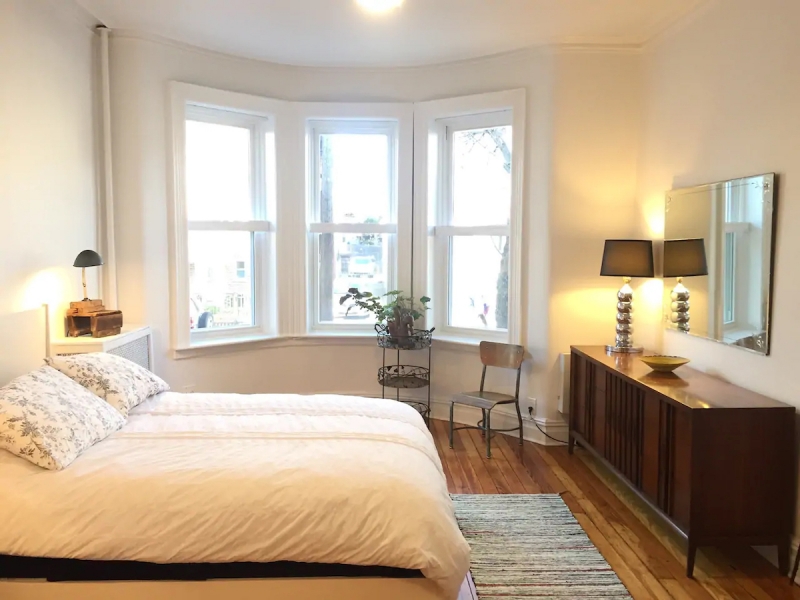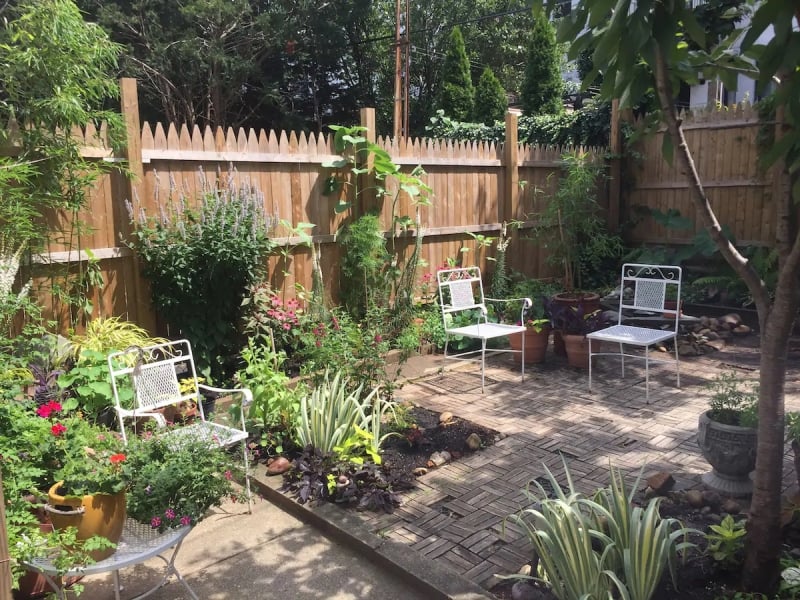 Listing name: Historic and Quiet Two-Bedroom With Backyard
Listing type: Entire home
Max. no. of guests: 4
No. of bedrooms: 2
Dating as far back as 1901, this lovingly restored two-bedroom apartment in Ridgewood, Queens is perfect for guests who are looking for a quieter side of New York City. It boasts a modern kitchen, vintage furniture, hardwood floors, a cosy sunroom, and wide bay windows that let the light in. 
Stepping outside your door, you'll find a variety of plants growing in the backyard. Further beyond in the neighbourhood are pleasant restaurants, cafés, shops, and galleries waiting to be discovered! Learn more about this Airbnb here. 
4. This relaxing abode with rooftop views near the Theatre District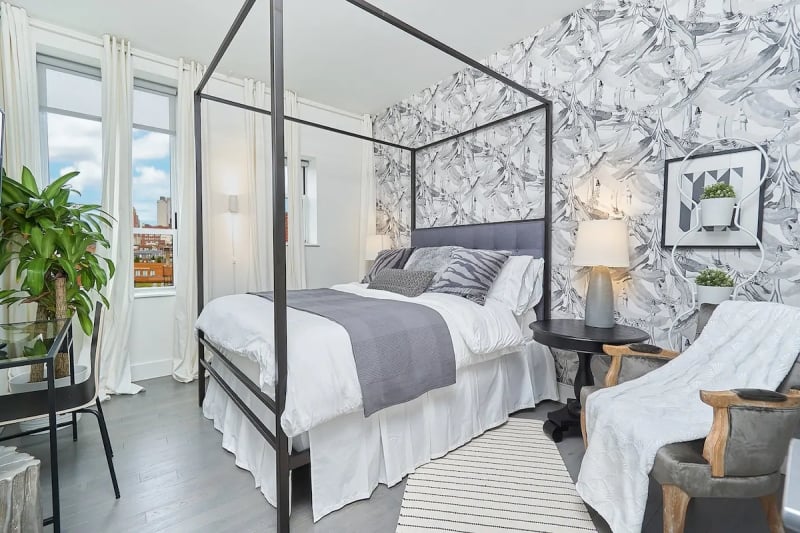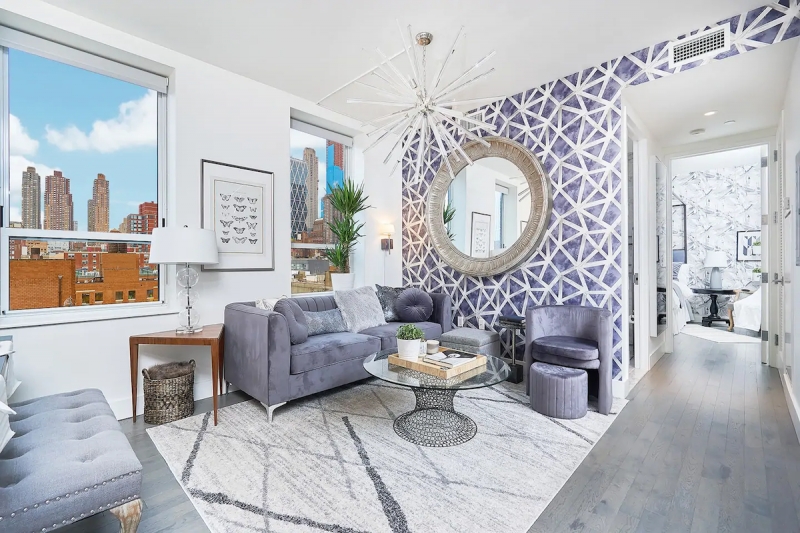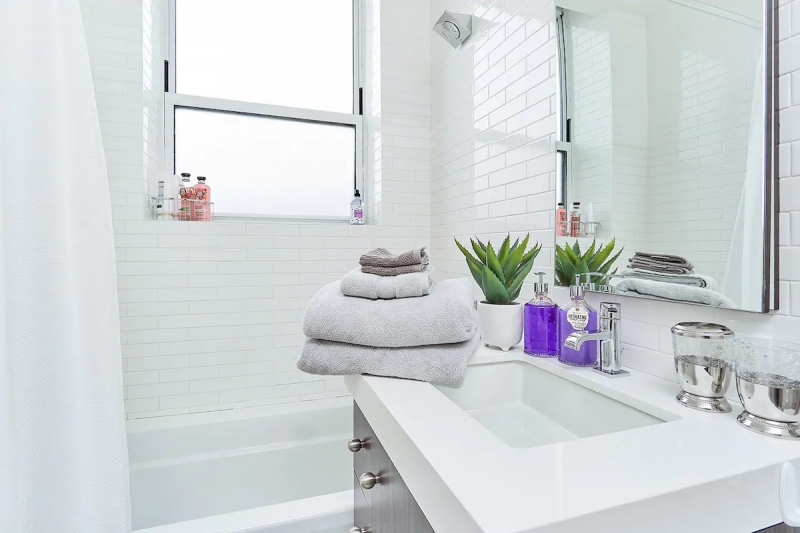 Listing name: Luxurious Famous Hell's Kitchen
Listing type: Entire home
Max. no. of guests: 2
No. of bedrooms: 1
This centrally located home in Hell's Kitchen is in a vibrant part of NYC, made famous for its buzzy restaurants, bars, art galleries, and nightlife scene. It offers an open kitchen, stone counters, shiny white oak floors, a roof terrace, and more. Considering it's also quite large for most New York apartments, we think that this Airbnb is quite a steal! 
The cherry on top? Many theatres happen to be an easy walk from this home. You'll be humming musical numbers in no time at all! Learn more about this Airbnb here.
Also read: 7 Must-Watch Broadway Musicals in New York City Today
5. This minimalist studio near a famous bakery in Manhattan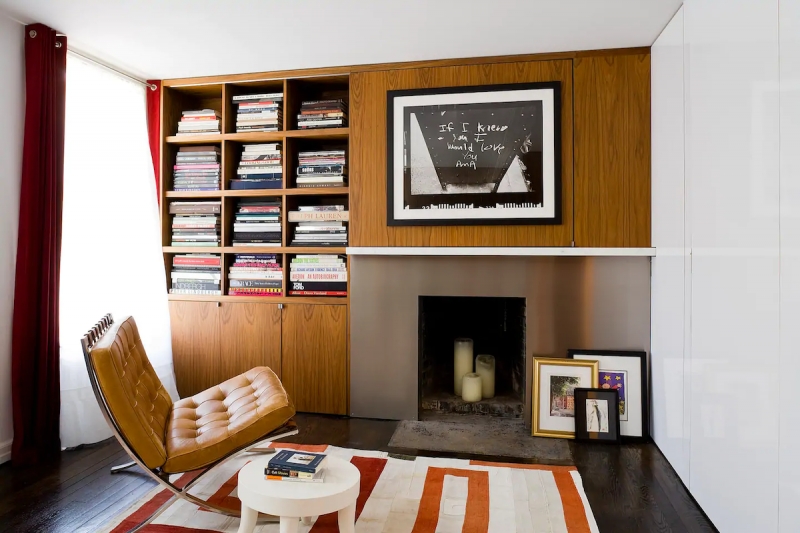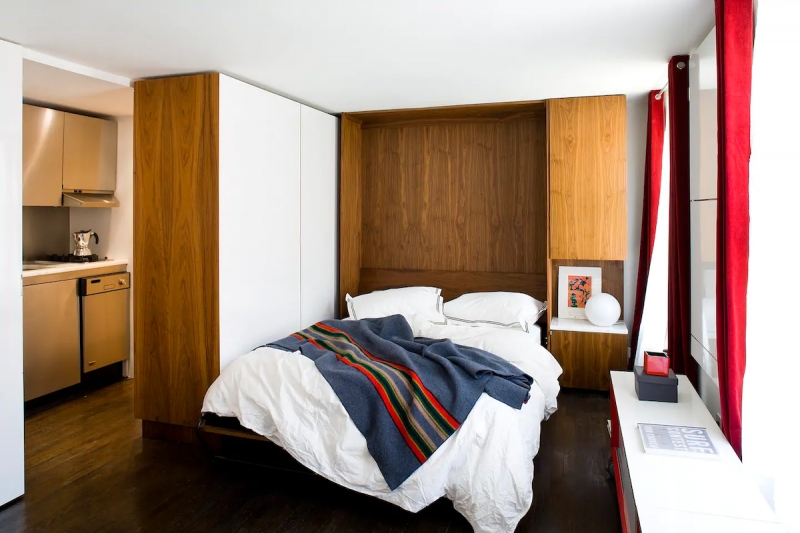 Listing name: Fully Furnished Studio Manhattan
Listing type: Entire home 
Max. no. of guests: 2
No. of bedrooms: 1
How about getting yourself a clutter-free space that sparks joy? Thanks to its sleek interiors and noise-reducing windows, this intimate studio in the heart of Manhattan's West Village gets a lot of attention from young travellers looking for a place to stay. It's simple and sparklingly clean, perfect for go-getters! 
What's more is that this Airbnb in New York has an amazing view over Magnolia Bakery, a well-loved American bakeshop that shot to fame after a cameo in Sex and the City. Spend your mornings with spoonfuls of banana pudding and cupcakes in the living room. And don't you just want to huddle in front of the fireplace? Learn more about this Airbnb here. 
6. This sunny, charming hideaway for an authentic New Yorker experience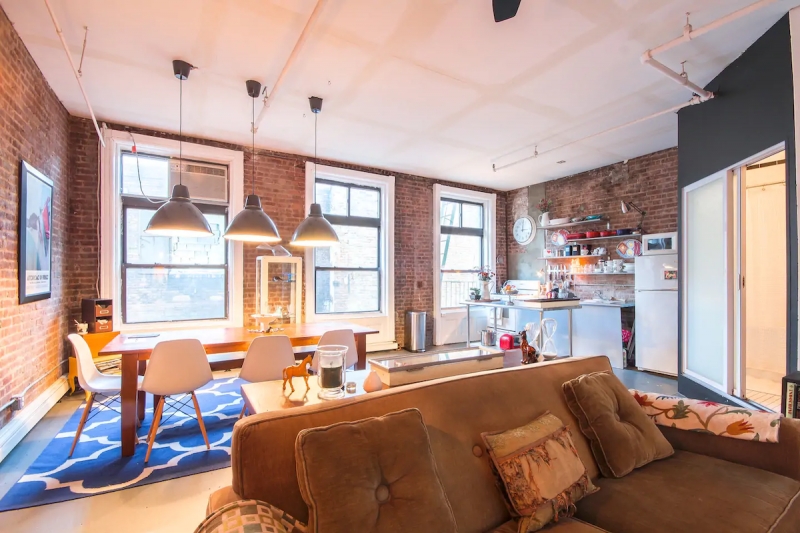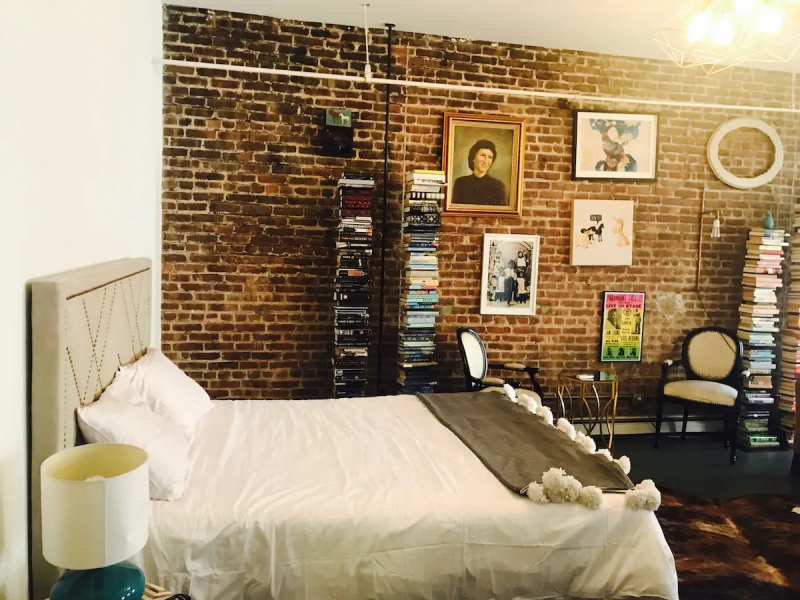 Listing name: Authentic Tribeca Loft Near Soho
Listing type: Entire home
Max. no. of guests: 2
No. of bedrooms: 1
Exposed brick walls, colourful paintings and posters, books piled high on a corner — this feels like a New York home straight out of the movies! Tucked away in the upscale area of Tribeca, this bright and airy loft stands in a trendy Manhattan neighbourhood, where the residents include celebrities like Robert De Niro and Beyoncé. (We're not saying that you might run into famous people during your adventures here. But hey, it's New York. Anything can happen!)
High ceilings, wooden floors, and huge windows looking over the city give this Tribeca loft a distinct New Yorker charm. Additionally, it's a stone's throw away from the train station and SoHo, Little Italy, and Chinatown. Look no further, for this is the perfect set-up for your exploration of the Big Apple! Learn more about this Airbnb here. 
7. This cosy, spacious apartment with a Jacuzzi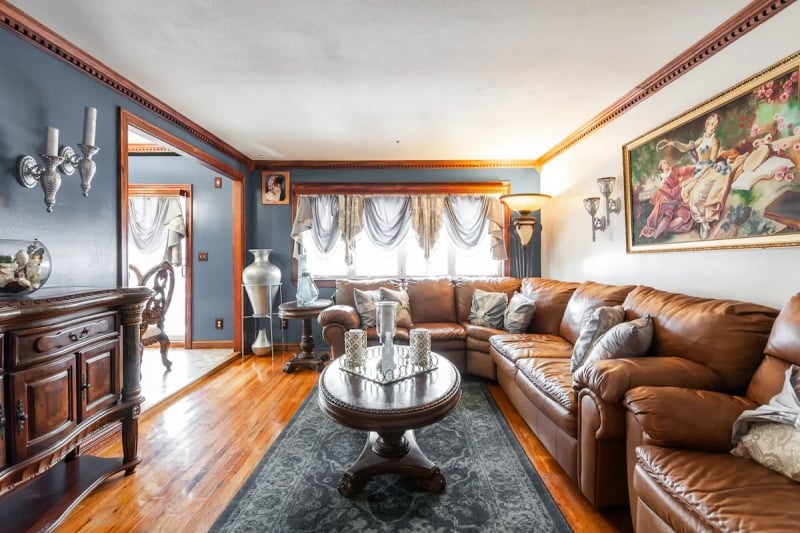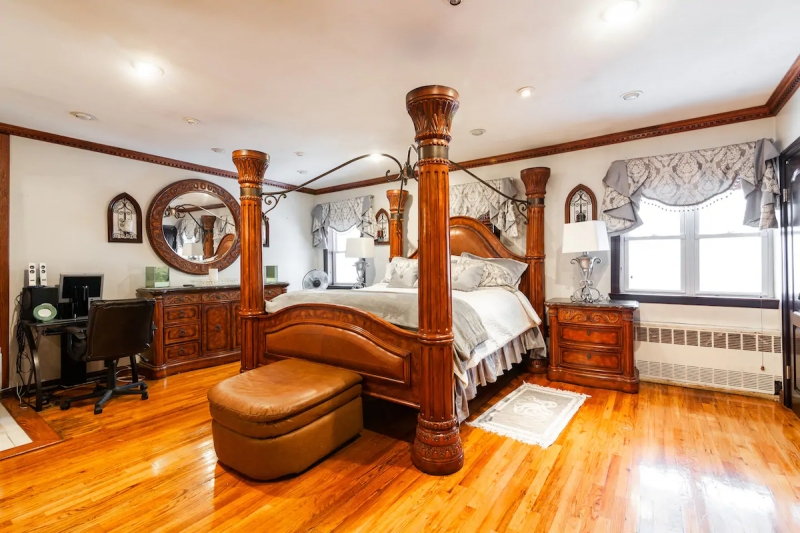 Listing name: Newly Renovated Apartment With Parking Space
Listing type: Studio
Max. no. of guests: 4
No. of bedrooms: 2
Oh my, where to begin with this wonderful Airbnb in New York? This gem of an apartment lets you live in the lap of luxury with a furnished kitchen, a full-size sofa in the living room, a large bathroom, a hot tub, and a king-sized bed in the master bedroom. The dining room, which can seat up to six people, leads to a balcony overlooking Brooklyn. And from the lounge chairs outside, you can soak up astonishing views.
Don't miss out on your chance to lay back on the La-Z-Boy sofa in front of a 42-inch TV, or soak in the bathroom's Jacuzzi — so tempting, you'll never want to leave! Learn more about this Airbnb here. 
8. This breathtaking suite in a 19th-century house in Brooklyn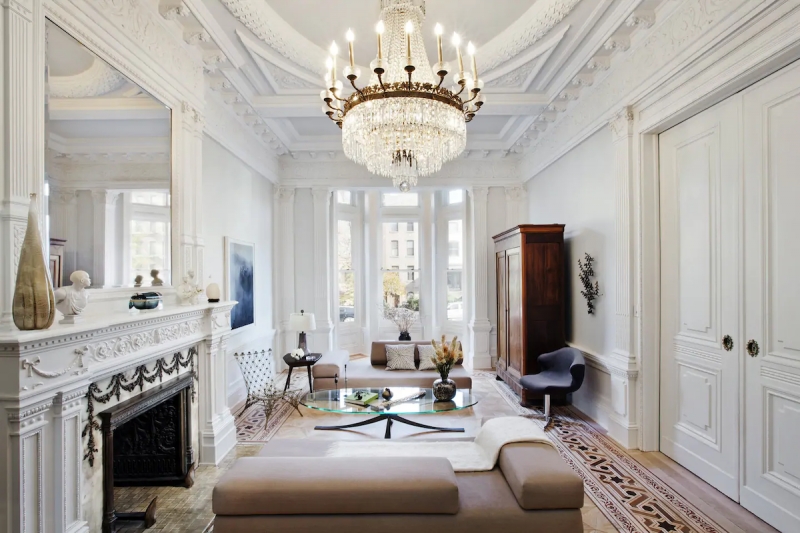 Listing name: The Notorious B.N.B. 
Listing type: Private room in house
Max. no. of guests: 2
No. of bedrooms: 1
What happens when 19th-century grandeur meets the Brooklyn definition of cool? You get a magnificent home that ages as gracefully as this one. Completed in the late 19th century, this Airbnb in New York is a gorgeous, historic mansion standing along the tree-lined streets of Clinton Hill. With swift access to the trains, you're just minutes away from the Brooklyn Museum of Art, the Brooklyn Flea Market, Prospect Park, Fort Greene Park, and the rest of Manhattan. 
Live in the lap of luxury with a clawfoot tub, indoor fireplace, walk-in closet, luxurious bed linens, and walls painted in a calming shade of blue. Worth the splurge? Very much! Even the CEO of Airbnb, Brian Chesky, has praised this Brooklyn property, and we can see why. Learn more about this Airbnb here.
Also read: How I Spent 4 Days in New York City: Itinerary and Tips
Do you have your sights set on any of these Airbnbs in New York City? Whether you are travelling in a group or going solo, these comfortable homes are your gateways to the Big Apple! And when you're ready for your journey, the city will be right at your door.