Valentine's Day is fast approaching, and you're probably ready to plan something big for that special someone. Whether it's a weekend staycation for some couple quality time, or a grand dinner at some fancy restaurant, that gaping hole in your wallet comes as a small price to pay when you see him or her smiling in pure delight!
But on the pure chance that you somehow forgot to plan something appropriate for February 14th, don't panic just yet! Here's a great selection of passionate staycation and dinner ideas to keep you in the game. Be rest assured that you'll be charming your date right off their socks by the end of the night!
1. W Singapore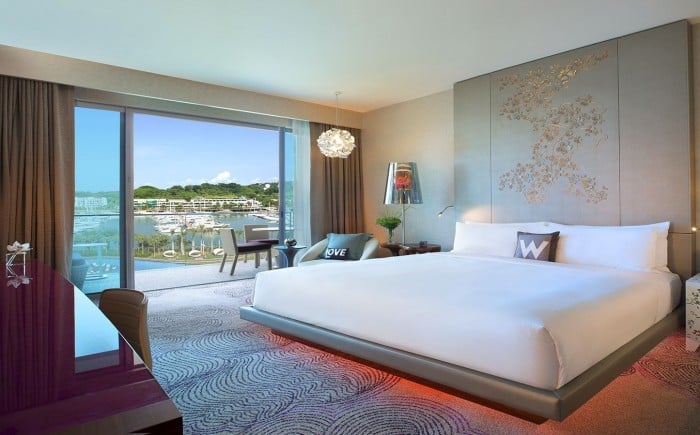 Image credit: W Singapore
They say that true love is priceless, which is why a staycation at W Singapore with that special someone is so worth it! Explore and indulge in the five-star hotel's luxurious amenities, such as taking a quick dive in the WET® pool, one of Singapore's biggest outdoor pools, or have a pampering spa treatment at the AWAY® spa. You'll both still be daydreaming about the lavish lifestyle, days after the check-out date!
What's more, W Singapore's having a few special lovey-dovey events on Valentine's Day for couples to celebrate! How does glamping under the stars sound like? With I Lawn For You, you'll have your very own little romantic campsite on their front lawn, complete with appetising tapas and champagne, for an enchanting evening. Alternatively, you can choose to Turn Up The Heat instead with a fantastic grill-out session of seafood, Wagyu beef and smoked bacon, yum!
Read more about our staycation experience at W Singapore right HERE!
2. Hotel Clover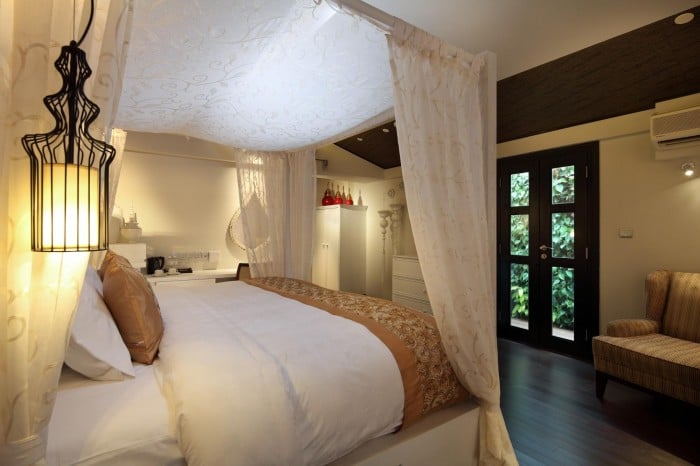 Image credit: Hotel Clover
When you step foot into Hotel Clover, don't be surprised to find yourself back in the colonial times. Housed within a row of two-storey shophouses in Kampong Glam, you and your partner will be enraptured by the synergy of classical furnishings and intricate decorations around the building! For some private quality time, make a reservation for their Garden Lavish Suite, where you and your partner can soak to your heart's delight in the indoor jacuzzi! After a refreshing shower, take a stroll around your very own private garden and enjoy the pleasure of each other's company.
If the suite is a little too big for you, then try out a staycation at their Loft Suites instead, which are a perfect fit for two. Leave all your belongings on the ground floor and bring out that passionate side of you on the king-sized bed at the mezzanine level! You'll never want to leave that comfy nook for sure.
3. Sofitel Singapore Sentosa Resort & Spa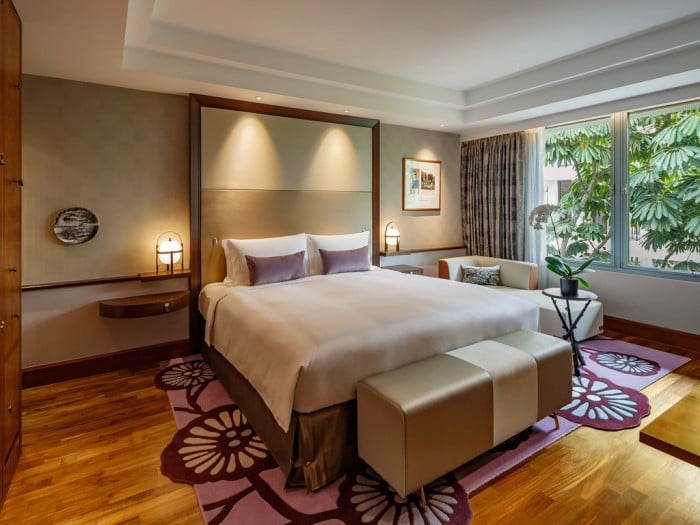 Image credit: Sofitel Singapore Sentosa Resort & Spa
Looking to spend your Valentine's at Bali or Phuket, but have neither the time nor budget for it? Look no further, because you can get a little slice of that coastal life at Sofitel Singapore Sentosa. Just pick a room of your liking, from the Luxury Garden Room that's surrounded by lush greenery, to the cozy and luxurious Prestige Suite – and use it as a base of operation for all your romantic island adventures!
Too lazy to get out of the hotel? That's completely fine! Choose to go for a dip in their swimming pool, where you can swim to your heart's content, or loosen all those tense muscles with the help of expert masseuses at the So SPA. Round that all off with a alfresco dining experience at Kwee Zen, where you and your loved one can enjoy a diverse mixture of delicious Asian, Western, and French cuisine with a panoramic view of the South China Sea!
Read more about our staycation experience at Sofitel Singapore Sentosa HERE!
4. Rendezvous Hotel Singapore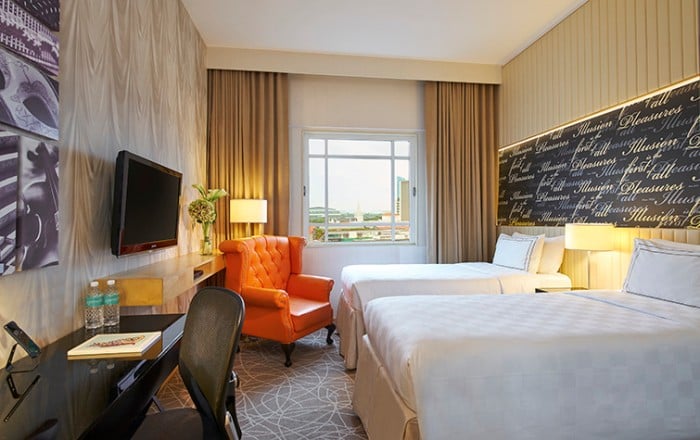 Image credit: Far East Hospitality
Made for the artistically inclined couples, Rendezvous Hotel Singapore aims to dazzle you with their snazzy and vibrant interior decorations which were specifically designed to complement the rich heritage of the neighbouring districts of Bras Basah and Bugis. Their hotel rooms are no different, with a variety of themes instilled in each type of room to suit your diverse tastes. From traditional Peranakan, to classy retro, and to grand musicals, you'll definitely fall helplessly in love with this hotel!
Once the both of you are done admiring the fancy artworks, head down to The Library to quench your thirst! Here, you can sit back on one of their comfy armchairs and start sipping on tasty colourful cocktails, created by the talented mixologists behind the bar. For a more filling dinner date, drop by the nearby Clarke Quay Central, where you can tuck into the signature Nasi Padang from the famous Rendezvous Hock Lock Kee restaurant!
5. The Quincy Hotel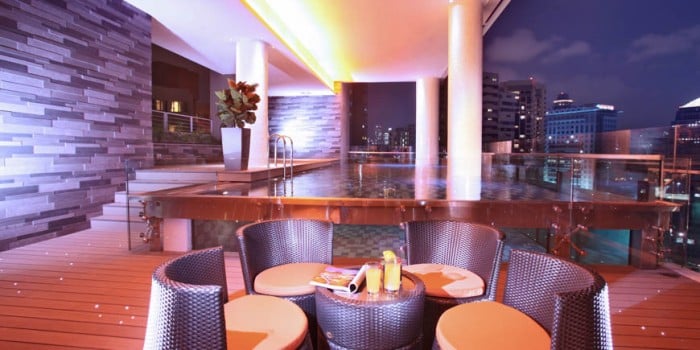 Image credit: Far East Hospitality
The Quincy Hotel is the perfect destination for couples looking for some quiet time away from the hustle and bustle of city life. Not only are you treated to a comfortable room that's fully stocked with a complimentary mini-bar, all-day light refreshments are also available by Dean & DeLuca so that you'll never run out of snacks to feed each other! The LED-illuminated infinity pool on the 12th floor is also worth checking out, where you can spend the romantic evening gazing out into the beautiful night sky.
The Qool Weekend Staycation Package is perfect for all couples looking to try out new activities! Join a chocolate truffle making class together or discover your hidden Picasso with a couple art jamming session. Plus, the movie screenings by the pool every Saturday night make it an ideal time to cuddle up to each other while being immersed in a good movie.
6. Warehouse Hotel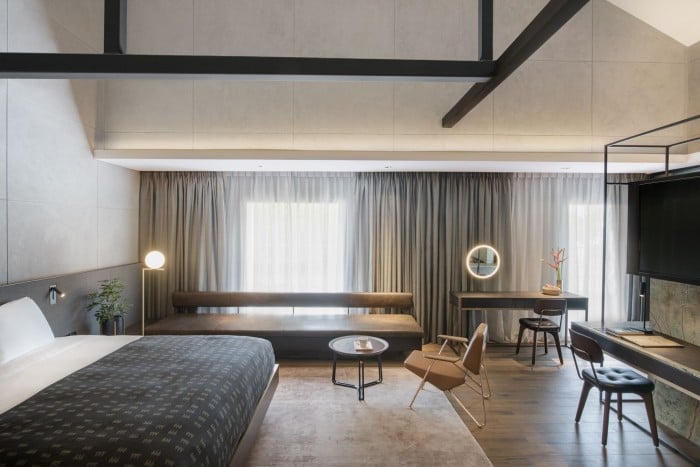 Image credit: The Warehouse Hotel
If your idea of a perfect date includes magnificent views of the Singapore River, then the Warehouse Hotel has exactly what you're looking for. Once used as a storehouse for sea traders passing through the Straits of Malacca, this heritage building has been painstakingly converted into a modern boutique hotel. Complementing its original industrial design with contemporary comforts, unwind in this minimalistic and chic room for a memorable Valentine's Day!
That's not all! There's an infinity pool right at the top of the building, where you can enjoy the best sights of the surrounding area, the river and your lover in a swimsuit! On top of that, the hotel's flagship restaurant, Po, will delight your taste buds with their modern take on local Singaporean dishes.Sample exquisite recipes such as Kurobuta Char Siew or Veal Cheek Rendang at the restaurant – the brainchild of chef-partner Willin Low, founder of the award winning Wild Rocket restaurant – to end the night!
7. Hotel Jen Orchardgateway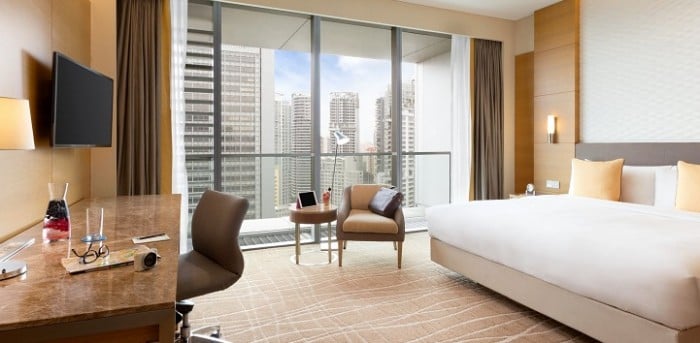 Image credit: Hotel Jen
Is your special one a raging shopaholic? Then what better way to spend this Valentine's Day than with a staycation at Hotel Jen Orchardgateway! Located right in the heart of Orchard Road, you'll literally be able to "shop till you drop" at the various malls around the vicinity, without the dreadful thought of carrying your bulky purchases through the crowd and having to take public transport back home!
Once you're exhausted from all that spending and browsing, consider chilling out at their 47-metre rooftop infinity pool to rest those tired feet of yours. After that, put on your best outfit (recently bought or from your existing wardrobe) and start prepping for that important dinner date at Makan@Jen, where the both of you can enjoy local favourites such as laksa, satay and fried rice, as well as a diverse range of themed buffets!
8. Naumi Hotel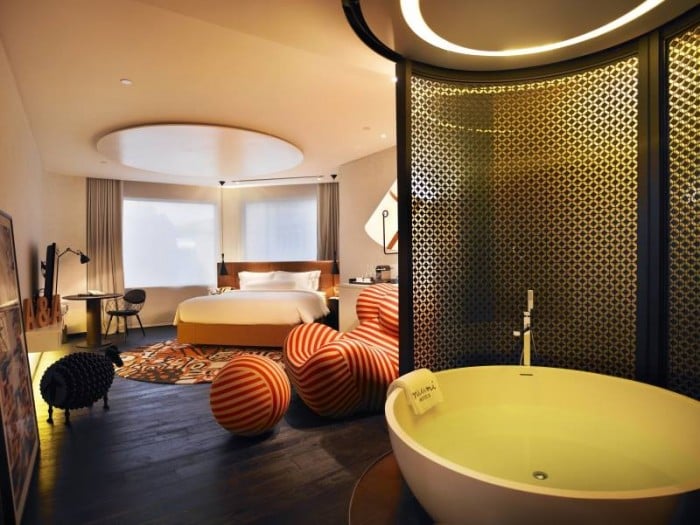 Image credit: Naumi Hotel
For something out of the ordinary for this Valentine's Day, make a reservation at Naumi Hotel! Each room is uniquely designed and decked out with premium amenities and furnishings. On top of that, if something catches your eye in your room, there's no need to "accidentally" bring it home! Most of the decorations, in the lobby or in the rooms – can be purchased, doubling up as a suitable romantic memoir for your special day with him or her!
Check out their special Valentine's Day "Sweet Heart O'Mine" Package for a phe-naumi-nal night! You'll get to enjoy a Naughty pack (filled with kinky surprises), an exclusive mini Moet, breakfast for 2 at Table by Rang Mahal, a HAACH award winning hydrating anti-aging facial, and a Sephora's pamper Valentine's gift pack! All you have to do is book directly to enjoy more perks, and your Valentine's Day plans are settled.
9. PARKROYAL on Pickering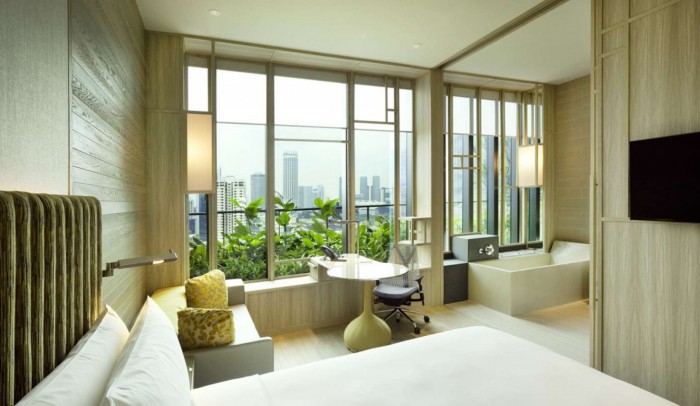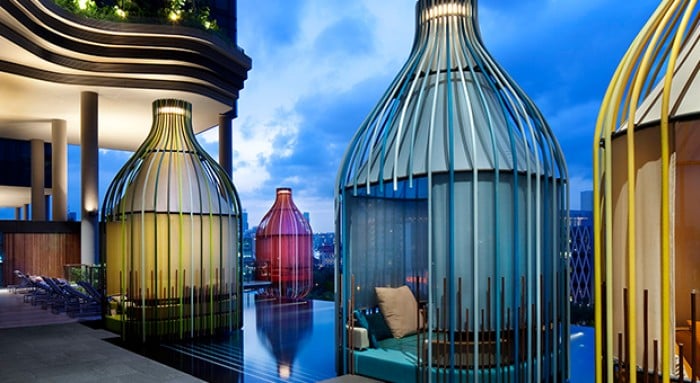 Image credit: PARKROYAL Hotels & Resorts
A lush green oasis located near Chinatown, PARKROYAL on Pickering is a great place for couples with an affinity for nature. Take your loved one for a leisurely stroll on the fifth floor, where you get to explore their 300-metre garden walk that's high up above in the air! Even their hotel rooms take inspiration from the environment, with delicate wood finishings in their decorations that will leave the both of you relaxed and immersed in a tranquil atmosphere. Don't forget to chill in one of their iconic birdcage cabanas by the pool after a good swim!
Once your stomach starts growling, head on down to the first floor for a unique Valentine's Day buffet at Lime Restaurant! Start the evening off with some French oysters and vanilla-poached lobsters, followed by main courses of Wagyu Tenderloin Rossini and shaved Iberico ham, and end it all off by creating your own personalised Red Velvet Cake – that's inscribed with a loving message of your own choice!
10. Capri by Fraser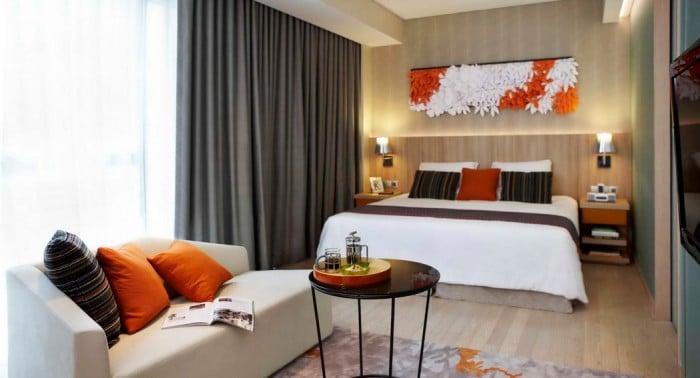 Image credit: Capri By Fraser
For the East-siders who're looking for something that doesn't take them across the country for a brief staycation during Valentine's Day, Capri by Fraser will be right down your alley! Not only is it nearby, the amount of luxurious amenities in your room, ranging from their rejuvenating rain shower, comfy sofas and therapeutic fragrances of Malin + Goetz toiletries, will leave you tempted to hang that "Do Not Disturb" sign outside your door for some uninterrupted romance!
Feeling peckish? The hotel has plenty of F&B outlets to suit your random cravings, be it a grab and go sandwich and coffee from The Delite, or a full-fledged American meal at Caprilicious. If that's not what you're looking for, walk a bit further to Changi City Point for a wider selection of restaurants to choose from for your special dinner date!
11. Wanderlust Hotel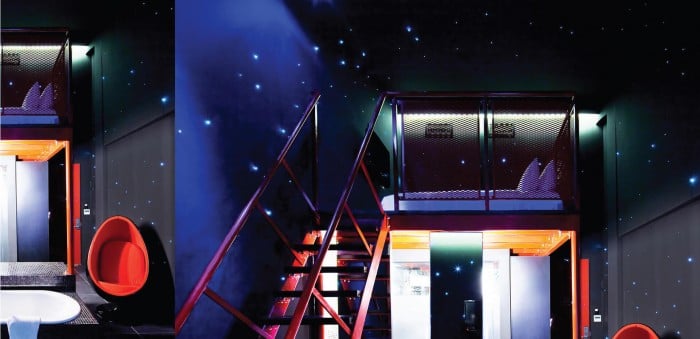 Image credit: Wanderlust Hotel
Just need to be going somewhere with that special someone for this Valentine's Day? Then end your need for travel with a stay at the Wanderlust Hotel! Their rooms will serve to tickle your senses, with themes such as "Creature Comforts", revolving around surreal fantasy lands and giant creatures, and the "Pantone Deluxe", which draws heavy inspiration from The Beatles' 'Yellow Submarine". It's like you're stepping into a whole new world with each room you explore!
Take a break from your mini-expedition with some French delights at Cocotte, where the restaurant adopts a casual approach to fine dining. Dig into some mussels in Fennel cream, or sample their signature Poulet Rôti & chargrilled onglet steak, to end off the day!
Keen on making a stay at one of the listed places on Valentine's Day? Well, don't wait any longer! Head online to make your reservations as soon as possible, because you're not the only couple in Singapore looking to spice things up on their special day. Act fast, lest you end up spending this February in the living room, binge watching Netflix with a very unhappy partner!