Think there's nothing much to do in Batam? Well, here at TripZilla, we've made it our mission to dispel that myth! Without further ado, here are some of the best attractions in Batam for you to visit on your next getaway:
1. Welcome to Batam sign
Just like how Los Angeles has the Hollywood sign, the island of Batam also has its own Hollywood-esque "Welcome to Batam" sign. This is a good place for a quick photoshoot with your friends, so you better get your cameras ready!
2. Barelang Bridge
Consisting of a chain of six bridges, the Barelang Bridge connects Batam with the neighbouring Rempang, Galang and Riau islands. Vaguely reminiscent of the Golden Gate Bridge in San Francisco, the bridge is the perfect spot for catching stunning sunsets!
3. Nagoya Hill Shopping Mall
Built in 2007, Nagoya Hill Shopping Mall is the biggest shopping mall in Batam. From groceries and clothes to IT products and sports equipment, the mall offers a dizzying array of options that are bound to satisfy the inner shopaholic in you. Feeling hungry from all that shopping? No worries, there is also a wide variety of cafés and restaurants in the mall!
4. Montigo Resorts Nongsa
When in Batam, don't miss out on the water activities! Resorts often offer the best water activities facilities, so why not kill two birds with one stone and consider staying in a resort that could provide you with unparalleled comfort AND endless fun?
Montigo Resorts Nongsa offers you just that . Perched on the edge of the glittering blue sea, this gorgeous resort guarantees you a luxurious stay in its beachfront villas and offers you a multitude of opportunities for some exciting aquatic adventures! Banana boat rides, kayaking, jet skiing, snorkelling… You name it! 
Read the full review of Montigo Resorts Nongsa on TripZilla Stays.
While you're at Montigo Resorts Nongsa, consider heading for a relaxing session or two at the Montigo Spa. Grab this opportunity to recharge yourselves with some soothing ginger baths and herbal compress massages! After all, what's a trip to Batam without a massage?
5. Love Hill (Bukit Cinta)
As the name suggests, Love Hill is best visited with your significant other. Offering a panoramic view of the twinkling city lights, the hill provides a lovely ambience for you to enjoy a relaxing night with your loved one. There is also a café atop the hill offering some snacks and drinks!
6. Diana Layer Cakes
More affectionately known as Kueh Lapis , a layer cake is basically a buttery spice cake grilled layer by layer, culminating in a fragrant and moist multi-layered cake. It originated in Indonesia during its Dutch colonial days, and is also a popular snack in Singapore and Malaysia.
To get your hands on these sinfully delicious cakes, consider heading to Diana Layer Cakes, a highly recommended bakery specialising in homemade Kueh Lapis .
7.  Harbour Bay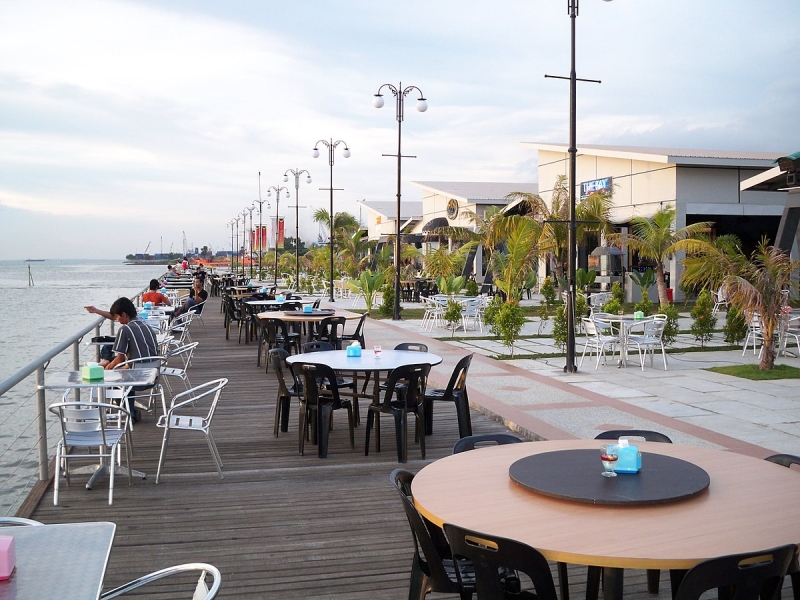 At Harbour Bay, you'll find a wide plethora of cafés and restaurants that are perfect for an afternoon tea session or delicious seafood dinner. Feel the refreshing breeze running through your hair as you gaze out to the beautiful sea. It doesn't get more relaxing than this!
8. Pasar Buah Puja Bahari
Selling fresh fruits and various dried snacks, Pasar Buah Puja Bahari is one of the best markets in Batam. Here, you'll get to witness a part of the locals' daily lives and get a more authentic Batam experience.
Clothes lovers can also consider heading to Pasar Pagi Jodoh, and foodies should head to Pasar Basah Mitra Raya. If you're into secondhand goods and don't mind going slightly further, there is also Pasar Seken Aviari!
9. Ocarina
Opened in 2008, the Ocarina arena is a waterfront amusement centre filled with endless entertainment and dining options. From water parks to a 3D movie theatre, this integrated tourism park is perfect for families and friends looking for an exciting time! Plus, the giant ferris wheel will look pretty good on your Instagram feed, won't it?
10. Tanjung Uma
Looking for something that's off the beaten path? Check out Tanjung Uma, the first and the oldest fishing village in Batam. It's not every day that you'll get to see traditional houses built on stilts over the waters as well as wooden boats! The locals are also incredibly friendly, so don't be afraid to strike up a conversation with them!  
So there you go! For those who are about to embark on a Batam escapade, you no longer have to worry about having nowhere to go. And for those who are not planning a trip to Batam (yet), trust me, it's time to put Batam on your getaway bucket list!