Who says you need a lavish five-star hotel to have a good staycation experience? There are plenty of affordable yet stylish hotels in Singapore! This list gathers some of the coolest accommodation options in Singapore which are going to be perfect for your next staycation, a great alternative for a weekend getaway without blowing your budget.
Plus, we've even gone down to these unique hotels and sussed out the entire staycation experience, from the hotel decor, to the plush and cozy rooms, down to the amenities and dining options, AND even things to do in the area as well! Awesome or what? All you have to do is take your pick!
1. ONE°15 Marina Sentosa Cove, Singapore
Nestled within the quiet enclave of Sentosa Cove, ONE°15 Marina Sentosa Cove is a contemporary resort hotel offering spectacular views of the yachts and the waterfront. Situated far away from the city, this is THE perfect spot for staycation-goers to escape the hustle and bustle of daily life!
Feel free to take a relaxing stroll around the bay, go for a refreshing dip in the gorgeous infinity pool, or chill at LATITUDE Bistro while watching the sun go down. But if you're looking for something more exciting, you can head to the Recreation Office to rent some Segway devices and bicycles to tour around the scenic area! Then, end off your amazing day with some sumptuous Cantonese delicacies at WOK°15 Kitchen as well as refreshing drinks at Boater's Bar, a unique floating bar.
P.S. The hotel's close proximity to a plethora of Sentosa attractions like Universal Studios Singapore and Adventure Cove Waterpark also means that you'll never run out of exciting things to do! Who could resist that?
Book your stay at ONE°15 Marina Sentosa Cove now!
Estimated price: $193/night
2. The Quincy Hotel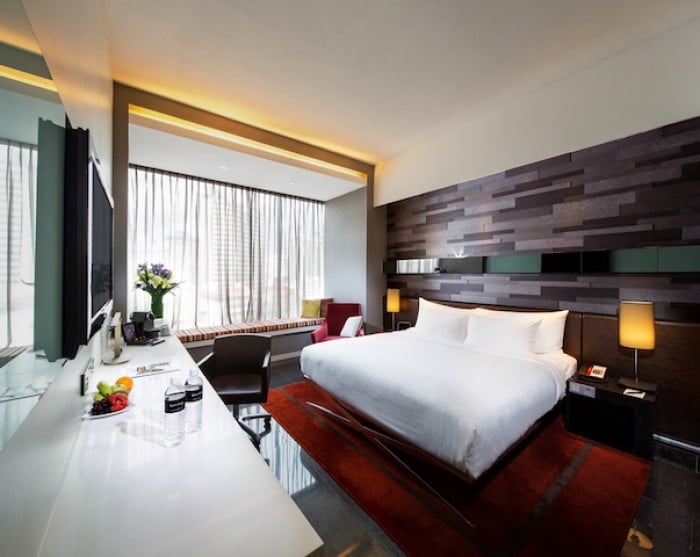 Image credit: Stay Far East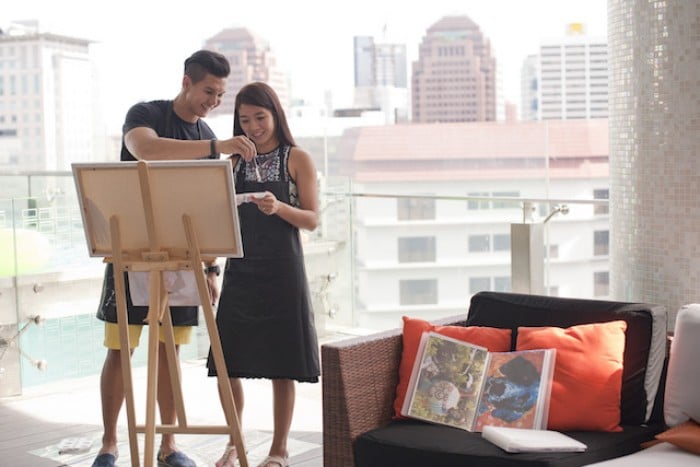 Image credit: Stay Far East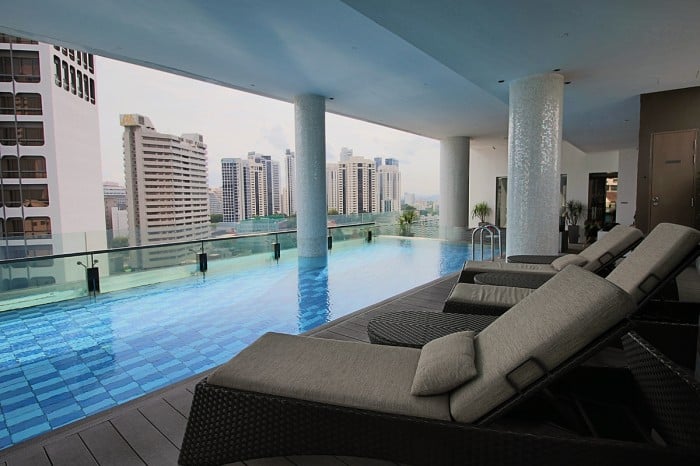 Image credit: Stay Far East
Quincy Hotel has one of the best perks a hotel can offer - free breakfast, lunch, dinner, and All-Club Benefits such as all-day complimentary pastries from Dean & DeLuca for all its guests! Quincy also has a Qool Weekend Staycation package, which is the perfect deal for couples. In addition to a free bottle of wine, couples can choose to participate in either a chocolate truffle making class or couple art jamming session. On Saturday nights, guests can relax and enjoy a movie by the pool. What's more, it's located very centrally atop of Mount Elizabeth, with Orchard Road right at your doorstep, if you're feeling that shopaholic's itch. Yep, definitely worth every cent!
Estimated price: $250/night

Also read: Running Out of Date Ideas? How About Joining a Fun Class with a Sexy Staycation?
3. AMOY
Image credit: Stay Far East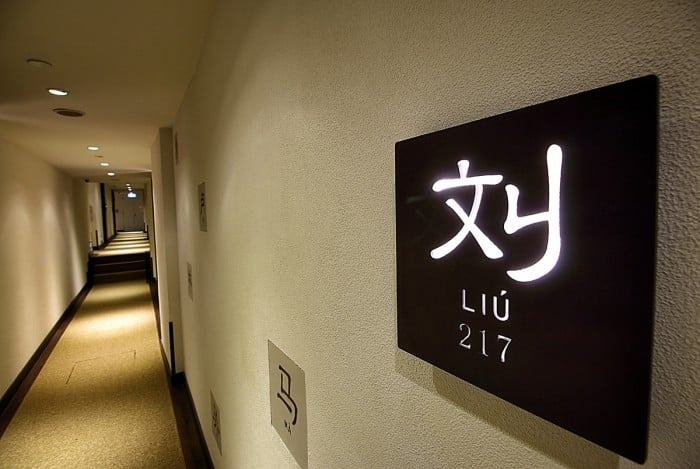 Image credit: Stay Far East
Located at the heart of the CBD, this hotel boasts a pretty cool architecture, borrowing inspiration from the lives of the Chinese immigrants of the past, while blending it with modern furnishings. So be prepared to be wowed by this eclectic mix of "Old Meets New, East Meets West"! Admittedly a bit more taxing on your wallet, but absolutely worth the visit. After all, this hotel didn't win "Top Hotel in Singapore" from TripAdvisor's Traveller's Choice Award for nothing.
Estimated price: $270/night

 4. Village Hotel Katong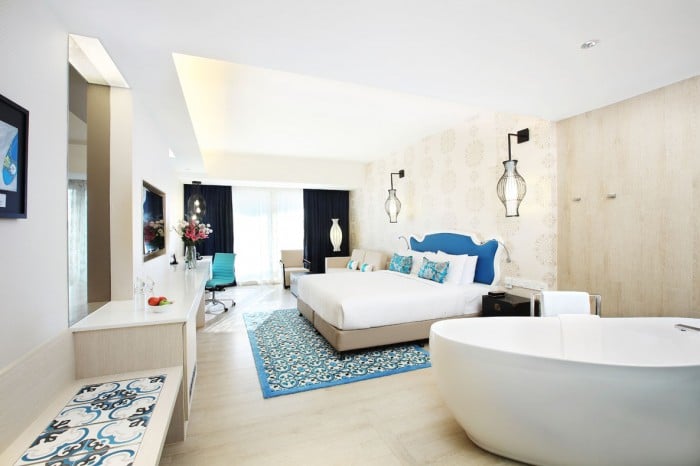 Image credit: Stay Far East
This charming hotel is full of influences from the Peranakan culture, and is nestled in the more tranquil Eastern region in Singapore – perfect if you're looking for a bit of peace and quiet! Being a 10-minute walk from East Coast Park, you can easily drop by to do some cycling, roller-skating, or just lazing by the beach.
Estimated price: $160/night

5. SO Sofitel Singapore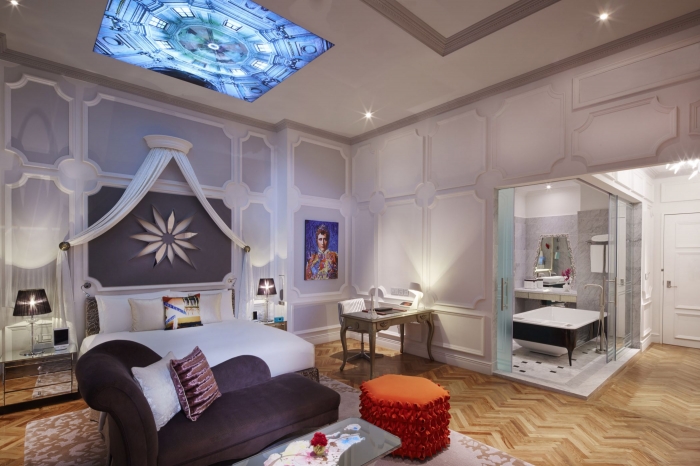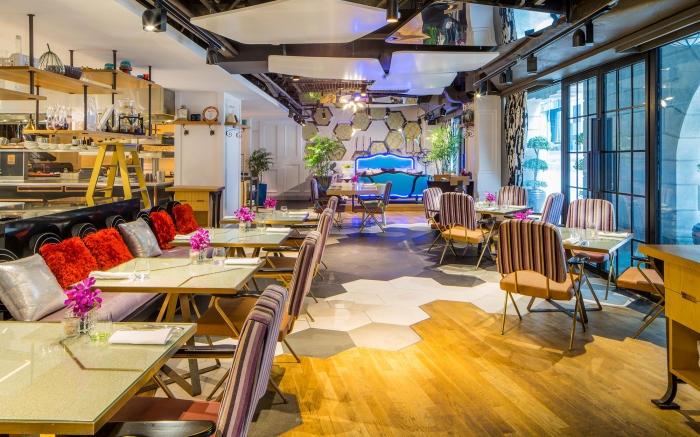 Image credit: SO Sofitel Singapore 
SO Sofitel Singapore, a hidden gem at the heart of the Central Business District, has everything you need for an awesome staycation. An exquisite blend of Singaporean and French influences, the eclectic and opulent interior will amaze you with every corner you turn. Quirky chic and rebelliously elegant, their suites and rooms will make you feel like a movie star, staying in a upscale Parisian apartment. Oh, and did we mention that each room comes with a mini-bar of sorts, offering little bottles of liqueurs and even a shaker?! Yes, you get to make your own cocktail! How cool is that? They also have an exclusive bed called Sofitel MyBedTM that's heavenly soft and incredibly large; which will make you sleep as peacefully as a newborn baby. Plus, for those who love lazing around, you can even control the room temperature, lights and the curtains with an iPad – without getting out of bed!
Book your stay at SO Sofitel Singapore now!
Estimated price: $250/night
6.  M Social Hotel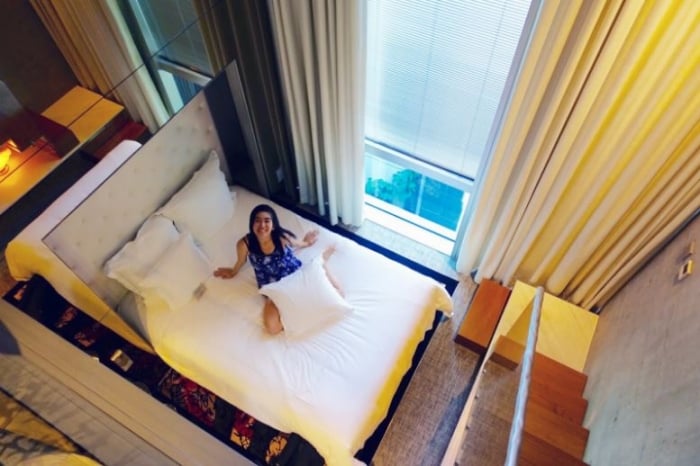 The brainchild of renowned designer Philippe Starck, M Social Hotel 's visually stunning lofts are the epitome of a home away from home. From the snug and warm interiors of the Alcove Cosy rooms to the signature stylish double decker Loft Gallery and Loft Premier, this curious but cosy hotel offers communal tables and an open bar that encourage like-minded travellers to gather and interact. M Social Hotel is THE place where modern explorers can get outside their comfort zones and forge friendships that will last through the years. Besides an infinity pool that overlooks the Singapore river, the hotel is also home to Beasts and Butterflies, a restaurant that serves an eclectic range of Asian and Western cuisine.
Book your stay at M Social Hotel now!
Estimated Price: $199/ night
7. Sofitel Singapore Sentosa Resort & Spa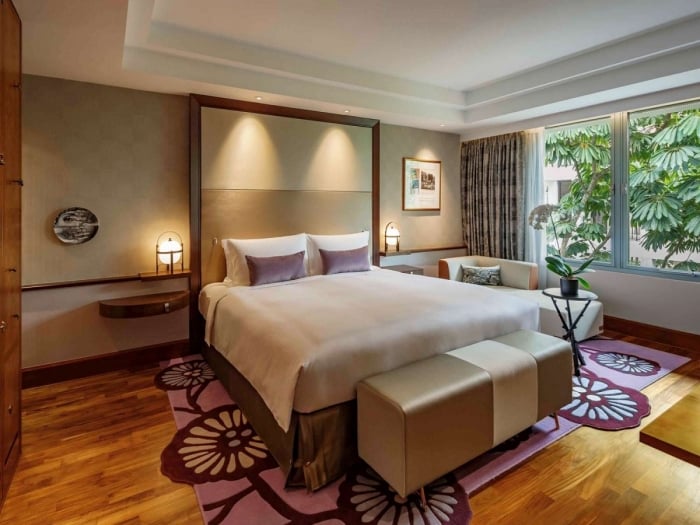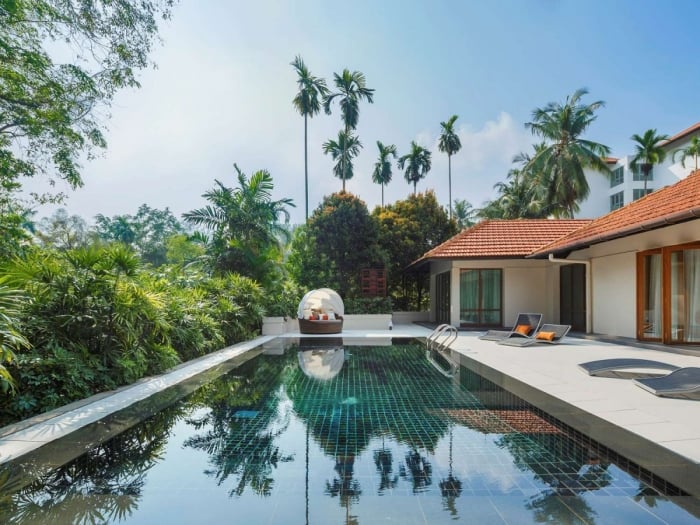 Image credit: Sofitel Singapore Sentosa Resort & Spa 
Want a Bali-esque experience without having to leave our shores? Sofitel Singapore Sentosa Resort & Spa will transport you to a luxurious and tranquil escape amidst lush greenery and tropical serenity. Their incredibly plush bed and spacious room will make you reluctant to leave at all.  Spend a blissful hour or two indulging in So SPA's Galaxy Steam Bath, meditative labyrinth, sauna, mud bath and float pool! Plus, they screen movies by the pool every Friday and Saturday nights, with popcorn, tapas and soft drinks to complement your viewing pleasure. Awesome or what? And with its prime location at Sentosa, you're just a short walk away from Tanjong Beach, or hop onto shuttle buses to get to Universal Studios, Adventure Cove, Kidzania or Vivocity!
Estimated price: $422/night
8. Hotel 1929


Image credit: Hotel 1929

Image credit: Hotel 1929
Hotel 1929 is a cosy yet sophisticated boutique hotel overlooking Keong Saik Road. Its rooms assemble complementary classic and retro furniture pieces and some rooms even have their own private balconies. If you're ready to splurge a little, opt for the terrace suite, which allows for an outdoor bath underneath the stars.
Estimated price: $110/night

9. Wanderlust Hotel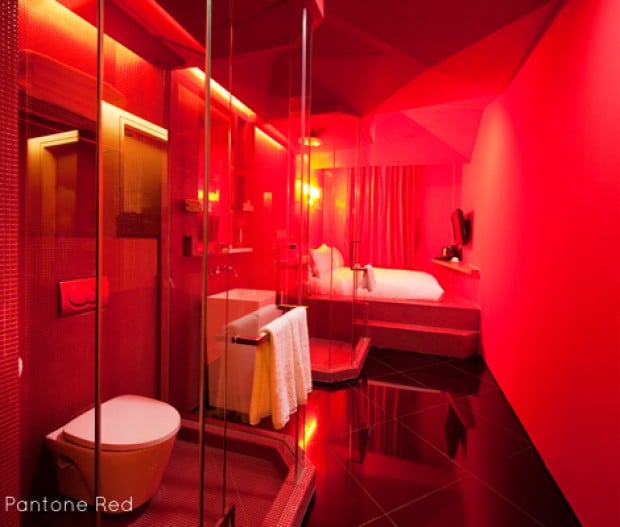 Image credit: Wanderlust Hotel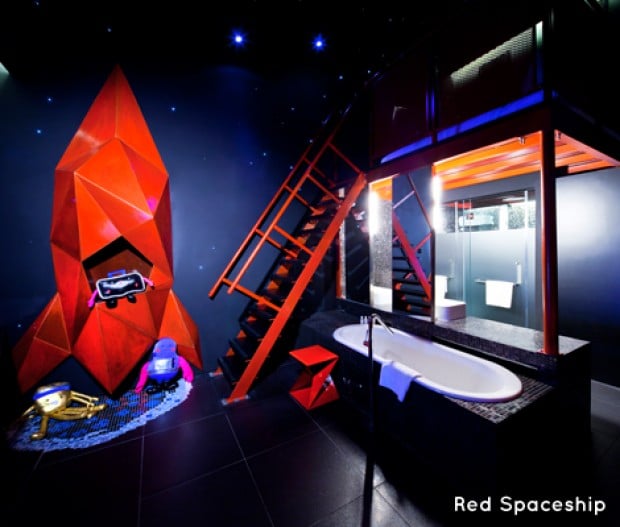 Image credit: Wanderlust Hotel 
Wanderlust Hotel offers three different designer room palettes - Pantone, Mono and Whimsical. From treehouse themed rooms to futuristic capsule-like rooms in monochrome tones, it is going to be tough to decide on one to stay in.
Estimated price: $160/night
10. Lloyd's Inn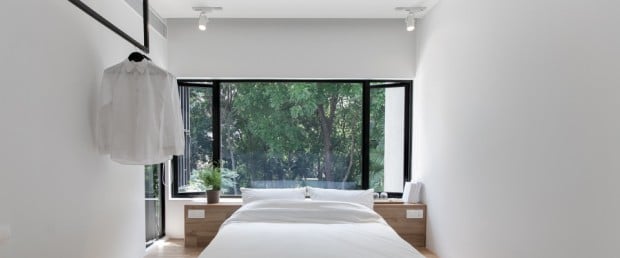 Image credit: Lloyd's Inn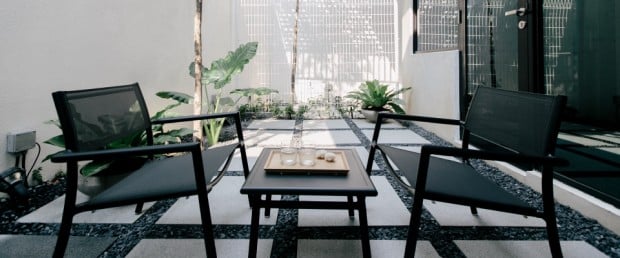 Image credit: Lloyd's Inn
Though minimalistic, the rooms in Lloyd's Inn are extremely elegant. Some of its rooms are equipped with private outdoor areas surrounded with greenery - perfect for lazy afternoons spent reading a good book while basking under the sun.
Estimated price: $180/night
Also read: 10 Photoshoot Locations in Singapore That You Never Thought Of
11. Treehouse Villas @ Changi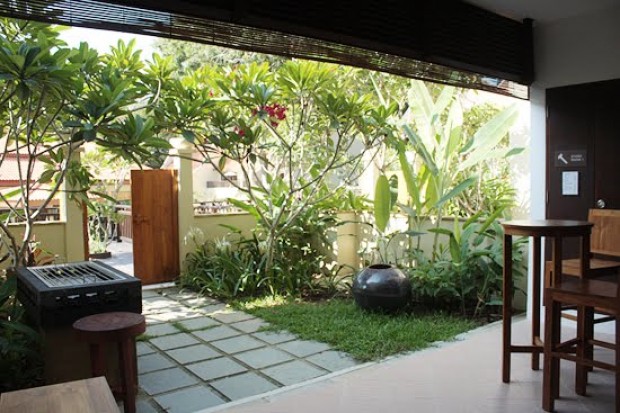 Image credit: Nightintothesky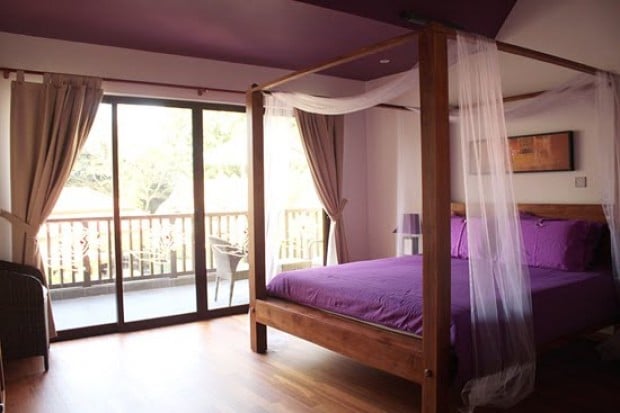 Image credit: Nightintothesky
If you wish for a therapeutic escape from the bustling city, consider a staycation at this Balinese-inspired villa. Located near Changi Beach and Changi Point Coastal Boardwalk, there are many recreation options around as well.
Note: Unfortunately, these villas can only be booked by SAF regulars. However, it is possible to get your friends from SAF to book for you without them having to check in.
Estimated price: $120/night
12. Moon 23 Hotel
Image credit: John Brunton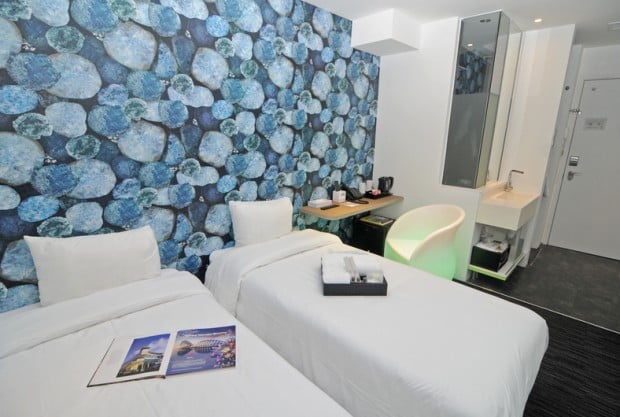 Image credit: Moon 23
Despite its cheap rates, this contemporary boutique hotel has a classy touch to it. It also has one of the swankiest hotel lobbies around, which doubles up as a bar in the evening. Guests are entitled to a free cocktail from the bar as well!
Estimated price: $110/night
13. Kranji Farm Resort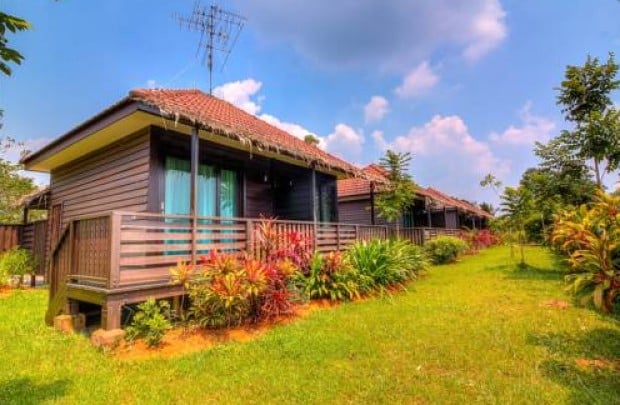 Image credit: Channels World of Hotels
Fancy a staycation in a farm? Yes, this farm actually has their own villas. For recreational activities, guests can visit Kranji's Farm Resort's fishing village and outdoor beer garden. This kampong style staycation is going to be an unusual yet exciting experience.
Estimated price: $170/night
Also read: 7 Long Weekends in Singapore in 2016 (Bonus Planner & Cheatsheet)
14. The Westin Singapore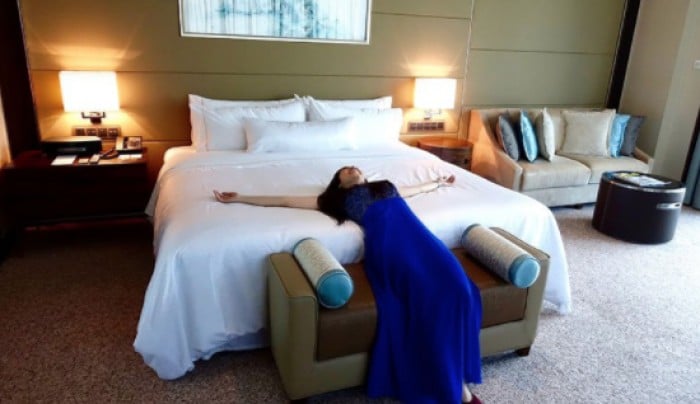 The Westin Singapore is one undiscovered gem tucked in the Marina Bay area, and it's perfect for a cozy weekend escape from the hectic 9 to 6 work week. The struggle to maintain a work-life balance is real, and The Westin Singapore recognises that. It's committed into making its guests feel recharged, rejuvenated and refreshed, even after a one night stay! Also, it's right opposite Lau Pa Sat so you can dig in to delicious sticks of satay when night falls!
15. 5 Footway Inn - Project Boat Quay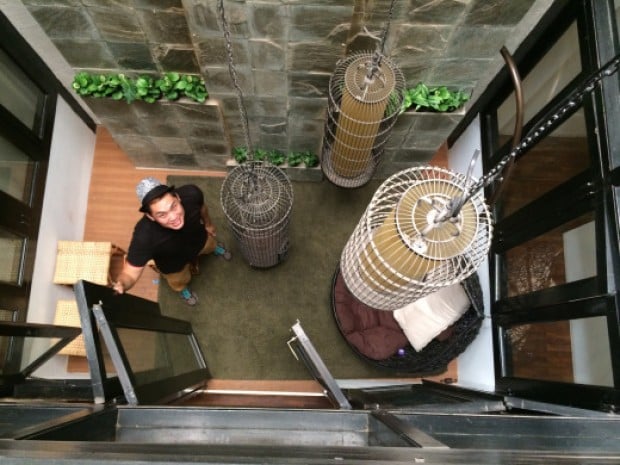 Image credit: Malcolm Sunny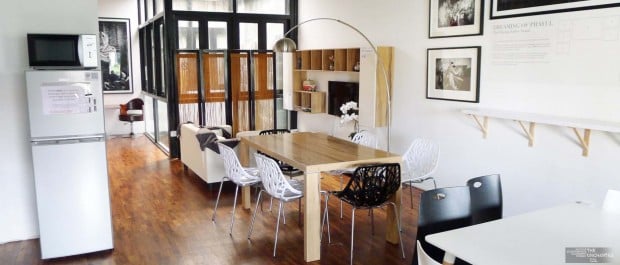 Image credit: 5 Footway Inn 
Besides boutique hotels, there are also many fancy and inexpensive hostels in Singapore where you can have your staycation as most of them have the option of private rooms. 5 Footway Inn is the largest hostel chain in Singapore and the outlet at Boat Quay is its newest one. From some of the rooms' balconies, guests can even catch a scenic view of downtown Singapore including the iconic Marina Bay Sands.
Estimated price: $70/night (private room)
16. Hotel Re!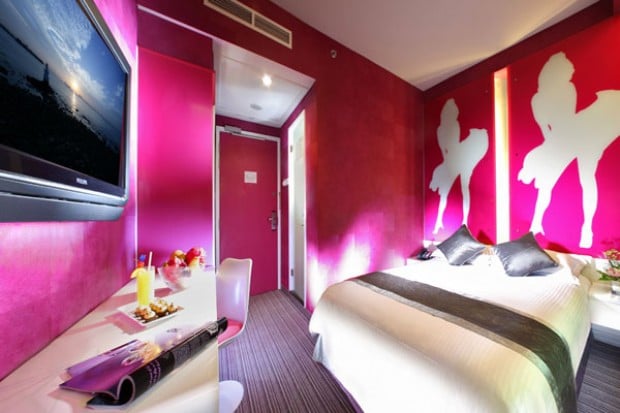 Image credit: Hotel Re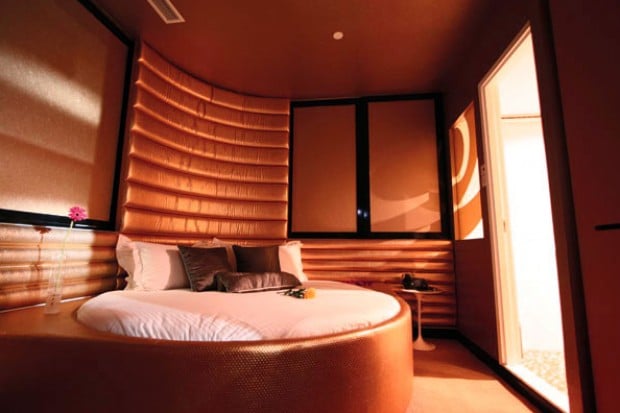 Image credit: Hotel Re 
Hotel Re! is a bold, retro-themed boutique hotel located at Pearl's Hill. The floors are colour coded, while the rooms reflect the iconic pop culture from the 70s. With classic Marilyn Monroe wall murals accompanying chic looking furnitures, Hotel Re! has created the perfect blend of modern retro.
Estimated price: $140/night
17. The Scarlet Singapore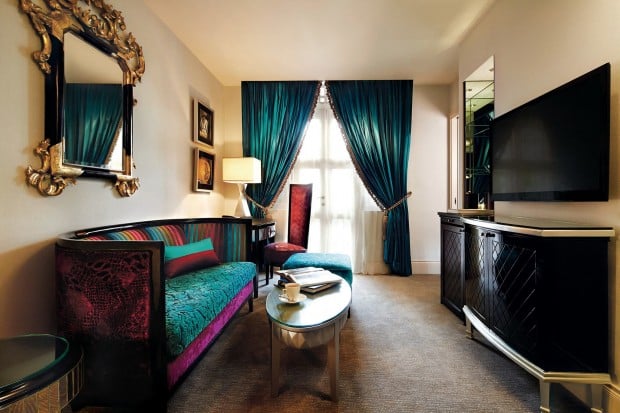 Image credit: The Scarlet Hotels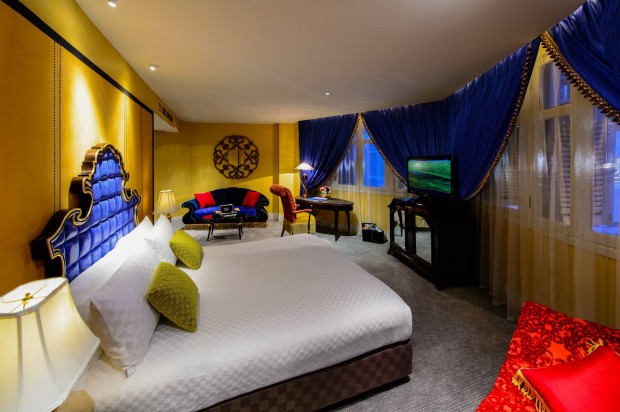 Image credit: The Scarlet Hotels
Every once in awhile, it is important to indulge and pamper yourself and The Scarlet Singapore is happy to help you with that. Be prepared to be treated like kings and queens in this gorgeous 80-room boutique hotel. Just like its grand looking exterior, the hotel's interior is draped in posh and eclectic furnishings, guaranteed to make you reluctant when it's time to leave the place.
Estimated price: $160/night
18. W Hotel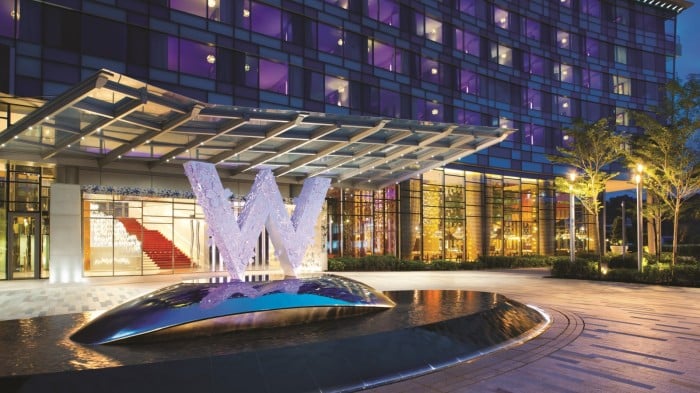 Image credit: W Hotel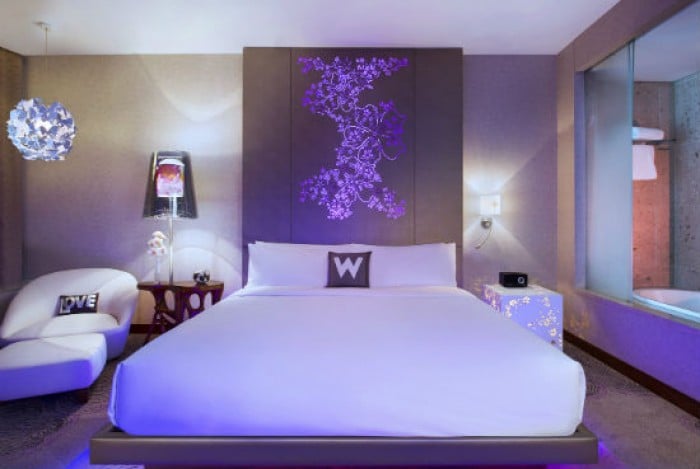 Image credit: W Hotel
W Hotel boasts an exclusive location in Sentosa Cove, along with gorgeous views of the marina from your balcony. With shopping destinations, top tourist attractions, and the pristine beaches of Sentosa right at your doorstep, it doesn't get any better than this! Indulge in a luxurious stay with W Hotel's quirky and vibrant decor, unique rooms and dreamy facilities. You can also pamper yourself at the AWAY Spa, with its amazing rainforest design and soothing ambience. The entire spa is illuminated with a decompression area, sauna, steam room, vitality pool, herbal bath and experiential showers to boot! You'll never want to leave W Hotel once you stay there.
Looking for more staycation options? Head over to TripZillaSTAYS and you'll be one step closer to the coolest staycation you've always wanted! Or check out our video here: