Ever felt like going away on a relaxing vacation yet daunted by the search for this ideal vacation spot? Look no further! TripZilla has scouted these nine hotels opening in 2017 for anyone needing a few days of undisturbed peace and hibernation. Situated mostly in the heartlands, these hotels are perfect for those who desire a getaway in Singapore.
The Duxton Club, a Luxury Collection Hotel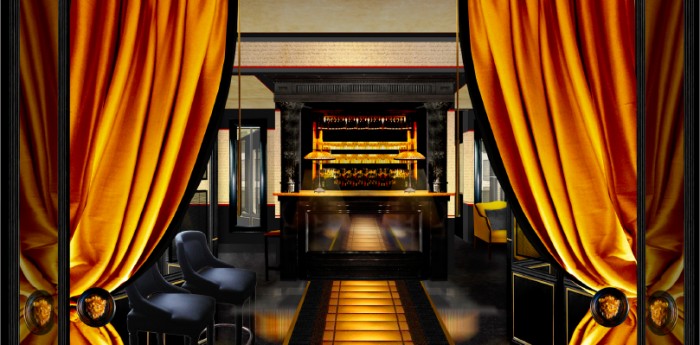 Interior of hotel facilities | Image credit: The Duxton Club, a Luxury Collection Hotel
A place known for its beautiful colonial shophouses converted into modern cafes and restaurants, Tanjong Pagar just had a new addition – The Duxton Club. Unlike other hotels which are usually a stand-alone building, The Duxton Club occupies two separate pre-war colonial shophouses within walking distance of each other – The Duxton House and The Duxton Terrace, both slated to open in 2017.
The Duxton House has a smaller guestroom capacity of 50, but compensates for that with an all-day dining destination restaurant, signature bar and even a private cigar room. Meanwhile, The Duxton Terrace has a larger guestroom capacity of 138. Poise as a refined modern comfort hotel steeped in history, this is a staycation that any history buff will find hard to resist.
The Duxton Club
Address: 83 Duxton Road, Singapore 89540
Opening: 1 Jun 2017
Price range: Not available
The Patina, Capitol Singapore
Interior of Stamford Suite | Image credit: The Patina, Capitol Singapore
The Patina, Capitol Singapore, is a place where West meets East. Award-winning American architect, Richard Meier, designed the hotel while Indonesian designer, Jaya Ibrahim, conceptualised the interiors. Positioned near the National Gallery, Singapore Arts Museum, the Esplanade and Marina Bay area, the hotel is a perfect vacation spot for anyone who plans to have a complete immersion of local and Asian cultures.
Lavish and luxurious are the only two words befitting of a stay at The Patina, Capitol. Not only are the rooms immaculately furnished, the hotel even provides 360 degree concierge service and in-house Patina Spa with a personal therapist. There is also a fitness suite on the 4th floor overlooking a saltwater relaxation pool fitted with jacuzzi jets. For those looking for the ultimate zen relaxation staycation, TripZilla highly recommends this!
The Patina, Capitol Singapore
Address: 15 Stamford Road, Singapore 178906
Opening: Not available
Price range: Not available
The Warehouse Hotel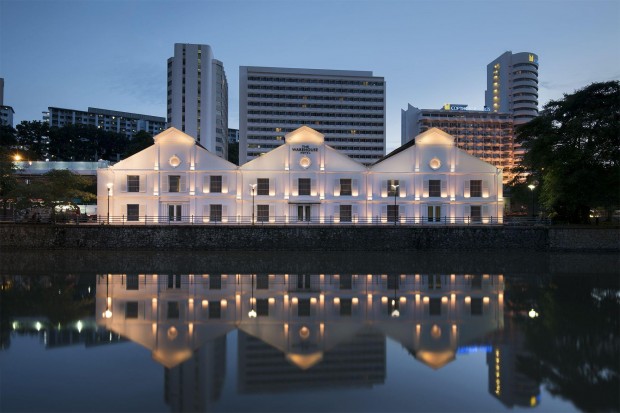 Hotel exterior | Image credit: The Warehouse Hotel
Nestled beside the Singapore River, The Warehouse Hotel is a blend of authentic heritage and modern commercial life. The same streets that you stroll after dining at Robertson Quay are the same streets that were once bustling with merchants hawking their ware and secret societies operating their underground activities.
Featuring 37 historic conservation detailed rooms with complimentary high-speed wifi, Bang & Olufsen Bluetooth speakers, custom pillow top mattresses, fully stocked minibar and 100% eco-certified Ashley & Co bath amenities and a rooftop infinity pool, The Warehouse Hotel is a definite must-visit whether you are a staycationer or not.
The Warehouse Hotel
Address: 320 Havelock Road, Robertson Quay, Singapore 169628
Opening: Jan 2017, reservations are open now
Price range: Not available
The InterContinential Singapore Robertson Quay
Hotel exterior | Image credit: InterContinental Singapore, Robertson Quay
Another waterfront hotel along the Quay! With 225 luxurious rooms designed with a touch of InterContinental contemporary design, not only can guests immerse in the unique combination of history amidst modernity, they will also be spoilt for choice with an abundance of nearby dining and nightlife choices.
InterContinental Singapore, Robertson Quay
Address: 1 Nanson Road, Singapore 238909
Opening: Q2 2017
Price range: Not available
Andaz Hotel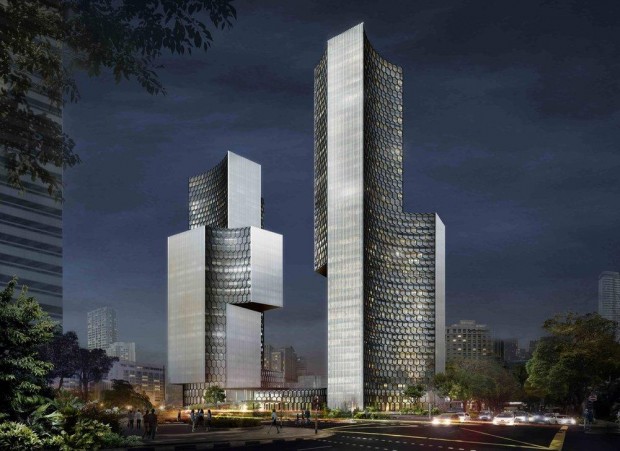 Hotel exterior | Image credit: Andaz Singapore
Fans of architecture, multi award-winning German architect, Ole Scheeren, has designed yet another project in Singapore! Situated at Ophir–Rochor district, Andaz Hotel is Hyatt's latest five-star boutique addition.
Set against a backdrop of local culture like Bugis street, and attractions such as Kampong Glam conservation district, Andaz Singapore boasts 342 guestrooms, an infinity pool with panoramic views of the city and Marina Bay area, and a 360-degree city and ocean view from its rooftop bar. Directly connected to Bugis MRT station, guests of Andaz Singapore are just a few stations away from more shopping, dining and nightlife at Singapore's well-known central business district area.
Andaz Singapore
Address: 5 Fraser Street, Singapore 189354
Opening: Mid 2017
Price range: Not Available
Sofitel Singapore City Centre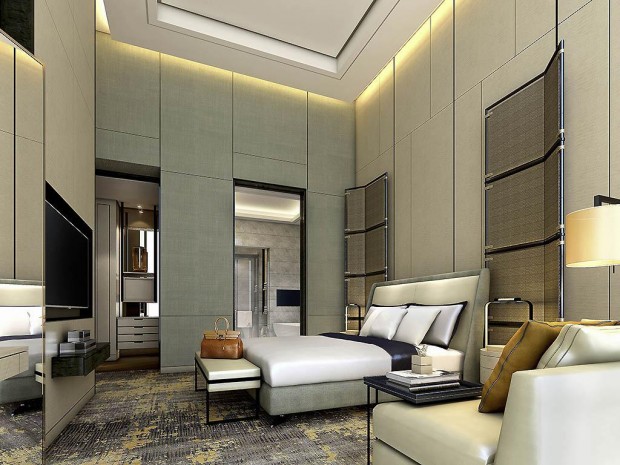 Interior of hotel | Image credit: Sofitel City Centre
Sofitel is back in Singapore with another hotel! For staycationers who have been to the Sofitel Sentosa Resort & Spa, you will be pleasantly surprised that the next hotel, Sofitel City Centre, is right in the heart of Singapore.
Boasting 222 rooms including 50 executive club rooms, 13 suites and 1 signature suite, Sofitel City Centre is also fully equipped with sporting facilities for the active lifestyle travellers. Staycationers can have a good workout at Sofitel's 30-metre outdoor pool and Virgin Active gym after enjoying an interactive dining experience with hotel chefs over market style counters and theatre kitchens.
Sofitel City Centre
Address: 9 Wallich Street, Singapore 078885
Opening: May 2017
Price range: Not Available
Yotel Singapore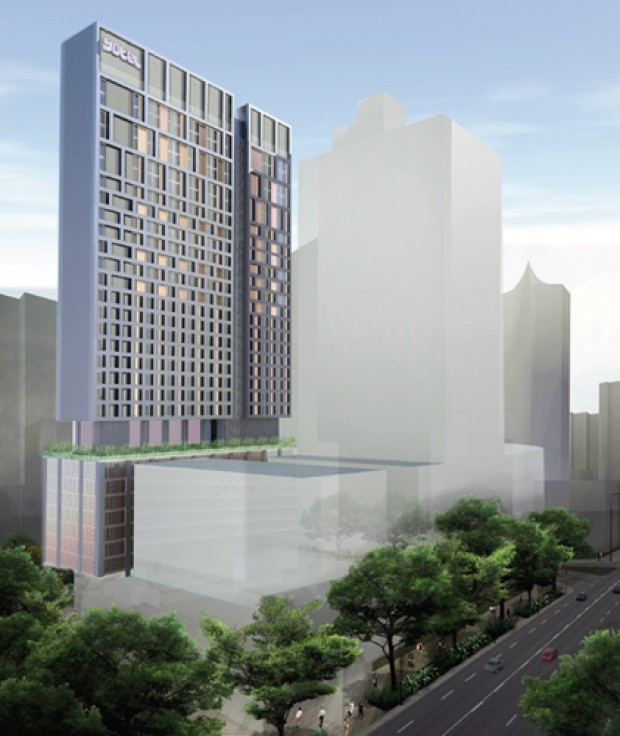 Hotel exterior | Image credit: Yotel Orchard
Surrounded by a myriad of shopping malls, dining options and cultural spots, Yotel is opening its first Asian flagship cabin hotel in Orchard, Singapore. Prided as an affordable luxury hotel for business and leisure guests, Yotel rooms are inspired by first-class air travel cabins. To add on to the unique hotel model, guests of Yotel check-in to their rooms via check-in kiosks too! However, not all at Yotel are alien concepts. There are still hotel staples such as a 24-hour gym, swimming pool and regular buffet breakfasts provided too.
Staycationers excited about Yotel Orchard will be in for another treat in 2018, when the second flagship Yotel will be opened at Jewel Changi Airport. Affordable yet novel staycation spaces, here we come!
Yotel Orchard
Address: 360 Orchard Road, Singapore 238869
Opening: Q3 2017
Price range: Not available
Park Hotel Farrer Park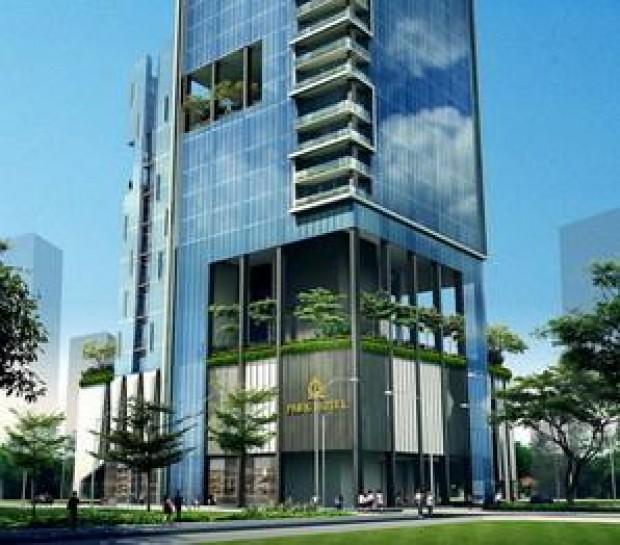 Hotel exterior | Image credit: Park Hotel Farrer Park
Besides Swissotel The Stamford, Park Hotel Farrer Park is the second hotel in Singapore to seat right above an MRT station – Farrer Park station. Being a mere few stations away from the central business districts, accessibility to local attractions at Orchard, Marina Bay, Robertson Quay or Clarke Quay, is unbeatable. The location is also a bonus for curry and prata lovers. Rows of authentic Indian eateries are just within walking distance of the hotel. Mustafa Centre, a 24-hour shopping mall, is also within the vicinity. Exhausted from the day of exploring Singapore, staycationers can either retire to their guestrooms, studio or family lofts, or hit the pool to relax.
Park Hotel Farrer Park
Address: 10 Farrer Park Station Road, Singapore 217564
Opening: 2017
Price range: Not available
Ascott Orchard Singapore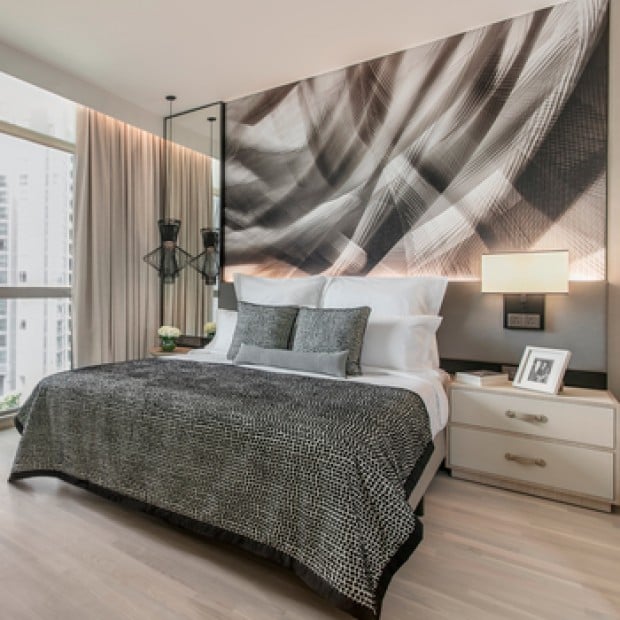 Interior of Ascott Orchard One bedroom executive suite | Image credit: Ascott Orchard
Located a short walk away from Somerset MRT station, Ascott Orchard is a stone's throw away from shopping havens such as Paragon, Takashimaya, Wisma Atria and Tangs. Known for its premium residences, a stay at Ascott Orchard is worth paying a little extra. Families deciding on a staycation hotel need not look any further too. At Ascott Orchard, the amenities are very family-friendly. Catering to families with young kids, Ascott Orchard has a children's playground, wading pool and even babysitting services available too.
Ascott Orchard
Address: 11 Cairnhill Road, Singapore 229724
Opening: 2017
Price range: Not available
Hilton Garden Inn Singapore Serangoon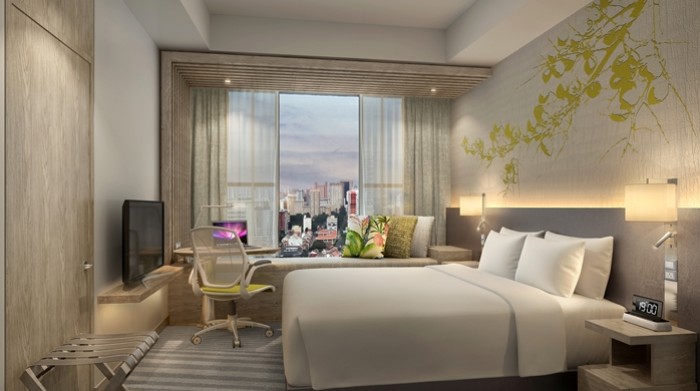 Bedroom | Image Credit: Hilton Garden Inn Singapore Serangoon
Situated at the heart of Little India, Hilton Garden Inn is a freshly renovated hotel with an outdoor pool and complimentary 24-hour fitness center. Just a short walk away from Farrer Park MRT Station, the hotel is a perfect launching pad to the various attractions in Little India, such as the Mustafa Centre or the Tekka Centre. Hilton Garden Inn also has a 24-hour snack shop known as the Pavilion Pantry, making the hotel attractive for night owls and early-risers alike. There are bay windows in each room, allowing guests a way to unwind after a day of walking and shopping.
Hilton Garden Inn Singapore Serangoon
Address: 3 Belilios Road, Singapore 219924
Opening: April 2017
Price Range: Not Available
Villa Samadhi Singapore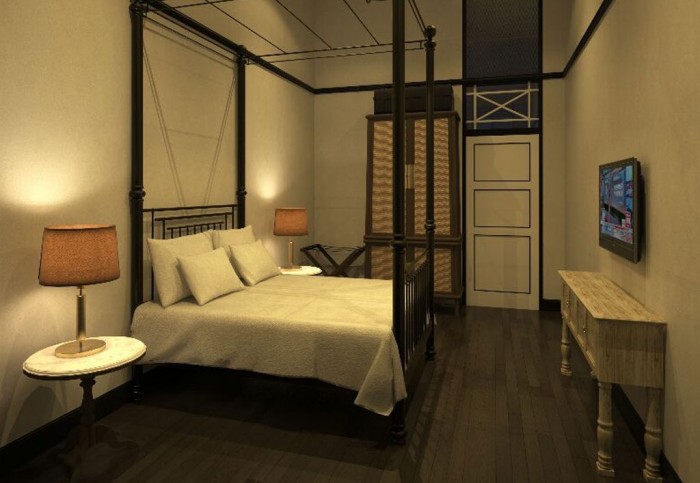 Crib| Image Credit: Villa Samadhi Singapore
Converted from a colonial-era garrison, Villa Samadhi Singapore features an excellent mix of cozy creature comforts and an escape from civilisation. Situated at Labrador Nature Reserve, the hotel allows guests a luxurious stay amidst verdant greenery. Each of its 20 rooms are unique, with many having private plunge pools. The hotel also has a restaurant, Tamarind Hill, which specialises in Thai cuisine.
Villa Samadhi Singapore
20 Labrador Villa Road, Singapore 119189
Opening: Opened (5 January 2017)
Price Range: $219.63 - $341.12
Novotel Singapore on Stevens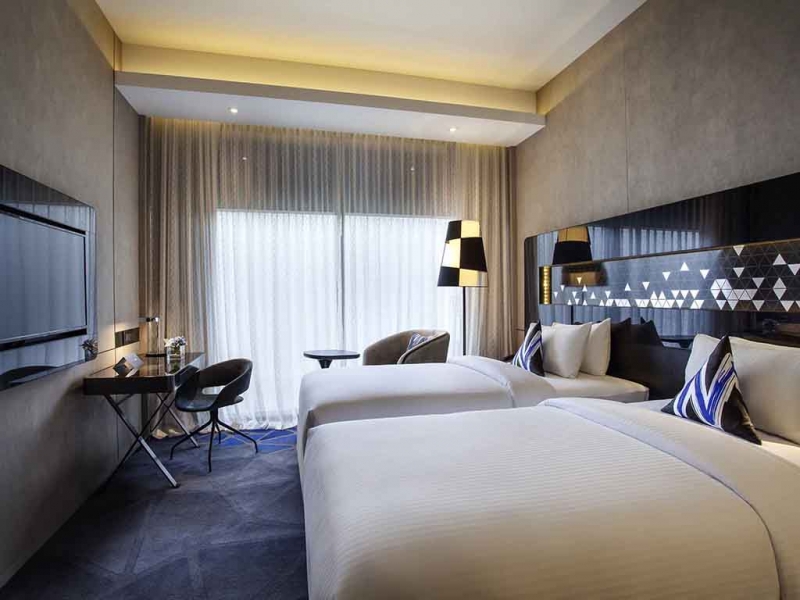 Interior of hotel | Image credit: Novotel Singapore on Stevens
Situated at the edge of Orchard Road, Novotel Singapore on Stevens is a stylish 254-room hotel with a spacious tennis court and two cozy swimming pools. A short walk (or a free shuttle ride!) away from popular shopping spots like Far East Plaza, Wisma Atria and ION Orchard, the hotel will surely endear itself to shopaholics waiting to hit the streets. Staycation-goers exhausted from their shopping sprees can also unwind and enjoy a drink or two at the hotel's bar, Le Bar Rouge.
Novotel Singapore on Stevens
Address: 30 Stevens Road, Singapore 257840
Opening: December 2017
Price range: Not Available
Oakwood Studios Singapore
Interior of an apartment | Image credit: Oakwood Studios Singapore
Nestled in the heart of Orchard Road, Oakwood Studios Singapore offers luxurious and chic serviced apartments designed to cater to your every whim. A short walking distance away from prime shopping and entertainment spots such as ION Orchard, Oakwood Studios is the ideal base for an exciting staycation experience! And if you're looking for something more relaxing, the rooftop sky garden and swimming pool will be right up your alley.
Oakwood Studios Singapore
Address: 18 Mount Elizabeth Singapore 228514
Opening: March 2017
Price range: Starting from $228
Also Read: 17 Coolest Staycation Ideas in Singapore
There are never too few destinations for a staycation, just too few staycations taken. What are you waiting for? Start making plans for your next staycation and tell TripZilla about your experience!
P.S. If you need any more hotel recommendations, feel free to head over to TripZillaSTAYS to check out other awesome staycation spots as well!