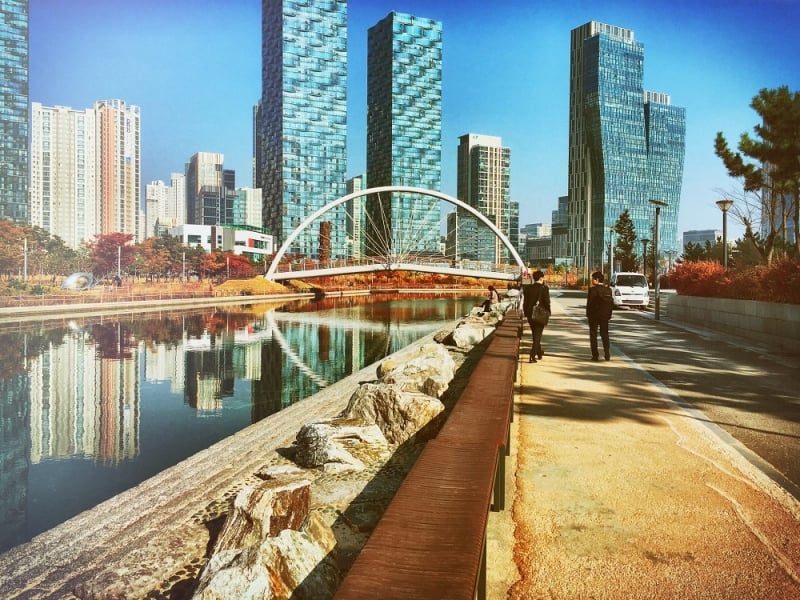 Determining where to stay in Seoul can be overwhelming. With 25 districts and seemingly endless accommodation options in the South Korean capital,  first-time travellers might have a hard time picking the right place to stay. Here is a brief guide to five of the most popular districts for tourists and the pros and cons of staying in each one.
1. Hongdae
Short for "Hongik Daehakkyo" (Hongik University), Hongdae is a small, trendy district popular with students, foreigners, and young adults. Hongdae is known for its arts scene, independent shops, and nightclubs. If meeting other travellers is one of your goals, this bustling part of the city is well worth a visit.  
Who should stay in Hongdae?
Young travellers
Groups of friends
Solo travelers
Pros
Many accommodation options including hostels, Airbnb, and hotels
International restaurants
Vibrant nightlife
Multilingual part of the city
Cons
Caters to tourists—not an authentic Korean experience
Can be very loud
2. Itaewon

With its close proximity to the U.S. Army Base, Itaewon was originally known as a "Camp Town" during the first few decades after the Korean War. In recent years, Itaewon has developed into the multicultural heart of Seoul, with its foreign bookstores, international cuisines, and diverse offering of bars and nightclubs. Long-term travellers seeking a "taste of home" will be able to find it in Itaewon.
Who should stay in Itaewon?
Young travellers
Groups of friends
Pros
International restaurants 
Major hub for travellers
Fun nightlife
Cons
Can be loud, especially at night
More crime in Itaewon than many other parts of Seoul
3. Myeongdong

Department stores and designer brands characterise the major shopping district of Myeongdong. Connoisseurs of Korean cosmetics will love the skincare shops on every corner, while fashionistas can spend hours in Lotte Department Store or one of the many stores lining the main street. Other attractions include the Myeongdong Cathedral and the Bank of Korea Museum.
Who should stay in Myeongdong?
Travellers of all ages
Shopaholics
Pros
Many options for shopping
Variety of restaurants
Central spot for sight-seeing
Cons
Crowded
Not authentic Korean experience
4. Insadong

Harking back to traditional Korean culture, Insadong offers visitors an experience away from the hustle and bustle of city life. Steps away from Bukchon Hanok Village and Gyeongbokgung Palace, Insadong is a small marketplace with art galleries, shops selling traditional souvenirs, and Korean tea shops. Try on a hanbok (traditional Korean dress) or spend some time admiring Korean artisan work such as handmade fans, inlaid seashells boxes, and ceramic pottery.     
Who should stay in Insadong?
Travellers of all ages
Travellers who prefer a quiet location
Pros
Souvenir shopping
Traditional markets and tea shops
Close proximity to major attractions and small art galleries
Cons
Not an active nightlife
Fewer accommodation options compared to other districts
5. Gangnam

The same "Gangnam" as in the K-Pop song "Gangnam Style," this district is the home of Seoul's rich and famous.  Gangnam is another major shopping destination, though it is also home to spas, upscale restaurants, and parks. Long-term travellers often stay in Gangnam to study the Korean language or undergo cosmetic surgery.
Who should stay in Gangnam?
Luxury travellers
Travellers looking for language lessons
Travellers seeking medical tourism
Pros
Easy access to the intercity bus terminal
You might spot a Korean celebrity
Luxury brand shopping
Cons
Very expensive
Far from many major attractions