In need of a break this weekend? Heading to Kuala Lumpur but unsure of where to stay? Malaysia, in general, is known for its affordability; not just in terms of shopping but lodging too!
Staying near the city centre or popular attractions could go a long way in helping you escape massive traffic jams, better allowing you to maximise your time there. So, we've compiled a list of ideal hotels for you to stay at during the weekend – just take your pick!
1. Ambassador Row Hotel Suites by Lanson Place
With a location that puts you 10 minutes away from major shopping districts and Kuala Lumpur's world famous landmark, the Petronas Twin Towers, you'd imagine exorbitant prices. But fret not! Ambassador Row Hotel Suites defies those expectations and even serves up top-notch facilities and rooms, sure to make your trip more memorable than the last.
The best part? You can save even more with their upcoming promotion!
In conjunction with Ambassador Row's 20th Anniversary Celebration on 26 Jul, they are offering a Facebook Summer Flash Sale from now to 31 Aug 2018.
Book direct and quote 'LPSUMMER18' to enjoy 24-hour check-in and check-out privilege.
From the moment you set foot into the reception lobby, be prepared to be blown away by the gorgeous architecture. Think high ceilings and luxurious lounge areas, sitting on top of an indoor lagoon! The blue waters add a nice touch and exude resort-style vibes – you'll immediately feel relaxed despite being in the bustling business district.
Choose from spacious one to three bedroom suites, or consider the Duta Suites if you're in need of some pampering! Ambassador Row pride themselves in their cosy rooms, guaranteed to make you feel right at home from the very start no matter what.
Rates: Starting from MYR 208/night (~S$70/night)
Address: 1, Jalan Ampang Hilir 55000 Kuala Lumpur, Malaysia
2. Lanson Place Bukit Ceylon Serviced Residences
Set on the pulse of the city and with stunning panoramic views of the skyline to boot, Lanson Place Bukit Ceylon Serviced Residences caters to your every need! Make this your home base for the duration of your getaway, and you'll save on precious travel time that can be better spent taking in the sights of the city (or lounging around the hotel!).
Let all your worries float away as you soak in the stunning Olympic-sized swimming pool, lined with towering palm trees that immediately set the vacation mood! For those with little ones, why not let them run wild at the Children's Playground while you bask in the warmth of the sun and sip on cocktails? Or if you prefer working up a sweat, head over to the fully equipped gymnasium to burn off those holiday pounds!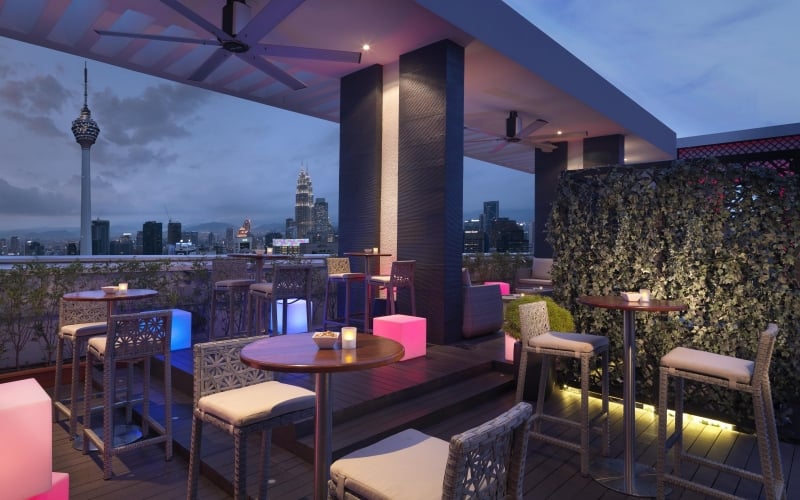 At the end of your day, choose between the rooftop bar or 163 Lounge (Levels 48 and 49), where you'll be treated with unobstructed views of the Petronas Twin Towers and KL Tower. Watch as the city winds down for the day, only to come back to life almost immediately with dazzling lights sure to impress!
Itching to experience it all for yourself? Well, you're in luck!
Lanson Place Bukit Ceylon Serviced Residence will be celebrating their 5th Anniversary on 25 Aug 2018 and they're having a Facebook Summer Flash Sale Offer until 31 Aug 2018.
Quote 'LPSUMMER18' to enjoy 24-hour check-in and check-out privilege and enjoy the flexibility of checking in and out anytime! This exclusive offer also comes with FREE breakfast for two, three or four, depending on the room category you are in.
Rates: Starting from MYR 438/night (~S$148/night)
Address: 10, Jalan Ceylon, 50200 Kuala Lumpur, Malaysia
3. Element Kuala Lumpur
With so many hotels offering the same remarkable views of the lofty skyscrapers in the area, is it even possible to stand out and offer guests a truly unique stay? The answer is: Yes! Element Kuala Lumpur does just that, all while standing at a proud 275 metres above the ground in the Ilham Tower, one of the tallest and most iconic buildings in Malaysia. This hotel is a green paradise, jam-packed with eco-friendly facilities for you to live extravagantly without guilt.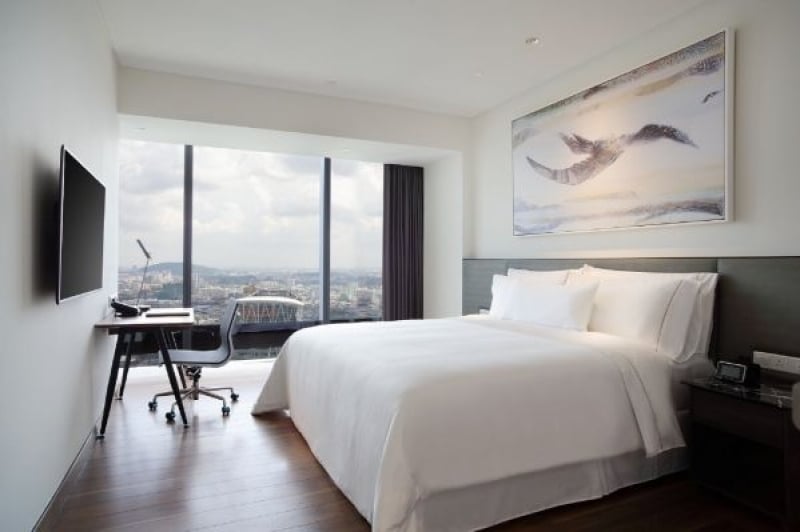 Not only does Element Kuala Lumpur put in effort to reduce water wastage by harvesting rainwater to flush their toilets, they also attempt to cut down plastic waste. Instead of providing bottled water to their guests, each room is equipped with advanced water filtration systems certified by NSF International – meaning the water is safe to drink! On top of that, the hotel also carries out indoor air quality CO2 monitoring and ensures their electrical appliances are energy efficient.
Get ready for your weekend getaway with Element KL's Suite Escape deal! Lounge in a suite that's commodious enough for each guest to have their own privacy, while retaining the intimacy of the charming space.
The Suite Escape comes with daily breakfast for two persons and late check-out till 4:00pm, all starting from only MYR 550/night (~S$185/night). Delight in the knowledge that you're doing your part for the environment as you luxuriate in the sophisticated world-class interior design!
Rates: Starting from MYR 470/night (~S$158/night)
Address: Ilham Tower, 8 Jalan Binjai, Kuala Lumpur, 50450, Malaysia
4. Banyan Tree Kuala Lumpur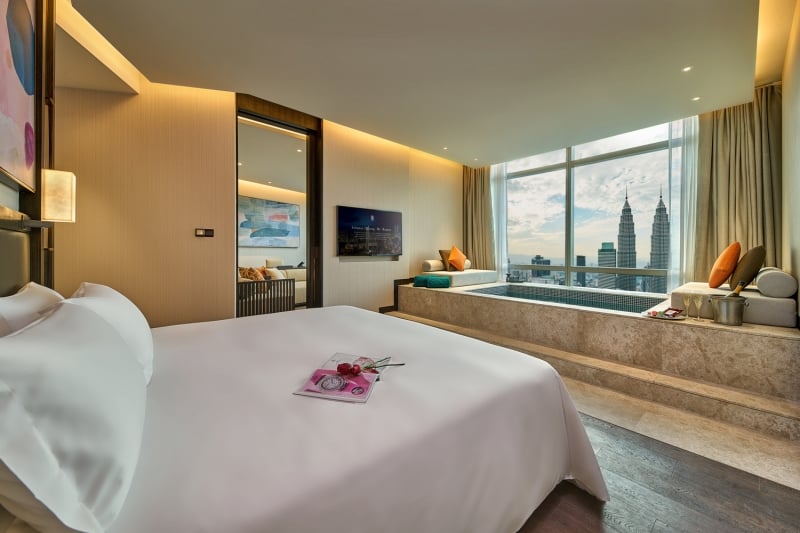 Easily the newest kid on the block, the Banyan Tree Kuala Lumpur recently opened its doors to the public on 1st of July! This highly anticipated 5-star resort sits amidst Kuala Lumpur's main shop ping and entertainment district – you can choose to stay in the center of all the action, or unwind in one of the hotel's 55 glamorous rooms.
With views that rival any other established hotel, Banyan Tree sets itself apart with its take on a modern sanctuary, designed to provide a comprehensive 'Sanctuary for the Senses' experience for your mind, body and soul. Every room is fitted with signature aromatherapy essentials and even a chromotherapy shower, regardless of room category. You're well equipped to pamper yourself to your heart's content!
But if that's not enough, why not hop over to their in-house spa? Banyan Tree Kuala Lumpur has taken it upon themselves to reintroduce exquisite time-honored health and beauty practices to the masses. Forget fancy massages that use technology you can't pronounce and uncover the power of the human touch! With natural herbs, spices and aromatic oils – you'll come out fresh and rejuvenated like never before.
Rates: Starting from MYR 880/night (~S$278/night)
Address: 2 Jalan Conlay, 50450 Kuala Lumpur, Malaysia
5. The Kuala Lumpur Journal Hotel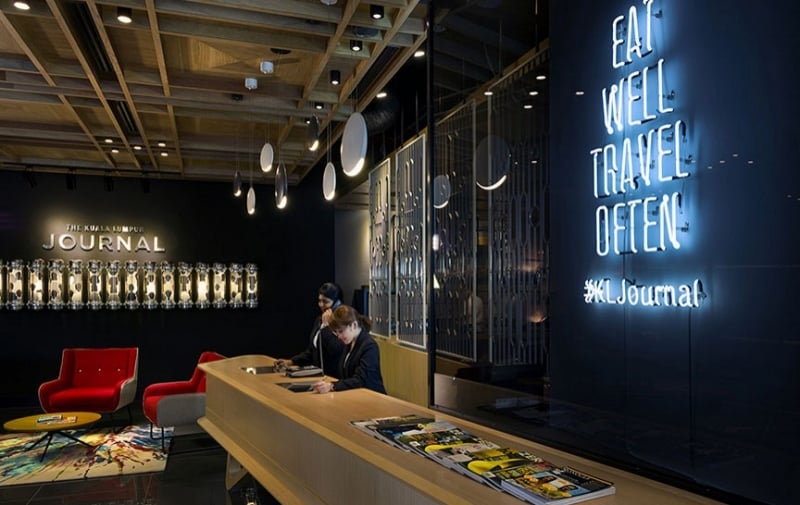 You'll find this lovely hotel, The Kuala Lumpur Journal, located at the heart of Kuala Lumpur's city centre – Bukit Bintang. Featuring immaculate rooms in 3 different deluxe styles, take your pick from either the Deluxe Twin, Deluxe King, or Superior Deluxe! Eclectic yet contemporary chic, this hotel is full of Instagrammable spots for you to snap away at. The outdoor infinity pool is also a must-visit especially at night, where you can have a splashing good time while admiring the panoramic views of Kuala Lumpur's city skyline.
Gather around, shoppers! This one's for you. The Kuala Lumpur Journal Hotel boasts easy accessibility to a variety of shopping locations and is also within walking distance from the Petronas Towers! Apart from shopping, this hotel is right beside the nightlife hub of Changkat neighbourhood, as well as Kuala Lumpur's foodie's mecca, Jalan Alor! So, if you are in Kuala Lumpur for a short holiday over the weekend, this hotel is a perfect choice.
Rates: Starting from MYR 333/night (~S$112/night)
Address: No. 30, Jalan Beremi, Off Jalan Sultan Ismail, Kuala Lumpur, Malaysia, Bukit Bintang, Kuala Lumpur, Malaysia, 50200
6. Hotel Stripes Kuala Lumpur
Want to experience a weekend in a fancy hotel minus the expensive rates? If you happen to be in Chow Kit, consider your wish granted! Hotel Stripes Kuala Lumpur, which is part of Marriott's Autograph Collection, is a brand new 5-star urban-chic hotel catering to your whims and fancies. This contemporary hotel boasts 184 rooms with a minimalistic yet stylish interior, each equipped with a free minibar, free WiFi and an espresso coffee machine for your daily caffeine fix.
The rooftop of the hotel holds an infinity pool and bar where guests can lounge all day and watch the Kuala Lumpur skyline light up spectacularly at night. The Snug and Brasserie 25 are in-house restaurants which look after the dining needs of the hotel guests, with both local and international menus. You are also just a stone's throw away from traditional local restaurants, such as Restoran Yut Kee and The Row. If you are thirsty for some fun and shopping, the fashion and entertainment capital of Kuala Lumpur, Bukit Bintang, is only a few minutes away from Hotel Stripes.
Rates: Starting from MYR 858/night (~S$289/night)
Address: 25 Jalan Kamunting, Kuala Lumpur 50300, Malaysia
7. DoubleTree by Hilton
Are you an urbanite who revels in energetic city nights and watching buildings light up as the sun goes down? Then, DoubleTree by Hilton Hotel Kuala Lumpur is the perfect accommodation for you! Located in the heart of the city, DoubleTree by Hilton Hotel Kuala Lumpur is a 5-star hotel at a fairly affordable rate. Boasting 5 bars and restaurants with an international menu, to an outdoor pool and even wedding services, this hotel has everything you could possibly need.
Nestled in Kuala Lumpur's Golden Triangle, DoubleTree by Hilton Hotel Kuala Lumpur promises close proximity to many landmarks, from the Petronas Towers to Suria KLCC Shopping Centre and Chinatown for a cultural trip. If you are flying to Kuala Lumpur, DoubleTree by Hilton Hotel Kuala Lumpur will be one of the closest hotels to the city's international airport. With comfortability guaranteed and a whole host of attractions nearby, a weekend getaway to KL seems pretty tempting, doesn't it?
Rates: Starting from MYR 398/night (~S$134/night)
Address: The Intermark 348 Jalan Tun Razak, Kuala Lumpur, 50400, Malaysia
Weekend Promotion: Internet access, Continental breakfast, and late checkout
8. The Majestic Hotel
Dropping into KL Sentral for the weekends? Book a stay at The Majestic Hotel and you're in for a treat! Rediscover colonial charm in the original historic building of the hotel, built in 1932 for the British. As the only heritage hotel in the country, The Majestic Hotel offers grand services to whoever enters its premises. Relax at the spa near the pool, have afternoon tea in the Tea Lounge, go for a breath of fresh air in The Orchid Conservatory, dine in their Colonial Café, and socialise the night away in their iconic bar with music by the legendary Maestro Alfonso Soliano. They even have a Screening Room, where you'll be able to watch classic black and white movies from the '30s onwards!
This classic hotel stands amidst various landmarks in KL Sentral. When you book into The Majestic for the weekend, you won't have to worry about travelling time. The city's most prominent buildings, such as the National Mosque, Merdeka Square, Malaysian Houses of Parliament, Islamic Arts Museum, the Kuala Lumpur Bird Park and the Golden Triangle is only a few minutes ride away! The Majestic Luxury Coach services also operate regularly to Kuala Lumpur Sentral Station, Starhill Gallery, and Mid Valley Shopping Mall for all you shopaholics.
All in all, a weekend's worth of stay in The Majestic Hotel will get you to nearby must-visit places in a jiffy, whilst experiencing the grandeur of the thirties in Gatsby-esque style.
Rates:Starting from MYR 526/night (~S$177/night)
Address: 5 Jalan Sultan Hishamuddin, Kuala Lumpur 50000 Malaysia
9. The Gardens Hotel & Residences Kuala Lumpur
Luxury living with shopping right at your footstep? That's exactly what The Gardens Hotel & Residences Kuala Lumpur provides. Located in the Mid Valley City area of Kuala Lumpur, this hotel is directly connected to The Gardens Mall and the Mid Valley Megamall, which is every shopper's haven! With 430 options in the megamall and 200 upmarket retail stores in The Gardens Mall, you will be spoilt for choice the moment you step out of the hotel!
So, if you are in for a luxury stay without breaking your bank, this 5-star hotel is the way to go. Head to the infinity pool and terrace for a refreshing morning dip, or opt for a languid time lounging on the deck chairs with a cocktail in handmade complete with panoramic views of the city. Delight your palate with French Japanese fusion cuisine at the award-winning Sage Restaurant & Bar, or indulge in a la carte dining at The Spread whilst admiring beautiful vistas overlooking the Klang River. 
The Gardens Hotel & Residences Kuala Lumpur is the place to be if you're in Kuala Lumpur for a weekend of shopping and dining galore!
Rates: Starting from MYR 336 (~S$113/night)
Address: The Gardens Hotel & Residences, Mid Valley City, Lingkaran Syed Putra, 59200 Kuala Lumpur
Weekend Promotion: Up to 20% off room rates, free Wifi
10. Villa Samadhi
If you've got a little more money to spare on accommodation, Villa Samadhi is a luxury boutique hotel that's worth the splurge. Can you believe this rustic-chic hotel is actually located in the heart of Kuala Lumpur's cityscape? Designed and catered specially for couples, this idyllic abode is perfect for guests who want to explore the city by day, and retreat to serenity by night. This sanctuary is also embellished with a beautiful lagoon pool, providing direct access to the pool for rooms on the first floor, as well as a cozy rooftop bar and an in-house restaurant serving local and western cuisine.
Boasting 21 amazing villas with minimalistic interiors, you'll feel right at home with the cozy ambiance and soothing wood furnishings. Some of the villas also come with their own whirlpool tubs, private verandahs and even plunge pools! Awesome or what? The Loft, in particular, allows you to enjoy the stellar view of the Kuala Lumpur skyline as you luxuriate in your outdoor pool. Craving a much-needed escape to refresh and rejuvenate? Villa Samadhi is your answer.
Rates: Starting from MYR 742 (~S$250/night)
Address: 8 Persiaran Madge off Jalan Madge, 55000 Kuala Lumpur, Malaysia
So, what else are you waiting for? Take your pick now and pack your bags – your weekend getaway in Kuala Lumpur awaits! Want more hotel options? Head over to TripZillaSTAYS and start browsing!