Has the thought of going on a vacation to escape the stresses of everyday life been on your mind for a while now? But it's too expensive, you've got no time and have barely any vacation leaves left? We totally get your woes… because as working adults, we are all in the same boat, right? But that doesn't mean you have to skip out on pampering yourself! After all, everyone deserves a little time off to reward themselves for all their hard work from time to time!
If you ask me, there's no better way to kick back and relax than simply spending some quality time with your significant other. Since both Marcus and I didn't have the time for a lengthy vacation, we decided to go for a staycation at The Holiday Inn Singapore Orchard City Centre instead. If we can't go on an actual holiday, we can at least pretend! And boy, did we not regret our decision a single bit.
1. You will feel ultimately luxuriated with a LUSH bath bomb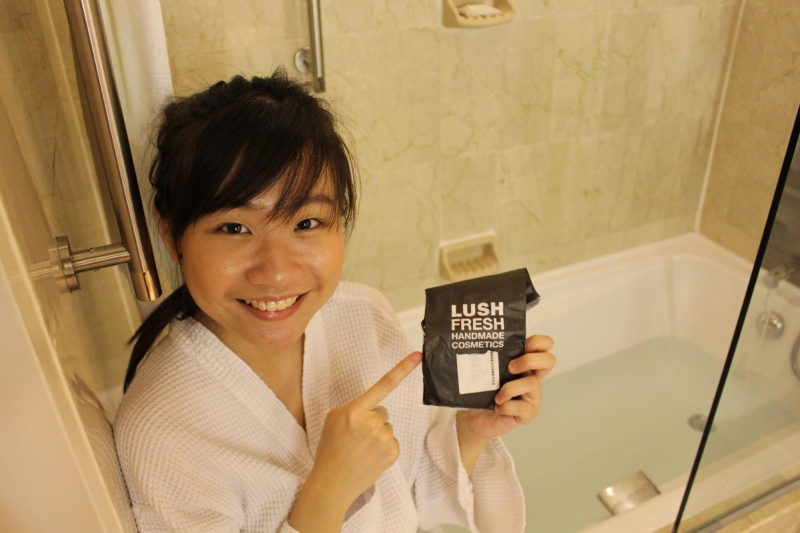 Marcus and I opted for the "Stay Pampered" room package, which promised an added element of pampering to our room booking. Upon entering our room, we found the main star of the show waiting for us on the coffee table – a LUSH bath bomb!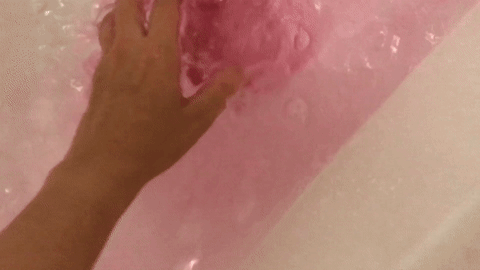 For those who have never tried a bath bomb, they are basically balls of fizzy fun. I kid you not! Simply drop them in the tub and watch as your bath bomb dissolve and transform the water into a different colour. Made with scented bath soaps and essential oils, the bath bomb not only pampers your skin but makes you smell all sweet and fresh, too!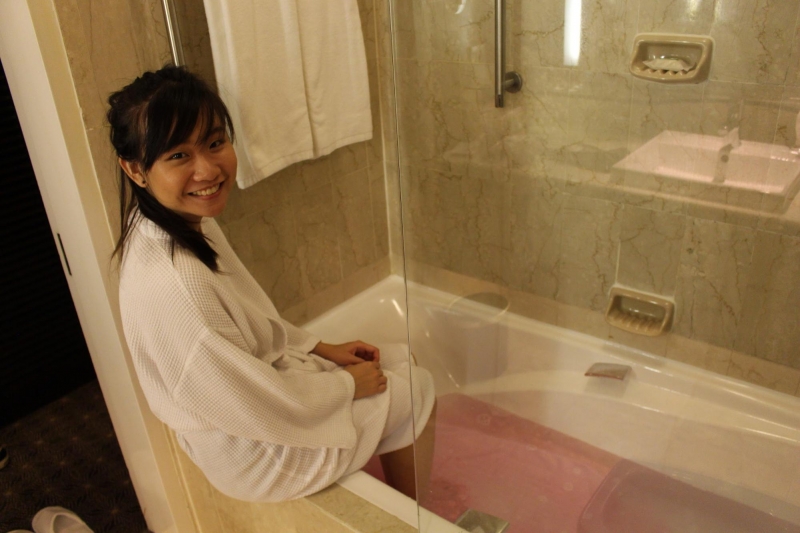 We were super excited to use this and even more delighted at the results! When plonked into the water, our bath bomb – aptly named 'The Comforter' fizzled away into an effervescence that immediately yielded a yummy fruity scent (which smelled very much like blackcurrant candy). As the water turned a lovely shade of bubblegum pink I excitedly went in for a dip – and fell in love as it left my skin feeling so smooth and soft. Believe me when I say that this bubble bath is just amazing  for a relaxing soak!
2. The plush bed and pillow menu are the epitome of comfort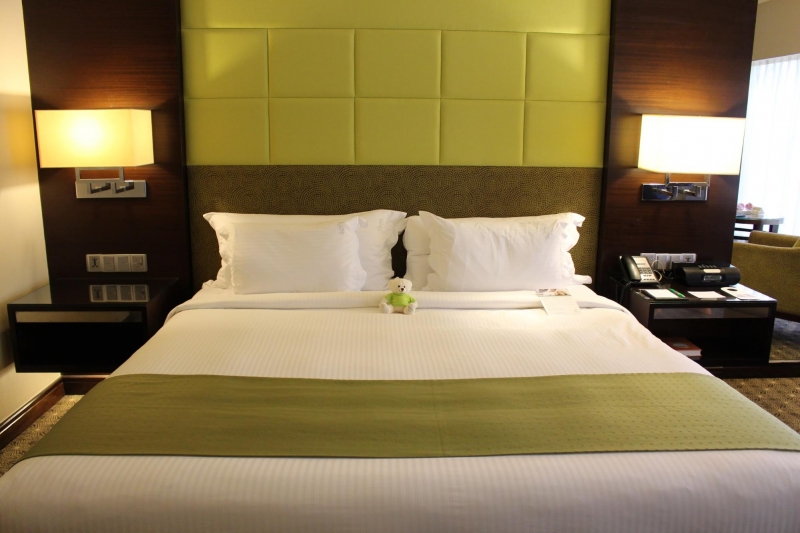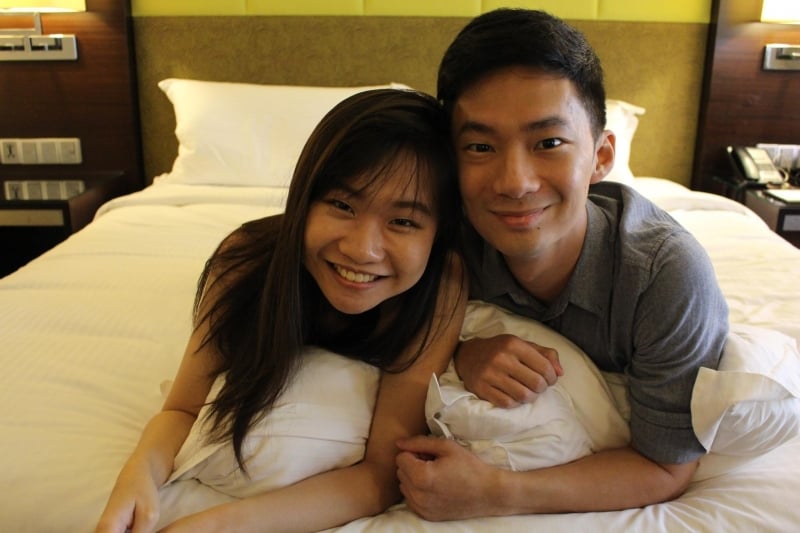 For all the tired couples out there who are looking forward to a good break, a comfy bed is of utmost importance because what could be more important than a long, deep and uninterrupted sleep? We really enjoyed lazing around in our room's super soft and plush bed – imagine just sinking in under the covers with a sigh after emerging from your ultra relaxing bubble bath. Pure bliss!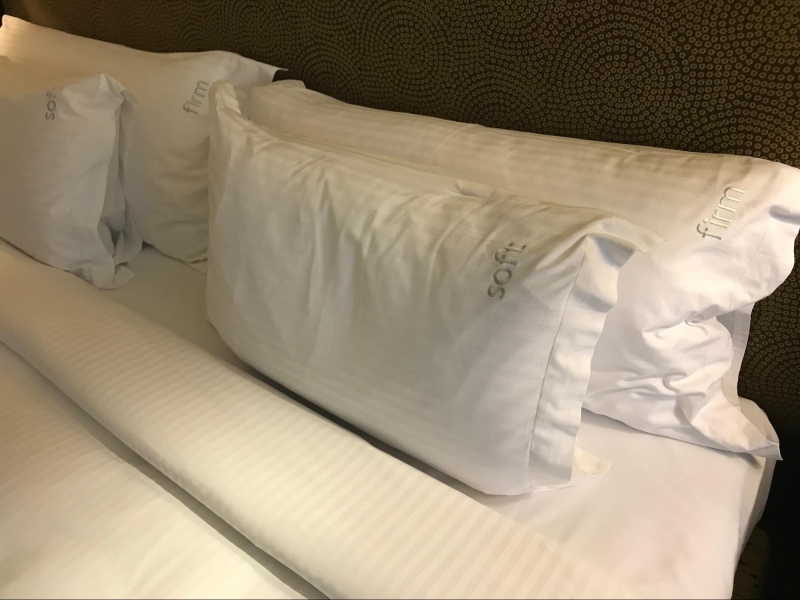 What we really appreciated was the fact that the hotel thoughtfully provided a pillow menu, where we could take our pick from either a soft or firm pillow. These really helped us get a good night's rest – who knew that comfortable pillows would be so important?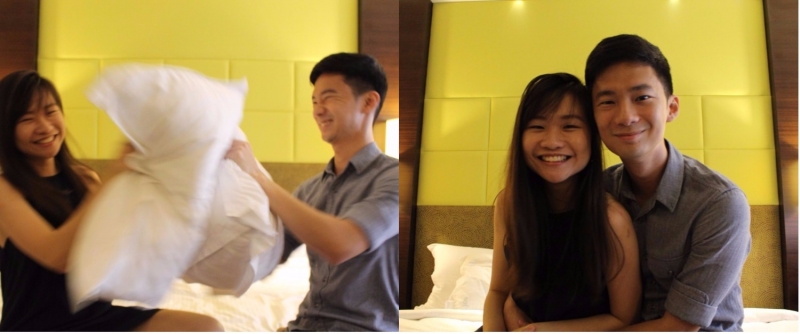 We jumped at the opportunity for having a pillow fight before snuggling up for cuddles and a movie. It wasn't too long before we felt hungry, but were (of course) unwilling to leave our cosy haven for some food. Since our "Stay Pampered" room package offered 15% off in-room dining, we decided to go ahead and treat ourselves. Staff brought our food right up to our doorstep and we could indulge without having to leave our comfortable cocoon. Perfect!
3. The room is fully equipped for your convenience and entertainment needs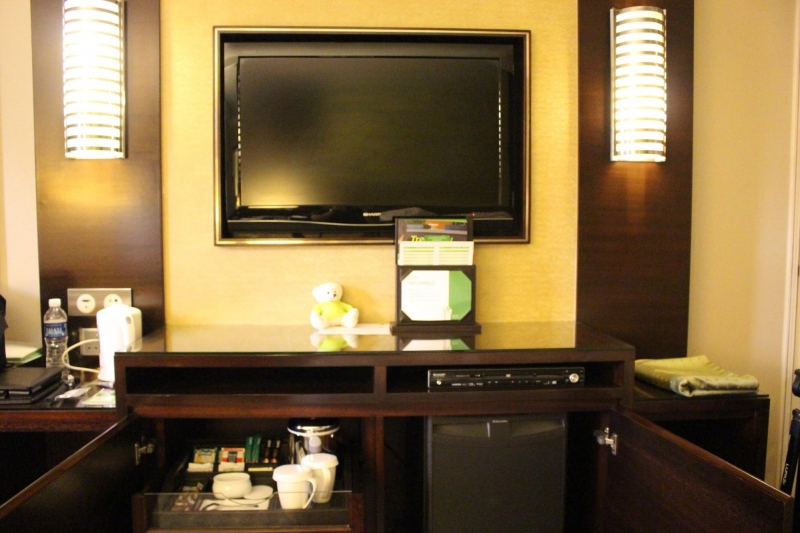 Other than having pillow fights and luxurious baths, the room is also fully furnished for your entertainment needs. From having a huge flatscreen TV to having an iPod docking station, we could blast our favourite music while we surfed from channel to channel.
They even have a DVD player too, so don't forget to pack in some of your favourite films! The cupboard beneath the TV opened up to reveal a fully stocked mini bar and complimentary tea and coffee, as well as an electric kettle for our use.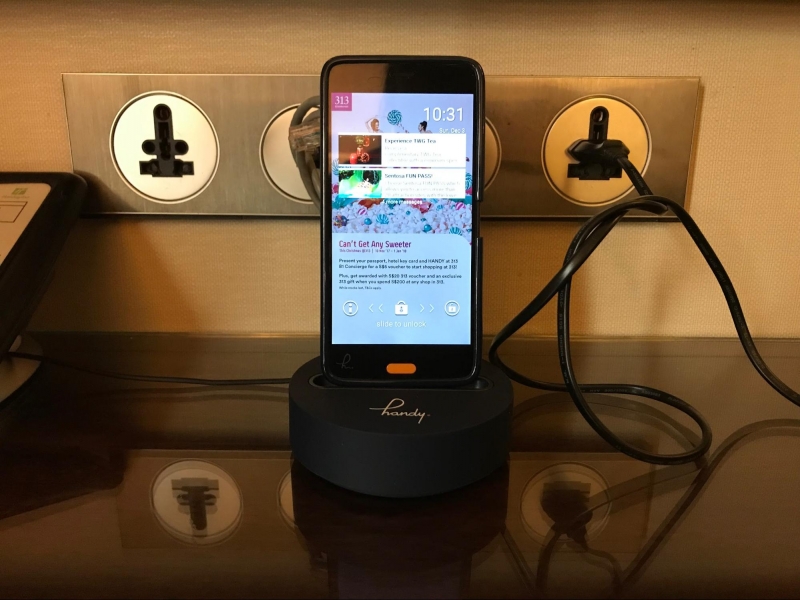 What caught our eye was the Handy loan smartphone that allowed guests to make international calls and have unlimited mobile data as well as the in-built multi-purpose plugs which would definitely prove extremely handy for international guests. There's also a built-in city guide in the handy phone which we used to help us navigate around orchard (oops, are we locals or not?).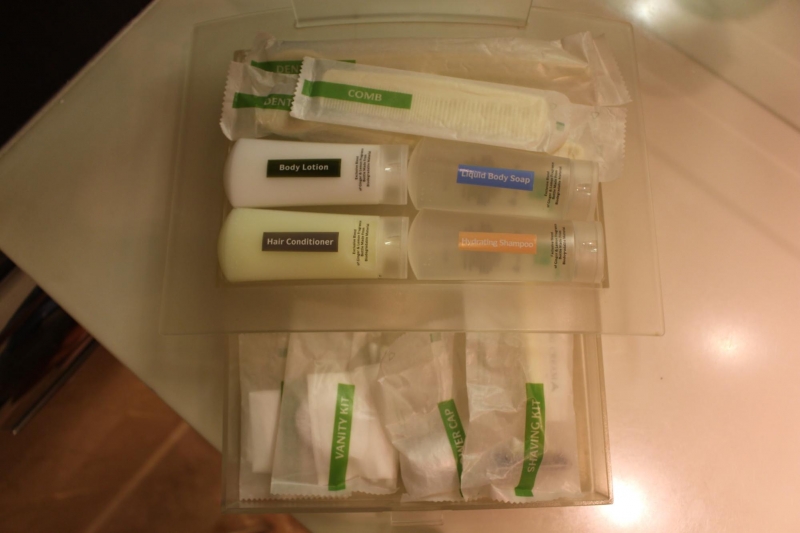 Like the true blue klutz that I am, I totally forgot to pack in my toothbrush and toiletries for this staycation. Luckily, Holiday Inn provided an array of items that included the usual suspects – soap, shampoo, conditioner, toothbrush and toothpaste as well as a vanity kit and shower cap too. So, if you're looking to pack light – this hotel has you covered.
4. The poolside area is just perfect for lounging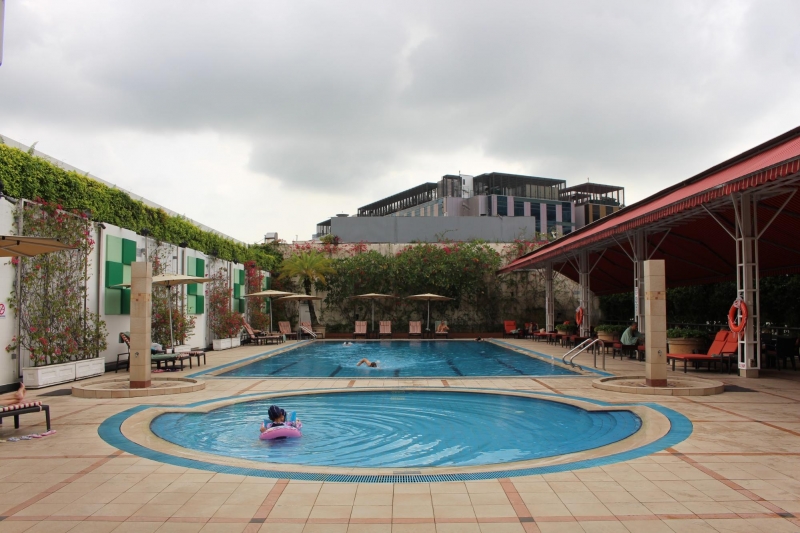 Marcus was keen on going for a dip so we headed up to the pool area and found a lovely pool and jacuzzi surrounded by foliage.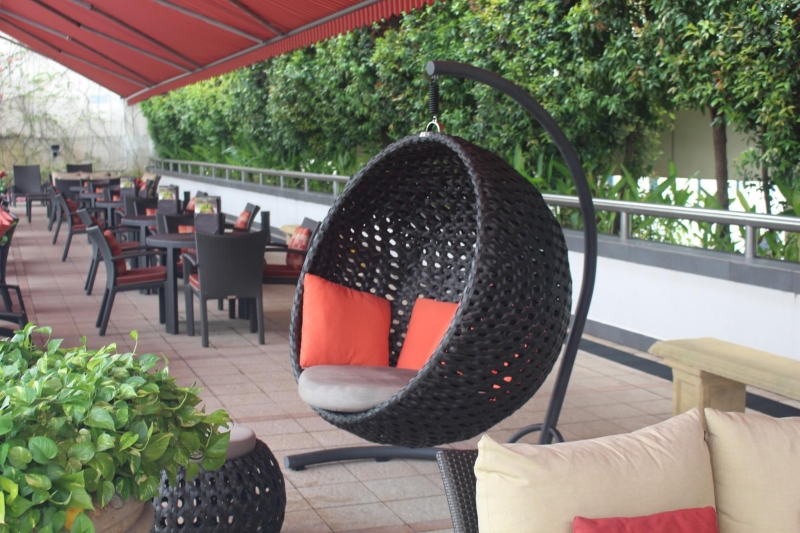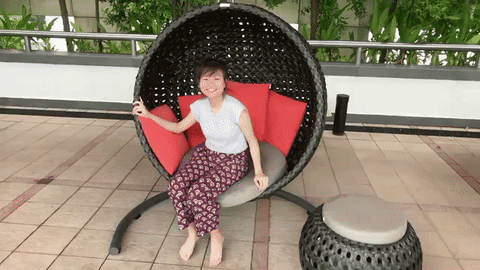 With numerous deck chairs and even a little swinging pouf, the poolside area made a great place for lounging and hanging out after going for a languid swim to beat the heat.
5. Last but not least, the breakfast buffet was amazing!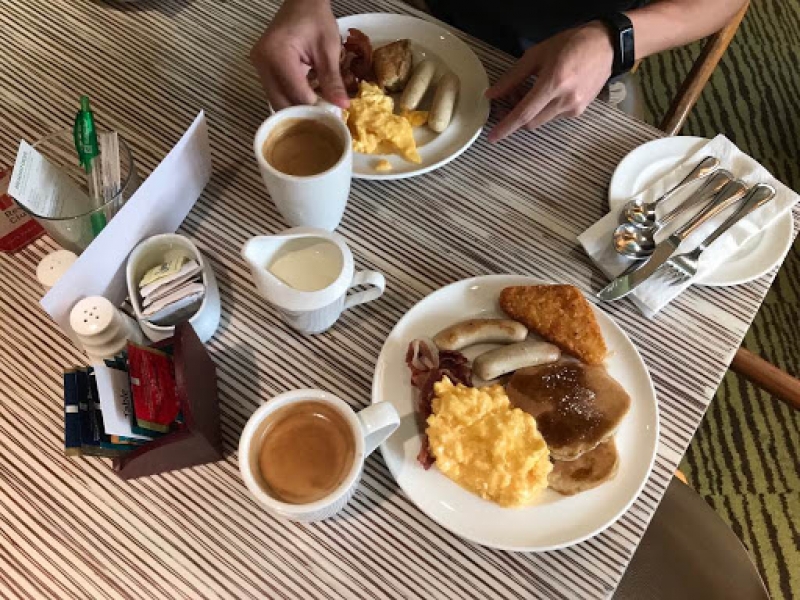 What could be better than getting to sleep in late during the weekend? As if the luxurious bath bomb and sweet, sound sleep wasn't enough, the room package also offered complimentary buffet breakfast for two at the hotel's restaurant, Window on the Park.
We were immediately greeted by polite and attentive staff who took care of all of our needs. From bringing us our coffees to quickly clearing up the plates once we were done with our food, the service was impeccable. We indulged in a hearty breakfast with the works such as scrambled eggs, bacon and pancakes (which we drizzled generously with maple syrup, yum!).
Besides the usual corner for fruit, pastries and hot dishes, there was even (much to Marcus's delight) a chef at the egg counter, who whipped up omelettes and fried eggs upon request! Marcus really enjoyed this... he ordered multiple omelettes with different topping combinations each time. Although Window on the Park serves up mostly American-style breakfast dishes, we found that there was also a corner filled with Asian delights, such as congee, noodles and even curry!
To be honest, what could be better than ending your staycation with a hearty breakfast feast? Although it was just a staycation over the weekend, Marcus and I really enjoyed just chilling out and and enjoying some alone time together and we left the hotel feeling all recharged and ready to go for the week!
If you're looking for a getaway to celebrate a special occasion or simply a staycation to rest and recharge – look no further than Holiday Inn Singapore Orchard City Centre for a refreshing couples staycation like no other . We hope that you will enjoy it as much as we did!