Filipinos love spending quality time with their loved ones. My mom always tells me that no trip is the same if the family isn't complete. And in the Philippines, a family is not just composed of the parents and children -- it includes your grandparents, aunts, uncles, and even your cousins of the nth degree. With a huge selection of family getaways in the Philippines, it can be quite a challenge to find a place that has the best facilities for the entire fambam. Fret not! I've done the research of finding the best stays with exciting amenities fit for your clan!
1. Agos Boracay Rooms and Beds
Agos Boracay Rooms + Beds is your home away from home in Boracay. This multi-awarded, family-run hotel is just a few minutes' walk from the pristine sands of White Beach and Bulabog Beach. Your family will truly enjoy your stay in this quiet part of the island. What makes it a great place to stay is its Family Room, a loft type accommodation that comes with a stunning panoramic view of the ocean.
Read our full review of Agos Boracay Rooms + Beds on TripZilla STAYS.
Address: Station 2, Boracay Island, Aklan
2. Hotel H2O
Ocean lovers will absolutely loooove Hotel H2O. You won't even believe that it's located in the busy Metro Manila. From its aqua rooms (yes you can see live fish from your room) to its in-house oceanarium, Hotel H2O makes for a perfect getaway for the whole family.
Address: Luneta, Manila
Also read: 17 Coolest Staycation Ideas in Manila
3. CamSur Watersports Complex (CWC)
Into extreme watersports? Check out CamSur Watersports Complex and try wakeboarding and wakeskating. Do not worry if your heart can't take the extreme activities -- you can just swim in its pool or jog around the area. The entire facility is a huge compound that includes a stadium, an arena and huts for guests who want to stay in.
Address: Provincial Capitol Complex, Cadlan, Naga, Camarines Sur
4. Las Casas Filipinas De Acuzar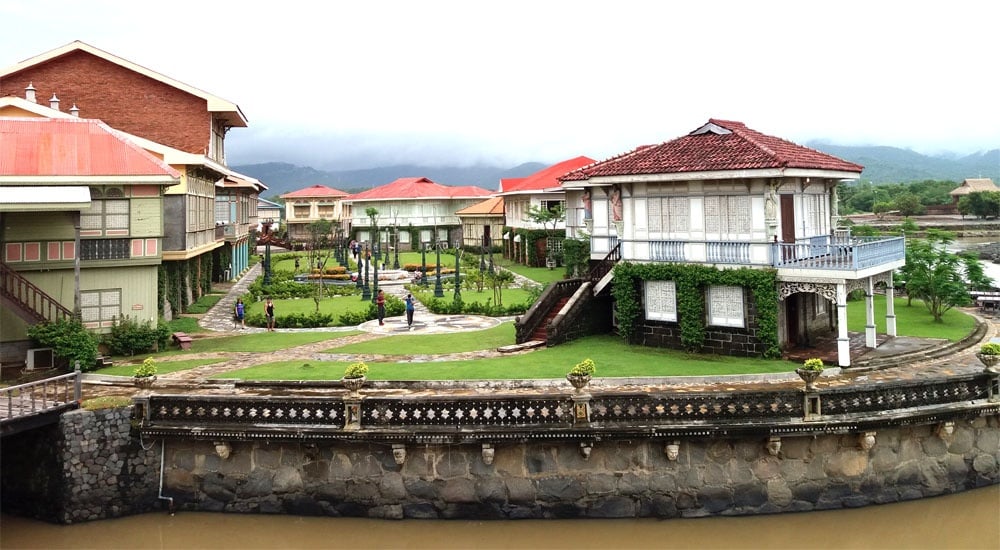 This one's for the history and culture buffs. Las Casas Filipinas De Acuzar is a very large area that you and your clan will feel like hacienderos . Their guest rooms, of course, scream tradition and Filipino luxury. You can take a day tour to discover the casas or homes and learn about their distinct characteristics and stories. The best part? There's actually a cruise that'll take you around the property! How cool is that?
Address: Brgy. Ibaba, Bagac, Bataan
5. Bohol Bee Farm
Did you know that Bohol Bee Farm is not just a restaurant? The headquarters in Panglao Island in Bohol is a compound that has cosy guest rooms, a big restaurant, vast gardens, and in-house mini factories for the farm's many organic products. The beach is accessible and they have a swimming pool as an alternative.
Address: Dao, Dauis, Panglao Island, Bohol
6. San Rafael River Adventure
San Rafael River Adventure has everything! Let me start off with the accommodation. It offers "glass" guest rooms that come with free use of the other amenities like the infinity pool and kayak. For the more adventurous, go glamping by the river and set up a bonfire. San Rafael also offers many other activities like ATV, banana boat, horseback riding, kubo rafting, river cruise and many more!
Address: Barangay Talacsan, San Rafael, Bulacan
7. JPark Island Resort & Waterpark
Looking for an extravagant getaway for your clan in the Queen City of the South? How does five swimming pools, three water slides, a private beach, and eight in-house restaurants sound?! Yep, this place exists. JPark Island Resort & Waterpark is a delight for families who love a luxurious staycation. And might I just repeat that they have eight restaurants! You're in for the ultimate gastronomic adventure.
Address: M.L. Quezon Highway, Brgy. Maribago Lapu-Lapu City, Cebu
8. Campuestohan Highland Resort
A weekend is not enough to enjoy Campuestohan Highland Resort. It has a lot of facilities for any type of traveller in your clan. Conquer your fear of heights with the resort's zipline, rope course, sky bicycle, and chair lift. The resort is basically a huge park and is perfect for the young and young at heart.
Address: Sitio Campuestohan, Brgy. Cabatangan, Talisay City
9. Eden Nature Park & Resort
Does your family need a retreat and a breath of fresh air? You will love Eden Nature Park & Resort. Imagine a big garden full of beautifully maintained greeneries. Enjoy the cosy villas and family cottages, and its many recreational activities including a guided shuttle tour, skyriding, skywinging, sky cycling and horseback riding. They have a swimming pool, too!
Address: Eden Bayabas, Toril, Davao City
10. Pearl Farm Beach Resort
If your family is in need of an escapade in Mindanao, Pearl Farm Beach Resort is perfect for you. Referred to as one of the best beach resorts in the south, it will not disappoint you with its thoughtfully designed guest rooms and facilities. And their buffet meals? Ugh! To die for! Seriously, they have one of the best resort buffets in the country.
Address: Kaputian Road, Babak, Island Garden City of Samal, Davao del Norte
Also read: Beach Getaways in the Philippines: 12 Resorts with the Most Stunning Views
We hope this list helped you plan for your family getaway. Want more recommendations? Check out our top hotel stays in the Philippines.