Everyone knows being a club guest for a hotel entails additional benefits, such as access to exclusive facilities or even late check-outs. But being a club guest also means you get access to the hotel's exclusive club lounge, which usually offers freebies to its guests!  Wondering which hotel lounges in Singapore offer the best complimentary items? Check out this list:
 1. InterContinental Singapore
What's the best thing to get for free? Food, of course! And the InterContinental Singapore has just that - its Club InterContinental Lounge offers a buffet spread for breakfast, lunch and dinner. The lounge also provides an afternoon tea selection of lovely pastries from 2.30pm to 5pm. In the evenings, supplement your dinner with free-flow evening cocktails, which includes the iconic Singapore Sling! For those looking for something non-alcoholic, coffee and tea are freely available at the lounge for the entire day. With so much food freely available throughout the entire day, there's almost no reason to leave the lounge! That's not all...You'll have access to a private library featuring Peranakan literature and reference books, laundry services, and even a guided 2-hour heritage walking trail in the Bugis precinct held on Saturdays! 
2. The Quincy Hotel
The Quincy Hotel stands out from this list for one simple reason: every guest in the hotel is a club guest! This makes the entire hotel a club lounge, with the food in its rooms and restaurant completely complimentary for each hotel guest. Light refreshments by upmarket retailer Dean & DeLuca, as well as Italian restaurant chain Modesto's are served freely all-day in the hotel's restaurant The Lobby, though lazier guests can nibble on the in-room minibar snacks instead. You can also find a sumptuous breakfast and evening cocktails available in The Lobby, making the Quincy Hotel one hotel you'll want to keep staying at!
3. Rendezvous Hotel Singapore
Here's one for the business travellers: the Rendezvous Club Lounge at the Rendezvous Hotel Singapore! This hotel lounge serves complimentary comfort food, ranging from pastries to prata, from 2-5pm, making the place perfect for those who love to snack while working. You can continue your snacking spree in the evening from 6-8pm, where canapes and free-flow evening cocktails become available. The lounge also offers free printing services with its wireless printer! With amenities to satisfy both your stomach and your working needs, why bother returning to your room?
4. Oasia Hotel Downtown
If you are looking for hotels with both lovely lounges and exquisite complimentary items, the Oasia Hotel Downtown definitely comes near the top of the list. This pillar of tranquility, nestled next to the bustling Central Business District, offers itself as a sanctuary to soothe your overworked senses. In its members-exclusive club lounge, you get a complimentary in-room yoga mat, Biology Smart Skincare set, and a sleep kit with Oasia's Essential Oil Pillow Mist for a complete de-stressing experience! And the freebies don't stop there: complimentary breakfast and free-flow alcohol are available in the lounge, for your gastronomic and after-dinner needs.
5. The Fullerton Hotel
Even freebies have their levels of quality. This is especially so when it comes to complimentary meals, and The Fullerton Hotel's club lounge can boast of having the most exquisite offerings! This lounge serves a mouth-watering range of TWG teas, along with sandwiches and scones, during its afternoon tea selection from 2.30-5.30pm. Visit the lounge again in the evening, and indulge in the free-flow yet top-quality champagne and cocktails available! There is also a dinner buffet spread available, serving canapes, hot dishes and chocolate tarts.
6. Orchard Parade Hotel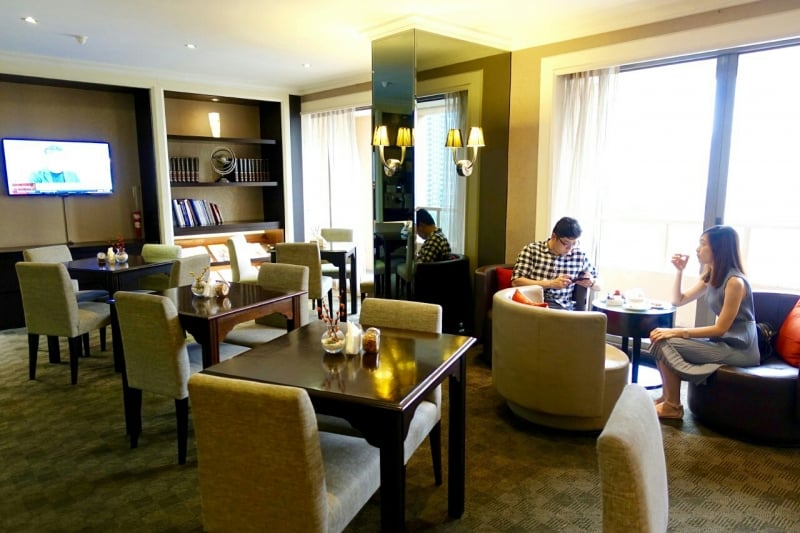 For those of you just desiring to snack every hour of the day, you'll definitely love the lounge at Orchard Parade Hotel. The hotel lounge offers light refreshments all day, with an accompanying selection of tea and coffee! The supply of drinks doesn't just stop at non-alcoholic content – evening cocktails are freely available from 6-9pm, allowing you to swap your caffeine source for something to settle you down for the night. The lounge isn't just an oasis for free-flow drinks too! A separate breakfast spread is available in the lounge, for club guests who want a more private meal.
7. Singapore Marriott Tang Plaza Hotel
There's free stuff, and then there's a diversity of free stuff. For the latter, the lounge at Singapore Marriott Tang Plaza Hotel mixes up the variety of meals it offers brilliantly. Start with the complimentary continental breakfast in the morning, and return in the evening for a massive two-hour buffet spread. At 7.30pm, watch as the hot dishes are substituted by a jaw-dropping dessert spread, which lasts till 9.30pm daily! If you worry that the beverages selection changes too, fret not: complimentary cocktails, champagne and beer are available all evening.
8. Mandarin Oriental, Singapore
For the complete freebie experience, check out the lounge at Mandarin Oriental, Singapore. This lounge serves buffet spreads for all three meals, starting with a champagne breakfast! You also get afternoon tea, alongside a huge range of all-day soft beverages such as juices. Once the sun sets, enjoy the complimentary evening cocktails and hors d'oeuvres, or just simply order whatever you desire from the made-to-order menu! The food isn't the only thing free – the lounge opens to a beautiful view of Marina Bay, which you can enjoy while savouring the excellent food.
9. Oasia Hotel Novena
It doesn't come as a surprise that another Oasia Hotel makes the list, this time being the Oasia Hotel Novena! Like its Downtown counterpart, this hotel serves as an oasis of calm for those seeking a break from the hectic chaos of working life. Check in to its club lounge and de-stress with all-day complimentary beverages, such as ice-mint and cucumber cooling drinks. There's even a private pool with a gorgeous view, exclusive for club guests! If you desire something stronger, get yourself a cup of coffee, served personally to you by a barista! The lounge also offers free-flow alcoholic drinks, and healthy canapes from 6-8pm, ensuring that you never have to leave the place during your weekend getaway.
10. Village Hotel Albert Court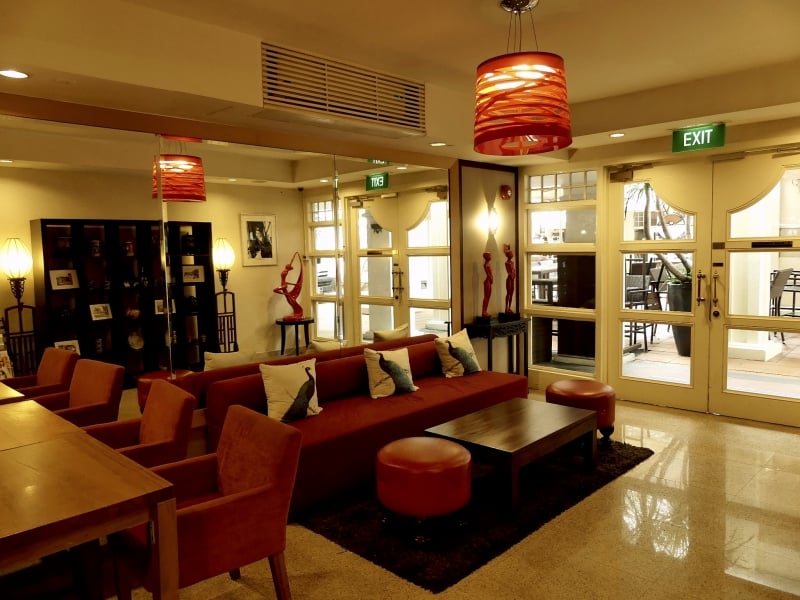 What's unique about Village Hotel Albert Court's club lounge is that it's situated in a different building from the main lobby, which means you get to feast on your complimentary meals in comfort, well away from the main crowd of hotel guests! This lounge has its own separate breakfast spread, as well as an additional spread in the evening for dinner. You can also find a steady supply of free-flow non-alcoholic drinks in the lounge, which makes staying there the entire day all the more enticing.
With gorgeous food, an unlimited supply of drinks, and even lovely items to take away, these hotel club lounges do overwhelm you with freebies! And you don't have to do much: just book a stay in these hotels (or other equally amazing hotels) as a club member. Be warned, though: once you step foot in the lounge, you might never want to get out again!