Chinese New Year's all about getting together and eating to our heart's delight (and maybe collecting those red packets). The very first meal you'll dig into is undoubtedly your reunion dinner – where all your loved ones are gathered around the same table and enjoying a seemingly endless amount of scrumptious food. If you're thinking of upping the scale and making this year's reunion dinner a truly unforgettable one, why not treat you and your family to a luxurious hotel feast? We'll help you out: here are 8 places to have your reunion dinner at this CNY.
1. Goodwood Park Hotel
Usher in an auspicious Year of the Dog with Goodwood Park Hotel's scrumptious prosperity set menus, available from 29 January to 2 March 2018! A luxury heritage hotel situated along Scotts Road, you've probably noticed its stunning architecture, resembling that of a castle. The hotel is a perfect venue for anyone planning to dine or stay there, so make use of this Chinese New Year long weekend for a well-deserved break!
Their reunion dinner special offers two epicurean set menus and a grand dining setting: the Windsor Ballroom. Make sure to check out their Lunar New Year Treasures promotion, which features various packages, from Prosperity Yu Sheng (which is available in all-fruits or a generous amount of salmon and abalone slices), to Abundant Feasting Specials (which include braised pork spare ribs, Ngoh Hiang rolls, and more!).
Apart from dine-in highlights, there's also a plethora of sweet treats you can takeaway from The Deli! How does a gigantic 6.5 inch pineapple tart sound? A delightfully large version of the quintessential well-loved festive treat, this tart is homemade with fresh pineapple reduction infused with vanilla. Crowned with the auspicious "發(fa)" character which symbolises good fortune, this tart will definitely be a unique addition to any dinner table. Don't miss out on their iconic pineapple ingot tarts as well, which are made in-house with the chef's proprietary pineapple jam! Grab your favourite festive delights now before they are sold out.
2. Intercontinental Singapore
Intercontinental Singapore needs no grand introduction, seeing how the hotel chain is known globally. This CNY, the hotel is offering three different festive menus at their prestigious Chinese restaurant Man Fu Yuan: a prix fixe menu, an à la carte menu, and a Dim Sum menu. We suggest going for the prix fixe menu for your reunion dinner, which starts at $128 per person and includes delectable delights such as braised sea cucumber, barbecued suckling pig, snow bird's nest, and more.
The hotel also offers home delivery services for various CNY goodies, like pineapple tarts, steamed yam cake, and Yu Sheng. If you're going all out to treat the family and relatives to a feast, head over to Intercontinental Singapore's festive e-store and take a look!
3. Fullerton Hotel
Many recognise The Fullerton Hotel as part of Singapore's city skyline, sitting across the iconic Marina Bay in its luxurious, 5-star glory. The hotel has consistently proven its high quality and service, which is why if you're thinking of spoiling your loved ones with an amazing and memorable reunion lunch or dinner, you should definitely keep this place in mind.
There are plenty of CNY specials to choose from, from family-style set menus to dinner buffets. Picture dining by the Lighthouse Restaurant and Bar which overlooks the bustling downtown cityscape, and enjoying special Italian-Chinese dishes such as Balsamic Honey Lacquered Pork Belly. Or, if you prefer al fresco dining: a scrumptious reunion dinner buffet at The Town Restaurant located by the Singapore River.
4. Le Méridien Singapore, Sentosa
Le Méridien Singapore Sentosa is an upscale lifestyle hotel situated on the fun and exotic Sentosa Island, far away from the busy city. Its modern and tranquil setting makes it ideal for large groups of guests to get together and spend valuable bonding time. The Abundance Awaits package offers two different set menus (Harmony and Joy) starting from only $48 per person, and a buffet dinner starting from $88 per adult.
All choices offer the best Asian delights, from main courses to desserts. Start off with a Smoked Fish Platter, sink your teeth into some Crispy Soft Shell Crab with Wasabi Mayonnaise, then end off your reunion dinner with a zesty Mandarin Orange Panna Cotta, all while in the company of your loved ones.
5. ParkRoyal on Pickering
If you're looking to indulge just a tad bit more this Chinese New Year, ParkRoyal on Pickering's LIME Restaurant might just be the perfect place to have your reunion lunch or dinner! With the hotel's strategic location in the heart of Chinatown and the Chinese New Year festivities, having your reunion meal here will surely put you in the festive mood.
Have a Royal Reunion at LIME Restaurant and expect a modern twist to your usual CNY buffet spread, with dishes like the Peking Duck with Hoisin Sauce Pizza and the Pink Peppercorn Brined Salmon fillet with Garlic Aioli. End your meal on a sweet note with a slice of Mandarin Orange Cheesecake or spend some time at the "Full-of-Fortune'' Orange Chocolate Fondue Fountain. Go ahead and knock yourselves out – you deserve to spoil yourselves once in a while!
6. Pan Pacific Singapore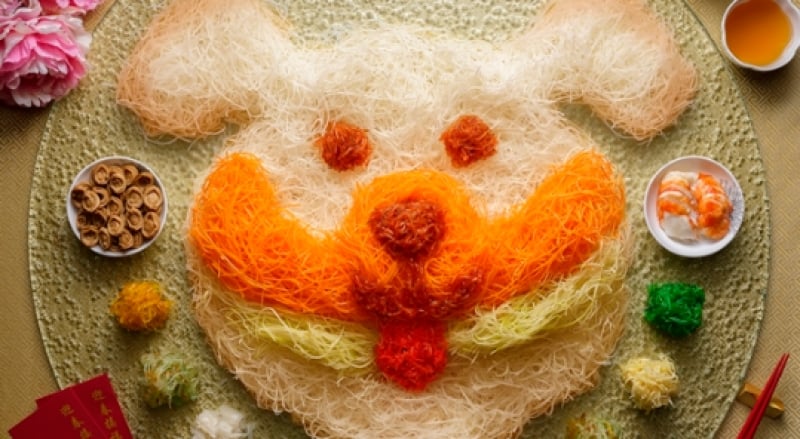 Get ready to be absolutely spoiled for choice at Pan Pacific Singapore, with three of the hotel's restaurants offering special Chinese New Year menus for you and your family to have a feast. If you're looking for the quintessential Chinese reunion meal, you wouldn't be disappointed with Hai Tien Lo's premium delicacies like Double-boiled Fish Maw with Sea Conch, Yu Sheng Platters and traditional Treasure Pots (Poon Choy). Or you can switch things up a little by dining at Keyaki and have a Japanese-style reunion meal! (Think: Deep-fried Snow Crab and Yu Sheng with Tuna, Salmon, Yellowtail and Tobiko.) Alternatively, you can also indulge in Chinese Sausage and Crispy Bak Kwa Pizza, a wide array of seafood on ice, and Yuzu Cheesecake at Edge.
7. Crowne Plaza Hotel Changi Airport
Welcome the new year in style at Crowne Plaza Changi Airport's nature-inspired ballroom alongside your loved ones and delicious food! Your family can choose from two specially-curated set menus catering to different group sizes – appropriately named Fortune and Prosperity respectively. Start off the meal with the Crowne Prosperity Yusheng, before digging into the mouth-watering main courses.
And regardless of the set menu you end up choosing, there'll be an impressive 7-metre dessert buffet awaiting your family at the end of your meal. Featuring desserts like Deep-Fried Nian Gao with Gula Melaka, Durian Pandan Layered Cake and an ice-cream station with condiments, there's surely something for everyone to look forward to!
8. Sofitel Singapore City Centre
Celebrate the arrival of the Year of the Dog with a bountiful reunion lunch or dinner at Sofitel Singapore City Centre! Situated atop Tanjong Pagar MRT Station, you don't have to worry about getting to this luxury hotel in time for that reunion meal at all. Say hello to beautiful views of the bustling Central Business District while you soak in the company of your loved ones this Chinese New Year!
And of course, not forgetting the food – tuck into Chinese New Year set menu specials featuring signature festive dishes crafted by the hotel's Masterchef, such as Steamed Fragrant Rice with Chef's Selection of Waxed Meats and Bok Choy, and the Signature "Eight Treasures Yu Sheng" consisting of Lobster Roulade, Homemade Cured Salmon and others. There's also take-away options for premium dishes like Sofitel's Seafood Abalone Treasure Pot with Braised Cabbage and Black Moss (Pen Cai) that you can pre-order to enjoy in the comfort of your own home.
BONUS: Hotel Indigo Bali, The Chedi Club, Maison Aurelia
Since Chinese New Year is all about catching up with your loved ones and spending quality time with them, how about taking advantage of the long weekend we've been blessed with this year to take a short getaway trip with your family to celebrate? We've got three bonus hotels just for you, because it never hurts to treat yourselves to something a little special every once in a while!
Revel in the sun, sand and sea in Bali's most stylish beachfront neighbourhood when you stay at Hotel Indigo Bali Seminyak Beach this festive season. Aside from a bunch of perks awaiting you in their Prosperity Getaway package , you can also have a sumptuous reunion dinner with their Prosperity Dinner Buffet!
The Chedi Club Tanah Gajah is also having their Lunar New Year Special, which is inclusive of a family-style Chinese-inspired set dinner at The Restaurant, a special welcome gift, fragrant Chinese Tea in your suite or villa upon your arrival, and more. You'll even be able to enjoy exclusive Club Benefits during your stay here!
Maison Aurelia in the idyllic paradise of Bali, is another excellent option to stay at for your Chinese New Year getaway. Lovely, spacious rooms coupled with sandy white beaches and a vibrant nightlife scene as your backdrop, it's the perfect place for the whole family to unwind together and take a breather from the city life.
And there you have it, the top eight places (with three little bonus ones) to have your reunion meal this Chinese New Year! No matter how busy work gets, the CNY period will always be a time when families come together to welcome the new year and soak in the festivities. So, it's time to put work on hold and put your family and loved ones first, even if it's just for a few days! We hope that you have an amazing reunion lunch or dinner with your family at these places, and may the Year of the Dog be an auspicious one for you. Gong Xi Fa Cai!