Many people would groan when a business trip comes into mind. Not only are you stuck at boring conferences or client meetings for the entire day, but you'll be heading back to a cold hotel room with nothing to do for the rest of the night. Apart from watching television until you finally fall asleep on your bed, the whole experience isn't exactly what you'd consider as a holiday!
Thankfully, there are hotels out there that have acknowledged that need. In fact, here are 10 business hotels that have taken upon themselves to blend the rigours of work with fun-filled amenities for a fruitful business trip!
Mercure Singapore Bugis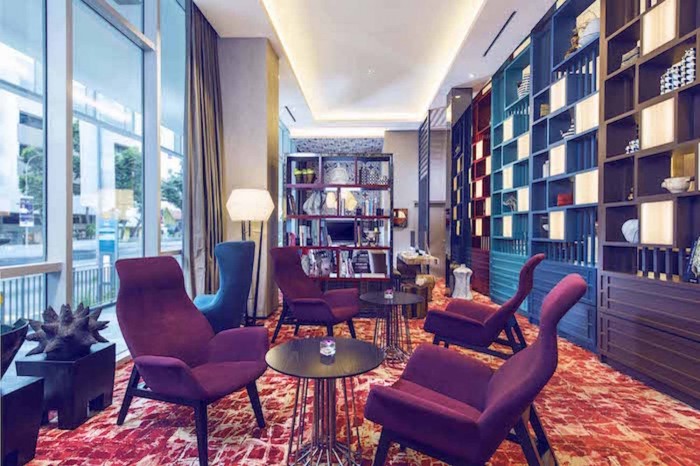 Image credit: Mercure Hotels
The Mercure Singapore Bugis is conveniently situated in the Bugis district, where guests can easily reach the Central Business District (CBD) in a short span of time. Taking inspiration from the surrounding heritage in the area, the vibrant interior design that this hotel features in each room is a great choice for guests looking for proper accommodations on both business trips and casual holidays!
Business travellers will be glad to know about the lobby lounge at BARtistry@One22, where they can order Happy Hour drinks during their dealings with clients. For those larger important meetings, there are six meeting rooms in Mercure Singapore Bugis that can be rented and utilised for your purposes! The rooms are filled with natural daylight and even have an option for an attached outdoor terrace, which is perfect for when you're looking to take a short respite from the discussions.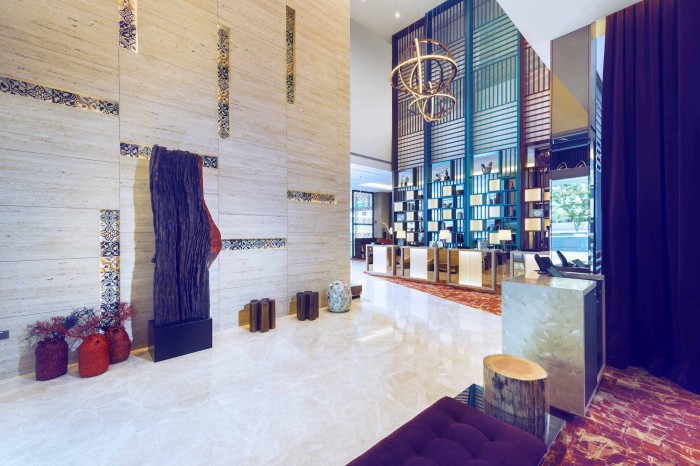 Image credit: Mercure Hotels
Returning from a long hard day of work? Drop by Royale, where you can grab your well-deserved dinner of juicy succulent steaks from this western restaurant. End the day off with laps in the hotel's outdoor infinity lap pool, where you can feast your eyes on stunning night views of the city skyline!
Calling all Business Travellers! Check out this Discover Your Singapore deal, where business travellers can take advantage of their unlimited WiFi to send those important emails without any hassle. The deal also includes a buffet breakfast as well, which means you won't need to rush out early in the morning before work to fill your stomach!
Or this Early Booking deal , where you can book 30 days in advance to get 20% off your stay! Is that sweet or what? Remember, you heard it from us first!

One Farrer Hotel & Spa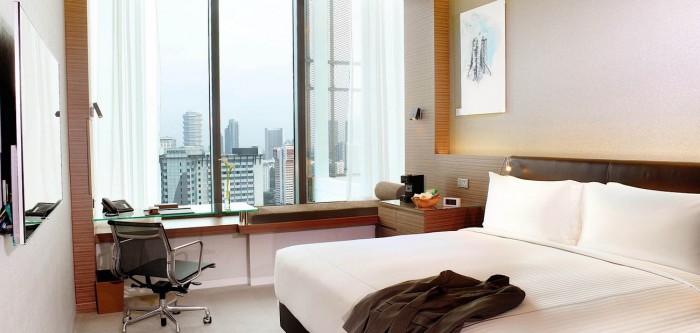 Image credit: One Farrer Hotel & Spa
One Farrer Hotel & Spa promotes itself as a place where there are "hotels within a hotel", meaning that guests are able to pick their staying experience from a variety of different rooms. Business travellers who are content with simple accommodations will find the urban rooms more to their liking, while those with a taste for the extravagant might gravitate towards the more exclusive skyline rooms and villas.
Need a place to host a huge company meeting of yours? Their Grand Ballroom might be the place for you! From conferences, events to functions, you'll have your needs suited by their different available packages ! Take control of their smart lighting system and set the mood for the event, whether you're discussing over dinner, or dancing under the ornate chandeliers!
Swissotel Merchant Court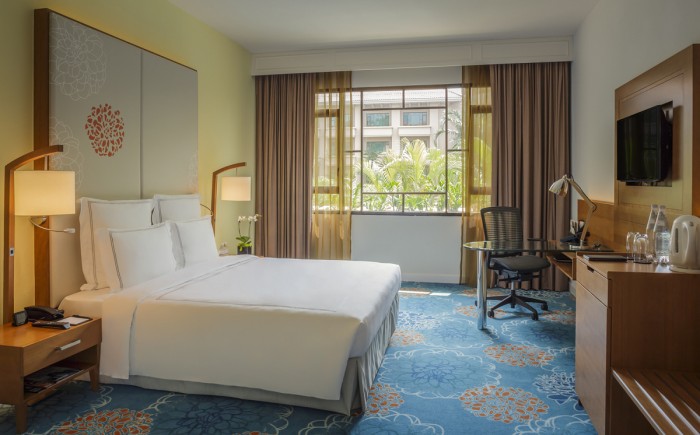 Image credit: Swissotel Merchant Court Singapore
The Swissotel Merchant Court is located in the heart of Clarke Quay, where guests are conveniently situated in walking distance to business districts such as Raffles Place and City Hall. Guests can alternatively pay a visit to Chinatown, or one of the numerous bars and pubs in Boat Quay if they're looking to wind down from a busy day around the city.
Business travellers who book their stay here can enjoy their reopening celebration deal , where they'll receive a welcome bottle of Prosecco to start their day with. Other than that, they'll enjoy a complimentary daily buffet breakfast and internet access, perfect for those reluctant to leave their rooms to finish their work!
Fairmont Singapore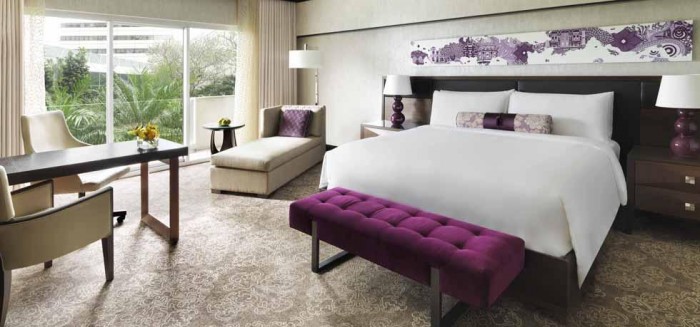 Image credit: Fairmont Singapore
Located in the crossroads of the Central Business District (CBD), Fairmont Singapore is not only a popular choice among business travellers due to its proximity to workplaces, but there are also 15 distinctive restaurants and bars for hotel guests to let loose after office hours. From delicious Japanese cuisine at Mikuni, traditional Chinese classics at Szechuan District, to fantastic Italian dishes at Prego, your taste buds are in for a wild adventure!
If you book directly with Fairmont Singapore, you'll be treated to a direct booking package filled with exclusive discounts! Enjoy 20% off on selected F&B outlets such as Cafe Swiss and Kopitiam, and eat to your heart's content.
Ibis Singapore on Bencoolen
Image credit: Ibis Singapore on Bencoolen
Ibis Singapore is nestled in the hustle and bustle of the Bugis district, where hotel guests can simply walk to the various office buildings scattered along the street. Otherwise, they can head down to Bugis Junction to unleash all that pent-up stress in the form of a shopping spree, a movie at the Cineplex, or be mesmerised by the displays in the Singapore Art Museum.
Book directly with the hotel and you'll be subjected to their IBIS EXTRAS offer , where you'll receive unlimited Internet access all around Singapore, as well as unlimited international calls. Now business travellers can phone their clients or their loved ones back home without worrying about their phone bills!
PARKROYAL on Pickering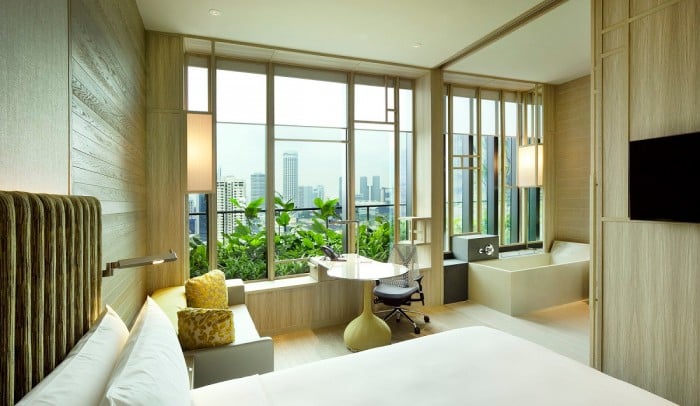 Image credit: PARKROYAL on Pickering
An upscale hotel, decorated with lush sky gardens and a rooftop lounge that's exclusive to its club members, PARKROYAL on Pickering is a great way for business travellers to unwind after running around the city. Guests will adore the iconic birdcage cabanas that command an amazing view of the city skyline, or its signature LIME restaurant, which dishes are perfect for any sort of occasion, ranging from business lunches to late night dinners.
Business travellers looking for the bare essentials in this garden hotel may want to consider their Stay and Save offer , where not only do they enjoy complimentary WiFi access, but also save a whopping 20% on their accomodation fee!
Oasia Hotel Novena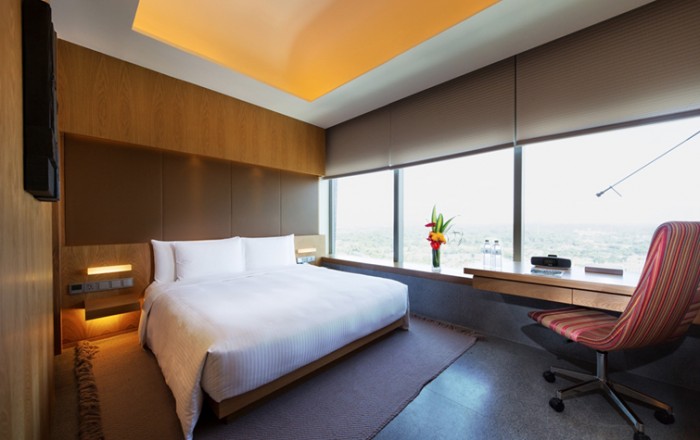 Image credit: Far East Hospitality
The Oasia Hotel Novena lives up to its name, a hidden oasis in the middle of the streets of Novena. Business travellers who decide to stay here will be pleasantly surprised by the generous amount of amenities that the hotel has to offer. If you don't like the feeling of dipping into a crowded jacuzzi, why not consider The Living Room, exclusive to its club members, where you can get your own personal pool and a huge room for your business meetings!
Book a room now and enjoy their year end promotion , where you can get crazy discounts up to 30%, as well as complimentary breakfast buffet and a city tour for those inclined to know the city of Singapore a little better!
Hotel Jen Orchardgateway
Image credit: Hotel Jen
Strategically located in the famous shopping district of Orchard Road, business travellers with a penchant for branded goods and amazing sales should probably look no further than Hotel Jen Orchardgateway! Once they're tired of lugging their great finds around, hotel guests can dump their purchases in the room and cool off in the hotel's 47-metre rooftop infinity pool to end off the day!
Business travellers will also be glad to know about Hotel Jen's Work Smart offer , where they're given free WiFi access, local calls and a F&B credit worth S$38 per stay. Pssst, it's just like having an allowance while you're working!
Capri by Fraser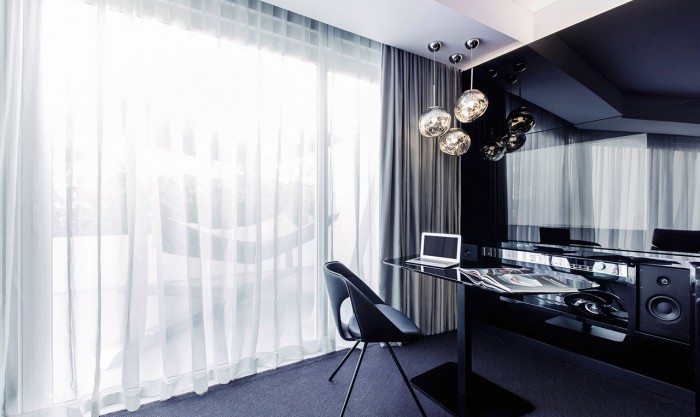 Image credit: Capri by Fraser
Ideally located nearby Changi Business Park, as well as the humongous Singapore EXPO, Capri by Fraser is also conveniently situated near to Changi International Airport for travellers from overseas. With 313 studio rooms that are equipped with the state-of-the-art amenities for any form of business work, business travellers will find this hotel to be simple, yet uncompromising!
Guests who stay with Capri by Fraser during the holidays can enjoy their Holiday Extravaganza , where they'll be able to save up to 30% on hotel bookings, as well as free WiFi and airport shuttles!
Village Hotel Changi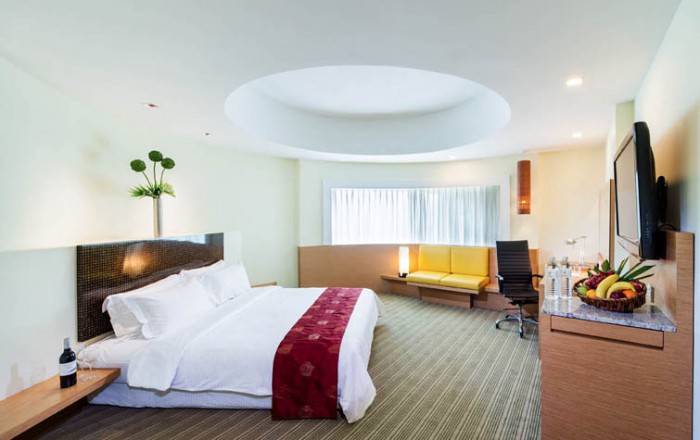 Image credit: Far East Hospitality
What makes Village Hotel Changi unique is that it is located at the deep end of eastern Singapore. Surrounded by the chill atmosphere of the Changi district, this hotel is perfect for business travellers looking to actually be away from the busy city. By opening your room windows, you'll breathe in the fresh seaside air as you prepare for your next meeting!
With their Play & Stay promotion , hotel guests won't be too bored with the beach view anytime soon! From various complimentary activities, such as cycling, bowling, city tours and koi feeding, you'll have your hands full even after leaving the office!
Did this list give you an idea on the best hotels for a little work and play for your next business trip? Make sure to take advantage of their great deals, made just for business travellers, before it runs out. Else, as they say, all work and no play makes Jack a dull boy!