There are countless reasons to opt for an Airbnb apartment instead of a hotel. For one, there are many cities in which a panoply of unique and value-for-money Airbnb homes are available for short stays. Compared to a hotel room of the same price range, you could get a private space with amenities that a hotel would not typically offer. For example, beyond towels, toiletries and kettles, you might even be lent a guidebook and a WiFi egg, and have access to a kitchenette.
Taipei is one such city with many Airbnb apartments to pick from. With the intention to help budget travellers narrow down their options, we've hand-picked some of the most highly rated and wallet-friendly private Airbnb apartments in Taipei.
Also read: 10 Affordable Airbnb Apartments in Hong Kong for Budget Travellers

Affordable Airbnb homes in Taipei for your next visit
1. This loft near Taipei 101 with a spacious layout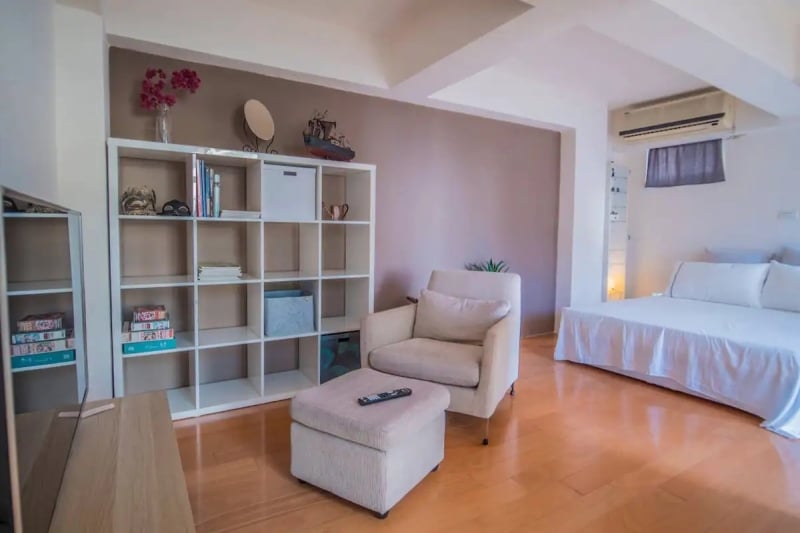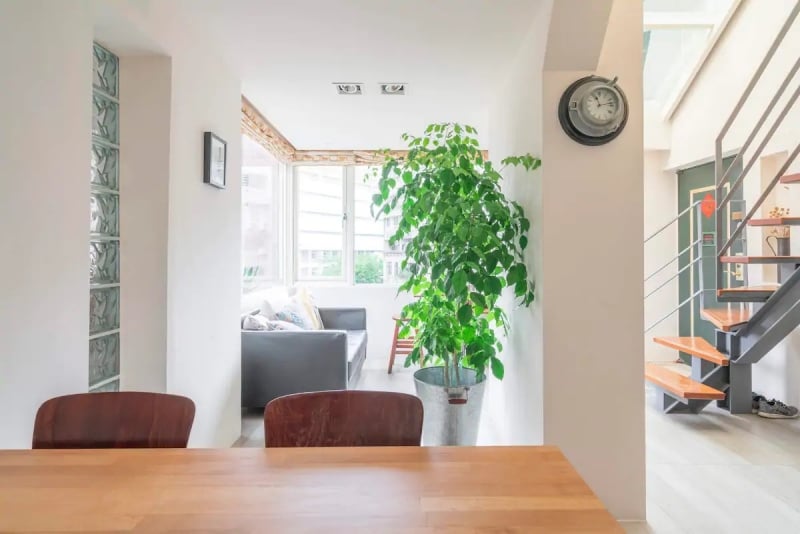 Listing name: E&C The penthouse One minute MRT to Taipei 101
Location: Da'an District
Max. no. of guests: 4
No. of bedrooms: 1
Here's a beautifully-designed loft with bright and airy interiors. It's bigger than most lofts, with a spacious bedroom tucked away on the upper level. Some travellers would greatly appreciate the fully equipped kitchen that this Airbnb in Taipei, Taiwan comes with.
Location-wise, this Airbnb is near the iconic Taipei 101 and a five-minute walk to the nearest MRT, Xinyi Anhe Station. A few blocks away you'll find the Linjiang Night Market, and in between that, there's a smattering of pubs and coffee shops. 
2. This spacious studio for three in Daan District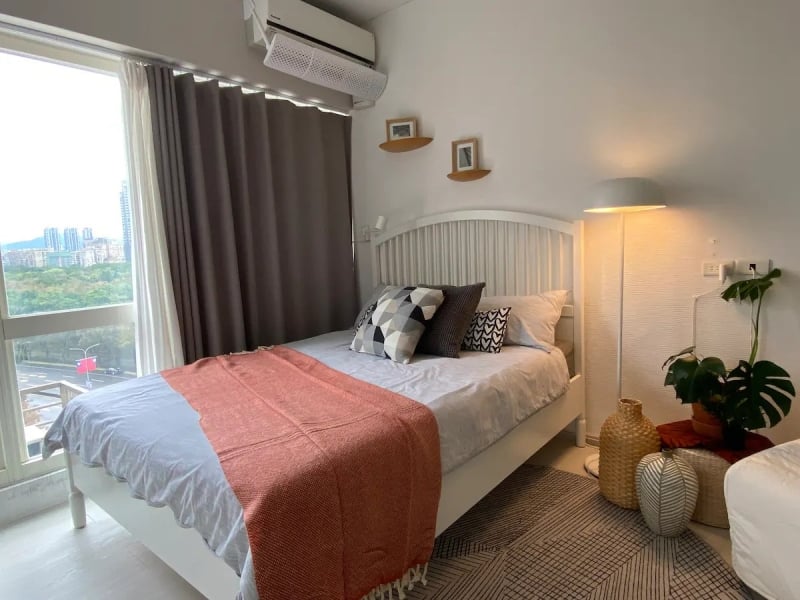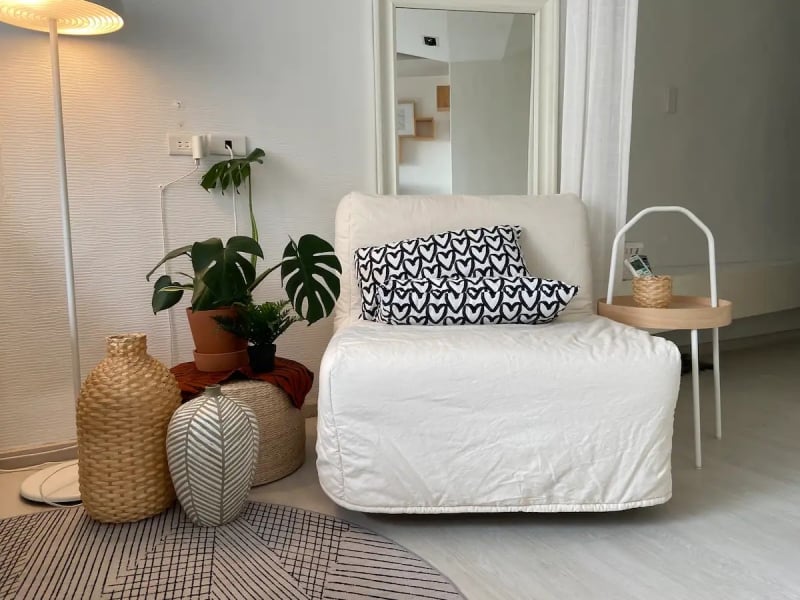 Listing name: Daan park Vs Nordic Style, Suite
Location: Da'an District
Max. no. of guests: 3
No. of bedrooms: Studio
This value-for-money studio apartment is a short walk from Daan Park, and bus and MRT stations. Along the way, you'll pass by convenience stores and eateries. The studio itself is very spacious and comes with great amenities like a mini-fridge, a washing machine, and WiFi. This is definitely one of the best Airbnbs for budget travellers looking for a cheap, comfortable and convenient place to bunk for their nights in Taipei.
3. This wonderful apartment space for six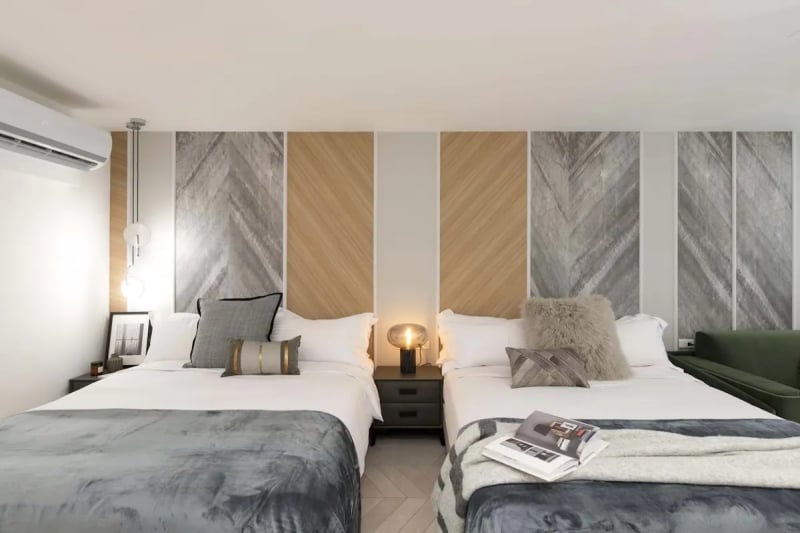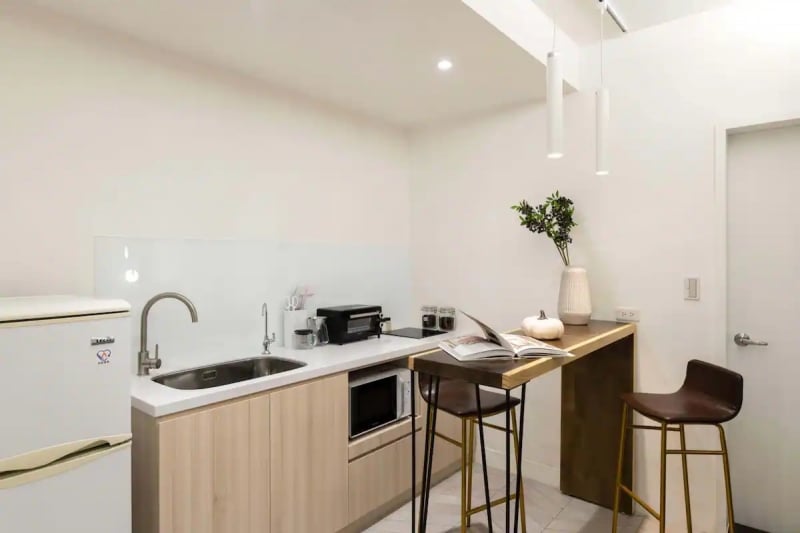 Listing name: W/Fresh 4-6 People Room/Xinyi District/New Year Fireworks/Taipei 101/MRT101/World Trade Station 10min
Location: Xinyi District
Max. no. of guests: 6
No. of bedrooms: Studio
Tucked away in a bustling central area is this highly-rated apartment . It's designed with elegant interiors and features a fully equipped kitchen for travellers who prefer to cook their own meals on vacation. Although a studio, this Airbnb in Taipei fits up to six travellers comfortably, with two double beds and a sofa bed.  The apartment is about 10 minutes away from Taipei 101 Station and is close to 24-hour convenience stores and food stalls. 
4. This super-affordable home near Shilin Night Market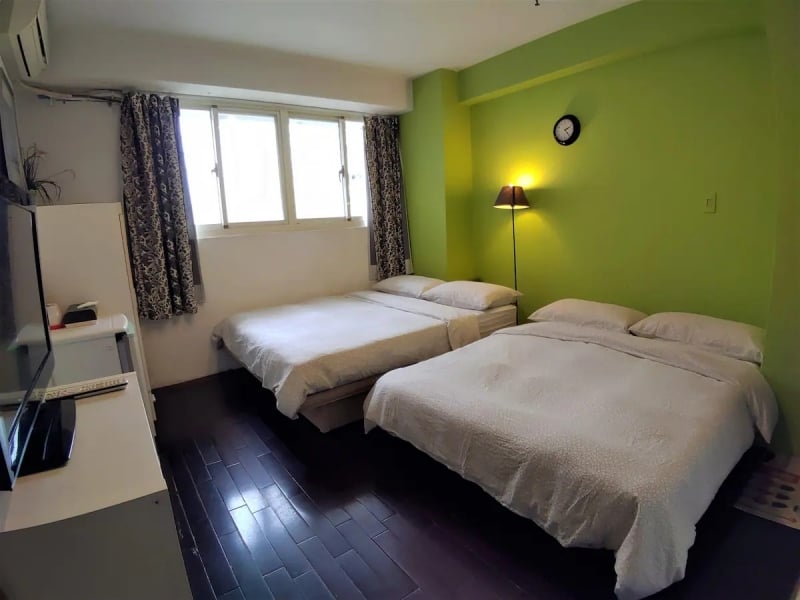 Listing name: Shilin Night Market suite for rent, 5 mins to MRT
Location: Shilin District
Max. no. of guests: 4
No. of bedrooms: 1
If you're travelling with your buddies and the number one agenda of the trip is feasting on local snacks or shopping 'til you drop at Shilin Night Market, there can't be a better place than this. This studio home has a five-star location, sitting practically at the doorstep of the aforementioned night market!
Some amenities you'll find in this Airbnb in Taipei include a hair dryer, a refrigerator, and a washing machine. While it's not apparent from the photos, the beds are large and comfy. The hosts even add cosy touches like free toiletries, slippers, and toothbrushes. 
5. This luxe city pad for big groups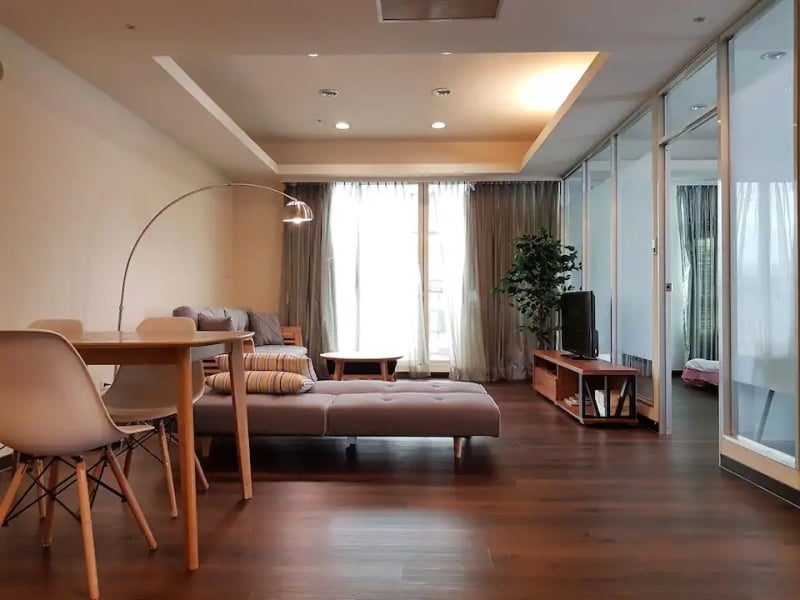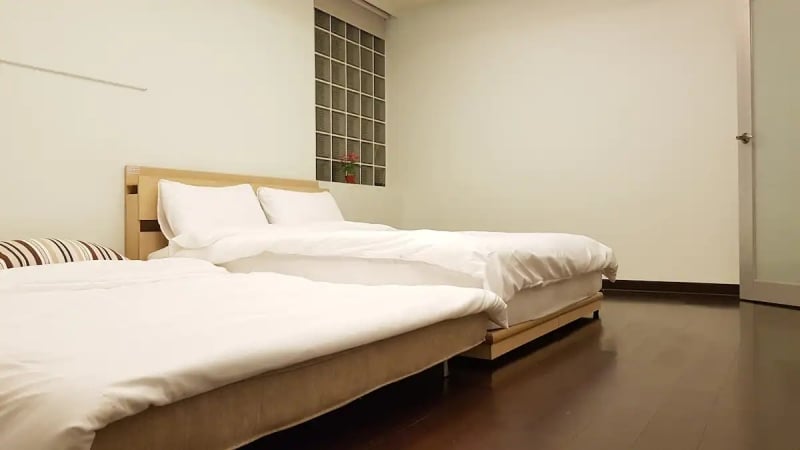 Listing name: 1min MRT Luxury Highrise, AMAZING Views
Location: Zhongshan District
Max. no. of guests: 9
No. of bedrooms: 2
Here's a great base in the super-stylish Zhongshan District. This sleek Airbnb in Taipei sits in a modern high-rise building, giving guests awe-inspiring views of the cityscape and Taipei 101.  If you do have the heart to go exploring, the apartment's just a short walk to the Mingquan West Road MRT Station, and from there, many of Taipei's attractions are a few stops away.
Inside, the condo is clean, comfortable, and elegantly decorated. We know the price tag is a bit higher than other Airbnbs on this list, but it can also fit more people visiting Taipei. If groups split it nine ways, it comes out a lot cheaper than most rentals in the city! 
6. This colourful flat that's made for your Instagram feed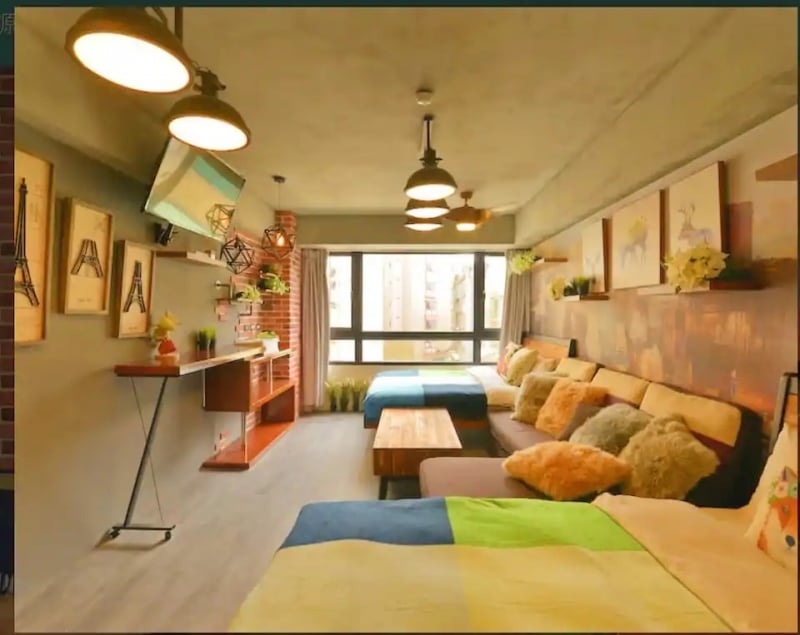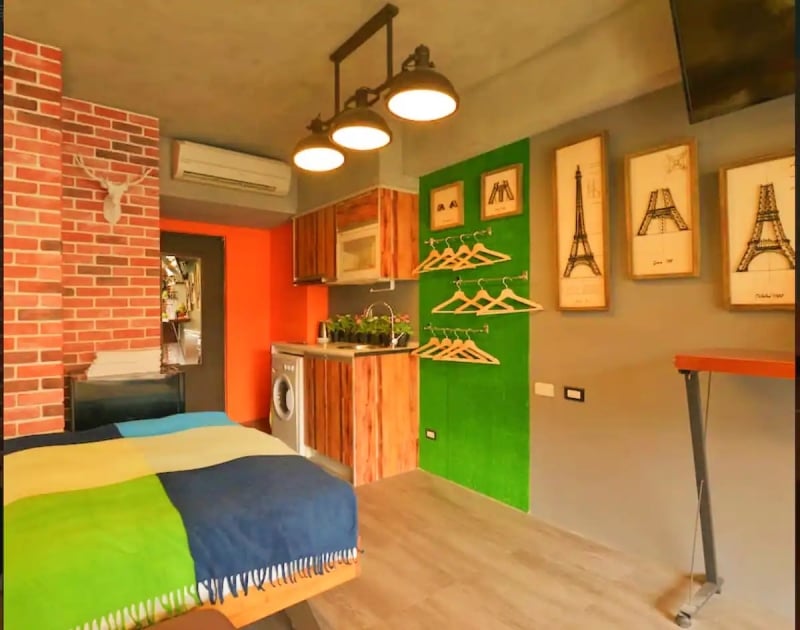 Listing name: Freebird Apt I- 1分鐘到西門捷運,新裝璜,步行街上,電梯,洗脫烘衣機
Location: Ximending District
Max. no. of guests: 4
No. of bedrooms: 1
Furnished with modern pieces and adorned with quirky wall art and colourful sheets, this light-filled apartment near Ximending Station will be delightful for those who notice the little details. Plus, it comes ready with clean towels, laundry facilities, and a hairdryer. The host has been praised to be friendly and helpful, giving tips to guests and replying to messages quickly. Combined with the strategic location near local eateries, cafes, convenience stores and the Ximen shopping area, your stay here will certainly be satisfactory at the very least. 
7. This cosy house for couples on a budget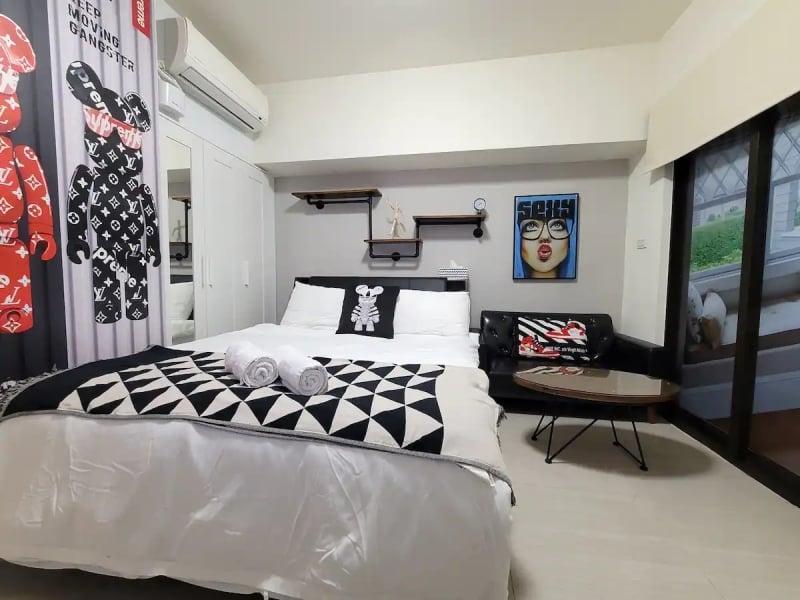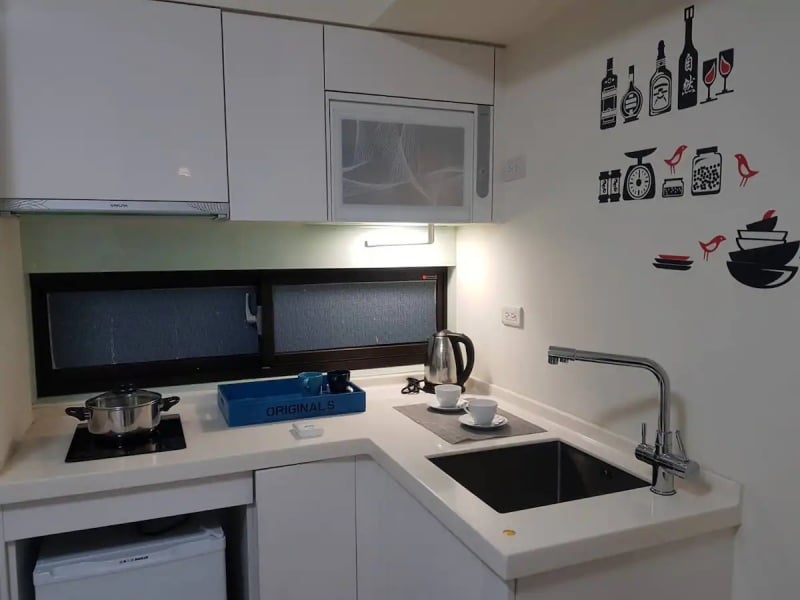 Listing name: Ximending MRT (Light Industry 2) wifi egg New Building Elevator ~ Five Star Tiny Mansion ~ Newly Renovated
Location: Wanhua District
Max. no. of guests: 3
No. of bedrooms: Studio
The best part of this cute little apartment near Ximending Station is its location. Not only is it a quick stroll to the MRT station, but this Airbnb in Taipei is also close to convenience stores, restaurants, and the main shopping area. Plus, the home comes equipped with a refrigerator, cable TV, drinking water, a hairdryer, and even toothbrushes. The pocket WiFi will come in handy as well. Accommodating, responsive and always happy to help, the host has also been praised by numerous guests.
8. The three-bedroom apartment for a large gathering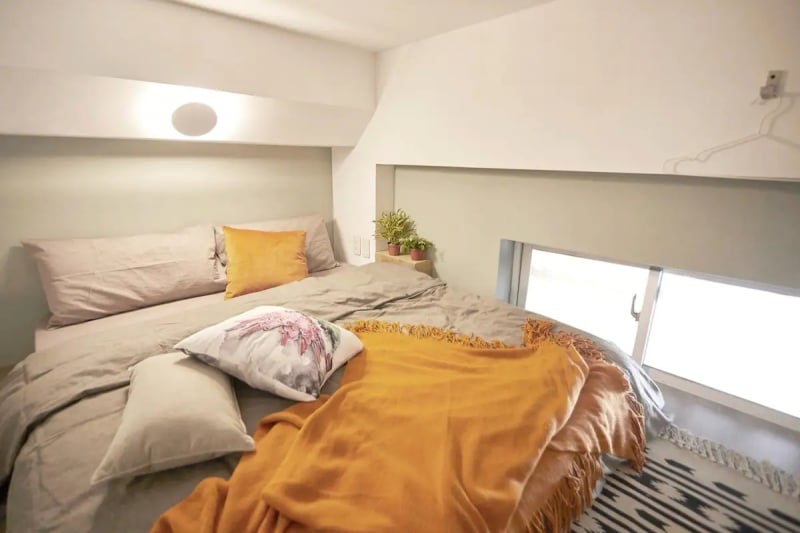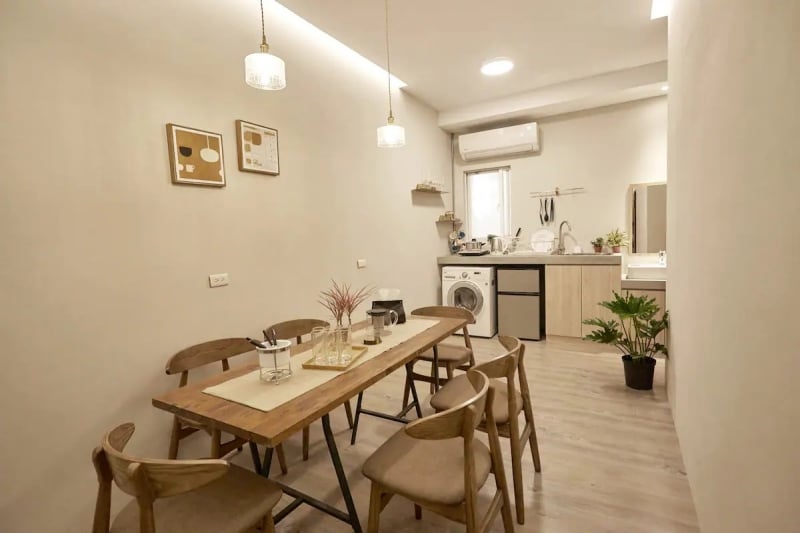 Listing name: Ximen Private Apartment - Yi. Ximen Station, Duplex Elevator Apartment, Large Projector, Near Taipei Station, Longshan Temple (9 people)
Location: Zhongzheng District
Max. no. of guests: 9
No. of bedrooms: 3
If you're travelling in a big group, ditch the separate hotel rooms and stay together under one roof in this picturesque three-bedroom apartment  in the Zhongzheng District. This modern house is located close to the Taipei Station, providing guests access to the most popular dining, shopping, and sightseeing spots of the city. Aside from using this Airbnb as a base for the best Taipei attractions, be sure to explore the Beimen Ruins and Ximen Town Business District nearby. 
Also read: Taipei in 36 Hours: Your Ultimate to a Fun Weekend in the City
With this list of the best Airbnb homes in Taipei, we hope that you're convinced that a tight budget does not mean you need to give up on expecting a wonderful stay in Taipei. Enjoy your trip!
Got a property you'd like TripZilla to feature? Inquire with us here.
---
This article contains affiliate links. When you book through these links, we may earn a small commission at no additional cost to you. All images courtesy of the respective property listings.