Batam's a destination that many Singaporeans travel to repeatedly, thanks to its convenient location that's just an hour away from Singapore by ferry. To save you precious time doing research for your next trip, we've compiled a list of the best hotels and resorts to stay at when visiting Batam. They're grouped into four areas – Nongsa, Nagoya, Batam Center and Sekupang – with a selection of 12 different hotels and resorts to accommodate the different kinds of travellers. Whether you're a couple looking for a quiet hideaway from the city or a family looking for a kid-friendly resort, this list has it all.
Also read: Top 10 Attractions to Visit in Batam
Nongsa
1. Montigo Resorts Nongsa: For a refreshing break from the city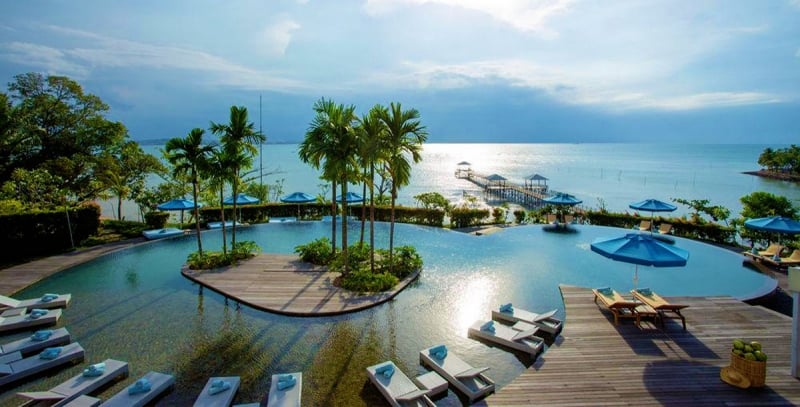 Need a well-deserved break from the hustle and bustle of city life? A beach getaway to Montigo Resorts, Nongsa is your answer. Found near the sea, this resort offers killer views – the endless sea, brilliant golden sunsets and dark skies full of stars. A luxurious holiday to rejuvenate our souls from the stressful and hectic days, of course we're in! To top it off, f rom now until 31 Mar 2018, you'll be able to enjoy 50% off your second night when you stay at Montigo Resorts, Nongsa!
Find out more about Montigo Resorts, Nongsa on TripZillaSTAYS.
Nagoya
2. Allium Batam Hotel: For those who want a fuss-free experience
If you're one of those people who absolutely hate waiting to check-in or check-out, Allium Batam Hotel is one that will make you rejoice. Known for their fast and efficient service, the hotel aims to make your stay with them as hassle-free as possible. Need a taxi? Request for one at the front desk and you'll be off to your destination in five minutes or less! The hotel's rooms are also very spacious, with plenty of space for your luggage as well as all those late-night heart-to-heart talks over a few drinks. And if you're feeling adventurous, the Allium Batam Adventure package to the Kepri Islands will surely satisfy that longing. Plus, here's a bonus: Book directly on their website and unlock this "Private Offer" and you'll be entitled to a 25% discount !
[Unlock this Private Offer & Get 25% Off]
Allium Batam Hotel is offering an incredible 25% discount when you book directly and use the promo code "PRIVATE" for stay dates until 28 December 2018. You get to enjoy these perks:
Free pick up service from Harbour Bay Ferry Terminal for direct booking via website, email, or phone
Free shuttle service to Nagoya Hill Mall (on schedule)
Buffet Breakfast (06:00 am-10:00 am) or Signature EMAB (Early Self-service Morning Allium Breakfast (available from 04:30 – 06:00 am)
Welcome drink upon arrival
Complimentary WiFi in room & public area
Complimentary use of outdoor swimming pool and fitness facilities
Click HERE to start booking and kickstart your Batam holiday!
Find out more about Allium Batam Hotel on TripZillaSTAYS.
3. Grands I Hotel: For couples who want some quiet time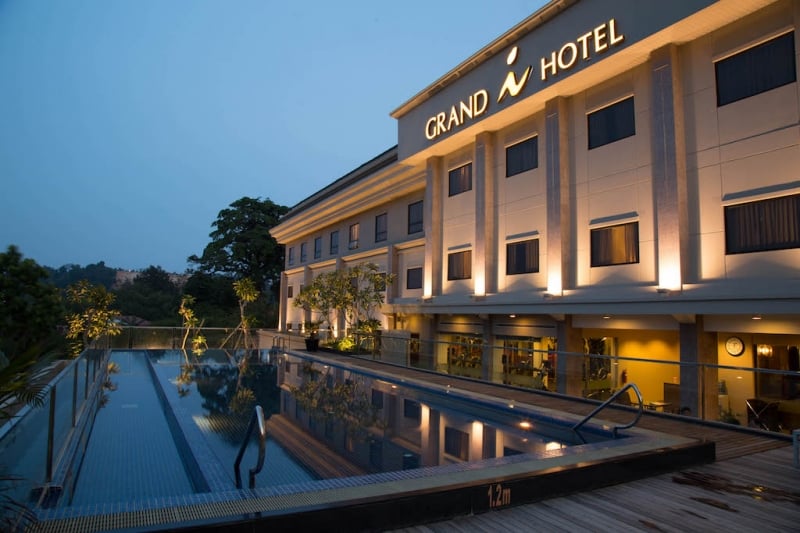 Though Grands I Hotel is one of the slightly pricier hotels to stay at in the area, it's guaranteed to be worth your money. The rooms in this hotel are spacious and luxuriously furnished, so you'll definitely be enjoying your stay here to the fullest. One of the top picks among business travellers, it is also good for couples who would like to spend some quality time with each other. With Nagoya Hill Shopping Mall located just a five-minute walk away, you don't ever have to worry about having nothing to do during your stay. Here's a plan: shop to your heart's content, then grab a romantic dinner with your other half at one of the many restaurants that can be found at the mall's food street afterwards.
4. I Hotel Baloi Batam: For those who appreciate convenience
For those who love convenience, I Hotel Baloi Batam is the go-to place for you. Regardless of where you're coming from, getting to the hotel is made easy because of its accessible location in the heart of Batam City. It is 10 minutes away from Harbour Bay Ferry Terminal, 15 minutes away from Batam Centre Ferry Terminal. If you're the type of traveller who enjoys going out, you're in for a treat! There are many places for you to visit nearby, including Batam City Square Mall, Pasar Penuin Wet Market and a variety of eateries. After a whole day out exploring the vicinity, be greeted by the warm and friendly hotel staff when you retreat back to the hotel to get a comfortable, good night's sleep.
5. Nagoya Hill Hotel Batam: For those who just want a chill holiday
Situated in the centre of Batam's Central Business District, Nagoya Hill Hotel Batam is another hotel that has been repeatedly praised for its great location. If you're part of the gang that dislikes waking up early and travelling to distant places (there's absolutely no problem with that, because the whole point of going on a vacation is to take a break and relax, right?), you won't be missing out here. With Nagoya Hill Shopping Mall just right next to the hotel, you don't have to worry about having to go far to experience Batam. The rooms are also furnished with cable Smart TVs – complete with a wide selection of movies – and high-speed WiFi, so we won't blame you if you end up not wanting to leave your room at all.
Batam Centre
6. Radisson Golf & Convention Center Batam: For those who love golfing

If the name of the hotel doesn't reveal it already, Radisson Golf & Convention Center Batam is great for those who enjoy playing golf. It is close to three golf courses: Padang Golf Sukajadi (100 metres away), Tering Bay Golf Course (30 minutes away) and Palm Spring Golf Course (30 minutes away). Did someone say a golfer's heaven?
7. Best Western Premier Panbil: For those who want a little change of scenery
Craving for some change in your daily surroundings? With its location near Duriangkang Lake, Best Western Premier Panbil promises just that. Despite being close to nature and having amazing views of the lake and forest, you will also have easy access to the city's pleasures. Free shuttle bus services are provided to nearby shopping malls such as Mega Mall Batam Centre and Nagoya Hill Shopping Mall. Say hello to the best of both worlds!
8. Harmoni One Convention Hotel & Service Apartments: For those who like everything in the same place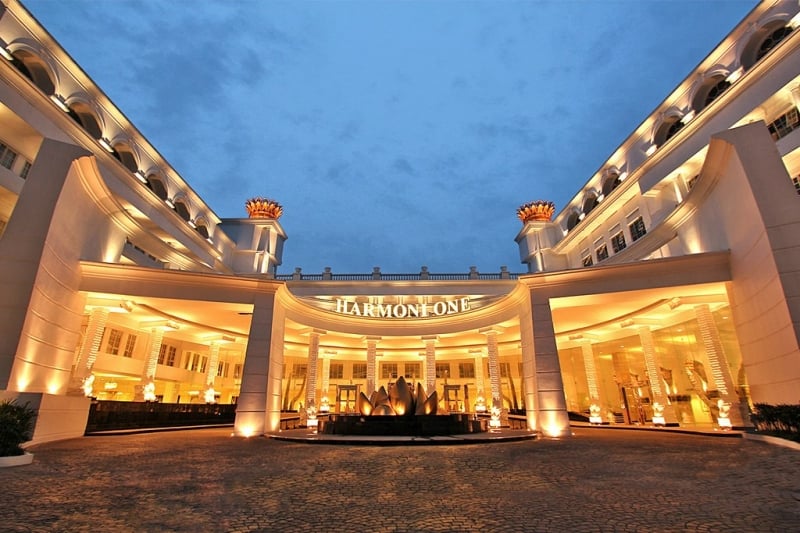 Are you the type of traveller who gets a kick out of having all your amenities in one place? At Harmoni One Convention Hotel & Service Apartments, you'll be able to get a taste of both luxury and convenience. Apart from the usual swimming pool and restaurants, there is also a reflexology and massage parlour, along with an in-house minimart! Having a headache over what souvenirs you should buy for your friends and family? There's also Lotte Hypermarket nearby, where you can get lots of Indonesian snacks to distribute back home.
9. HARRIS Hotel Batam Center: For those who don't want to miss the ferry
Just a stone's throw away from Batam Center Ferry Terminal, there's no other hotel that can top this one with how accessible it is. Mega Mall Batam Center is also within walking distance from the hotel. No more stressing over having to arrange for transport to and from the ferry terminal! On top of that, the staff at HARRIS Hotel Batam Center are extremely friendly and will go the distance to fulfil your requests so that you can leave with a pleasant experience.
Sekupang
10. Tempat Senang Resort Spa & Restaurant: For those desperately in need of a spa therapy

If you're searching for a place to ease those overworked muscles, look no further! Tempat Senang Resort Spa & Restaurant is recognised for their therapeutic and effective spa treatments. Together with helpful staff, cosy rooms and delicious food, it's time to pamper yourself for the past few months of hard work.
11. Holiday Inn Resort Batam: For those coming with their families


Want to take your whole family on a holiday but afraid that the little ones will have nothing to do? With facilities like a swimming pool for kids, a water slide, a kid's club and a game room, Holiday Inn Resort Batam is a popular choice among families because of how kid-friendly it is. For the adults, take your pick from the KTV bar, sports lounge or one of the hotel's two pools. Coupled with spacious rooms, this resort will guarantee that your entire family has a fun and enjoyable holiday that everyone will remember.
12. KTM Resort Batam: For a short weekend getaway
KTM Resort Batam is a quiet retreat facing the sea, where many facilities and activities await. Fishing is a visitor's favourite, but you can also engage in watersports, have a barbecue meal or just chill out at the bar. Your stay here might be short, but it'll definitely be worth your money.
Also read: A 2D1N and 3D2N Batam Itinerary for the Lazy Planners
Just because you're going on a short trip doesn't mean you have to settle. This list has equipped you with the knowledge on the best places to stay at in Batam, and the only thing left for you to do is to actually book a room and experience them for yourself!