Bangkok's incredible food and shopping scene will surely be the highlight of your trip, but your accommodation can also make or break your stay. Sure, you could go with the typical boring hotel rooms that are comfortable and nothing beyond that. But why opt for that when there are many super cool private Airbnb homes and vacation rentals in Bangkok that are beautifully designed and wallet-friendly?
For this list, we've dug out some Insta-worthy Bangkok Airbnb homes and vacation rentals that are also highly rated by previous guests.
Also read: 10 Airbnb Villas in Phuket for an Unforgettable Trip
Best Bangkok Airbnb homes and vacation rentals
1. This nature home near DMK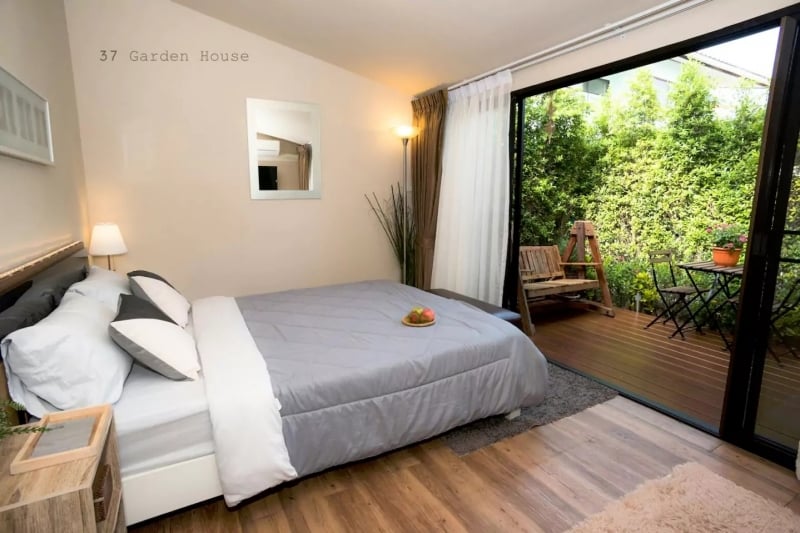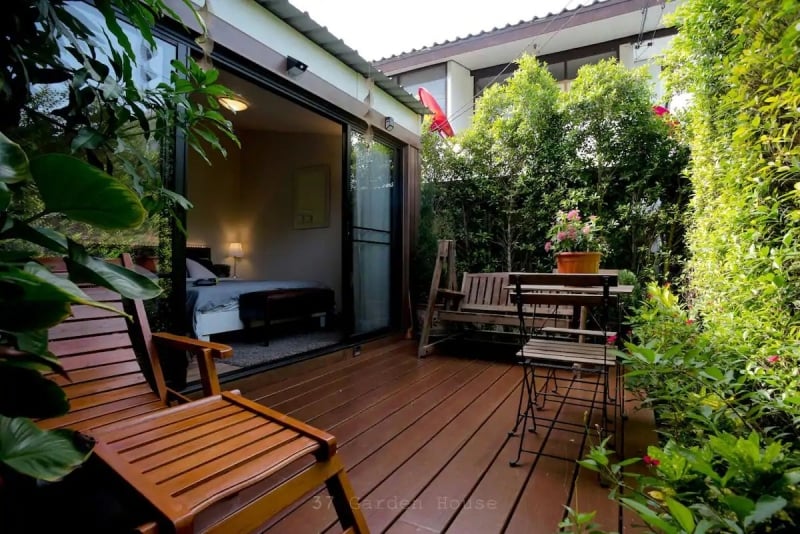 Listing name: 37 Nature House: 10 mins to DMK Int'l Airport
Listing type: Entire cabin
Max. no. of guests: 3
No. of bedrooms: 1
With a modern bedroom that opens up to a lush garden with rustic seating spaces, the "Nature House" is truly for nature lovers. It's very close to Don Mueang International Airport (DMK) and makes a great last stop before flying home.
You'll wake up to birdsong and feel immersed within nature — a great respite from the urban jungle that is Bangkok. The host provides two bicycles that you can use to explore the neighbourhood and visit restaurants, cafes, or markets. There's even a 7-Eleven nearby, so you'll have no problem getting food at night.
2. This gallery house near the airport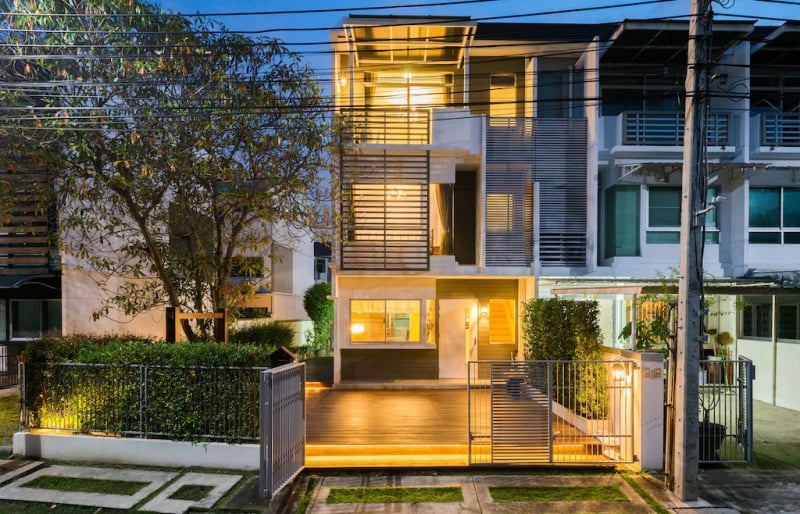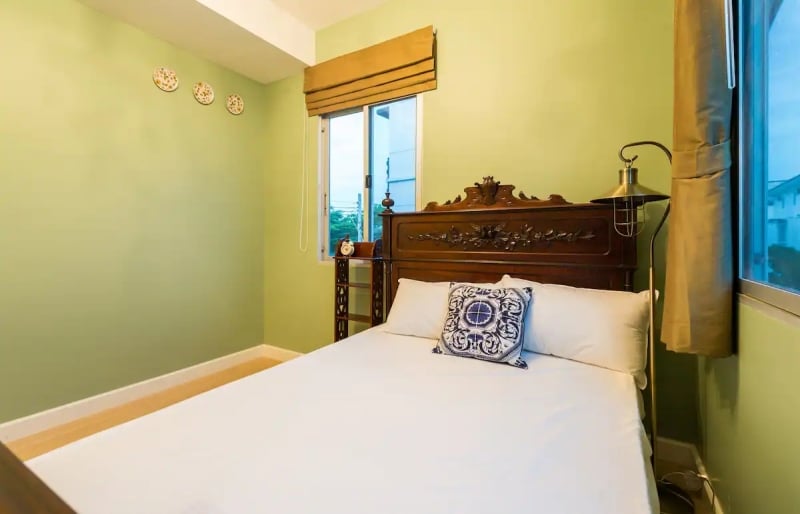 Listing name: The Gallery House near BKK Airport & Airport Link
Listing type: Entire house
Location: Hua Mak
Max. no. of guests: 6
No. of bedrooms: 3
Tucked within a family-friendly neighbourhood in Hua Mak, this three-story gallery house is perfect for families and big groups. It's located near the airport rail link and the Suvarnabhumi Airport (BKK). The host lives in a nearby house, so expect that he will welcome and interact with you when you arrive. He is also generous in giving recommendations about places to visit and local restaurants where Thai people eat. Here, you really get to live as the locals do!
3. This premium condo in the heart of Bangkok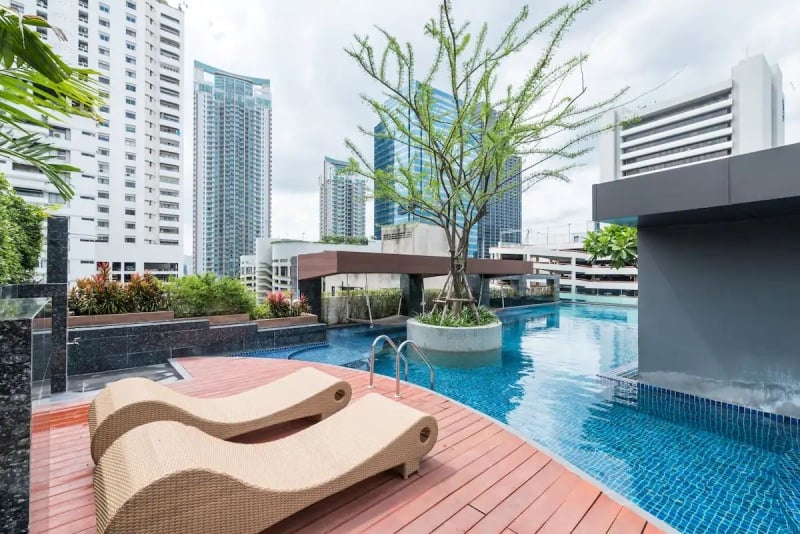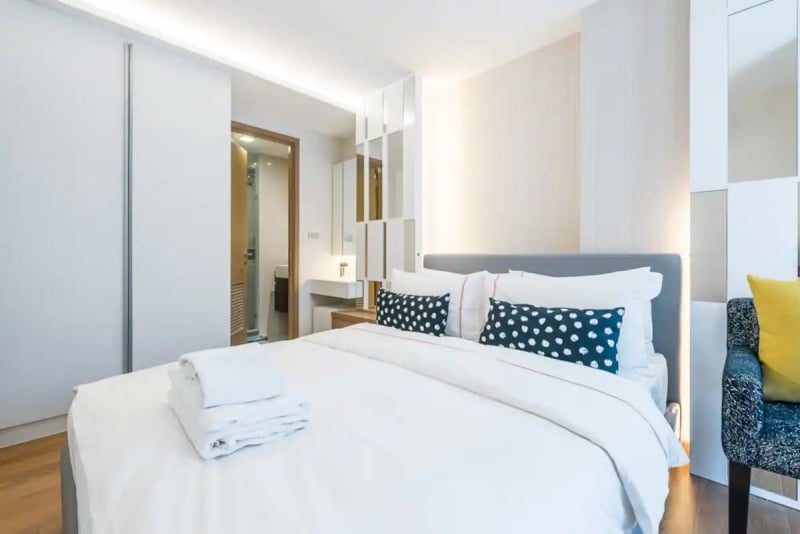 Listing name: HappyZleepy41_Nana BTS&Asoke MRT/1000MBs Wifi/4PAX
Listing type: Entire condominium
Max. no. of guests: 4
No. of bedrooms: 1
Located in the heart of Bangkok, this one-bedroom condo is close to the city's nightlife scene with bars, clubs, restaurants, and shops nearby. A previous guest rated it five stars for its cleanliness and great location. It's in a convenient location near transportation options, including the Bangkok Skytrain, also known as BTS.
Enjoy resort-living here with the premium facilities, including a rooftop pool, a library, a sauna, and a gym. If you are looking for exclusivity and luxury in a central location, this is one of the best Airbnbs to stay in Bangkok.
Also read: 18 Must-Buy Things in Bangkok You Won't Regret Hunting Down
4. This family-friendly studio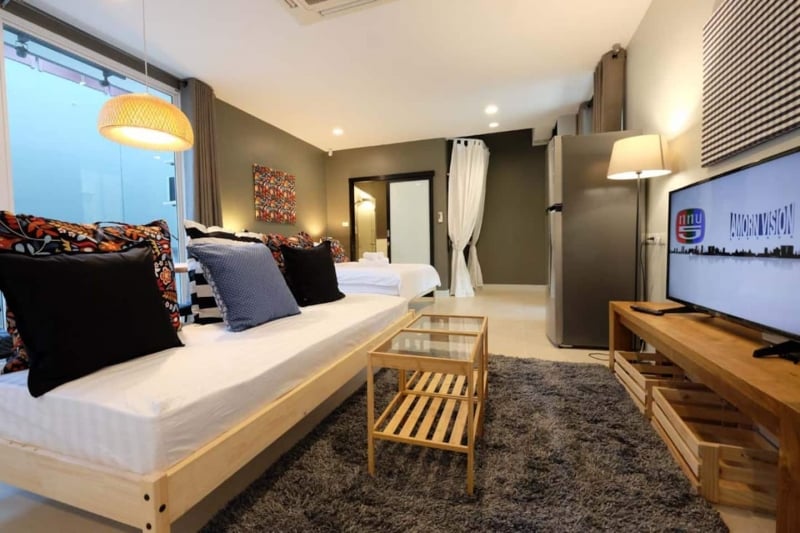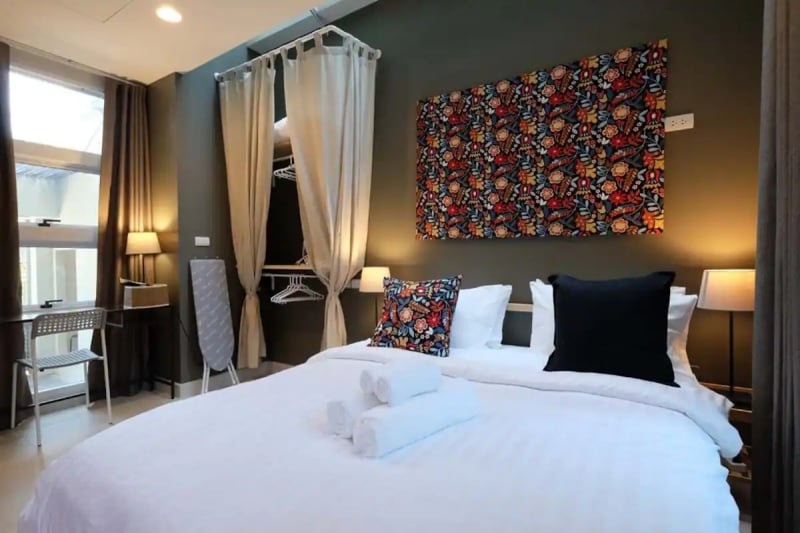 Listing name: B1. SPACIOUS, JJ market-Aree-Siam, PEACEFUL, WiFi
Listing type: Entire apartment
Max. no. of guests: 5
No. of bedrooms: Studio
Great for the whole family is this spacious apartment in a quiet neighbourhood near Chatuchak Weekend Market. It's fairly new, and you'll appreciate the tip-top condition of the furnishings. Since it's a studio apartment, you'll find queen-sized beds and a single bed all within the common room. Note that this Airbnb is at the end of an alley and requires a bit of a walk to the main street, but it's still very convenient if you use taxis to get around Bangkok.
5. This picturesque house for two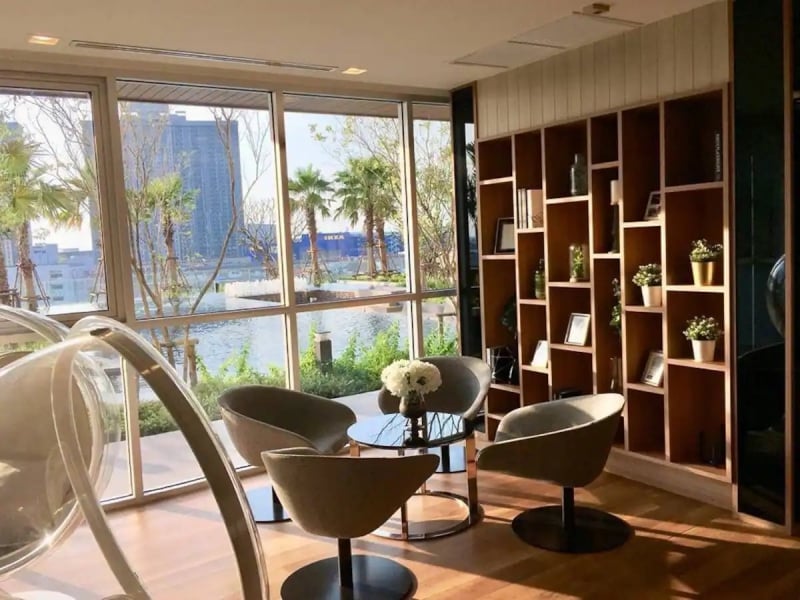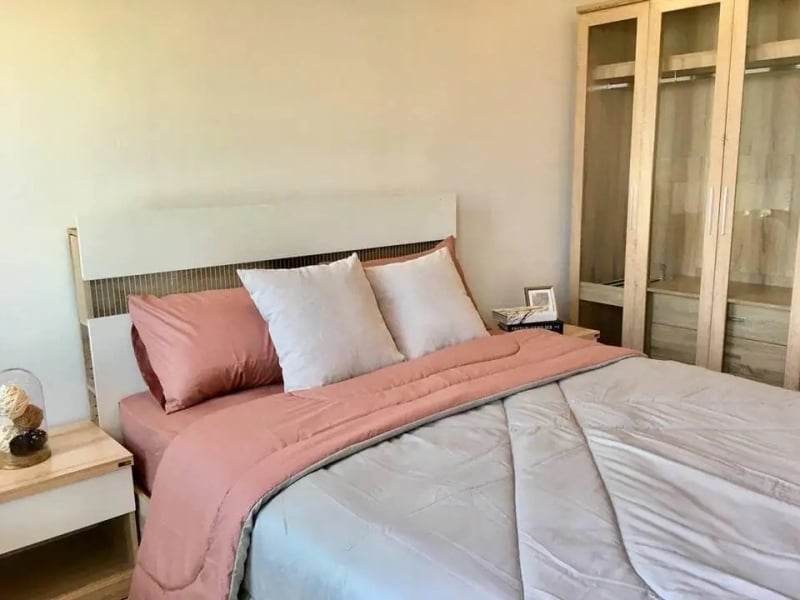 Listing name: Minimal Style & Privacy Room@ MRT Purple line
Listing type: Entire unit
Max. no. of guests: 2
No. of bedrooms: 1
Situated in a quiet neighbourhood, this well-designed Airbnb is the perfect accommodation for those looking for a relaxing place to stay. The space itself is bright and airy, with quality furnishings. As a bonus, you'll enjoy exploring the property's shared facilities, which includes a gym, a pool, a sauna, and a library.
Guests will be happy to know that the location is also strategic — this Airbnb is by Sam Yak Bang Yai MRT Station, offering easy access to the rest of Bangkok. Other hotspots within walking distance include Central Westgate and IKEA.
6. This calm retreat near the subway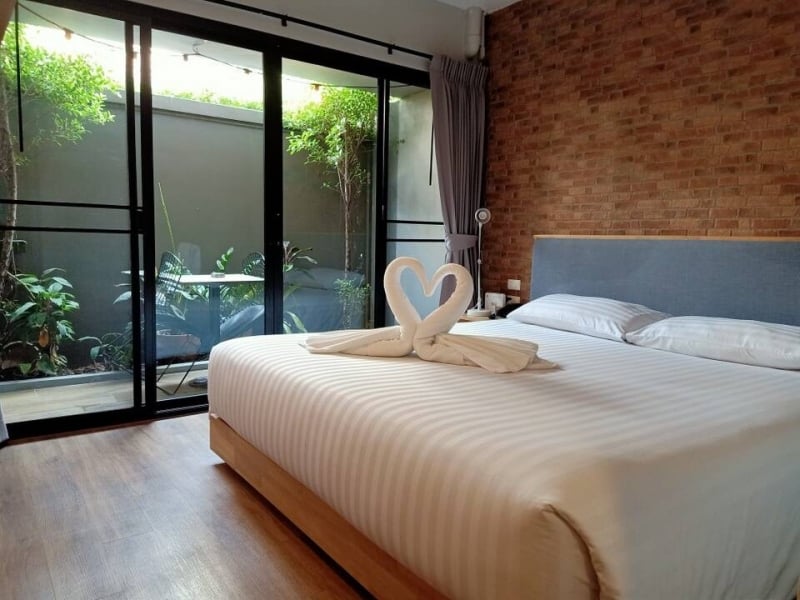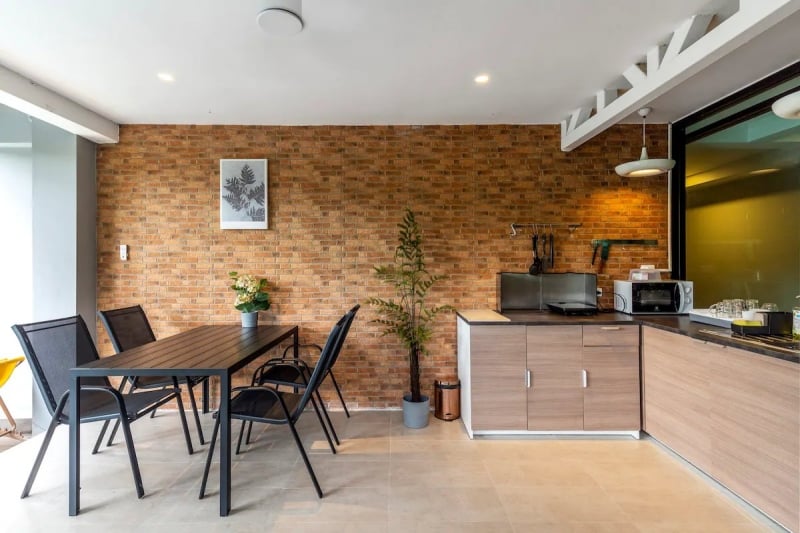 Listing name: 1Br,Clam,Fl.1,near Subway
Listing type: Private room in a boutique hotel
Max. no. of guests: 2
No. of bedrooms: 1
Named Nest by Sa-ngob, this peaceful hideaway was designed to provide travellers with a nature retreat in the bustling city. This Bangkok Airbnb is located near the MRT, giving guests easy access to trendy hotspots, like Ratchada Night Market, JJ Market, Wat Pho, and the Grand Palace.
Inside, this room has a cosy design to make guests feel right at home. A small garden sits on the balcony, giving you a serene space for morning coffee. Unique experiences await in this lovely boutique room that you can call your own for a few days or more!
7. This chic private suite near the BTS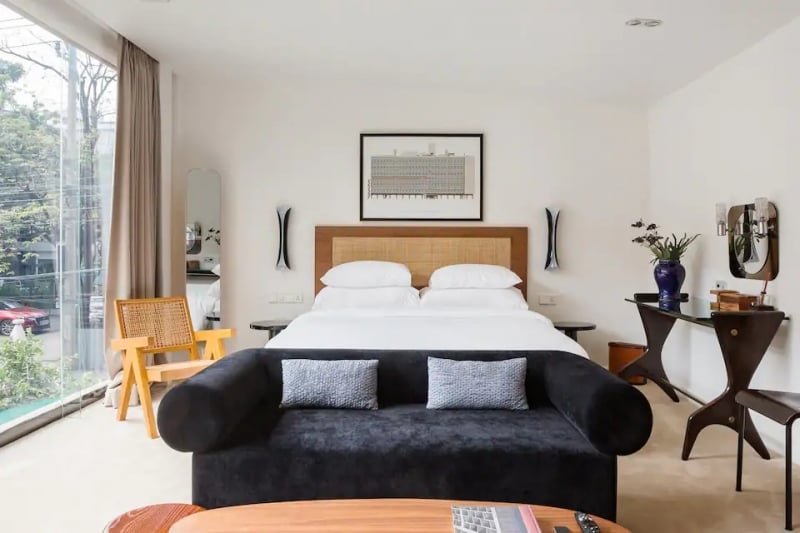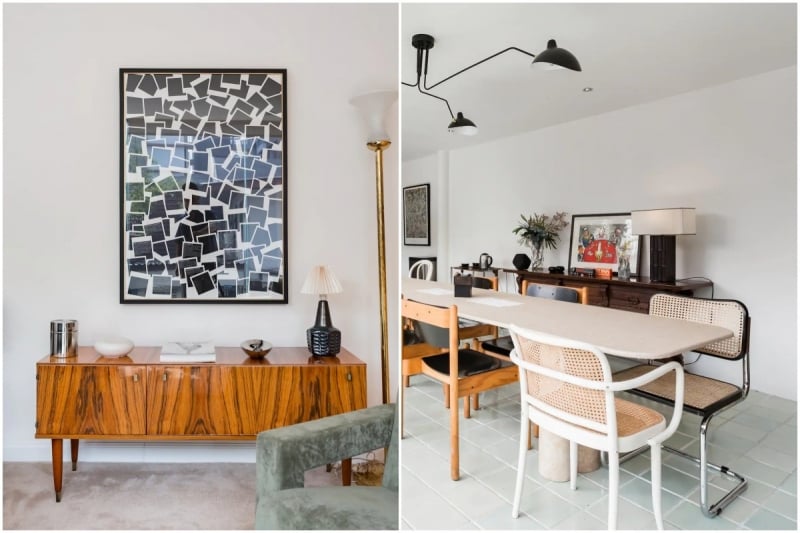 Listing name: Balance Private Suite in Walkable Sukhumvit Neighborhood
Listing type: Entire condo
Max. no. of guests: 2
No. of bedrooms: 1
Peppered with pieces inspired by celebrated architects and designers Le Corbusier, Jean Prouvé, and Charlotte Perriand, this mid-century private suite will surely satisfy any guest's flair for beauty. Relax in a light-filled space with plush furnishings and a smart TV, and savour meals at a three-metre limestone dining table. Superhost Oak even offers a complimentary breakfast with coffee or cold-pressed juices.
Looking for Bangkok Airbnbs near all the essentials? Located in Sukhumvit 31, this one sits near a park, a yoga studio, and local restaurants. It is only a 10-minute stroll away from the sky train, providing easy access to other parts of Bangkok.
8. This eclectic hotel room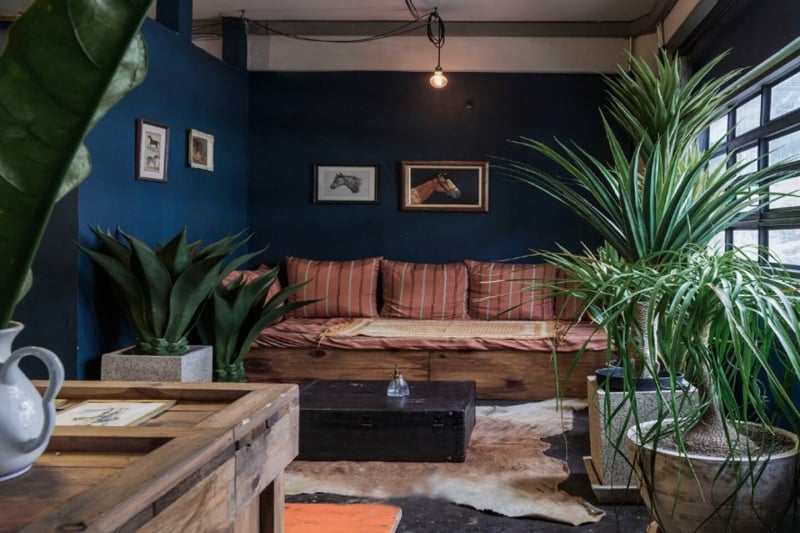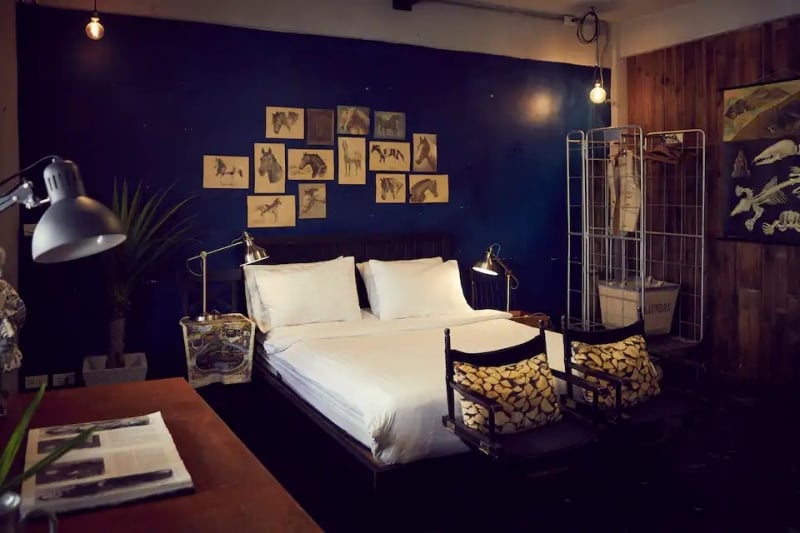 Listing name: The Mustang Nero/No.4 The Horse
Listing type: Hotel room
Max. no. of guests: 2
No. of bedrooms: 1
If you're into all things wonderfully weird and wacky, this stylish home in the Mustang Nero will be right up your alley. This Bangkok Airbnb is full of plants, taxidermied animals, and Instagram-worthy corners. With over 400 five-star reviews, this accommodation is more than aesthetically pleasing; it hits the right spot in terms of comfort, too.
The "Mustang Nero" has plenty of eating options in its surroundings, and if you'd like to venture further, the sky train is a short walk away. While it's on the pricier side of the scale, you'll definitely enjoy this stay!
9. This airy residence for the whole gang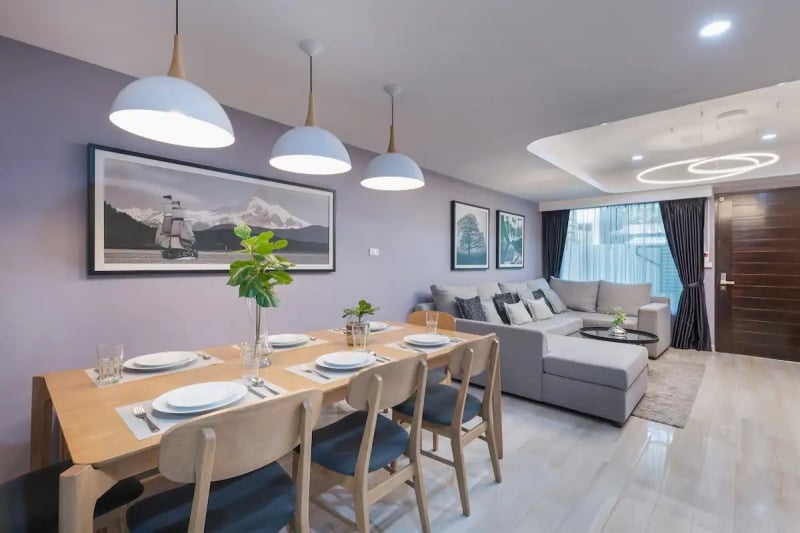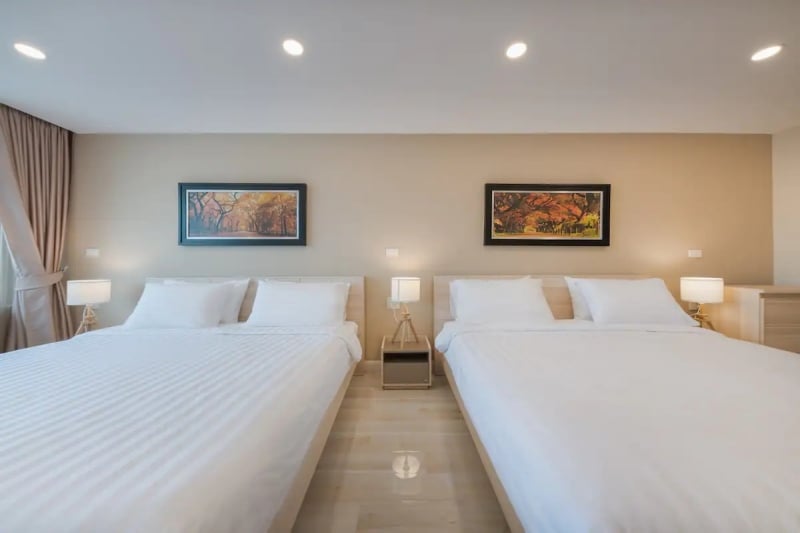 Listing name: Cozy Living 6 Beds Townhouse @ BTS ONNUT
Listing type: Entire house
Max. no. of guests: 12
No. of bedrooms: 3
If you're looking for a crib to fit the whole gang for that much-awaited getaway, this could be it. As many as 12 people can fit in this airy three-bedroom home. It's one of the Airbnbs in Bangkok located near the city centre and surrounded by restaurants, cafes, and malls, and a quick train ride away from the city's most popular attractions.
After a day of exploration, there's plenty of space in the house for game night or just to sprawl and chill out together with your friends.
10. This luxe new condo with a beautiful pool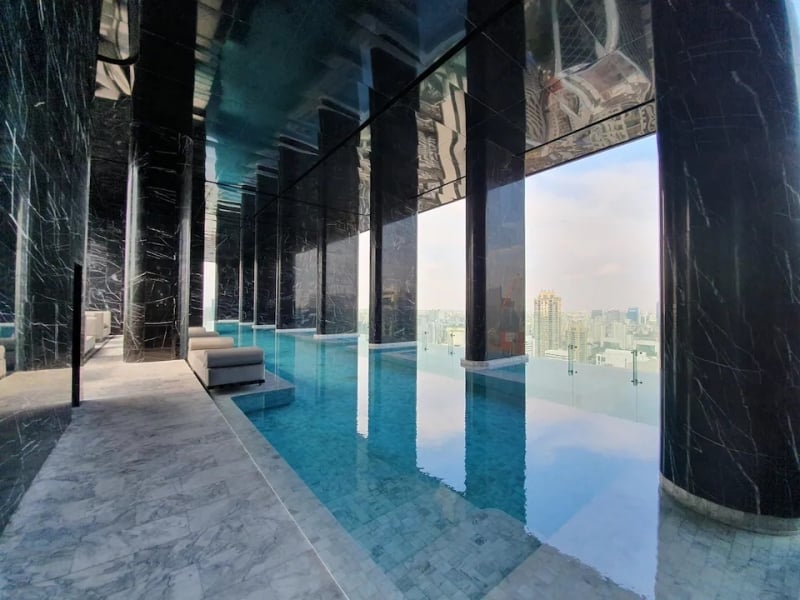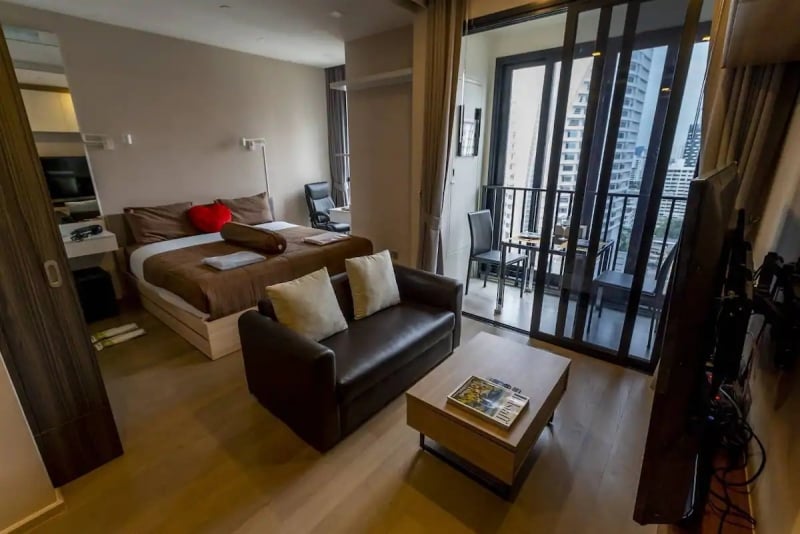 Listing name: ❤️Discount25%❤️Free Pick up❤️BTS&MRT Asoke,Netflix
Listing type: Entire apartment
Max. no. of guests: 2
No. of bedrooms: 1
Located near the MRT and BTS in Asoke, this one-bedroom condo is the ideal retreat for those who like luxury and convenience in the middle of Bangkok's city life. There are cafes, restaurants, supermarkets, and massage places nearby. This brand new condominium earned rave reviews from previous guests, who praised the Bangkok Airbnb for its excellent location and amenities.
Also read: 15 Malls and Outlet Stores to Go Shopping in Bangkok

We hope that you're full of excitement knowing that your next Bangkok trip is going to be accompanied by a beautiful Airbnb rental. Happy choosing!
Got a property you'd like TripZilla to feature? Inquire with us here.
---
This article contains affiliate links. When you book through these links, we may earn a small commission at no additional cost to you. All images courtesy of the respective property listings.