Whether it's food, location, or weather, everyone can agree that the one thing that makes a vacation destination simply unforgettable is the view it offers. If you're thinking of waking up to a magnificent sunrise, or falling asleep to the sound of the waves crashing against the shore, we've some good news for you: you don't have to imagine it. Not when there are these 7 luxe resorts in Bali.
Also read: A Guide to the Best Areas to Stay in Bali
From Ubud to Nusa Dua, we've gathered a list of hotels across Bali which have the most scenic views — and no, we're not just talking about an ocean view. Curious to know what other eye-pleasing sights there are? Read on to find out more.
1. The Chedi Club Tanah Gajah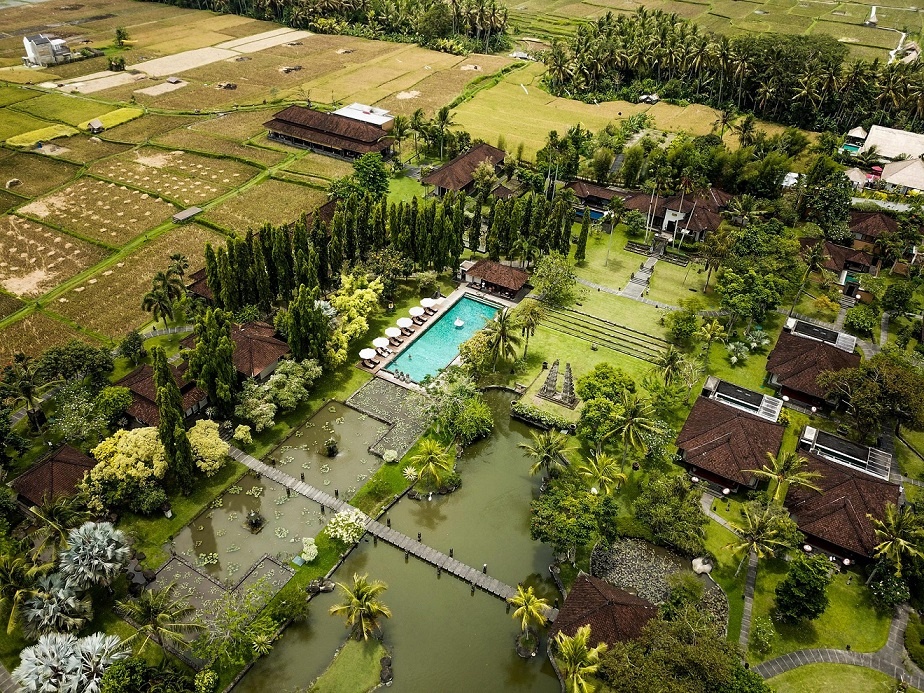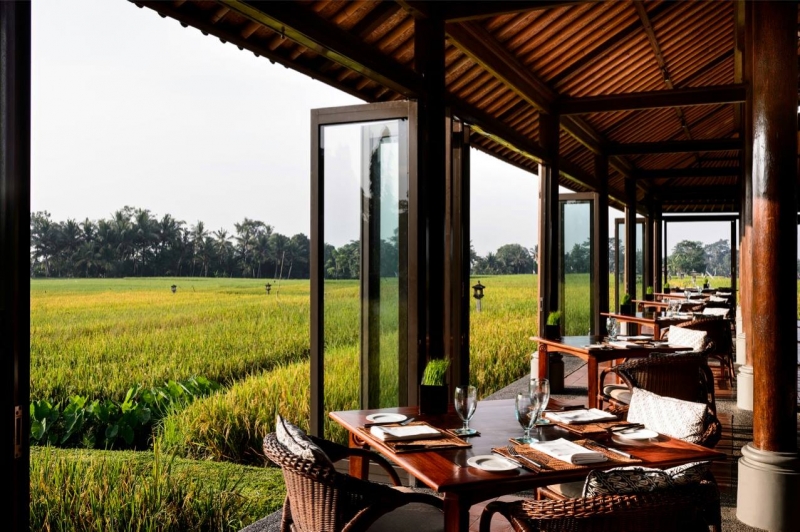 Picture waking up to the sight of the sunrise's orangey glow over vast emerald paddy fields first thing in the morning. Surely, we can agree it's a breathtaking view. Here's some good news: You can let your imagination rest, because at The Chedi Club Tanah Gajah , you can get the real deal. Tucked in the middle of a large paddy field in Ubud lies this luxury hotel, well-known for its cosy and elegant villas, and unobstructed, picturesque views throughout the space.
Every villa type comes with a private courtyard, private pool, private butler service, and a list of complimentary services including breakfast and WiFi. But that's not all — the hotel has a ton of facilities too, such as a fitness centre and a restaurant which overlook a rice field. There are loads of activities for guests to engage in, whether you're travelling with a loved one, your family, or alone — and you can get them at a special deal through our website.
So while you're here, why not watch a traditional Kecak dance performance for just $40 ? Or have a romantic dinner in a private pavilion amongst the paddy fields with your significant other for $250 , and let your creativity unleash at a painting session on the edge of a valley on Ubud's Petanu River for $190 .
Learn more about The Chedi Club Tanah Gajah on TripZillaSTAYS.
2. The Oberoi, Bali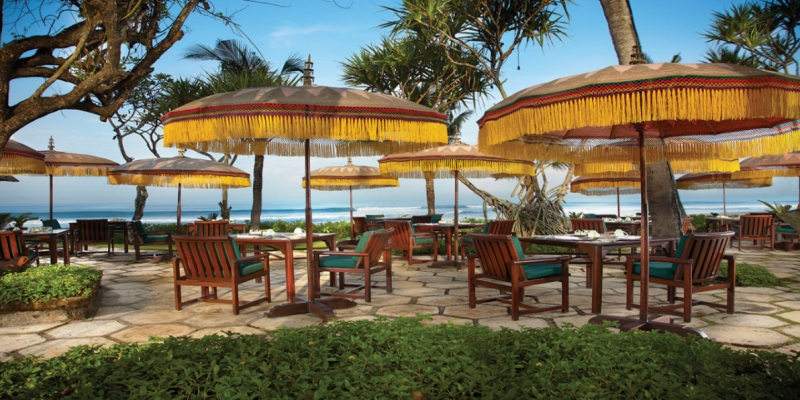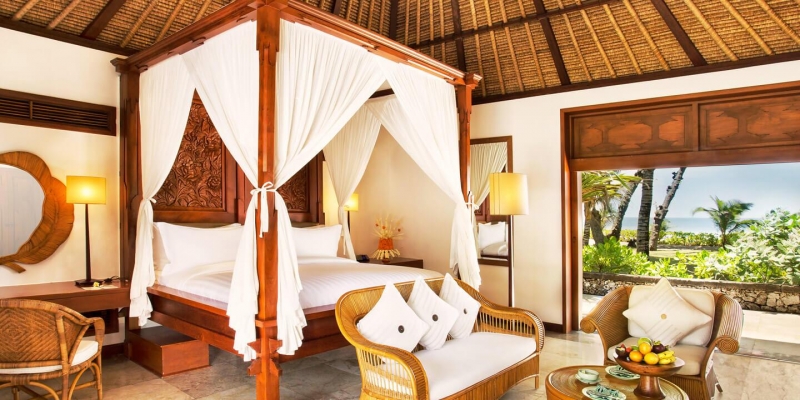 Want to admire the beautiful Indian Ocean without moving an inch from your bed? With all its exquisitely designed villas facing Seminyak beach in all its glory, you can hear crashing waves and smell the sea salt from the comfort of your villa at  The Oberoi, Bali .
Each villa has a traditional thatched roof, and depending on which villa type you're staying in, you may also get a private pool and garden.  Alternatively, you could get off the bed and head out to the beach, then spend the afternoon soaking in the sun — sounds like the perfect idea, no? Afterwards, satiate your hunger with some authentic Indonesian cuisine at the Kura Kura Restaurant. Of course, if that doesn't sound like your thing, there are many other ways to spend your time at The Oberoi, like practising beachfront yoga, or experiencing Bali's elegant boutiques and vibrant nightlife along Seminyak's main road which is just outside The Oberoi's main entrance.
Enjoy all these luxuries and more when you book The Oberoi, Bali's Unforgettable Experience offer on the oberoihotels.com website. The package includes luxury accommodation for two, daily breakfast in the restaurant, newspaper, fresh fruits in your room, complimentary daily afternoon tea with Balinese sweets at the Amphitheatre, return airport transfers, complimentary wireless internet access, and free use of gymnasium, tennis court and 24-hour business centre. Click HERE to book now!
Learn more about The Oberoi, Bali on TripZillaSTAYS.
3. W Bali, Seminyak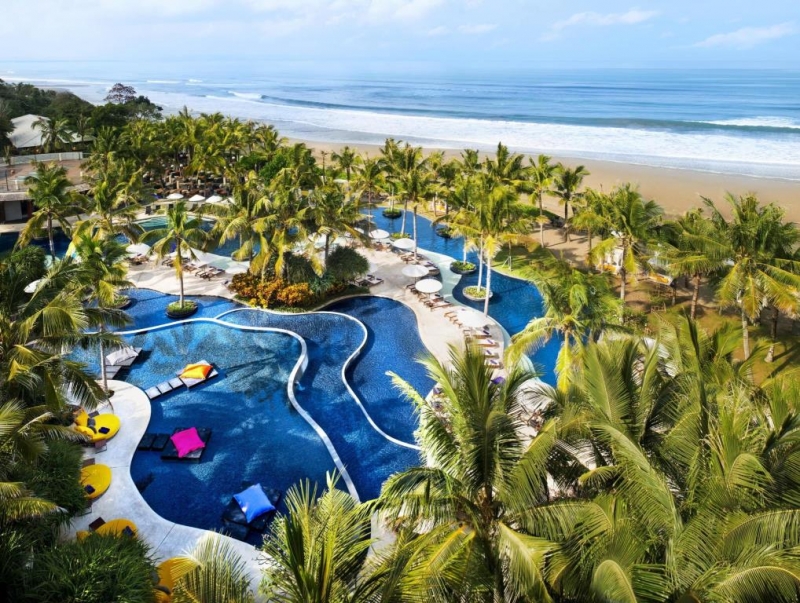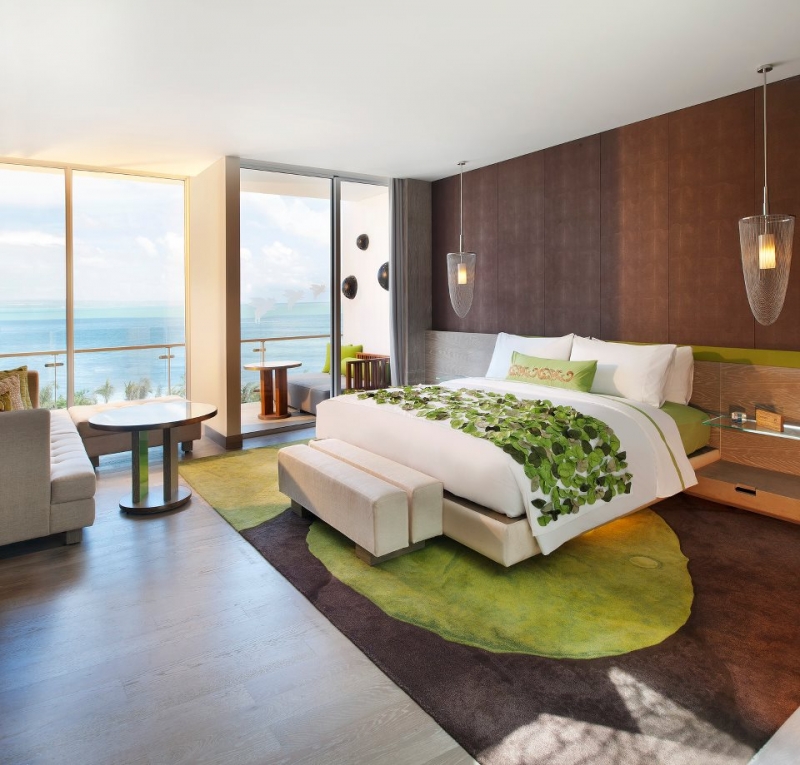 Are you the kind who likes to chill by the beach, but also party the night away? At W Bali , you can get the best of both worlds — and even more. Situated just by the beach, this hotel houses several facilities, such as The WET pool, WOOBAR, 24-hour FIT gym, and 24-hour AWAY spa, all of which will ensure you a fun and memorable vacation experience. Excluding the WOOBAR, the aforementioned facilities are open all day, all night. Yes, that's right — that means you can have a midnight dip or even a full body massage right before bedtime if you want. Rooms at W Bali range from private pool villas to ocean-facing suites, with most rooms offering free WiFi and luxurious shower areas.
Also read: Escape To W Bali: The FIRST (and Coolest) Hotel With DRONE Services For An Epic Vacation
But that's not even the best part: if you book with TripZilla's promotions , you can snatch some huge discounts and save a lot. So what are you waiting for? Make the most out of your BFF bonding time or get 20% off on a gorgeous pool villa you could stay in with your special someone right now.
Learn more about W Bali - Seminyak on TripZillaSTAYS.
4. The Laguna, a Luxury Collection Resort & Spa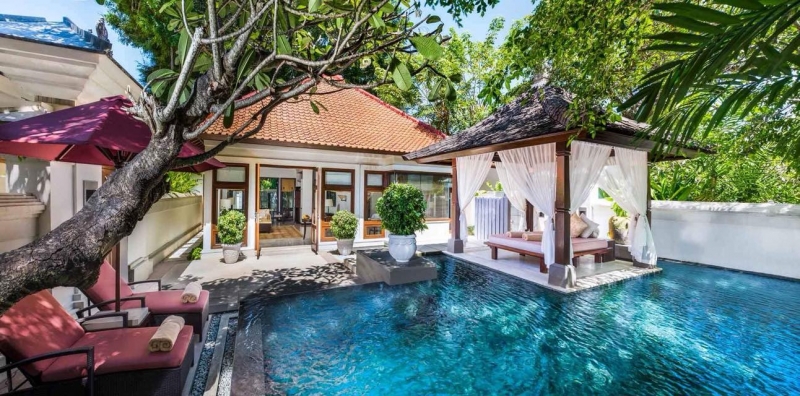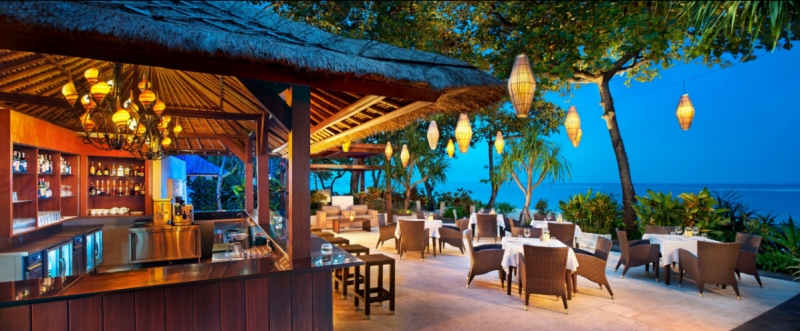 Nothing is more serene than the sights and sounds of the sea. If you're thinking of spending some quality relax time under the sun or in the water, then The Laguna, a Luxury Collection Resort & Spa is just for you. Tropical lagoons and gardens meander around Nusa Dua-based hotel which faces the magnificent Indian Ocean. Besides getting sun-kissed on the beach, there is a long list of fun activities for guests to do — like sailing or snorkelling. From seafood to international cuisine, there's a wide variety of food available, and two restaurants for you to choose from. If you want a nice cocktail to wind down, there are two outdoor bars for you to lounge in too.
If you're interested, book early and don't forget to check out our promotions . We recommend the Complimentary Night Offer , which comes with breakfast buffet for two, WiFi, and a late check-out time of 3pm, that's currently available for $190++.
Learn more about The Laguna, a Luxury Collection Resort & Spa on TripZillaSTAYS.
5. The Villas at AYANA Resort Bali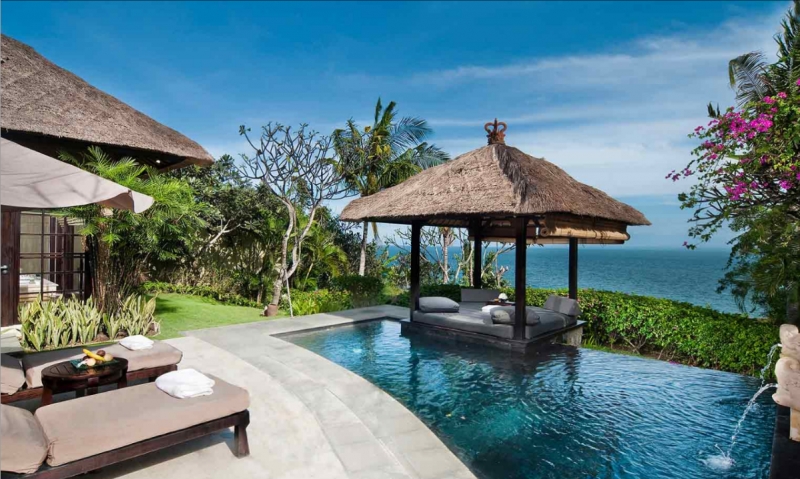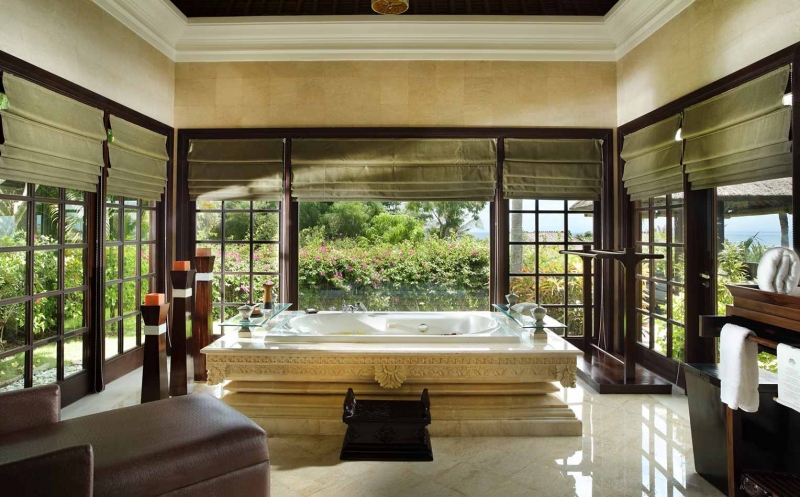 Married couples-to-be: Live your ultimate dream honeymoon at The Villas at AYANA Resort, BALI. Nestled along Jimbaran beach, this resort is known for its breathtaking view and impeccable quality of service. Villas here are all spacious and beautifully designed, with most villas housing their own secluded garden and private pool deck, and some even perched on the resort's cliff top to provide panoramic views. Pay a visit to Thermes Marins Bali, the hotel's spa service which offers several signature spa treatments and even the world's largest Aquatonic Seawater Jet Pool. Dine to your heart's content at one of the nineteen restaurants and bars while enjoying the cool ocean breeze. And if you feel like exploring the streets of Seminyak or discovering the ancient temples nearby, the hotel staff are always there to give you a lift.
6. Amanusa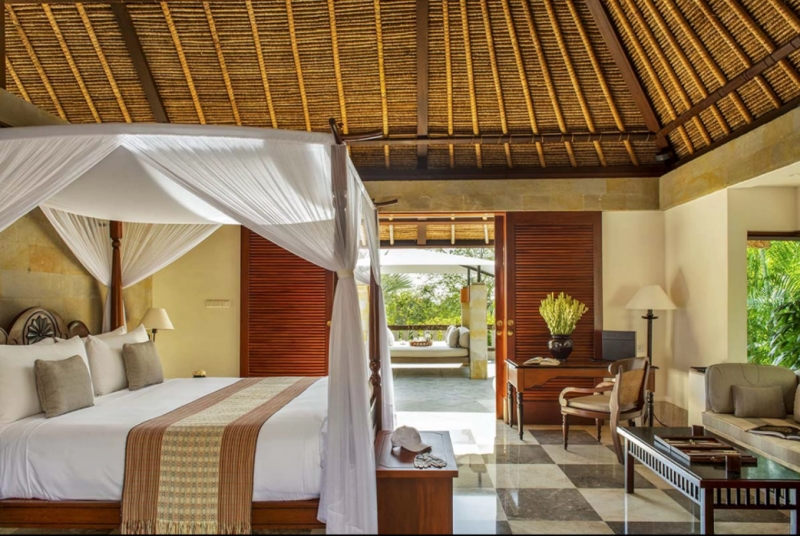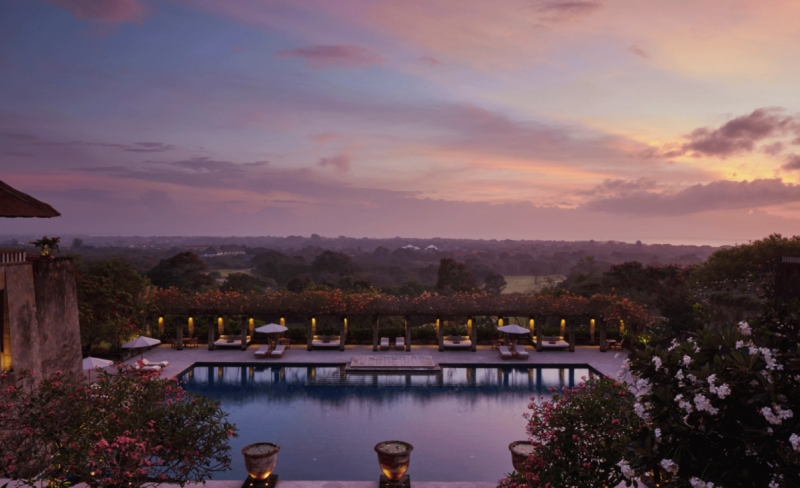 Feel like you're hidden from the hustle and bustle of the world at Amanusa, a hotel resort situated right next to Nusa Dua's beach and surrounded by the lush greenery of its own golf course. Villas in the hotel all feature intricate Balinese architecture and overlook the Indian Ocean, letting you feel free and one with nature. The hotel's main restaurant serves continental fare and its bar provides a spectacular view of the Bali National Golf Club, where you can play as many rounds of golf as you want. Still not convinced? Maybe a trip to the spa suite might help. Your body needs a good massage to de-stress and wind down, and some traditional Balinese body therapy will definitely get the job done.
7. Soori Bali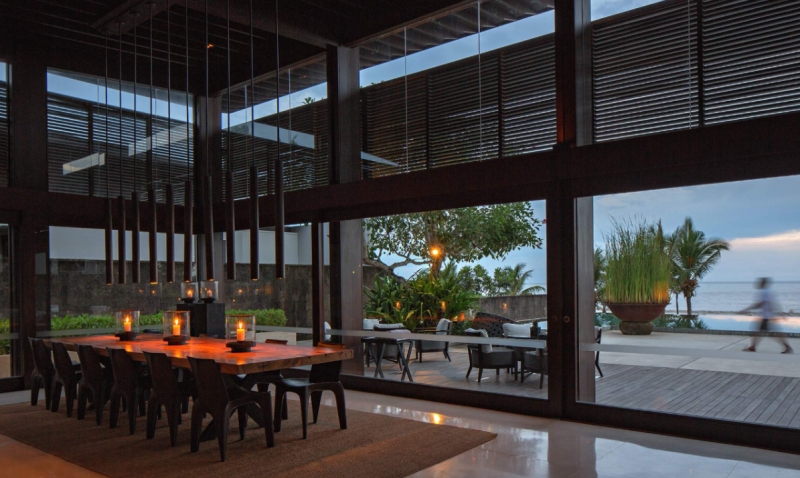 Soori Bali is a resort sitting between Mount Batukaru and enormous terrace rice fields. The resort seeks to give you a traditional, all-natural experience, with food from its restaurants made from nearby farms, and spa treatments helmed by skilled practitioners with oriental medicine. Unlike the chalk-white beaches many resorts have, Soori's beach is filled with unique black volcanic sand. In addition to the stunning landscapes, the villas at Soori also boast luxurious facilities such as a private cabana, private pool, outdoor shower, and so on. Plus, if you're an explorer — the iconic Tanah Lot is only 10 minutes away.
Also read: 6 Irresistible Villas in Bali with Swimming Pools to Book for Your Next Vacation
That marks the end of the list! Have you decided what's going to be your perfect view? If no, we hope this article has at least helped you a little, and that you get to bless your eyes with a magnificent view soon. Also, do check out TripZillaSTAYS for more recommended stays in Bali.