Many people who want to visit Bali tend to think about this tropical island as one uniform entity, a place without much variation or many differences. The opposite, however, is true. Bali is a destination characterised by diversity. There are world-class beaches, agricultural landscapes and mountains, quiet villages and rowdy party towns.
So, depending on your personal preferences, it's critical to the success of your holiday that you choose your base area well. Do you want to go hiking or would you like to be far removed from the crowds? Perhaps you're looking to party the nights away and spend your afternoons on the beaches? Whatever your intentions and purpose of your visit, take some time to decide which area in Bali is best for you.
To help you out, we've created the following useful overview of the best areas to stay in Bali. All of them are located in the southern half of the island, the region where most tourists tend to go.
Ubud
Ubud has everything you could be looking for in a Balinese area, except for a beach. There are backpacker hostels and luxury resorts, art galleries and great restaurants. The area also features beautiful natural attractions.
Who should stay in Ubud?
People who want to immerse themselves in the Balinese culture
Budget travellers
Nature lovers
Pros
Surrounded by gorgeous nature
Described as "the Real Bali"
Wide range of activities on offer
Cons
Subject to torrential rains in the wet season
Limited accommodation options
Kuta and Legian
The Kuta and Legian areas in Bali are where you need to be if you want to party, lie on the beach and do some cheap shopping. It's known for its nightlife, beaches and surf scene. The beaches are phenomenal, its main streets lined with budget shops, restaurants and bars.
Who should stay in Kuta and Legian?
Budget travellers and backpackers
Surfers
Party-goers
Pros
A selection of authentic Balinese-owned accommodations
Fantastic beach
Close to the airport
A wealth of retail stores, restaurants, bars and nightclubs
Cons
Aggressive salespeople
Loud tourists
Higher crime rate than other areas in Bali
Sanur
Bali's very first beach resort area, Sanur boasts a laidback seaside vibe. A former fishing village, it lies on the eastern side of Bali's southern isthmus and has managed to preserve much of its original charm and ambience. 
Who should stay in Sanur?
People looking for a quiet charm
More mature visitors
Travellers who want a European atmosphere
Families with young children
Pros
Quiet and peaceful
Great European-style restaurants and boutiques
Compact area
Paved seaside walkway
Cons
Lacks the modernity of other areas in Bali
Looking for a quaint stay in Sanur that's close to the beach? Maison Aurelia is the place for you! With a blend of Balinese and Western elements and complete with top-notch modern amenities, this charming boutique hotel ensures a memorable homely vacation!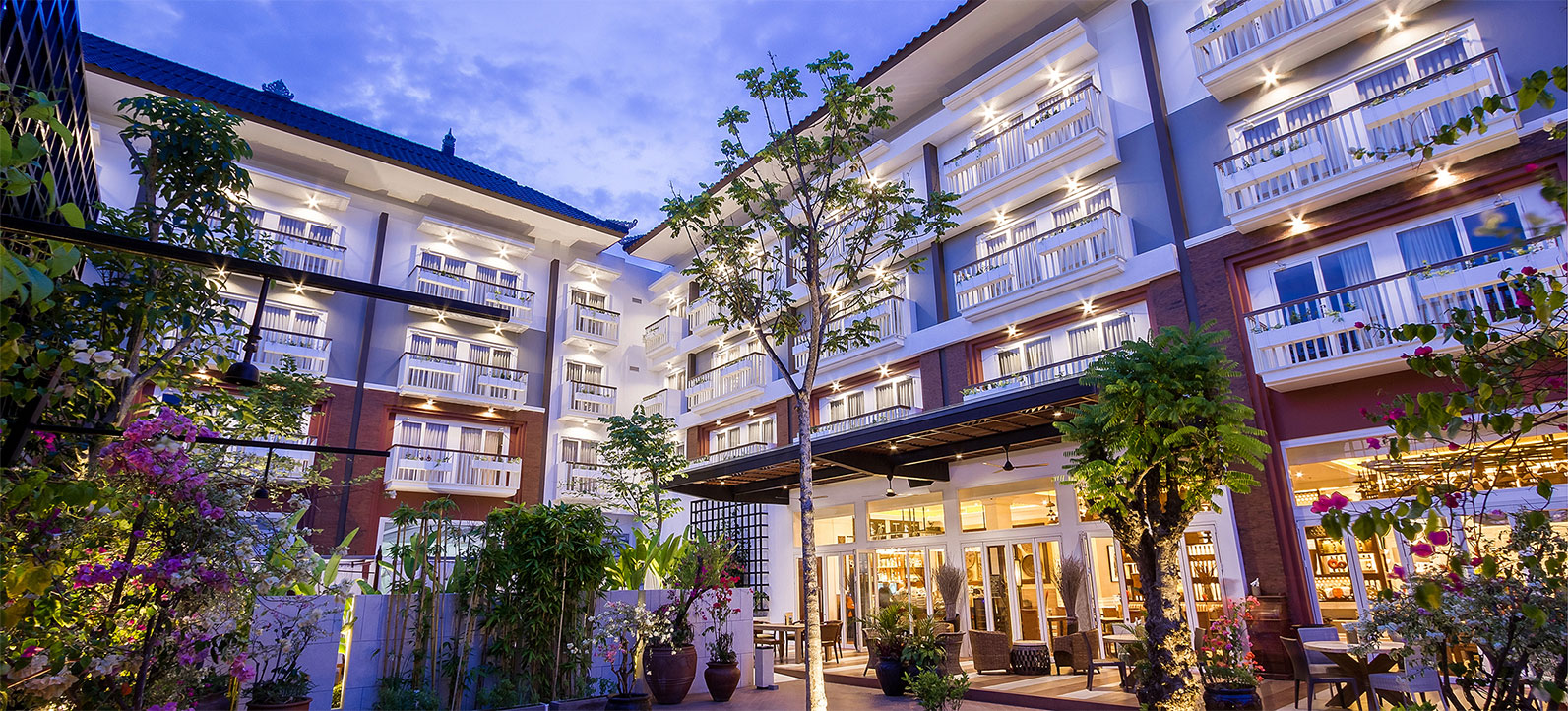 If you're heading to Bali for the upcoming Easter long weekend, be sure to grab Maison Aurelia's Easter Package at just IDR 2,399,000/2 nights for 2 persons. This package includes:
Room accommodation in Camellia for 2 nights, include SPICE breakfasts for 2 persons
Free one-time SPICE cocktails for 2 persons
Free welcome Drink
Free WiFi in all hotel's premises
There are also Long Stay discounts that are applicable to both the Camellia and Magnolia rooms. Enjoy 15% or 20% off room rates if you're staying for a minimum of 14 or 21 nights respectively.
Seminyak
Seminyak is by no means an authentic Balinese neighbourhood but it offers plenty to travellers. It's filled with exclusive resorts, renowned restaurants and many excellent hotels.
Who should stay in Seminyak?
Expats
Style-focused travellers
People looking for luxury spa treatments
Pros
Fantastic shopping
Luxury spas and designer stores
Nice beach with waves
Cons
Might feel a bit pretentious
Expensive
Jimbaran
Near the airport you'll find Jimbaran, once a wonderfully charming fishing village. The area is well-known for its seafood restaurants complete with tables on the beach. With its relaxed atmosphere, it attracts people who want a laidback beach destination.
Who should stay in Jimbaran?
Seafood lovers
People looking for a place near the airport
Pros
A superb food scene
Amazing sunsets and cooling Indian Ocean breezes
Friendly vibe
Cons
Some noise from the airport
Not any major attractions to speak of
Lacks shopping opportunities
Nusa Dua
Designed by the government to be a tourist enclave, Nusa Dua can hardly be touted as authentic. It's a closed-off area home to several major resort hotel chains. This safe and clean area is popular among wealthier visitors as well as a location for conferences and meetings.
Who should stay in Nusa Dua?
Luxury travellers
People looking for a safe and secluded area with tourist facilities
Conference attendees
Families
Pros
Safe, clean and comfortable
Features all possible amenities
Cons
Purposely built, no authenticity
Expensive
Now that you've picked the location, it's time to search for the accommodation. For the best stays in Indonesia, browse TripZillaSTAYS.