Chiang Mai is such a diverse and stunning city. From jaw-dropping nature walks and masterfully made temples to trendy museums and establishments, there's truly something for everyone there. Even the Airbnbs in Chiang Mai are practically destinations themselves — more than just somewhere to sleep, they offer unforgettable experiences that will certainly level up your visit.
This being said, we've put together a list of beautiful Chiang Mai Airbnbs for every kind of traveller. With a unique collection of spaces to choose from, we're sure you'll find the perfect one for you.
Also read: Top Things to Do in Chiang Mai
1. This fun tree house adventure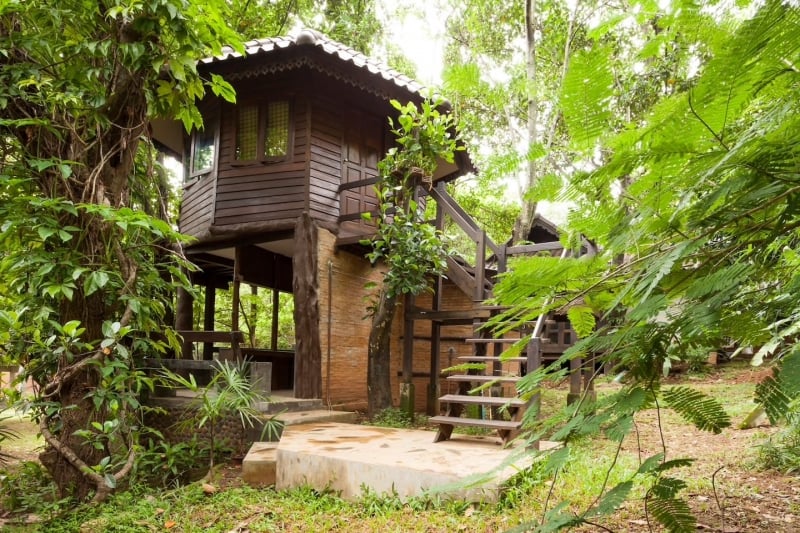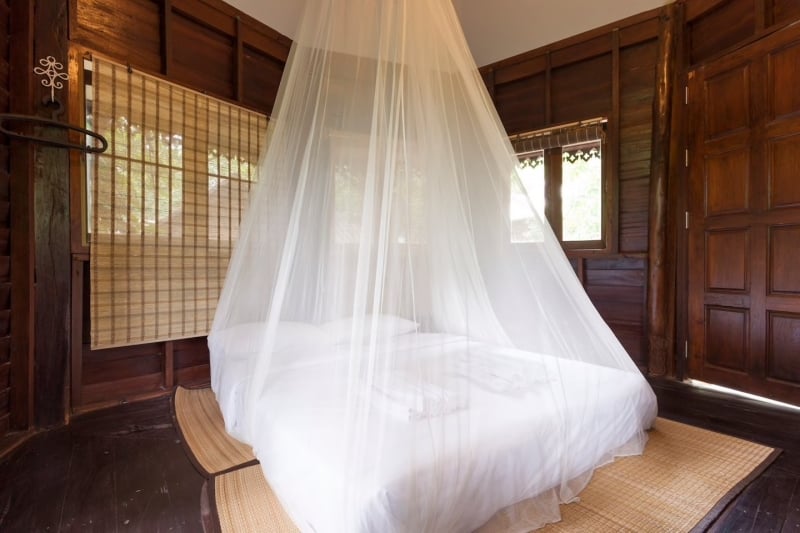 Listing name: Tree House 10 mins drive fr center
Listing type: Private room in treehouse
Max. no. of guests: 2
No. of bedrooms: 1
Why not make your next trip a bit different? Head to this treehouse in Mueang! The space is perfect for couples or singles looking for a nature-filled option, and its wooden interiors certainly add a lot of charm. Fresh air, lush greens, and the tranquil sounds of nature will allow you to unwind away from the buzz of the busy city without having to sacrifice basic comforts.
The homestay has a fully equipped kitchen, massage room, library, a space for meditation or yoga, and a clubhouse with Wi-Fi. The best part about it is that it's just 10 minutes away from the city centre, and guests are welcome to do yoga, meditate, or join a cooking class along with other travellers! Learn more about this Airbnb here .
2. This rustic house that will give you room to breathe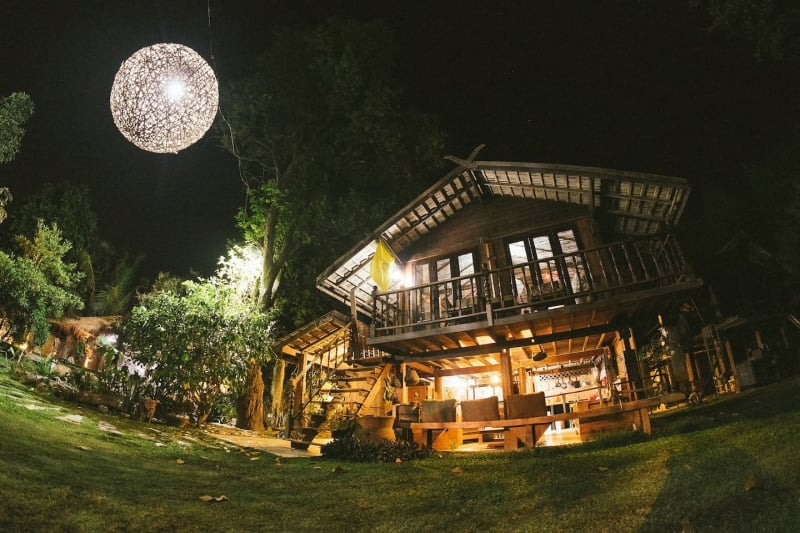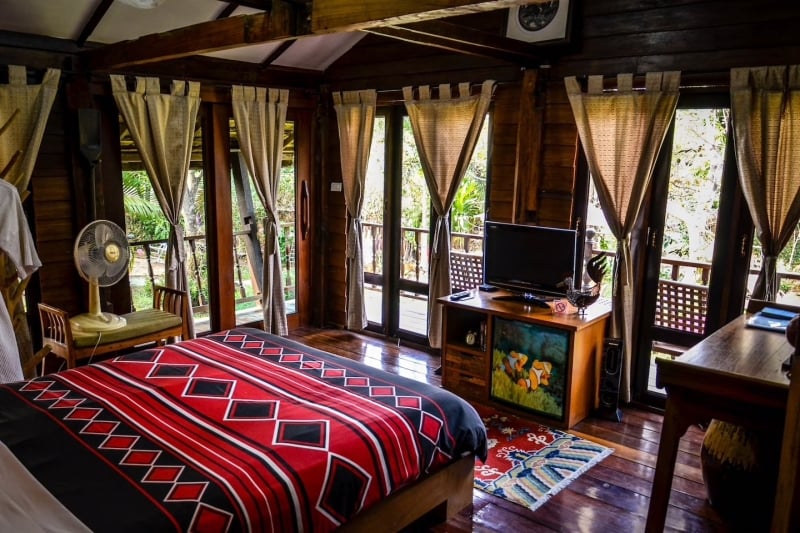 Listing name: Teak Rice Barn - Garden & Pool view with balcony
Listing type: Barn
Max. number of guests: 4
No. of bedrooms: 1
Rustic charm and fresh air meet at a beautifully converted rice barn that fits a family of four. If you're looking for a place that offers a bit more comfort but is still away from the noise of the big city, then this Airbnb in Chiang Mai is a great place to be. It's a two-storey house filled with rustic wooden details, a swimming pool, and breathtaking gardens. And what's more, your stay even includes a free breakfast on the first day!
Guests are loving all the gorgeous touches of art and nature, but the biggest thing they're raving about is the hospitality from superhosts Alastair and Nok, who provide a lot of helpful information. Plus, a fun bonus: there are dogs on the estate! Learn more about this Airbnb here .
3. This cosy room at the edge of Chiang Mai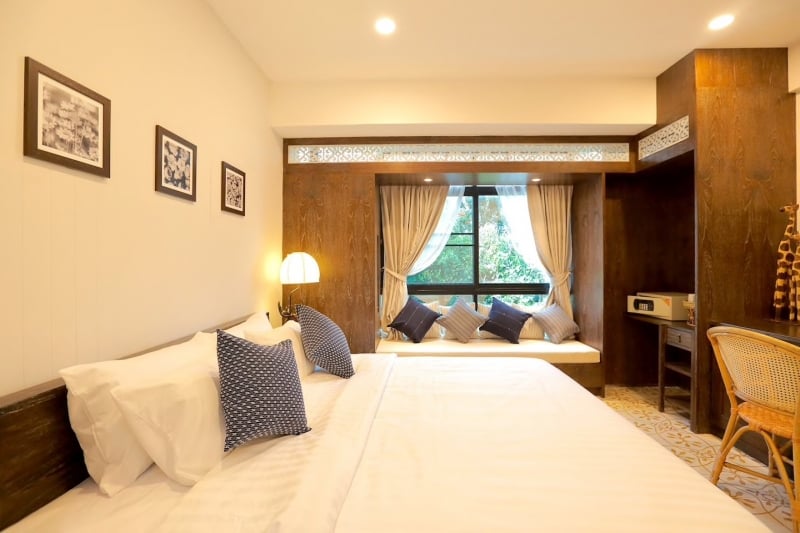 Listing name: CosyRoom near North Gate +free breakfast @AmakaB&B
Listing type: Hotel room in bed & breakfast
Max. number of guests: 2
No. of bedrooms: 1
Experience Chiang Mai from this delightfully quaint bed and breakfast that sits at a crossroads between the edge of the city proper and the Old City. Superhost Urana lists it as a place that's close enough to the main road, but far back enough to avoid hearing any noise from traffic. Sounds perfect to us!
In addition to convenience stores, markets, and department stores, this place is also close to amazing night markets and bazaars like Sunday Walking Street and Saturday Walking Street. Learn more about this Airbnb here .
4. This refurbished teak house just outside the city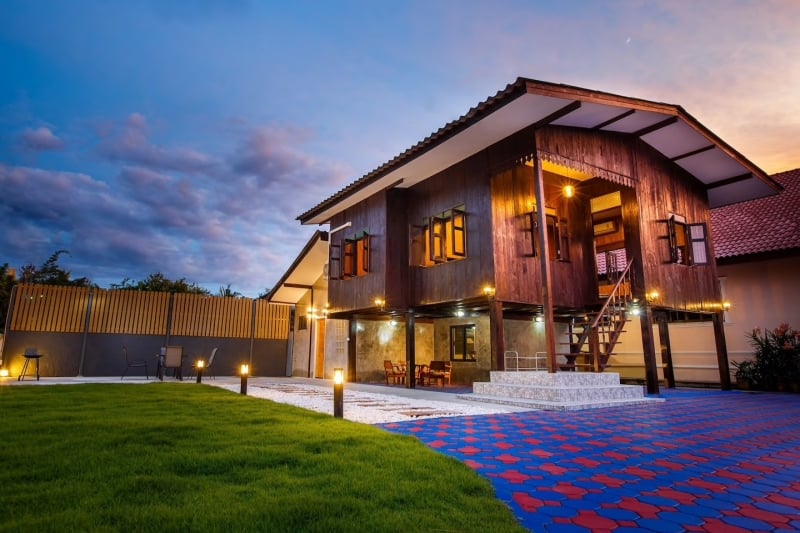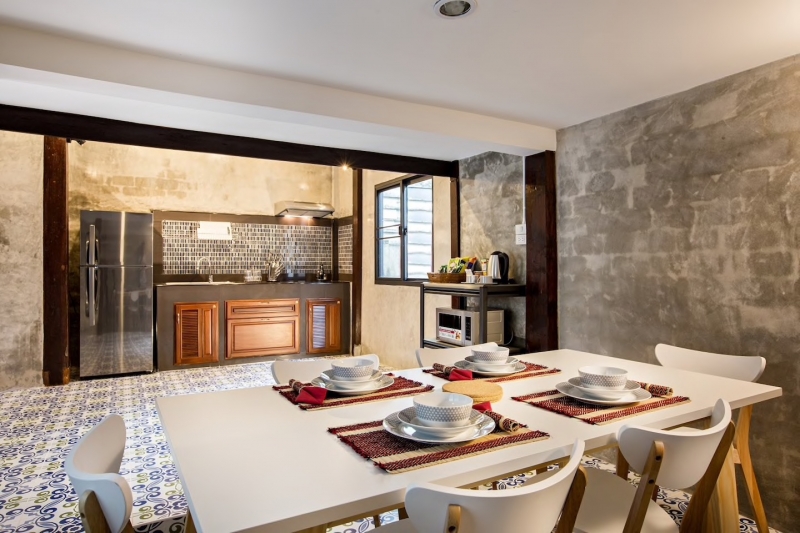 Listing name: Premier Homestay Villa Lanna
Listing type: Entire house
Max. number of guests: 7
No. of bedrooms: 2
Having a large crew in tow can prove to be hard sometimes, but luckily there are gems like this refurbished home that sits just outside the city. It's a historical teak villa that doesn't sacrifice modern comforts and allows you to retreat back into a quiet neighbourhood after taking in the sights and sounds of the city. Inside, it's a brightly-lit and spacious place, complete with a large kitchen for any impromptu feasts.
This Chiang Mai Airbnb is located just five minutes away from the city's largest mall, so popular attractions aren't too difficult to reach. It also helps that superhost Isaac provides scooters that guests are free to use! Learn more about this Airbnb here .
5. This traditional house at the heart of the old city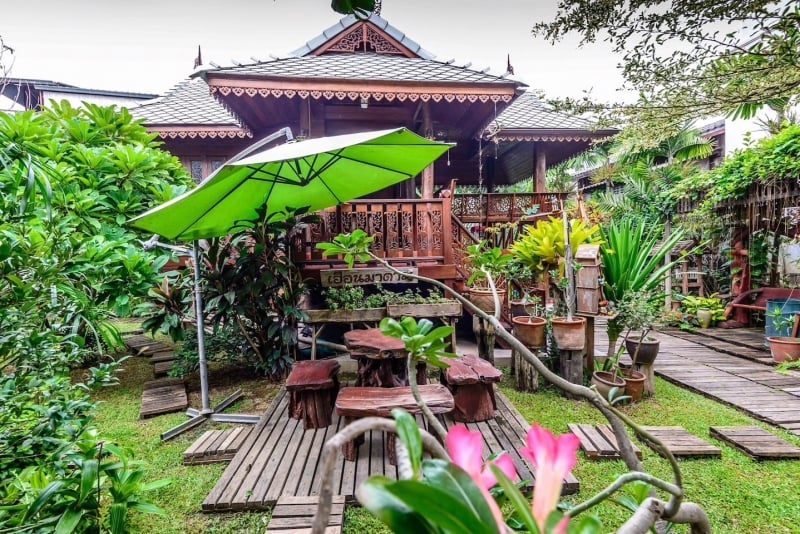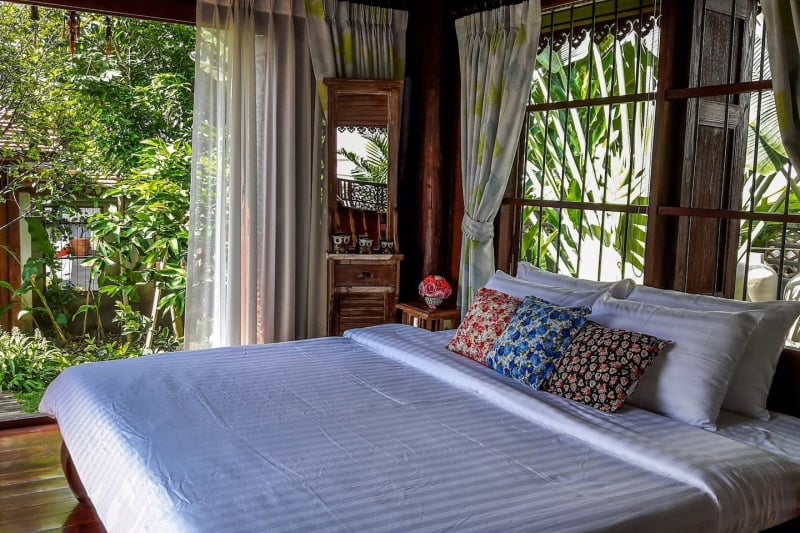 Listing name: Sala Old Town Singharat Road
Listing type: Entire chalet
Max. number of guests: 2
No. of bedrooms: 1
A traditional Thai house finds itself at the centre of the old city, making it an area that is rife with discovery and cultural immersion. This Airbnb in Chiang Mai is a vision straight out of another time period, and it feels like your own slice of paradise. We love how detailed everything is, and the best part about this sprawling space is the abundance of lush greenery!
Guests are raving about this home's convenient location because of its proximity to old temples, museums, and Sunday Walking Street. But it was inside that they found themselves getting lost in the dreaminess of it all — and who can blame them? Learn more about this Airbnb here .
6. This pristine wooden house with charming knick-knacks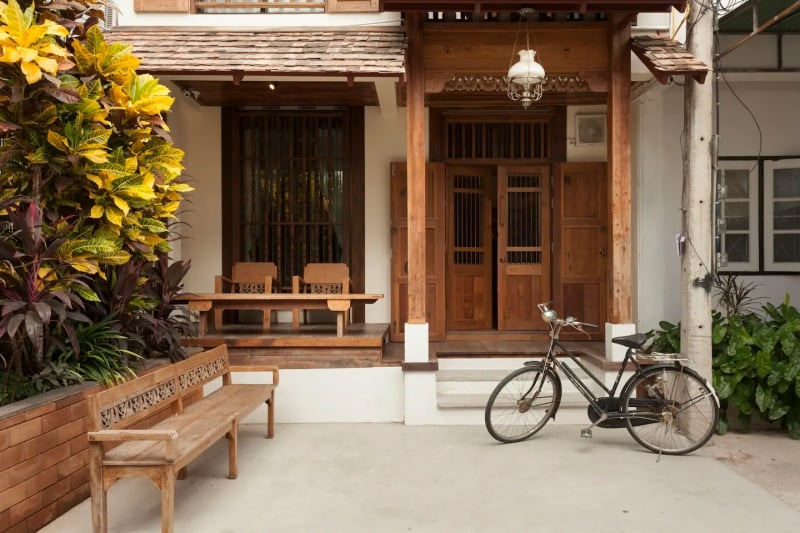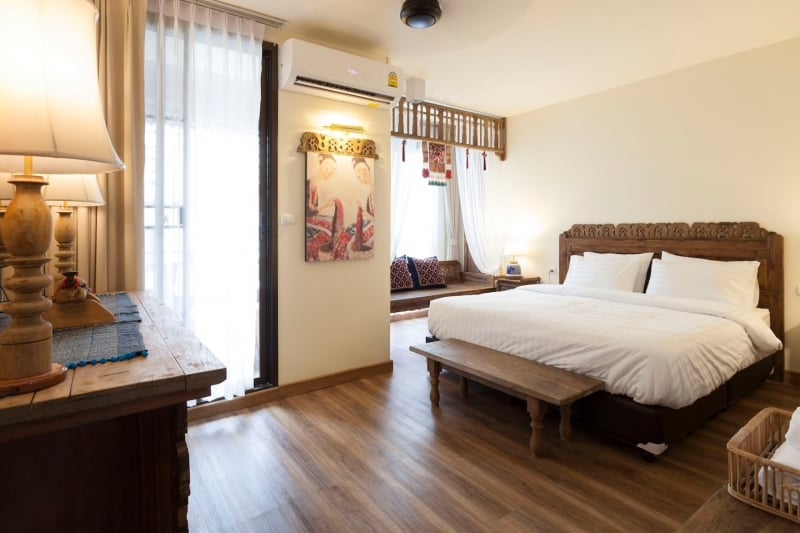 Listing name: Villa Nittra Singharaj
Listing type: Entire townhouse
Max. number of guests: 4
No. of bedrooms: 2
This bright wooden house allows its guests to tour the city from a different perspective: down on the ground with a bike. Found at the centre of the Old City, this charming and chic Chiang Mai Airbnb is overflowing with fascinating objects that really light up the room. More than that, its interiors are super clean and crisp, giving everyone a sense of calm.
Its location allows you to stroll or bike around Old City attractions within just a few minutes. These include the Chiang Mai Historical Centre, the old monastery of Wat Phan Tao, and Wat Phra Singh — one of Chiang Mai's most revered temples. Learn more about this Airbnb here .
7. This top-floor condo at the centre of it all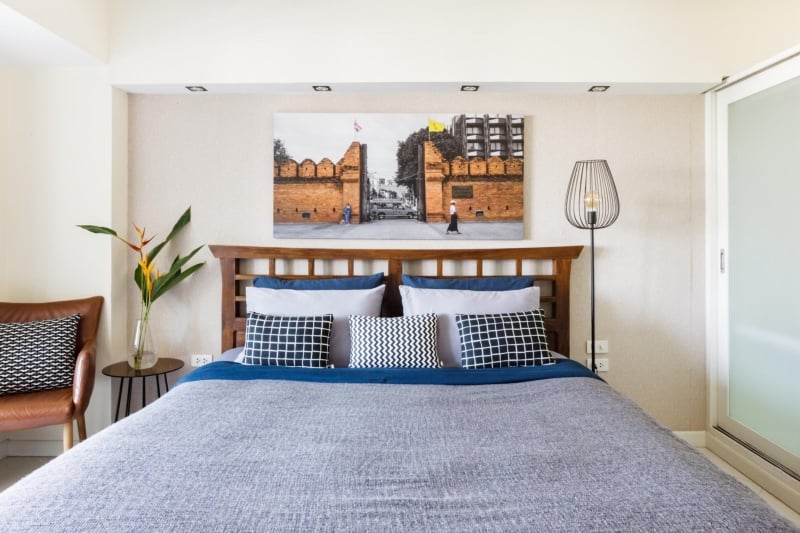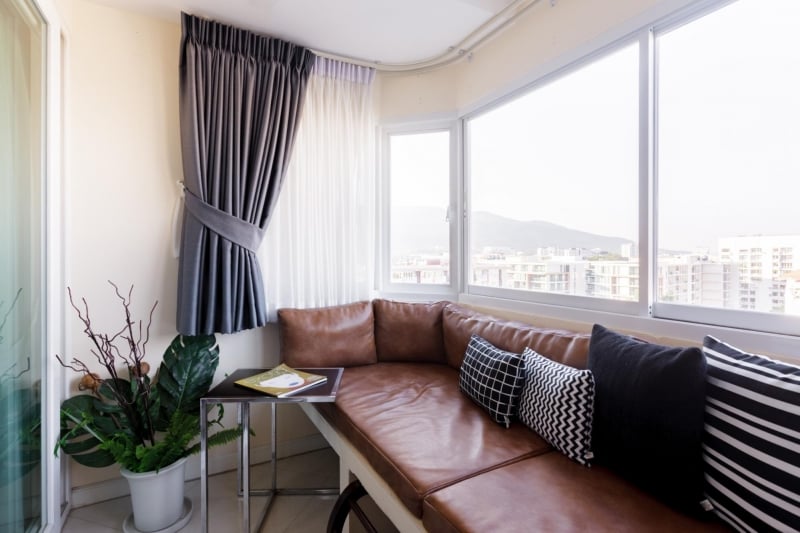 Listing name: Panoramic Mountain and City Views from a Top-floor Condo
Listing type: Entire apartment
Max. number of guests: 3
No. of bedrooms:
If you're up for a night on the town surrounded by everything trendy and upbeat, then you should really stay in Nimmanhaemin. From concerts to jazz clubs, bars, and cute cafes, the area amazingly comes to life at night. And after a crazy night out, peace is a few steps away at this lovely space's comfy window seat with a grand view of the mountains and the city — the perfect place to have your morning coffee!
From here, you can easily tour Chiang Mai University, shop for cheap and unique clothes, meditate at Wat Suan Dok, or take in the beautiful flora at Huay Kaew Arboretum to complete your Chiang Mai experience! Learn more about this Airbnb here .
Also read: 10 Gorgeous Bangkok Airbnb Apartments That are Also Budget-Friendly
With a diverse selection of Airbnbs in Chiang Mai, you'll no doubt find the perfect one for you. Whether it's deep in nature, at the centre of everything, or somewhere in between, you're in for amazing experiences at every turn. Good luck!