With the exchange rate leaning in our favour, Singaporeans are getting more bang for their buck when they spend in Malaysia. Every dollar can be stretched a little further, and some of you might even be thinking of spending a night or two across the border. 
Why not? Go ahead and do just that. You don't even need to spend much to get a nice place to stay for the night.
Let's have a look at the awesome hotels and hostels you can stay in for under RM 66 (SGD 22) dollars a night!
Note: The prices quoted here are per person (not per room), and the exchange rate used is 3.00. 
1. Bliss Boutique Hotel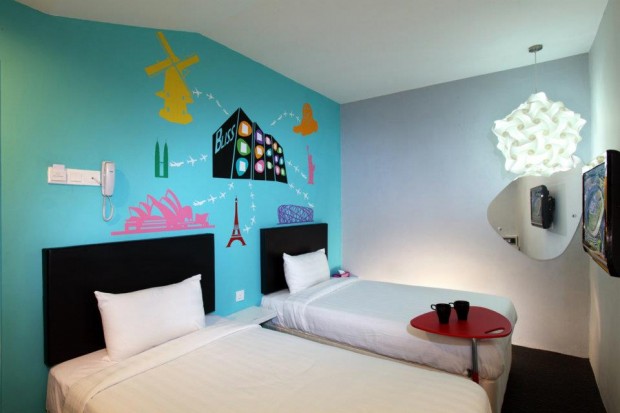 Image credits: Bliss Hotel
Bliss Hotel, located a short drive from the Johor Bahru City Centre, is a boutique hotel designed to bring out the inner hipster in you. With quirky furniture around the room like oddly-shaped mirrors and colourful designer murals, this hotel exudes a strong swag factor. They even have TVs with astro channels available in every room. Plus points for style!
Prices start from RM 66 per person for a designer standard queen/twin room with an ensuite toilet .
Address: 50 Jalan Jaya, Taman Maju Jaya, 80400, Johor Bahru
2. Container Gardenstay @ Bangkok Village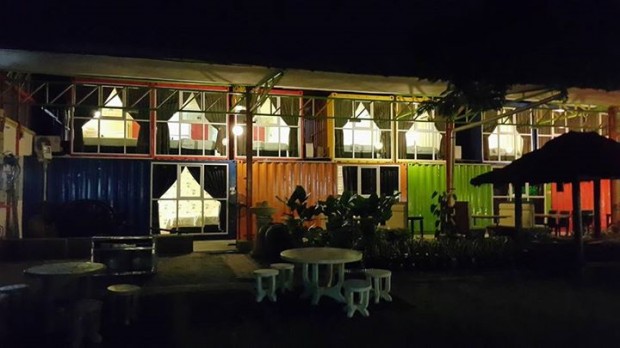 Image credit: Container Gardenstay @ Bangkok Village
Looking for something a little different? Then Container Gardenstay@ Bangkok Village might just be the place for you.
The rooms in the entire hotel are made from shipping containers. How cool is that! Add on the funky brightly coloured walls, wide windows with awesome garden views and comfortable beds – and you have a winning getaway formula! And I haven't even started on their  Bangkok Village Thai restaurant... 
Prices start from RM 49.30 per person for a family room with ensuite toilet.
Address: 3 Jalan Harmonium, 93547, Johor Bahru,
Also read: 6 Places to Eat in Johor
3. ZOOM Inn Boutique Hotel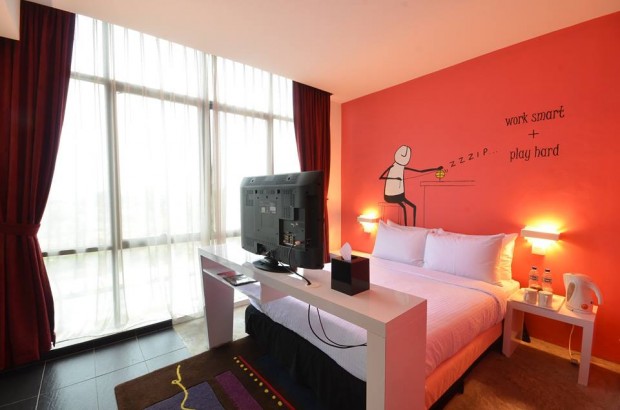 Image credit: ZOOM Inn
With a name like "Zoom Inn", this boutique hotel has a lot of awesomeness to live up to. But it does deliver. With absolutely adorable murals depicting a stick man on his adventures (including pretending to be Peter Pan!) and inspirational quotes, the murals in the rooms are at once uplifting and funny.  I mean, isn't this a room you'd like to return to after an adventure in the city?
Located a somwhere in between JB Central and Legoland, Zoom Inn is the perfect place to stay for those who wants experience the best of Johor. 
Prices start from RM 46.7 per person for a superior queen room with an ensuite toilet.
Address: Unit 7, 8 & 9, Block 7, Danga Bay, Jalan Skudai, 80200 Johor Bahru.
4. Roof Talk Theme Hostel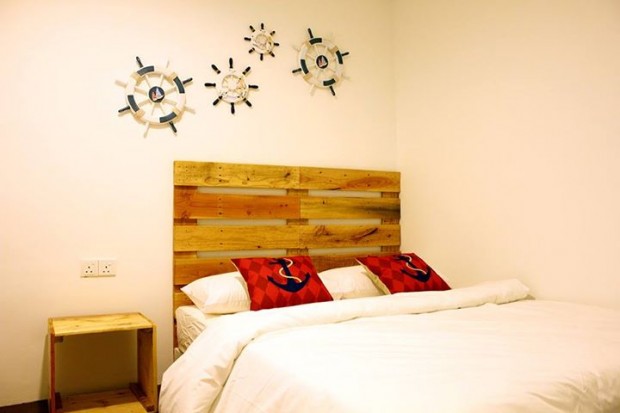 Image credit: Roof Talk
Dreaming of the sea? Look no further than Roof Talk Hostel.
Roof Talk is nautical themed and accordingly, there are nautical references in every nook and cranny of this hostel. It is hard not to fall in love with the anchors and steering wheels hanging in the common areas and rooms. Even the dormitories are not left out of the fun, with a rubber dinghy on your bed to bring out your inner sailor! If that's not enough for you to set sail (figuratively) to this awesome hostel, we don't know what is.
Prices start from RM 35 for a bed in a 6 bed mixed dorm.
Address: 32, Jalan Bestari 7/2, Taman Nusa Bestari, 81200 Johor Bahru
5. Hermess Hotel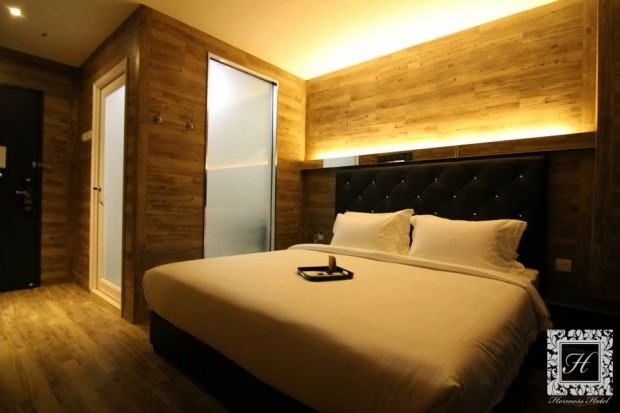 Image credit: Hermess Hotel
Want to satisfy your inner royal? The Hermess Hotel might be the hotel that you are looking for. With wood-panelled walls and floors, ornate mirrors and modern furniture, the rooms in this hotel are the epitome of classic chic. And if you need a late night nibble, the hotel also offers a pub and bistro. Additionally, the rooms here do not come with the outrageous price tag that normally accompanies such chic accommodation. Add this to the proximity to numerous attractions that the hotel enjoys and you have a great place for a weekend getaway.
Prices start from RM 64.50 per person for a superior twin room with an ensuite toilet.
Address: 51, Jalan Bestari 1/4, Bandar Nusajaya, 81300 Sekudai
6. Mood Hotel Johor Bahru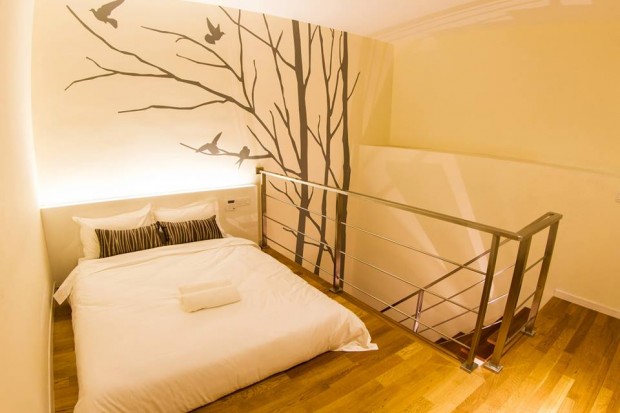 Image credit: Mood Hotel Johor Bahru
With light coloured interiors and accents in a warm dark brown, the rooms in Moon Hotel Johor are not as showy as some of the hotels here but they could be mistaken for rooms at a high end boutique hotel. After all, with comfortable 4-star spring mattresses, a 32" LCD television with 18 channels and air conditioning, you have all you need at this boutique hotel to make your stay a pleasant one.
Prices start from RM 64 per person for a standard queen room with an ensuite toilet.
Address: 2, Jalan Sutera Tanjung 8/3, Taman Sutera Utama, 81300 Skudai
7. Warm Blanket Hotel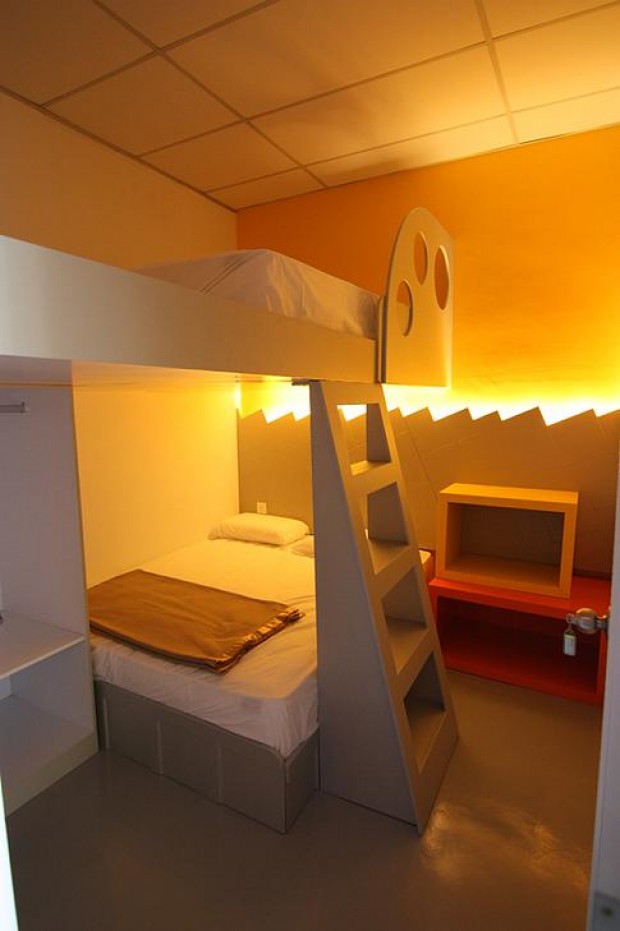 Image credit: Warm Blanket Hotel
The rooms in this hotel are cleanly designed, with just a bed, a wardrobe and a side table. However, those who are expecting the rooms in this hostel to be bleak are in for a surprise: the pastel coloured walls and minimalist murals keep the rooms in the Warm Blanket Hotel cheery. More importantly, the service here is raved about often, with workers at this hotel going above and beyond for patrons at numerous instances. 
The best part: Warm Blanket Hotel is a mere 5 minute drive to Legoland and 10 minute drive to Hello Kitty Town.
Prices start from RM 17 per person for a quad room with a shared toilet.
Address: 22A & 20A, Jalan Indah 25/16, Taman Bukit Indah 2, 81200 Johor Bahru , Johor Darul Takzim
8. Citrus Hotel Jalan Station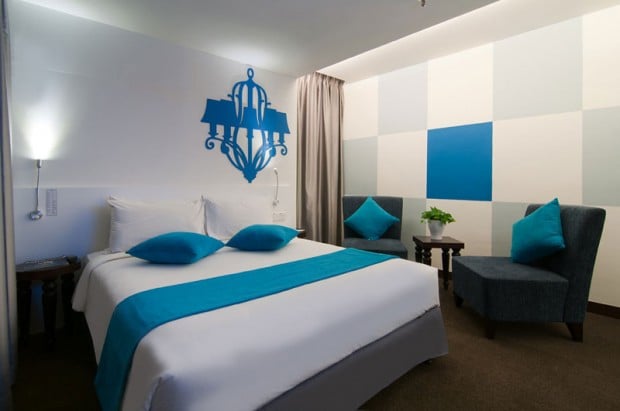 Image credit: Citrus Hotel Johor Bahru
Citrus Hotel Jalan Station is located in the heart of Johor Bahru's Central Business District, just opposite City Square Shopping Centre. White and grey with bright splashes of colour, the rooms here walk the line between quiet elegance and fun. And with the 32 inch LCD TV with satellite channels, coffee and tea making facilities and ensuite toilets, you will find this room more than comfortable to bed down in after a long day of shopping. 
Prices start from RM 52 per person for a standard room with an ensuite toilet.
Address: Jalan Station, Kampung Masjid Lama, 86000
Enjoy your stay in Johor. Happy shopping and stay safe!