The island country of Taiwan is famous for its thronging cities, thriving industries, soaring mountains, and dense, rugged forests. Visitors can enjoy a plethora of cultural and natural attractions around the island, as well as tuck into delicious and affordable food. Beaches, hot springs, temples, glistening lakes, and towering skyscrapers add to the diversity.
Taiwan is also a lover of the quirky and the kitsch. Some of the country's more unusual highlights include Anping Tree House where nature rules supreme, the bizarre rock formations of Yehliu Geopark, Houtong Cat Village where felines have well and truly taken over, the sparkling Dome of Light hidden in a subway station, and the colourful Rainbow Family Village in Nantun. Add lavatory- and Barbie-themed restaurants, hidden cafes where you need to hunt high and low for doorways, a church that resembles a high-heeled shoe, fortune-telling birds, and a museum dedicated to fish balls, and Taiwan is a dream come true for fans of the whimsical and unusual.
Indulge your passion for the weird, wonderful, quirky, and unusual further with a stay in one of Taiwan's unique accommodation. These cute, adventurous, bizarre, and inventive hotels and guest houses will certainly give you a stay to remember!
1. Deely House, Tainan City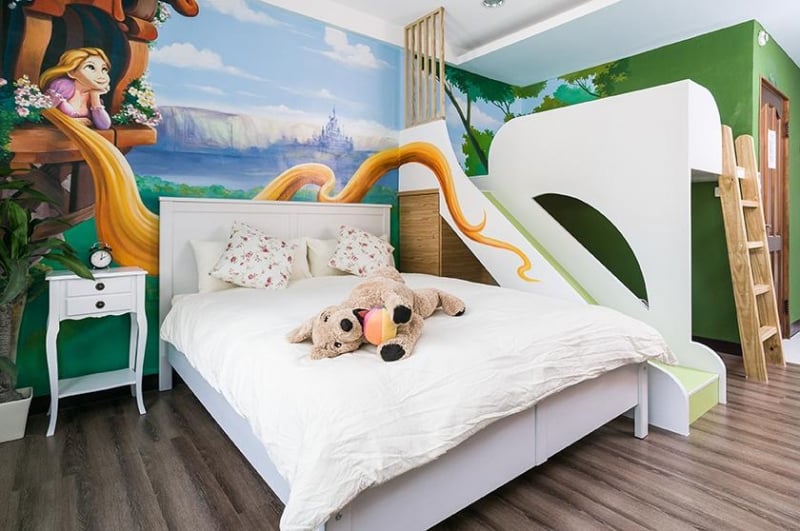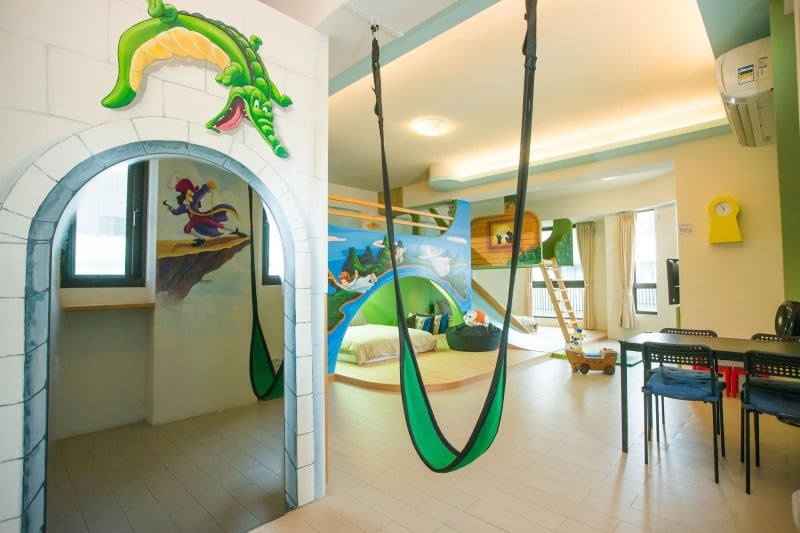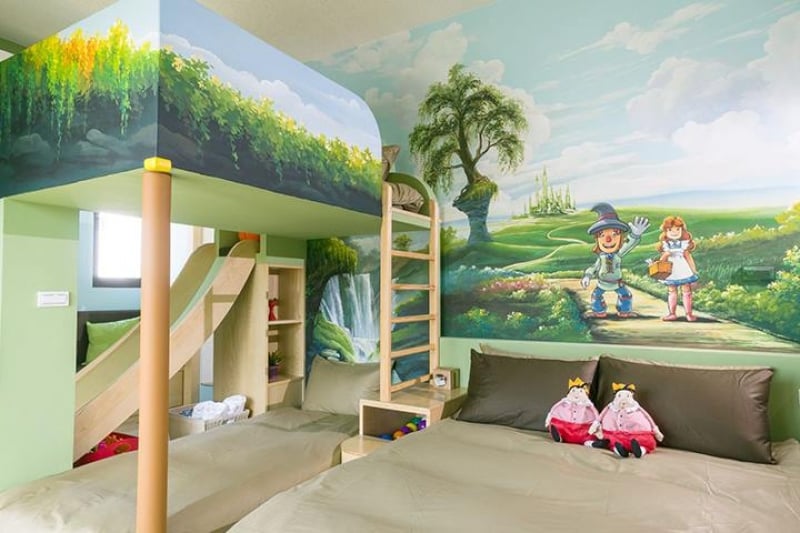 A wonderful option for families with young kids, Deely House Family BnB Minsheng can be found in Tainan City. A land of fairytale and light-hearted play, each room has enchanting scenes drawn on the walls, featuring animals, princesses, heroes, heroines, castles, and more. Each room is individual, following the theme of a known tale; rooms include Alice's Dream, Jungle Adventure, Little Red Cap, Snow White House, The Wizard of Oz, and Happy Mermaid.
It's not only the colourful imagery and bright ambience that makes these rooms so much fun, though; every room has its own slide too! Some even have a swing and other interactive play equipment. A variety of small toys and educational games are available as well.
When it comes to comfort for kids and parents alike, each room has an en-suite bathroom, air-conditioning, and a TV. There is also a communal play area and a shared lounge.
2. Bubble WOW, Bali (Taiwan)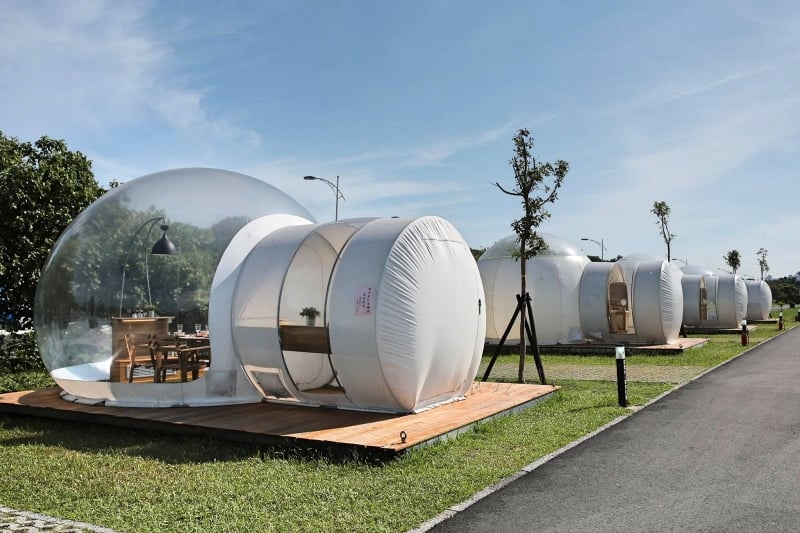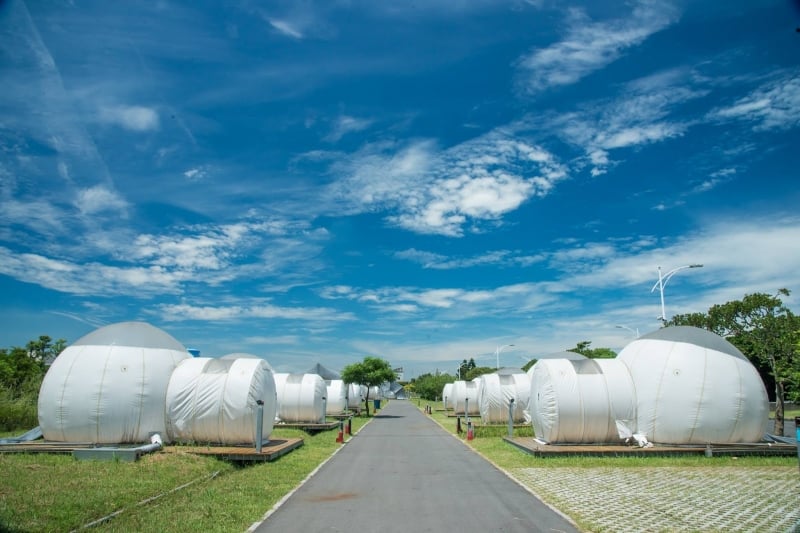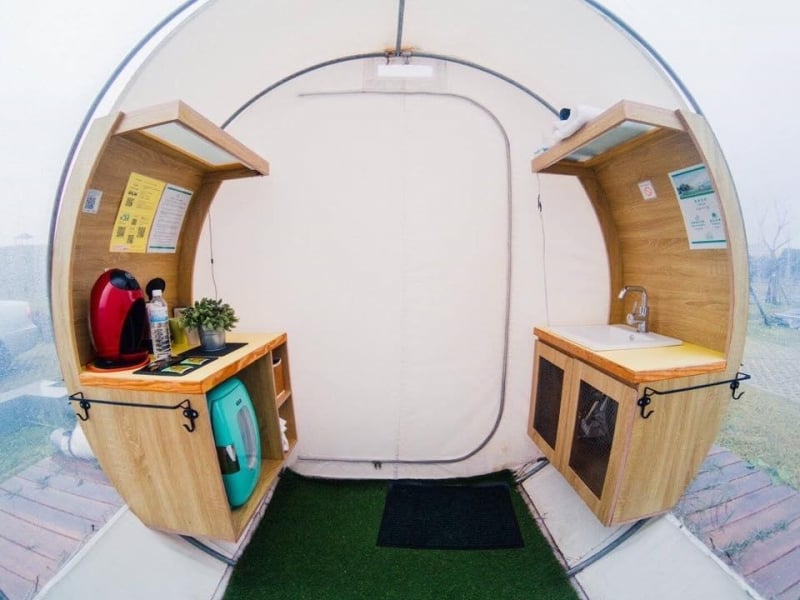 There's camping, there's glamping, and then there's Taiwan's super cool Bubble WOW in Taipei's area of Bali. Drift off to sleep while in your own little bubble – literally! Guests can soak up the tremendous views of the nearby mountains while enjoying comfort and a unique experience. Although the bubbles are quite small, they are well equipped. While the living areas may be transparent, the sleeping areas offer plenty of privacy.
So, what does life in a bubble look like? Each bubble has charming curved furniture to fit perfectly against the round edges of the accommodation. All air-conditioned bubbles have a sink, a kettle, towels, bedding, and an area to hang clothes. Basic bubbles have air beds and luxury bubbles have a double sofa bed. Other extra facilities of the standard bubbles include a refrigerator, a coffee machine, and a TV. Some bubbles have separate outdoor seating areas.
Bathrooms are shared, with clean and well-maintained showers and toilets.
3. Leofoo Resort, Guanshi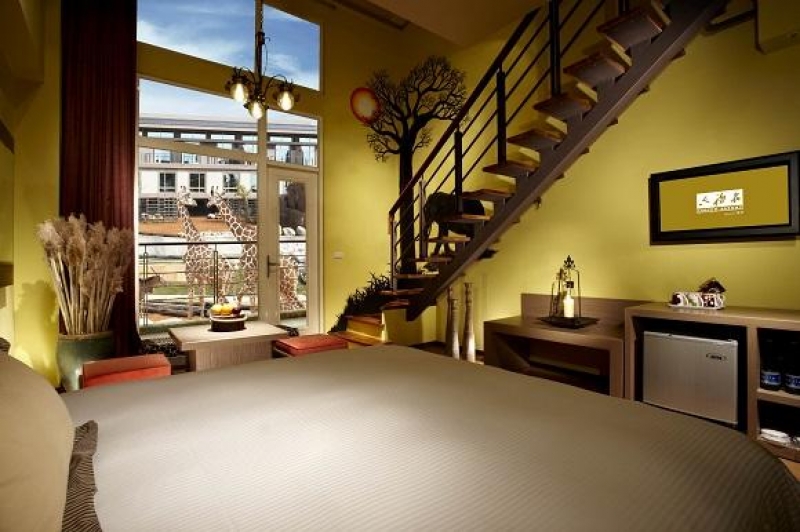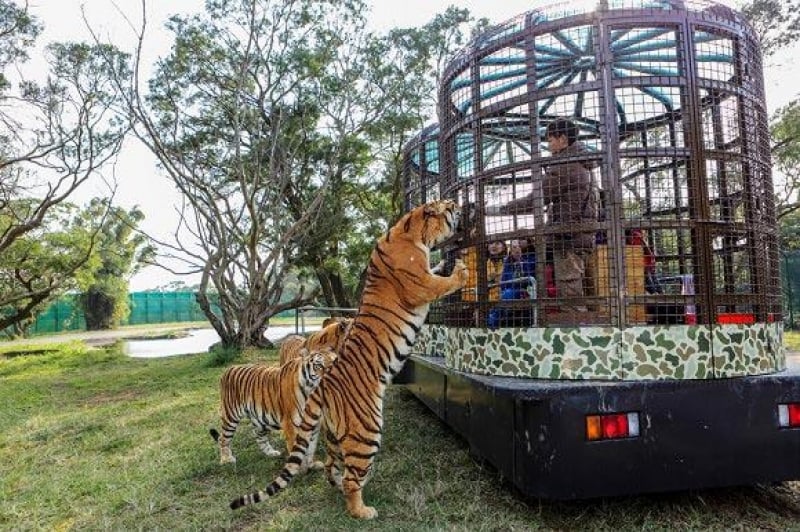 Feel as though you've swapped Taiwan for an African safari experience when you stay at Leofoo Resort. Next to an animal park, large but gentle animals, like zebras and giraffes, roam right outside the resort. The large windows in each guest room let visitors observe the animals when relaxing in private. Wake up, pull back the curtains, and see what you can spot!
The African-themed rooms come with a private bathroom and TV. Earthy tones and animal prints help to set the mood. The resort has a choice of onsite dining options as well as a play area for kids, a spa, and a games room. Stroll, jog, or cycle down the Green Jungle Corridor and look out for squirrels and butterflies.  
4. Sato Castle Motel, Taipei
Resembling a castle from the outside, the imaginative Sato Castle Motel also has a delightful onsite spa where you can enjoy diverse treatments and techniques. If that isn't enough reason to tempt you to stay, the hotel's quirky factor should do the trick!
Located in the heart of Taipei, perhaps one of the first things you'll notice is the armour-clad knights in the car park. On entering the hotel, all seems fairly normal – until you step inside your room, that is! The eclectic rooms cover a staggering amount of themes, each with bold décor and relevant objects.
The room names show the theme; after all, who wants just boring numbers?! Even more impressive is that there are almost 50 unique rooms to choose from!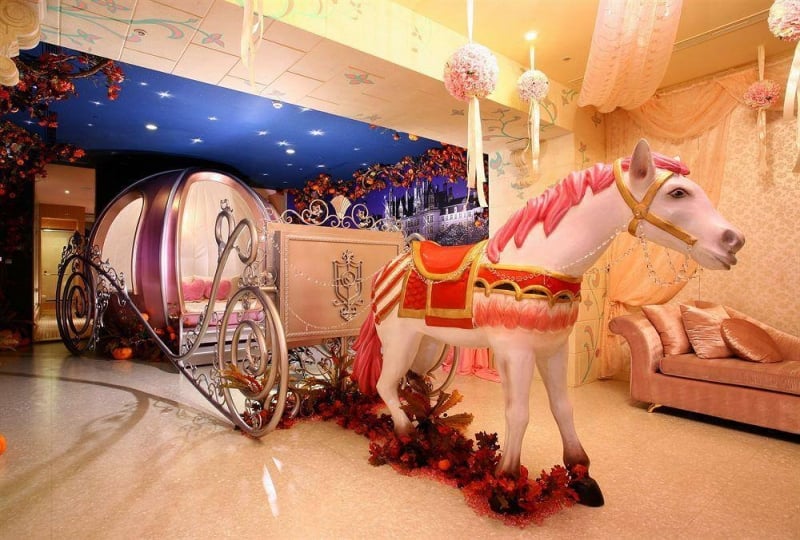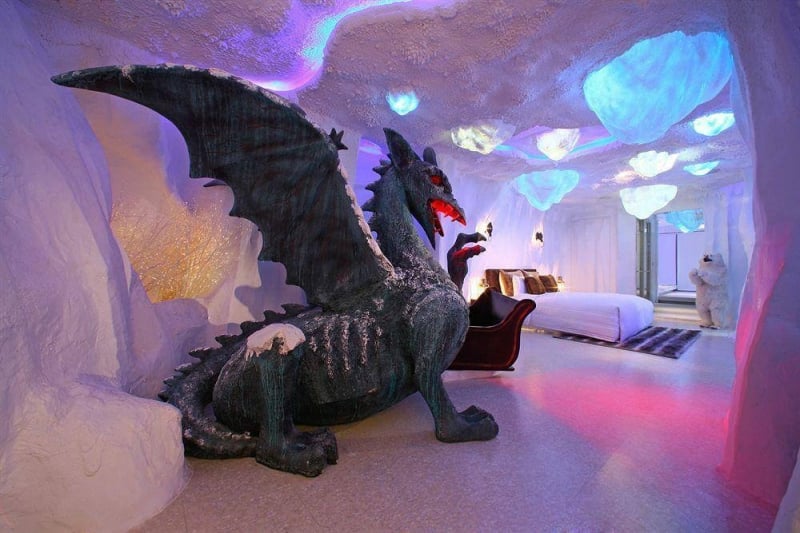 There's a full-sized horse and carriage in the Cinderella room, while the bed in Pirates of the Caribbean is contained within a galleon. A large suit of armour watches over the room in the olde-worlde Knights of the Round Table, and a fire-breathing dragon takes pride of place in the cave-like room called Legend of Butchering the Dragon.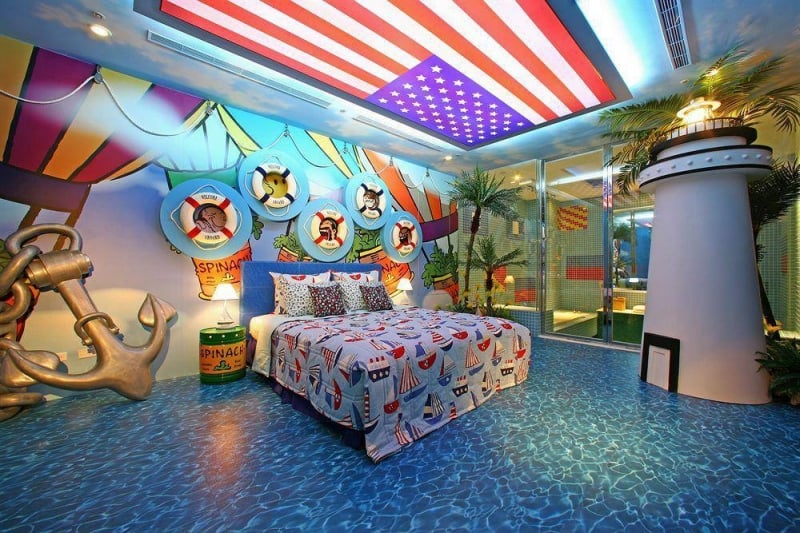 Anchors, flags, a large lighthouse, and rubber rings are a few features of the nautical-themed Popeye room. Phantom of the Opera is an opulent tribute to the popular musical, complete with chandelier-esque lights to illuminate the darkness. Journey around the world in rooms like Taj Mahal, Beauty Yu, Aztek, Arawak, Amazon, and A Thousand and One Nights.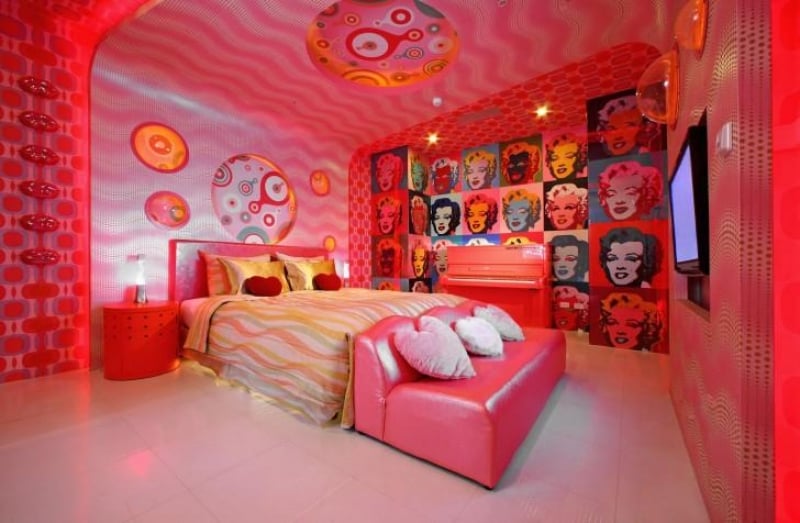 Children are often excited to enter the rooms of Superman and Spiderman. Couples looking for romance galore could opt for a stay in the exquisite L'Elisir d'Amore, Sexy Goddess which boasts plenty of pink shades and a wall dedicated to Marilyn Monroe, the sultry Madam Butterfly room, and the whimsical Abstract Love. And that's just a small selection of the playful, chic, and unusual rooms at the one-of-a-kind Sato Castle Motel.  
5. Old England Manor, Nantou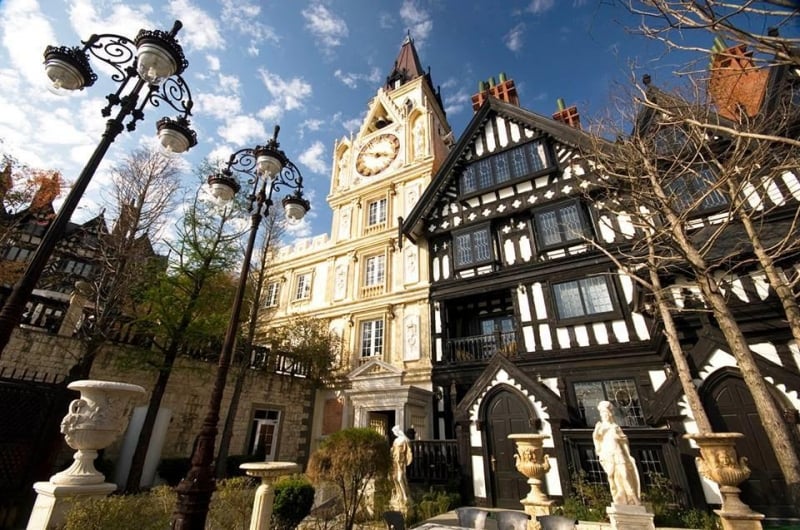 Leave Taiwan temporarily each night and journey not only across the seas, but back in time too, to the England of yesteryear at Old England Manor. Located in the highlands of Nantou, the hotel is just like an elegant traditional mansion from the rolling English countryside.
The white marble clock tower, complete with classical sculptures and grand pillars, gleams in the sunshine and adds a stately touch. The main building is a striking replica of fine Tudor architecture, with mock lead windows, angular roof sections, chimney stacks, small balconies, and black timber work against white walls. Surrounded by formal gardens with attractive metal lamp posts, the hotel is set to impress.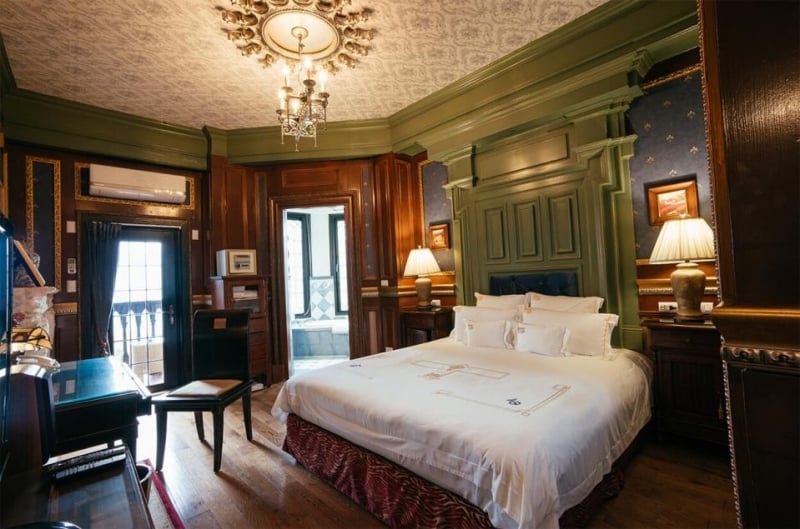 Rooms are en-suite and feature dark wood panelling, wallpaper that harkens back to days of old, and opulent furnishings that reflect all the trappings of a wealthy lifestyle. You may not need to actually use the ornamental fireplaces that appear in every room, but don't worry, as all rooms also come with air-conditioning. Modern facilities, such as TVs and sound systems, blend in with their surroundings so as not to detract from the atmosphere.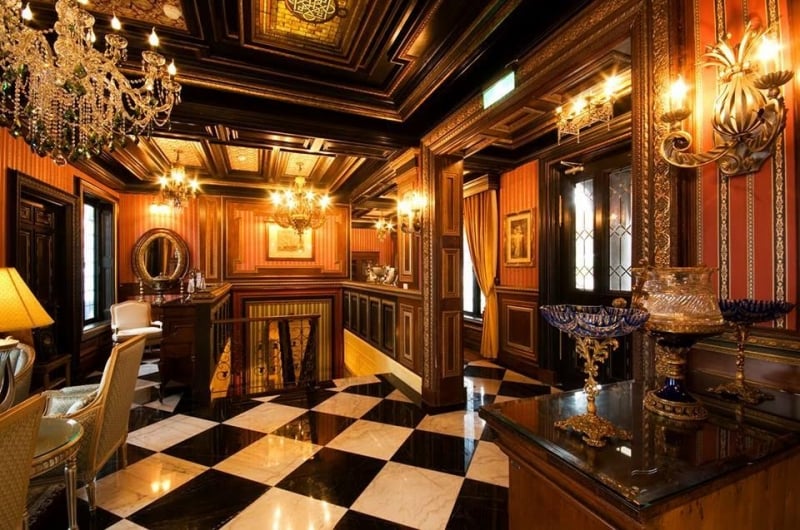 Communal areas include a dining room, lobby, and lounge, each of which is decorated and furnished in keeping with the overall theme of grandeur. Expect ornamental lampshades, artwork, statues, chandeliers, mirrors, heavy drapes, and fine touches throughout the splendid hotel.
6. Eden Exoticism Planet Hotel, Kaohsiung
A themed abode for adults, Kaohsiung's Eden Exoticism Planet Hotel is a motel where guests can really act out their fantasies. If you're looking to inject a little spice into your life and want to experience the fun without getting any shut-eye, rooms are also available to rent by the hour. Ooo-la-la!
There are some plainer luxury rooms, complete with Jacuzzi tubs, but it's the themed rooms that give this place that special edge.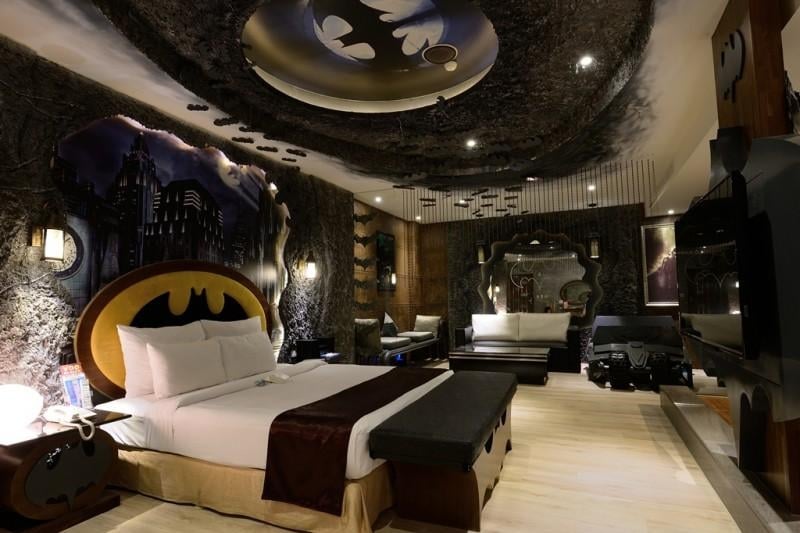 Want to step into the Bat Cave and experience Batman's World? A Batmobile juts out from the wall, a cool bat bed takes pride of place, dark fantasies are drawn out by the incredible décor, and mini gargoyles cast beady eyes over the action. The fabulous light and ceiling display is sure to blow your mind. The room also has a TV and a bathtub.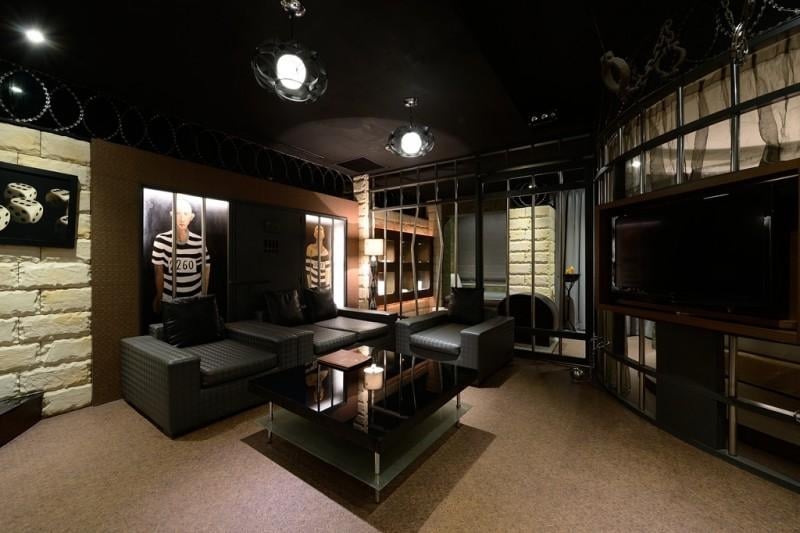 Fancy spending the night behind bars? You can do just that in the convict-themed room. The bed is tucked away behind sturdy bars topped with fake barbed wire, and painted cellmates stand either side of a heavy-set prison-style door. There's even a mock escape tunnel! A tiled bathtub and large TV add more glamour, however, than a typical cell.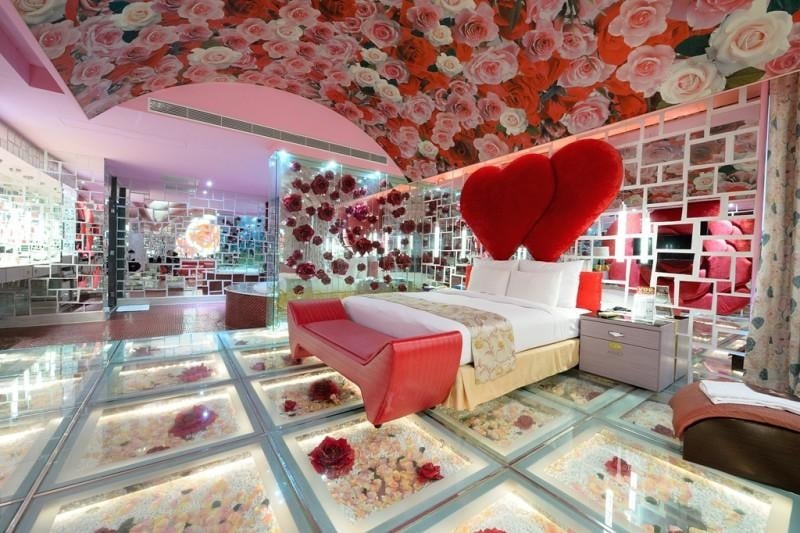 Room 312's evocative images help to stoke the flames of passion, while room 212 showcases over-the-top gaudy and glitzy romantic designs. Mirrored walls, transparent floor tiles with roses underneath, floral ceilings, pink loveseat, and giant fluffy hearts couldn't be more kitsch if they tried. Another imaginative room has a full-sized UK-style red telephone box, hip wall art, small hot air balloons, and tiny planes, while another is reminiscent of the jungle, with block wood flooring, wooden columns entwined with vines, plenty of leafy plants, and animal print furnishings.    
7. Full House Resort, Yuchi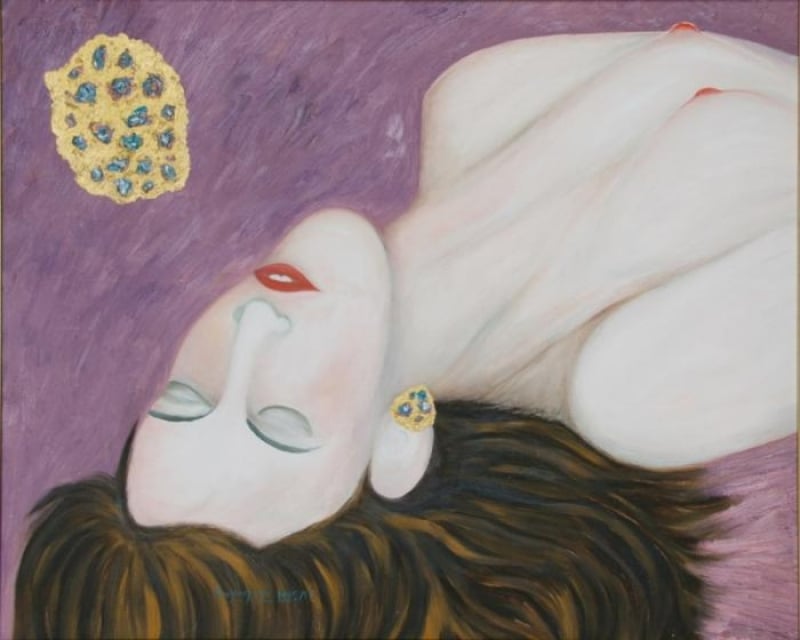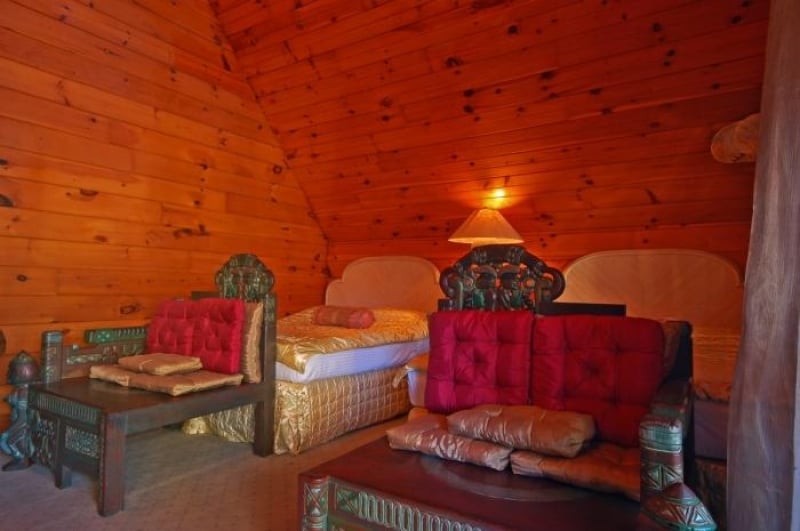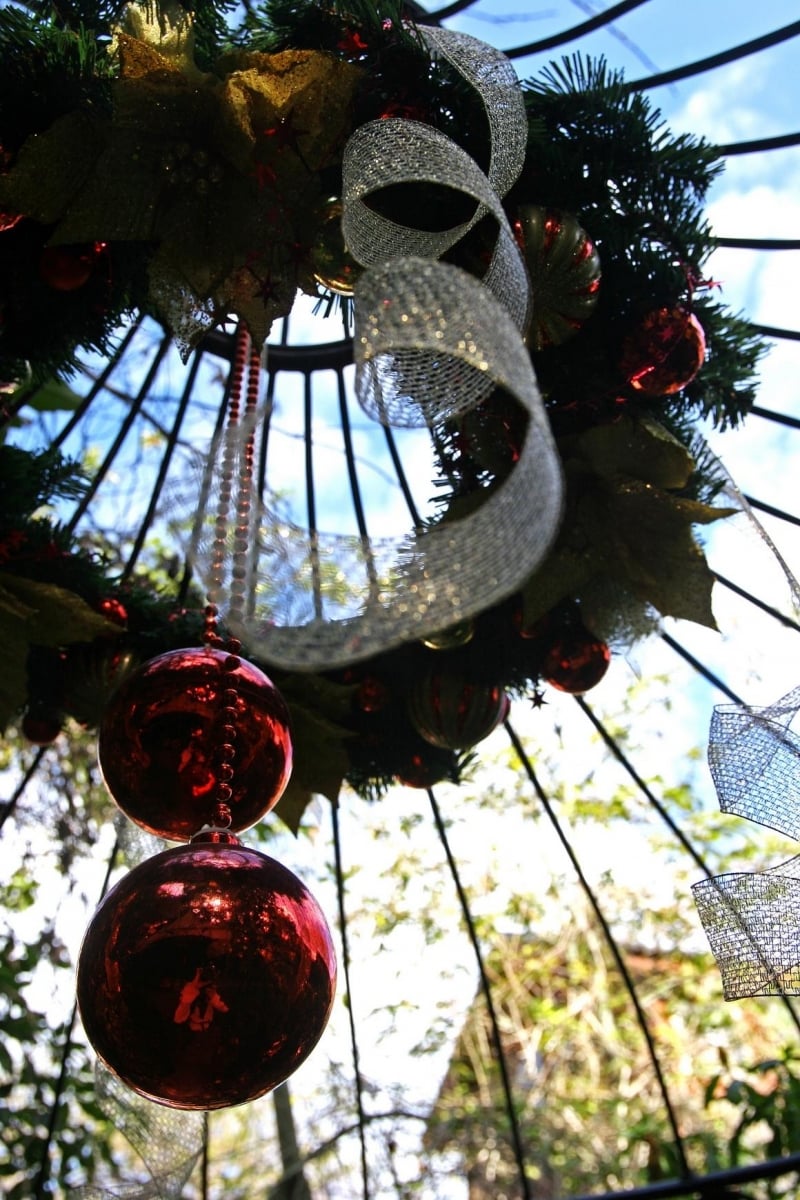 The quirky Full House Resort is located on the shores of the shimmering Sun Moon Lake. Over-the-top decorations and accessories are all part of the resort's visual charms. The actual guest rooms are, however, fairly plain in comparison with the communal areas. Probably a good job – it might be difficult to drift off into a peaceful sleep with too much to distract the eyes!
Contained in a wooden chalet, rooms have wooden walls and beautiful wooden furnishings. Interesting pieces of artwork adorn the walls. All rooms have a private bathroom and a TV. Balconies allow guests to breathe in the fresh air and enjoy the views. The onsite restaurant serves tasty meals.
It probably all sounds fairly normal, but Christmas decorations like huge baubles and tinsel dress trees all year round, there are pyramids of apples, eclectic statues including sheep and banshees, year-round displays of pumpkins, candelabras, and plenty of antiques help to create a vibe that's a bit different to the norm.
8. RedDot Hotel, Taichung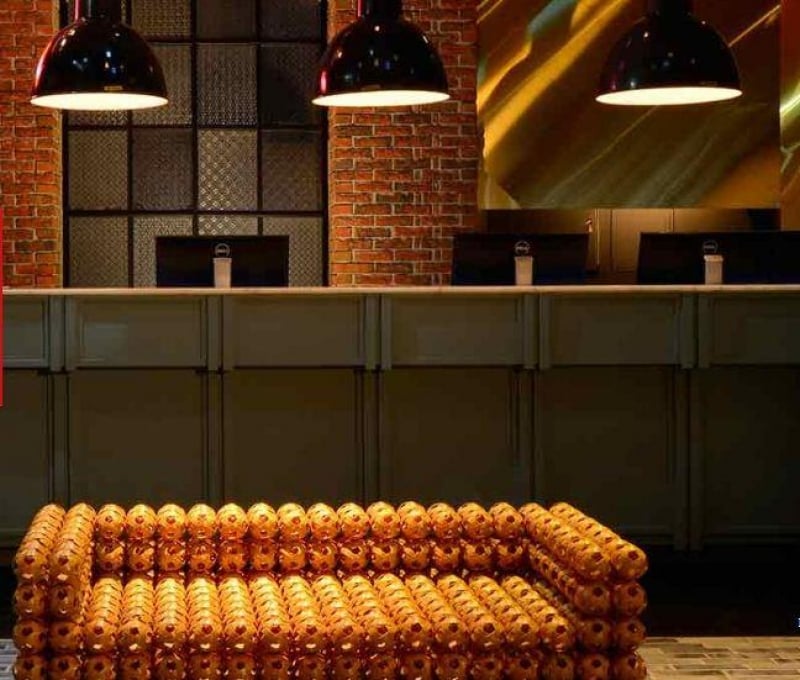 A swanky and stylish place to stay, all rooms at RedDot Hotel are modern, clean, and well-equipped. Each has a private bathroom, a TV, and tea and coffee making facilities. There's an attached restaurant to keep hunger at bay. The communal areas are where the real fun lies, though.
Bare-brick walls and wooden block flooring give the hotel an urban chic edge. The design hotel makes good use of gleaming metal, bold colours, and large mirrors, as well as funky and unusual furnishings. Items include an old barber chair, a crate-like table, a sofa made out of rattan balls, bar-style hanging lamps, and neon signs.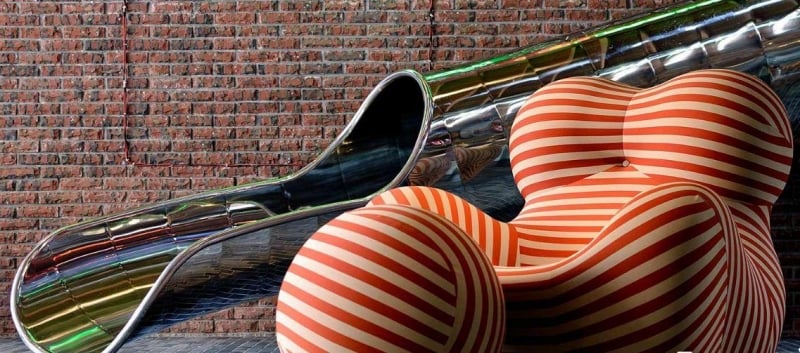 The most unusual feature of the hotel is a large indoor slide. Leading from the first floor to the ground floor lobby the gleaming slide lets visitors reconnect with their inner child. No need to take the stairs!   
Have sweet dreams and a unique experience when you book into one of these unusual properties in Taiwan.
Also read: Discover Rural Taiwan: 7 Unique Places to Stay Outside of Taipei