Who doesn't love a themed rooftop bar? With good food, better drinks, amazing music, and a great atmosphere high up, away from the sonorous ground-level bustle of Singapore's busy streets, it's the perfect place for a refreshing escape. You can see why themed rooftop bars are the trendy newcomers taking Singapore by storm. No matter whether it's date night or for a gathering of friends, here are 10 amazing themed rooftop bars that'll satisfy all your hedonistic nightlife cravings and promise a night to savour.
1. HI-SO Rooftop Pool Bar @ SO Sofitel Singapore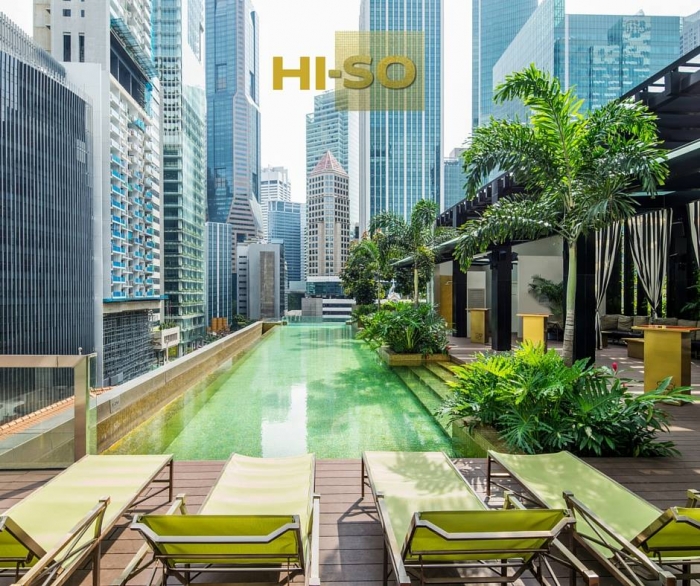 Image Credit: SO Sofitel Singapore Facebook
Despite being a relatively new kid on the block,  HI-SO is steadily winning the hearts of aficionados in the rooftop bar scene. Located amidst glistening city lights and surrounded by CBD skyscrapers, HI-SO at SO Sofitel Singapore is literally in the heart of the city. As night falls, the scenery changes into a dazzling array of colossal concrete towers, each buzzing with flickering lights like fluttering fireflies.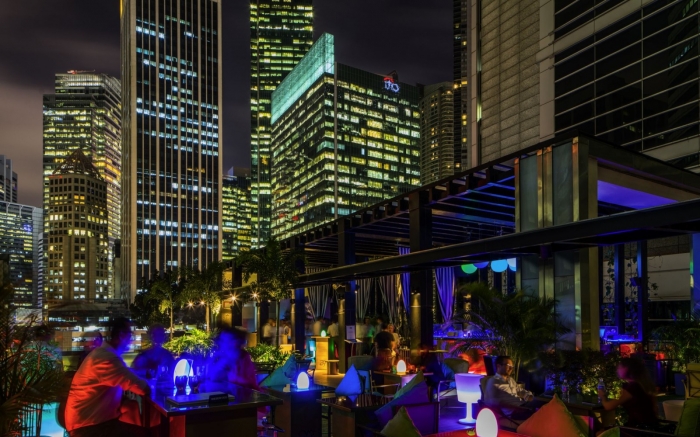 Image Credit: SO Sofitel Singapore
Sporting a healthy mix of different themes that play off each other in exquisite harmony, HI-SO stands for everything our Lion City has come to be known for – busy, exciting and lively. The leafy green decor and flowy ground-to-ceiling cabana drapes give it a luscious garden finishing, that blends seamlessly with the futuristic ocean-blue and emerald-green evening lamps. There's even a dash of Midas' touch – a luxurious golden-tiled infinity pool is located right next to HI-SO for you to splash about in!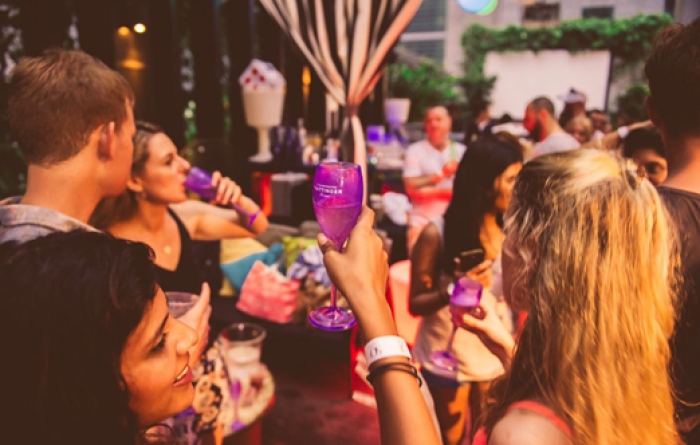 Image Credit: SO Sofitel Singapore Facebook
But what we love most are obviously... the themed evenings! Monday is Gentlemen's Night,   where you get 30% off all spirits. Ladies' Night on Wednesdays gives you a complimentary glass of Ruinart Champagne with every first drink purchased and subsequent champagnes only cost $15 a glass. Wind-Down Thursdays include $10 cocktails while the Friday night Golden Hours reward you with 1-for-1 wines, beers and house pours. It's so easy to fall in love with this bar – you'd probably be tempted to prolong your stay with a weekend staycation in one of its luxurious and charming hotel rooms!
Address: SO Sofitel Singapore, 35 Robinson Road, Singapore 068876
Opening Hours: Daily, 11am to 12am
2. Golden X The Great Escape
The name of this bar says it all, doesn't it? Intriguing and alternative, this one is for the vintage hipsters at heart. To average Singaporeans, Golden Mile Tower has nothing noteworthy beyond the army market. But did you know that it actually stashes a reclusive hipster hideout?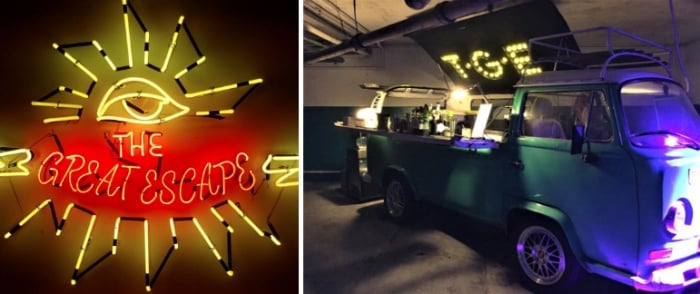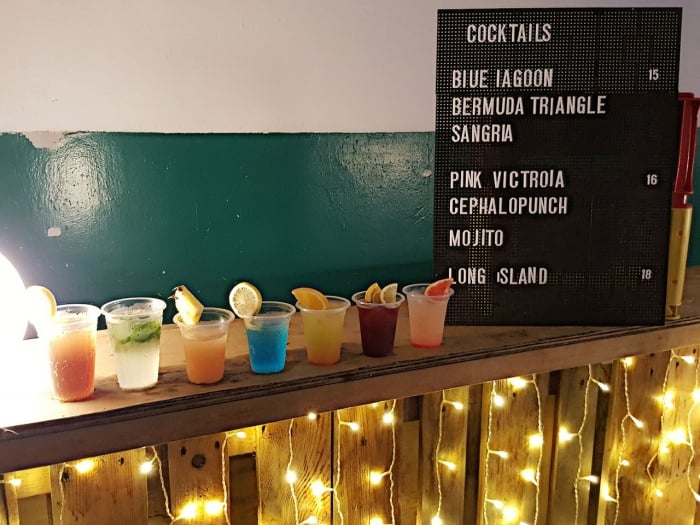 Image Credit: Golden X The Great Escape Facebook
In true hipster fashion, this place is really difficult to find. You'd have to first make a beeline for the 5th floor lavatories, before taking a detour by the inconspicuous side door leading to the outdoor carpark. Continue walking to the far end before you see the bright neon sign brandishing the characters "大爆走". With rustic wooden furniture and a classic converted van from which appetizers like miso honey chicken wings ($8.90), truffle edamame ($12.90) and yummy Eggs Benedict ($15.90) main courses are served, hipsters have to give this a try.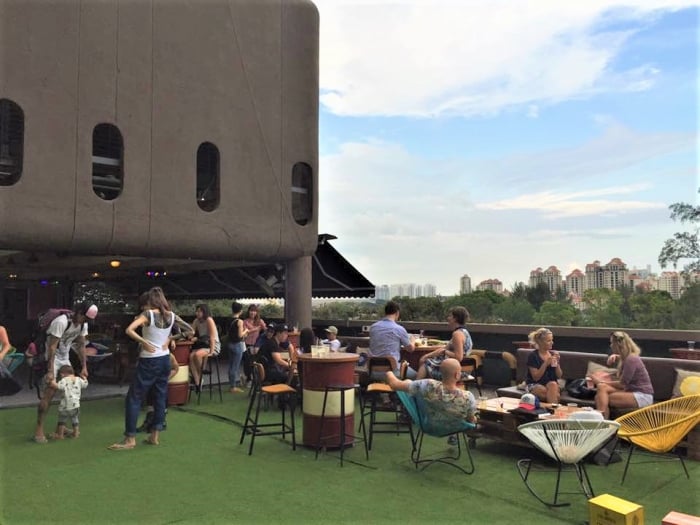 Image Credit: Golden Mile X The Great Escape
A rooftop bar isn't complete without mentioning the view, of course! From the verandah, you get a clear view of the Sports Hub, Singapore Flyer, Marina Bay Sands, and more. So with Japanese craft beers or quirky cocktails in hand, Golden X The Great Escape spells for a super chill night out with your equally bohemian friends. Thereafter, you can even catch an indie movie at The Projector cinema nearby...hipster haven indeed!
Address: 6001 Beach Road, Golden Mile Tower, #05-00, Singapore 199589
Opening Hours: Wed - Sun: 6pm till late
3. Aria Roof Bar @ The Scarlet Singapore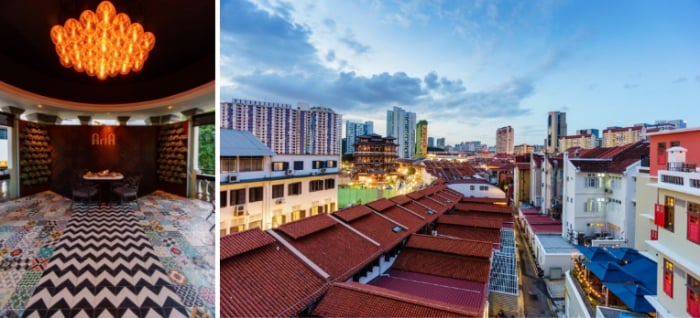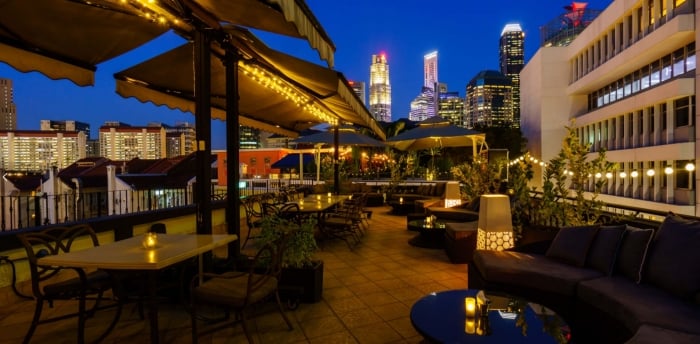 Image Credit: Aria Roofbar
When in Rome, do (or dine in this case) as the Romans do! Just down the lane from The Club, is The Scarlet Singapore's Aria Roof Bar . It's time to give a shout out to Italy! Decked with plush furniture, quaint French windows and decorated with glistening fairylights, Aria Roof Bar is fantastic for that snug candle-lit affair.

Image Credit: Aria Roofbar Facebook Page
With a view that immaculately blends heartland and metropolis, it's no wonder Aria is a popular choice for rooftop dining connoisseurs. With Italian fervor in mind, the menu features authentic Sicilian tapas like Aracine (crispy rice balls with smoked fish and pecorino) and Ennesi (sicilian aged goat cheese with saffron and peperoncino). For your choice of poison, family-recipe cocktails like Nina ($16) is a sparkling show-stealer. And since you're there, why not book a staycation at any of The Scarlet Singapore's luxe and eclectic rooms or suites ?
Address: 33 Erskine Road, The Scarlet Hotel, Singapore 069333
Opening Hours: Mon - Sat: 5pm to midnight
4. Propeller @ Bay Hotel

If you're craving a sea view slightly out of  the city, head down to Propeller @ Bay Hotel situated across VivoCity and Sentosa, and located at the foot of Mount Faber. Boasting a panoramic view of the Habourfront area, pastel-hued evening skies at sunset and fireworks on Saturdays and public holidays , the bar is great for chilling out with the sea breeze caressing your skin.
Views and vibes aside, Propeller boasts signature cocktails created by bar manager Farhhad, who previously worked at Lantern and House @ Dempsey. Just to name a few:
Mozartz ($19) is a concoction of chocolate liquor, Campari, Campano Antica Vermouth, orange foam and house-made Campari dust, leaving a bittersweet aftertaste in your mouth. Date with Hendrix ($14.90) includes Hendricks gin mixed with crushed dates and topped with fresh lime juice and triple sec syrup, then garnished with a date for good measure.
Upon quenching your thirst, curb your hunger pangs with a tapas menu including, pan-seared Scallops with Citrus Fennel Salad ($9.50), Crabmeat Creole ($8.90), Smoked Duck on Crisp Potato Skin ($7.50), Seared Beef Cubes with Truffle Mayonnaise ($9.90) and Brandy Flambe Escargots with Garlic Butter ($13.50).
Address: Bay Hotel, 50 Telok Blangah Road, Level 11, Singapore 098828
Opening Hours: Tue - Thu: 5PM - 12AM, Fri - Sat: 5PM - 2AM
5. Potato Head Folk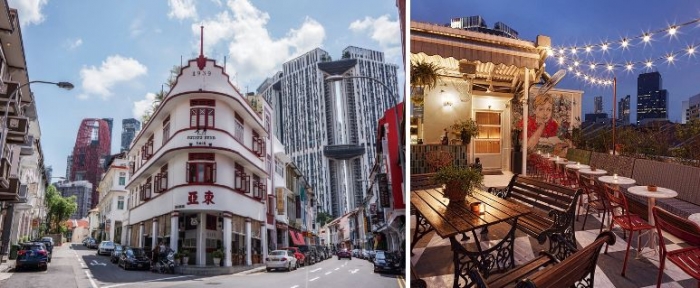 Image Credit: (left) Potato Head Singapore Facebook ; (right)   (Instagram) @potatoheadsg
Admittedly, it's pretty hard to execute that outdoor rooftop garden look. Countless bars have attempted it, only to end up falling hard or coming across as too pretentious. But Potato Head Folk looks like they have cooked up a winning formula and is fast becoming a trendy haunt. The rustic wrought iron and cane furniture, outlandish sculptures, wooden picnic tables and mass potted greens are just the perfect mix for an intrinsically homely feel.
For a good teaser, order the Saik Daiquiri ($23), which blends rums, sweetened yuzu, Japanese mirin and fresh lime. But if you want the real deal, the Zombie ($25) will surely give you enough kick. Oh, and did we mention the tiki-styled bamboo and coconut cups to enjoy your drinks from?
Image Credit: Potato Head Folk Facebook Page
Two floors down, don't forget to check out Potato Head Folk's Three Buns Restaurant. Sporting an intricate wallpaper, spunky party banners, peculiar sculptures and abstract paintings, this restaurant is every bit as whimsical and Instagram-able as its lofty counterpart. You'll be swept away by the surreal sense of escapism in this wonderland.
Address: 36 Keong Saik Road, Singapore 089143
Opening Hours: Tue - Sun: 11am to 12am
6. Mr. Punch Public House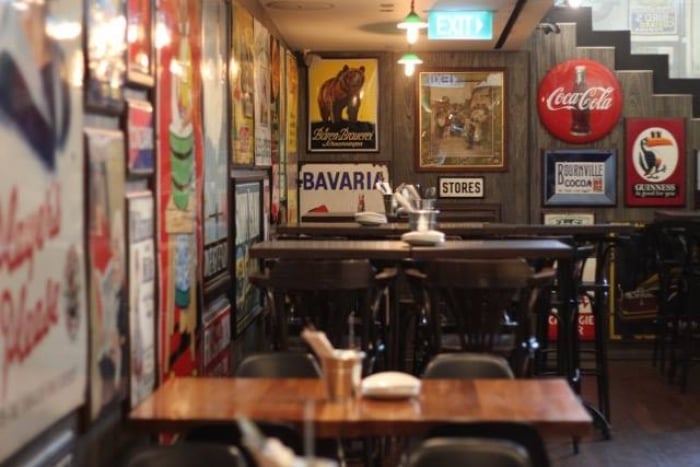 Image Credit: Mr. Public Punch House Facebook
Quirky, retro and full of character, Mr. Punch Public House and its cheery British-themed restaurant and rooftop bar is the the perfect match for the Mint Museum of Toys on its ground floor. As soon as you reach its entrance, you're greeted by an array of bright classic posters enough to fill up a whole museum collection. To match that typical British public house vibe, tables are adorned with simple garden cloths and the menu serves up your standard British cuisine.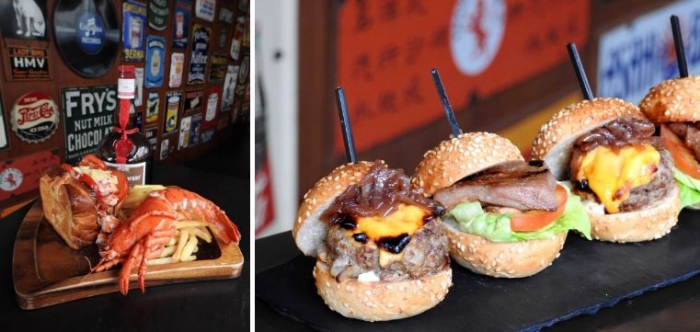 Image Credit: Mr. Public Punch House Facebook
Its name may also ring a bell or two because Mr Punch is best known for being one half of the famous 'Punch and Judy' puppet duo! For delectable food choices, the Act 4 sliders are quite the substantial starter, serving up 4 neat hamburgers hearty enough to fill your voracious appetite. The lobster brioche is commendable and the Frango Assado is an exquisitely tender corn fed spring chicken that you can coat with a creamy gravy. You've probably never heard of the Magic Hat #9 drink before. But for a refreshing change, why the heck not right?
Their Friday 'Clock Out Punch In' deal offers an hour of free-flow alcoholic punches ($15++) while the 'Snooze and Booze' promotion last from 11am till 3pm on weekends, serving house wines ($6++).
Address: Rooftop, Mint Museum of Toys, 26 Seah Street, Singapore 188382
Opening Hours: Weekdays: 3pm to 11.30pm (extended to 2am on Fridays)// Sat: 11am to 11.30pm// Sun: 11am to 6pm
7. Kinki Japanese Bar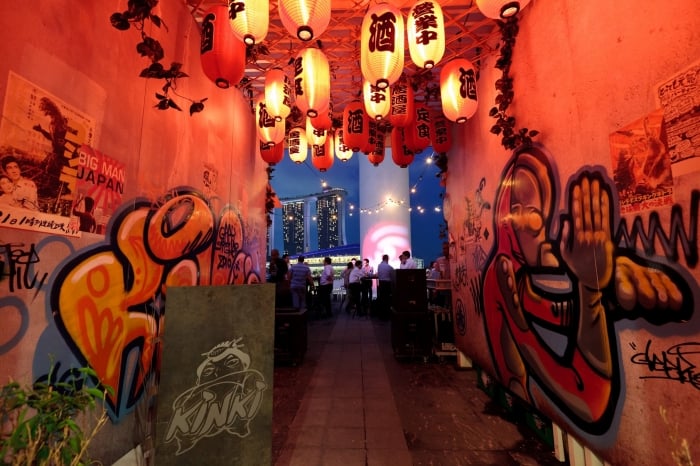 Image Credit: Kinky Japanese Bar
Another entry located within the CBD, this exciting rooftop bar gives you a dose of little Tokyo and flawlessly pulls off a daring East meets West look. But don't expect to be drinking tea to some oriental zither playing in the background. Kinki is anything but zen! Just look at the graffiti-ed Ultraman in the corridor for reference. Instead, it's about the raw side of bustling Japan and all the accompanying noise, funk, roughness and attitude. With the glowing Marina Bay in frame and an impressive stereo booming pulsating beats, look forward to a great night out at Kinki Japanese Bar. Besides, who can say no to sushi and beer right?
Address: #02-02 Customs House, 70 Collyer Quay, Singapore 049323
Opening Hours: Mon - Thur: 5pm till 12am (Last order at 11:30pm)// Fri - Sat: 5pm till late// Mon - Sat Happy Hour (1 for 1 Selected Beers, Wines and Spirits): 5pm – 8pm
8. Sum Yi Tai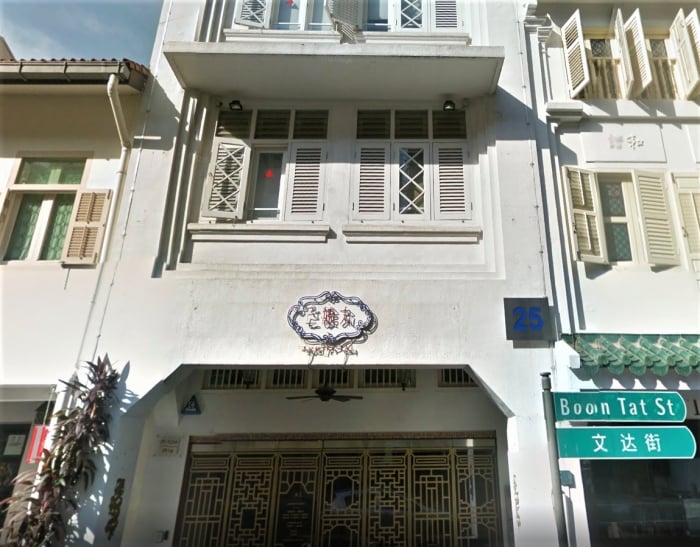 Image Credit: Google Earth
Stroll through Telok Ayer's quaint streets and you'll be forgiven for blinking past this unassuming shophouse. Donning blinded windows, a mysteriously tinted entrance and a whitewashed exterior with one lonely signboard, it actually looks almost like an uninhabited building! But come nightfall, Sum Yi Tai jolts awake into an invigorating 1980s Hong Kong mafia-styled den with an electrifying fusion of modern bar elements to a traditionalist Chinese backdrop. They house a tapas bar on the first floor, the Mona Lounge on the second floor, and a rooftop bar on the third floor. Feel free to take your pick!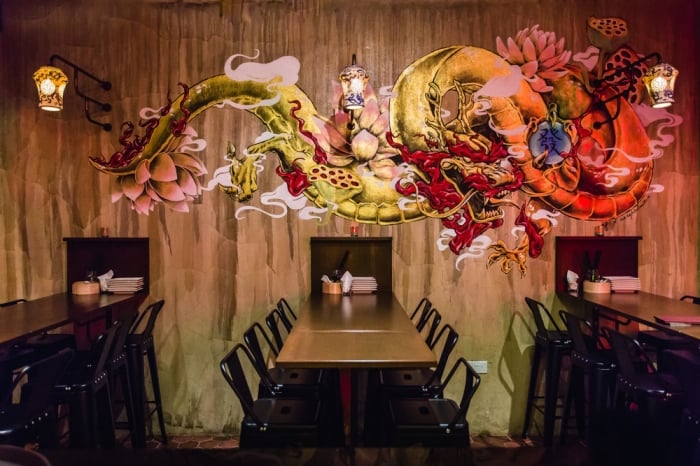 Image Credit: Sum Yi Tai
Its interior certainly looks the part: the space is suspiciously dimly lit and walls are painted with ostentatious murals of menacing mystic dragons, matched with showy bird cages straight out of a triad film.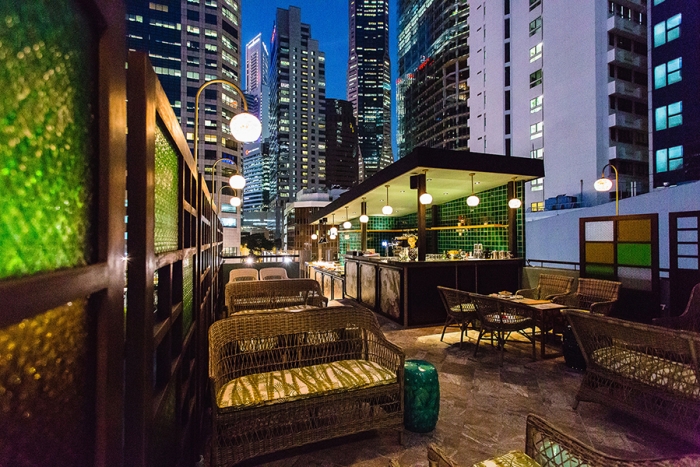 Image Credit: Sum Yi Tai
On the rooftop, there's a private sanctuary for you to enjoy a host of draught beers, dragon's cocktails, Japanese whiskies and Chinese tapas in what promises to be an intimate affair. If you're in the mood, don your traditional outfits for a fiery evening out!
Address: 25 Boon Tat Street, Telok Ayer, Singapore 069622
Opening Hours: Weekdays: 11.30am to 2.30pm and 5pm to 1am// Sat: 5pm to 1am
9. Tiger's Milk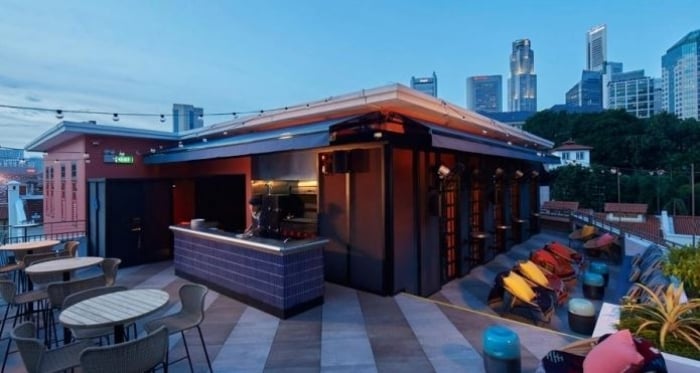 Image Credit: The Club
We've featured Italy and Japan, so now it's time to raise the roof with some wild Latin American flavour. Tiger's Milk (loosely translating to Leche De Tigre) is Singapore's first Peruvian rooftop bar and appeals to the discerning bar crowd seeking to try something different. Relax by the open terrace with comfy alfresco seats and a live grill station to the rich Latin American music playing in the background. Thereafter, indulge in all the eccentric-sounding Peruvian delights like the Classic Sea Bass Ceviche ($14) and the tender Pork Neck and Shishito ($14).
And when in Peru, there's no way you can leave out the Pisco-infused concoctions. Pisco Sour ($18) is a tangy Peruvian cocktail with bright citrus flavours while Coco Con Pisco ($24) interestingly mixes local flavours like kaya and pandan and is served in a coconut.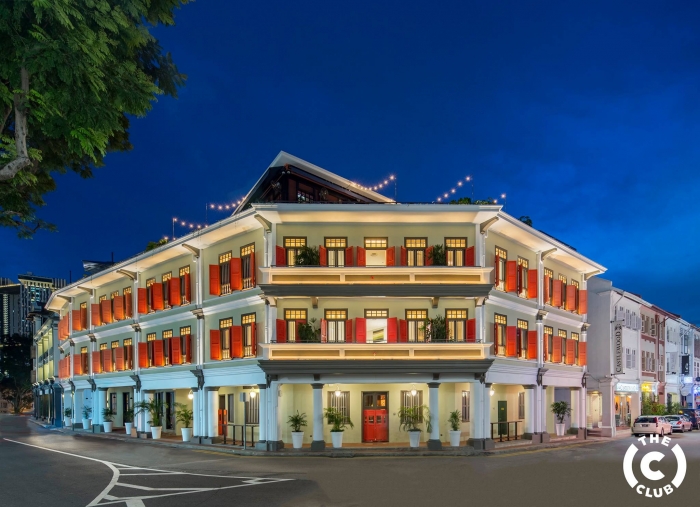 Image Credit: The Club
Tiger's Milk is a lesser-known locale. But did you know, that it also rests on top of a boutique hotel, The Club? Enjoy a luxe-for less experience at The Club, where you won't need to fret over burning a huge hole in your wallet if you opt for a weekend staycation. With 20 luxurious rooms in a 1900's heritage building, you're in for a memorable experience for sure.
Address: 28 Ann Siang Rd, Singapore 069708
Opening Hours: Mon - Thu: 5pm to 1am, Fri - Sat: 5pm to 2am
10. Lantern Rooftop Bar @ The Fullerton Hotel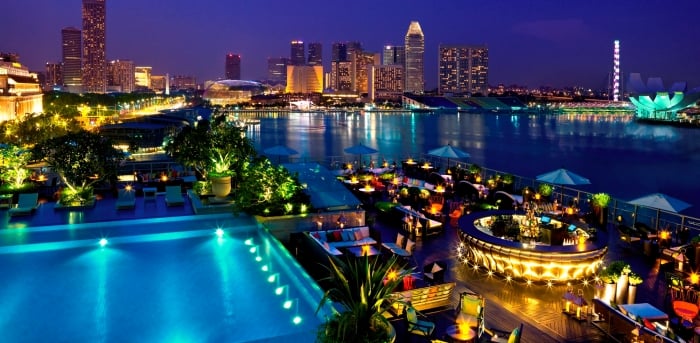 Image Credit: The Fullerton Hotel
Nestled by the calm shores of the bustling Marina Bay district and sitting elegantly atop the iconic Fullerton Bay Hotel, Lantern just oozes classiness. True to its name, guests can indulge in a relaxing dinner, amidst the serene ambience of the warm yellow lights from dozens of compact table lanterns. The bar counter itself also boasts a lantern-esque outline and is illuminated with dizzyingly extravagant chandelier. Definitely the stuff for romantics!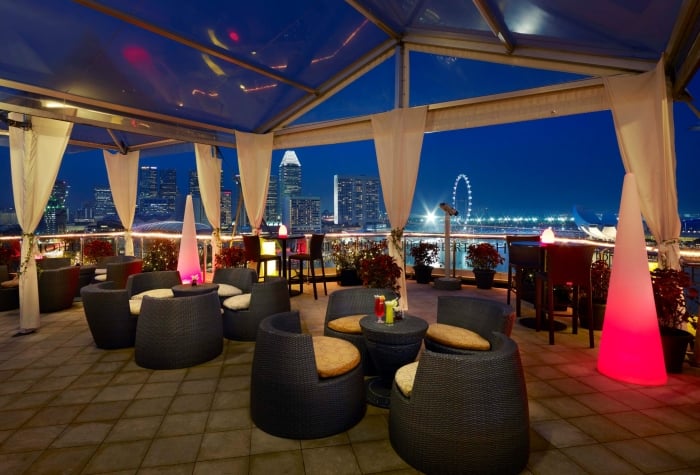 Image Credit: The Fullerton Hotel Facebook
The menu serves your regular choices like tapas, various grills, as well as fish and chips to complement Latin American themed cocktails. With sun-beds for two, private cabanas and a gorgeous swimming pool, Lantern is perfect for winding down after work. But best of all, take a good look across the bay and you'd be mesmerised by completely unrivalled vistas of Singapore's technicolour skyline. You can't deny that a view stretching from the floating platform all the way through to the CBD is dazzling beyond comparison!
Address: The Fullerton Bay Hotel, 80 Collyer Quay, Singapore 049326
Opening Hours: Daily: 8am to 1am (extended till 2am on Fridays)
11. Oxwell & Co. Rooftop Bar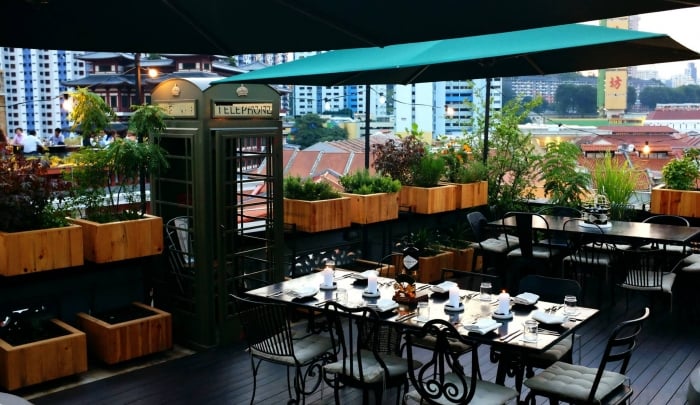 Image Credit: Oxwell & Co. Facebook Page
Most establishments blindly model their rooftop outlets for mere aesthetic appeal, but Oxwell & Co. went a step further to pioneer a theme that shares practical use as well. The organic herb garden that it is set in is actually incorporated into the menu! Not only does the nursery of herbs beautify the place, it also adds scintillating flavour to your drinks. So when you order one of their signature gin and tonics, the ingredients that you're drinking are actually freshly plucked right from the garden! We don't know about you, but this green-finger experience is pretty novel if you ask us.
Address: 5 Ann Siang Road, Chinatown, Singapore 069688
Opening Hours: Mon - Thu: 4pm to midnight, Fri - Sun: 12pm - midnight
So there you have it; the most eccentric, unconventional and intriguing themed rooftop bars in and around town. We'd say that they're less squeezy than those oppressively claustrophobic nightclubs, beat your same old boring hangout spots and definitely trump whiling away another weekend at home. So the next time you feel the overwhelming urge to let your hair down after a demanding week, be sure to pay one of these rooftop bars a visit!