Heading to Tokyo soon? If you're still in the midst of trip planning, we've got a special list to help you out, and even speed things up. Check out the ten most trendy Airbnb listings in Tokyo, broken down into various districts! Whether you're staying in quiet Ueno or bustling Shibuya, you're bound to find a gorgeous and unforgettable stay that'll have you wanting to capture tons of pictures even before you step outside.
Also read: 10 Family-Friendly Airbnb Apartments in Tokyo
Airbnb homes in Shibuya, Tokyo
1. This designer apartment in the heart of Harajuku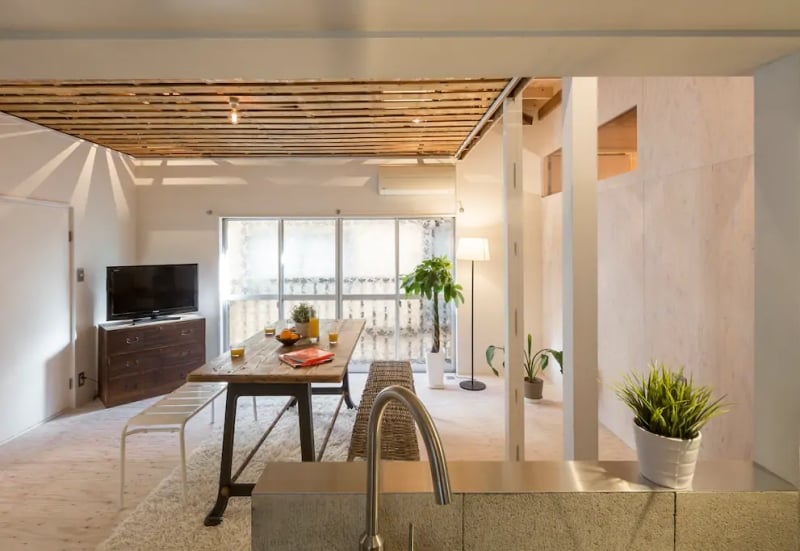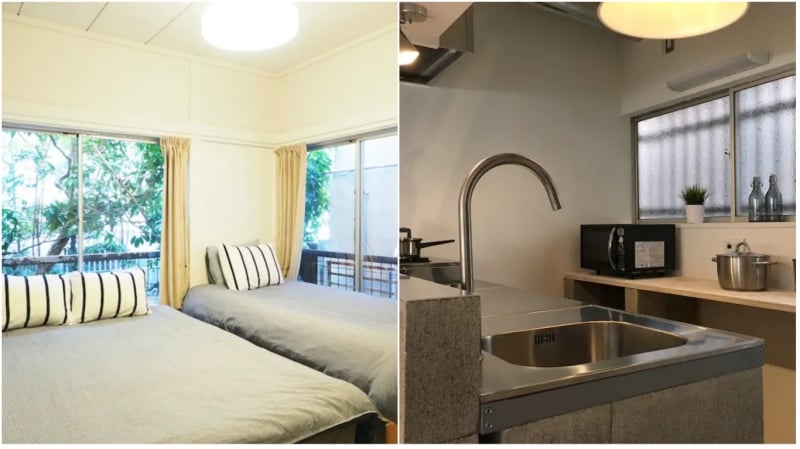 Listing name: 1A『SMI:RE STAY Harajuku』1F Renovated Design House
Listing type: Entire Apartment
Max. number of guests: 8
It's always nice to stay in a spacious and well-designed apartment like this newly renovated traditional Japanese home . The host, an architect, has transformed the huge space into a clean and organised home with a kitchen, living room, and two bedrooms! The apartment is also in a fantastic location – you'll easily find cafes, restaurants, and shopping options considering you're in central Harajuku. Many popular spots, including the shopping district of Omotesando and Yoyogi Park, are only minutes away by foot.
2. This quaint and cosy apartment for group travellers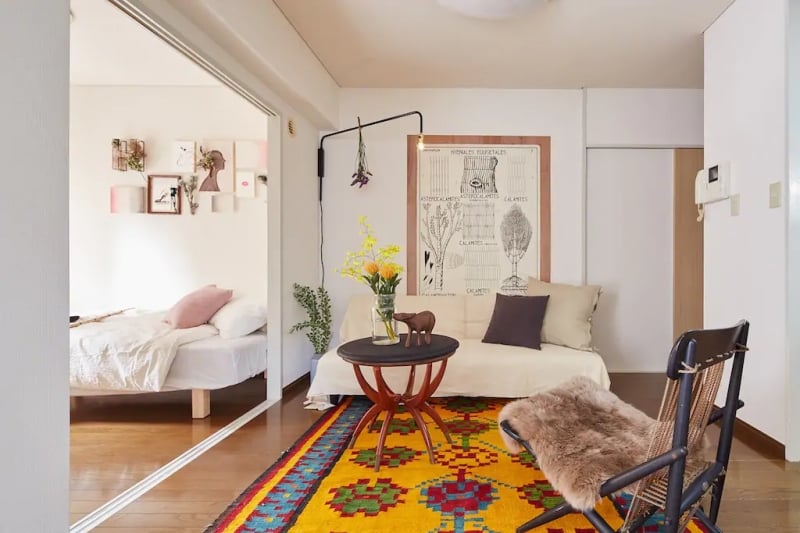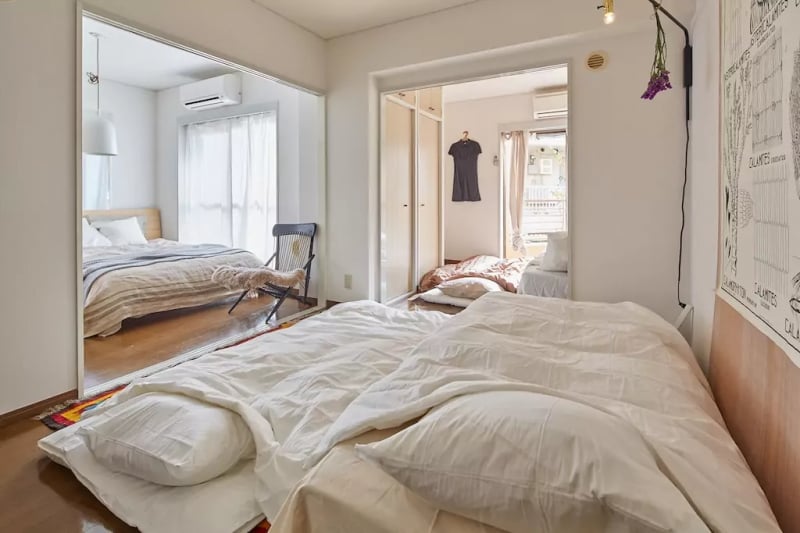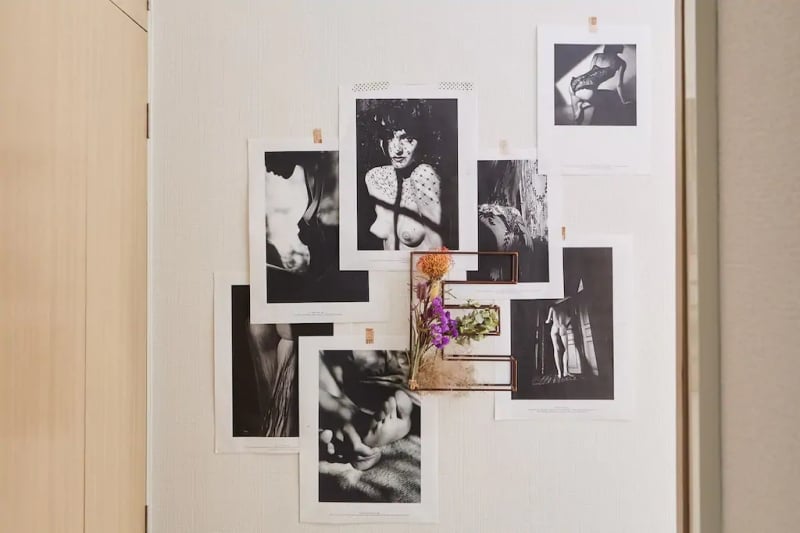 Listing name: SHIBUYA 5min by train (Sangenjaya)/ Holiday Places
Listing type: Entire Apartment
Max. number of guests: 6
This apartment 's for those travelling with a bunch of girlfriends or family. Sprinkled with cute decor, the apartment has two spacious partitioned bedrooms – perfect for late-night talks and drinks, or even photo-taking in the daytime when sunlight brings the space to life. That aside, the host offers free portable WiFi and (affordable) towel sets. There are also tons of public transport options in the vicinity – a bus stop is two minutes away, and it takes only five minutes via train to get to the heart of Shibuya.
Airbnb homes in Roppongi, Tokyo 
3. This elegant studio apartment overlooking central Tokyo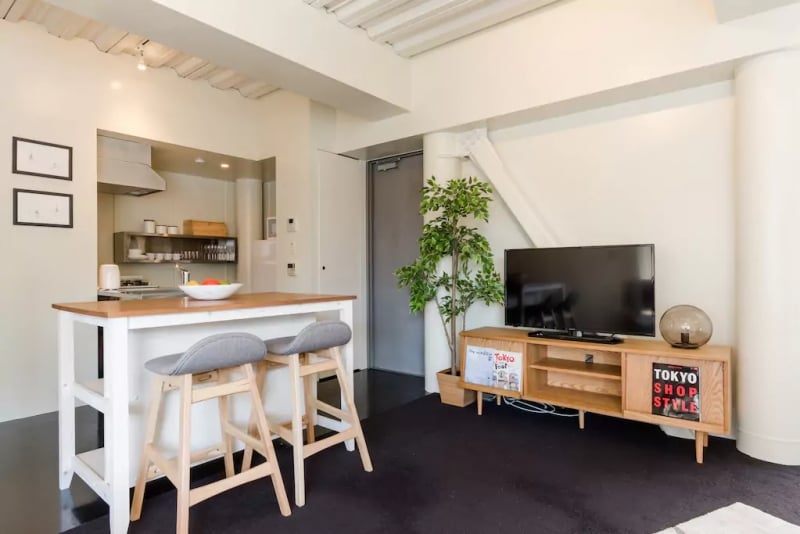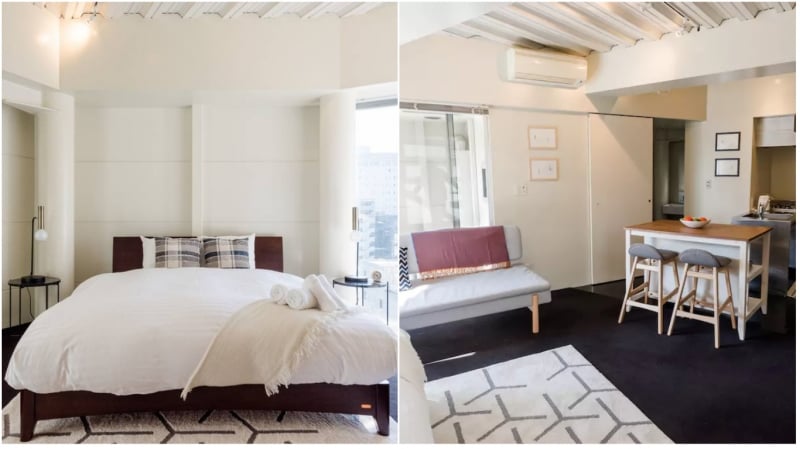 Listing name: NEW! Bright Luxury Tokyo Tower Home- Biz Friendly
Listing type: Entire Apartment
Max. number of guests: 3
While this listing isn't exactly located in Roppongi, it's near enough. Situated in the upscale residential district of Higashi Azabu (north of Roppongi), this modern studio apartment boasts sweeping high-rise views of Tokyo's skyline. It's mere footsteps away from the iconic Tokyo Tower and two minutes away from the nearest train station. The apartment is not the biggest, but it's comfortable and spacious enough – it has a small balcony too! Aside from the queen-sized Simmons mattress, there's a designer sofa that can be converted into a futon for an additional guest. Those travelling for work will be pleased to know there's a workspace and Chromecast available for use.
4. This minimalistic apartment near three train stations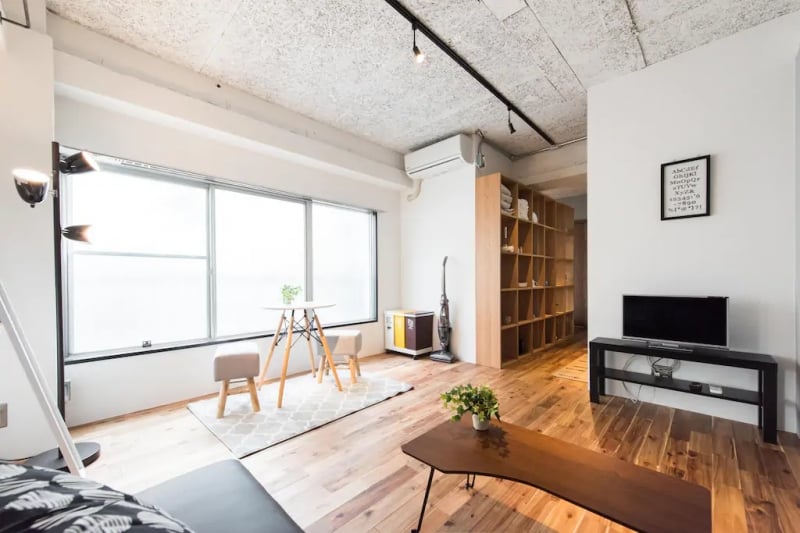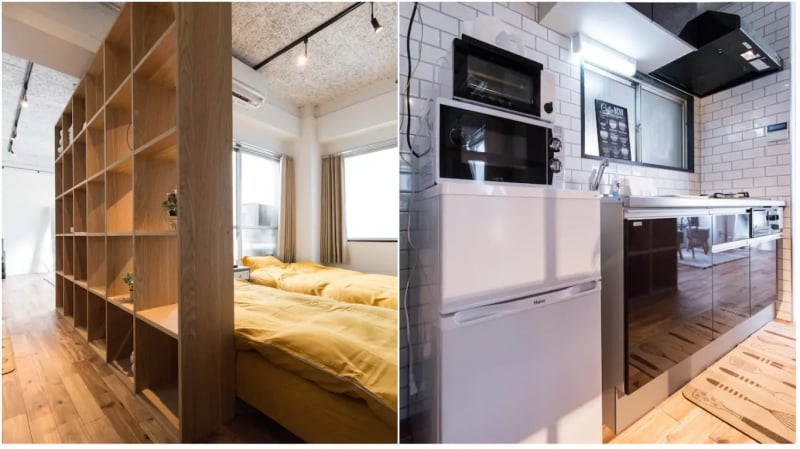 Listing name: Designer Tokyo Apt Near Sta.+WiFi!
Listing type: Entire Apartment
Max. number of guests: 3
Decor aside, this apartment boasts generous space and a great location: it's only a ten-minute walk to the Akasaka, Nogizaka, Aoyama-Itchome train stations! Despite that, the neighbourhood is quiet, offering a tranquil retreat after a night out at Roppongi Hills. That's not all – the apartment is built with a living room, kitchen (kitchenware and cutlery included), and houses a sofa bed in addition to the two single beds in the bedroom – accommodating four guests in total. The host has also prepared free portable WiFi, which always comes in handy.
5. This rustic shed house with antique decor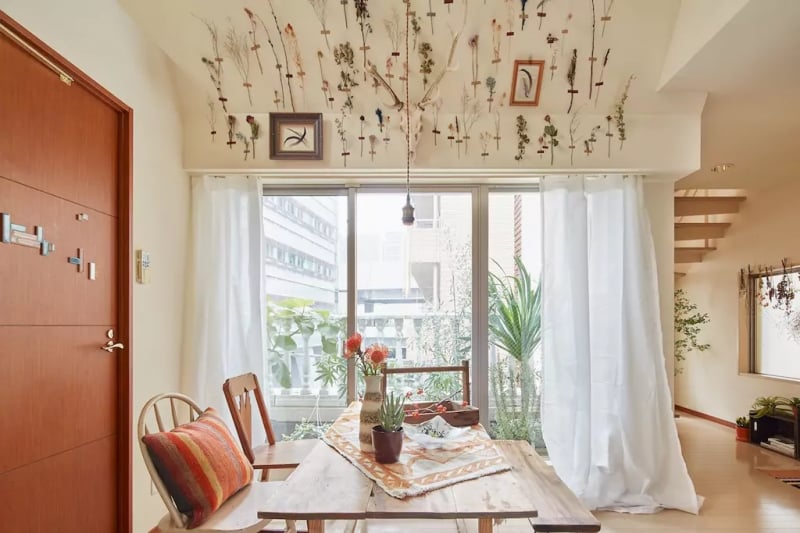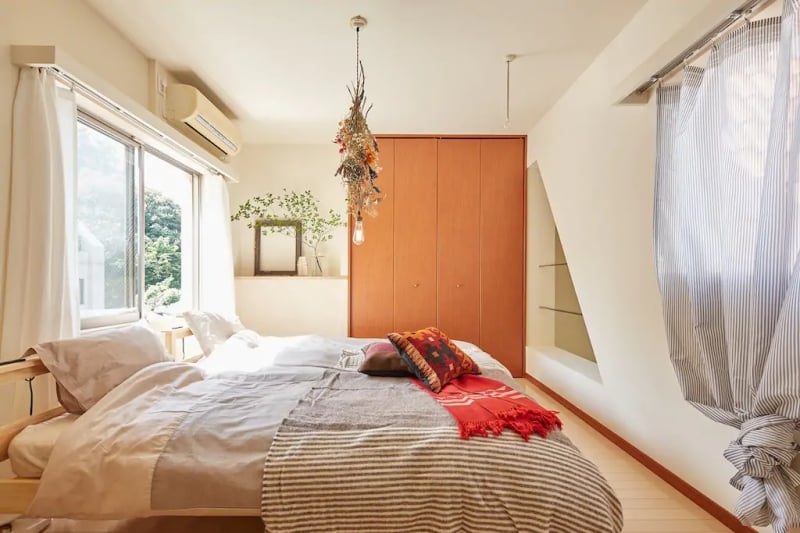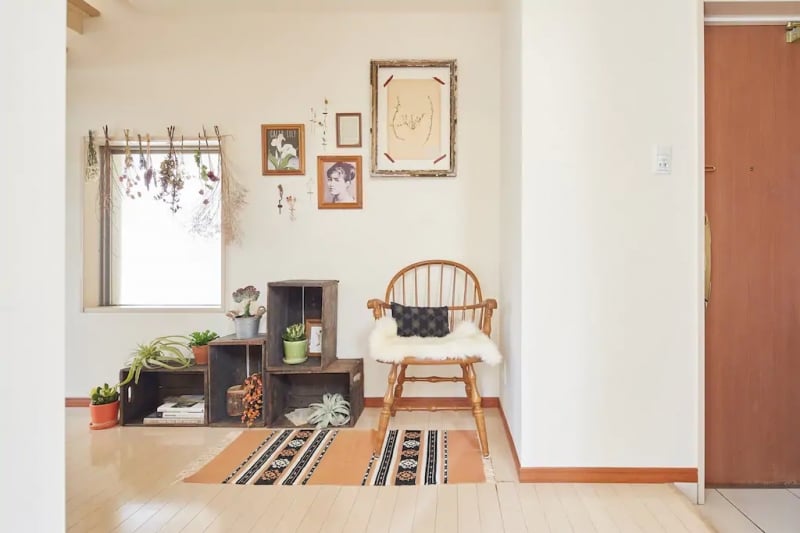 Listing name: Roppongi Shed House / + wifi
Listing type: Entire Apartment
Max. number of guests: 6
While Tokyo is a bustling metropolis abundant with skyscrapers and technology, it's still possible to seek calmness at the end of the day, especially if you're staying in a place like this warm, rustic shed located six minutes away from Roppongi. Tucked in a quaint neighbourhood, this stay is decorated with wood and florals throughout, offering a cosy retreat and sight for sore eyes after a long day out in the concrete jungle. It has five floors and six beds/mattresses in total, making it a wonderful pick for those travelling in groups.
Airbnb homes in Shinjuku, Tokyo
6. This unique Ninja-esque four-storey cabin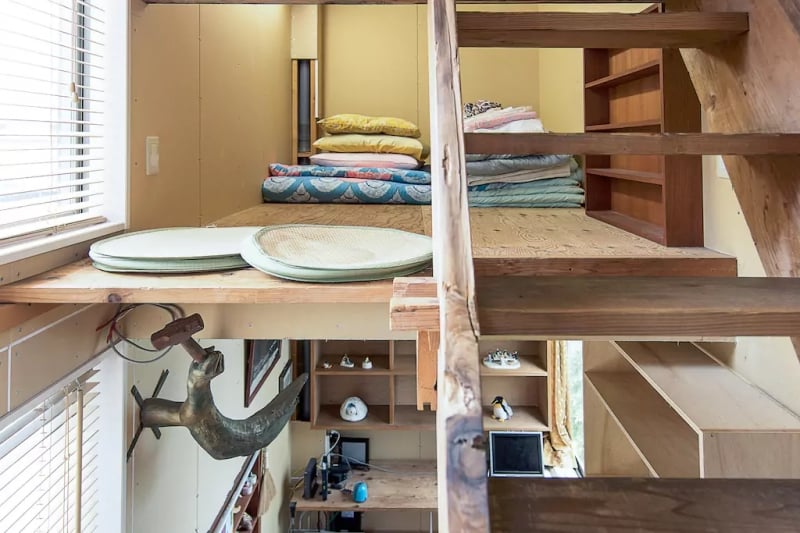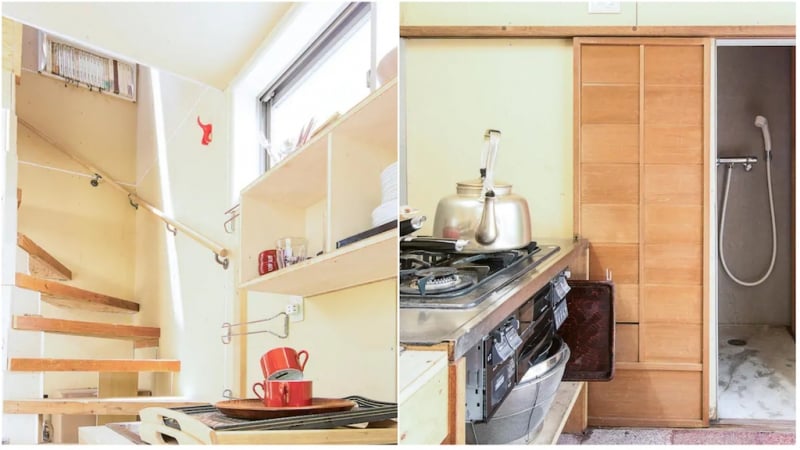 Listing name: The NINJA house near Shinjuku
Listing type: Entire Cabin
Max. number of guests: 2
This isn't the most stylish apartment you'll find in Shibuya, but it's a) surrounded by restaurants and shops, b) close to Hatagaya Station, and c) the most unique and memorable staying experience you'll probably get in Tokyo. This four-storey cabin features an unconventional stairway which requires a bit of exercise for you to make it to the top. Despite the layout, the space itself is cosy, quiet, and beautiful, especially when the natural light filters in. If you're in doubt, fret not: the owner, Shin, lives next door. He'll be there to facilitate your check-in and help you move around with ease!
7. This newly built, comfy, and compact apartment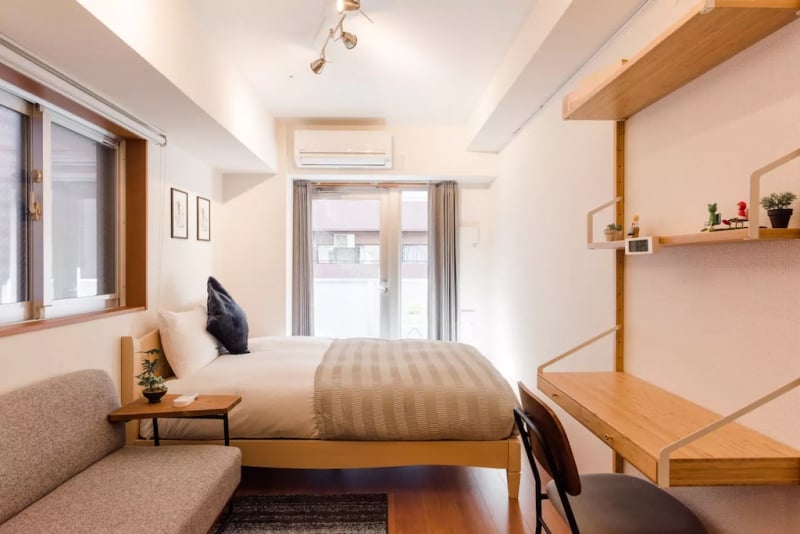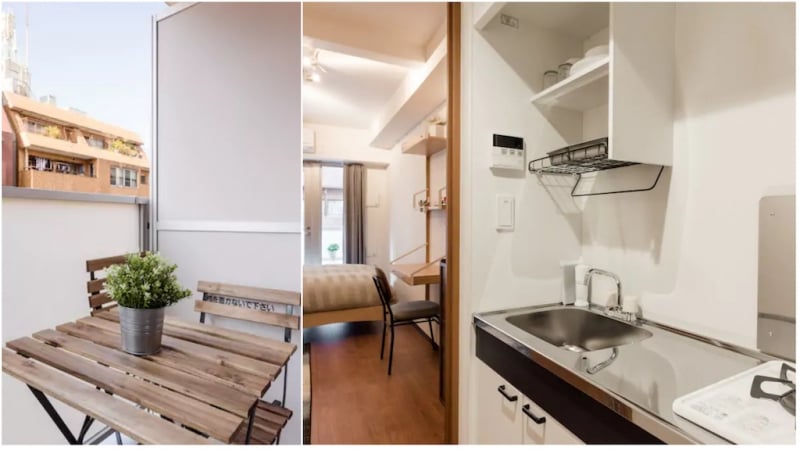 Listing name: Sunny Shinjuku Biz Friendly Apartment
Listing type: Entire Apartment
Max. number of guests: 2
In Tokyo for an important meeting or conference? Chances are, you'll want to stay in a business-friendly space like this chic and compact apartment located near Marunouchi Station, where Tokyo's financial and commercial district lies. There's high-speed internet and a desk if you need to get work done. That's not all: there's also a hot tub and a mini-terrace overlooking the bustling street. When you're feeling peckish, pop by the convenience store at ground level, and if you're in need of some fresh air, the Shinjuku Gyoen National Garden is just a five-minute stroll away.
8. This spacious three-storey home in a safe neighbourhood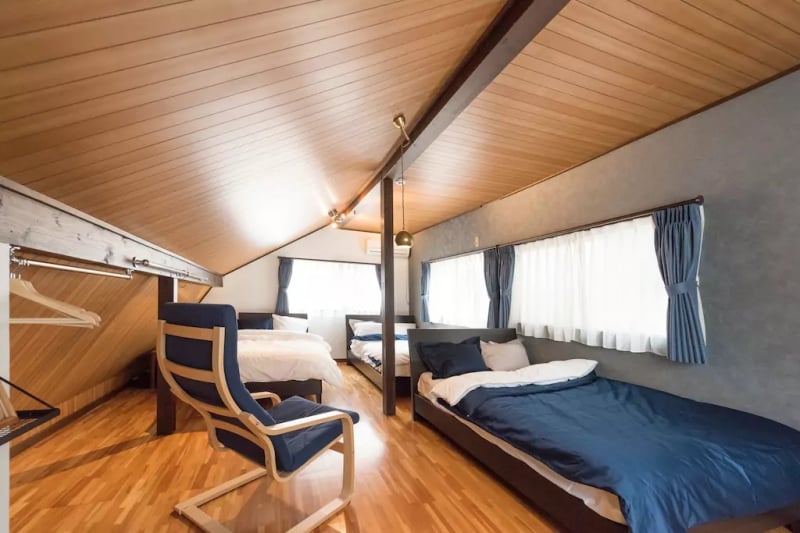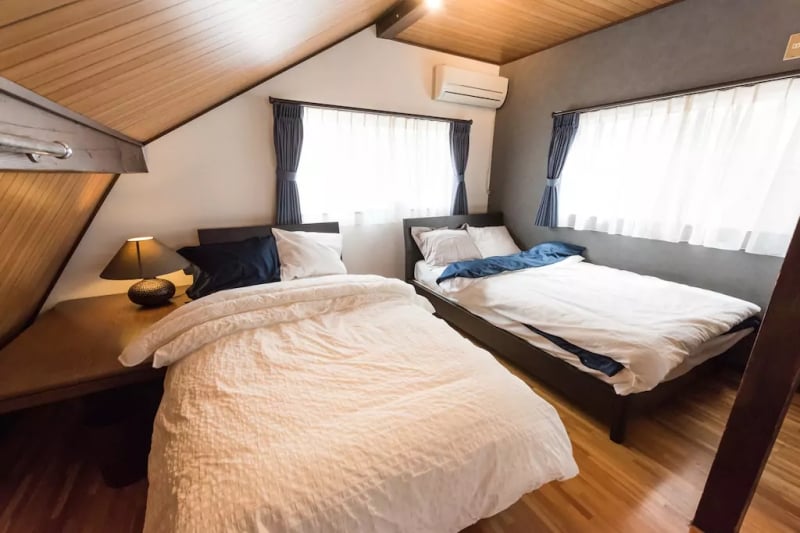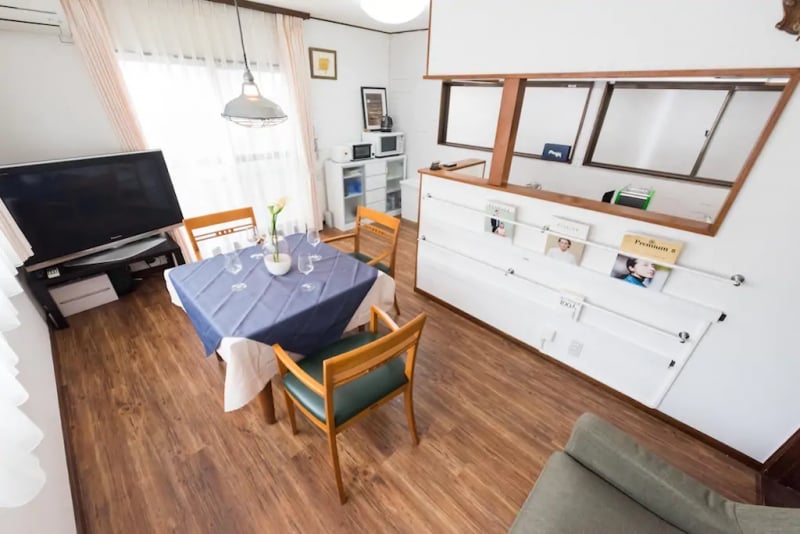 Listing name: Free portable wifi/6ppl/Great access to Shinjuku
Listing type: Entire House
Max. number of guests: 6
Safety might be a concern if you're a group of girls travelling to Japan for the first time, but not when you're staying in this sleek and roomy house right next to the police station and in a quiet neighbourhood. The house is clean and well-organised – it has two bedrooms (with two double beds and two single beds in total), and a communal dining area. A Tokyo Metro (Nishi-Waseda) and JR Line (Takadanobaba) station are less than 15 minutes away, allowing you to reach several attractions in the city with convenience. If you're ever in need of recommendations, Tatsu, the friendly host, is always there for a chat or even a meal together.
Airbnb homes in Ueno
9. This sleek apartment minutes away from Akihabara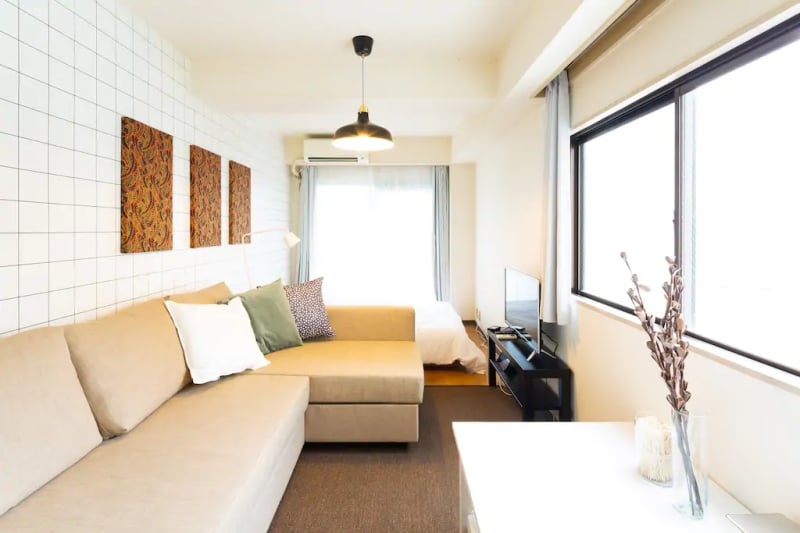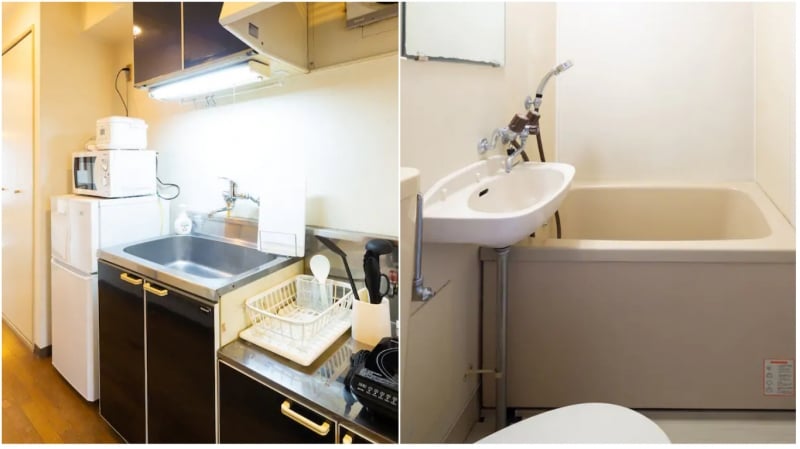 Listing name: 【legal b&b】3 min to Sta./3ppl/Hot spot#301
Listing type: Entire Apartment
Max. number of guests: 3
Ueno is home to many of Tokyo's most-visited attractions, such as Ueno Park, Tokyo Skytree, and the districts of Ginza and Akihabara. If more than one of these spots are on your itinerary, then consider staying at this apartment – it's situated three minutes away from Ryogoku Station, and less than 30 minutes away from all the aforementioned places. The apartment is especially perfect for two: it's spacious enough and furnished with a kitchen, a toilet with a mini bathtub, and a queen-sized bed.
10. This modern yet nostalgic traditional Japanese home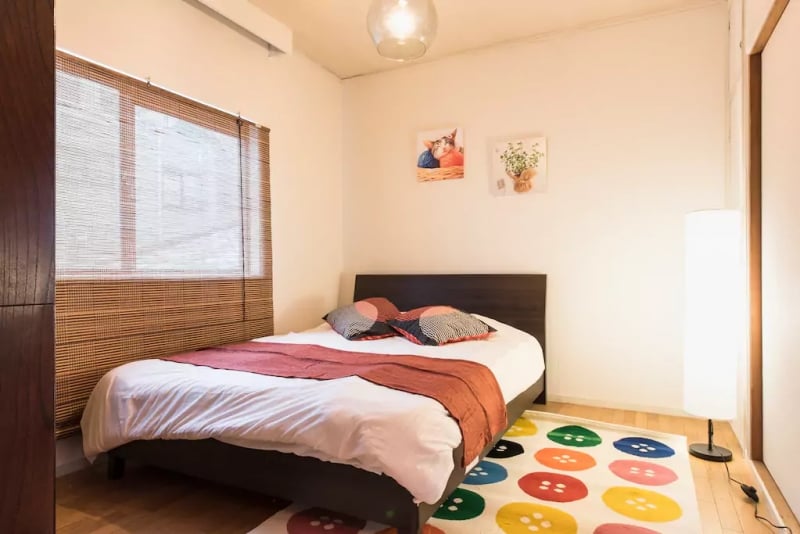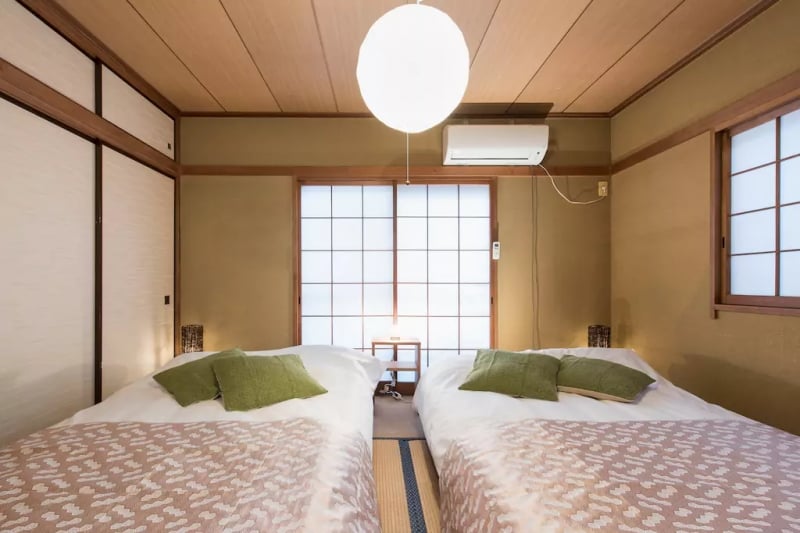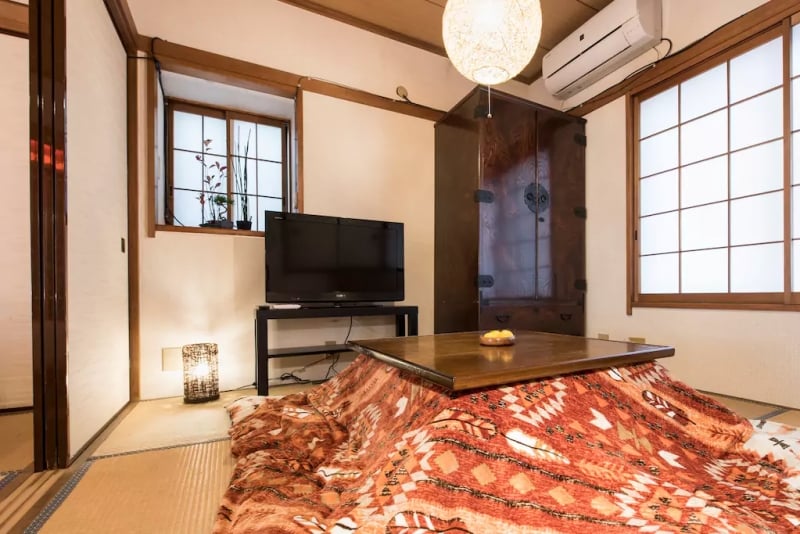 Listing name: 2min from UENO!Modern Japanese style house!#2
Listing type: Private Room in House / Entire House
Max. number of guests: 15 (for the whole house)
It's tricky finding a traditional Japanese home let alone stay in one while you're in metropolitan Tokyo. But if you're lucky enough you'll catch a good one, just like this listing. This three-storey home has a total of six bedrooms – including three Japanese style rooms – housing up to 15 guests. It offers the perfect balance between the old and the new. What's more, Ueno's main attractions are in the vicinity and to access the rest of the city, Iriya Station is a two-minute walk away.
Also read: UPDATED: 8 Affordable Airbnb Homes in Tokyo for Budget Travellers
And there you have it! Those are our picks for the most trendy Airbnb listings in Tokyo. Feeling all the more excited to fly off? We totally understand – make sure to book soon though, because we aren't the only ones eyeing these listings!