Staying at Traders Hotel Kuala Lumpur was the best decision made this summer. We've always try to plan a summer vacation each year to get our well deserved break. We picked Malaysia as our summer vacation destination for this year.
Traders Hotel Kuala Lumpur by Shangri-La is a premium hospitality brand managed under the prestigious Shangri-La Group. It is conveniently situated at the heart of Kuala Lumpur City Centre (KLCC). The iconic Petronas Twin Towers, Suria KLCC Shopping Mall, local tourist attractions, restaurants, cafes and clubs are all located in close proximity. Whether you are travelling for business or pleasure, Traders Hotel KL is the perfect choice!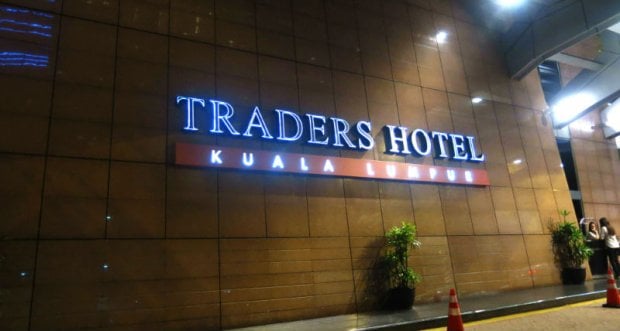 The hotel is a two-minutes buggy ride from Malaysia's premier shopping and entertainment centre – Suria KLCC. Yes you are hearing me right; there is free buggy service between Traders Hotel KL and Suria KLCC. The Pavilion Kuala Lumpur (a popular shopping mall in the Bukit Bintang area) is a mere fifteen-minutes walk away via the overhead air-conditioned pedestrian bridge.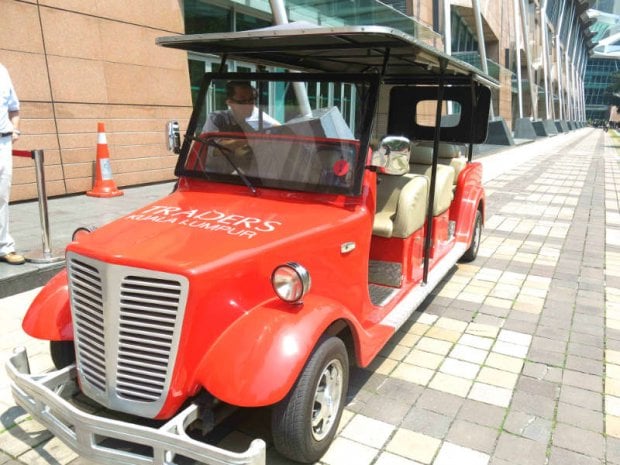 Traders Hotel Kuala Lumpur Buggy Service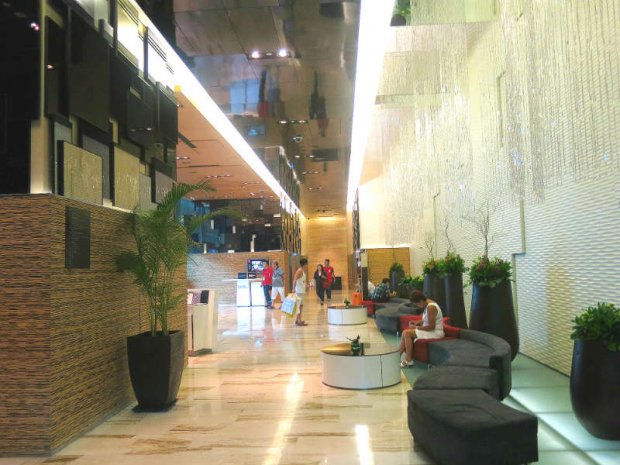 First impression counts. Upon arriving at the hotel, we were greeted by this gilt-edged lobby with its super comfy and soft velvety sofas. The bellboy greeted us with a smile and assisted with our luggage. Another hotel concierge escorted us to the front desk on level five for check-in.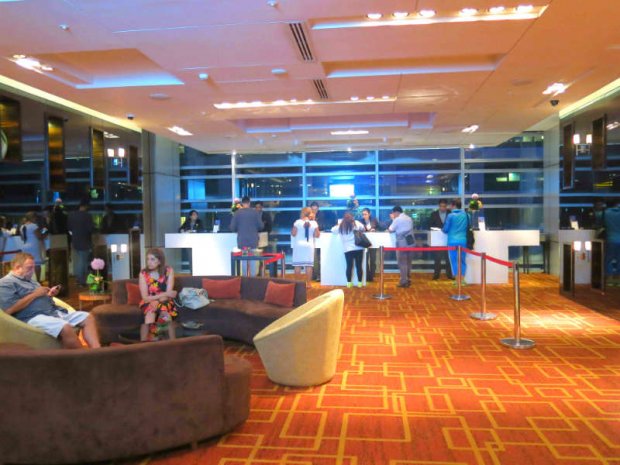 We were very pleased that we didn't have to wait long in the queue to check-in. Shirley from the front desk greeted us cheerfully before processing our check-in. The check-in was unexpectedly speedy. I can't emphasize enough how much each encounter or interaction with the hotel staff can affect the whole hotel experience. In this case, the pleasant first impression that Traders Hotel KL gave us definitely contributed positively to the overall experience of our hotel stay. Another big plus point is the free Wi-Fi, available throughout the entire building!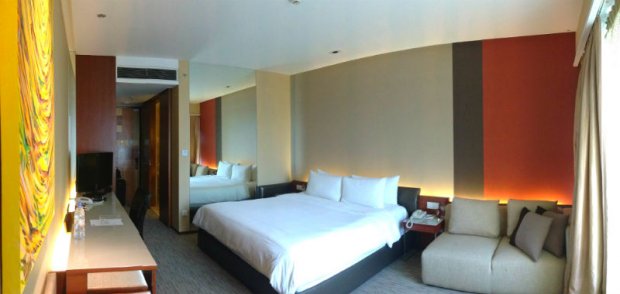 Traders Hotel Kuala Lumpur has 571 well-furnished rooms and suites. We decided to go for theDeluxe Twin Tower View Room. With four types of room categories and two suite categories, I'm pretty sure there's one that will fit your needs.
You can also choose to be a Traders Club's guest where you get to enjoy free access to an exclusive lounge. The lounge also serves complimentary breakfast, afternoon tea and evening cocktails. On top of that, newspapers and fresh fruits will be delivered to your room daily.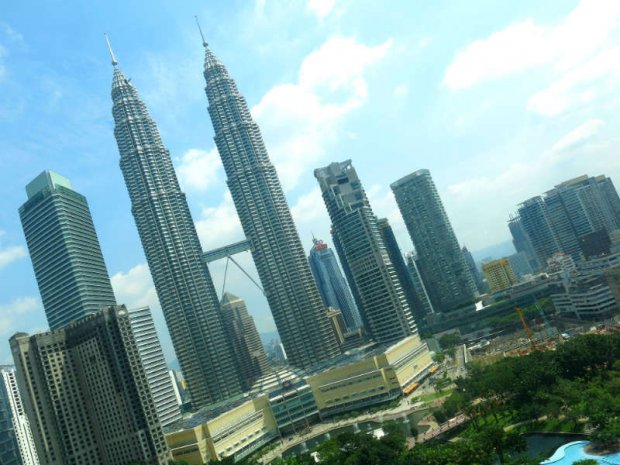 When we reached our room, I couldn't resist going to the large glass window to start snapping pictures of the magnificent Twin Towers right outside. At night, the beautiful view of the illuminated Twin Towers was even more breathtaking.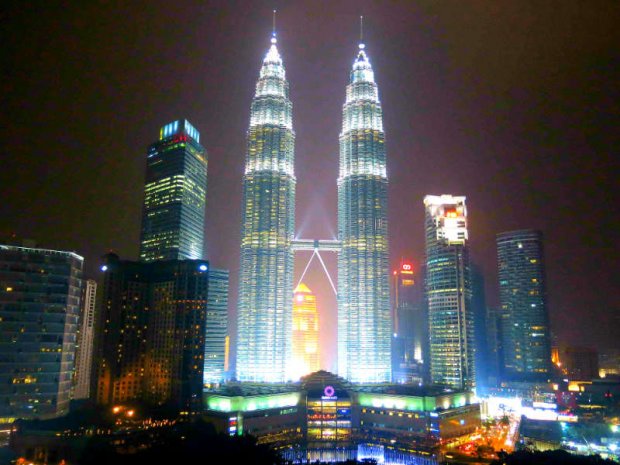 Night view from our room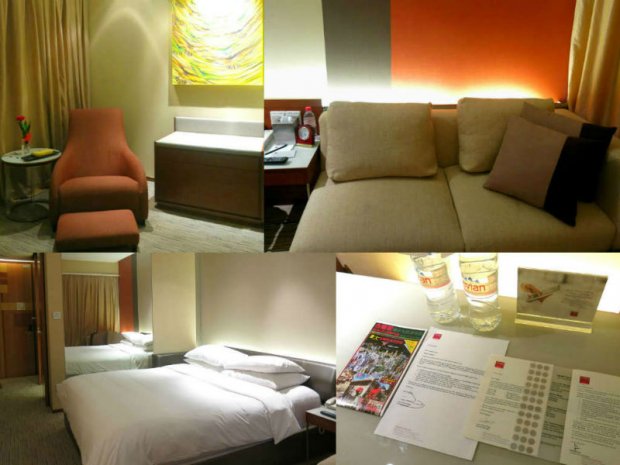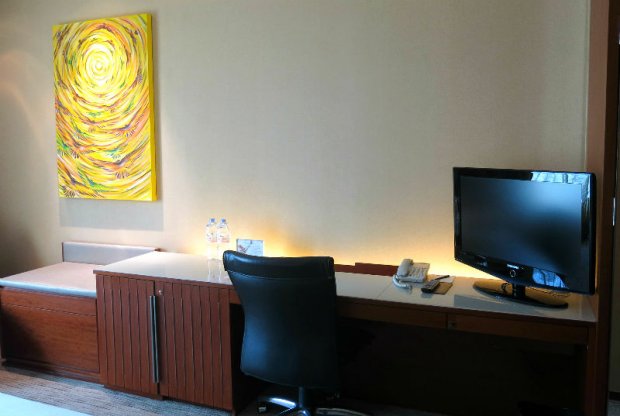 Full-size executive writing desk, Flat-screen LED television with cable, built-in international adaptors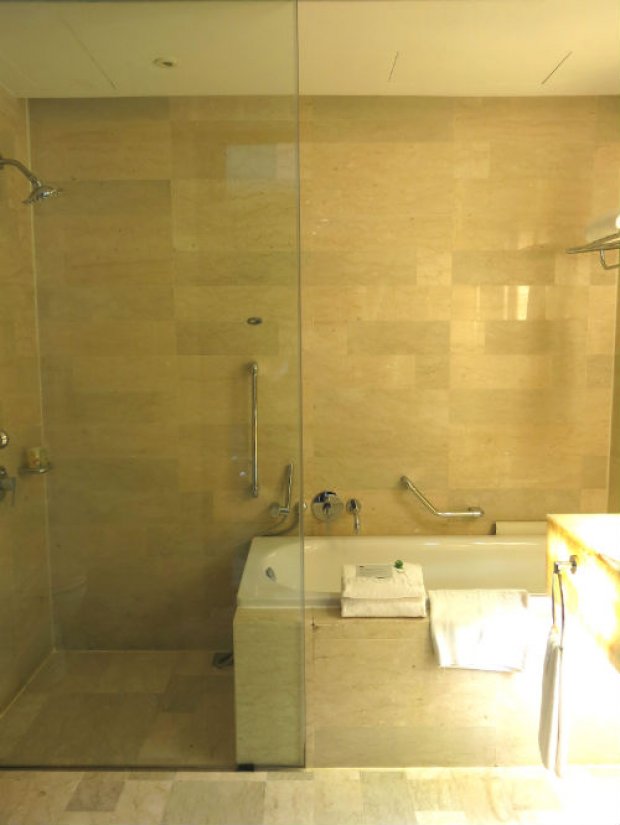 Another favourite area was the bathroom. I loved the spacious and luxurious bathroom that was tiled with neutral colour marble-like surfaces. The large bathtub and a separate sun-shower was definitely a plus! The full-length sliding glass door helped to separate the wet and dry areas. The housekeeping team was extremely kind to decorate the bathroom with pretty rose petals which gave the bathroom a romantic touch.
All rooms come with two bathrobes, laundry bags, iron, ironing board, hairdryer and not forgetting the electric safe.

Besides the luxurious rooms, no trip to KL is complete without visiting the SkyBar at Traders Hotel Kuala Lumpur, perched on the 33rd floor.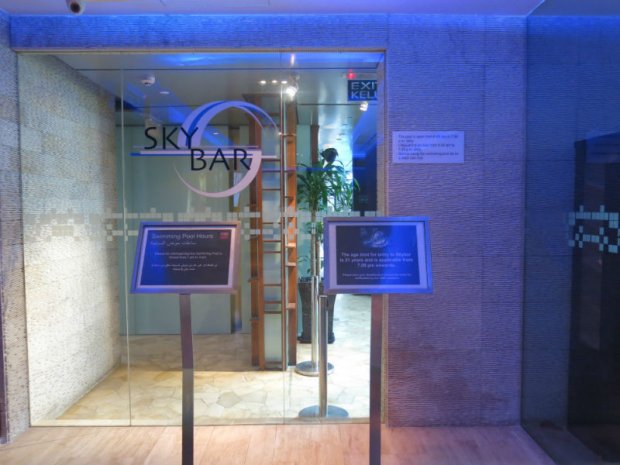 The hotel's pool is built inside the SkyBar and is open from 7am to 7pm. The rows of red couches along the glass windows serve as the perfect places to relax for a great evening while admiring the amazing view of Kuala Lumpur. We tried to make sunset dinner reservations a few days before arriving but the restaurant was already fully booked. We still tried to get in as walk in guests. Reservations are for 6-8pm and we strongly recommend that you reserve two weeks in advance to secure a good table by the window.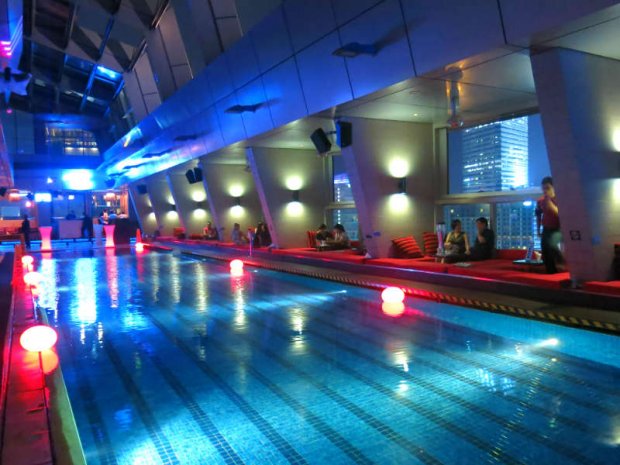 With a blue sparkling pool lined with red neon lanterns running right through the centre of the bar, this is definitely a hotel bar with a difference. The ambience and atmosphere of Sky Bar was superb especially at night and on weekends as the place tends to get more crowded. We felt that their service could be further improved. Sky Bar's menu is pretty extensive, it offers a wide range of beverages ranging from Juices to Cocktails. There is also an assortment of tapas and finger food for you to nibble while admiring the Petronas Twin Tower glistering in the night sky.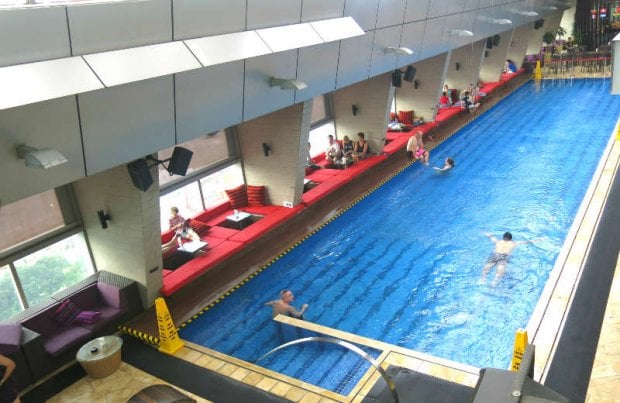 Hotel guests can take a dip in the pool during the day.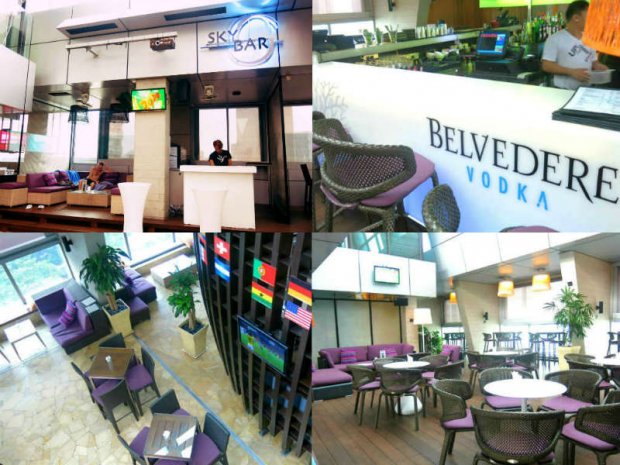 Did I mention that Traders Hotel KL also has a Sauna and Steam Room? They are situated just one level above the Sky Bar. Upon entering the Spa area, we immediately felt the cosy ambience of the place. Although the spa was small, the warm lighting,  gentle brown-beige interior and the friendly staff made the whole experience cosy and nice.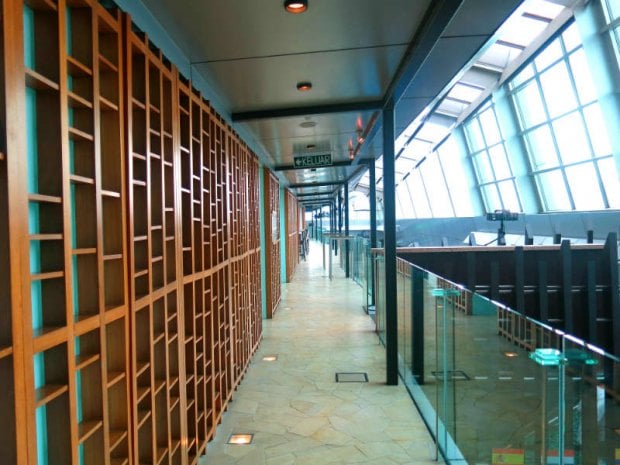 Oriental brown wooden frames along the walkway to the spa rooms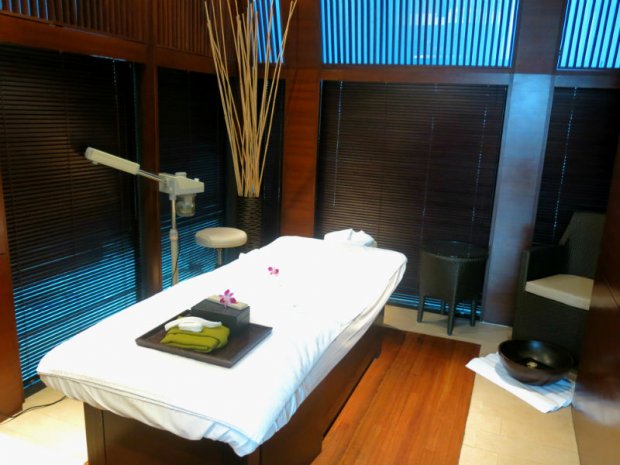 Interior of the spa room
Next, I want to introduce you another fabulous place within the hotel and that's the Health Club! How about working out with a view? From the health club, you get to enjoy panoramic views of the Petronas Twin Tower and KLCC Park.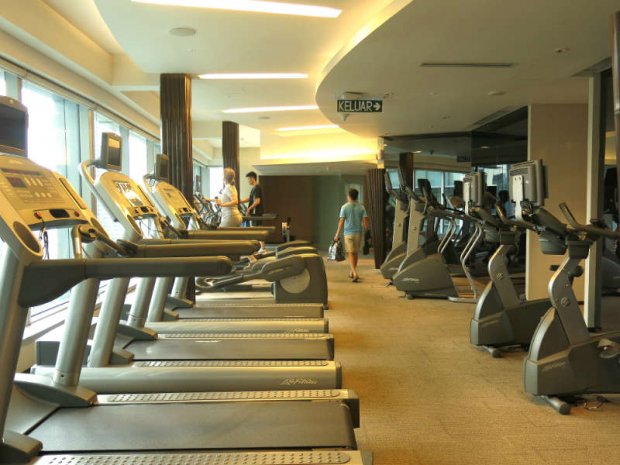 The health club has a complete range of fitness equipment that you need for a basic workout.  We had been eating like gluttons for the past few days in KL and the 24hr access allowed us to be more flexible with our timings. We could slot in our workouts and feel less sinful for overdosing on KL authentic local delights.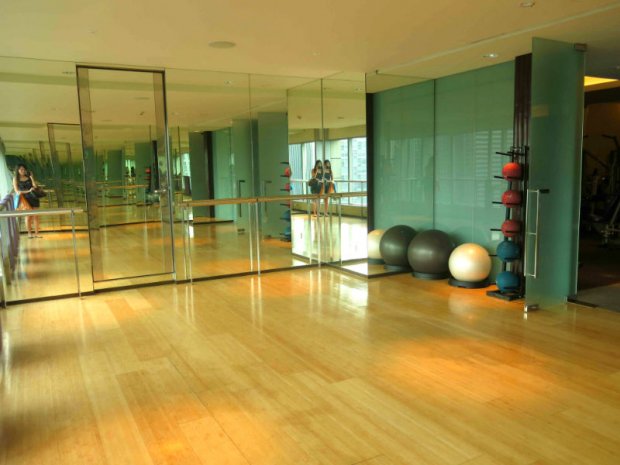 Aerobic Room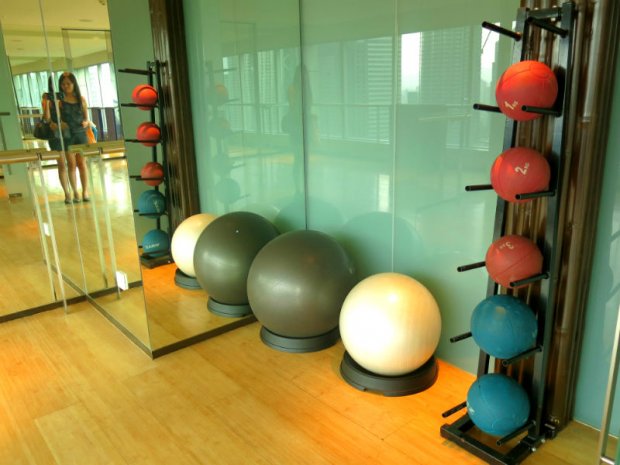 Gym balls
You are in for a good treat at Traders Hotel KL's two main restaurants – Gobo Chit Chat and Gobo Upstairs Lounge & Grill. Gobo Chit Chat, located on level 5, is an all-day dining restaurant that offers sumptuous spreads for breakfast, lunch and dinner. Both of us had daily breakfast here and we were really honoured to be invited by Theresa (from the Public Relations Department) for the International Seafood Dinner Buffet. Gobo Upstairs Lounge & Grill, located on level 6, is more up scale and there is a good view of the city while sipping on a glass of martini or enjoying perfectly grilled steaks.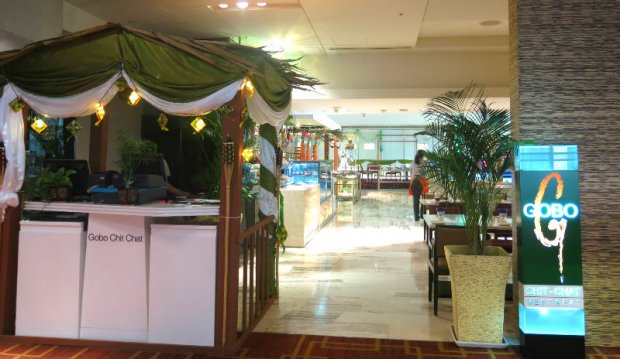 Gobo Chit Chat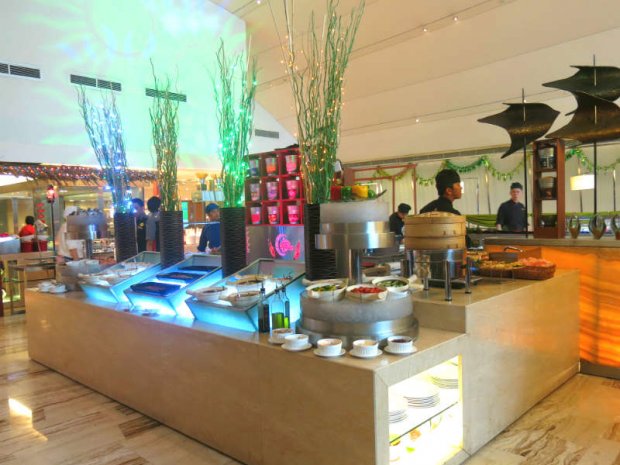 Interior of Gobo Chit Chat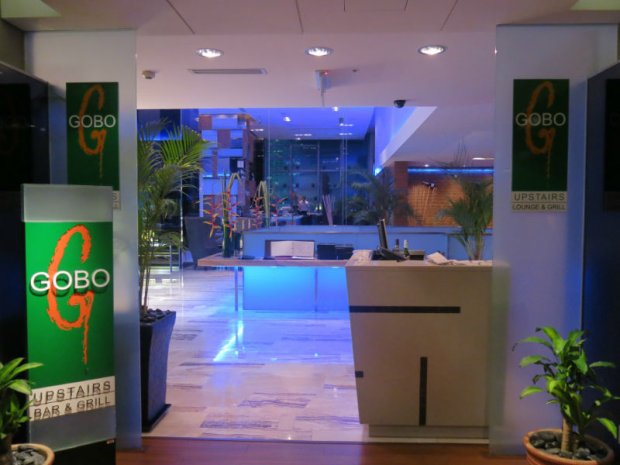 Gobo Upstairs Lounge & Grill
Guests of Trader's clubrooms get unlimited access to the Trader's Club Lounge on level 32.  The Lounge is open from 6.30am to 11pm and you get to enjoy free breakfast, afternoon tea and evening cocktails.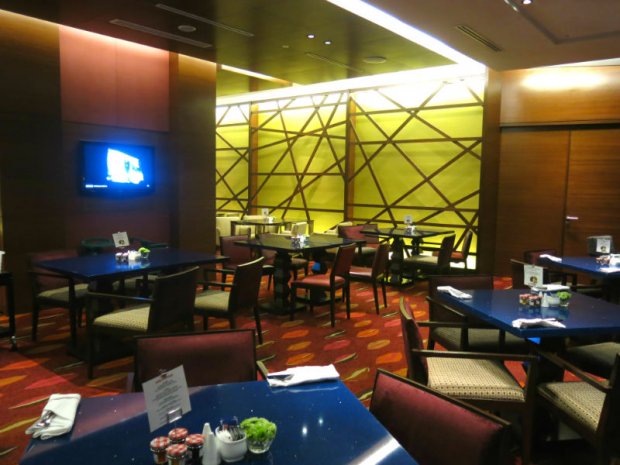 Interior of Traders Club Lounge with 4 seater table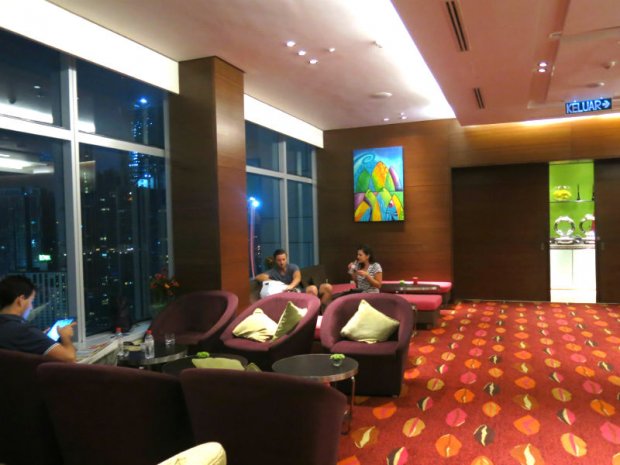 Sofa and couches by the full-length window, where you can indulge in the magnificent twin tower view
We were very pleased with our stay at Traders Hotel Kuala Lumpur. In fact, I admit that most of the time I am the fussy one. Just having a modern and luxurious front is not good enough. Staying at a premium hotel, we definitely have certain expectations. The staffs we interacted with were all cheery, positive and upbeat in assisting us. Being a Golden Circle member and having stayed at Shangri-La Group's hotels for a couple of times, we have always been pampered and spoilt by their warm hospitality.
From the impeccable personalized service to the modern and stately interior, Traders Hotel KL does not fail to deliver at all.  Traders Hotel Kuala Lumpur has definitely raised the bar again for our expectations of Shangri-La hotels.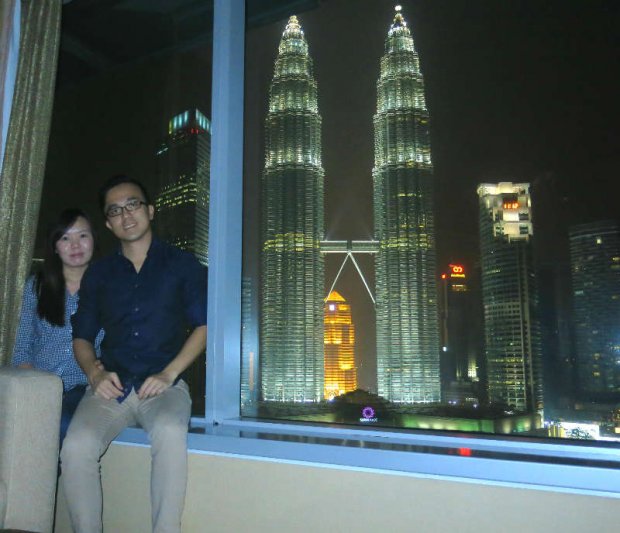 Traders Hotel, Kuala Lumpur
Kuala Lumpur City Centre, 50088 Kuala Lumpur, Malaysia
Tel: +60 3-2332 9888
Nearest Station: KLCC
Contributed by Eat and Travel with Us.