Ah, aren't weekends just so incredibly precious to all us busy working folks? Sometimes we just need a respite from all that frenzied hustle and bustle. And what better way to escape the city than with a resort getaway? Throw all your worries asunder and treat yourself to a short yet relaxing break! You're bound to feel recharged and rejuvenated – and all ready to tackle the week ahead!
Here are 11 resorts perfect for that much needed weekend resort getaway. Pamper yourself, you deserve it!
1. W Bali – Seminyak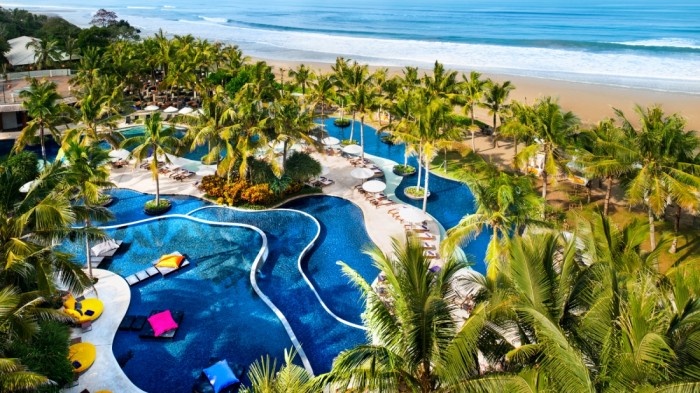 Image credit: W Retreat & Spa Bali
The sprawling compound of W Bali – Seminyak is simply magnificent, a visual treat for your eyes in every direction that you turn. Overlooking the Indian Ocean, their rooms promise a panoramic view of lush greenery and deep azure waters. Situated right in the midst of Seminyak, Bali's most vibrant neighbourhood,, this is THE place to be for an unforgettable holiday.

Image credit: W Bali – Seminyak
Choose to stay in exquisite villas that offer you ultimate privacy, some even boasting a private pool. Splurge on any of their spectacular ocean-facing suites to bask in the sunlight and sea breeze right from your balcony!
There's so much to do here – splash around in their landscaped tropical pools, head to 'W The Store' for some retail therapy, or indulge in a soothing session at the AWAY® Spa. They are fully equipped with plunge pools, floating and meditative chambers, experience suites, a pedicure bar and more – to provide you with physical, mental and spiritual therapy for your every need! You'll never be able to escape the indulgent temptations at AWAY ® Spa and best of all, it is open 24/7! You can pamper yourself anytime you want in this fabulous place – how great is that?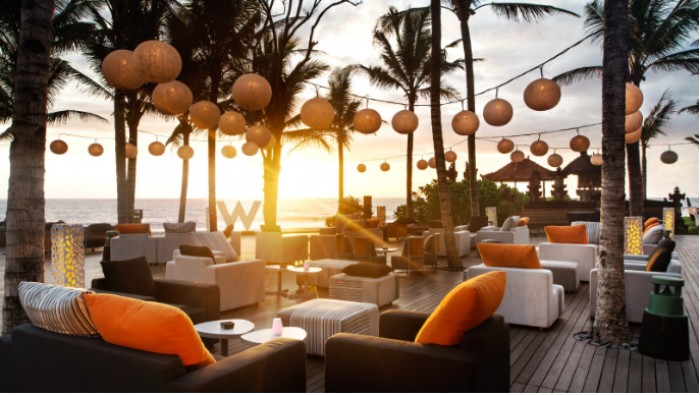 Image credit: W Retreat & Spa Bali
Reward your tastebuds with a decadent meal as you choose from some of the best restaurants in Seminyak, right at your doorstep. Indulge in juicy seafood at Starfish Bloo, the stylish beachside restaurant, or indulge your inner carnivore at FIRE with deliciously barbecued prime meats. As the sky becomes awash with golden hues as the sun starts to set, there's no better place to admire this picturesque view than the WOOBAR! Sit back and chill as you sip on cocktails and munch on delectable tapas. With plush sofa chairs for you to revel in comfort outdoors, along with such a stunning scenery right in front of your eyes – if that isn't pure bliss, then we don't know what is.
[DEAL] 1N STAY FROM JUST SGD370
Tempted to book your stay at W Bali – Seminyak now? A hot favourite is definitely the Spectacular Ocean Facing Room – rumour has it that these rooms run out rather quickly, so grab them before it's too late! Rates start from IDR3.500.000+++/room/night (~SGD370). Start planning for your next weekend getaway and start booking right HERE.
2. Nirwana Gardens, Bintan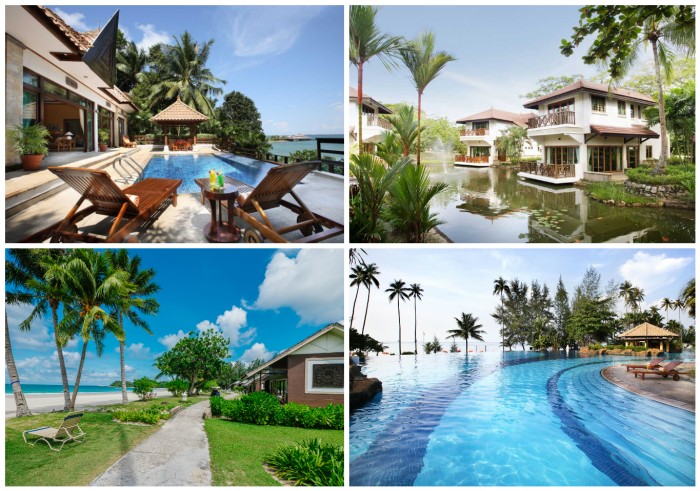 Image credit: Nirwana Gardens
Sometimes it's hard to plan a getaway for the entire family. There are just so many people to please! However, Nirwana Gardens has something for everyone – take your pick from 5 different properties, each offering unique holiday experiences like no other. Catering to travellers with different interests and needs, you'll definitely be spoilt for choice! Choose from either Nirwana Resort Hotel for the adventure lovers, Mayang Sari Beach Resort for the reclusive dwellers, Nirwana Beach Club for the watersports lovers, Banyu Biru Villas for cozy large families, and the Indra Maya Pool Villas for ultimate privacy and luxury.
There's a total of 11 restaurants and bars in Nirwana Gardens as well, so be rest assured that you'll never go hungry! Make sure you visit the Kelong Seafood Restaurant for a satisfying dinner, before heading over to the Calypso Floating Bar for refreshing cocktails and a picturesque view of the sunset.

Image credit: Nirwana Gardens
With an extensive variety of activities offered, you'll never run out of things to do! Have a splashing good time at The Beach Club and go parasailing, snorkelling, jet-skiing or wakeboarding. Alternatively, if you're a nature lover, why not go jungle trekking or coastal rock trekking? For the adrenaline junkies, there's also a bungee trampoline and ATV riding to inject some excitement into your holiday! The Scuba Dive Centre also offers diving experiences for both beginners and seasoned divers.
Image credit: Nirwana Gardens
For parents with hyperactive kids, don't worry! Send them for immersive cultural experiences such as Batik Painting classes or if they love animals, they will definitely adore exploring the Wildlife Mini Zoo. The NABLEZ Kids' Club also offers activities such as face painting, balloon crafts and more! Feel free to leave your children in safe hands and give yourselves a well-deserved pampering session at the spa. Parents can have their alone relaxation time and the kids will be entertained from morning to night – is there really anything better? Start planning your next family holiday now!
[DEAL] 1N STAY FROM JUST SGD136
Interested in booking a stay for the whole family at any of Nirwana Gardens' accommodation options? Get ready for a fun-filled holiday with adrenaline-pumping watersports and other exciting activities!  Rates start from IDR1.360.000++/room/night (~SGD136) for the Nirwana Resort Hotel. Book right HERE for your next long weekend getaway now!
3. Bella Vista Waterfront Resort & Spa Langkawi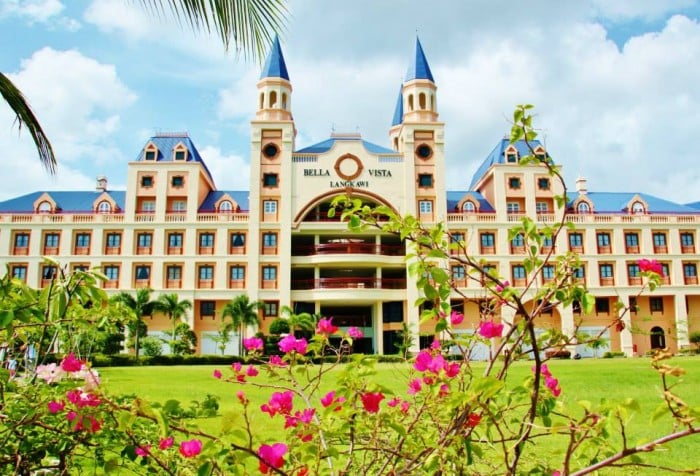 Image credit: Bella Vista Langkawi
Doesn't the Bella Vista Waterfront Resort & Spa look just like a castle from a Disney movie? Spending your holiday here will be magical for sure, with mesmerizing views of the Andaman Sea at your doorstep  and lush landscaped gardens all around. In addition, its prime location in Kuah, Langkawi's town centre, makes it so convenient to explore the beauty of Langkawi and for travellers to get to tourist attractions easily!
Image credit: Bella Vista Langkawi
Combining luxury and elegance, their rooms are a tranquil haven for you to lounge in comfort all day. There's also a whole range of recreational activities for you to indulge in during your stay such as sailing, kayaking, scuba-diving and more. If you rather take it slow, simply laze in the pool that faces the Andaman Sea. It's a little slice of heaven on Earth! Alternatively, you can head to the spa for a revitalizing treatment session to refresh your mind, body and soul.
4. Amanusa Resort, Bali
Offering a plethora of suites and villas, Amanusa Resort is nestled amidst lush greenery, with stunning panoramic views of either the golf course or the Indian Ocean. From spacious courtyards to private pools and outdoor lounge pavilions, you'll find it immensely difficult to leave this slice of paradise. Surrounded by aromatic frangipani trees and emulating local artists through their distinctive Balinese architecture, you'll immediately feel at ease in the tranquility of this resort. The exquisite wood and stone furnishings only serve to accentuate warm, earthly tones that soothe the senses thoroughly.
An idyllic resort located in Nusa Dua, admire the azure waters of the Indian Ocean all day, or venture to the Geger and Uluwatu temples nearby for an immersive cultural experience. The bustling districts of Sanur, Kuta, Seminyak, and more are also just a short distance away. You can even have a herbal bath or aromatic massage at the resort's in-house spa for a rejuvenating time, then head to the Terrace thereafter to feast on fresh seafood and a variety of Indonesian and Western dishes. Complete your night with magnificent views of the sunset and their signature cocktail made by Amanusa's mixologists called the Bali Becik, which features local ingredients such as banana liqueur, pineapple juice and coconut milk. Sounds like the perfect weekend plan!
5. The L Resort, Krabi

Image credit: The L Resort
This quaint resort is a hidden gem perfect for your stay in the tropical paradise of Krabi! Decked out with an overarching purple theme, the resort exudes elegant vibes that will make you feel like royalty. The beautiful, pristine beach of Ao Nang is also right at your doorstep – where you can enjoy picturesque views of the Krabi mountains, azure waters, as well as the stunning islands of Koh Talu and Koh Poda. The resort is also situated in the heart of the town's promenade, which means bars, shops, and restaurants are all just a few steps away!
6. Centara Blue Marine Resort And Spa Phuket

Image credit: Centara Hotels
Located at the quiet northern end of Patong Beach, the Centara Blue Marine Resort and Spa Phuket offers a dazzling view of the Andaman Sea amidst lush greenery. It is situated only minutes away from Patong – the heart of Phuket's attractions, shopping, and nightlife – how convenient is that! The villas are also all strategically located to ensure you get the best view of Phuket's mesmerizing sunsets, right from the comfort of your room. Explore the colourful shophouses in Phuket's Old Town, or have an exhilarating time indulging in watersports and suntanning on the beach.
7. Villa Samadhi, Kuala Lumpur

Image credit: Villa Samadhi
Villa Samadhi is a luxurious oasis, well-suited for city dwellers looking to have a tranquil retreat away from noise and crowds. The warm lighting and wooden furnishings in their rooms allow you to fully relax, and let your worries dissipate into thin air with a soothing ambience. The neo-Asian lantern-chandeliers also add a unique and exquisite touch to each room. In addition, all rooms on the ground floor are built alongside the lagoon pool, allowing direct access into the water! Lounge around on their spacious cabanas, or for the adventure lovers – you can go whitewater rafting, river kayaking, abseiling, jungle trekking and more!  
8. Turi Beach Resort, Batam

Image credit: Turi Beach Resort
Turi Beach Resort is an idyllic resort in the tropical Riau islands, amidst unspoilt beauty that will pretty much take your breath away. All 140 of its deluxe rooms and suites are facing the sea, so you'll be in a for visual treat no matter where you stay. The Riani wing in particular, has been newly refurbished, featuring timber cottages with contemporary wooden interior designs that will lull you into complete relaxation. Enjoy spectacular views of the sunset and the emerald pool right from your private balcony! For the thrill-seekers, you can try out the flyboard/hoverboard, or go parasailing, banana boating, ATV riding, rock wall climbing, jungle trekking, paintball and more!
9. Astoria Boracay Resort, Boracay

Image credit: Astoria Boracay Resort
The minimalistic pure white exterior of Astoria Boracay, combined with the vibrant sky-blue interior of its rooms, truly reflect the tropical vibes of Boracay as a beach destination. Located at Station 1, enjoy beachfront access and watersports such as parasailing, snorkelling and diving just 5 minutes away from your room! Catch fire-dancing performances while you dine, and enjoy some retail therapy with the resort's close proximity to D'Mall. The breakfast buffet at the in-house restaurant is also known to serve delectable dishes catering to all travellers, so much so that we heard even non-hotel guests often flock in for a meal at Astoria!
10. Living Asia Resort & Spa, Lombok

Image credit: Living Asia Resort & Spa
Living Asia Resort & Spa has one of the most ideal locations in Lombok. A short drive away from the tourist centre of Senggigi and its numerous attractions, be rest assured that you'll have shopping, dining, and entertainment options at your fingertips! In addition, there is a dive center – DSM Dive – within the hotel, which provides diving courses to beginners and seasoned divers alike. Take diving trips to the nearby Gili Islands, Sekotong and the east of Lombok and discover the beauty of Lombok underwater! Or better yet, challenge yourself to a 2-day hike up Mount Rinjani, or immerse yourself in the beauty of Lombok's mesmerizing waterfalls.
11. Japamala Resort, Tioman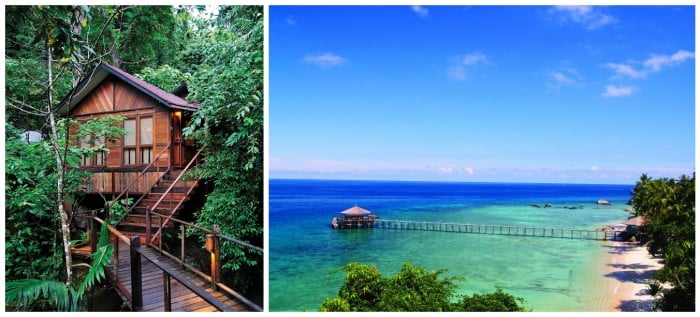 Image credit: Japamala Resort
Designed and built around the island's natural landscape, Japamala Resort offers a rustic experience like no other! Its hillside rooms and beachfront villas are simple and elegant, combining comfort and convenience. Treat yourself to delicious Thai, Indo-Chinese, and Malay cuisines at the in-house restaurant, Tamarind Tioman. For a more unique experience, you can also head to Mandi-Mandi, a restaurant built on stilts with an open-concept dining. Enjoy international cuisine with an Italian twist, as well as barbequed dishes grilled on the spot while you dine under the stars – perfect for a romantic dinner!
Aren't you just dying to book a getaway to these idyllic resorts right now? Grab all your loved ones for a well-deserved break and pamper yourselves for the weekend!