"What's a staycation without an awesome pool…"
If you, like me, have an affinity with water, you will probably relate to that. And if the pool has a great view, that's like a cherry on top of a really tall ice cream sundae.
Did you know that Singapore is home to a plethora of hotels with gorgeous infinity pools? That's right – the famous Marina Bay Sands infinity pool is not your only option.
In order to make it easier for you water-loving people, I've curated a list of the top 10 hotels in Singapore with infinity pools that you can look forward to swimming in.
1. Capella Singapore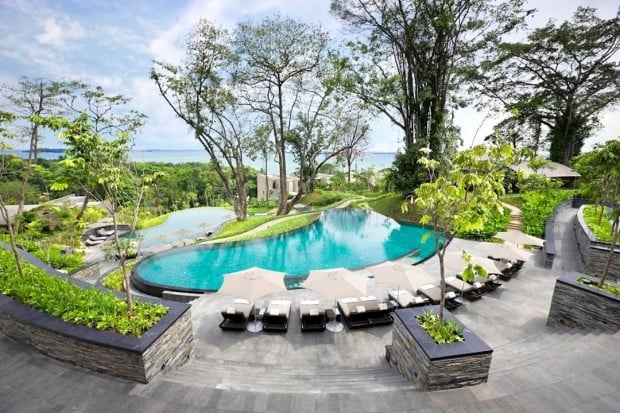 Image credit: Capella Singapore
Easily home to one of the best infinity pools in Singapore, The Capella Singapore is known for their colonial-style architecture that has been restored and preserved from the 1880s. Take a dip in this amazing pool and let your worries be washed away as you relax in this urban paradise tucked away in Sentosa.
2. The Westin Singapore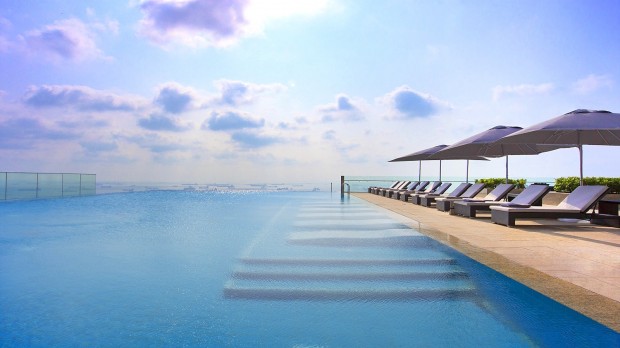 Image credit: The Westin Singapore
Second to make the list is the infinity pool in The Westin. With the edges of the pool seemingly blending in with the horizon, this will make for a dreamy getaway in the heart of Singapore.  You can swim forever in this pool.
3. Naumi Hotel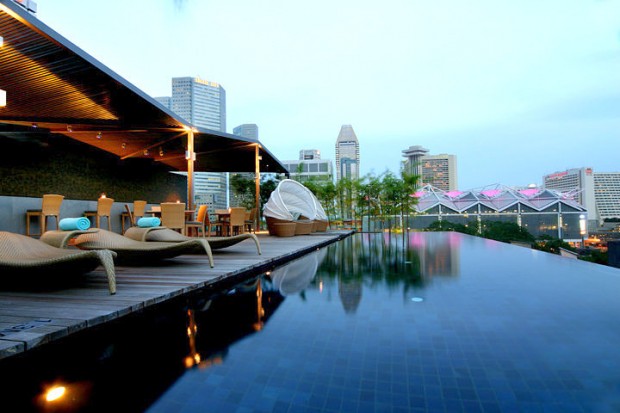 Image credit: Naumi Hotel
If you have an unquenchable taste for luxury boutique hotels, Naumi Hotel fits the bill perfectly with its modern take on the infinity pool. With its designer wicker lounge chairs by the poolside, you can recline in or out of the water and take in the magnificent view of our cityscape.
But before you book that stay for this magnificent pool, please note that it is currently under renovations and will only reopen on 20 November 2015!
4. Oasia Hotel Singapore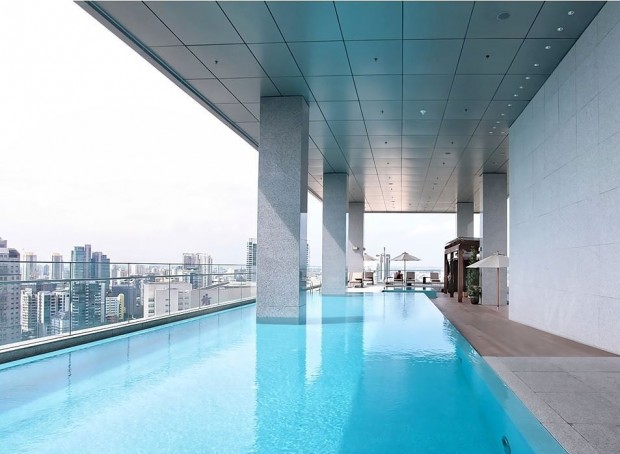 Image credit: Oasia Hotel Singapore
For the minimalists, the infinity pool in Oasia Hotel is perfect to lounge in. With Orchard Road being a stone's throw away, you can always look forward to coming back from shopping to this water haven.
5. Parkroyal on Pickering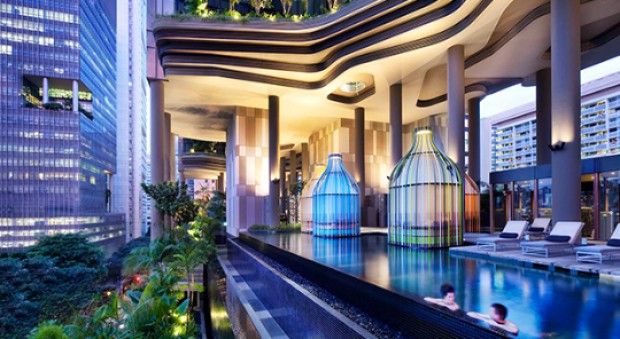 Image credit: Parkroyal on Pickering
If you're an advocate for eco-causes or appreciate eco-friendly establishments, you will relish a retreat in Parkroyal on Pickering! With fascinating birdcage-like structures you can lounge in, this nature-loving hotel will have you at your most tranquil state.
Also Read: 14 Coolest Staycation Ideas in Singapore
6. The Fullerton Hotel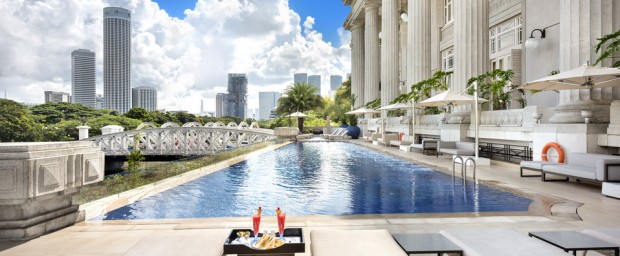 Image credit: The Fullerton Hotel
Fun fact: did you know that The Fullerton Hotel housed our country's General Post Office, Chamber of Commerce, The Exchange and the Singapore Club? With its history stretching back to the 1870s, this infinity pool at will leave you feeling nostalgic yet humbled by its story.  
7. Hotel Jen Orchardgateway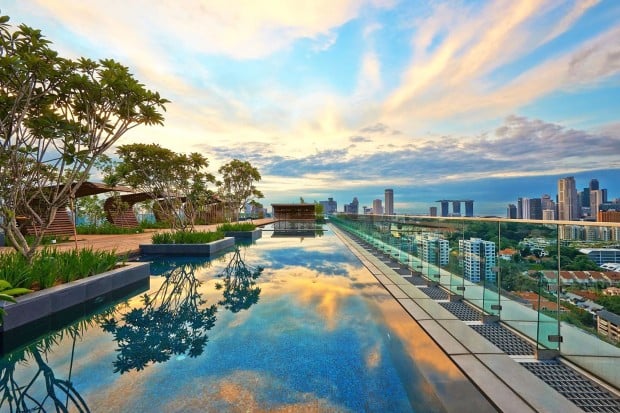 Image credit: Hotel Jen Orchardgateway
With beds dressed in crisp white bed sheets and super soft blankets, Hotel Jen should definitely be your in your list of staycation destinations. But we won't be expecting you to be using the room much with this spectacular city view from the rooftop infinity pool!
8. Ascott Raffles Place Singapore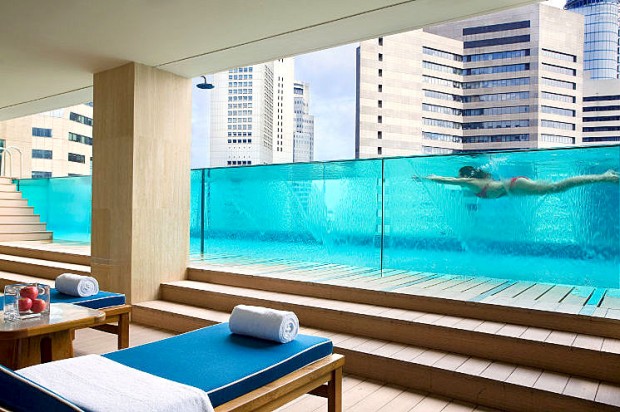 Image credit : Ascott Raffles Place Singapore
With an interesting twist to the norm, this swimming pool is great to relax in and to get those muscles working. The Ascott Raffles Place has pool that will surely turn you into a prune!
9. Changi Village Hotel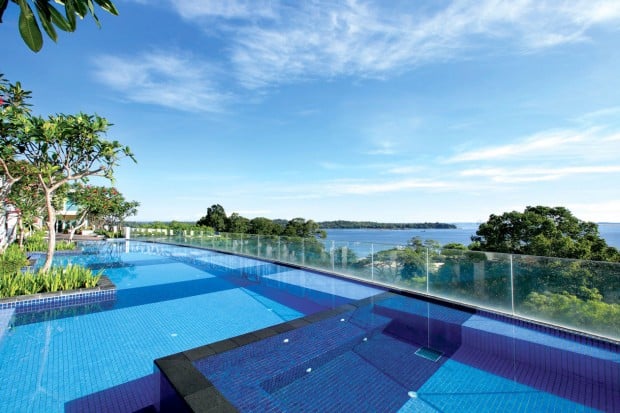 Image credit: Changi Village Hotel
This little oasis tucked in a serene corner in Singapore is an ideal hideaway from city noise and all the hustle and bustle it brings. Changi Village Hotel is one of your best bet for a quiet and tranquil staycation.
10. One15 Marina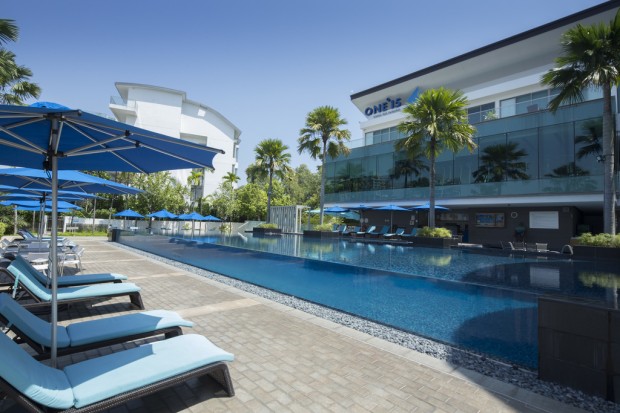 Image credit: one15marina
The infinity pool at One15 Marina overlooks the marina and is also a great place to take part in water sports such as aquabiking and aquafitness! This pool is a great place for families and kids also have a dedicated childrens pool they can splash around in!
11. Park Hotel Alexandra

Image credit: Park Hotel Group
With the stunning 25 metre swimming pool equipped with a swim-up Wet Bar called Aqua Luna (whatttttt), you won't want to leave this infinity pool at the Park Hotel Alexandra. This place is perfect to have a weekend getaway with your girls or grabbing a beer with the boys, although this time not in a traditional bar!
12. Marina Bay Sands

Image credit: Marina Bay Sands Singapore
How could we ever leave out the quintessential pool of our little red dot? The infinity pool in Marina Bay Sands has no rival when it comes to the view you'll be treated to. There is nothing better than reposing in the longest infinity pool in Singapore!
If this has got you feeling thirsty for more staycation ideas, here are some of the best bathtubs in Singapore you'll want to soak in for eternity. And hey, if you'd like to fly out of Singapore for a great getaway, check out the amazing flight deals for the 2015 year-end period!