There is more to staying in a hotel room than being cooped the entire day within its four walls. People looking for a getaway (or even a quick staycation) often look for accommodations with one-of-a-kind features and amenities.
Also read: 16 Coolest Staycation Ideas in Manila
Sure, hotels look and feel pretty much the same but if you are a sucker for breathtaking views whether of the city, the sea or the mountain then here are some great recommendations for you. We've limited our sights to Manila for now, so you do not have to go far just to have a relaxing weekend by yourself or with your significant other, friends or family.
1. Golden Phoenix Hotel Manila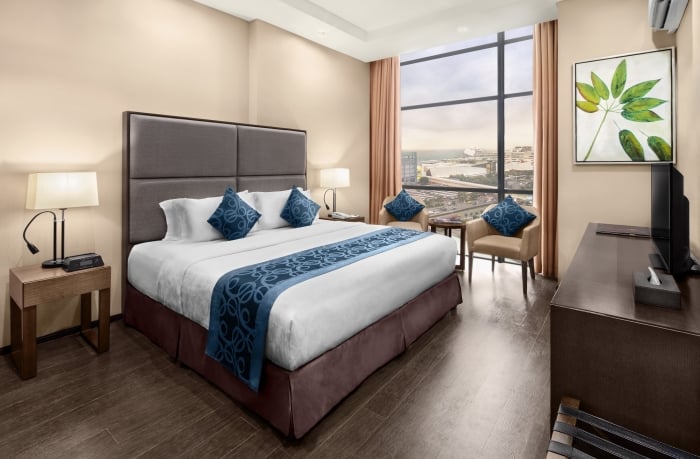 Image credit: Golden Phoenix Hotel Manila
There are many reasons why you should consider staying at  Golden Phoenix Hotel Manila : close proximity to the airport, a fair-sized swimming pool, and friendly, accommodating staff, to start off. But, want in on a secret? This 4-star hotel has well-appointed rooms that provide the best views of Manila's skyscrapers and Manila Bay. If you book a stay from February to March, you might just enjoy a vantage point of the Pyromusical Competition right at the comfort of your room.
Read our full review of Golden Phoenix Hotel Manila on TripZilla STAYS.
Rates start at ₱ 3,888
2. The Bayleaf Intramuros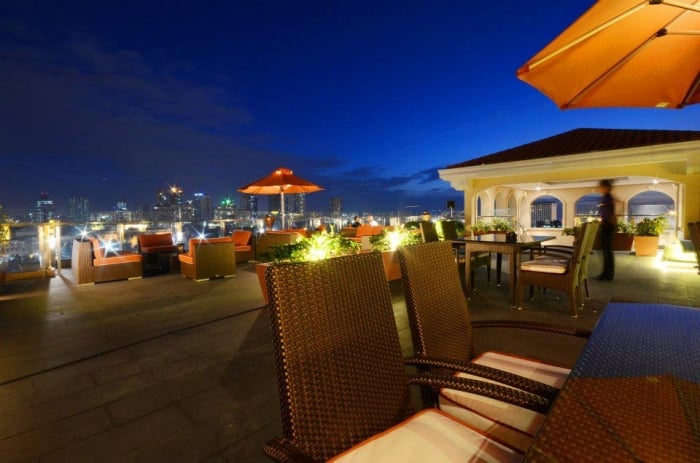 Image credit: The Bayleaf Intramuros
Did you know that the historic walled city of Intramuros has a not-so-hidden staycation paradise that is the Bayleaf Hotel? Its rooms offer among the most spectacular sceneries and will take you down memory lane, to the time when the Spaniards ruled the country. This hotel also has an al fresco lounge restaurant located at the roof deck so you can enjoy the skyline at night.
Rates start at ₱ 3,300
3. Diamond Hotel Philippines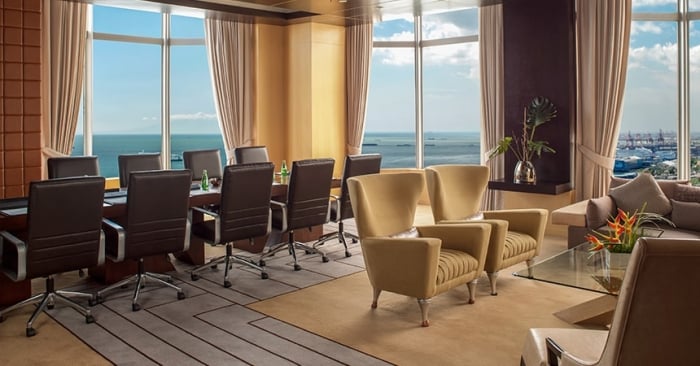 Image credit: Diamond Hotel Philippines
Want to feel like royalty? Why not stay in this prestigious 5-star hotel located right in front of the famous Manila Bay? The plush beddings inside Diamond Hotel should be enough to make your worries go away but if you are looking for something romantic, make sure to get a room whose wide bay windows allow a great view of Manila Bay's sunset.
Rates start at ₱4,300
Also read: 10 Boutique Hotels in the Philippines for a Romantic Retreat with Your Other Half
4. Marco Polo Ortigas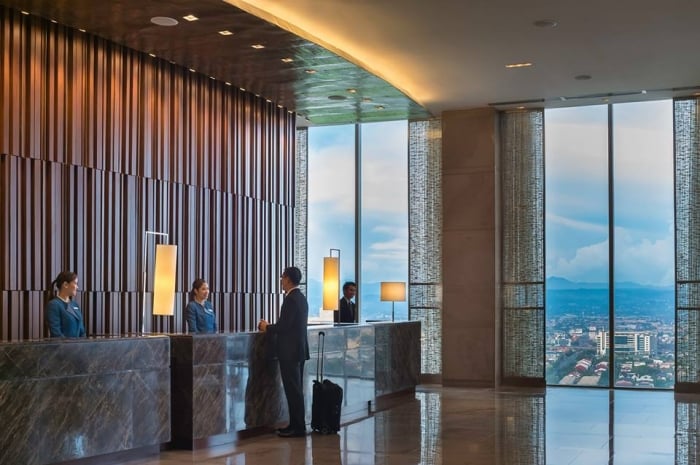 Image credit: Marco Polo Ortigas
Marble bathtubs, rain shower, Nespresso coffee machine, king-sized bed, butler service...what more can you ask for? Well actually, there is one more thing that you might want to add into your checklist: a panoramic view of the Ortigas cityscape. And this is exactly what Marco Polo Ortigas can deliver!
Rates start at ₱6,000
5. Ascott Bonifacio Global City
Image credit: Ascott Bonifacio Global City
Ascott Residences is the perfect getaway for those who want full control of their accommodations. Whether you are travelling for leisure or for business, their rooms will surely appeal to you as it comes with a home entertainment system, a fully-equipped kitchen and a washer with dryer. And, of course, let's not forget the view of the Bonifacio Global City every morning -- and night. Who doesn't want to wake up or sleep with that in mind?
Rates start at ₱8,888
6. Discovery Primea Makati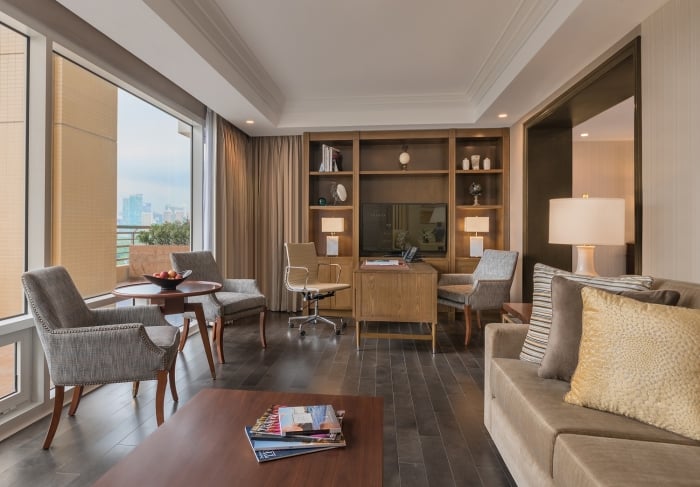 Image credit: Discovery Primea Makati
Located right at the heart of the Makati Central Business District, the Discovery Primea is the best place to stay if you are looking for a prime corporate or residential address. The loft suites are huge and have enough space for entertaining guests. Best of all, the rooms offer a private sanctuary with floor-to-ceiling windows, giving you a panoramic view of the Makati skyline.
Rates start at ₱10,200
Also read: 10 Quirky Accommodations in the Philippines
7. Raffles Makati

Image credit: Raffles Makati
If you have a thing for hardwood floors, marble bathrooms, luxurious feather top beds and everything else along those lines, Raffles Makati has got it all for you. Its prime location in uptown Makati, with close proximity both to business and entertainment centres, also makes it ideal for both business and leisure travellers. Nevertheless, if you just end up staying cooped inside the room for your entire stay, you are still offered among the most stunning views of the country's financial centre.
Rates start at ₱17,500
8. Marriott Hotel Manila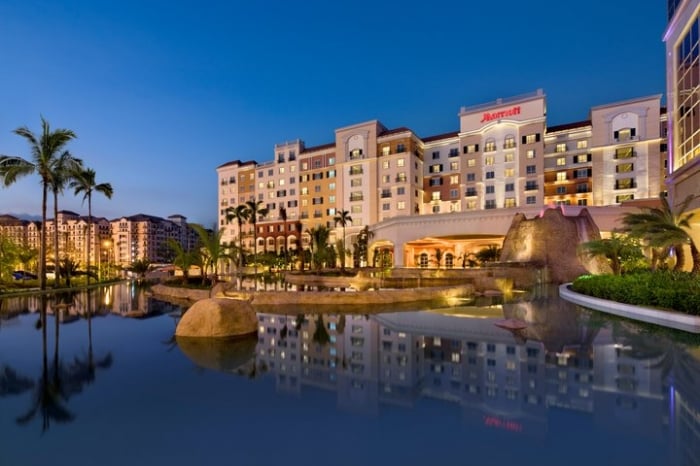 Image credit: Marriott Hotel Manila
When it comes to views, the Marriott Hotel in Manila is not to be left far behind. It is located just a few minutes from the airport and comes with luxurious rooms and suites. What do you think about enjoying a long bath inside a marble bathroom? If you would just like to chill out inside the room the entire day, you also get to enjoy a view of the nearby Villamor Golf Course.
Rates start at ₱9,000
9. Sofitel Philippine Plaza Manila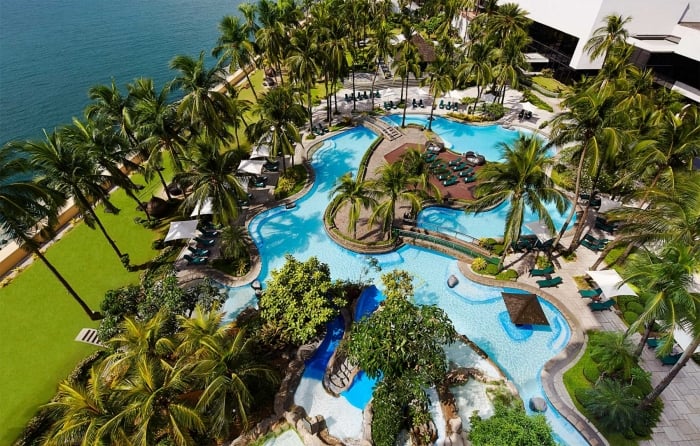 Image credit: Sofitel Philippines
Yet another 5-star hotel in Manila that you should consider looking into is Sofitel Philippines. This place is a real stunner not just because of its magnificent view of the Manila Bay from its luxurious rooms but also because of its beautiful pool area right beside the hotel. All rooms also feature their signature MyBed, and if the bay view is not your thing, you can also opt for a room with a city view.
Rates start at ₱10,100
Also read: Staycations in Manila: 10 Hotels You Will Absolutely Love
Staycations are the best way to de-stress without having to go too far from the city. What could be more relaxing than being able to enjoy the most stunning views of the city or the sea during your quick getaway?
Head over to TripZilla Stays to start browsing through some of the most amazing staycation spots now!