Boutique hotels have always been the popular, go-to choice for those seeking to escape the hustle and bustle of city life – quirky and luxurious enough for a getaway, while at the same time affordable enough not to break your bank. But if you're thinking of having a staycation sometime soon, why not take it up a notch? Switch out the familiar boutique hotels for this equally (if not, more) lavish option for your next getaway: Serviced apartments.
We often have the idea that serviced apartments are solely for expats needing long-term accommodation, but that's not true! If you don't have the time to get out of the country for some glamourous holiday, you can still have your much-needed break in style when you stay at one of these serviced apartments.
Oakwood Premier OUE Singapore has recently opened its doors to welcome anyone looking for a place to stay. With a minimum stay of seven nights, you will be pampered by facilities and services that are on par with a five-star hotel (or maybe, even better). Here's what awaits you when you take a week off at this home away from home:
Sumptuous apartments that will make you feel right at home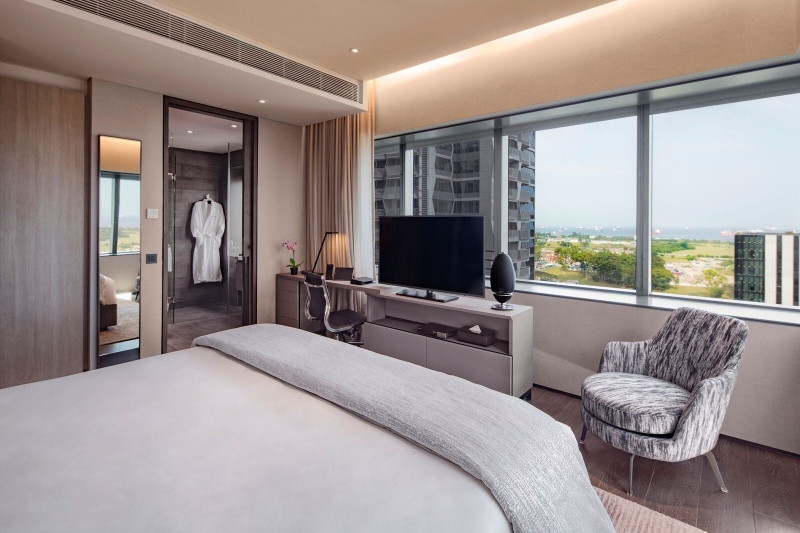 Choose from fully-furnished Studio, One-Bedroom and Two-Bedroom apartments that will guarantee your ultimate comfort. These apartments are significantly larger than the standard luxury hotel room – providing you with more than enough living space, on top of the extra privacy you wouldn't be able to get at a regular hotel.
Located right in the heart of downtown Singapore, you can watch the city whizz past from your window as you kick back and relax in your apartment after a long day. Oakwood Premier OUE Singapore's strategic location also means that you'll be able to get anywhere with much ease – with three MRT stations (Tanjong Pagar, Raffles Place and Downtown) being within walking distance from your apartment.
An in-house restaurant, bar and Executive Club lounge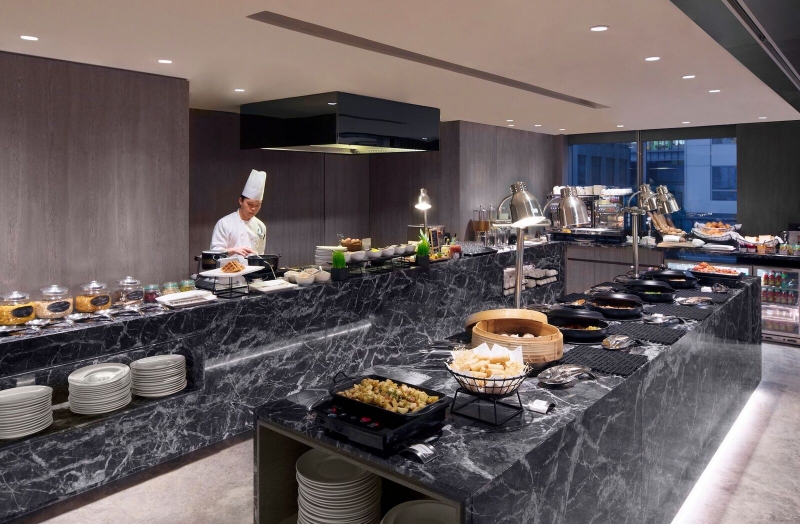 To complement the luxurious accommodation options, Oakwood Premier OUE Singapore also houses their very own restaurant, bar and Executive Club lounge – the first premium serviced apartment in Singapore to do so. All culinary operations are overseen by Executive Chef Dickson Fung, who has 13 years of culinary experience from prestigious five-star hotels in three countries. Convenience and delectable food right at your doorstep, what's better than that?!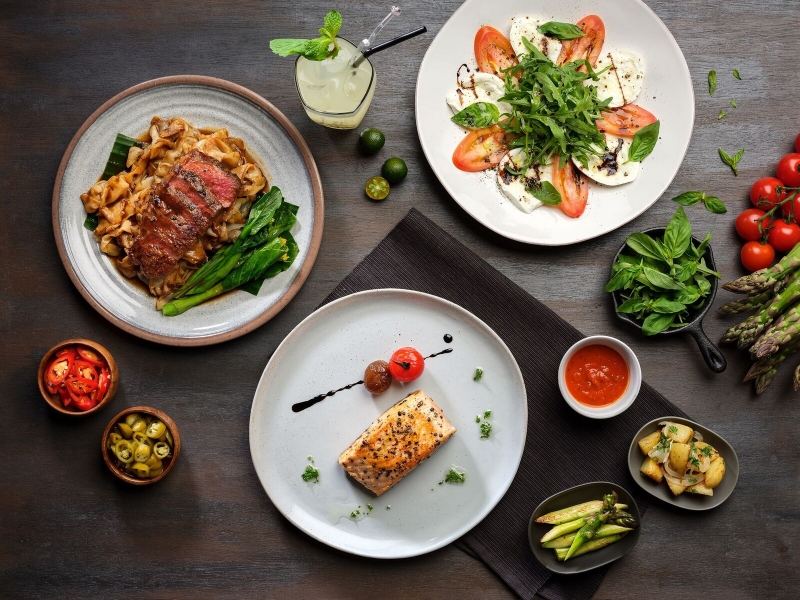 Found on the seventh floor of the property, the Se7enth restaurant serves up quality international cuisine for breakfast, lunch and dinner. A buffet spread of the finest and freshest products greet guests every breakfast, while lunch and dinner sees Chef Dickson's signature dishes like the Wagyu Beef Burger with Pan-Fried Foie Gras and the Sirloin Beef Hor Fun lining up to satiate your taste buds. If you wish to dine in private, in-room dining services are also available from 7am to 12am daily.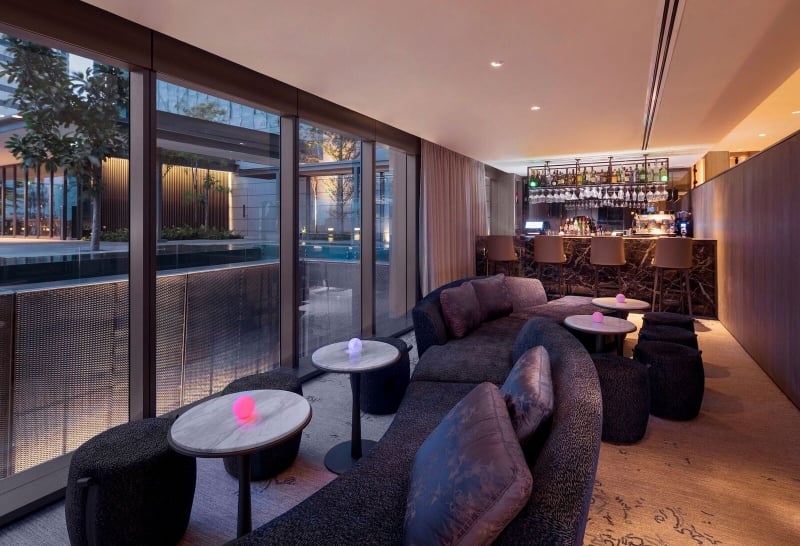 Want a place to chill after dinner? Head over to the lobby bar and take your pick from the specially curated selection of cocktails, premium wines and spirits. Open from 12pm to 1am every day, the bar also serves bar bites for guests who feel a little peckish.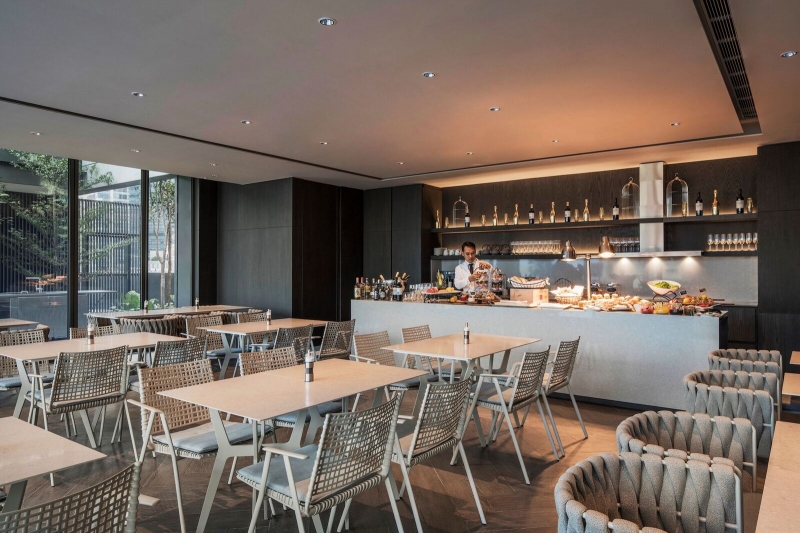 The Oakwood Executive club lounge, exclusively for guests who sign up for club privileges, is located on the outdoor deck overlooking the cityscape and the property's infinity pool. Daily prosecco breakfast is complimentary for all club members, in addition to free-flow evening cocktails alongside a selection of canapés.
Club members will also get to enjoy use of the Executive Boardroom at no extra charge. Going to be having a long meeting? There's a variety of boardroom packages – from coffee break to lunch options – available for booking at an additional fee, ensuring that guests are well-taken care of even as they're working. With floor-to-ceiling windows and state-of-the-art amenities, meetings at the Executive Boardroom are definitely going to be a breeze.
Excellent facilities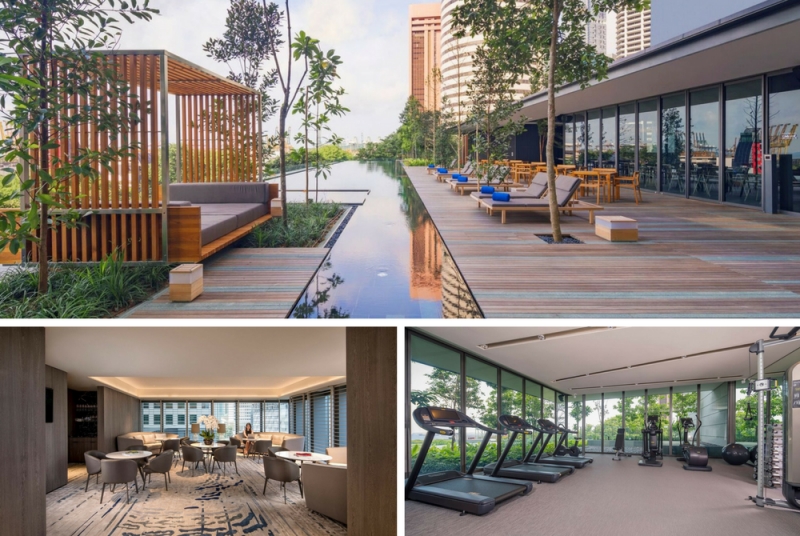 Oakwood Premier OUE Singapore also boasts an infinity pool, a fitness centre and a Residents' Lounge. Go for a swim, break out a sweat or work on a document in the Residents' Lounge. You can even have an outdoor barbecue during your stay here!
With all these amazing facilities and the premium service, what else is stopping you from booking a stay here? Though seven nights might sound like a little long for a staycation, we bet you wouldn't regret it after experiencing it for yourself.
Take some time off to pamper yourself and splurge a little to reward yourself for the past few months (or years) of hard work!
---
Information and images extracted from press release issued by Oakwood Premier OUE Singapore