Summer is just around the corner and the blazing heat of the sun gives us that icky feeling that makes us want to dip into something cold and refreshing. Good for the beach bums who enjoy the sand in between their toes, they can just go to a nearby beach and enjoy the activities the sea has to offer, but for those who just want to have a refreshing dip without having to undergo the hassles and time-constraints of a beach outing, worry not!
Also read: Staycations in Manila: 9 Hotels with the Most Incredible Views
There are hotels in Metro Manila that will take your staycations to a whole new level with their rooftop pools. Still achieve those tan lines and equip yourself with Vitamin D without having to leave the comfort of your hotel. Here are the best ones we can find!
1. The Golden Phoenix Hotel Manila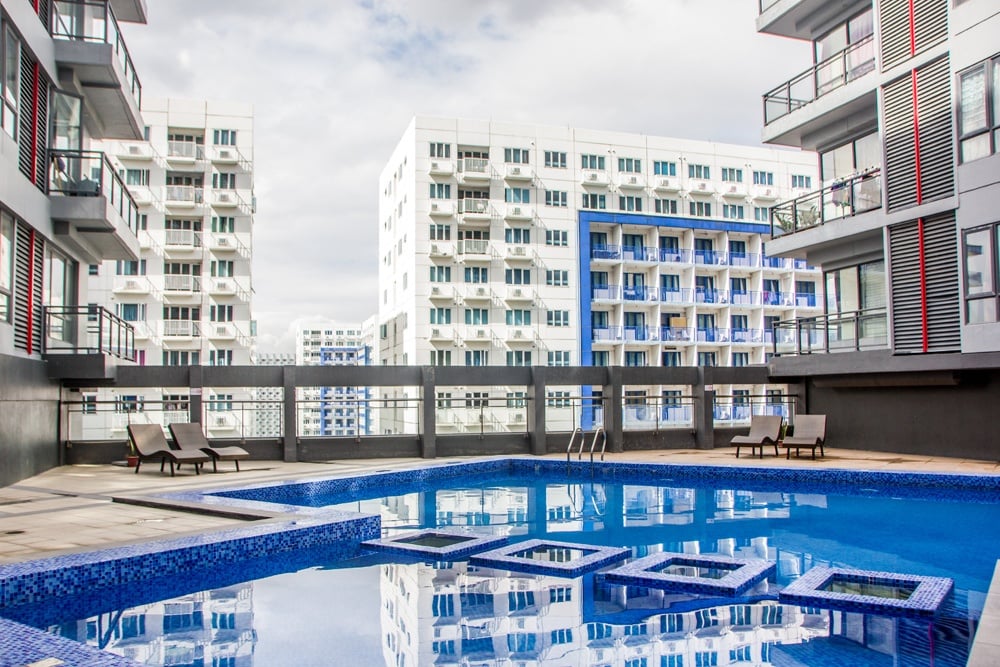 Image credit: TripZilla Stays
Golden Phoenix Hotel Manila is a 4-star accommodation in the heart of Metro Manila, situated just a few blocks away from the biggest shopping mall in the Philippines -- the SM Mall of Asia. This modern hotel focuses on the quality of sleep of their guests with their premise that it is "one of the foundations of a productive activity". The hotel houses a rooftop pool where you can take an invigorating dip and relax while enjoying the grand view of the Central Business Park.
Read our full review of Golden Phoenix Hotel Manila on TripZilla STAYS.
Rates start at ₱3,888
2. Azumi Boutique Hotel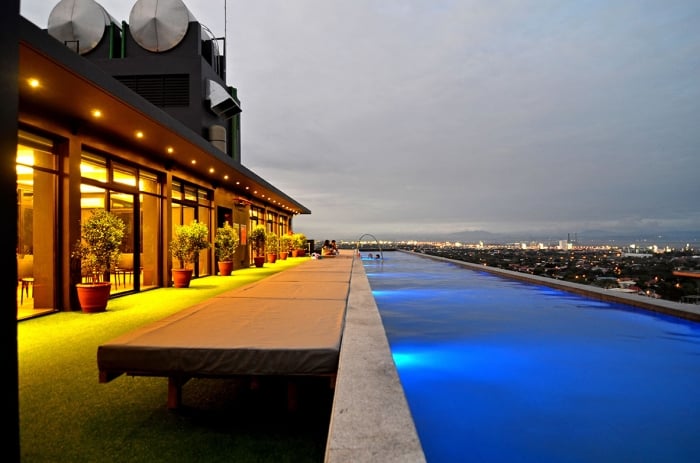 Image credit: Azumi Boutique Hotel
Located in Metro Manila's south, the Azumi Boutique Hotel Alabang is a stylish hotel that will appeal to anyone who wants an immediate escape from the city life. Its cosy furnishings and the picturesque layout of its interiors make this hotel an easy choice especially for modern travellers. The hotel also features a rooftop lap pool that provides a 360-view of the Alabang skyline.
Rates start at ₱2,700
3. Discovery Primea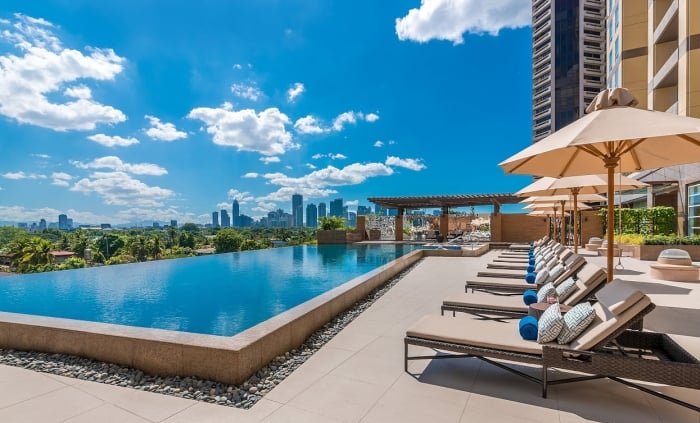 Image credit: Discovery Primea
Who would have thought that in one of the busiest streets in the country lies a 20-metre heated infinity pool? The Discovery Primea in Makati Business District is a 5-star luxury hotel where business, leisure and culture converge. Their world-class facilities include a rooftop pool that is overlooking the quaint side of Makati.
Rates start at ₱10,200
4. Acacia Hotel Manila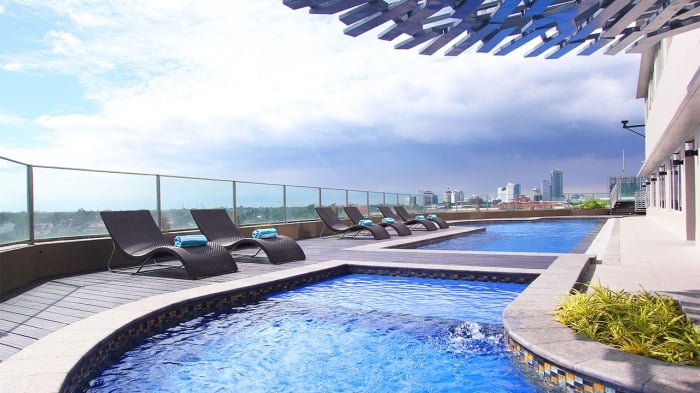 Image credit: Acacia Hotel Manila
The Acacia Hotel Manila is a luxury hotel at the centre of the bustling business and commercial streets of Alabang. The hotel is a haven for rest and relaxation with its well-appointed facilities and modern interiors that will make any tourist feel at home. The roof deck pool features a resort-like design with the luxe of a 5-star hotel.
Rates start at ₱4,700
Also read: Staycations in Manila: 10 Hotels You Will Absolutely Love
5. Cocoon Boutique Hotel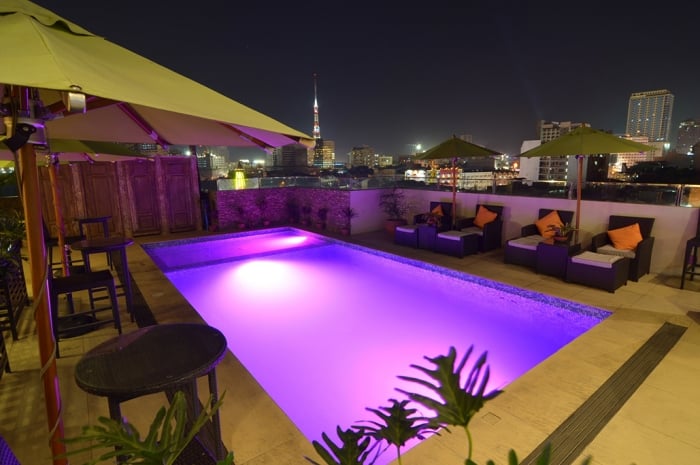 Image credit: Cocoon Boutique Hotel
The Cocoon Boutique Hotel claims to be "the first and only deluxe boutique hotel in the Philippines that is truly green". Nature-lovers will surely enjoy this nurturing urban location that redefines luxury to be one that is sustainable and responsible. This resort-like hotel in Quezon City features a rooftop pool that is rustic yet sophisticated that will make you want to care for the environment more.
Rates start at ₱4,200
6. Microtel by Wyndham - UP Technohub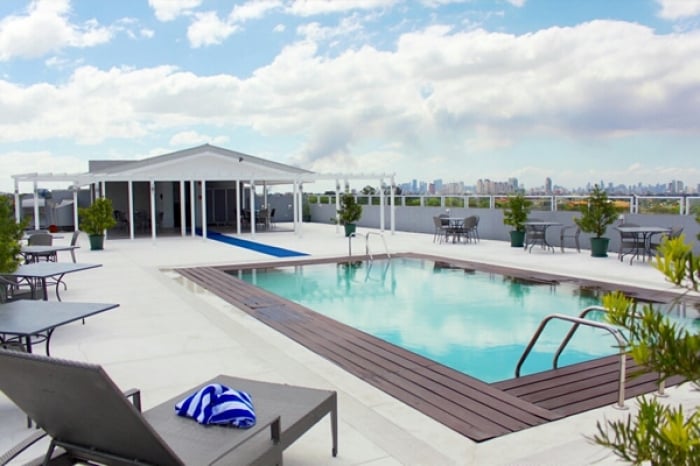 Image credit: Microtel by Wyndham - UP Technohub
Their name might suggest something else, but this hotel is definitely not micro when it comes to their amenities. This urban retreat lies within key landmarks that include government centres and business establishments. Located in Diliman, Quezon City, Microtel Windham - UP Technohub boasts a simple yet elegant rooftop pool design that overlooks the vibrant scenes of a university campus.
Rates start at ₱3,100
7. Belmont Hotel Manila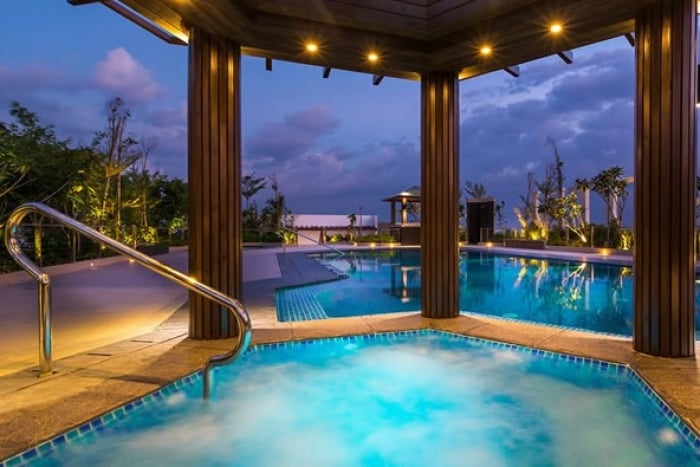 Image credit: Belmont Hotel Manila
Bask in utter relaxation in Belmont Hotel Manila's roof deck swimming pool with a 360-degree panoramic view of Pasay. This hotel is an ideal escape within a spirited metropolis and the gateway to the world as it is just a few minutes away from the country's international airport.
Rates start at ₱4,600
8. Lancaster Hotel Manila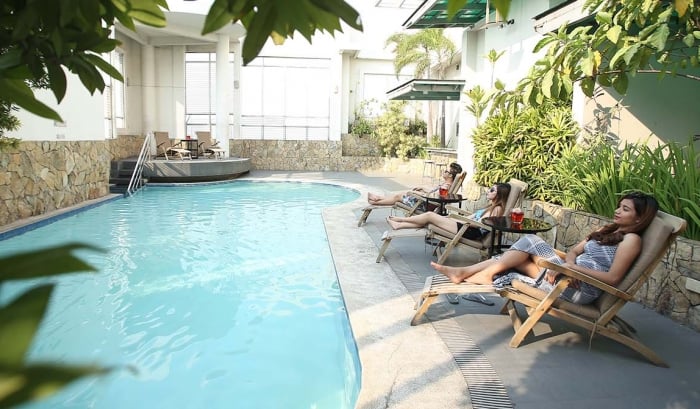 Image credit: Lancaster Hotel Manila
Just a few minutes' walk from the Metro Rail Transit (MRT), the Lancaster Hotel Manila in Mandaluyong City displays understated luxury in a thriving commercial district. This hotel offers complimentary shuttle services if you want to explore the city. Proud of their modern interiors, the Lancaster features a contemporary rooftop pool with a hip poolside lounge.
Rates start at ₱2,000
Also read: 17 Coolest Staycation Ideas in Manila
9. Marriott Hotel Manila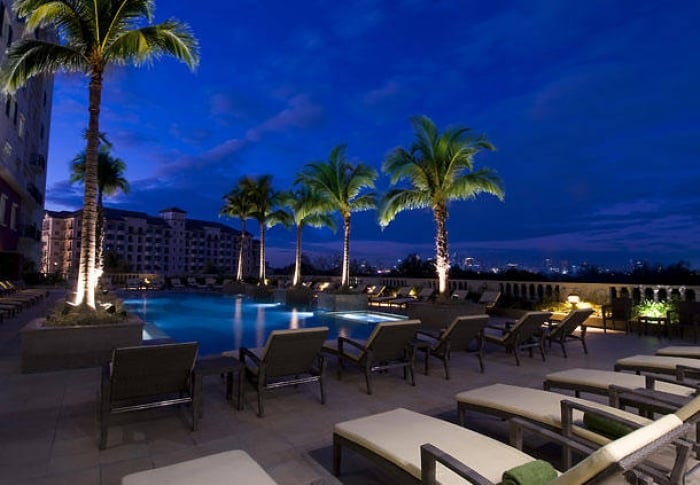 Image credit: Marriott Hotel Manila
Indulge in the luxury treatment of the Marriott Hotel Manila. Set against the backdrop of the Resorts World Manila complex, this hotel gives access to a variety of entertainment including casinos, movie houses, bars, and high-end shops. But if you just want to avail of their in-stay perks, you will be dazzled with its spacious rooftop pool.
Rates start at ₱9,000
10. Marco Polo Ortigas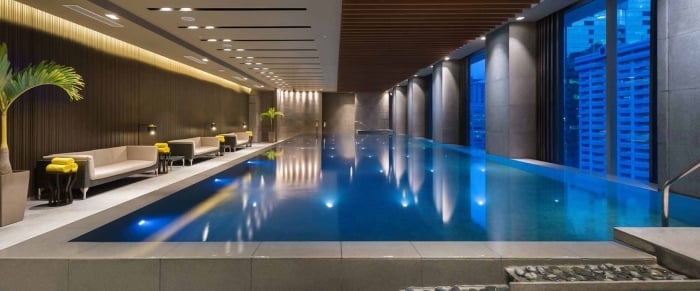 Image credit: Marco Polo Hotel
Nestled in Ortigas, a burgeoning business commercial district between three major cities in the Metro, Marco Polo Ortigas is a 5-star accommodation that accords extensive privileges and services to its customers. Their infinity rooftop pool, the only indoor pool in this list, is too good not to be included. This well-lit pool is perfect for a refreshing dip regardless of weather conditions.
Rates start at ₱6,000
Also read: March Holidays: 12 Fun Staycation Ideas To Reward Your Kids
You don't really have to go far to feel the summer vibes. Some of the most invigorating and refreshing dips you will ever have is probably just at your fingertips. Just as long as your goals, whether to just relax, rejuvenate or detach yourself from work or school, is achieved, then you will always have the best staycation.
And if you're looking for more relaxing staycation ideas, feel free to check out TripZilla Stays for more recommendations!