Have you made your way to Siargao yet? The teardrop-shaped island in the Philippines was recently named one of the best in the world, and this doesn't come as a surprise to us at all. No need for you to comb through hundreds of listings — we've narrowed it down to a selection of 10 beautiful Siargao Airbnbs, ideal for different types of travellers.
Also read: 10 World-Class Islands in the Philippines Travellers Rave About
Whether you're flying solo, on a romantic getaway, or on vacation with family or friends, we're sure you'll find something to your liking.
1. This gorgeous and homey villa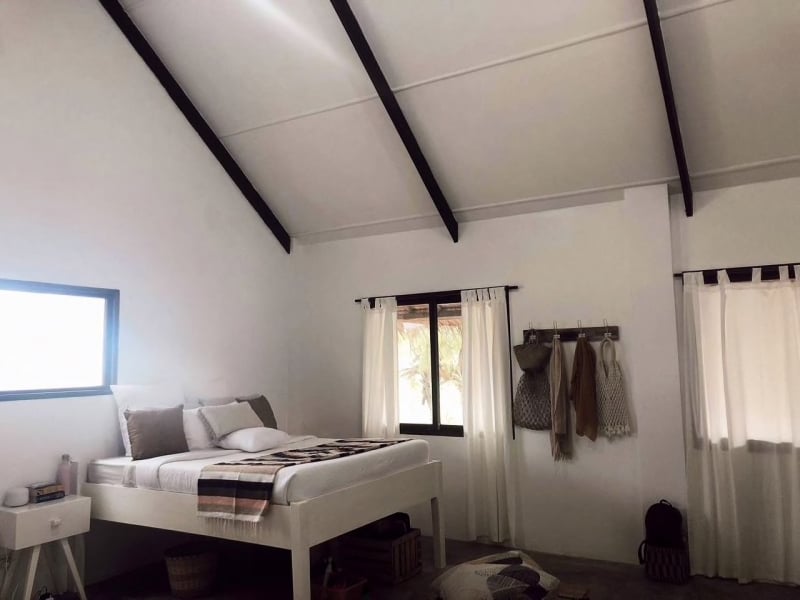 Listing name: VILLA BLANCA Siargao - Luxury 2 storey Pool Villa
Listing type: Entire villa
Max. no. of guests: 3
No. of bedrooms: 1
This beautiful villa pretty much has it all — you'll want to move in permanently! Comfortable and homey, it comes with a lush tropical garden, a private deck complete with a pool, and a full-size kitchen. Conveniently situated close to everything, this home is tucked between popular surfing spot Cloud 9, and General Luna — home to Siargao's most popular resorts and restaurants! Learn more about this Airbnb here.
Also read: Restaurants in Siargao: 15 Places to Eat and Drink in General Luna
2. This chic, native-inspired accommodation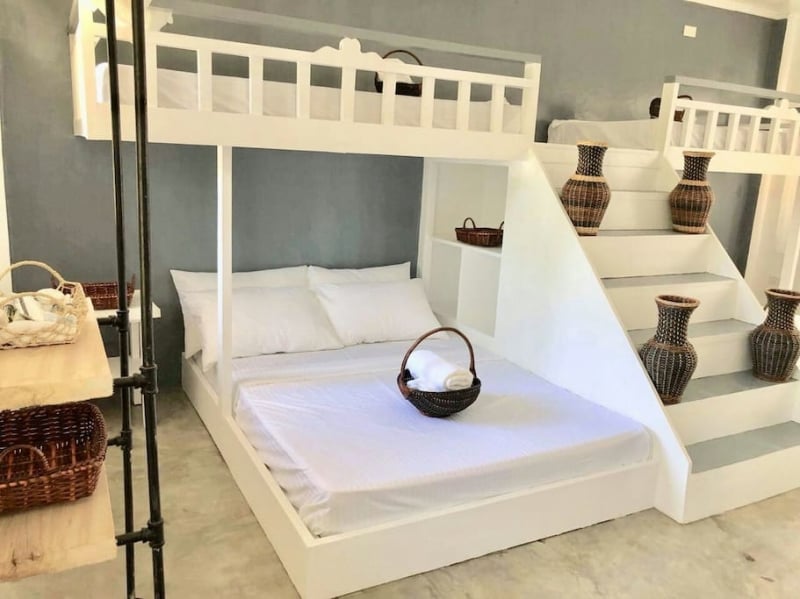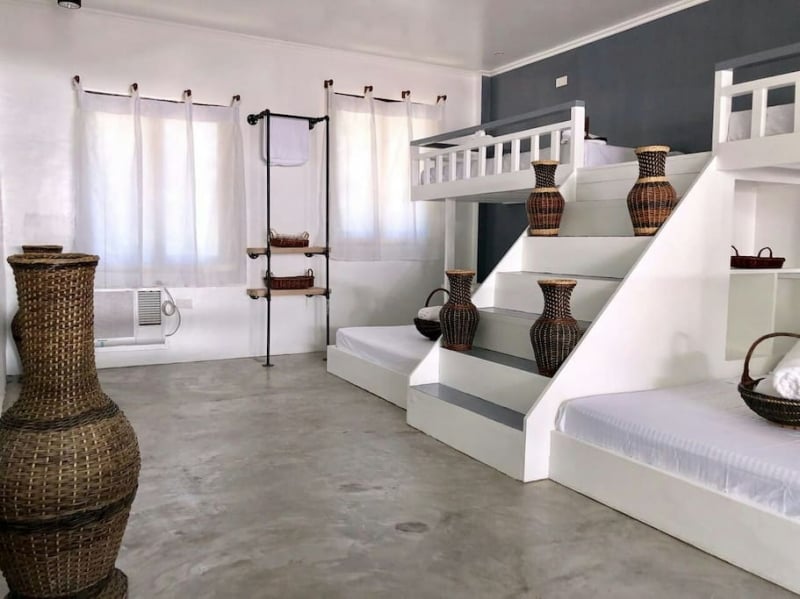 Listing name: Payag Suites Kawhagan Beachfront General Luna
Listing type: Room in boutique hotel
Location: General Luna
Max. no. of guests: 8
No. of bedrooms: 1
Looking for Siargao Airbnbs for big groups of friends? This room has two double beds and two single beds, and can house up to eight individuals. Guests are sure to enjoy this listing's location, a short walk from Cloud 9 — known to be one of the Philippines' best spots for surfing, and home to Siargao's famous boardwalk. A quick habal-habal trip will get you to General Luna's main tourist area, as well as to the pier from which you can take a boat and tour the gorgeous surrounding islands.
3. This stylish and Instagram-worthy hideout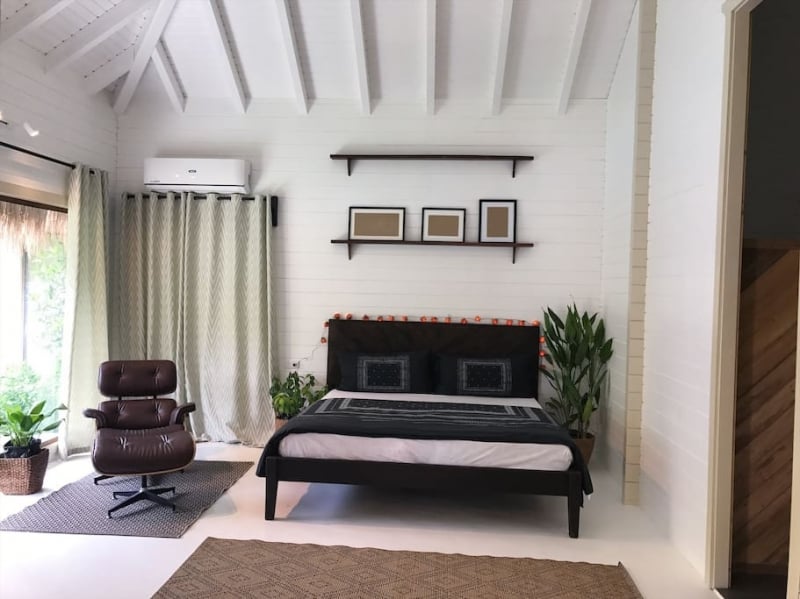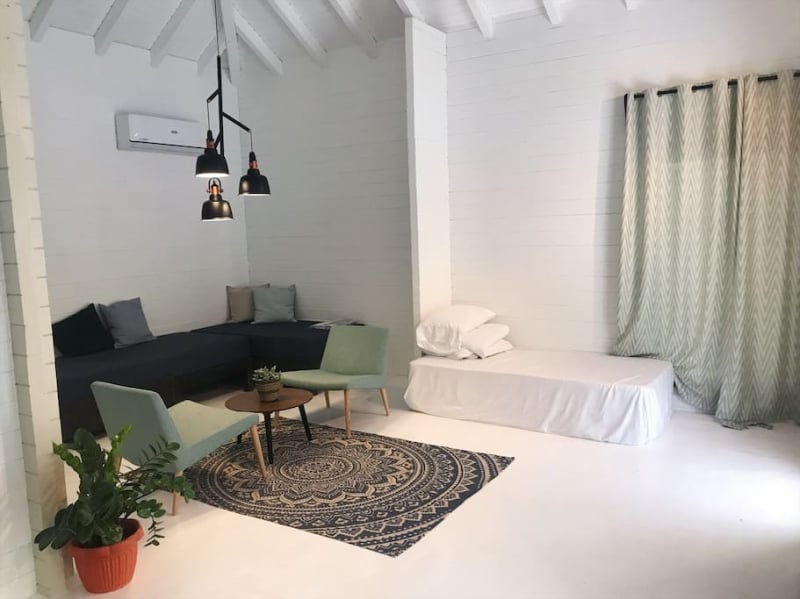 Listing name: Siargao Hideout - Central Location!
Listing type: Private room in cabin
Location: General Luna
Max. no. of guests: 4
No. of bedrooms: 1
If you're looking to stay somewhere with a more modern feel, we're sure you'll love this one. This beautifully designed accommodation is located along the main Tourism Road, just walking distance from many of General Luna's establishments. It also happens to be adjacent to Baked x Siargao, former Miss Universe Philippines Rachel Peters' cosy coffee shop, where guests can enjoy complimentary breakfasts. The room is commended for being spacious and sparkling clean — some guests say it looks even better in real life than it does in photos!
4. This cosy, rustic cottage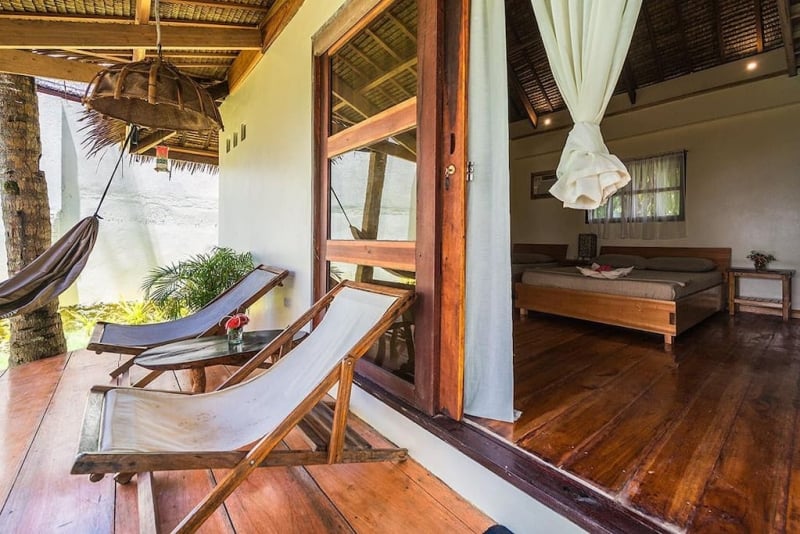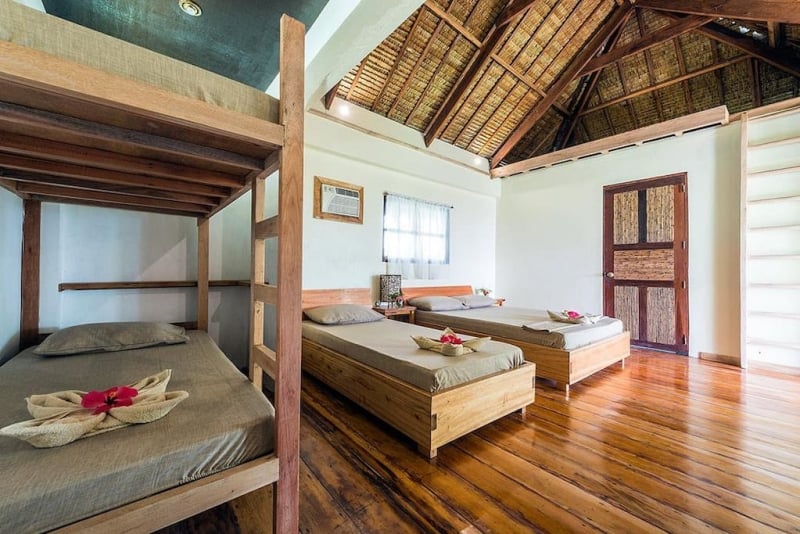 Listing name: Kawili Cottages - Family Cottage
Listing type: Private room in hut
Location: General Luna
Max. no. of guests: 4
No. of bedrooms: 1
This rustic cottage is among several accommodations at Siargao's Kawili resort, and consists of one double bed, one single bed, and a bunk bed — ideal for groups looking to share a single room. Perfect for lazy days, the cottage also includes a comfortable outdoor lounging area with chairs and two hammocks. If you value your time indoors just as much as the time you plan to spend exploring the island, you're sure to enjoy the room's flat screen TV, which comes with installed movies and a bluetooth sound system. Guests may also access the resort's amenities which include their pool, sundeck, rooftop, and bar.
Also read: Siargao Island: The Ultimate Travel Guide with Insider Tips!
5. This beautiful Mediterranean-style home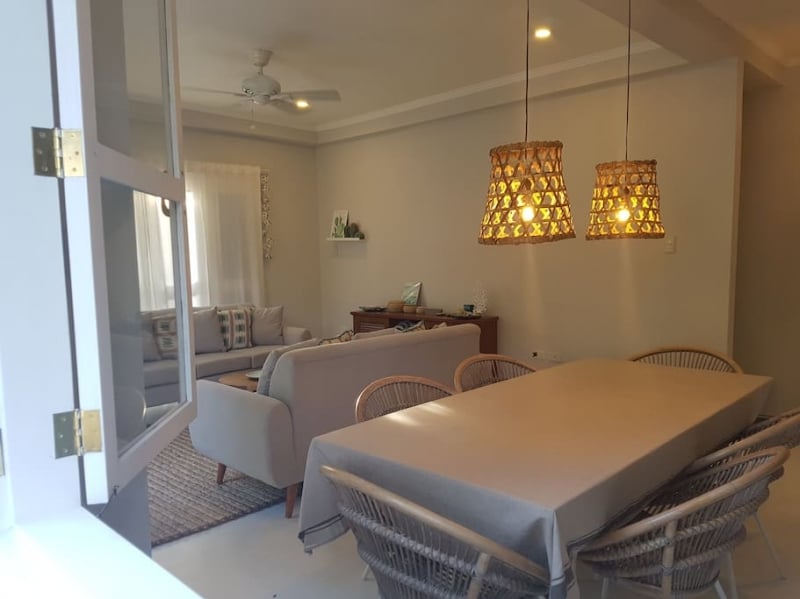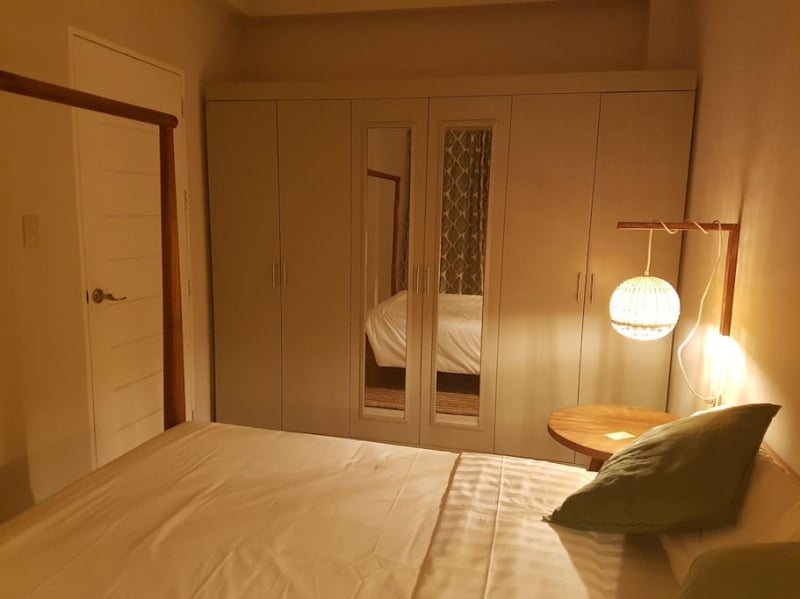 Listing name: Shine bright Mediterranean style house
Listing type: Entire house
Location: General Luna
Max. no. of guests: 4
No. of bedrooms: 2
We don't doubt that travellers will feel at home at this listing! Guests have only good things to say about both this homey accommodation and its warm and welcoming host. This stylish abode is adorned with handcrafted local furniture and has two bedrooms, a spacious living area, and a fully equipped kitchen. Close to many of General Luna's prime establishments, this one is right by Kermit, one of Siargao's famous restaurants.
6. This peaceful escape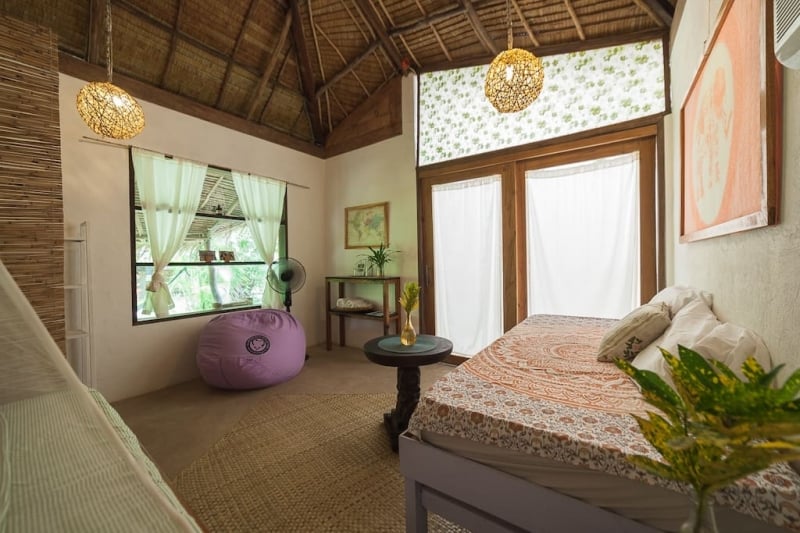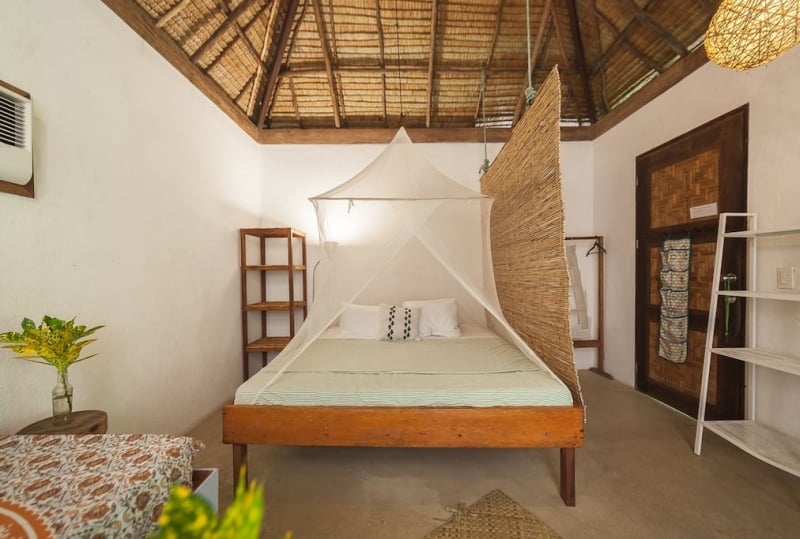 Listing name: Majilon Garden Cottages - Ocean Cottage
Listing type: Private room in bungalow
Location: Malijon
Max. no. of guests: 2
No. of bedrooms: 1
Ideal for couples and solo travellers, this listing is a great place to come home to after enjoying the best that Siargao has to offer. Despite being just walking distance from the beach and a number of establishments, this location provides a tranquil escape from the buzz of General Luna. Guests will love the laid back vibe at this accommodation, with its comfy king size bed, day bed, and private porch setup. Travellers may also enjoy the shared outdoor kitchen, common garden area, and honesty bar.
7. This tropical retreat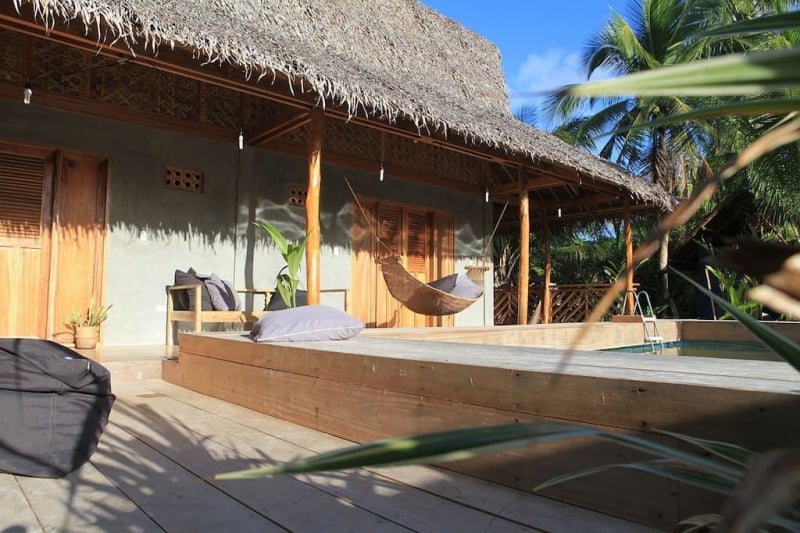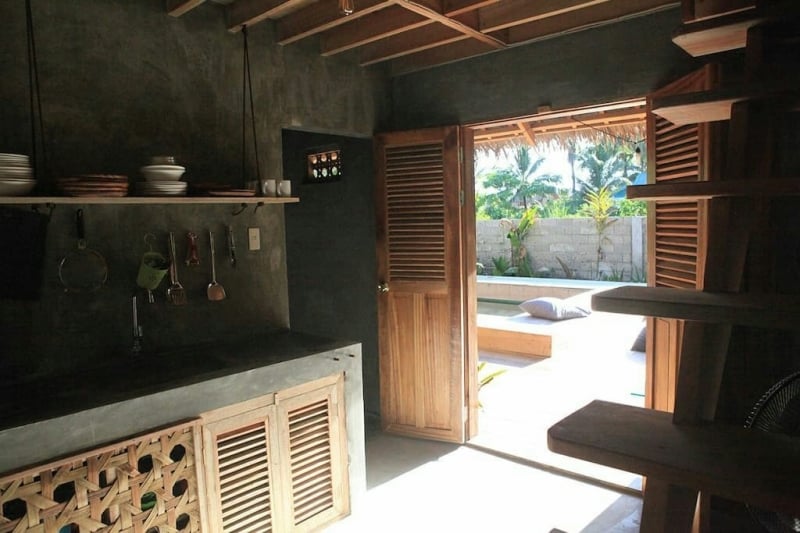 Listing name: ★ Private tropical house ★pool★AC★motorbike
Listing type: Entire house
Location: General Luna
Max. no. of guests: 5
No. of bedrooms: 2
Ideal for those travelling in groups, this entire two-storey home consists of two bedrooms, one bathroom, a fully equipped kitchen area, a pool, and an outdoor lounging area. A little ways from the hustle and bustle of Tourism Road, this quiet Siargao Airbnb is just a five-minute ride from most establishments you'll want to visit in General Luna and Cloud 9. Live like a local and travel via motorbike — this listing comes with one available for guests to use!
Also read: 7 Things I Wish I Knew Before Travelling to Siargao for the First Time
8. This quiet, luxurious haven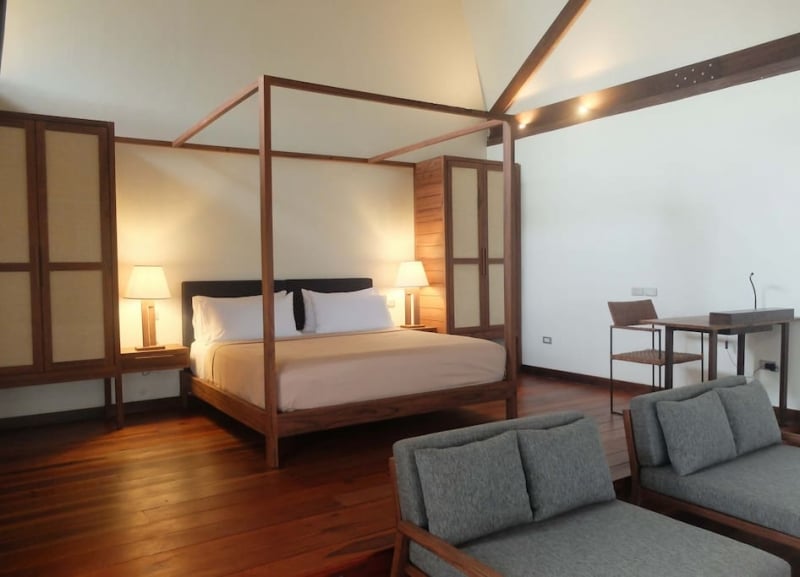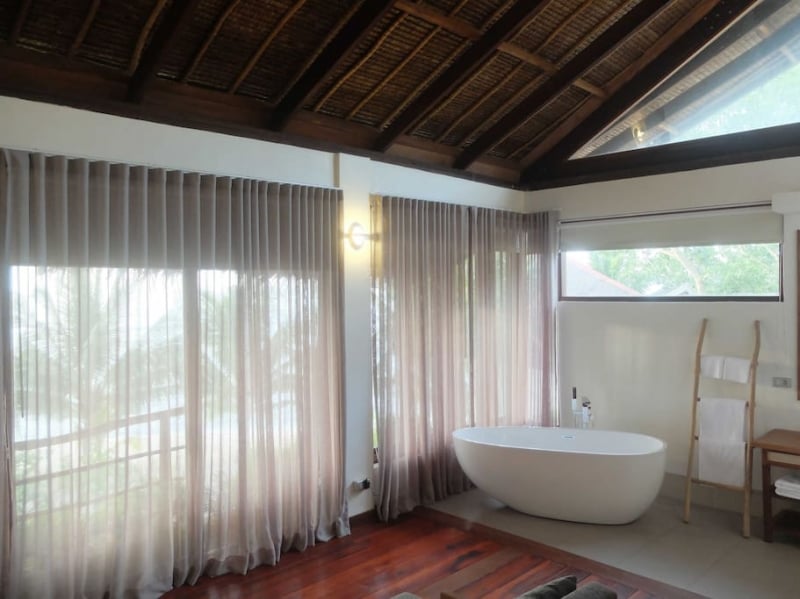 Listing name: Designer Beachfront Suite near Cloud 9
Listing type: Private room in guest suite
Location: General Luna
Max. no. of guests: 2
No. of bedrooms: 1
Tucked away from Siargao's more touristy areas, this beachfront suite in Tuason Beach is a 10-minute walk from Cloud 9. Guests promise you'll wake up to gorgeous views of the Pacific Ocean and fall asleep to the sound of the waves at this tranquil accommodation. Praised for their excellent customer service, this listing operates like a luxury hotel — your stay comes with daily housekeeping, bath amenities, and complimentary breakfasts. It's also situated above the hosts' authentic Italian restaurant, L'Osteria Ristorante Italiano-Vineria, well known for its great selection of food and wine!
9. This idyllic beachfront villa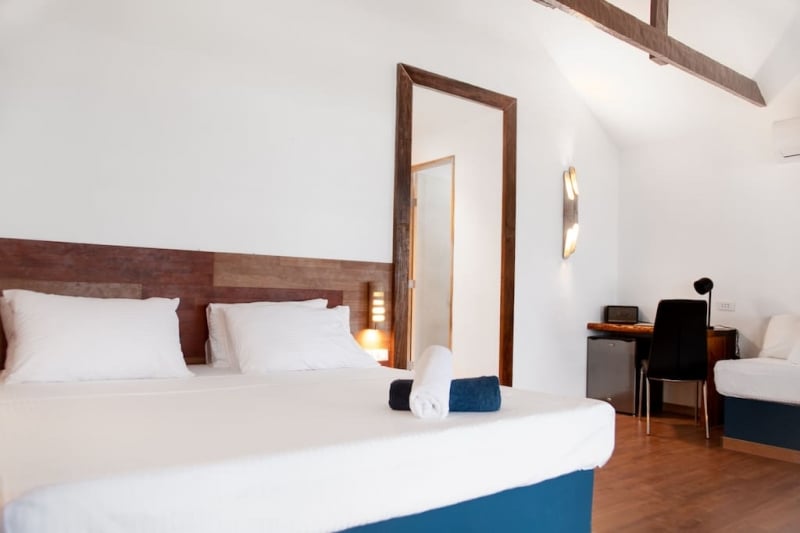 Listing name: Beachfront Villa w/ Private Pool
Listing type: Entire guest suite
Location: General Luna
Max. no. of guests: 4
No. of bedrooms: Studio
For those who are willing to splurge, this listing is one of the pricier Siargao Airbnbs on this list. This spacious one-bedroom villa is the perfect combination of rustic and modern — while on the outside it may seem like your typical tropical hideaway, upon entering, guests will find a sleek and modern dwelling. With this villa's idyllic beachfront location, you can take your pick between relaxing at the beach or chilling at your own private pool! Some of the island's best restaurants and nightlife are just close by; notably, Siargao's famous Harana Surf Club is only 50 few metres away!
10. This tranquil refuge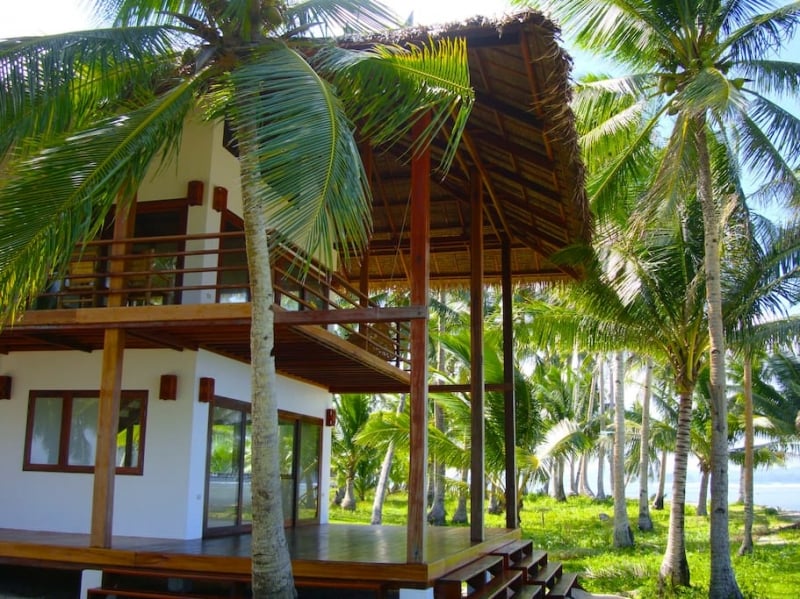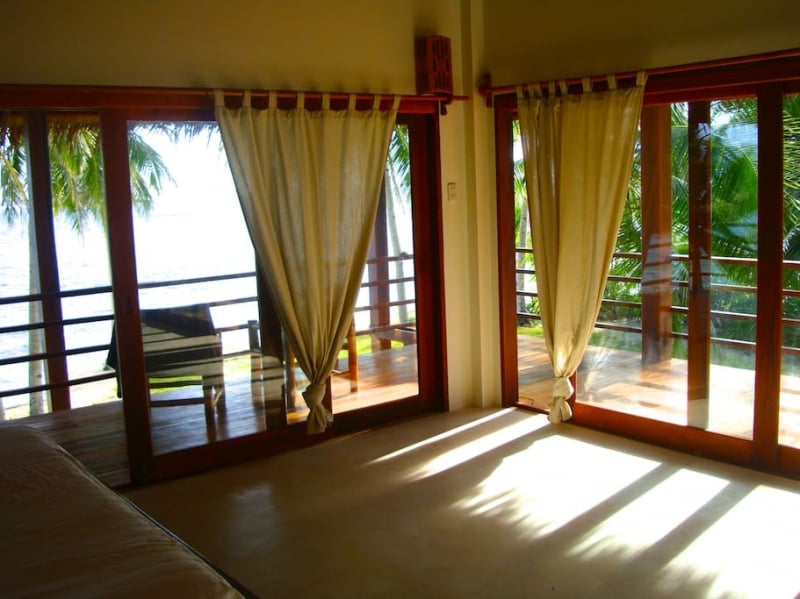 Listing name: Private Super Deluxe Beach Villa
Listing type: Entire house
Location: General Luna
Max. no. of guests: 4
No. of bedrooms: 1
Away from Siargao's main tourist area, you'll find this peaceful retreat at Makulay Siargao Resort. If you're looking to disconnect and recharge, this listing is definitely the one for you. With its quiet location, private access to the beach, and stunning, ocean views, you're definitely in for a relaxing experience at this private beach villa. Guests swear by this accommodation's fantastic location, amazing food, and amiable hosts! While it's just a 30-minute ride from the action of General Luna, it won't come as a surprise if you find yourself wanting to stay put at this little slice of heaven.
Also read: 10 Boracay Airbnbs You'll Want to Book for Your Next Island Getaway
Don't forget to bookmark this list of Siargao Airbnbs — we're sure you'll find yourself wanting to return to the sunny island paradise!