Hola couples! Getting a little too excited for the annual Valentine's Day? If you're looking to spice up your romance with a special someone on that day, you'll need a private place that fits the mood and atmosphere for your passionate desires. Fortunately for you, these great hotels in Singapore are the perfect answer to house your naughty deeds. Take a look down the list and see whether you can still keep your clothes on at these unique sexcation destinations!
1. The Scarlet Singapore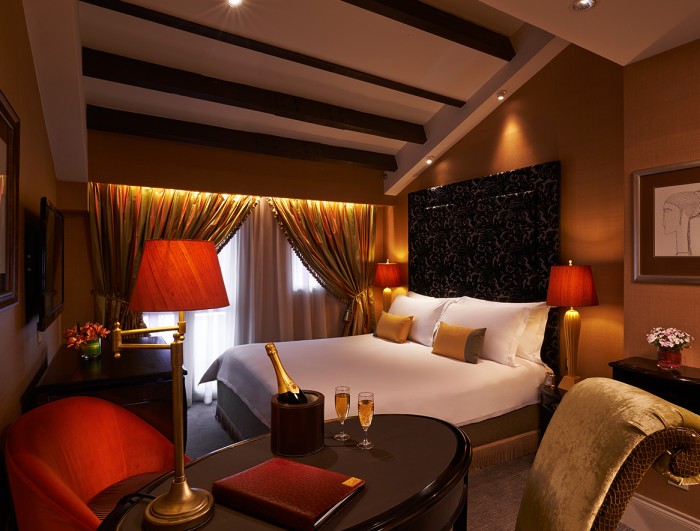 Image credit: The Scarlet Singapore
Delicately nestled among a collection of cafes, restaurants and specialty shops, The Scarlet Singapore sends its unsuspecting visitors to a whole new world of passionate delights!
Featuring eclectic velvet furniture, classy chandeliers and delicate hues of scarlet and gold, The Scarlet Singapore aims to send you and your significant other into new heights of romance and bliss. This quaint and charming boutique hotel is also conveniently located in the heart of town, where you can swing by Ann Siang Road to grab dinner and a few drinks to get you ready for that steamy big night.
Still not feeling it? Then their  "Only Us" Valentine's Day package will surely turn you on!
[EXCLUSIVE PROMOTION] "ONLY US" Valentine's Day Package
Pick one of their rooms or exclusively themed suites with a multitude of complimentary perks, including The Scarlet Singapore's Signature Lover's Amenities Kit. Set the tone for a banging night with their special Love Basket, consisting of 1 sparkling wine, chocolates, potato chips, and 2 facial masks! You'll also get a FULL 24-hour stay with late checkout at 2pm, so there's definitely ample time for all the hanky-panky you're going to get up to.
Other perks include buffet breakfast for two at Casa Tartufo – because you'll definitely be famished after all that exercise *winks* – $10 Uber credits, and even a micro flower bouquet! See, they've got everything all planned out for you, you both just need to enjoy each other's company and create unforgettable memories. Book your desired room or suite right here now!
Read more about our staycation at The Scarlet Singapore right HERE.
2. M Social Singapore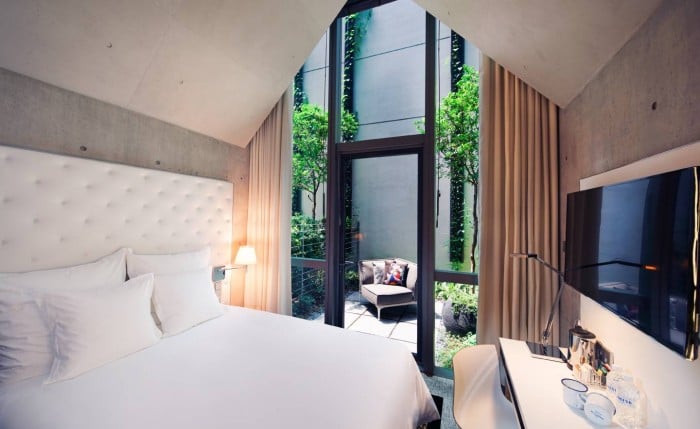 Image Credit: M Social Singapore
If you are looking to set the mood right from the get-go, M Social Singapore is the perfect place for you. Situated at Robertson Quay , M Social Singapore offers a selection of cozy alcoves and lofts to cuddle in. Snuggle up to each other at the alcove terrace and bask in each other's company! You can also spend the day with your lover strolling down the cultural paradise of nearby Chinatown, or watching a theatrical play at the Esplanade, before retiring to your room for more intimate escapades.
To top it all off, M Social Singapore has a very special Be My Naughty Valentine 2017 Package that you won't be able to resist!
[EXCLUSIVE PROMOTION] "Be My Naughty Valentine 2017" Package
You'll get to stay in a Valentine's Day themed room, and surprise your lover with a bottle of sparkling wine to get you both in the mood. Spice up the night with a complimentary Mystery Naughty Box that includes kinky surprises which you will only find out if you book this package! If you still have energy for breakfast the morning after, a complimentary buffet breakfast for two awaits you as well.
That's not all! You'll both enjoy a complimentary welcome drink, as well as FREE shuttle services to Chinatown, Dhoby Ghaut MRT and more – how convenient is that! Plus, enjoy 15% off when you dine at any of their food and beverage outlets, just the thing you need for a romantic dinner. Book between 1 – 14 February 2017 to enjoy this great deal!
3. The St. Regis Singapore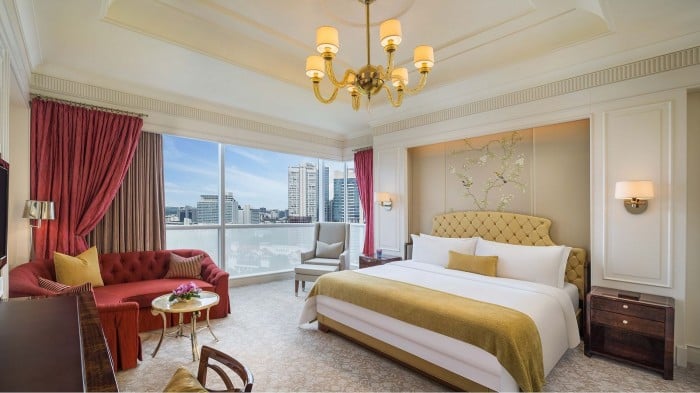 Image credit: The St. Regis Singapore
Looking to have a posh European atmosphere as you're pulling your lover into the bed? You won't get any closer than the rooms in St. Regis Singapore, which are lavishly decorated with plush curtains, exquisite art pieces and luxurious furniture. Don't be surprised to find yourself talking dirty in French after a couple of hours!
With an extravagant amount of amenities at your disposal, including LaBrezza, an Italian restaurant where you can have a romantic candlelight dinner under a cabana, and a tropical spa pool for some splashing fun, you'll never want to leave this slice of heaven. Bring your loved one here for Valentine's Day, and you'll definitely be scoring at night!
4. The Westin Singapore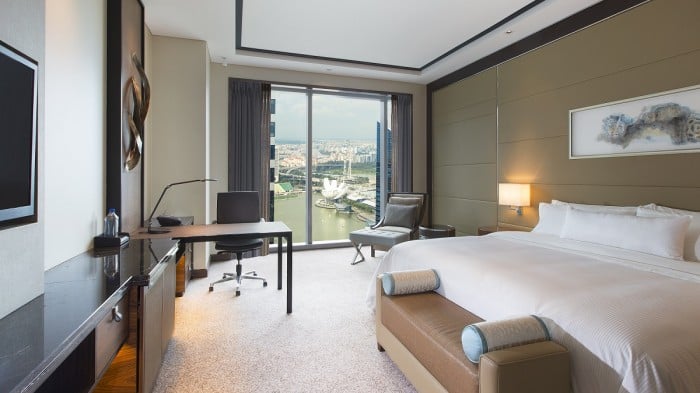 Image credit: The Westin Singapore
The Westin Singapore has its lobby located on the 32nd floor, giving you lots of scenic sights to supplement your little romantic expedition. That means no matter what room you get, be rest assured that you'll still be able to enjoy picturesque sights of the cityscape and the South China Sea during your little breaks after some "vigorous" activity in the bed!
Need to cool off after all that steamy action? Well, put on your best swimsuit and take a dip in their Infinity Pool on level 35! Swim, splash or simply chill on the deck chairs and take in the sweeping views of iconic Singapore landmarks such as the Singapore Flyer and Marina Bay. Learn more about Westin right here and you'll realize how perfect it is for an intimate night with your loved one!
5. New Majestic Hotel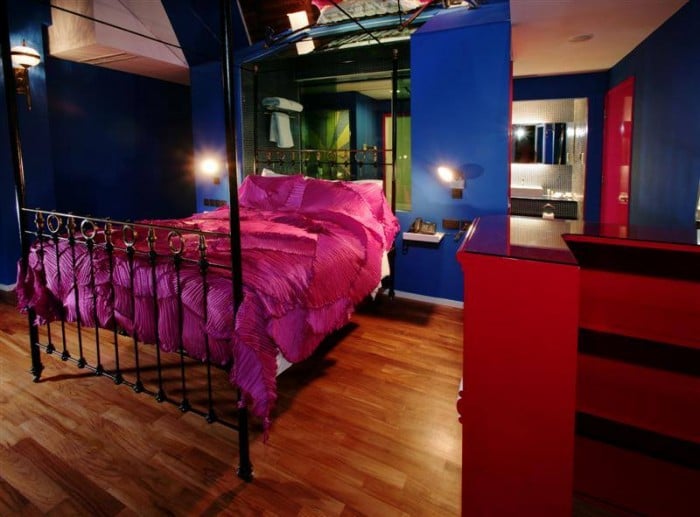 Image credit: New Majestic Hotel Facebook
At the New Majestic, you'll have your senses pushed to the extreme with the quirky lifestyle rooms exquisitely conceptualised by local designers. Take for example the "Fluid" room, which is carpeted with comfy wool and overlooks the swimming pool, or the room aptly named "Pussy Parlour", where warm and cool colours blend seamlessly to create a snazzy vibe that's both calming and provocative at the same time!
With such a variety of unique and creative designs to select from, you and your loved one will have no problems finding the perfect room in the New Majestic to fit the mood and get cracking on your well-deserved sexcation!
6. Lloyd's Inn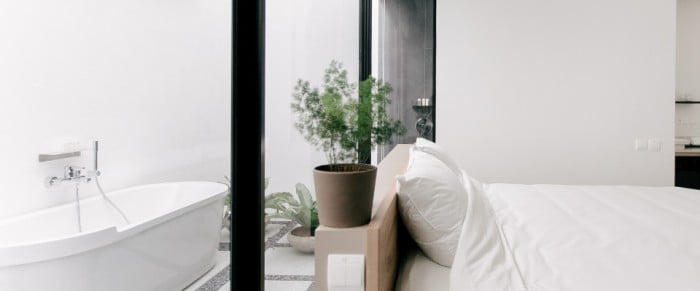 Image credit: Lloyd's Inn
If you're looking for a place that's simple and without any frills attached for your steamy hot moment with that special someone, then make a reservation at Lloyd's Inn. A natural retreat in the heart of urban Orchard, their minimalist design of less decor and more openness means that you'll have more space to experiment around when things get hot and heavy!
What's more, the bathroom is separated by a thin layer of glass, allowing you or your partner to start with a delicate appetiser through some playful teasing before the main event begins!
7. Hotel Vagabond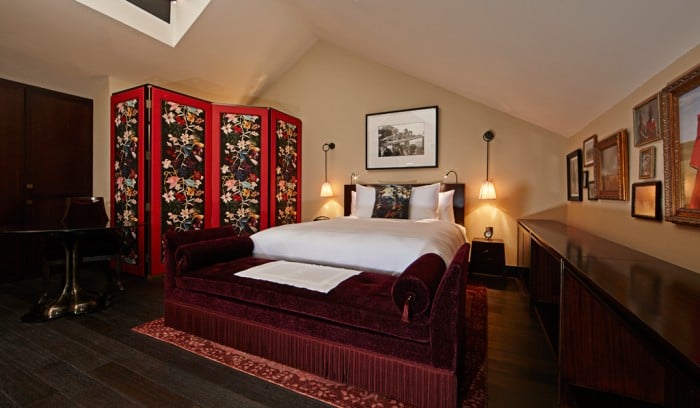 Image credit: Hotel Vagabond Singapore
Looking to impress that artistically inclined lover of yours? Take them for a stay at Hotel Vagabond, the creation of world-renowned French designer Jacques Garcia. Feast your eyes on the beautiful interior of Parisian-inspired red and gold hues, as well as carefully hand-picked works of art and furniture around the room!
The bathroom is layered with smooth Italian marble, with Turkish towels and glass mosaics completing the vibrant atmosphere. There are so many other room features to go on about, but you and your significant other are probably too occupied with each other to even notice anyway. Get prepared for a very expressive way of saying "thanks" from your partner!
8. Hotel 1929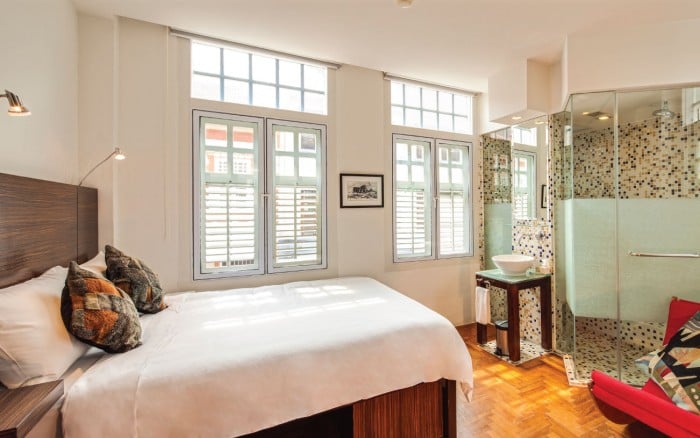 Image credit: Hotel 1929
Throw yourselves back to the colonial times, with a stay at the Hotel 1929. The rooms are housed within carefully preserved shop-houses, complete with contemporary furnishings. Feeling the urge to splurge? Consider upgrading to a suite, where you'll have your own private rooftop veranda to chill on lounge chairs and gaze up to admire the stars. There's also an outdoor bathtub for those who are looking for a more passionate way to end the night!
9. Naumi Hotel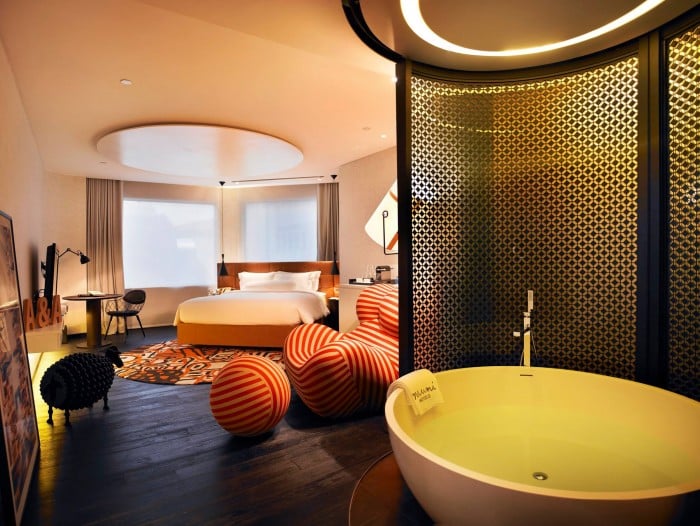 Image Credit: Naumi Hotel Facebook
The Naumi Hotel offers you an opportunity to pamper your lover with a night full of luxury and elegance. Each room is decked with designer furnishings and classy art pieces, guaranteed to make you feel thoroughly pampered during your stay. The open-air bathtub is also just steps away from the bed, making kinky escapades so convenient. The Patio room even has a private deck for intimate moments under the stars! For those wanting more peace and quiet, or to go all-out without complaints, there are guestrooms on a private floor, available upon request.
10. The Warehouse Hotel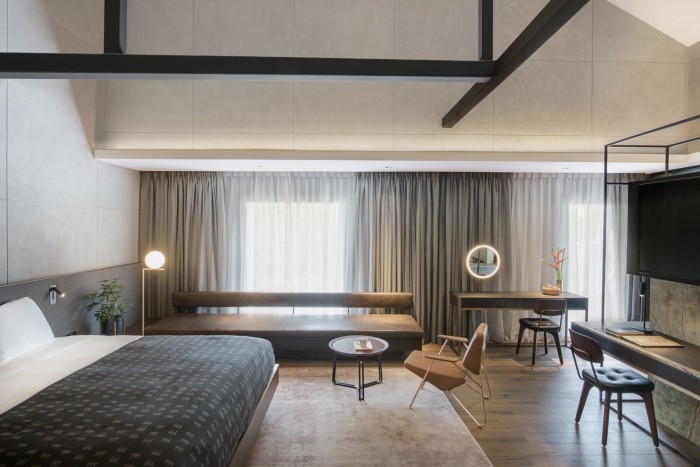 Image Credit: The Warehouse Hotel
If both of you require space for your romantic getaway, get a room at The Warehouse Hotel. You can choose from a variety of spacious rooms, ranging from the double-leveled River View Mezzanine to the windowless Warehouse Sanctuary. All rooms have at least a king-sized bed and custom pillow-top mattresses, ideal for a comfortable but energetic night. There is even a rooftop infinity pool for guests, which is perfect for couples desiring a romantic dip!
Have you decided on the dream room for your next sexcation? As long as you're packing the necessary protection and locking your lustful adventures in the room without bothering the other guests, you'll be sure to have a blast in any of these hotels, whether you're on or under the bedsheets!