When we talk about the Northern Lights, most of us think of the whimsical skies of places like Iceland, Norway, maybe even Alaska. However, did you know that you can also admire this breathtaking light show in Russia? That's right! Even though Russia isn't typically the first place you think of when planning your Northern Lights adventure, there are actually quite a few underrated hotspots that you should check out. 
One such destination is the Kola Peninsula in the northwest of Russia. It is located only two hours away from Moscow by flight. There, you can catch the Aurora Borealis between August and April every year thanks to the long winters. What's more, chasing the Northern Lights there is often more affordable too! 
But before you embark on your magical Northern Lights adventure on the Kola Peninsula in Russia, you'll need a place to stay! For that, we recommend looking into the city of Murmansk. It lies close to the arctic circle and offers instant access to the Northern Lights! Here are our top picks for the best stays to help you get started on your plans! 
Also read: 8 Incredible Reasons Why You Should Travel to Russia
1. A homey apartment that's perfect for couples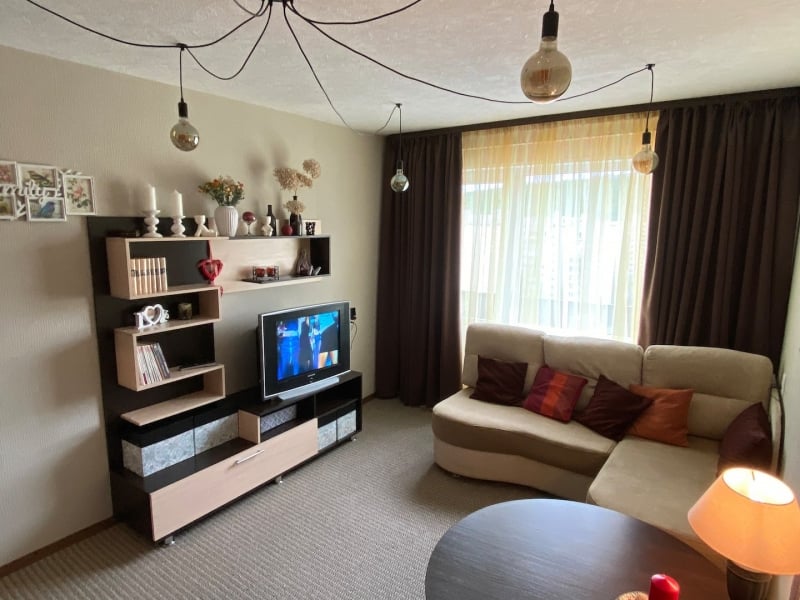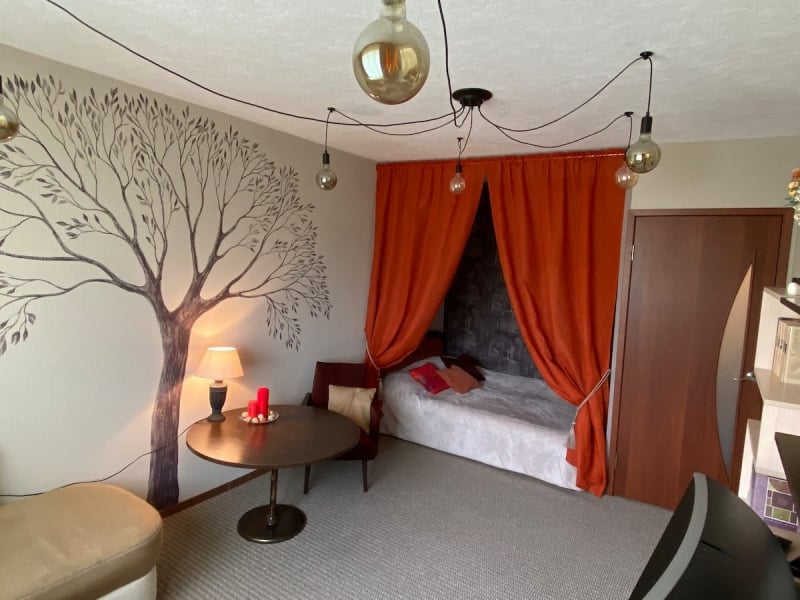 Listing name: Комфортно как дома 
Listing type: Entire apartment
Max. no. of guests: 2
No. of bedrooms: 1
There's always an inevitable element of romance in chasing after the Northern Lights. After all, there are arguably very few things that compare to admiring the artistry of the Aurora Borealis with your loved one. If you're travelling with your partner and want to catch the Northern Lights in Murmansk, look no further than this homey listing!
Freshly renovated and equipped with top-quality amenities, this lovely accommodation for two offers a blissful escape from daily life. Despite being located a little ways away from the city centre, the apartment is easy enough to reach via multiple different modes of transport. This means that you'll have quick and easy access to the city during the day and peace and quiet once evening falls. It's no wonder it's one of top-rated properties in the city! Learn more about this Airbnb here.
2. A cosy abode close to the shopping district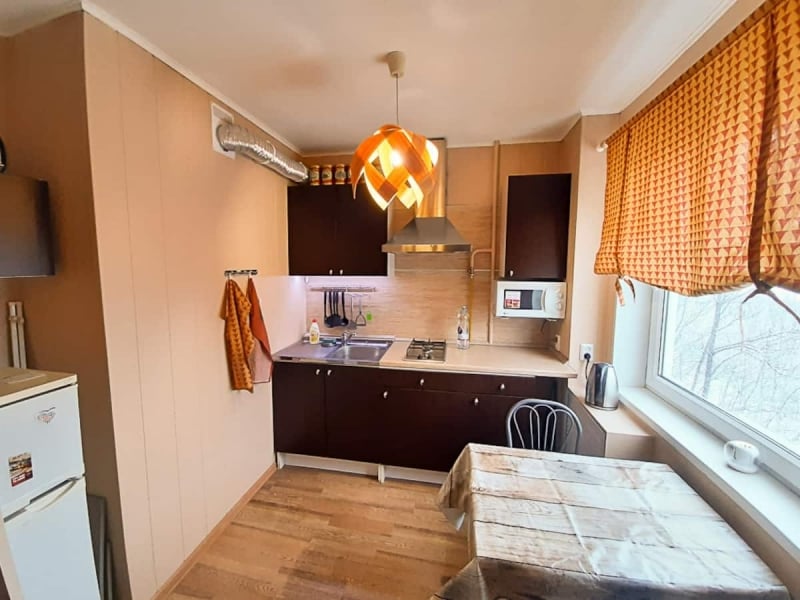 Listing name: Светлая квартира в тихом месте недалеко от центра
Listing type: Entire apartment
Max. no. of guests: 4
No. of bedrooms: 1 studio; 2 beds
If your adventure in Murmansk goes beyond just chasing the Northern Lights, this cosy studio apartment may just be your ideal choice of accommodation. Located a mere two minutes away from the main shopping district in the city, it is a convenient location for those who are planning an extended stay in the area. 
While it isn't the biggest property around, it certainly provides good value for money. This is because it comes with a fully-stocked kitchen, a community laundromat in the building, and the option of monthly stays. There are also grocery stores and public transportation options nearby, making it super convenient to get around the city and to access prime Northern Lights viewing spots! Learn more about this Airbnb here.
3. A minimalistic apartment that also offers Northern Lights tours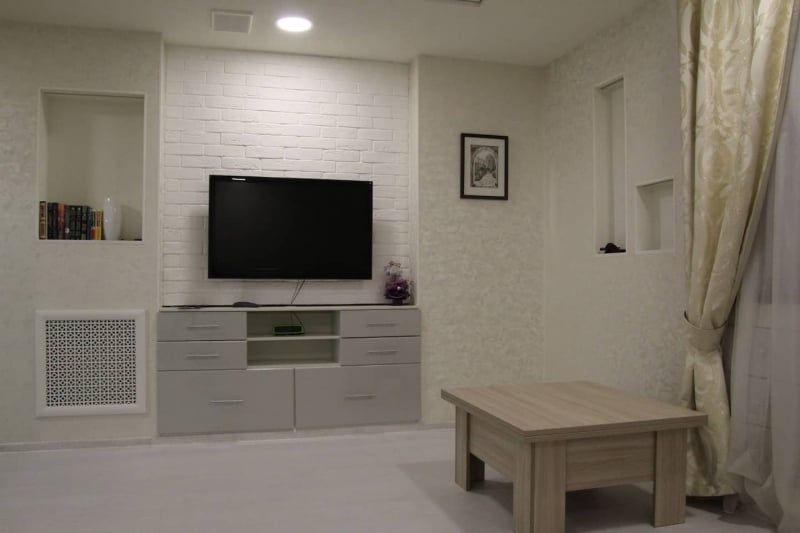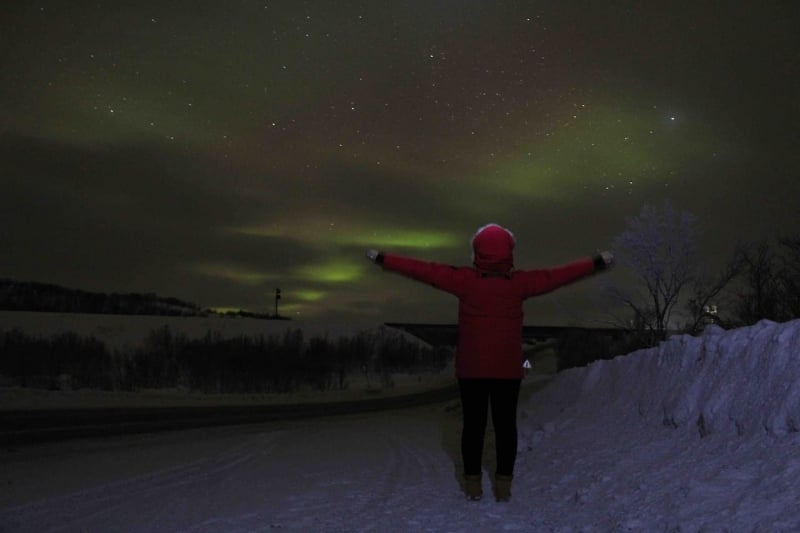 Listing name: Smart Cosy Apartment. Novoe Plato,3. 
Listing type: Entire apartment
Max. no. of guests: 2
No. of bedrooms: 1
For those who enjoy minimalistic aesthetics, the pastel colours of this apartment are pleasing to the eyes. It also helps that it is centrally located (within walking distance of the city centre) and close to several recreational facilities. The apartment also comes with a spacious living room and a fully-functional kitchen where you can cook your own meals. 
However, what really makes this option one of the best (in our opinion) is the fact that the host is ever ready to bring you on a tour of the city and even help you catch the Northern Lights! Learn more about this Airbnb here.
4. This cosy dream apartment with an incredible view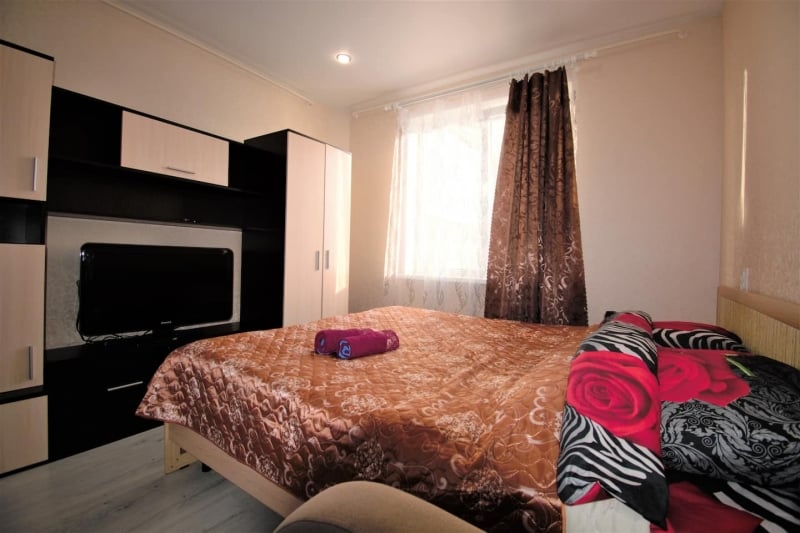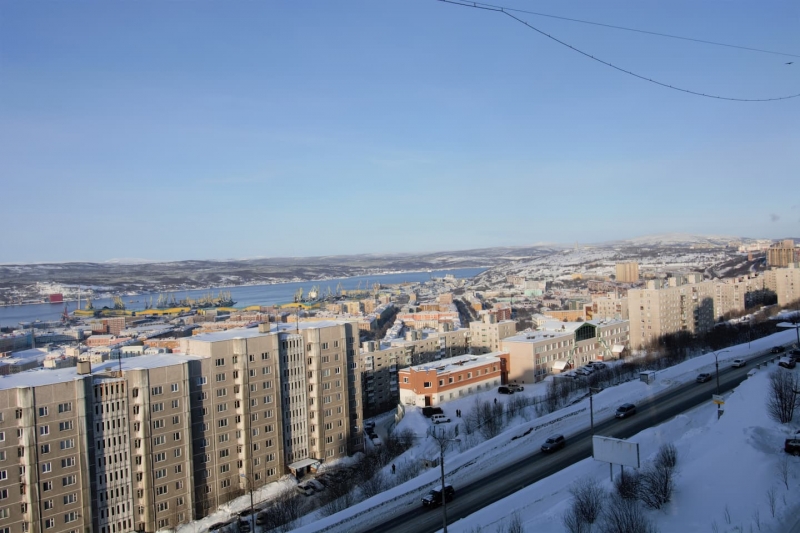 Listing name: Квартира с красивым видом на город Старостина, 33.
Listing type: Entire apartment
Max. no. of guests: 4
No. of bedrooms: 1
After a night out under the Northern Lights, nothing beats waking up to the incredible scenery of a slumbering city. Boasting a fantastic view of Murmansk and Kola Bay, this apartment is another favourite accommodation option for those visiting Russia for the Northern Lights. Able to comfortably fit four people, it's the ideal stay for small families or a group of friends. 
In terms of amenities, it certainly looks and feels like an actual home away from home. It has almost every household appliance you can think of and is conveniently located near some stores where you can get daily supplies and necessities. It is also quite new and freshly renovated! Learn more about this Airbnb here.
5. This lovely haven in the city centre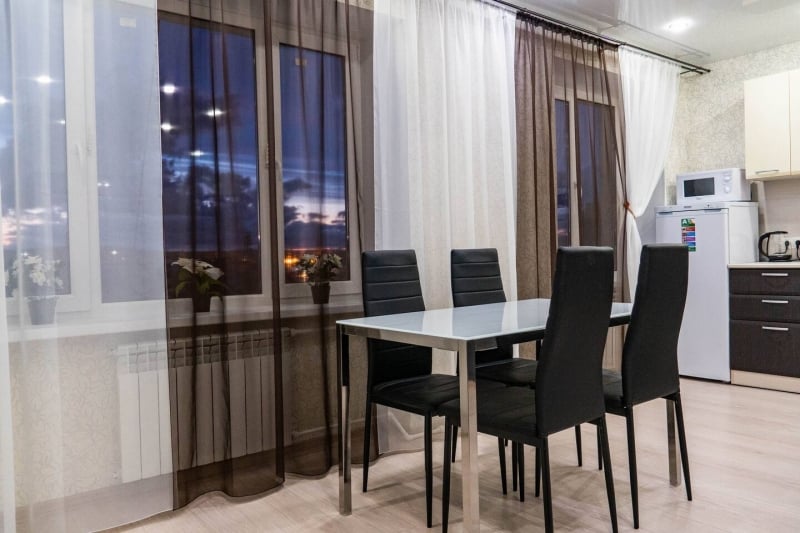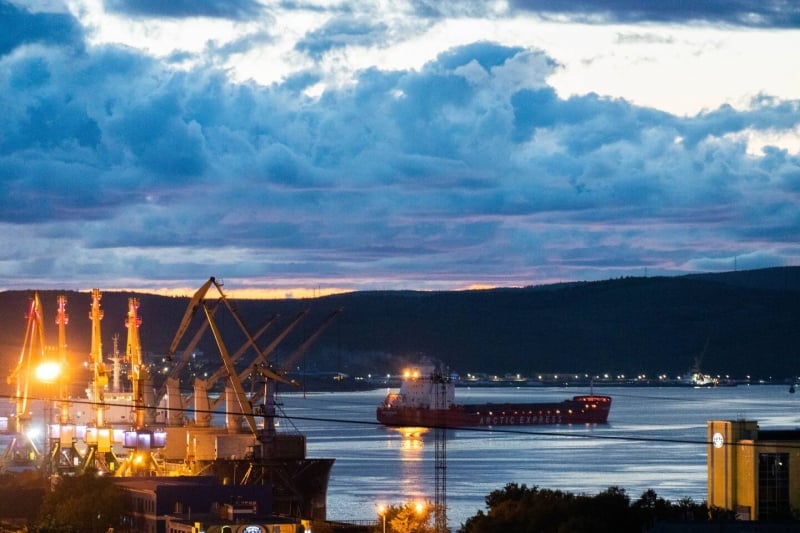 Listing name: Новые апартаменты в центре города, Коминтерна 15.
Listing type: Entire apartment
Max. no. of guests: 7
No. of bedrooms: 1
Apart from being a comfortable and convenient place to stay at (close to the city centre and public transport hubs), this spacious new apartment also provides a full range of amenities to make your stay a truly memorable experience. What's more, the hosts here also frequently offer exciting tours and activities to guests. 
As you might expect, the most popular excursion guests ask for is the Northern Lights tour! Apart from that though, the host also helps arrange tours to popular destinations like Teriberka (think arctic waterfalls and snowmobiles), and Husky Park (dog sleds). Learn more about this Airbnb here.
Also read: St Petersburg Russia Guide – What to Do, Where to Eat
6. This perfect base for exploring the Kola Peninsula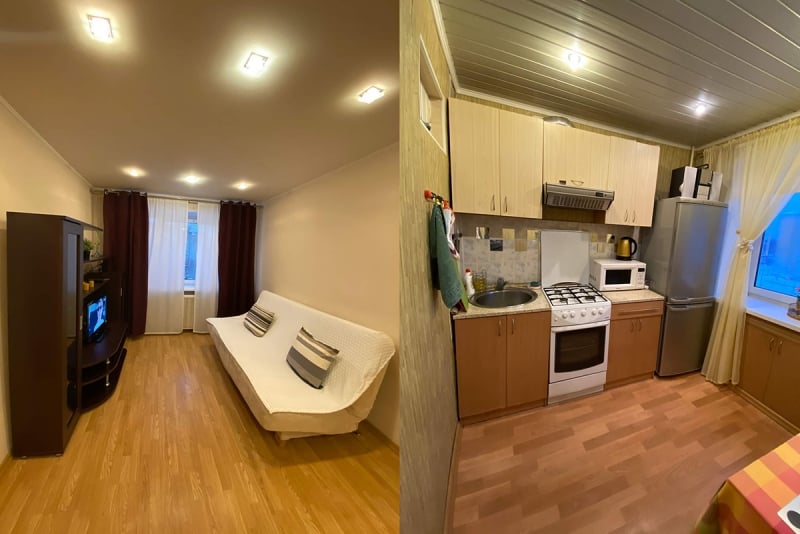 Listing name: Apartments in the city center Улица Шмидта, 45.
Listing type: Entire apartment
Max. no. of guests: 2
No. of bedrooms: 1
This cosy apartment right in the city centre is another affordable option for long-stay visitors in Murmansk. It comes with a bedroom that fits two, a fully-functional kitchen, and also various utilities that make life away from home an absolute breeze. 
What's more, even though the apartment is centrally located, it is actually one of the more quiet spots in the city. Because of this, you can enjoy the best of both worlds: quick and easy access to the Kola Peninsula's best locations during the day, and peaceful sleep during the night! Learn more about this Airbnb here.
7. An apartment fit for avid Northern Lights hunters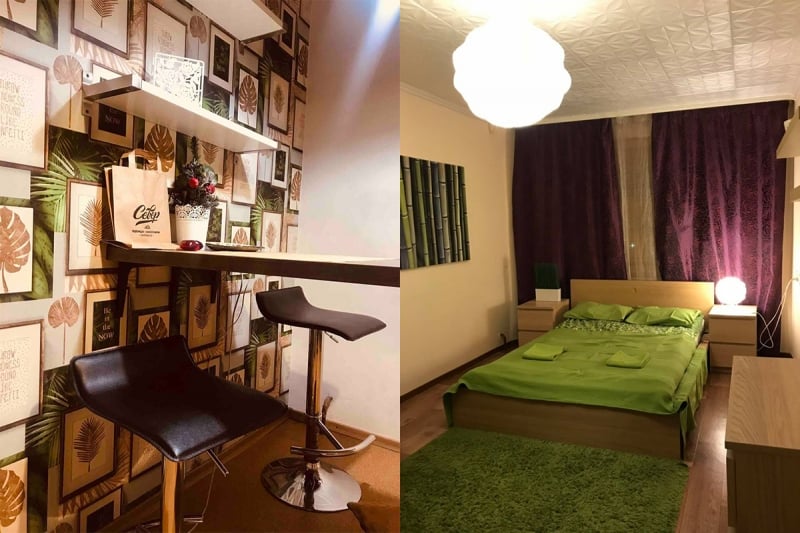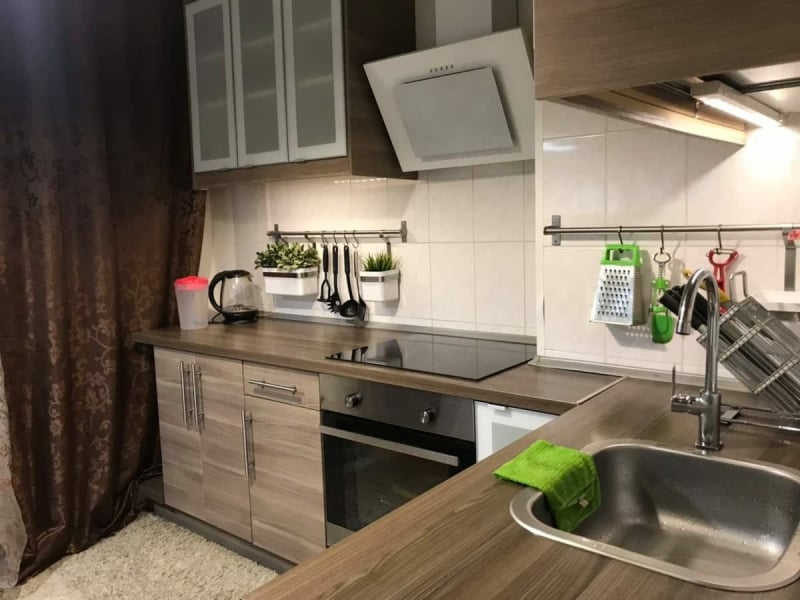 Listing name: Apartment Maklakova 30 Hunters for Aurora.
Listing type: Entire apartment
Max. no. of guests: 2
No. of bedrooms: 1
As the Northern Lights are best viewed during the winter, you may experience one or two chilly nights in Murmansk. Thankfully, this humble little apartment is so cosy, it'll warm you right up! Decorated with soothing lighting and warm colours, it truly is a pleasant abode to come back to after a night out chasing the Aurora Borealis. 
It is located close to the city centre (about 15 minutes on foot) and can comfortably fit a party of two. There is a bus stop and supermarket nearby, so getting groceries and travelling around is also super convenient. Learn more about this Airbnb here.
Extend your stay in Murmansk! 
While it's true that Murmansk is popular for being one of the best locations to chase the Northern Lights in Russia, we recommend expanding your itinerary (and time) in the city. This is because Murmansk is also close to plenty of the top attractions on the Kola Peninsula! If you visit during the winter, there are also many exciting winter activities you can try there. So, the next time you're planning on chasing the Northern Lights, consider these accommodations above and you'll be set for an awesome adventure in Murmansk!