Ah, who doesn't love chilling at a resort? It's the life. However, beachside resorts are a dime a dozen and frankly, it shows. Our Facebook feed is FILLED with typical white-sand, sarong-wrapped vacation shots. Why not shake things up for a change?
Check out these alternative resorts or hotels… that don't quite look like the usual stays. These resorts still offer the maximum indulgence factor, but with a fun twist. Brb, the sun is calling my name – time to plan an unforgettable weekend getaway!
1. Canopi Resort, Bintan
Try something cool like GLAMPING!
Camping is all the rage now, but roughing it out in the wild is sometimes the last thing we want to do on a vacation. Why not have the best of both worlds and try your hand at glamping (which basically refers to glamorous camping) under a gorgeous white canopy at The Canopi Resort in Bintan!

Image credit: The Canopi
Yes, you get this cute little safari tent all to yourself! The interior is air-conditioned (thank goodness!) and is equipped with lush furnishings and all the creature comforts you could possibly need. Plus point: it even comes with an outdoor shower, how rustic! Here you get the spontaneity of camping without having to lug a 20kg backpack.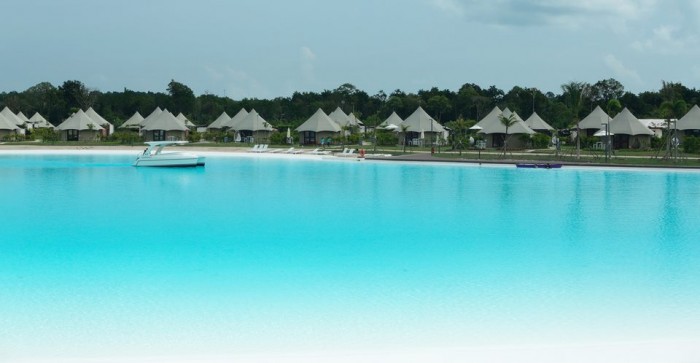 Image credit: The Canopi
The resort is also home to a stunning Crystal Lagoon located just in front of the various tents. Be spoilt for choice with the array of activities offered – taking a boat across the lagoon, riding a Vespa around the perimeter, or even venturing out to kayak in the sea or their private mangrove river.
2. Bella Vista Waterfront Langkawi
Live out your princess dreams
Image credit: Bella Vista Waterfront Langkawi
How's this for a feast for the eyes! Nope this ain't Disneyland, but is in fact a resort that you can actually stay in . Bella Vista Waterfront Langkawi is a castle-themed resort at Langkawi complete with blue-tipped turrets surrounded by lush green foliage gardens. Besides, Langkawi is known as the tranquil Jewel of Kedah in Malaysia; you can't get any more royal than that! Who says you can't experience the castle life and live like royalty, even if it's just for a day or two?

Image credit: Bella Vista Waterfront Langkawi
Situated in the heart of Kuah town, the hotel overlooks the clear blue waters of the Andaman sea and is just minutes away from some of the popular historical sites in Langkawi. The rooms are decked out in rich golden hues reminiscent of a grand ballroom party. The plush bed is totally worthy of any princess or prince; think: fluffy pillows, an impossibly soft duvet and a thick plush mattress. The pool is absolutely inviting and is perfect for a respite in our warm weather – that is, if you even manage to get yourself off the bed!
3. Best Western Premier Genting Ion Delemen, Genting Highlands
Stay among the clouds
Okay so this isn't exactly a resort, but did you know that it's possible for you to stay among the clouds? Here's your chance to feel on top of the world at the Best Western Premier Genting Ion Delemen high up in the Genting Highlands!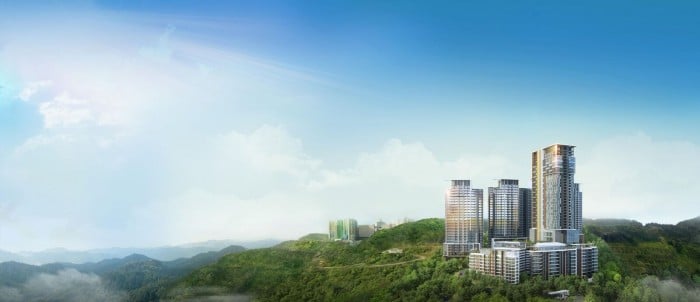 Image credit: Best Western Premier Genting Ion Delemen
The hotel stands tall above a sea of rocky mountains and a dreamy sky full of marshmallow clouds. If you've always fancied sleeping on a bed of clouds, this is the closest thing to living out that fantasy. The whole place looks like it came straight out of a modern fairytale!

Wake up to clouds floating gently past your window. Besides, with the hotel perched over 6,000 feet above sea level, can you even imagine how spectacular the sunset will look from your room?! Slip into the yukata (casual Japanese kimono-like garment) found in each room and feast your eyes on spectacular views every direction you turn.
The hotel is located in close proximity to the world's first 20th Century Fox Theme Park, which will open in 2017. Be among the first to check this exciting theme park out – we simply can't wait!
4. Pondok Sebatu Villa, Bali
Get back to nature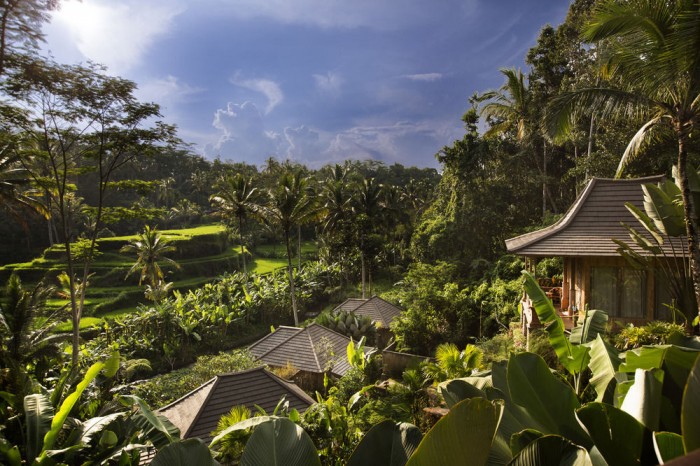 Image credit: Pondok Sebatu Villa
Take a break from the concrete jungle and go for the full tropical experience! Get back to nature and stay amongst rice paddies at Pondok Sebatu Villa in Bali. The resort is located in the middle of a traditional Balinese Village and offers wooden villas for a truly rustic stay. Feel completely removed from city life with a view of rolling rice paddies spread out before your eyes every morning. Splash around in the infinity pool, or get a traditional Balinese massage whilst surrounded by swaying palm trees. Stay at this private oasis for a breath of fresh air!
5. Balquisse Heritage Boutique Hotel, Bali
Travel back in time

Image credit: Balquisse Heritage Boutique Hotel
The charming rustic vibe of this hotel is incredibly romantic and perfect for honeymooners.Travel back in time at the Balquisse Heritage Boutique Hotel in Bali, a Mediterranean hideaway right next to the beaches of Jimbaran. Stay in a traditional teak house called a "Gladak"; each house is individually designed, with no two houses looking the same. Here heritage is steeped into every inch of the property, and history oozes from every nook and cranny. The rooms are reminiscent of days of yesteryear, and are filled with antique furniture and timeless items like a vintage clock. Get an authentic Balinese experience right here!
6. Sanchaya Estate, Bintan
Get pampered with luxury
The Sanchaya Estate in Bintan looks like a typical resort from the outside, but delve deeper and uncover rich oakwood furnishings, modern eclectic touches and rich colonial British overtones. Doesn't that polished interior just make you feel like smoking cigars and drinking cognac on their plush red-leather sofas? Splash out in luxury at this resort situated on the pristine beaches of Lagoi Bay. Be pampered beyond belief with wide canopy beds, plush carpets and impeccable service.
7. IZE Seminyak, Bali
Glimpse into the future
You'll never imagine that you'll find THIS futuristic masterpiece in laidback Bali! Why it's just like stepping onto the movie set of Star Wars, which thrills the inner sci-fi nerd in all of us! IZE Seminyak in Bali is sleek, modern, and luxurious in a daring avant-garde way. It's definitely a sight for the eyes, resembling somewhat between a spaceship and a high-tech laboratory for state-of-the-art experiments. What we really liked about this hotel is how the rooms open up to a pool – yep you can gain access to the pool right from your room . In case you're imagining cold steel rooms, be rest assured that the rooms still retain a cosy homely charm with warm lights and wooden detailing.
8. InterContinental Jakarta MidPlaza, Jakarta
Chill under the stars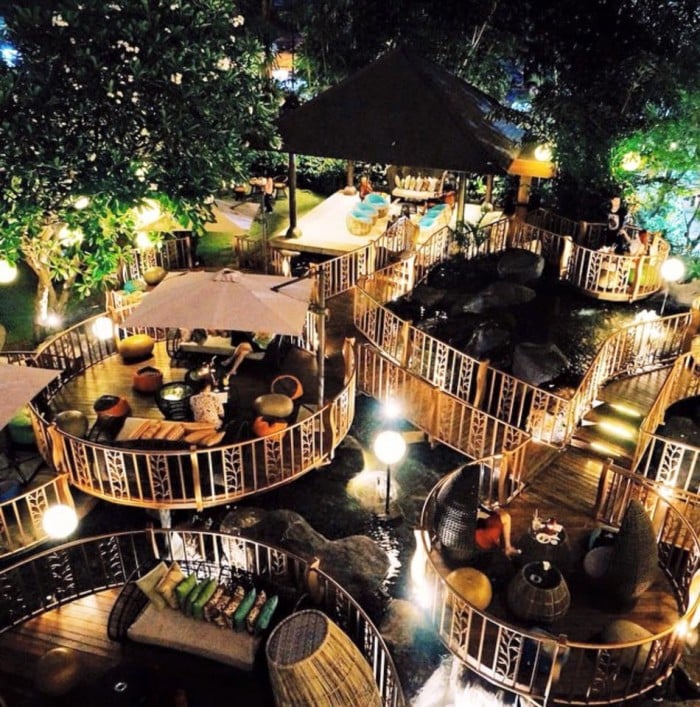 Image credit: InterContinental Jakarta MidPlaza
Can you believe that this is found in the middle of a city? The InterContinental Jakarta MidPlaza in Jakarta is a calm oasis amidst towering skyscrapers. There's just something very relaxing about lounging amidst nature while watching the city go by; maybe it's because it's just sadistically satisfying to watch others work while we don't have to! That aside, grab a couple of friends and chill out under the stars at the hotel's JimBARan outdoor bar.
9. Mantra Sakala Resort, Bali
Splash in your own private pool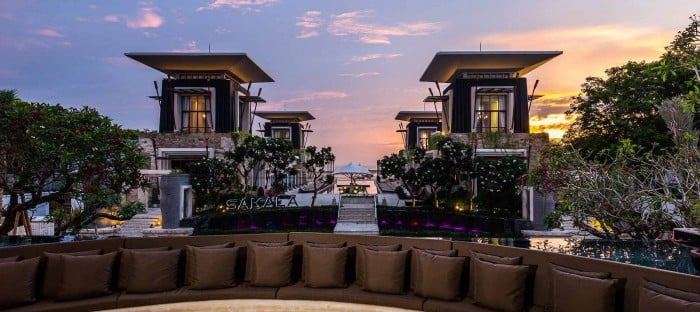 Image credit: Mantra Sakala Resort and Beach Club Bali
How about having your very own mini-bungalow with a private pool all to yourself? Staying at the Mantra Sakala Resort in Bali is like owning a chic home for a day! We're totally stealing some decor ideas for our future dream house. Go all out with a pool party at your villa's own pool or at the adjacent Beach Club Bali. There's much to celebrate when you're rocking a free-spirited resort getaway.
10. Eagle Ranch Resort, Malaysia
Giddy up, cowboy!

Image credit: Eagle Ranch Resort Port Dickson
Lastly, fulfill your American mid-western fantasies at the Eagle Ranch Resort in Port Dickson, Malaysia. Stay in a log cabin, bandwagon or tepee in this cowboy-themed resort amidst 32 acres of pristine beaches. Galloping horses will greet you on grazing pastures, ready to take you on a wild adventure. Save on that plane ticket to the US and head to Malaysia instead!
So breakaway from the norm and stay at one of these unconventional resorts/hotels! Do a weekend getaway in style for a truly unforgettable vacation. Tell everyone about these 10 awesome alternative stays, or don't if you want to have them all to yourself! Your secret is safe with us. *winks*