Well, there are plenty of choices, naturally. Here are a few suggestions for the most romantic holidays in the world:
Rangali Island – Maldives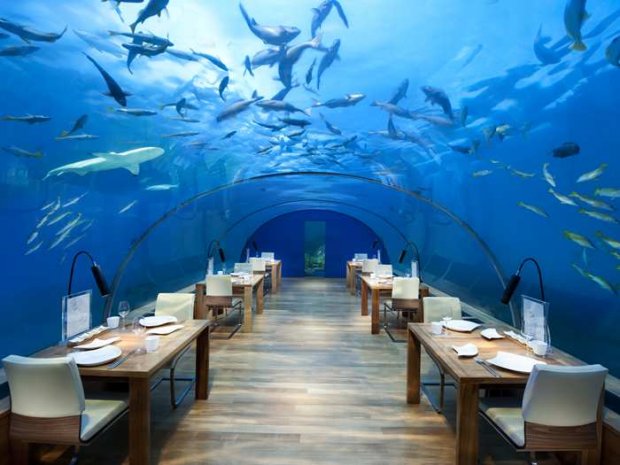 Image credits: Conrad Maldives Rangali Island Hotels
Rangali Island is part of the exquisite Conrad Rangali Island Maldives Resort. You can get there only by seaplane, which takes off from the Male International Airport on the Maldives' Hulhule Island.
Tranquil and romantic, the island boasts a crystal-clear lagoon with beach villas set on stilts extending out into the ocean. Each villa offers baths cleverly designed to grant stunning views of the serene ocean, private sun decks, Philippe Starck fittings, Bulgari bathroom goodies and its own espresso machines.
The resort even has its own underground wine cellar housing 18,000 bottles of fine wines, meant to be served with even more exquisite fare.
Of course, be sure to go diving or snorkelling among the the unspoilt reefs teeming with colourful marine life.
Bali – Indonesia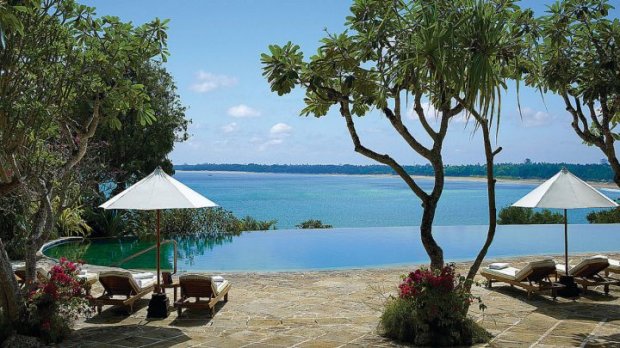 Image credits: Four Seasons Resort Bali at Jimbaran Bay 
Renowned for its pristine beaches and postcard-perfect paddy fields, Bali is proof that romantic settings need not be a lavish affair.
The Four Seasons Resort Bali at Jimbaran Bay offers classy accommodation, and if that does not do, there are plenty of other resorts and hotels to choose from, especially those along Dreamland and Uluwatu beach.
Additionally, you may take a boat trip to Lombok or Sumbawa, and enjoy the pristine water as you partake in world-class surfing, diving and other water sports.
Sign up for city tours to gain a better understanding of Bali's history and culture, or attend an Indonesian cooking class hosted by a Balinese couple. When it comes to food, you're spoilt for choice in Bali, where there is good mix of humble and high-end restaurants offering local fare like gado gado, nasi goreng and satay.
Queenstown - New Zealand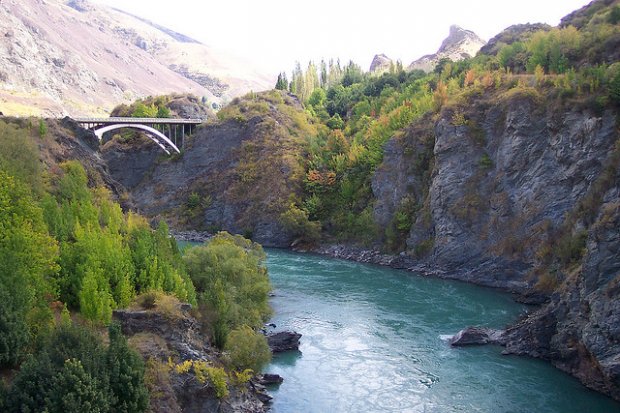 Image credits: http://bit.ly/1miK4Gm
If lying on the beach is not your kind of thing, and if you and your partner are adrenaline junkies, then Queenstown, New Zealand is probably where you should be.
Set both your hearts a flutter by leaping off Kawarau Bridge. That is right, Queenstown is the home of bungy jumping, with the first commercial bungy jump in the world established here. Kawarau Bridge alone serves as the platform for more than a thousand jumps a year, providing 43m of hair-raising thrills for all who dare to brave its height.
Then, there are the "suicidal" speedboats. Known as the Shotover Jet, these fast craft spin 360 degrees and race between rocks in the river, providing absolutely nail-biting excitement.
But if thrills and spills are not enough, you can go on a tandem hang-gliding session with professional pilots. New Zealand is filled with picturesque scenery, and what better way is there to enjoy it than from the air?
Natural wonders also await. Sign up for the one-day Milford Sound tour, to take in the grand views at the Fiordland National Park. Be treated to sights of ancient alpine beech forests, stunning waterfalls, and the famous Mirror Lakes. Further down, past the Upper Hollyford Valley, you'd be enchanted by the Cleddau Valley on the other end of Hommer Tunnel, a feat of engineering drilled through the solid rock of a mountain. Indeed, a cruise along Milford Sound would provide plenty of memories to last a lifetime.
Kathmandu - Nepal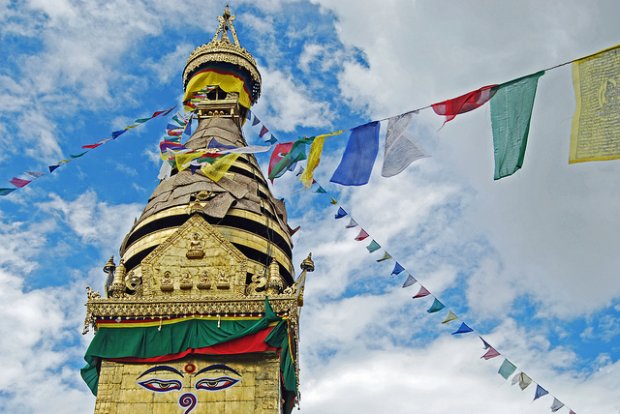 Image credits: http://bit.ly/1iTgLd1
Kathmandu, the capital of Nepal, the "Shangri-La" of legend, is a place of ancient wonders and, more importantly, a launching point into the majestic Himalayas.
To visit Kathmandu is to take a step into a medieval past of enigmatic temples and dusty alleys filled with stalls selling colourful cashmere. Trek through the Old Town, or stroll down the streets of Durbar Square, to take in Kathmandu's rich architecture and its an even greater wealth of historic splendours. Tuck into delicious local cuisine at the Newari restaurants or pick up second-hand books and CDs.
Florence - Italy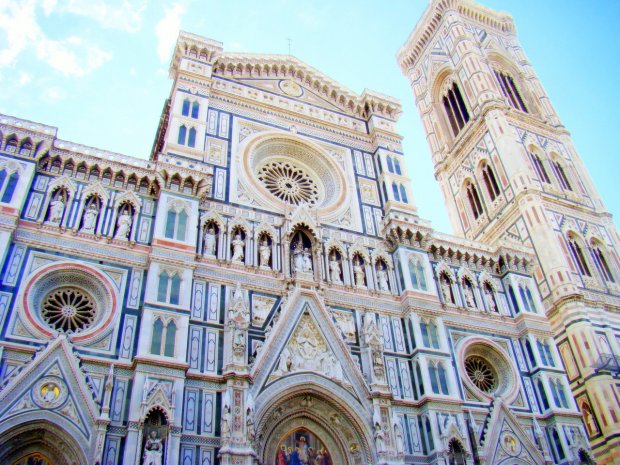 Image credits: Travelfootprints
Think romantic getaway to Europe, and Paris immediately comes to mind, no? Well, take note that the French capital is not the only European city for loving couples looking for romantic memories — there is Florence as well.
The birthplace of the Renaissance, Florence is a city filled with awe-inspiring architecture, beautiful people and, of course, glorious Tuscan food. This is a city replete with history and aesthetic beauty, once home to legendary artists like Michelangelo, Donatello, Leonardo and Boticelli.
It's also home to several art galleries. Be sure to visit the Galleria Degli Uffizi, where you can savour the private collection of the Medici family, once the bankers to all of Europe.
Taste the richness of Italian coffee at the Colle Bereto or its delightful pastry for breakfast. And, finally, there is the Duomo, the domed cathedral that dominates Florence's skyline.
Dubai - United Arab Emirates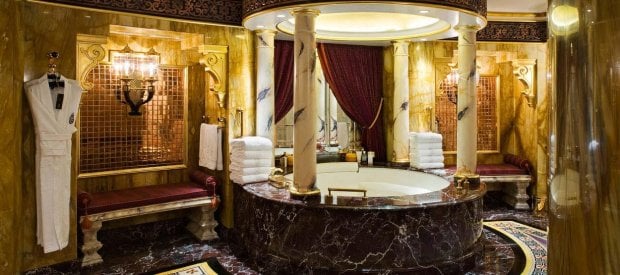 Image credits: Burj Al Arab
If you are looking for opulence and style, or seeking a place to bask in modern luxuries, then you may want to make Dubai your honeymoon destination.
Check in at sail-like wonder that is the Burj Al Arab, arguably the most luxurious hotel in the world.
First stop, the sail like structure of Burj Al Arab. Arguably the most luxurious hotel in the world, it provides private reception desks on every floor, and an army of highly trained butlers to serve your every wish.
Shop at designer boutiques and dine at world class restaurants. This is a city where you shouldn't spare any expense, and if you feel that the sky is the limit, check into a little island of your own at one of the Palms series.
Erg Chebbi, Sahara Desert - Morocco

Image credits: http://bit.ly/1qP6QoM
The desert is not just a place of never-ending sand dunes — it can also be a place of endless wonder for those who are adventurous enough to try something new. The Erg Chebbi desert in Morocco could well be that perfect honeymoon destination you and your partner are looking for.
Part of the two Saharan ergs, or dunes, in Morocco, the Erg Chebbi gives you the chance to try out sand boarding, camel trekking and camping in at an oasis under a starry sky.
Hop onto a four-wheel drive that'll take you on a tour around the dunes, and be entranced by the hypnotic music of Khamlia village, where people perform what they call spirit music.
New Caledonia


Image credits: Visit New Caledonia
Bet you have not heard of New Caledonia, have you? This remote collection of islands in the southwest Pacific is not very well-known, so if it is a "get-away-from-it-all" honeymoon that you are looking for, then New Caledonia may well be where you want to be.
With secluded beaches of golden sand, and a plethora of activities from golfing to snorkeling, you will never be at a loss for things to do. It is a perfect place for romance, set to intimate seaside dinners with tropical fruit and sumptuous seafood.
From the charming city of Noumea, to the lesser-known but equally exotic Isle of Pines, once you've enjoyed what New Caledonia has to offer, you may never want to leave.
Bora Bora - Tahiti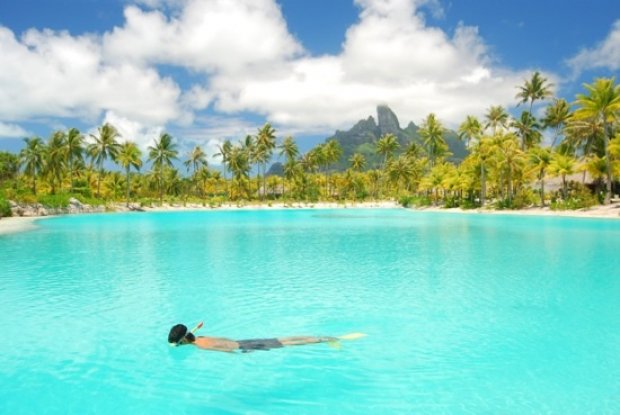 Image credits: The St. Regis Bora Bora Resort 
Paradise exists on earth, and it goes by the name of Bora Bora.
With its white sandy beaches, azure water and hibiscus-covered slopes , this Tahitian island out in the middle of the vast Pacific may well be the most romantic island in the world, living up to its claim of being the "firstborn" island fished out of the seas by the gods.
Among its many sights is Mount Otenamu, a natural citadel that stretches up towards the heavens. Bungalows standing over crystal-blue water, thatched-roof villas, and luxury resorts and spas make Bora Bora an international tourist destination where there is snorkelling and diving to be enjoyed, along with jet-skiing and cruises. For something more laid back, you can also shop for Tahitian pearls and handicrafts at the many shops here.
Prague - Czech Republic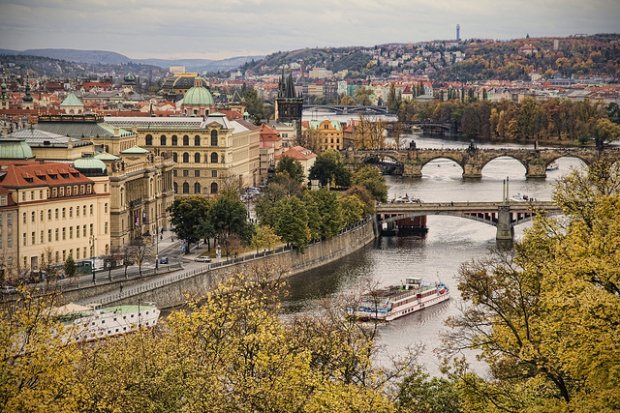 Image credits: http://bit.ly/1pV4xz2
With its rich historical background, spectacular landscape and wide variety of top-class hotels, it is easy to see why Prague is one of most-visited cities in Europe.
Prague is like an open-air museum of extraordinary architecture, ranging in styles from baroque to art nouveau. Trace the city's history all the way to the 13th century Old Town Square, and take a look at the Astronomical Clock mounted on the southern wall of the Old Town Hall.
Soak in the city's vibrant life at Wenceslas Square, or visit the National Museum that dates back to the year 1818, home to whopping 14 million artefacts.
A holiday in Prague is not complete without tasting the Czech cuisine at the many restaurants here. There are romantic spots a plenty in the city, especially the Karlsbridge, one of the most recognisable landmarks in Prague.
Inspired? Plan your dream honeymoon with Tripzilla Honeymoon Packages.