Thanks to the advancement of technology and the proliferation of internet access, going on a holiday means booking and planning almost everything online. When you get to your destination, WiFi becomes essential (because we all need to take pictures and Instagram the schnitzels out of our journey), and it's difficult to come by a getaway which truly allows you to "get away from it all".
…Which makes the following list extra interesting and special. Malaysia has always been blessed with many destinations which harbour the pristine beauty of nature in all its purest forms. So, from luxurious glamping (glamour camping) to bare essential man-meets-wild survival marathons, here's a list of 10 refreshing camping experiences you can have in Malaysia!
1. Canopy Tribes, Johor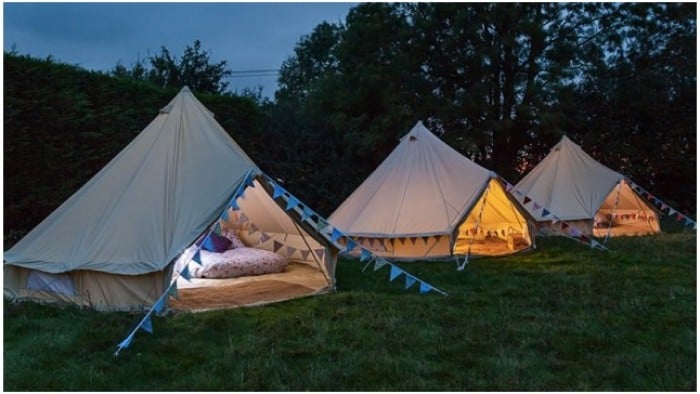 Image credit: Canopy Tribes
Comfort level: Glitz and glamour
Located in a rainforest a mere 3km away from the waterfall area of Kota Tinggi is the luxurious glamping site known as Canopy Tribes. Offering a near-perfect mixture of modern day comforts and the splendour of being at one with nature, this establishment offers fully furnished bell tent accommodation and a charcoal BBQ grill. Because let's face it, no camping trip – whether it's glamping or otherwise – is ever complete without a hearty BBQ dinner under the stars!
Also read: Amazing Forest Canopy Walks in Malaysia You Have to Experience
2. Hibiscus Beach Resort, Sabah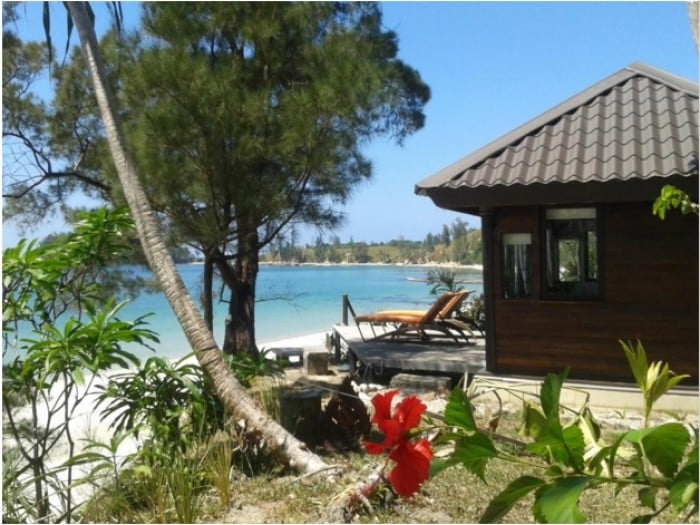 Image credit: Hibiscus Beach Resort
Comfort level: Like an island vacation
Over in East Malaysia, perched on the northern tip of Sabah and situated strategically by the shoreline is the Hibiscus Beach Retreat. It is a boutique beach chalet which offers visitors a mesmerising view of the South China Sea. You can also engage in activities like jungle trekking, scuba diving and mangrove touring apart from the usual camping activities. if you're truly looking to just leave behind your daily life for a weekend, then this is one glamping choice not to be missed.
3. Endau-Rompin National Park, Pahang/Johor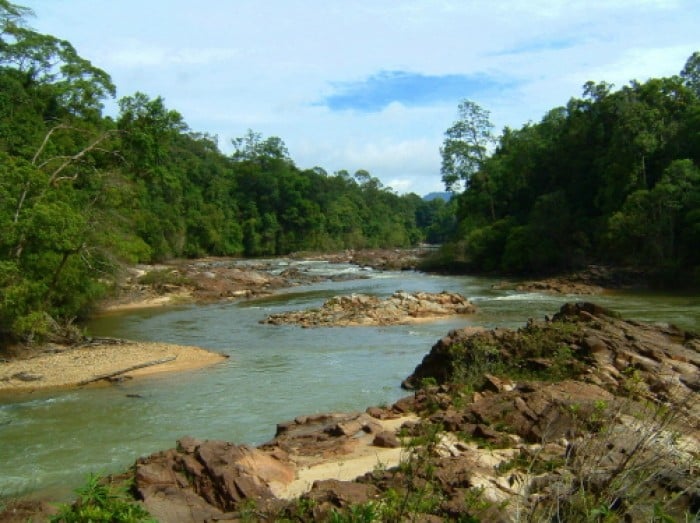 Image credit: Mohd Hafiz Noor Shams
Comfort level: Basic survival training
Endau Rompin National Park is the second largest tropical rainforest reserve in Malaysia. It is situated between the states of Pahang and Johor and is a popular spot for bird-watching, fishing and camping. The campsite is accessible by 4WD and basic sanitary and dining facilities are provided but that's about as good as it gets in terms of modern-day conveniences. The park is also home to some endangered species in Malaysia, such as the Sumatran Rhinos and elephants. Because of that, it is recommended that you hire a guide at the park headquarters in case things go awry while you're trekking/camping.
Also read: 12 Incredible Outdoor Adventures You Can Have In Malaysia
4. Cameron Highlands, Pahang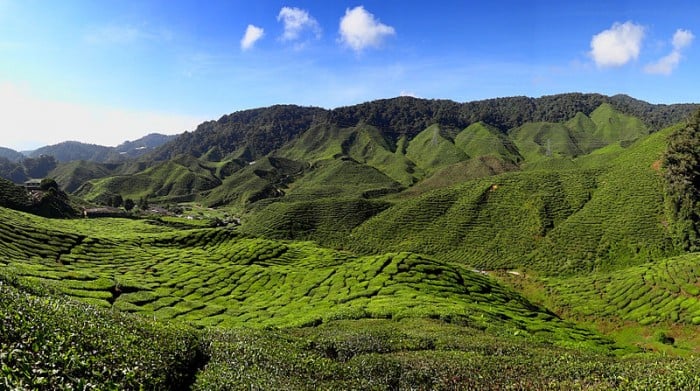 Image credit: Bjorn Christianson Torrissen
Comfort level: You'll survive
Depending on which campsite you eventually choose, camping in Cameron Highlands can either be comfortable, boy-scout level camping, or Malaysian ninja warrior training. If you're the adventurous type, try camping on the mountains along the main range. For slightly simpler camping trips, you can pitch a tent by the Forestry Department in Sungai Pauh (it comes with lavatories and running water). For absolute comfort, just rent a chalet with friends or family and enjoy quality time together. Choose wisely.
5. Teluk Bahang, Penang
Image credit: Syed Abdul Khaliq
Comfort level: A good but relaxing workout
Teluk Bahang – or more specifically, the Teluk Bahang Recreational Park – is a spot that is frequented by local families during weekends and holidays. It is an ideal spot for camping or having a picnic. Filled with numerous flora and fauna and home to several mini waterfalls, Teluk Bahang Recreational Park is a scenic campsite for those who wish to be close to nature. While a hostel with very basic amenities is provided, those who wish to camp the old-fashioned way will likely have to set up their tents themselves at the campsite. But that's where the fun of camping lies, right?
6. JAPAMALA, Tioman Island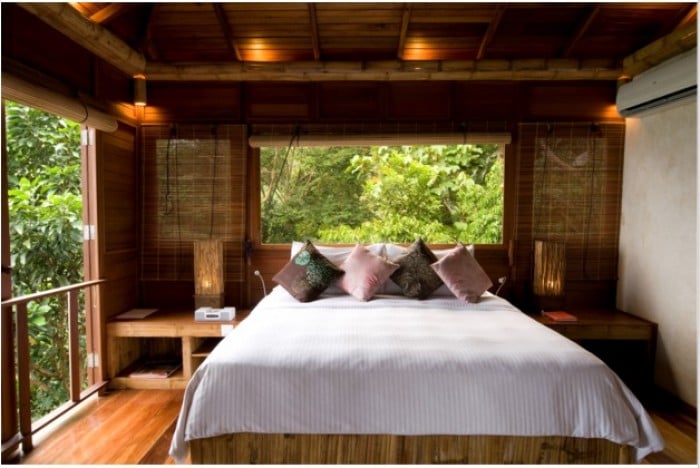 Image credit: JAPAMALA Jungle and Beach Boutique Resort
Comfort level: Jungle royalty
Possibly the most luxurious option on this list, JAPAMALA resort on Tioman Island is an exclusive boutique resort which allows guests unadulterated closeness to nature whilst still being pampered by creature comforts. You may choose to stay close to the jungle or the beach in various forms of accommodation, including a selection of treetop chalets. Interesting activities while glamping in JAPAMALA include diving, boat excursions and jungle-trekking to various points on the island. Peaceful and quiet, it is an ideal place for a quick, blissful escape from city life.
7. Kuala Selangor Nature Park, Kuala Selangor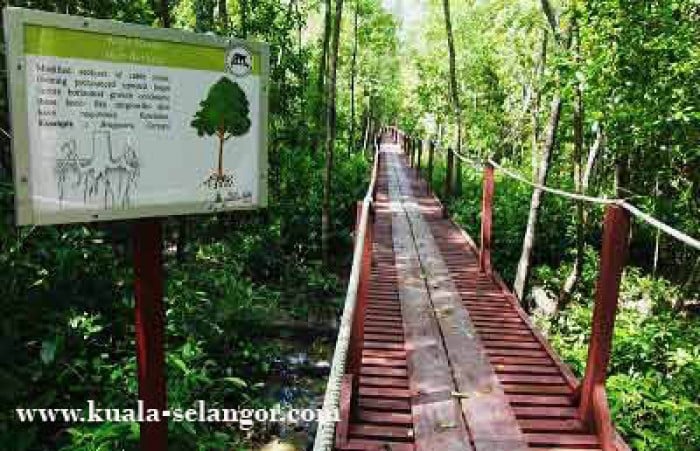 Image credit: Kuala-Selangor.com
Comfort level: Birdwatcher
Kuala Selangor Nature Park, or better known as Taman Alam. This nature park is over 200 hectares wide and is a haven for many wildlife and plants, including its famous mangrove swamps. Taman Alam has many basic tent-like chalets for visitors who intend to stay in the park for an extended period of time or even overnight. Usually, visitors come to the park hoping to catch a glimpse of some 150 species of birdlife in the park. But Taman Alam is more than just birds and mangrove swamps, there are also multiple trekking trails with varying distances, mudflats and a manmade lake with aquatic wildlife.   
8. Kenong Rimba, Pahang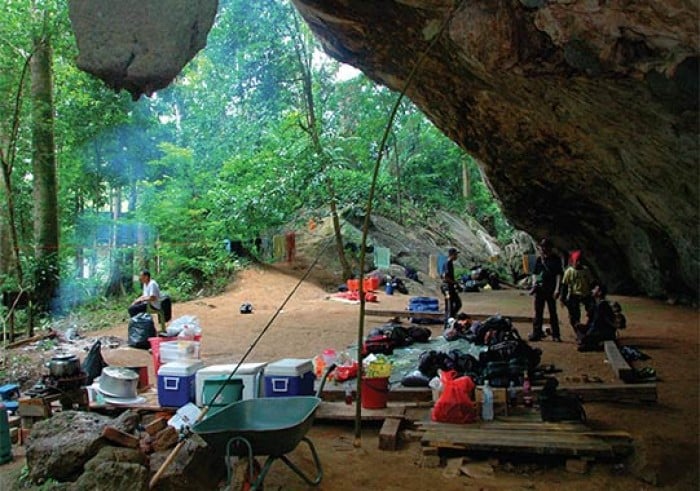 Image credit: Tourism Pahang
Comfort level: Cave excavation
Kenong Rimba is located right next to Taman Negara. In fact, it's right on the edge of Taman Negara's northern and eastern boundaries. It is a lowland forest filled with limestone caves, crystal clear waterfalls and numerous wildlife including tapirs and leopards. The main attractions of Kenong Rimba are cave exploration, birdwatching and jungle trekking. It's also a popular spot for short camping stops! However, visitors MUST be accompanied by a qualified guide at all times while in the park to prevent any mishaps or unfortunate incidents.
Also read: The 6 Essential Items for Every Camping Trip
9. Open Sky Unlimited, Kuala Lumpur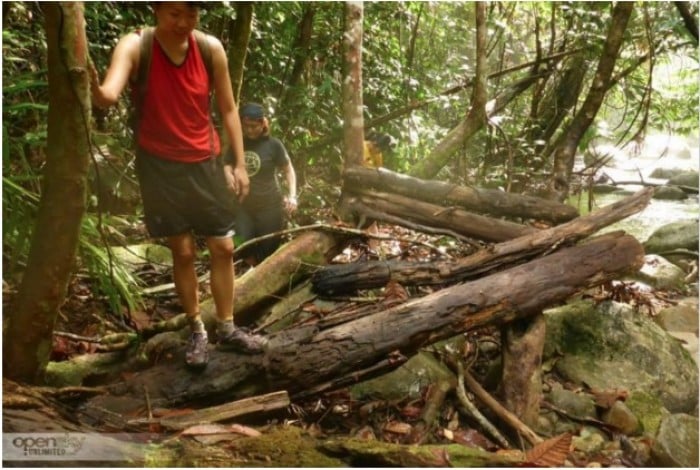 Image credit: Open Sky Unlimited
Comfort level: Spartan in training
Now, if you're looking for a REAL jungle adventure, you'll be hard pressed to find a better source than Open Sky Unlimited. Unlike the other places on the list, Open Sky is not a place, per say. Rather, they are what you might call an outdoor adventure group. Clients are required to make a booking with Open Sky (via their website) for numerous exciting adventures like wild jungle trekking, waterfall abseiling and camping, all of which are challenging yet rewarding activities. Their camping 'menu' ranges from beginner to medium level experiences and they are all 'back-to-basics' camps. A real jungle experience where you'll have to tough it out and be one with the wild.
*Please note that at the moment, Open Sky Unlimited are only accepting camping trip bookings from school groups. But all other activities are still open to the public. Most of the trips are on weekdays, however.
10. Taman Negara, Pahang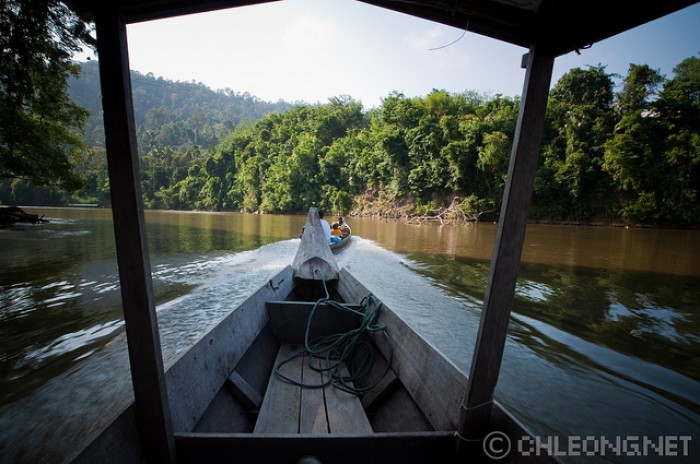 Image credit: chee.hong
Comfort level: Character building
I've probably mentioned this more than a couple of times before, but the Taman Negara (National Park) in Pahang is one of the oldest tropical rainforests in the world. While it does offer accommodation with varying forms of comfort, to truly experience Taman Negara, one should try camping there along with all the usual activities such as jungle trekking and jungle night walks. Camping facilities are at a minimum, so even though you don't necessarily need to be Bear Grylls, it is still advisable to go with someone who has experience with camping outdoors.  
Also read: A Guide to Camping for the First-time Camper
So there you have it, 10 amazing camping/glamping sites in Malaysia! While some of the places on the list may be a little TOO comfortable (even for glamping) to some of you, they certainly do capture the essence of camping perfectly, and that's to get as close as possible to Mother Nature and to temporarily escape from one's daily routine.