Ah, LA — the City of Angels: Home to the iconic Hollywood Sign, the Walk of Fame, and Griffith Observatory. But did you know it's also where you'll find some of the most beautiful homes you'll ever see? What's more, a great number of these gorgeous LA abodes could even be your very own home away from home. On your next visit, we urge you to skip the hotel stay and opt for an Airbnb in Los Angeles instead. You won't regret it!
To help you narrow down your options, we've listed some of the top-rated Airbnbs in Los Angeles — and each one is just as Instagram-worthy as the last. Keep scrolling, and we don't doubt you'll find the perfect place to live like an Angeleno.
Also read: 10 Incredible Airbnbs in Malibu, California for a Coastal Escape
Top Los Angeles Airbnb homes worth booking
1. This romantic Hollywood Hills bungalow with magical city views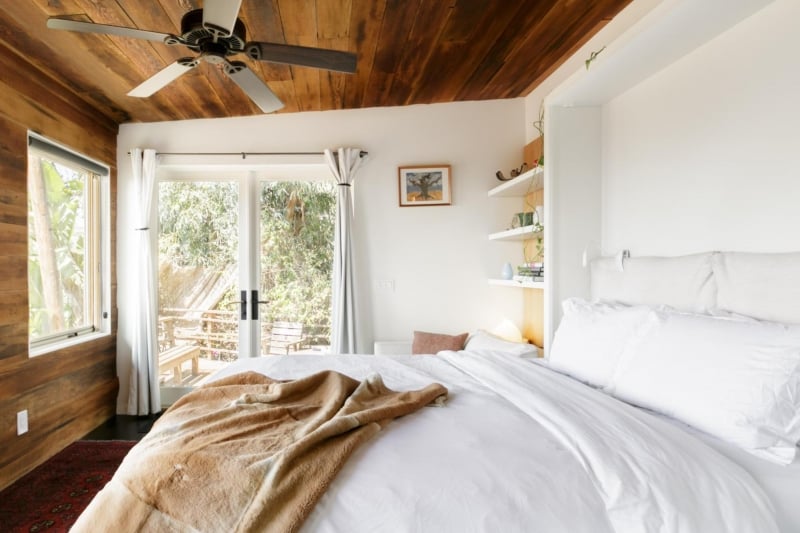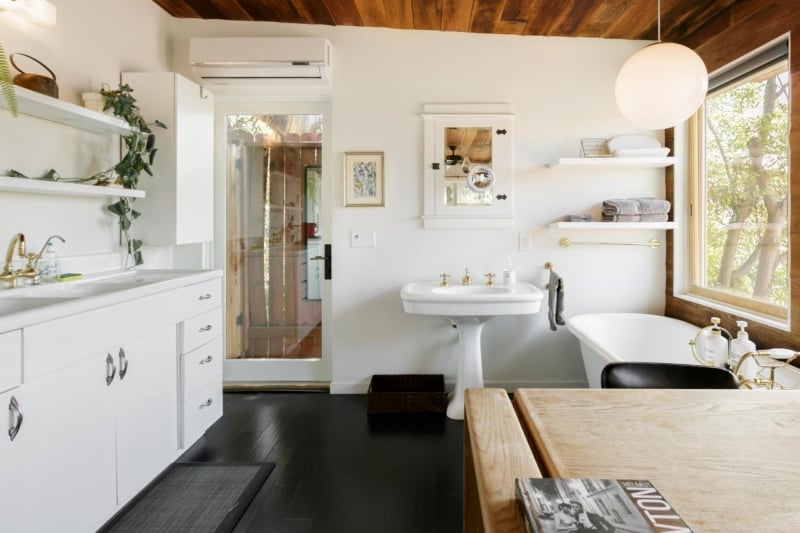 Listing name: Rustic Space Perched in the Hollywood Hills
Listing type: Entire house
Max. no. of guests: 2
No. of bedrooms: 1
A blissful escape from the busy streets of LA, this rustic guest house perched on Hollywood Hills is perfect for quiet, romantic getaways. Guests will surely love how this Airbnb is the perfect balance between central and secluded! 
Despite its middle-of-nowhere vibe, it's also a great springboard for exploring the city. Make sure to take advantage of its amazing views — we hear the vintage tub is a favourite spot to enjoy them from! 
2. This historical Spanish-style home in the heart of Hollywood Hills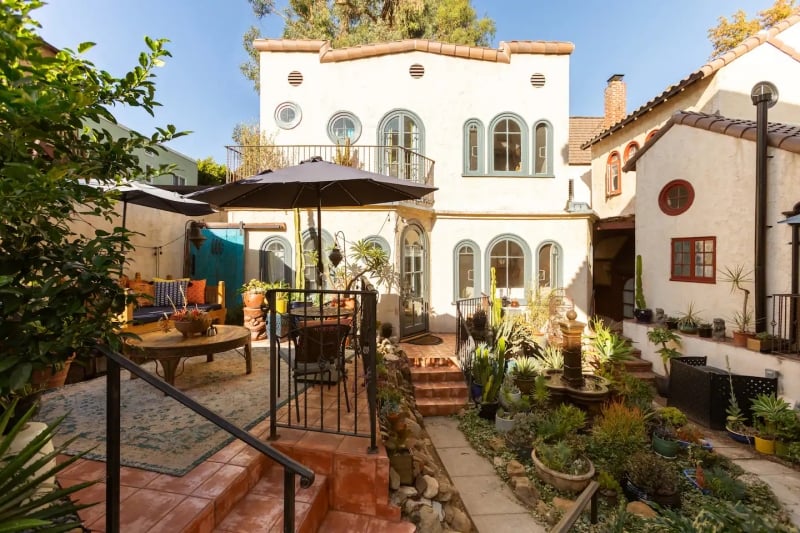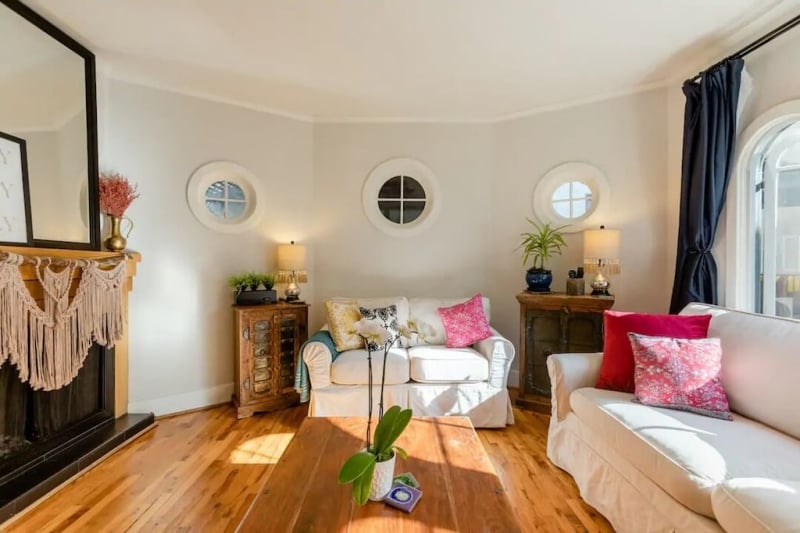 Listing name: Historic LA Oasis with outdoor courtyard
Listing type: Entire house
Max. no. of guests: 3
No. of bedrooms: 1
This gorgeous Spanish-style casita boasts a timeless and valuable architectural design. The two-story guest house dates back to the early 1900s, and has been restored to accommodate tourists and locals looking for a change of view. Fun fact: The property is on the National Register of Historic Places in Whitley Heights residences! 
The inside of the house looks as impressive as the outside. Expect white bay windows and circular windows, vintage staircase handrails, and pots of small plants sitting around the living room. The bedroom, on the other hand, features a crystal chandelier and a large mirror so you can take an OOTD picture anytime! Other interesting characteristics of this LA Airbnb include a repurposed ancient Mexican door, Moroccan lights, as well as hanging art like the bull's head and movie posters.
3. This massive Los Angeles Airbnb with a private garden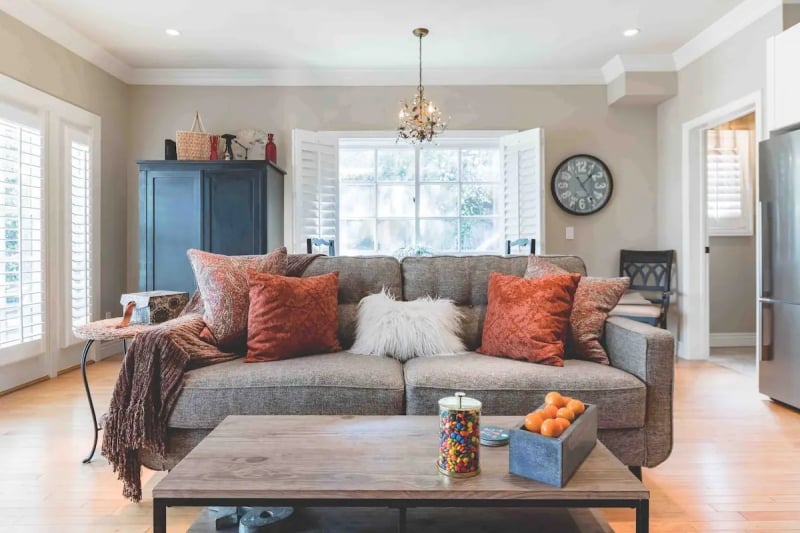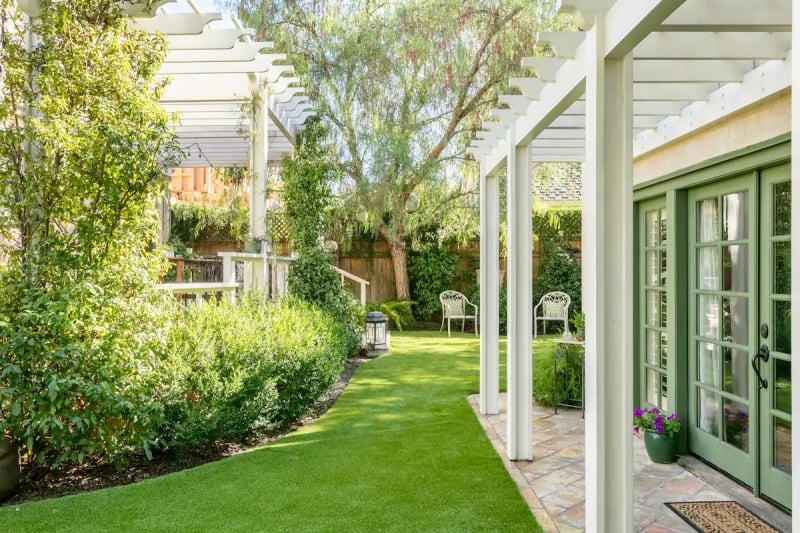 Listing name: Gorgeous Private Guest House, LA's Iconic Larchmont Village
Listing type: Entire loft
Max. no. of guests: 3
No. of bedrooms: 1
This spacious Airbnb in Larchmont Village suits couples or a small family of three. It is a great place to further your bonding experience after a day of exploring the city. Previous guests have mentioned how comfy and beautifully decorated the guesthouse was, and that the Hosts were very cordial.
There's a huge garden outside of the house, with chairs and tables to rest. At night, it looks just as stunning with the help of bright fairy lights. Its interior's homey ambience, and rustic aesthetic, with elements like the candelabra chandelier, fresh flowers, and other vibrant embellishments are something to rave about, too! This stunning stay is also close to pretty much all the attractions you'll want to visit around Los Angeles, as well as must-try coffee shops and restaurants! 
4. This whimsical artist-designed loft in Bel Air
Listing name: 1940's Bel Air Home With Artist Designed Interior Near UCLA
Listing type: Entire home
Max. no. of guests: 5
No. of bedrooms: 2
Right in the middle of all the action in LA, you'll find this cool 1940s-style cottage in the ritzy Bel Air neighbourhood. So, if you love falling asleep in a dreamy space while having everything right at your doorstep, then you'll want to take this Los Angeles Airbnb into consideration!
Other things to love about this home: the super-comfy organic mattresses, vintage furnishings, and cosy backyard deck. Oh, and did we mention it's really close to The Getty Center, UCLA, and Beverly Hills, too?  
5. This beautifully furnished loft in a quiet neighbourhood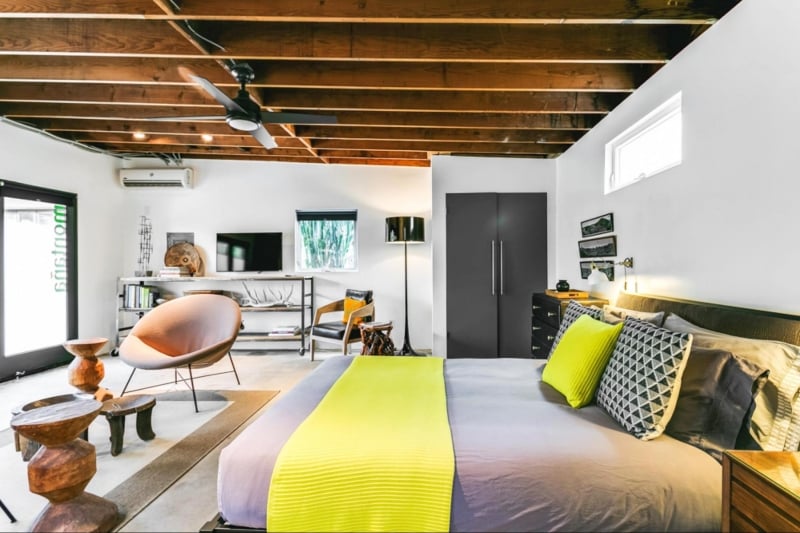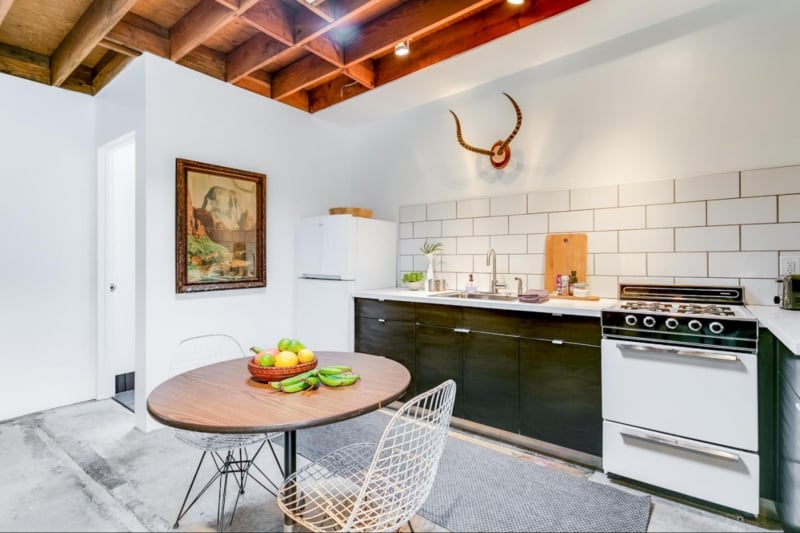 Listing name: Gorgeous Mid-Century Modern Loft with Fire Pit
Listing type: Entire loft
Max. no. of guests: 2
No. of bedrooms: Studio
This Airbnb's Superhost, Kelly, is a designer and home renovator — and it absolutely shows! Furnished with modern and mid-century elements, this lovingly decorated loft is a Pinterest dream come true. What's better, it is a relatively cheap Airbnb in Los Angeles compared to other listings.
The building's outdoor common area is also a beautiful place to spend your downtime. Located in a quiet neighbourhood outside of LA's busy centre, this home is an ideal pick for solo travellers and couples who also plan to visit Pasadena. 
Also read: 12 Best Countries for Extroverts Who Love to Travel
6. This playful guest house in Venice Beach
Listing name: Hear Ocean Waves from a Venice Beachfront Pad
Listing type: Entire house
Max. no. of guests: 3
No. of bedrooms: 1
Those who plan to get their dose of vitamin sea while in the city will appreciate this Airbnb in LA! This gorgeous guest suite is perfect for beach lovers, nestled just a few steps from the famous Venice Beach.
With hip modern interiors, a 1970s pinball machine, and a turntable, it's a cool tropical escape. To add to all this, two bikes are also available for your use — plus points for providing eco-friendly transportation!  
7. This room in a classic Hollywood home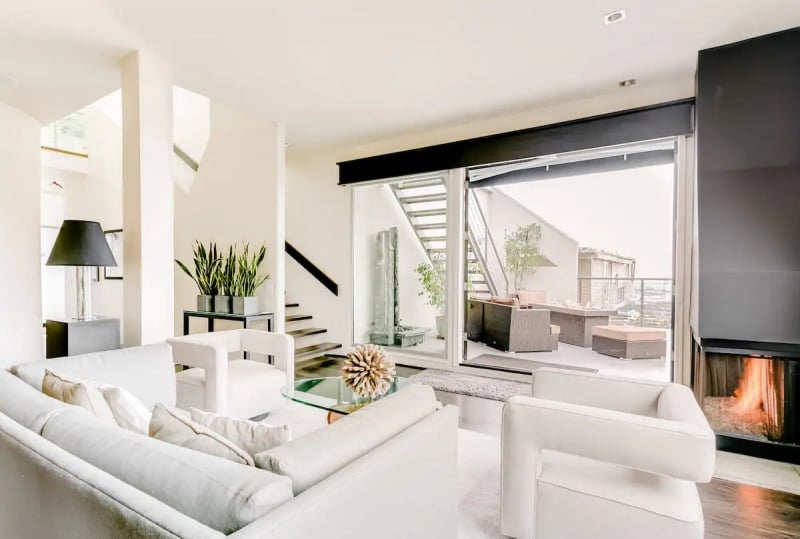 Listing name: Room in Hillside Home with Skyline Views
Listing type: Private room in house
Max. no. of guests: 2
No. of bedrooms: 1
Based on the many stellar reviews posted by previous guests, it's easy to sum up what your stay would be like in this hillside abode . Spoiler alert: It's one you wouldn't want to miss!
First, you'll be treated to some of the most beautiful (read: jaw-dropping) views of LA. Second, you will enjoy a hotel-quality stay, thanks to Superhost Darrell: The room is sparkling clean and comes with a comfy bed with crisp linens, a mini fridge and snacks, and bathroom amenities. Lastly, you will surely appreciate this listing's proximity to tourist-friendly spots like the famous Hollywood Sign, Santa Monica Pier, and Rodeo Drive!

8. This artful guest studio in LA's top-rated neighbourhood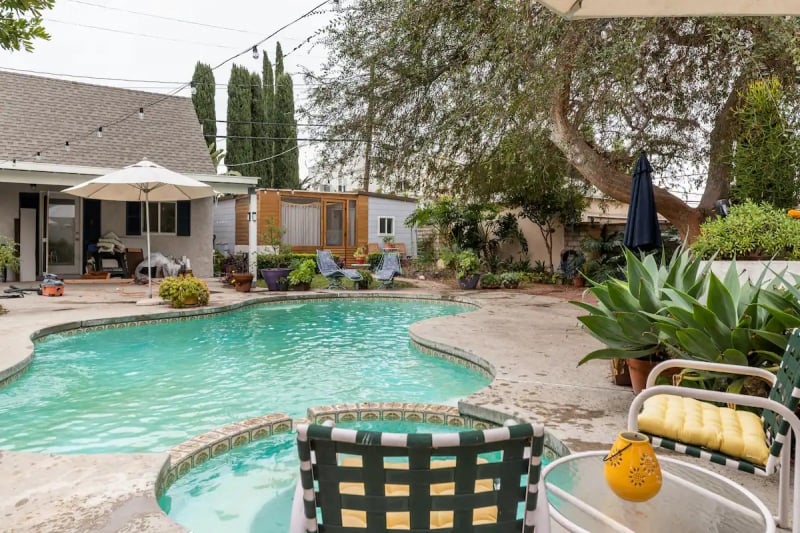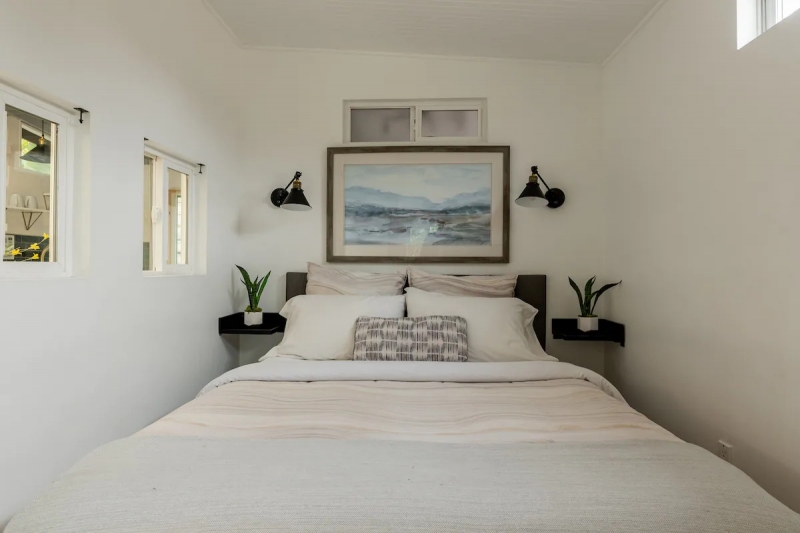 Listing name: Well-Appointed Mid-Wilshire Guest Studio with Top Amenities
Listing type: Entire guesthouse
Max. no. of guests: 2
No. of bedrooms: 1
This charming guest house for two is tucked in Faircrest Heights: a Westside residential area that's been named the best neighbourhood in the city. In addition to the thoughtful touches in the bedroom of this Los Angeles Airbnb, you'll love its cosy outdoor lounging area. Just picture yourself spending sunny afternoons on this home's beautiful, brightly coloured patio!
9. This vintage apartment just a minute away from the beach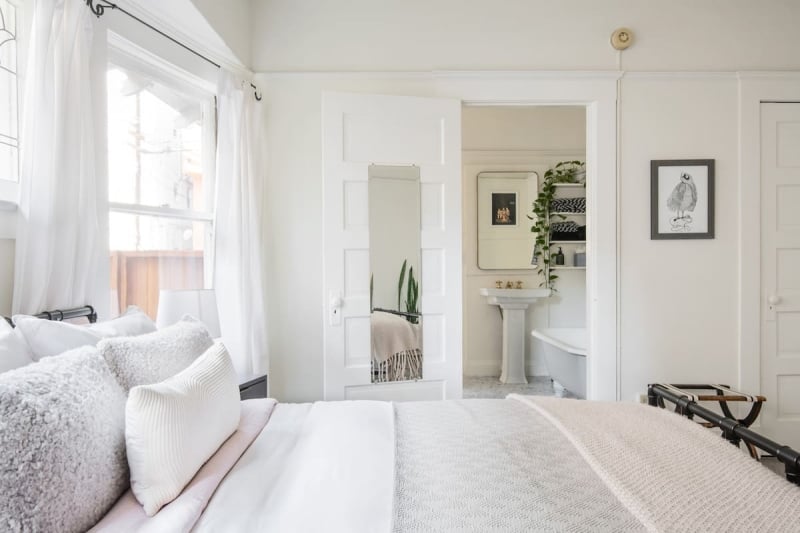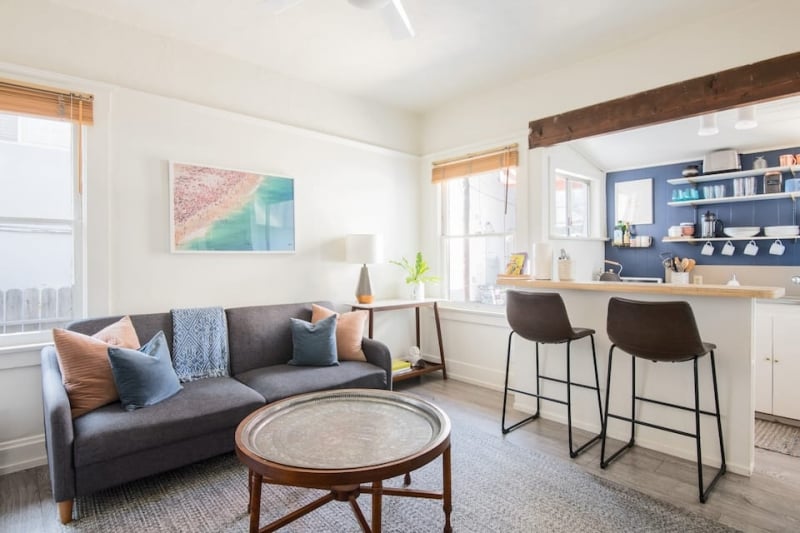 Listing name: Historic Venice Apt 1/2 blk to beach+parking+bikes
Listing type: Entire apartment
Max. no. of guests: 3
No. of bedrooms: 1
When it comes to vacationing in the City of Angels, a whole lot of downtime isn't to be expected (after all, there's so much to see and do). But still — it wouldn't hurt to recharge and wake up somewhere nice, right?
This charming apartment in Venice is quite the gem: It's found in an original Craftsman house built all the way back in 1910, and it's just a minute's walk away from the beach. On top of that, guests will also get to enjoy free parking (a rarity this close to the beach!), along with complimentary access to two vintage bikes, a surfboard, boogie board, and other beach essentials!
10. This smart home with incredible views of LA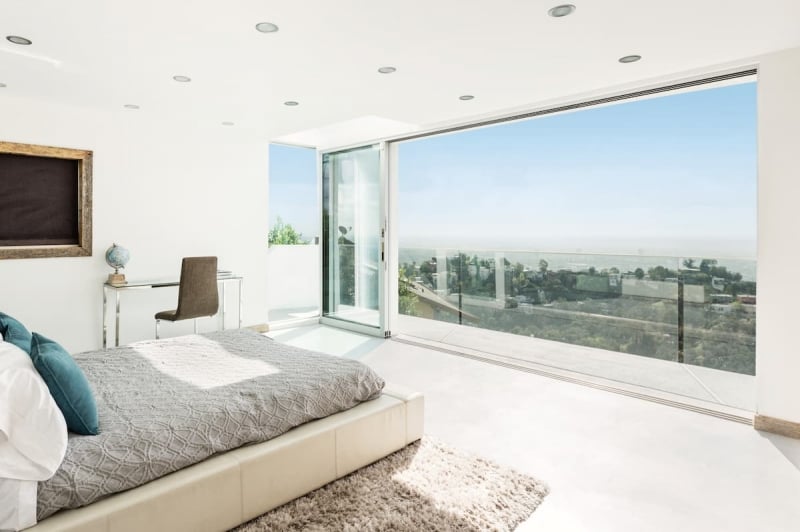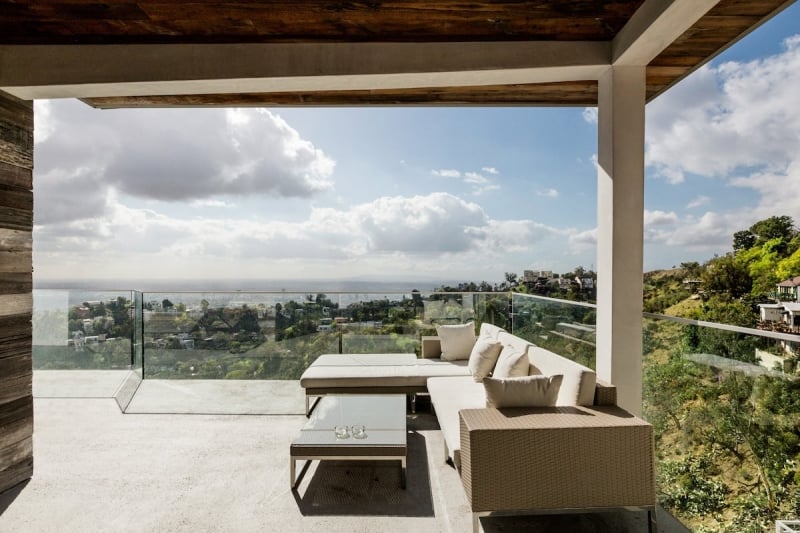 Listing name: Beech Knoll
Listing type: Entire villa
Max. no. of guests: 6
No. of bedrooms: 3
Ever imagine what it would be like to live in a lavish house in Hollywood Hills? At this luxe LA Airbnb , you get to live out that fantasy — and it might even be better than you thought. Here, you'll enjoy sweeping views that go from the famous Hollywood Sign all the way down to the Pacific, no matter what room you're in. Each bedroom has access to a balcony, and even the living room boasts floor-to-ceiling windows that offer city views.
To add to its tasteful, sleek design, this three-bedroom villa also happens to be a smart home; meaning, it's packed with smart devices that make your stay a whole lot easier (not to mention cooler). Tech-savvy individuals, in particular, will definitely fall in love!
11. This vibrant guesthouse that exudes tropical vibes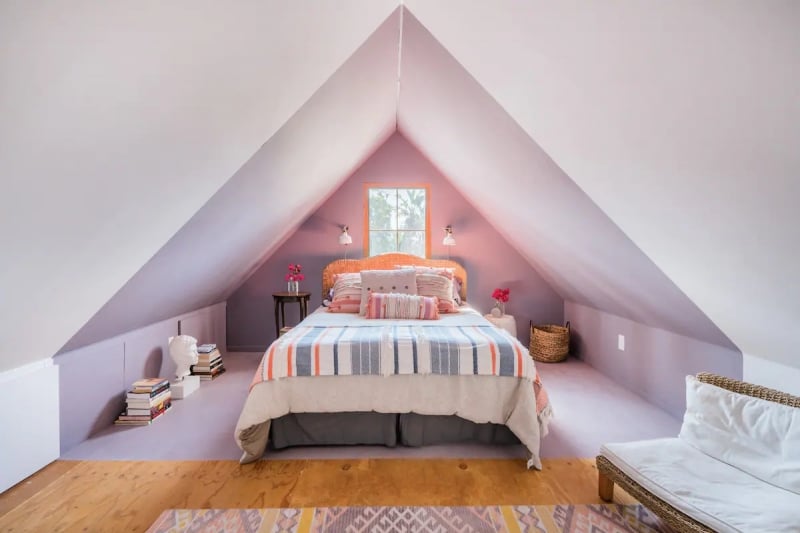 Listing name: Delightful Guest House, with Spa, Pool, BBQ & Private Patio
Listing type: Entire cottage
Max. no. of guests: 4
No. of bedrooms: 1
With colourful interiors that seem to mimic the tropics, this Airbnb in LA is a perfect match for those who want to add more pretty pictures on the gram. Located in Faircrest Heights, it's close to popular spots like The Grove, Culver City, West Hollywood, and Miracle Mile, yet still secluded enough to offer respite from the busy city. 
From carpets to bedsheets to paintings on the wall, almost everywhere is art! Doesn't the vivid purple bedroom also remind you of the room of a main character in a romantic movie? There's also a refurnished outdoor patio that radiates tropical vibes, as well as a shared pool and a tiny vegetable garden. Each of these spots is picture-perfect and just overall great for kicking back and hanging out!
12. This restored R.M. Schindler home that looks like a work of art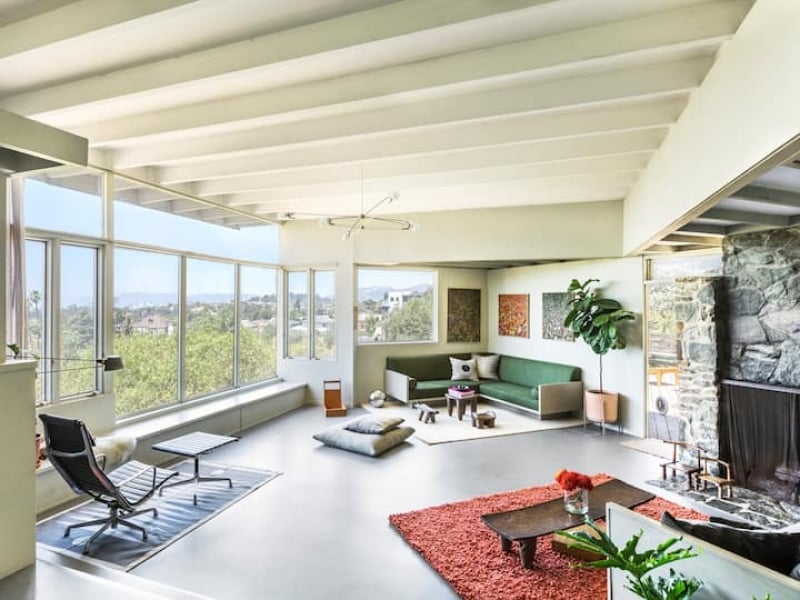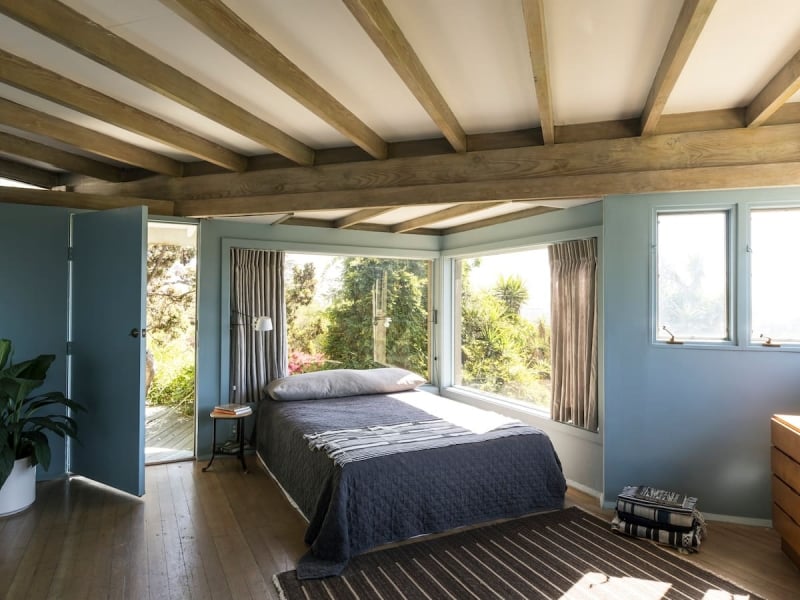 Listing name: Stunning 1938 RM Schindler House in Echo Park
Listing type: Entire house
Max. no. of guests: 6
No. of bedrooms: 4
Lovers of interior design and architecture, or those with an appreciation for thoughtfully conceptualised spaces, will absolutely love this house in Echo Park and near Silver Lake. The stunning home , which was built by celebrated architect R.M. Schindler in 1938, has been beautifully restored and looks like a work of art itself. 
The Airbnb in LA was designed to allow its dwellers to enjoy scenes of the city from pretty much every room — and we hear the views are particularly magnificent in the morning. Sounds like the perfect way to start the day before exploring the city! 
13. This modern pad in Venice Beach
Listing name: The Venice House
Listing type: Entire guesthouse
Max. no. of guests: 2
No. of bedrooms: 1
Designed with beautiful furniture, black and white photographs, and effortlessly chic home decor, this two-storey home Airbnb in Venice Beach serves major beach vibes. It's perfectly located near the hip strip of Abbot Kinney Boulevard and is just minutes away from the beach. That being said, you'll find an abundance of local shops and restaurants waiting for you to swing by. 
On the hunt for an Instagrammable and comfortable place to stay after a beach day with loved ones? We bet this one won't disappoint you!   
14. This LA Airbnb with a rooftop pool and boho-chic design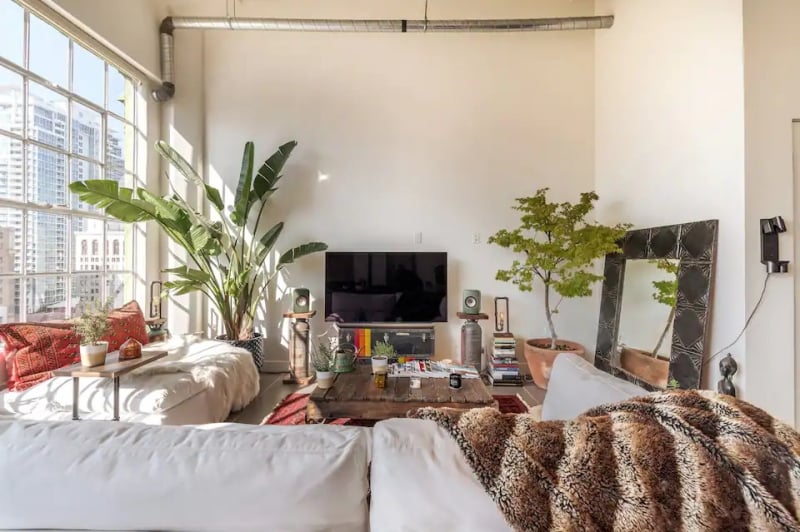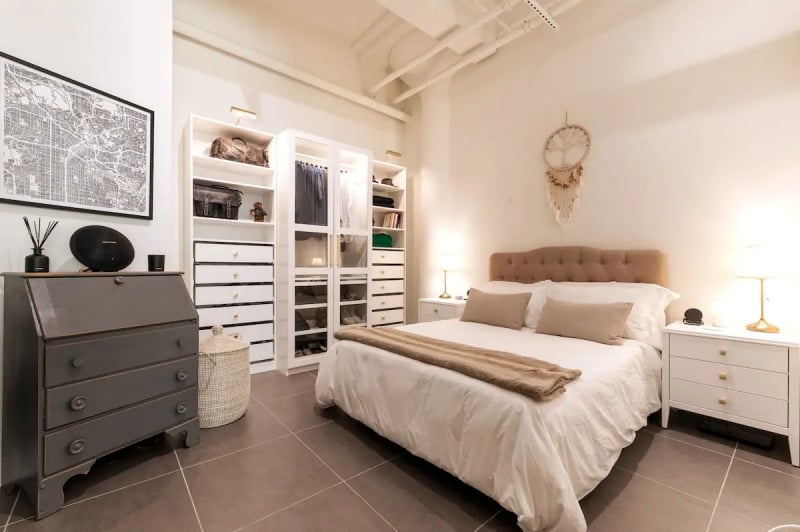 Listing name: J-Boho Chic Condo-Free Parking-Rooftop Pool & Spa
Listing type: Entire rental unit
Max. no. of guests: 3
No. of bedrooms: 1
If you're looking for a big and stylish place to come home to after your LA adventures, then this gorgeous condo unit on Broadway Boulevard is the place to be. Here, customers leave the place with outstanding reviews, as it is everything they had imagined and more.
The property's living room fully utilises the boho-chic design, with a bit of Japanese-style elements like ancient Japanese paintings. The bedroom, on the other hand, features a tidy and crisp Scandinavian aesthetic. The combination of these two styles makes it one of the most stunning Airbnbs in Los Angeles! Guests can enjoy the great city view via the large window in the living room, or at the rooftop. Not to mention, the shared swimming pool and gym for those who want to exercise. 
15. This Venice cottage that looks straight out of a storybook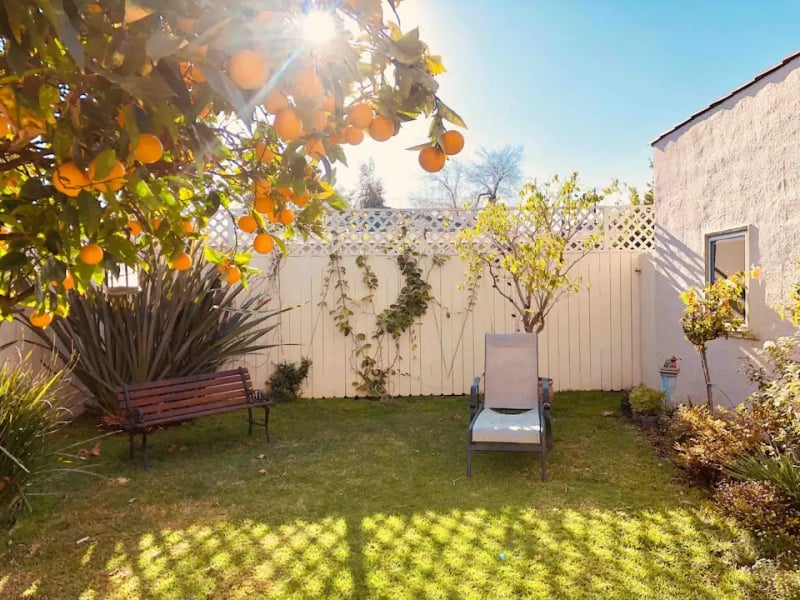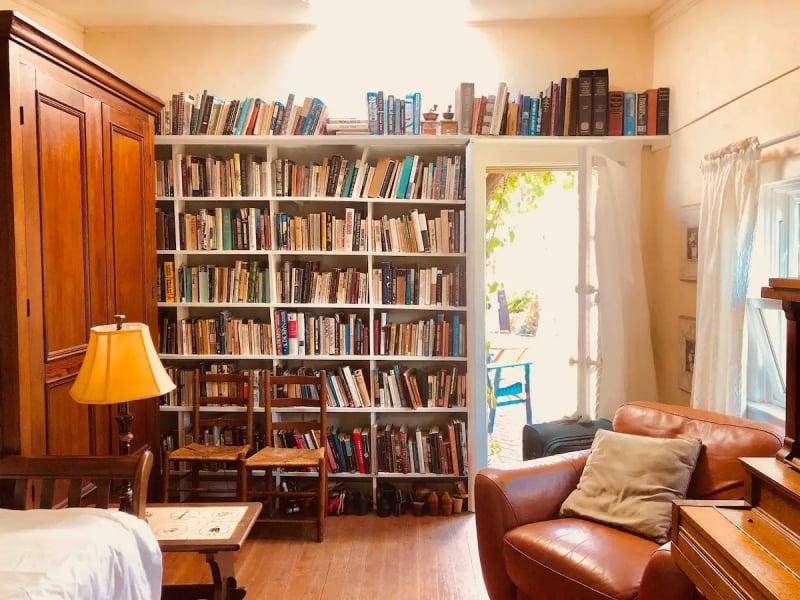 Listing name: Venice Guesthouse 5 min from the Beach
Listing type: Entire cottage
Max. no. of guests: 2
No. of bedrooms: 1
This Airbnb near Venice Beach is the place to stay for travellers who want to revel in fun water activities and other sports like cycling and skat eboarding. It is also close to Santa Monica, Marina Del Rey, and Downtown Los Angeles, so guests can easily get a good rest after an entire day of exploring the town. 
Nevertheless, the convenient access this home provides is not its only appeal. A big shelf full of books, its living room and bedroom look like the abode of a novel writer. With almost a century of history, this guesthouse's courtyard also boasts a giant sycamore tree, an orange tree, a bench, and an outdoor lounge chair.   
16. This Airbnb in Los Angeles with a skyline view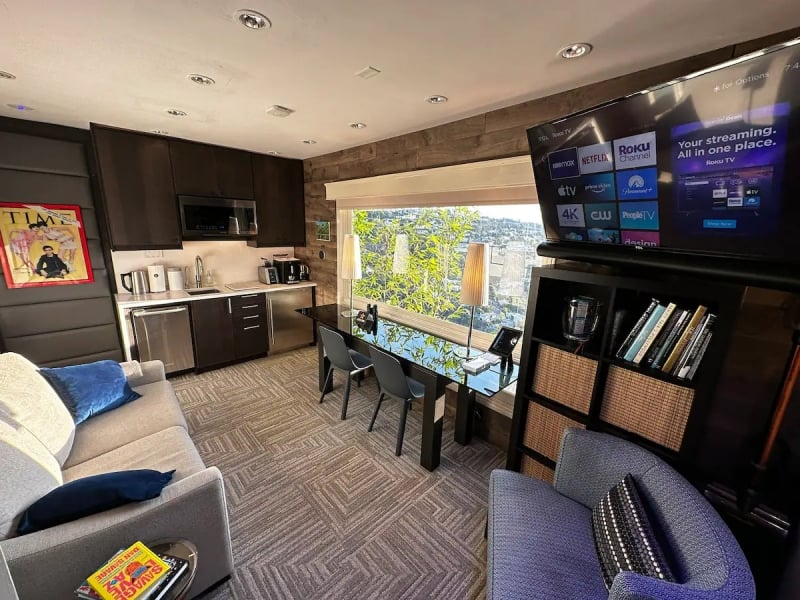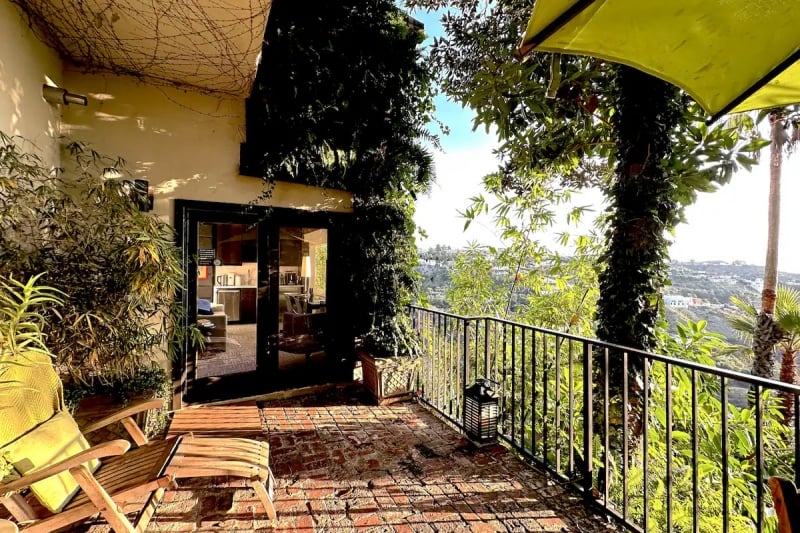 Listing name: Hollywood Hills Jetliner Views / Privacy / Luxury Amenities
Listing type: Entire guest suite
Max. no. of guests: 2
No. of bedrooms: 1
Want an unobstructed view of the city from hundreds of feet above sea level? Look no further! Studio 1080 is the ideal spot for showing off majestic skyline photos on the 'Gram. You'll also find other famous tourist spots around the area, so you'll never run out of things to do. For instance, you can take a quick Uber ride from this charming home to attractions like Runyon Canyon Park and Beverly Hills !
Although this LA Airbnb rental is small, previous guests enjoyed staying here a lot as there are many fancy gadgets and ample amenities that elevate the staying experience. For instance, a Dyson hairdryer, free WiFi, a 55-inch TV, and Sonos TV soundbars! 
17. This secluded spot with a private outdoor pool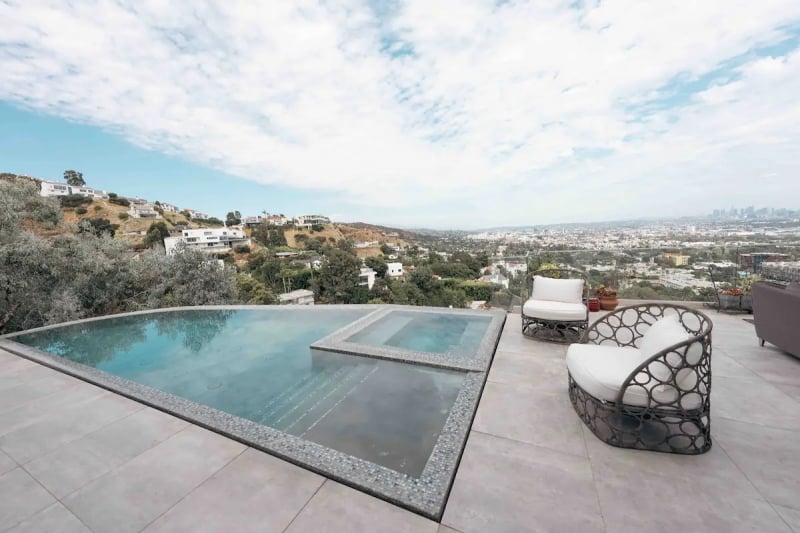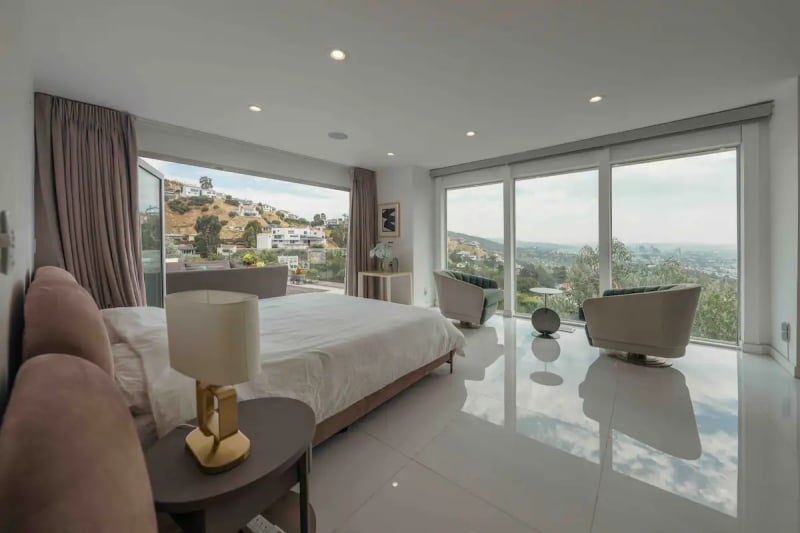 Listing name: Exclusive Hillside Hideaway-Private Room
Listing type: Room in a home
Max. no. of guests: 2
No. of bedrooms: 1
Another Airbnb in Los Angeles with a pool is this homestay situated in Hollywood Hills. Hence, you're guaranteed a secluded yet lavish living experience. It's a private room in a four-storey house, with a massive shared swimming pool overlooking Downtown LA. Outside, you'll find an infinity pool that guarantees the best Instagram pictures. If that doesn't sound attractive enough, there are also floor-to-ceiling windows, so you literally wake up to the same view without leaving your room!
Besides, the interior features a minimalist design with a comforting warm-tone colour palette. Places like Beverly Hills, Beverly Center Mall, and Sunset Boulevard are also within walking distance.    
18. This chic loft only steps away from Downtown Los Angeles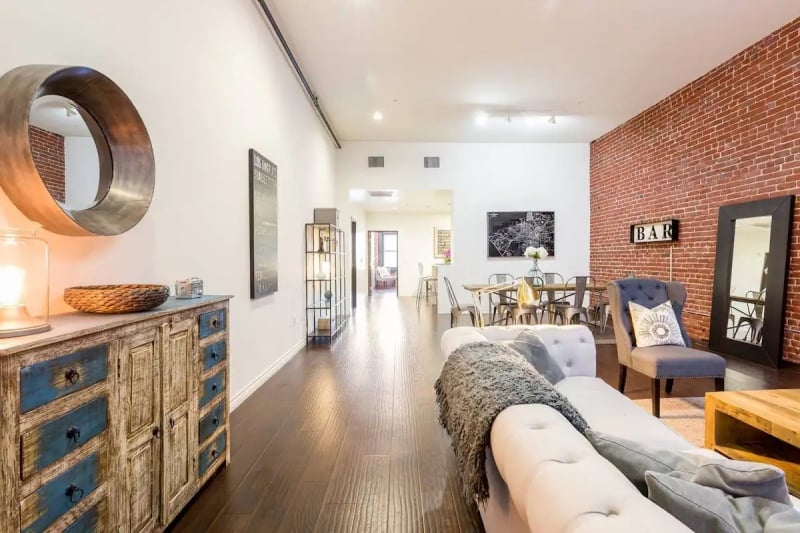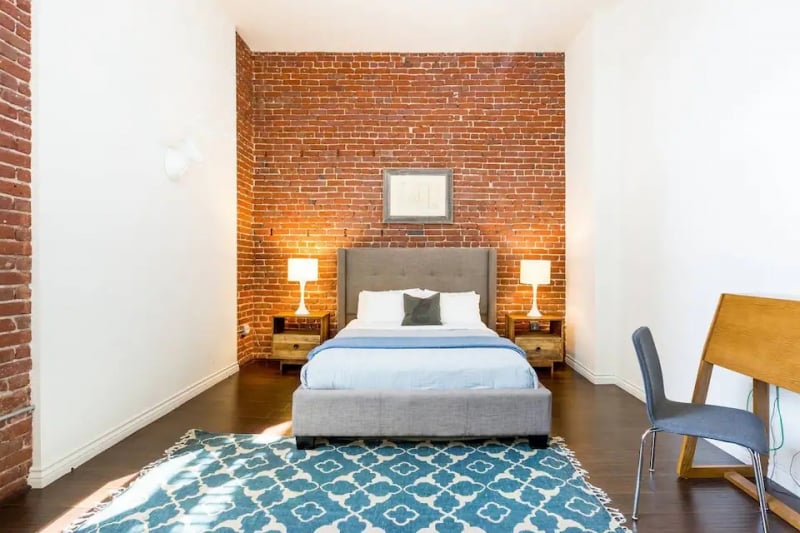 Listing name: Visit LA Live from a Spacious Industrial Loft
Listing type: Room in aparthotel
Max. no. of guests: 4
No. of bedrooms: 1
This simple loft located in the heart of Los Angeles is just nice for solo backpackers, business travellers, or small families. Previous reviews have stated that it's an excellent place to work from "home," too. Apparently, it is a historic building where the old-school brick and hardwood floors still remain. Meanwhile, the bedroom, living room, dining area, and kitchen showcase a mix of modernity and industrial style. 
Due to its central location, famous LA restaurants and attractions are just minutes away. For instance: Bottega Louie, an Italian restaurant, is well-known for its macaroons, mimosas, and wood-fired pizzas. What' s more, the Museum of Contemporary Art i s just a mile away from this Airbnb in Los Angeles downtown. 
19. This Tulum-inspired villa in West Hollywood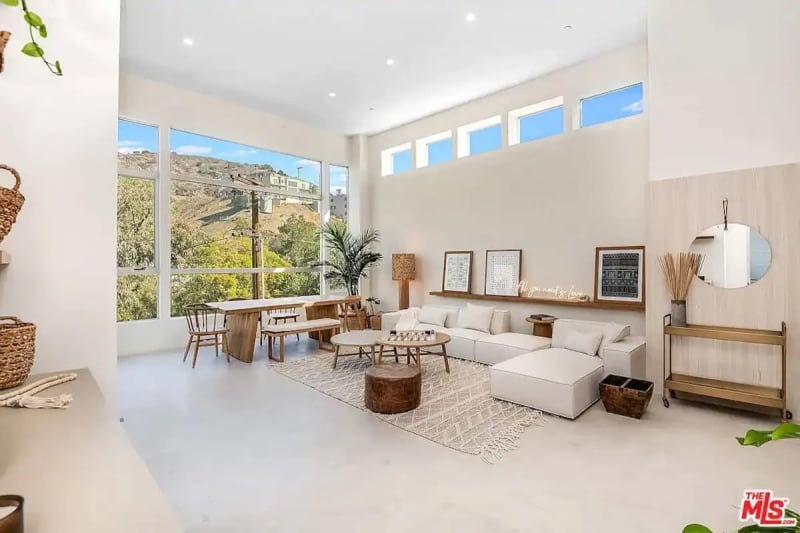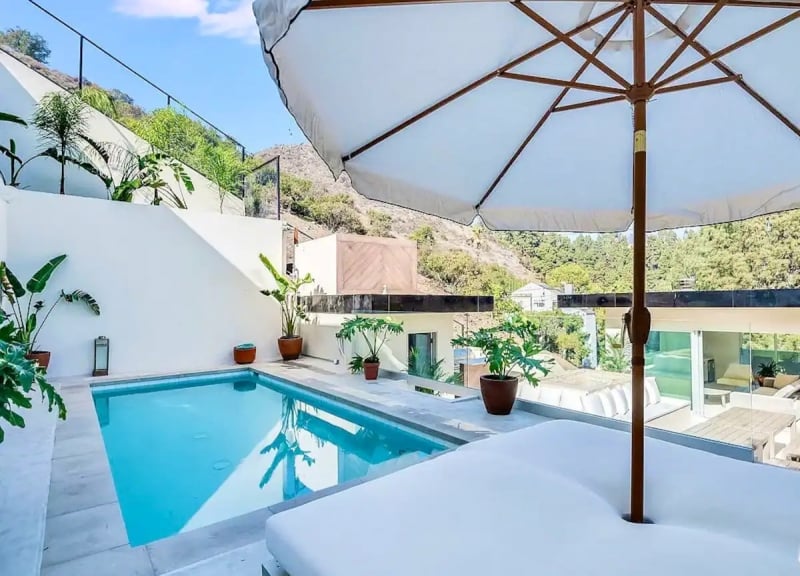 Listing name: Tulum Inspired Private Villa (Hollywood Hills)
Listing type: Entire villa
Max. no. of guests: 8
No. of bedrooms: 4
Planning a family trip to La La Land? Or organising a large and superior gathering with friends? Then this private LA villa is the perfect choice for you. It feels more grand and has a wider space than staying in a hotel. 
Nestled in West Hollywood, the Airbnb offers a blend of opulence and comfort with its elegant Muji-style interior. The outside, however, features a big swimming pool, whitewashed walls and chaises, and several tropical plants. It is arguably the best Los Angeles Airbnb for photo-taking and truly feeling like you're on holiday! 
20. This colourful and exquisite French Gothic-style home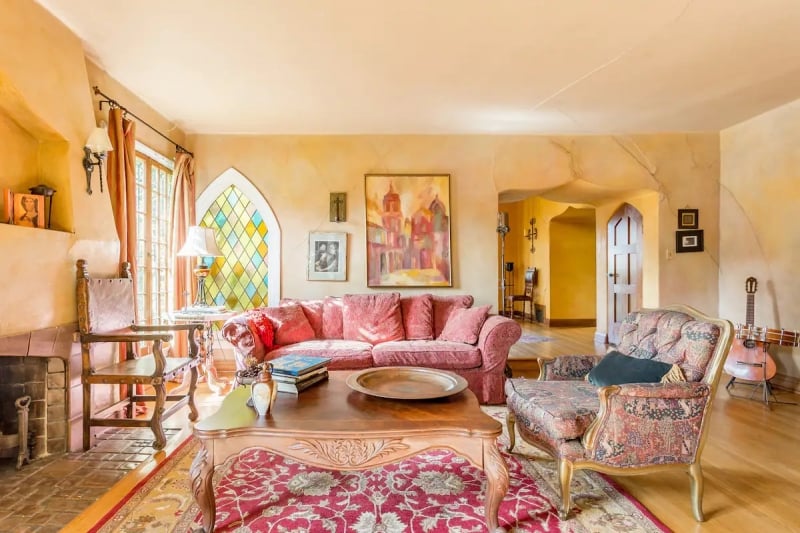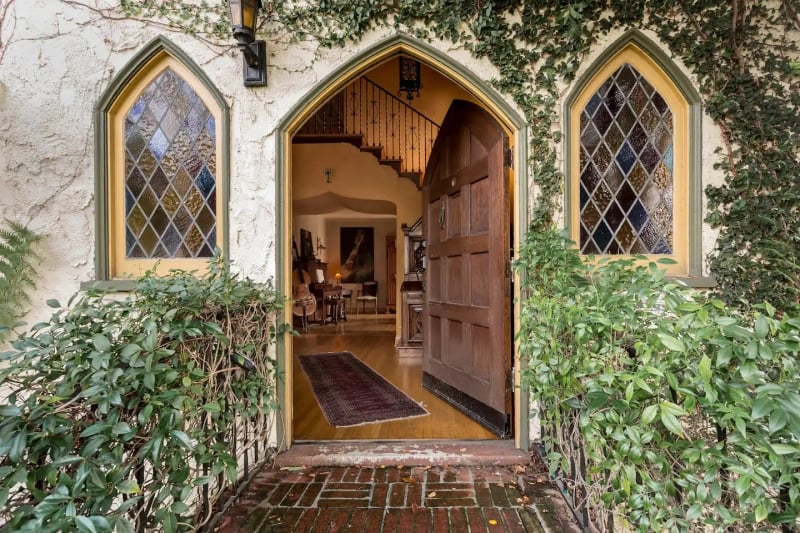 Listing name: Private Room in Elegant French Gothic Home
Listing type: Room in a home
Max. no. of guests: 2
No. of bedrooms: 1
The moment you step into this classy LA Airbnb , you'll feel as if you just went back in time to 16th-century France. The awe-inspiring Gothic architectural style encompasses every corner of this house, from inside and out. Elegantly converted from a 1925 Catholic church rectory, you'll be greeted by fascinating elements the original stained-glass windows, Queen Anne-style furniture, and girandoles.
From wall paintings to plates, everything in this house is so flamboyant. Outside, there's a shared backyard with a shaded table and seat for an afternoon tea session. It's definitely one of the most beautiful Airbnbs in Los Angeles!  
Also read: 17 Gorgeous Airbnbs in San Francisco — From Luxury Homes to Budget Stays
Have you found your dream stay yet? Each one of these Airbnbs in Los Angeles is bursting with Instagram-worthy everything — from stunning interiors to breathtaking views. You can't go wrong with any of them!
---
This article contains affiliate links. When you book through these links, we may earn a small commission at no additional cost to you. All images courtesy of the respective property listings.