Ah, LA. The City of Angels! Home to the iconic Hollywood sign, the Walk of Fame, and Griffith Observatory. But did you know it's also where you'll find some of the most beautiful homes you'll ever see? On your next visit, skip the hotel stay. Instead, opt for an Airbnb in Los Angeles!
If you didn't already know, Airbnb recently launched Airbnb Plus, a selection of quality homes highly rated on the platform. You'll find that these properties also offer superhost hospitality. Below, we list 10 top-rated LA Airbnbs, each one as Instagram-worthy as the last — so keep scrolling!
Also read: Top 5 Places to Enjoy Los Angeles Like a Local
1. This funky Bohemian loft in Downtown LA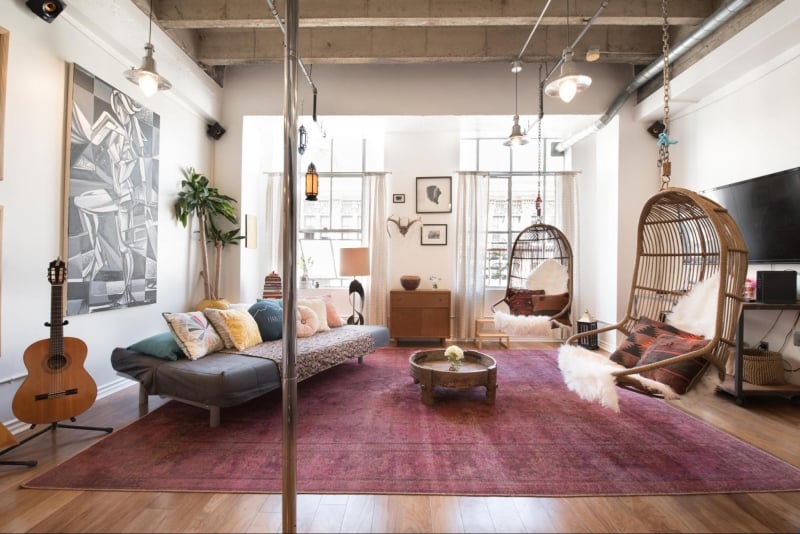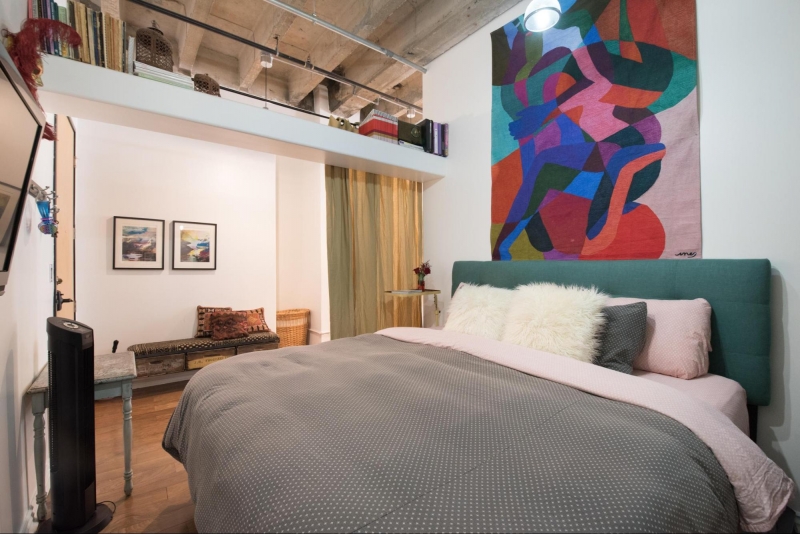 Listing name: Live the LA Lifestyle in Loft Near Metro
Listing type: Entire loft
Max. no. of guests: 4
No. of bedrooms: Studio
Live like a native Angeleno at this Bohemian loft in Downtown LA, Los Angeles' central business district. With its funky interiors and vintage touches, it's promised to be every bit as comfortable as it is stylish. Like its previous guests, you'll probably be tempted to stay in throughout your trip. Just don't forget to take advantage of the rooftop hot tub!
When you do decide to head out, travelling around the city will be easy as pie. Located right by the metro, this Airbnb provides access to anywhere you want to go around the city. Cool spots like Pershing Square Park, Grand Central Market, and The Last Bookstore are just a short walk away, too. Learn more about this Airbnb.
2. This romantic Hollywood Hills bungalow with magical city views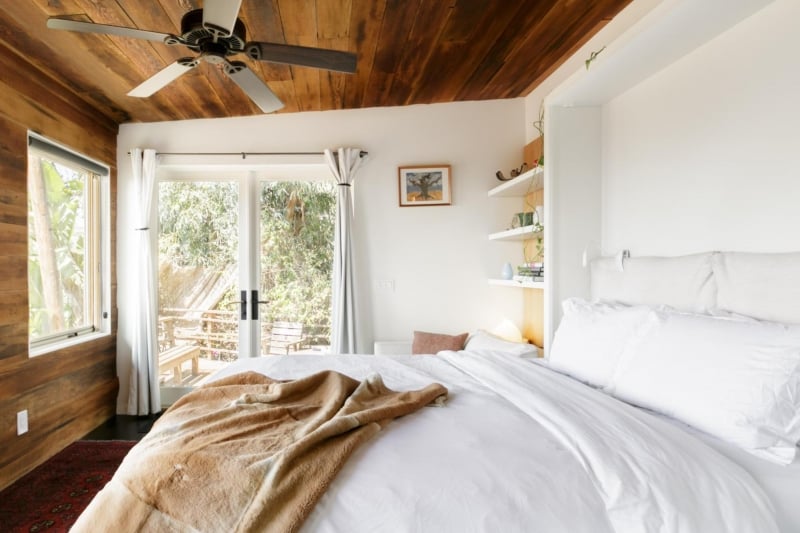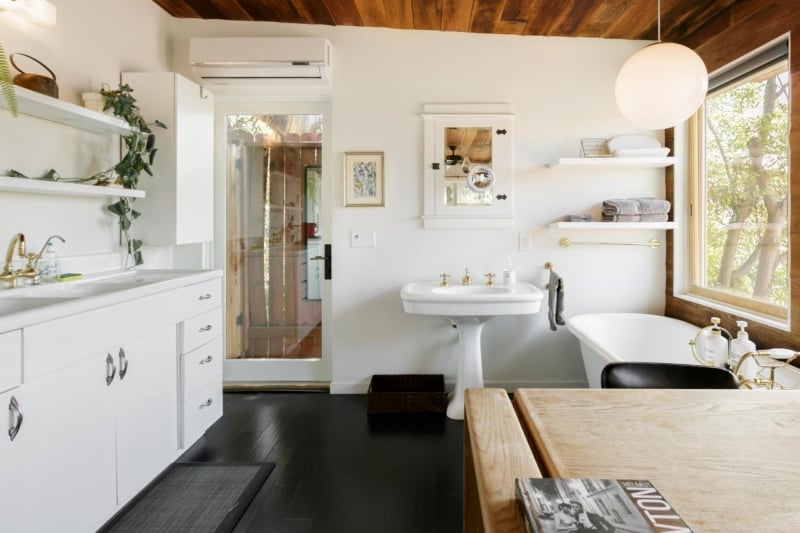 Listing name: Rustic Bungalow Perched in the Hollywood Hills
Listing type: Entire house
Max. no. of guests: 2
No. of bedrooms: 1
A blissful escape from the busy streets of LA, this rustic guest house perched on Hollywood Hills is perfect for quiet, romantic getaways. Guests will surely love how this Airbnb is the perfect balance between central and secluded. Despite its middle-of-nowhere vibe, it's also a great springboard for exploring the city. Make sure to take advantage of its amazing views — we hear the vintage tub is a favourite spot to enjoy them from! Learn more about this Airbnb.
3. This beautiful family-friendly home close to Sunset Boulevard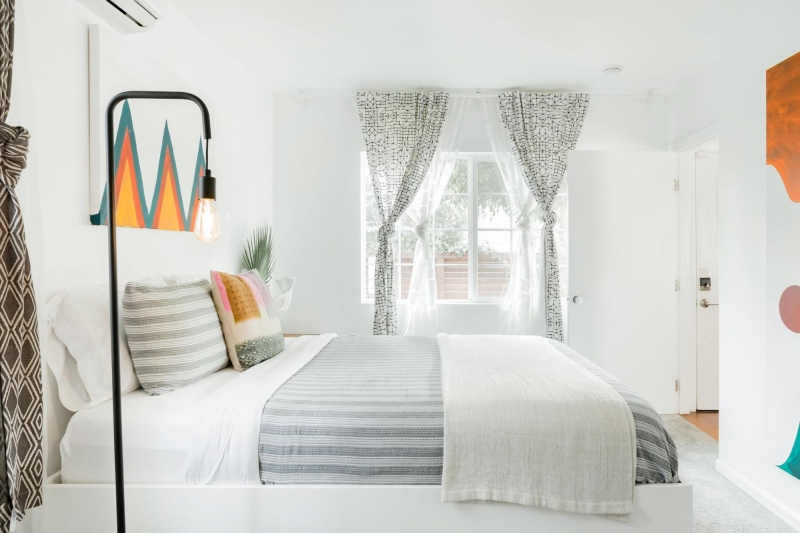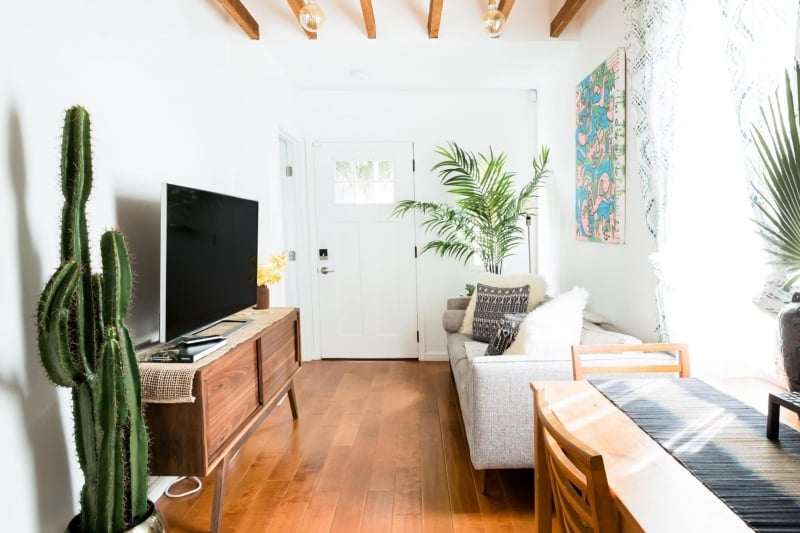 Listing name: Stylish, Newly-Renovated Home in Hollywood
Listing type: Entire house
Max. no. of guests: 5
No. of bedrooms: 2
Planning a family trip to La La Land? This cosy, clean Airbnb is a great place to further your family bonding experience after a day of exploring the city. Previous guests have mentioned that it's perfect for this travelling with infants and small children. Its homey ambience, beautiful design, and comfy beds are often raved about, too! Just steps from Sunset Boulevard, this newly renovated home is close to pretty much all the attractions you'll want to visit around Los Angeles. It's an especially great choice for those who want to spend a day at Universal Studios! Learn more about this Airbnb.
4. This whimsical artist's loft in the heart of DTLA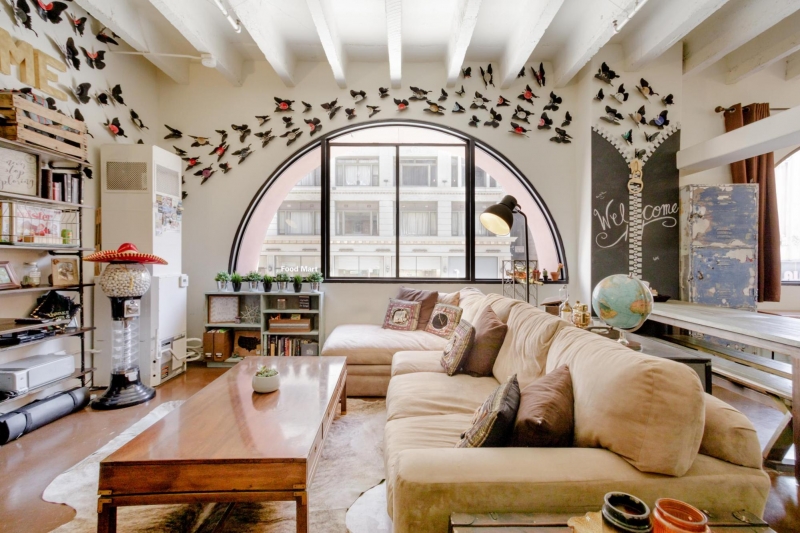 Listing name: Hip Artist's Loft in Downtown LA with Rooftop Hot Tub
Listing type: Entire loft
Max. no. of guests: 3
No. of bedrooms: Studio
Right in the middle of all the action downtown, you'll find this cool, eclectic artist's loft. So if you love falling asleep to city noises and having everything right at your doorstep, then you'll want to take this listing into consideration! Other things to love about this Airbnb: the comfy king-size bed, spacious tub, and rooftop views of the city skyline. Oh, did we mention it's really close to Staples Center, too? Go Lakers! Learn more about this Airbnb.
5. This beautifully furnished loft in a quiet neighbourhood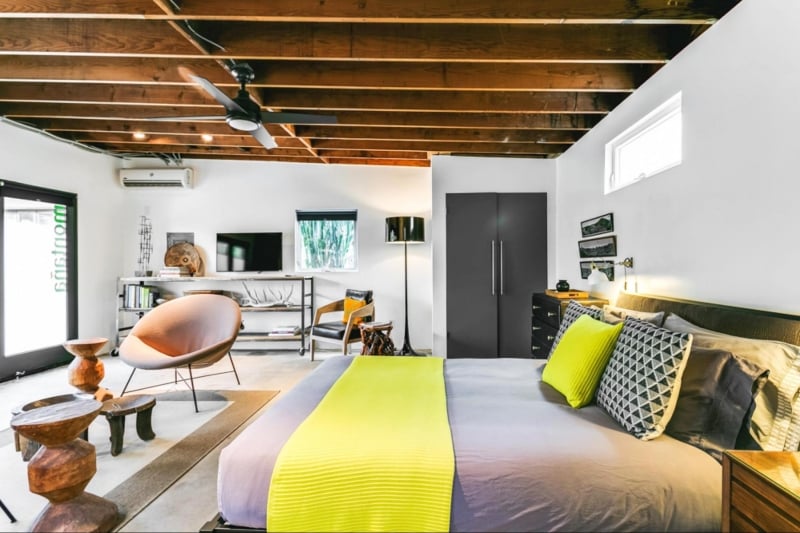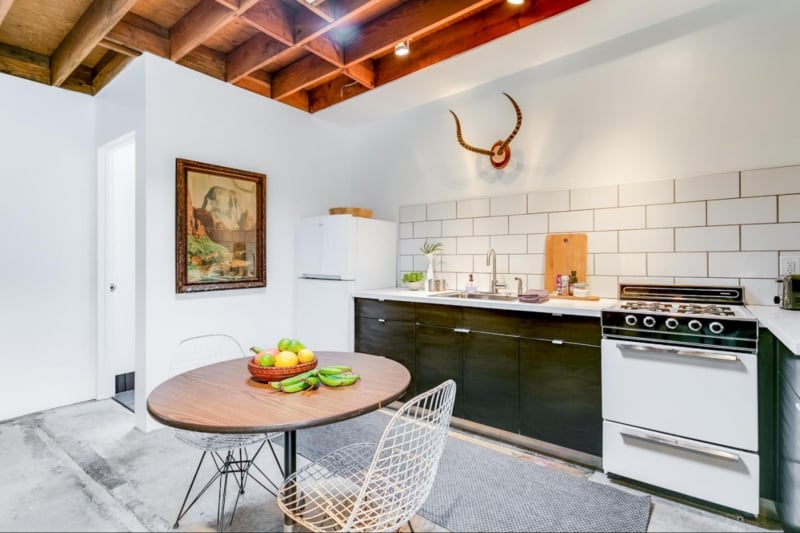 Listing name: Gorgeous Mid-Century Modern Loft with Fire Pit
Listing type: Entire loft
Max. no. of guests: 2
No. of bedrooms: Studio
This Airbnb's superhost, Kelly, is a designer and home renovator, and it absolutely shows! Furnished with modern and mid-century elements, this lovingly decorated loft is a Pinterest dream come true. The building's outdoor common area is also a beautiful place to spend your downtime. Located in a quiet neighbourhood outside of LA's busy centre, this home is an ideal pick for solo travellers and couples who also plan to visit Pasadena. Learn more about this Airbnb.
6. This dreamy guest house near Santa Monica and Venice Beach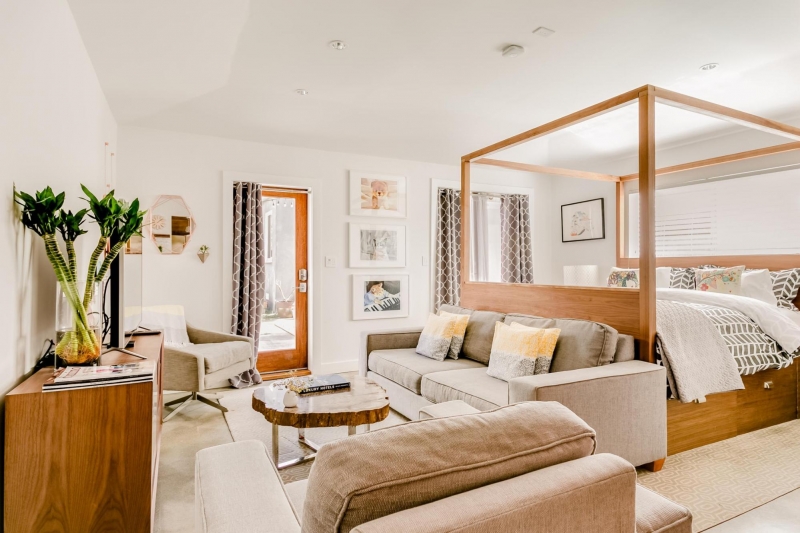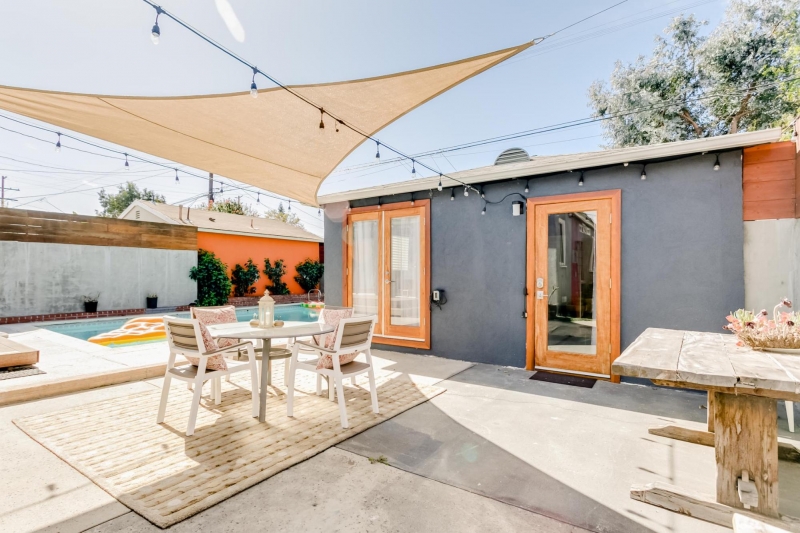 Listing name: Stylish Guesthouse Close to Beach in Mar Vista
Listing type: Entire house
Max. no. of guests: 2
No. of bedrooms: Studio
Those who plan to get their dose of vitamin sea while in LA will appreciate this listing! This gorgeous guest house is located in a peaceful residential area close to both Santa Monica and Venice Beach. With brightly coloured interiors, a breezy patio, and a private pool, it's a cool tropical escape in the Westside of LA. At this Airbnb, two bikes are also available for your use — plus points for being providing eco-friendly transportation! Learn more about this Airbnb.
Also read: 12 Habits We Can Quit For More Eco-Friendly Travels
7. This room in a classic Hollywood home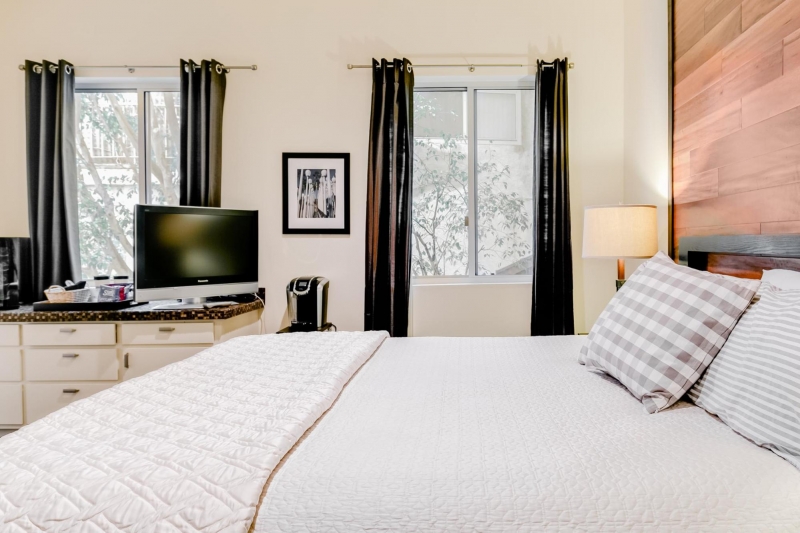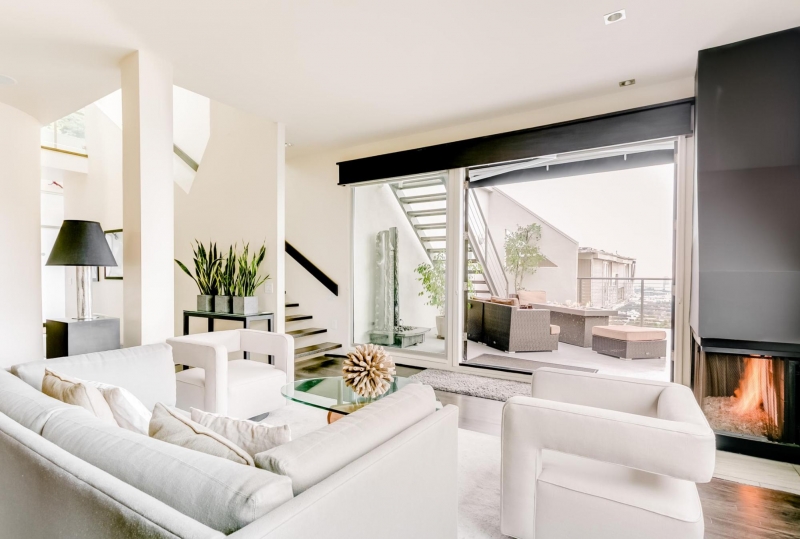 Listing name: Room in Hillside Home with Skyline Views
Listing type: Private room in house
Max. no. of guests: 2
No. of bedrooms: 1
Based on the many stellar reviews posted by previous guests, it's easy to sum up what your stay would be like in this hillside abode. First, you will be treated to some of the most beautiful (read: jaw-dropping) views of LA. Second, you will enjoy a hotel-quality (or even better) stay, thanks to superhost Darrell. This room is sparkling clean and comes with a comfy bed with crisp linens, a mini fridge and snacks, and bathroom amenities. Lastly, you will appreciate this listing's proximity to tourist-friendly spots like the famous Hollywood sign, Griffith Park, Santa Monica Pier, and Rodeo Drive! Learn more about this Airbnb.
8. This artful guest studio in LA's top-rated neighbourhood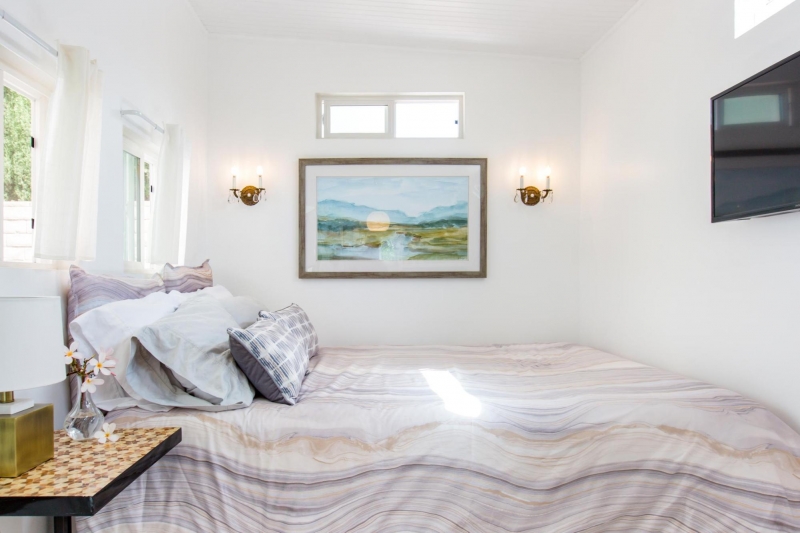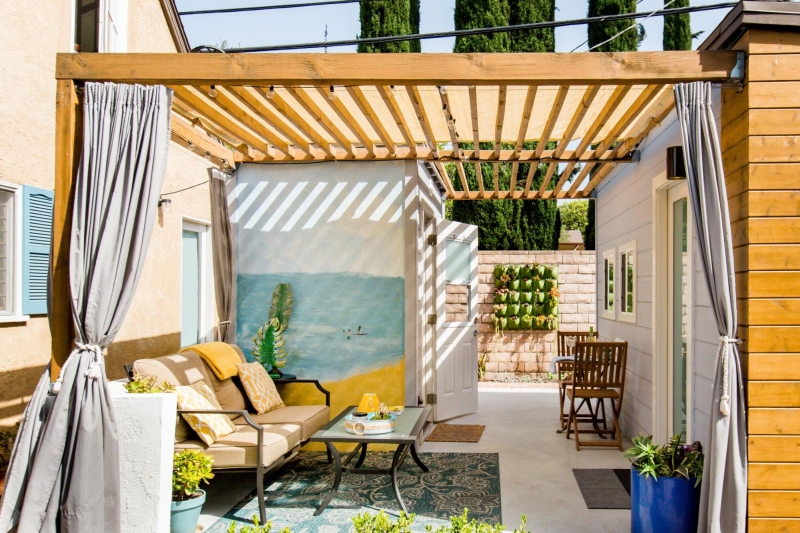 Listing name: Well-Appointed Mid-Wilshire Guest Studio with Top Amenities
Listing type: Entire guesthouse
Max. no. of guests: 2
No. of bedrooms: 1
This charming guest house for two is tucked in Faircrest Heights, a Westside residential area named the best neighbourhood in LA. In addition to the thoughtful touches in this Airbnb's homey bedroom, you'll love its cosy outdoor lounging area. Just picture yourself spending sunny afternoons in this home's beautiful, brightly coloured patio! Learn more about this Airbnb.
9. This chic three-bedroom apartment in Beverly Hills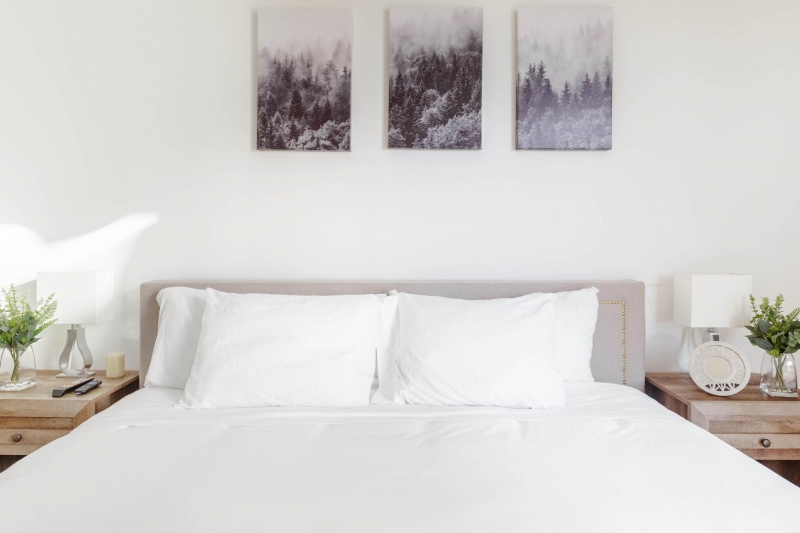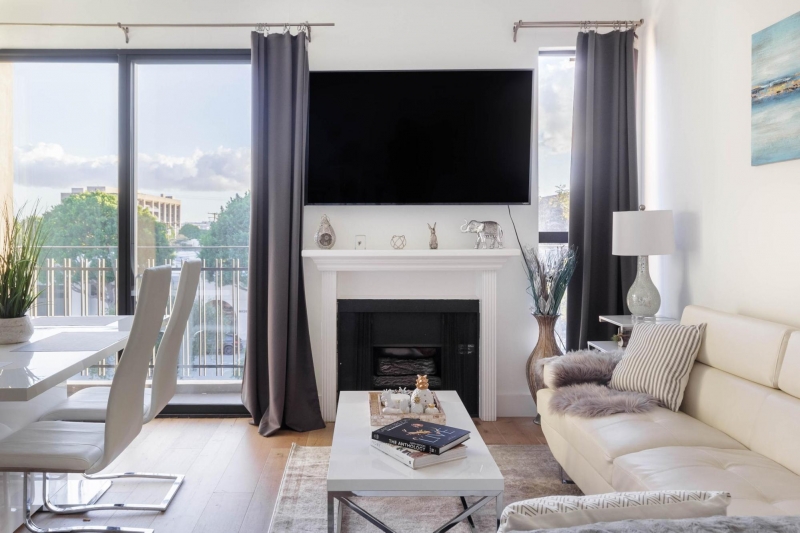 Listing name: Stunning Three Bedrooms in Beverly Hills with Rooftop Pool
Listing type: Entire apartment
Max. no. of guests: 10
No. of bedrooms: 3
[airbnb id=30251219"|tzmag_article_91622"]
Big travel groups will certainly feel at home in this chic Beverly Hills apartment. With three bedrooms, roomy lounging areas, and enough space for 10 guests, it's definitely a steal! Situated in a stylish neighbourhood, it places you just walking distance from top shopping and sightseeing attractions — not to mention some of LA's rich and famous! Trust us, the only thing you won't love about this Airbnb is that you'll have to leave it behind! Learn more about this Airbnb.
10. This stylish home near Melrose Avenue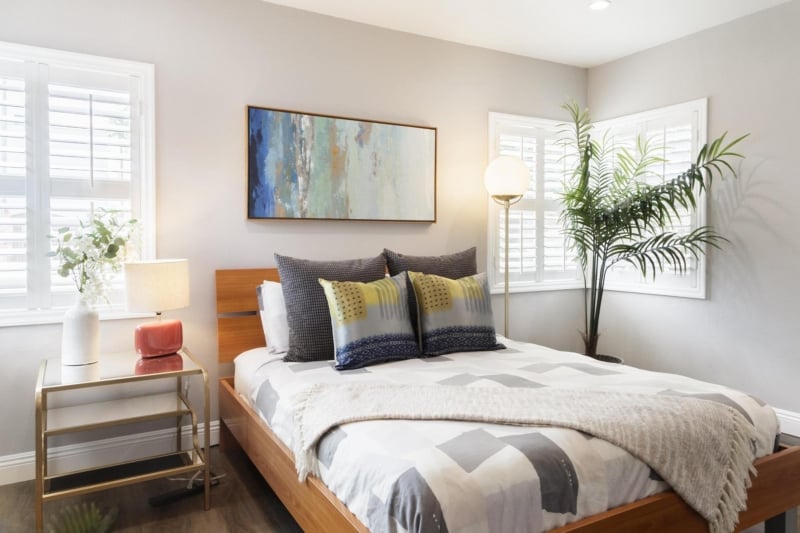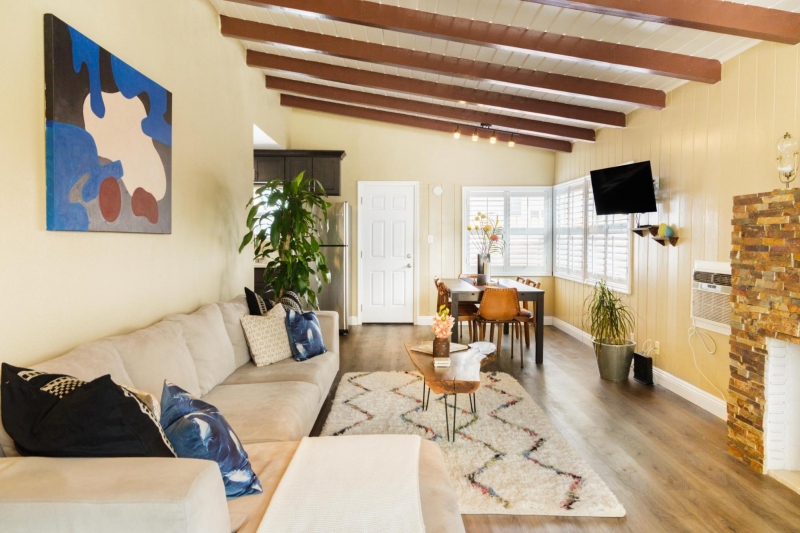 Listing name: Explore the City from a Midcentury Hollywood House
Listing type: Entire house
Max. no. of guests: 8
No. of bedrooms: 2
This two-bedroom Hollywood Airbnb is both sophisticated and welcoming, with its many touches that really make a house feel like home. Clean and comfortable, this one is a family-friendly Airbnb you won't want to miss out on for your next vacation. Its location near Melrose Avenue makes it easy to get to some of LA's best shopping and restaurants! Learn more about this Airbnb.
Also read: 5 Alternative Attractions in Los Angeles for Your First Visit
Have you found your dream Airbnb yet? Make sure to act fast. We'll be waiting for your Instagram photos!
Also read: The Perfect 5D Los Angeles Itinerary for First-Time Visitors