Japan has a variety of accommodation options available suited for all types of travellers, from backpackers to honeymooning couples. In fact, you'd be surprised by the sheer variety and uniqueness of the options! Here, we dish out the 10 different accommodation types in Japan to spice up your trip. Say goodbye to crashing at the same boring place every night!
1. Ryokan
If you're all about experiencing Japanese culture to its fullest, you have to stay at least a night in a ryokan. Even if you're tight with your budget, it would be a pity to give this cultural stay a miss.
Ryokans are traditional Japanese style inns, found mostly in hot spring resorts. With its tatami floors, futon beds, hot spring baths and fine Japanese cuisine, this is more than just a place to get some shut-eye. Indulge in the seasonal local specialities served during dinner and breakfast, and rejuvenate yourself by taking a dip in the therapeutic hot springs. Some of these ryokans even have private onsen baths attached to each room.
These inns usually vary in size, style and pricing, but they generally lean to the more costly side. It's typically not something travellers would choose throughout their whole stay, but it is definitely a worthwhile splurge for a night or two.
Price: ¥16,000 to ¥30,000
What you get: A posh Japanese style room with most amenities, an onsen bath and elaborate Japanese dinner and/or breakfast. The hospitable Japanese staff are also readily available at your service.
Wondering which ryokans are available to stay in? Check out the listings at StayJapan! Besides these lovely traditional guest houses, you can also find a wide selection of unique accommodations listed, such as seaside villas and farm stays. Make your holiday in Japan an immersive one with a stay at one of these lodgings!
2. Karaoke Box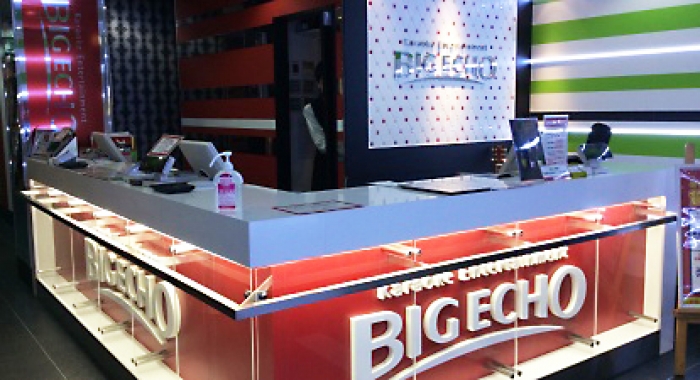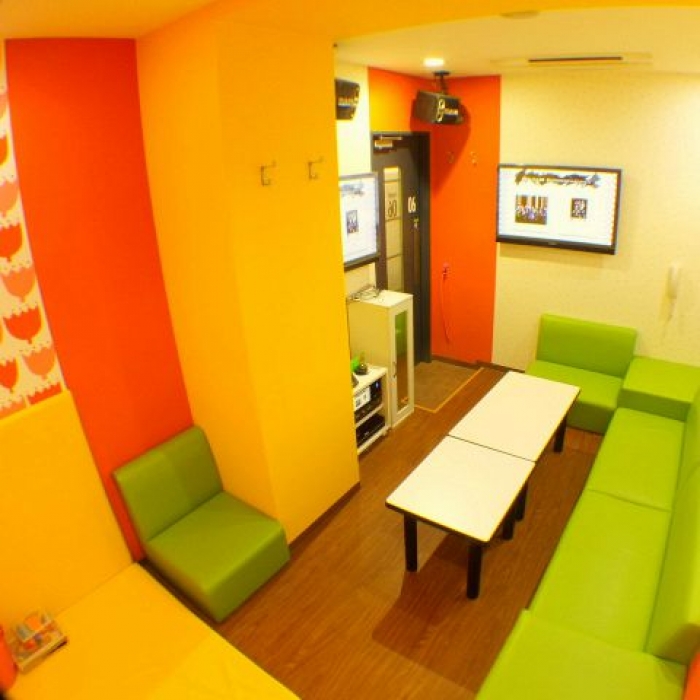 If you're travelling with a bunch of friends who's all out to have fun, consider spending a night singing to your heart's content at the 24/7 karaoke box. Alternatively, you can just crash for the night on their long sofas.
While there are no shower facilities and amenities available, you typically get a range of free flow drinks to choose from, and a diversity of Japanese and English songs. Grab a couple of snacks and beer while you're at it.
This is not a place you should stay at for more than a night, but it's a feasible option if you're travelling with a group and want a room for cheap.
Price: About 1500 yen per pax
What you get: A soundproof room with wide sofas, unlimited songs and free flow drinks. And a night to remember, perhaps.
3. Capsule Hotel
A Japanese Capsule Hotel comprises individual pods that serve as your mini hotel room, with just enough space to fit yourself and a single bed. Here, you only pay for the things you need, and get just the necessities.
The bathroom, kitchen and lounge area are communal spaces that you share with other travellers, so the only private space you have would be your capsule pod. Some capsule hotels also have vending machines, laundry facilities and internet kiosks.
If you're a solo budget traveller who's not claustrophobic, this gem is for you.
Price: ¥ 2500 to ¥ 6000
What you get: A bed in a pod and various communal facilities and spaces.

4. Internet Cafes
Here's another favourite for the budget travellers.
Internet and manga cafes in Japan are 24-hour cafes that not only provide unlimited internet access and an extensive manga library, but also a PC station in a private cubicle. It may not seem like a place to stay for the night, but you'll be surprised to know that most of these cafes have shower facilities and other amenities that makes it not too different from your capsule hotels.
Instead of a capsule, you'll be in cubicles that usually have a reclining seat or sleeping pod, plus charging ports for your electronics. If you're hungry or thirsty, there are also vending machines in these cafes.
Price: ¥ 1,500 to ¥ 3,000
What you get: An individual PC station in a cubicle, communal shower spaces and unlimited internet and manga access.
5. Love Hotel
This is not your typical accommodation, but if you're on a vacation or honeymoon with your loved one, here is one way to spice things up a little without having to break your bank.
Love Hotels are typically boutique themed hotels that offer double rooms for a couple to spend undisturbed time together and in utmost privacy and anonymity. Your receptionist is probably just going to be a machine.
In your rooms, all basic and shower amenities are provided, just like your normal hotels. The only difference is that they are equipped with some special items, such as costume rentals for cosplaying, at an extra cost.
Some love hotels have the quirkiest and most suggestive themes, from a cinema themed room with beanbags and a widescreen TV, to a room with an entirely see-through bathroom. The designs and concepts of these love hotels are endless, and you're sure to find something to keep you and your lover amused.
Love hotels usually charge by the hour, so if you're just looking for a nice place to crash for the night, check out early to avoid a heftier bill. 
Price: ¥ 8,000 to ¥ 15,000
What you get: A (possibly) unconventionally themed room with amenities, a washroom (that may come with a tub), various forms of entertainment and... more.
6. Minshuku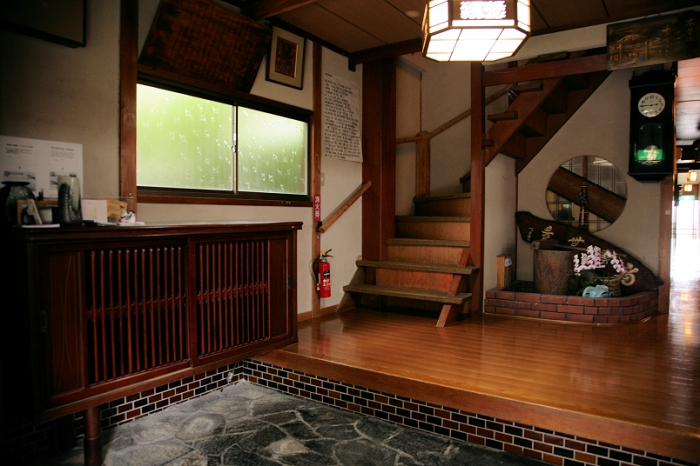 A minshuku is a Japanese style guesthouse perfect for visitors who want to experience the traditional Japanese lifestyle. It's similar to a ryokan but less extravagant and much more affordable. You could call it a budget ryokan. Minshukus are typically run by local families and are usually quaint spaces with a few rooms.
Most minshukus would serve homemade dinner and breakfast, and their rooms are mainly humble spaces with basic amenities, a small table and probably a TV. Baths and toilets may be communal. They are popular choices, especially in the quieter towns in Japan as it's the perfect getaway for those who want to take a breather and disconnect from the city buzz.
Depending on which town you're in, the types of minshukus can range from old farmhouses to mountain huts.
Price: ¥ 6,000 to ¥ 12,000
What you get: A quaint and private Japanese style room with basic amenities and dinner and/or breakfast. Also, a first-hand experience of how the locals live.
Also read: Japan on a Budget: 5 Money-Saving Tips that Most Tourists Don't Know About
7. Shukubo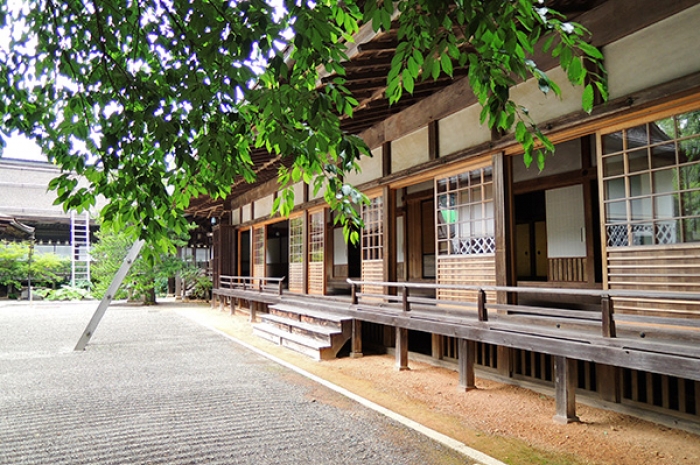 Did you know there are temple lodgings available in Japan? Well, it's not an accommodation choice known to many, but we'll let you in on this little secret.
Shukubo stays are like none other. Not only do you get a Japanese style room to yourself, you're typically welcome to acquaint yourself with the way of the Japanese Buddhist monks, from witnessing their morning prayers to trying vegetarian meals. On top of that, the beautiful temples and lovely garden will keep you enthralled during your spiritual stay.
While most temples often offer you a private room, bathrooms and living spaces are usually communal. Other entertainment sources, such as WiFi and television, are also usually unavailable.
Price: ¥ 6,000 to ¥ 5,000
What you get: A private Japanese style room with some amenities and vegetarian dishes for dinner and/or breakfast. And of course, spiritual intervention, if you allow.
8. Youth Dormitories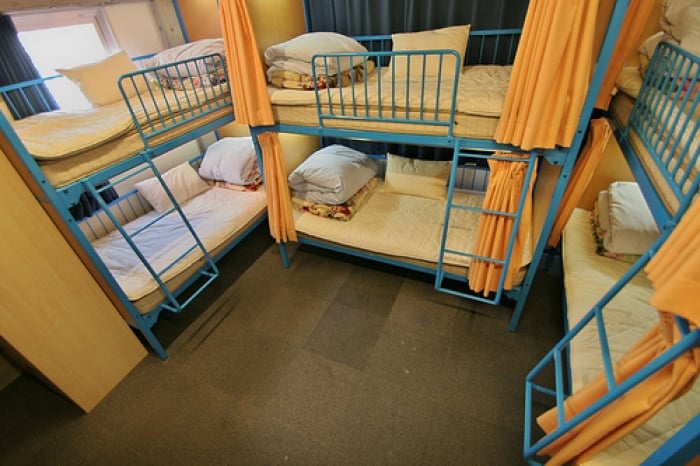 Here's a choice popular for many backpackers and budget travellers, simply because it's one of the cheapest few options there is.
Youth Dormitories are your regular hostels that provide you with a dormitory bed, the bare amenities, and plenty of communal spaces for you to interact with other fellow travellers. If you need to prepare your own meals or do the laundry, these dormitories have a shared kitchen and washing room for you to do so. Different forms of entertainment are also available in lounges, making it the perfect set-up for those who are keen on interacting with others!
Price: ¥ 3,000 to ¥ 6,000
What you get: A dorm bed with bare amenities and various shared spaces. And new friends from around the globe!
9. Business Hotel
As the name suggests, these hotels are catered for the businessmen who are just looking for night's stay with no frills. Backpackers and solo travellers would also find this another favourable alternative to capsule hotels.
Business hotels are usually located near train stations, providing rooms big enough just to fit 1-2 person(s), with a small work desk, closet, and TV. Sometimes, they have mini fridges just enough to keep some beers and tomorrow's breakfast. Depending on the business hotel you're staying at, the bathroom may be private or communal. These hotels usually have WiFi, vending machines and coin-operated washing machines readily available.
Price: ¥ 5,000 to ¥ 12,000
What you get: A private room with some amenities, WiFi, various payable facilities and easy accessibility to train stations.
Also read: Why It Makes Sense to Use Airbnb in Japan
10. Overnight Buses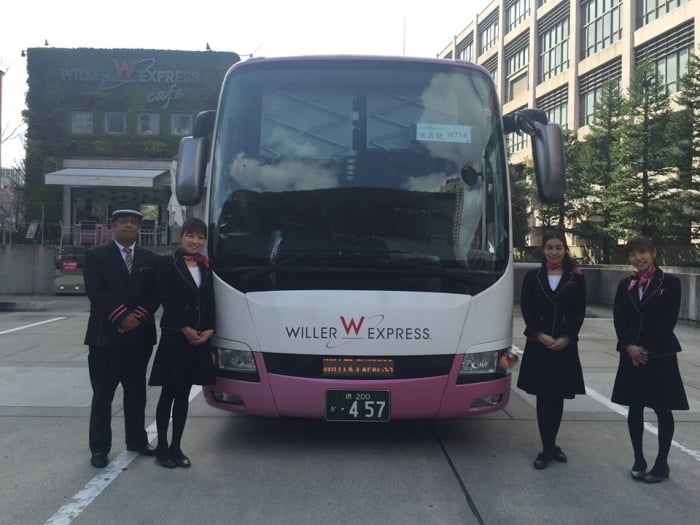 If you plan to travel to different cities in Japan, why not do it overnight? Not only do you get to save on your hotel costs, you don't have to waste time on transit too!
A popular choice among the locals, overnight buses are generally highway coaches that operate in the late hours, bringing their passengers from one city to the other. These buses have affordable economy seats to luxurious ones with a personalised entertainment system to keep you comfortable during your journey, so take your pick.
Some buses have a maximum luggage size, so find one that fits your needs.
Price: ¥ 5,000 to ¥ 11,000
What you get: A comfortable seat and a ride to your next destination.