Why live vicariously through the Instagram snapshots of others when you could be living it up yourselves in these seriously photogenic resorts in Southeast Asia? Of course, don't forget to inspire others with your own IG-worthy photos!
Also read: 10 Dreamy & Idyllic Resorts Less Than 4 Hours Away From Singapore
Indonesia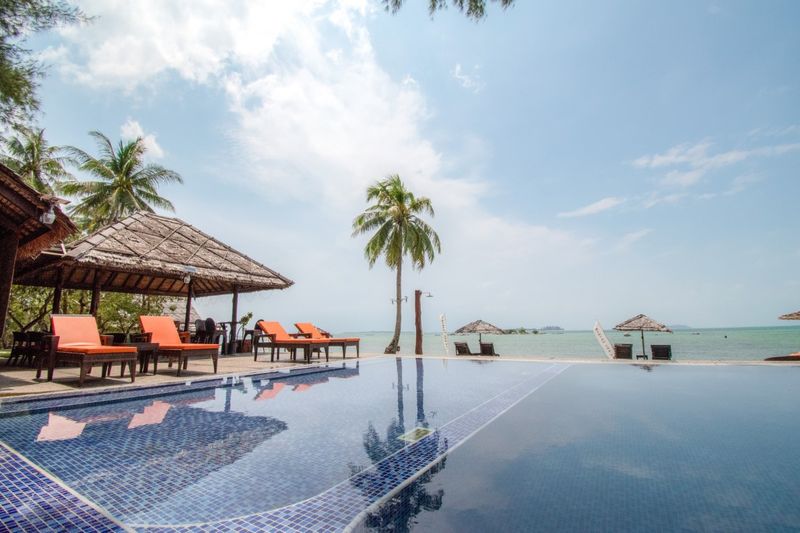 Image credit: Bintan Spa Villa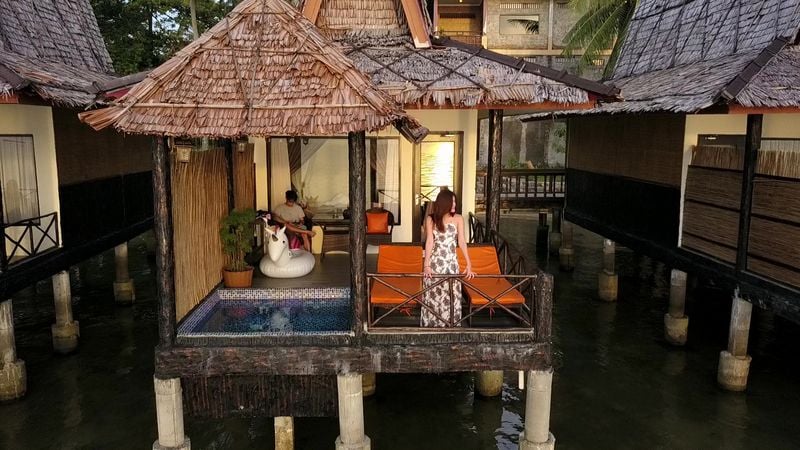 Image credit: Bintan Spa Villa
We don't know about you, but spa and villa are two of our favourite words. Together, it brings to mind relaxing massages, bubbling jacuzzis and spacious lofts. At Bintan Spa Villa , you'll find all that and more, with the bonus of panoramic sea views all around as it is built along Bintan's shoreline. These vibrant-looking facilities and sights are sure to make your Instagram feed more colourful and lively.
[DEAL ALERT]
Cover all bases of your holiday with their Surf & Turf Bintan package that includes complimentary activities such as a welcome drink, WiFi and boot rentals for low tide walks.
Address: Km. 38 Jl. Pantai Trikora | Teluk Bakau Bintan, Bintan Regency, Riau Islands Province 29153, Indonesia
Contact: +65 6353 8366
Learn more about Bintan Spa Villa Beach Resort on TripZillaSTAYS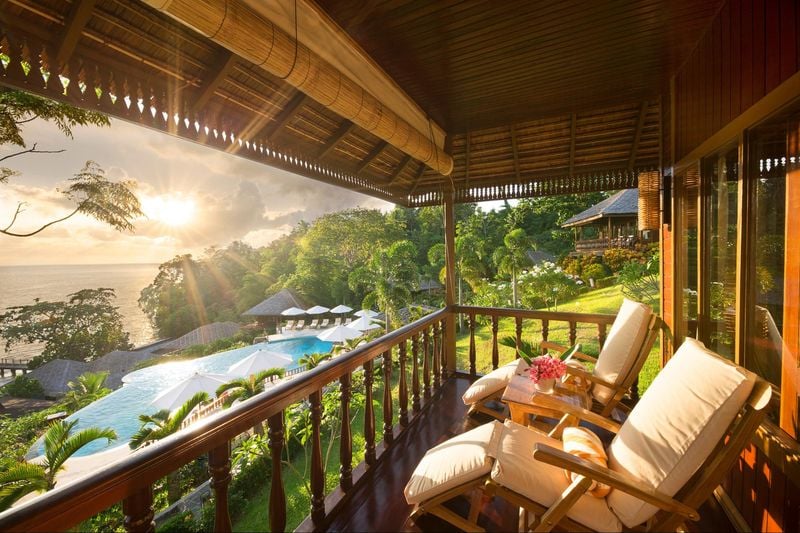 Image credit: Bunaken Oasis
If you're a keen diver, you would probably have heard of or even stayed at Bunaken Oasis Dive Resort & Spa ; located at the northern tip of the island of Sulawesi, Indonesia, the resort has access to more than 90 diving sites. But even if you're not a fan of exploring the deep blue, you won't be bored here. Take a stroll on the private beach flanking the resort grounds or get a massage. As dusk approaches, snag a good table at the restaurant to enjoy a gourmet dinner while basking in the sunset – definitely one for the 'gram!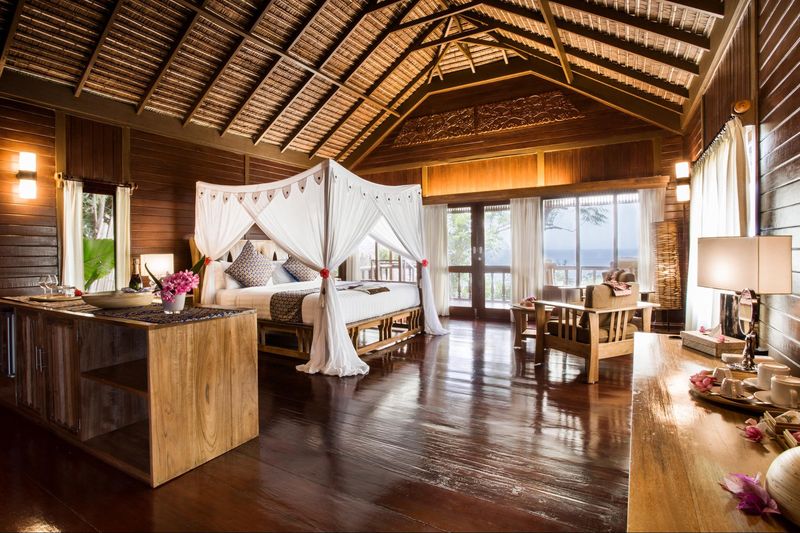 Image credit: Bunaken Oasis
Address: Liang Beach, Bunaken, Bunaken Kepulauan, Kota Manado, Sulawesi Utara, Indonesia
Contact: +62 821 464 333 93
Learn more about Bunaken Oasis Dive Resort & Spa on TripZillaSTAYS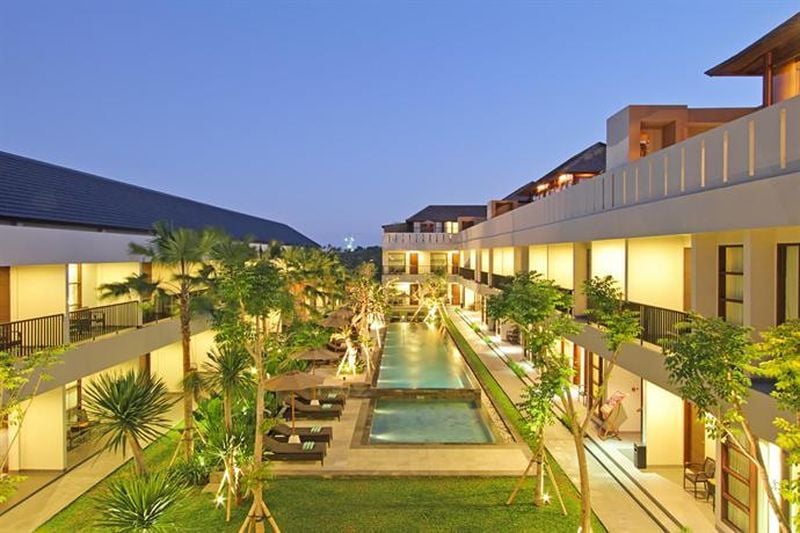 I mage credits: Amadea Resort & Villas
Amadea Resort & Villas' prime location in the hip 'hood of Seminyak is just one of the great reasons to spend your vacation – while being in the heart of the fashion and gastronomy center, it is also within walking distance to Seminyak beach. Despite being in the middle of all the action, the resort, with its tranquil atmosphere, is the perfect place to retreat to after spending the day out.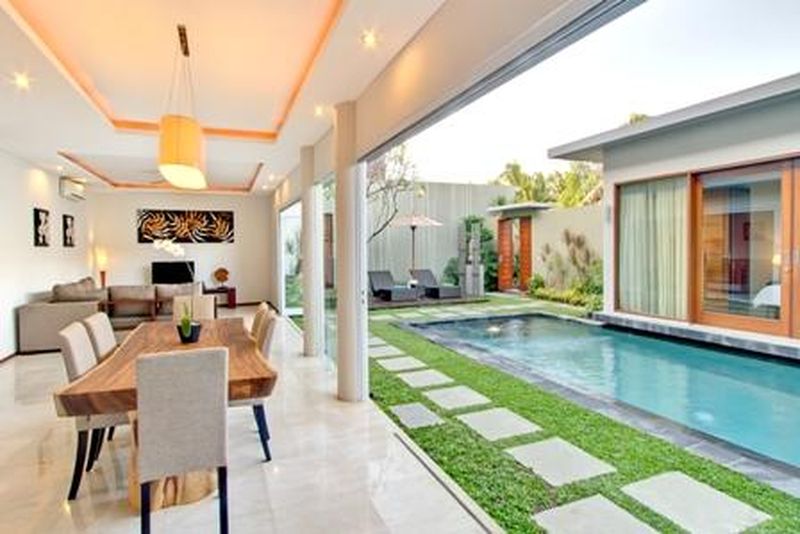 I mage credits: Amadea Resort & Villas
You can also enjoy an in-house Garden Cinema by the pool on Tuesdays and Fridays nights to enjoy the latest movies under the stars.
[DEAL ALERT]
Planning a stay at Amadea Resort & Villas for 4 days? With the Bali Villa Getaway deal, you get perks such as return transfers to the airport and daily international buffet breakfast at Bistro Batu Kali or in the villa!
Address: Jalan Kayu Aya, Seminyak, Kuta, Seminyak, Kuta, Kabupaten Badung, Bali 81360, Indonesia
Contact: +62 361 847 8155
Learn more about Amadea Resort & Villas on TripZillaSTAYS.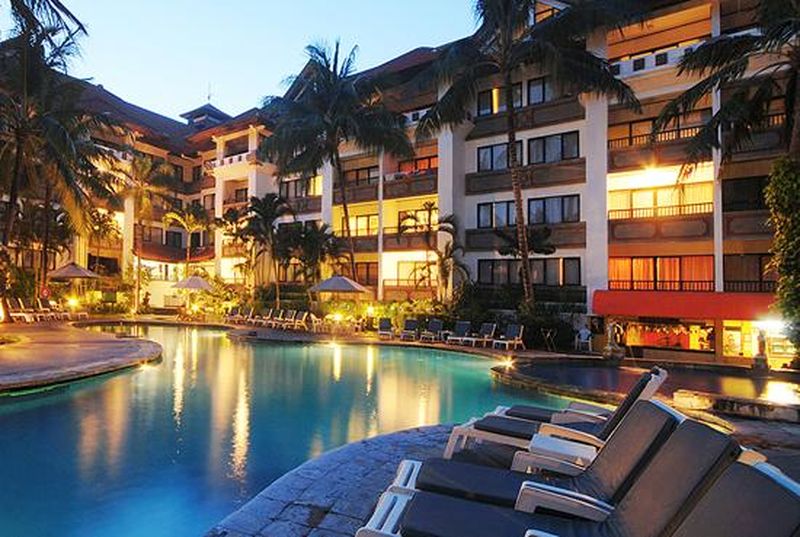 Image credit: Prime Plaza Suites Sanur
Located a breezy 25-minutes' drive from the airport, Prime Plaza Suites Sanur is a family-friendly accommodation perfect for group or family vacations. It is also conveniently located near shops and restaurants, making the possibility of spending the entire holiday in the resort very real and inviting!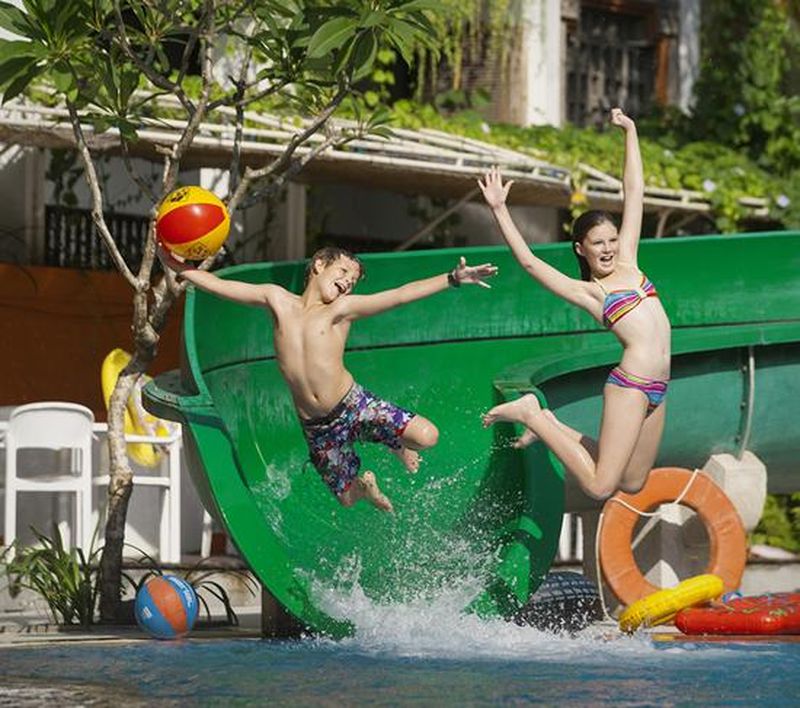 Image credit: Prime Plaza Suites Sanur
Children and adults alike will have the time of their lives at the resort's award-winning Camp Splash! Fun Park. If features like a 30m long water slide, basketball court and smorgasbord of gaming equipment including a PS3 doesn't excite you, we don't know what will!
[DEAL ALERT]
With the Advance Purchase promotion, book 30 days in advance and get 5% discount from our regular rate + extra 5% discount for book now & pay now! Just simply choose the check in and check out date, check availability, all discounted rate will be displayed and book your room!
Address: Jalan By Pass Ngurah Rai 83, Sanur 80228 Bali, Indonesia
Contact: +62 361 281781
Learn more about Prime Plaza Suites Sanur on TripZillaSTAYS.
5. Pulo Cinta Eco Resort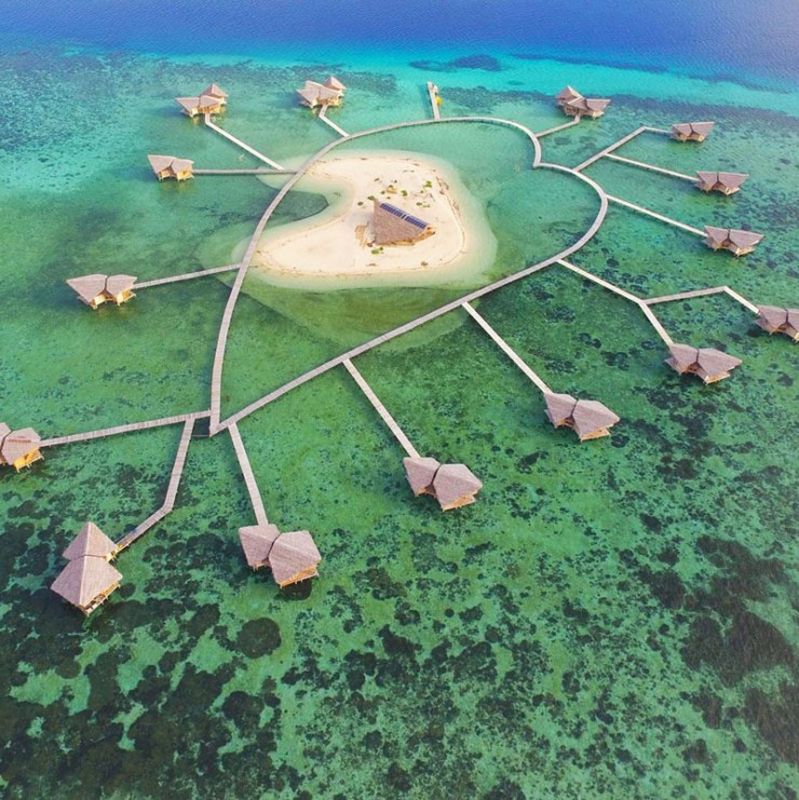 Image credit: Pulo Cinta
Shaped like a heart, the Pulo Cinta Eco Resort is the ultimate romantic destination and is located in Boalemo, Gorontalo, North Sulawesi. With villas that sit above crystal clear waters, you and your other half can spend many hours just getting cosy and admiring the teeming aquatic life. The resort operates on 100% solar energy and even has a built-in audio system. Queue your Frank Sinatra playlist as you prepare to dine and wine with your other half in a romantic candlelight dinner.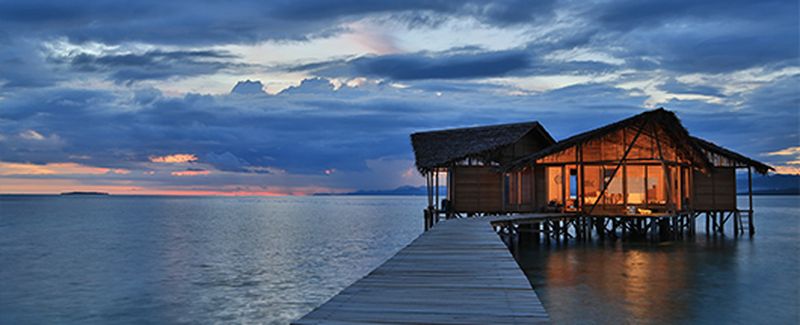 Image credit: Pulo Cinta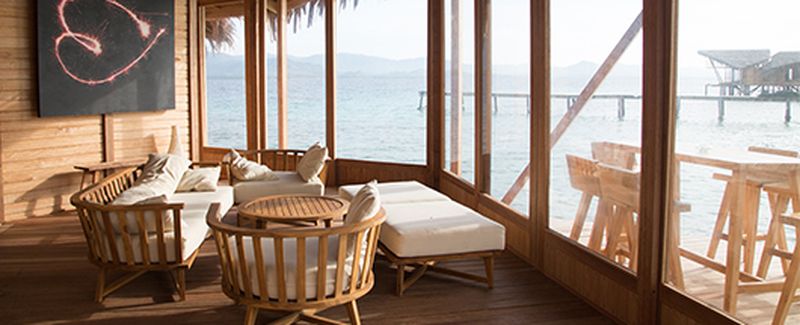 Image credit: Pulo Cinta
Address: Boalemo, Gorontalo, Indonesia
Contact: +62 853 7751 7927
Find out more about Pulo Cinta Eco Resort here!
6. Telunas Resorts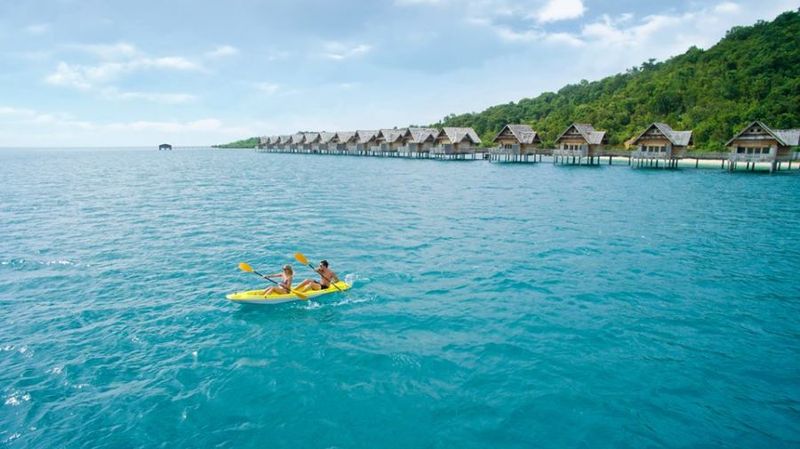 Image credit: Teluna Resorts
At Telunas Resort, you get to choose between a private island or a classic beach resort. Both are overwater bungalows and whichever you opt for, you can be assured that it's amazing enough to show you the best of nature! The resort is also inspired by local architecture and has facilities that are built entirely over water.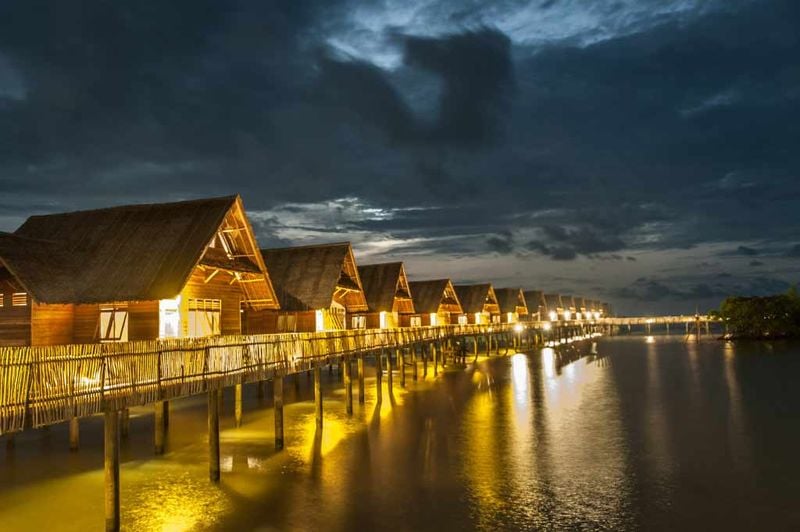 Image credit: Teluna Resorts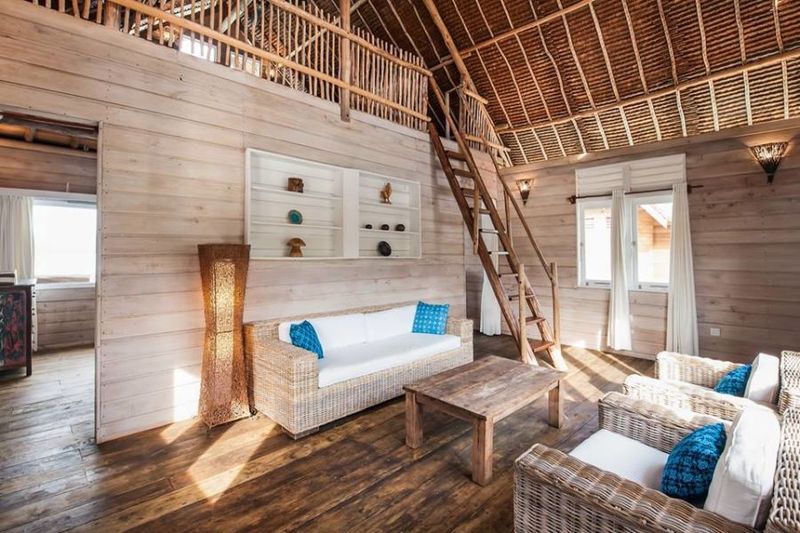 Image credit: Teluna Resorts
Surrounded by a variety of plants and wildlife, this is the perfect place to remove yourself from technology and just bond with nature.
Address: Ruko Imperium Superblock Block B No. 35&36 Jalan Sudirman, Taman Baloi, Batam Center, Batam 29432. Indonesia
Contact: +62 811 7710951
Find out more about Telunas Resort here!
Malaysia
7. Malihom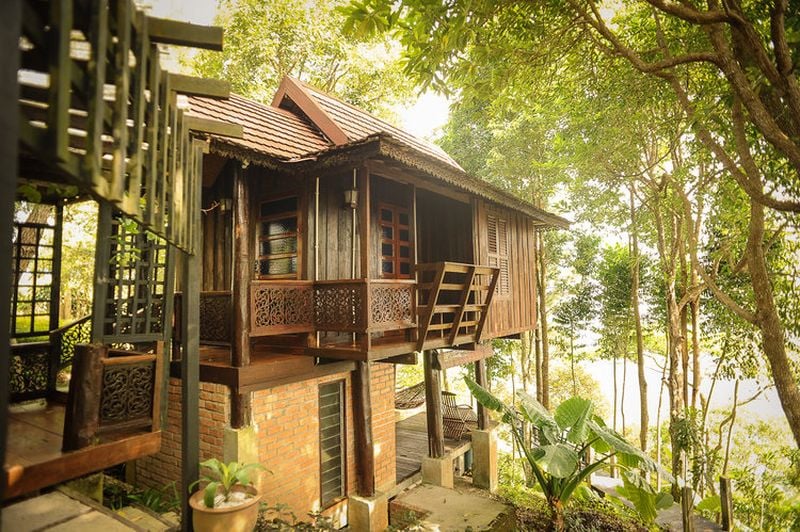 Image credit: Malihom
Tucked away in a 40-acre estate in Balik Pulau, Penang, Malihom offers comfortable one bedroom villas in a rainforest environment with a jaw-dropping view of the hills. Feel like a king/queen as Malihom gives you bed & breakfast options, and elevate the royal experience with pampering options such as massages.
If you're feeling energized and raring to explore the wild, they have hiking packages to give you a good workout too! Otherwise, if you're feeling lazy, you could just take a dip in their pool too. Life is good.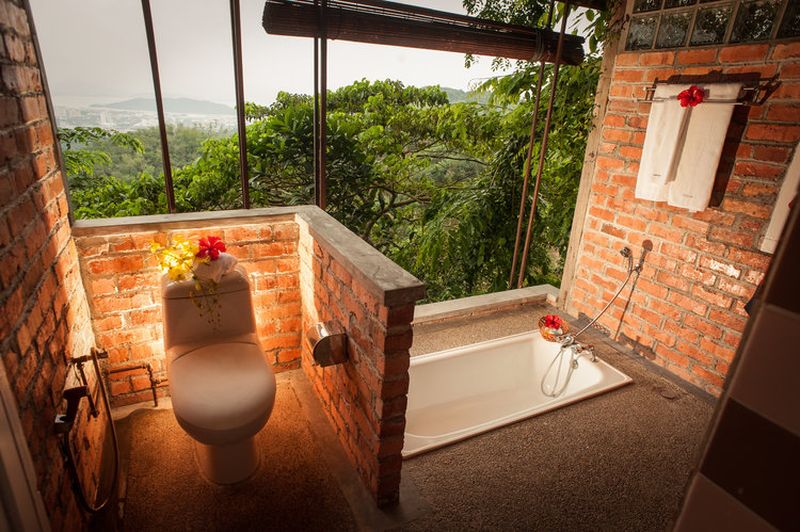 Image credit: Malihom
If you're worried about someone watching you shower, you can always roll down the blinds. Besides, at heights this high, the only peeping toms you should be worried about are beaked flying creatures.
Address: Kiri N/T 168, Bukit Penara, Mukim 6 Balik Pulau, 11000 Penang, Malaysia
Contact: +60 1 2428 5191
Find out more about Malihom hotel here!
Vietnam
8. Crazy House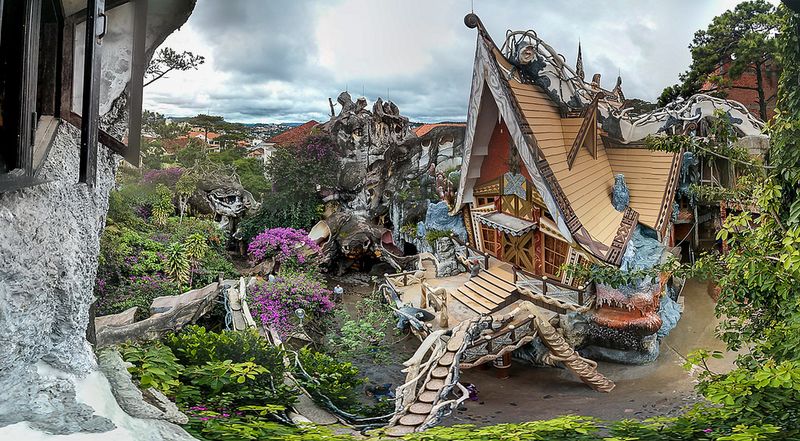 Image credit: Mr & Mrs Backpacker
Formally known as The Hang Nga Villa, architect and owner Dr. Dang Viet Nga built this hotel with the idea of making people fall in love with nature. Located in Da Lat, his design involved the coordination between slabs of stones and hollow stumps to keep the house nice and warm from the cold surrounding temperatures. A beautiful and peaceful landscape that you must check out!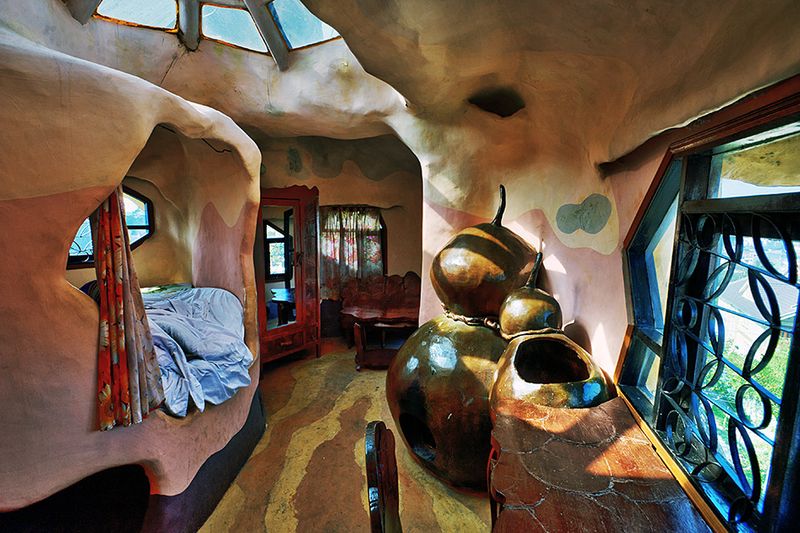 Image credit: shafir
Address: 03 Huynh Thuc Khang St., Ward 4, Dalat City, Vietnam
Contact: +84 63 3 822 070
Learn more about the Crazy House here !
Thailand
9. Boutique Raft Resort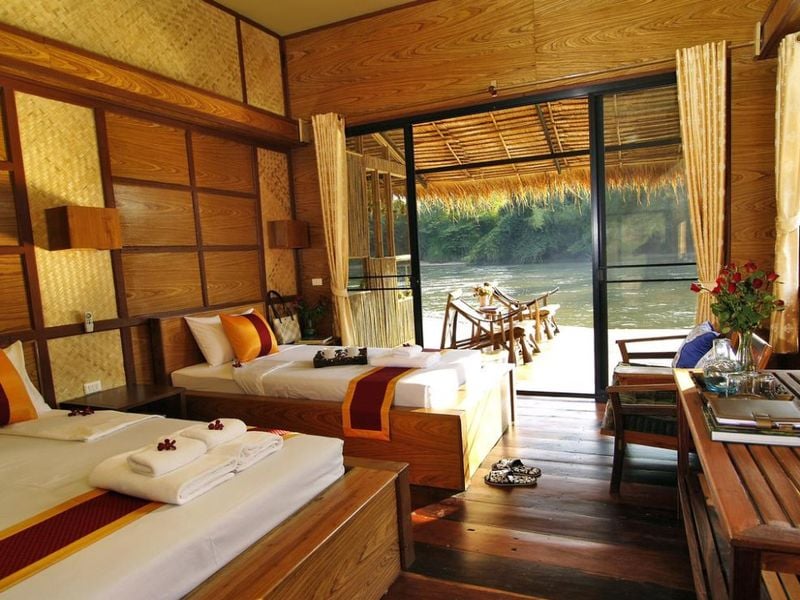 Image credit:Boutique Raft Resort
Residing along the well-known River Kwai, Boutique Raft Resort is a nature lover's dream come true as this resort is surrounded by lush greenery, with the resort itself crafted from hardwood and filled with locally made furniture.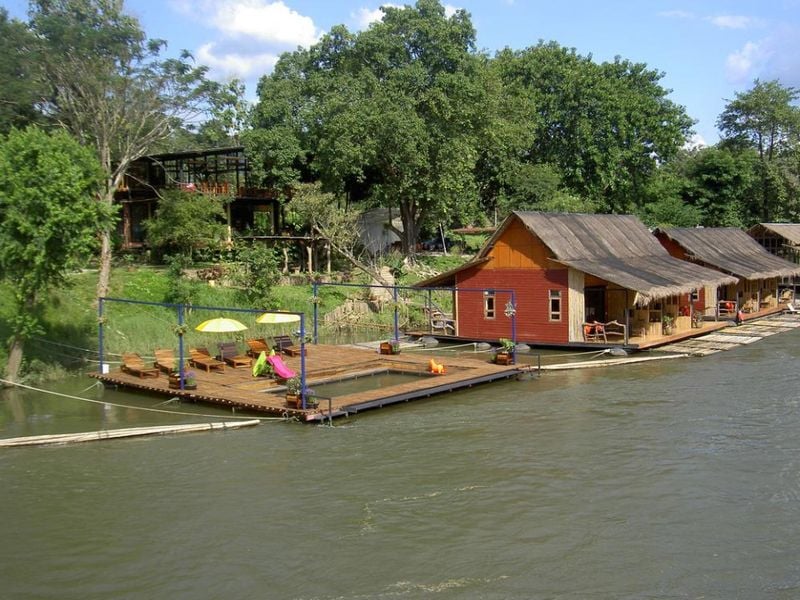 Image credit:Boutique Raft Resort
Address: 413 Moo 3 Tambon Tha-sao, Saiyok, Kanchanaburi ,Thailand 71150
Contact: +668 1353 1065,+666 4137 6909
Head over here to get to know more about Boutique Raft Resort!
Philippines
10. Aquascape Lake Caliraya
If escaping your home isn't enough, consider escaping from land itself! These floating cottages are the perfect getaway if you just want a break from the hustle and bustle of urban life. Although Aquascape is a three-hour drive from Manilla and for the privacy and landscape, it's really worth the drive.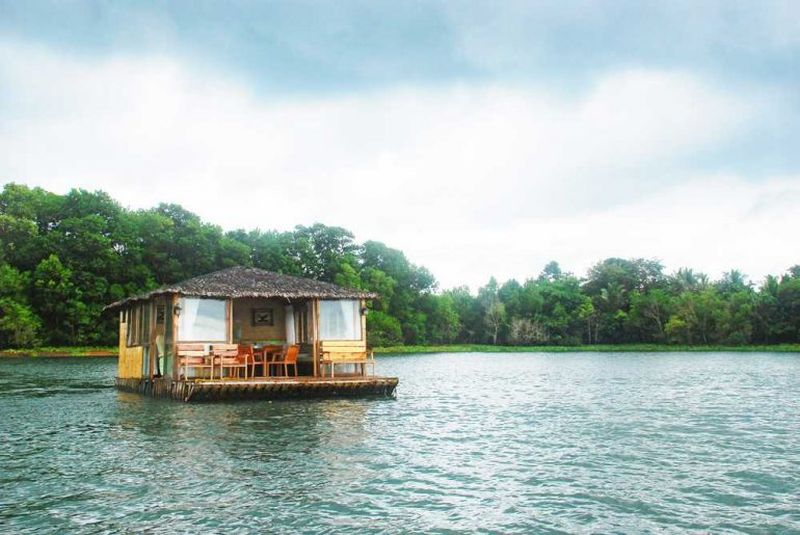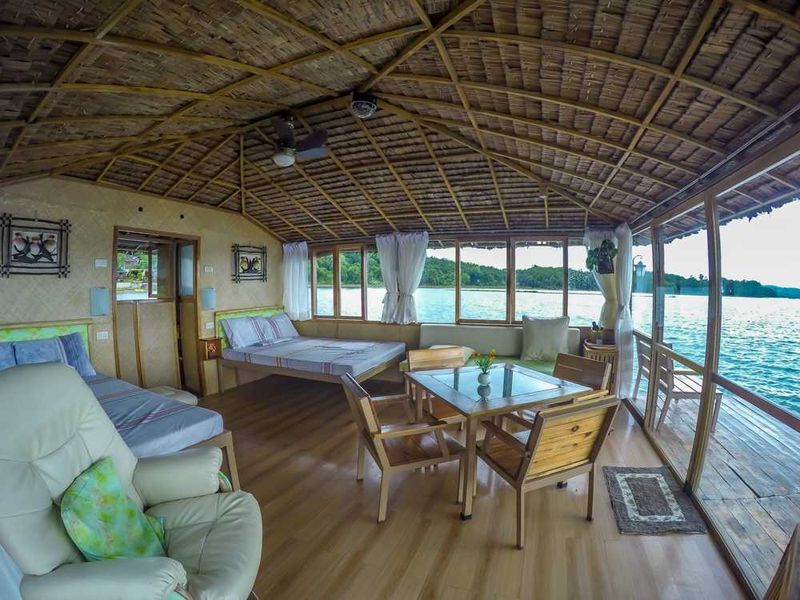 Address: National Highway, Brgy West Talaongan, Cavinti, Lumban-Caliraya-Cavinti Rd, Lumban, 4013 Laguna, Philippines.
Contact: cottagesandmanymore@gmail.com
Click here to find out more about Aquascape Lake Caliraya!
Still in the mood to check out more weekend getaway ideas? Check out TripZillaSTAYS!