Nothing brightens up your weekend like a relaxing staycation, am I right? Extra bonus points if the hotel is extra-Instagrammable too! We understand the pressure of maintaining a feed full of picturesque experiences. So in this list, we've compiled 10 very Insta-worthy hotels for your next staycation! Grab your loved ones and start packing your bags for the weekend!
1. Naumi Hotel
Naumi Hotel is truly anything but ordinary. Offering an intimate retreat with handpicked furniture and eclectic artworks displayed around, you'll feel instantly at home in this cozy boutique hotel.  Oh yes, they have flirtatious quotes littered all over the hotel as well – in the common areas and the guest rooms – it's as if someone is really speaking to you. At Naumi Hotel, you're in for a unique staycation experience on a whole new level.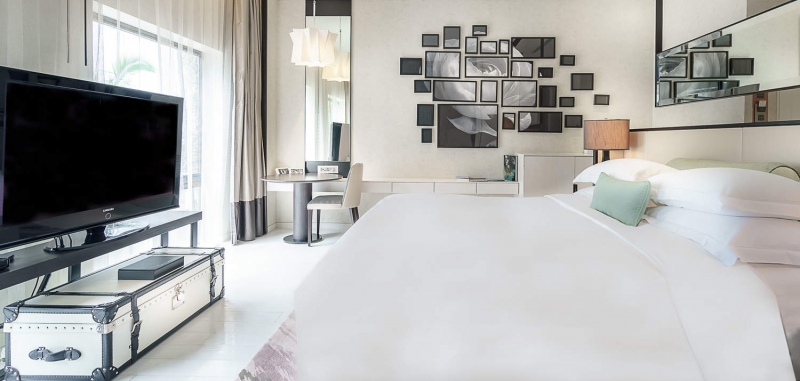 Naumi Hotel is also home to two exclusive designer-inspired suites, named Gabrielle & Camellia and Eden & Nirwana. The Gabrielle & Camellia suite is inspired by none other than Coco Chanel, designed with monochromatic tones to keep things classy and fabulous – an embodiment of her iconic values. The Eden & Nirwana suite on the other hand, features a dramatic pop of orange coupled with furniture in interesting shapes and designs. Top it all off with a specially commissioned artwork of Singapore's skyline in the room, and your stay here will make everyone else incredibly jealous.
That's not all! Apart from the Insta-worthy suites to stay in, Naumi Hotel also boasts an infinity pool with splendid views of the Singapore skyline! The Cloud 9 Infinity Pool and Bar is all you need for a languid evening; just chilling on a sunbed with nothing but a good book and cocktail in hand. Grab your iconic Insta-shot here right by the pool, with the concrete buildings juxtaposed against the blue sky for a perfect backdrop!
[NAUMI 10 PACKAGE DEAL]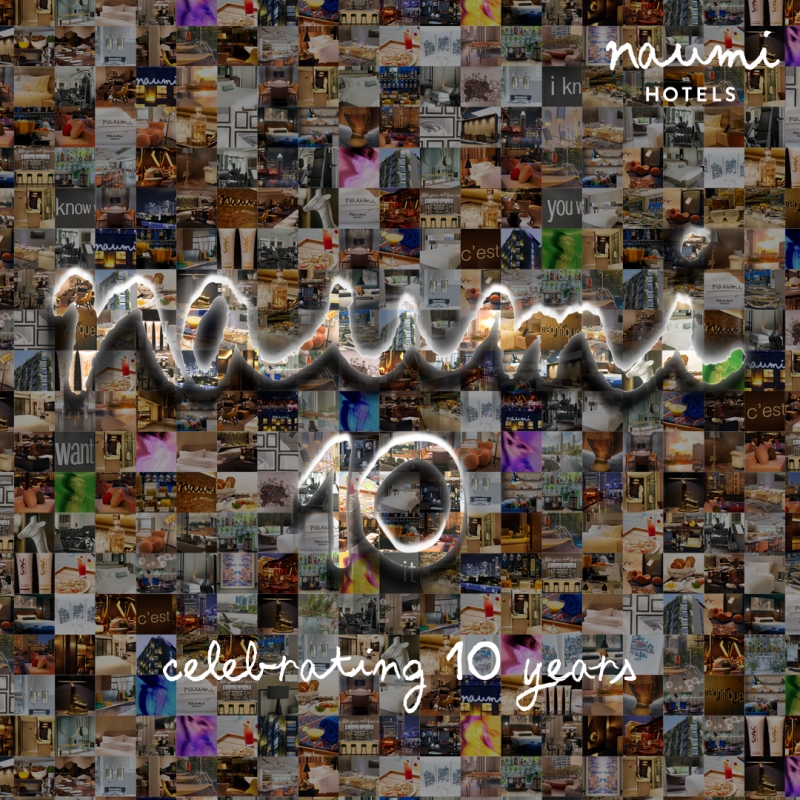 Happy Birthday Naumi! Celebrate Naumi Hotel's 10th Birthday with 10x the fun THIS MONTH! Stand to enjoy exclusive perks when you book a staycation with Naumi in the month of October.
Perks include:
Daily Buffet Breakfast for 2 at Table by Rang Mahal
Late check-out (subject to availability)
Receive an exclusive Naumi Aromatherapy Scented Candle
Complimentary Mini Bar
A welcome Naumitini Mocktail
Enjoy 100min of free flow selected house beverages from 5pm – 6.40pm at Table by Rang Mahal
10% off ala carte food menu at Table by Rang Mahal
24-hour access to the self-served Nibbles Snack Corner
Stand a chance to win a night stay for just $10 when you this book this package*
Enjoy an exclusive Stay 3 Pay 2 at our brand new sister property, Naumi Auckland Airport**
This awesome deal is only available for the month of October, so hesitate no more!
2. The Scarlet Singapore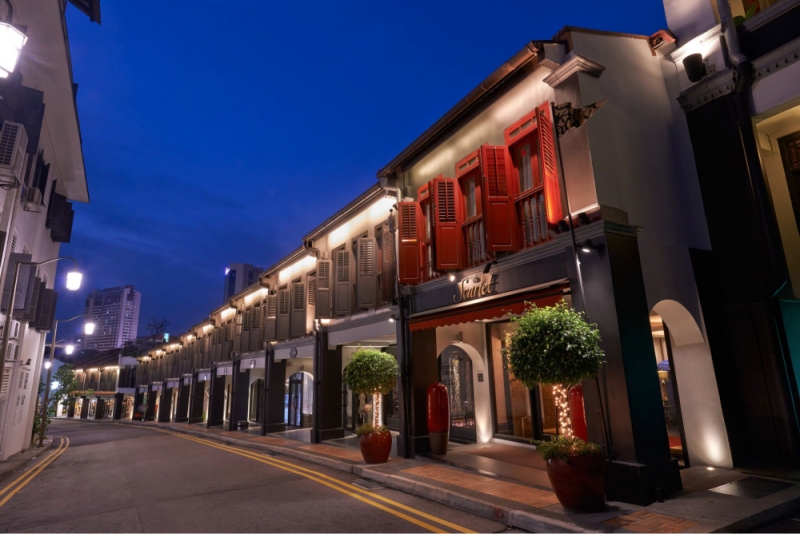 Don't let The Scarlet Singapore's rustic red-accented shophouse exterior fool you – head inside and you'll be taken aback by how lavish everything is. Think eclectic velvet furniture, stylish wallpapers and a large exquisite chandelier right in the middle of the hotel lobby – giving you a grand welcome as soon as you enter the hotel. You'll feel as if you've just become royalty!
The entire hotel stretches across a total of 13 shophouses, and with that comes an extremely long hallway decked in pink for you to pretend like you're a runway model. The rooftop bar, Aria, also provides a cozy ambience for late-night cocktails and bites, with an amazing view of the Chinatown district all lit up at night! Take those #OOTD shots here before you head off for a night of fun at Club Street. And because Club Street is right next to the hotel, you don't have to worry about how late you going to stay out. Just take a short walk and you'll be back in the hotel for a good night's sleep!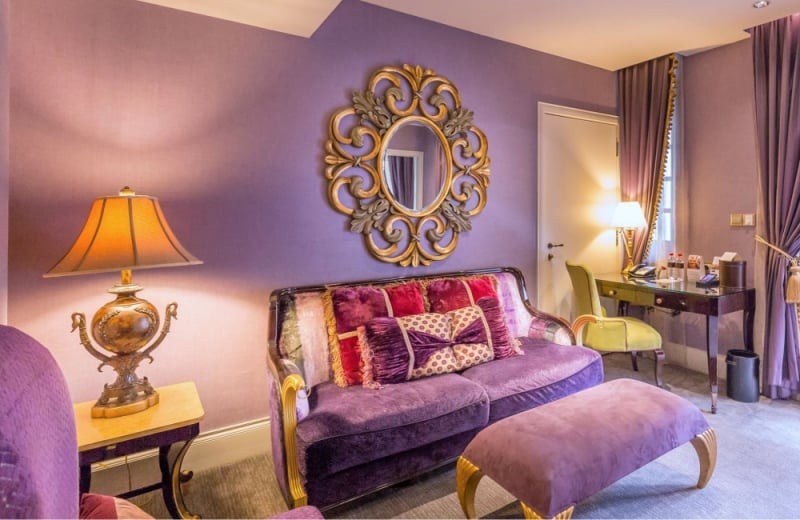 The most Instagram-worthy spots in The Scarlet Singapore are actually… within their five exclusively themed suites! Aptly named Swank, Splendour, Opulent, Passion and Lavish, these suites are an accurate reflection of their respective styles. You'll find it hard to find a hotel suite more gorgeous than these! Luxuriate in all things velvet, especially the fancy daybeds within the suite which are royally robed in Christian Lacroix fabric. We certainly won't blame you if you can't stop snapping away.
[SCARLET FLING PACKAGE]
To entice you even further, The Scarlet Singapore has an exclusive Scarlet Fling package just for you! Start your Scarlet Fling experience with a limousine pick up, a bottle of bubbles on arrival and enjoy a night's stay in one of The Scarlet Singapore's decadent suites. Choose your kind of Naughty or Nice tease for an additional bit of fun too!
You'll get to enjoy:
Complimentary bottle of sparkling wine
Complimentary mini bar
Complimentary breakfast for up to two persons
Complimentary one-way limousine pick up from or drop off to any location within Singapore
Complimentary wireless Internet access in guest room
Complimentary local calls
Complimentary use of FLAUNT and SODA
Late check-out until 2.00pm, subject to availability
Complimentary Add-ons:
Nice: Complimentary Chocolate-coated Strawberries; OR
Naughty: Complimentary Signature Lover's Amenities Kit
What else are you waiting for? Grab your cameras and pack your bags for a weekend staycation at The Scarlet Singapore now!
3. SO Sofitel Singapore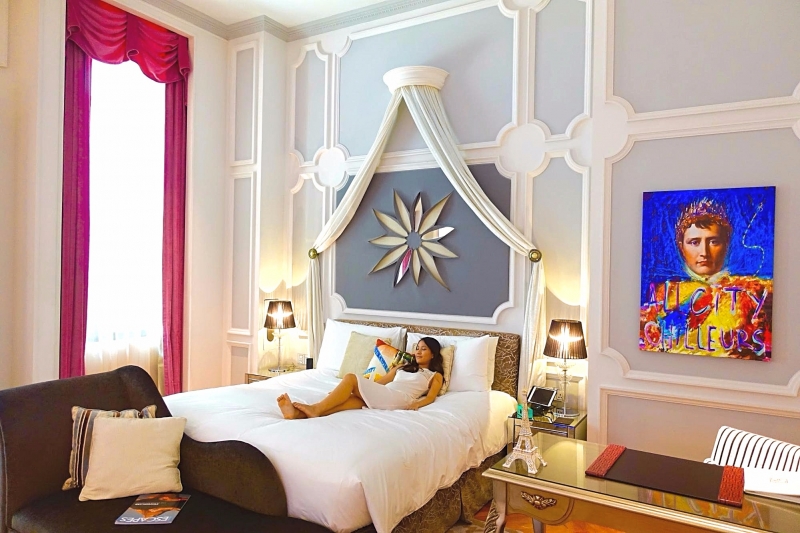 An exquisite blend of Singaporean and French influences, the decor of SO Sofitel Singapore's hotel lobby and rooms will blow you away with its chic style. You'll feel as if you're a celebrity living in an upscale Parisian apartment! The hotel is separated into two sections, the 'So Hip' wing and the 'So Heritage' wing. Their names suggest exactly what  they are – the former is a newer, modernised section while the latter is housed in a restored colonial building originally constructed in 1927.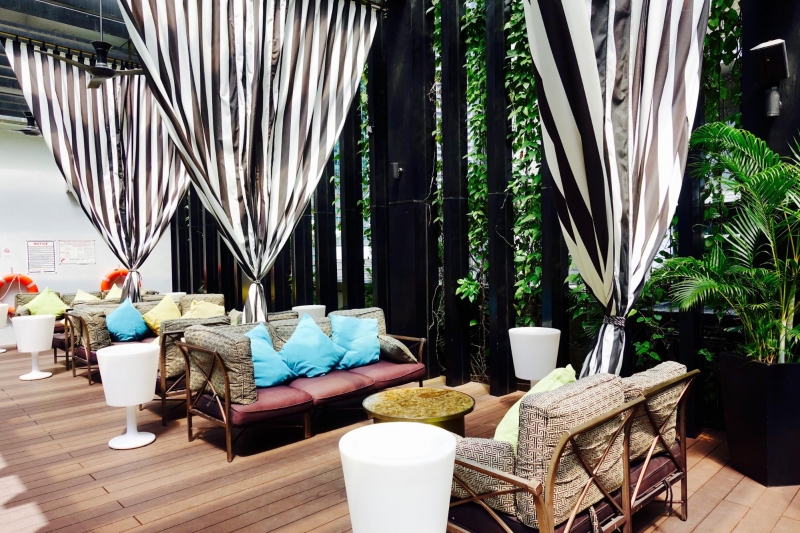 Whichever wing you choose to stay in, you'd surely be able to fool your friends into thinking that you've escaped to beautiful country of France for a romantic holiday. Psst… It's going to be a tough choice because both wings are equally as gorgeous and provide completely different experiences!
4. The Warehouse Hotel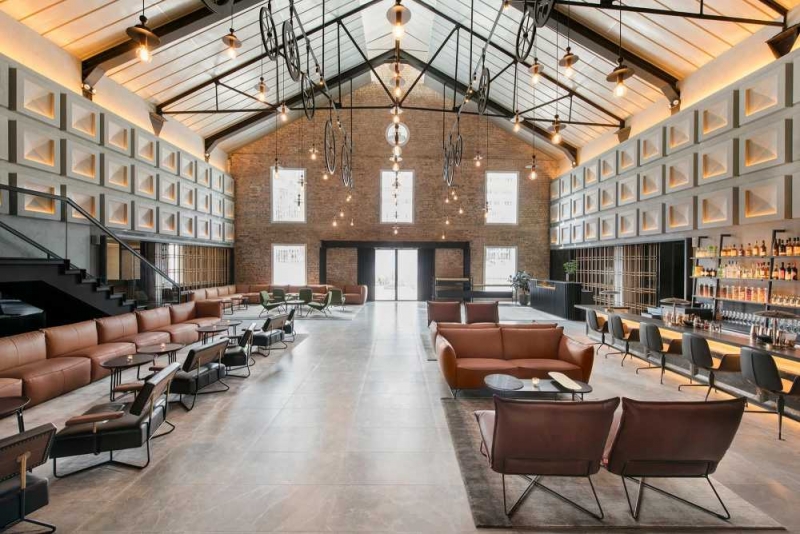 It's not hard to see why The Warehouse Hotel should be on the list. Just take a look at the lobby! Every corner you turn IS Insta-worthy, you don't need to be a professional photographer to capture it.

The rooms also scream of a minimalist-chic aesthetic, with warm earthy tones and soft lighting that make you feel instantly at peace. Isn't this sight just pleasing to the eyes?
5. The Vagabond Club
The Vagabond Club is a charming luxury boutique hotel, tastefully housed in a vintage Art Deco building. Just take a look at the interior of their hotel rooms! Isn't it just so enticing? With 41 rooms boasting a quaint Parisian-chic style intricately designed by Jacques Garcia, you'll be thoroughly spoilt for choice. Admire the handpicked works of art thoughtfully displayed in your room and start snapping away!
6. W Singapore – Sentosa Cove
If you've never jumped on your hotel bed before, you surely can't resist doing that when you're here. We've been told that the W Signature Bed is one of the fluffiest beds around and no other hotel can rival that, but the only way to find out is to test it out for yourself. Don't forget to take a few Boomerangs while you're at it! W Singapore's fantastic location at Sentosa Cove also means you'll be getting amazing sea views. Need we say any more? You won't even feel like you're in Singapore!
Don't forget to pack your swimsuits and colourful floats along as well, because W Singapore's one of the best places to head to for a splashing good time!
7. Oasia Hotel Downtown
Situated in the heart of Singapore's Central Business District, Oasia Hotel Downtown will allow you to get some of the best views in the city. There's a sky terrace on the 12th floor, where you can do yoga or just visit to breathe in some fresh air. If you're itching to go for a dip, you'd be glad to know that Oasia Hotel Downtown boasts not one, but two rooftop pools for you to choose from! It might not be Marina Bay Sands, but believe us when we say that the unobstructed view you get of the city – when you're in an infinity pool 27 floors high – comes pretty damn close. Don't miss out on the super Instagrammable rainbow egg-shaped swings beside the pools too!
8. Fullerton Bay Hotel
Fancy staying in a hotel that offers a view to die for? Fullerton Bay Hotel is the epitome of just that, where you can wake up to brilliant sunrises and watch glorious sunsets against the backdrop of the Marina Bay skyline. Your friends will all be green with envy once you start updating your Instagram feed with pictures of your stay here!
9. Hotel Indigo Katong Singapore
Did you know that the land Hotel Indigo Singapore Katong is currently sitting on, is where the former Joo Chiat Police Station used to be? Apart from the rich history of the previous building that used to occupy its place, this hotel's architecture and interior is heavily influenced by the Peranakan culture, making it the perfect blend of old and new. We love the unique armchair and distinctive Peranakan tiles in the bathroom! It surely doesn't get any better than this.  
The rooftop infinity pool is also a stunning sight to behold! Check out that unparalleled view of the lively Katong neighbourhood, you'll want to take a dip in the pool for hours and hours just to soak in the beautiful surroundings. Remember to snap as many photos as you can, before you let loose and have fun!
10. Studio M Hotel Singapore
One of Singapore's most widely Instagrammed hotels, StudioM Singapore's loft rooms provide you with so many angles and views to play with! These rooms are fitted with floor to ceiling windows – letting in more than enough natural light in the day and perfect for watching the bustling city life below at night. Find that perfect angle you need, work that pose, and start snapping away!
With these 10 picture-perfect hotels, your Instagram notifications are going to be full of comments going #hotelgoals. Grab your trusty camera and get creative with your staycation shots today!
Do you know of any other Insta-worthy hotels that we should be checking out? Let us know!
P.S. If you need any more hotel recommendations, feel free to head over to
TripZillaSTAYS
to check out other awesome options as well!