National Day is coming, you know what that means! Endless rows of the Singapore flag being draped over houses and skyscrapers. Despite the occasional MRT breakdowns and constant grumbling, Singaporeans are known to be patriotic people and each National Day calls for a huge celebration!
For those unable to snag tickets to the parade and the fireworks, fret not. This year's celebration held at the Marina Bay Floating Platform which will open up a plethora of hotels where you can catch the fireworks from! To make your National Day plans a smooth sailing one, we've compiled some enticing deals and sublime hotel locations for you to choose from. Here's the lowdown:
1. Naumi Hotel
An unobstructed view of the fireworks display as Singapore celebrates its 52nd birthday at the Marina Bay Float, what more could you ask for? Naumi Hotel responds to that quip with an exclusive access to the pyrotechnics display at Cloud 9 Infinity Pool & Bar, live parade screening and free-flow canapes, to name a few! All that and we've yet to get to their rooms yet.
The sleek interior topped off with complimentary in-room refreshments make their rooms a glamorous stay for any occasion. Naumi prides themselves in ensuring each and every guest attains the solitude they are seeking, away from the hustle and bustle of your daily grind. But that's not all. Naumi's interior design will make you feel at home throughout your stay. With soft pillows and plush furnishings, why wouldn't you?
To add the icing on the cake, Naumi's here to maximise your National Day celebrations with complimentary entry to Singapore's premier nightclub – Zouk! Your public holiday celebration just got a whole lot more enthralling.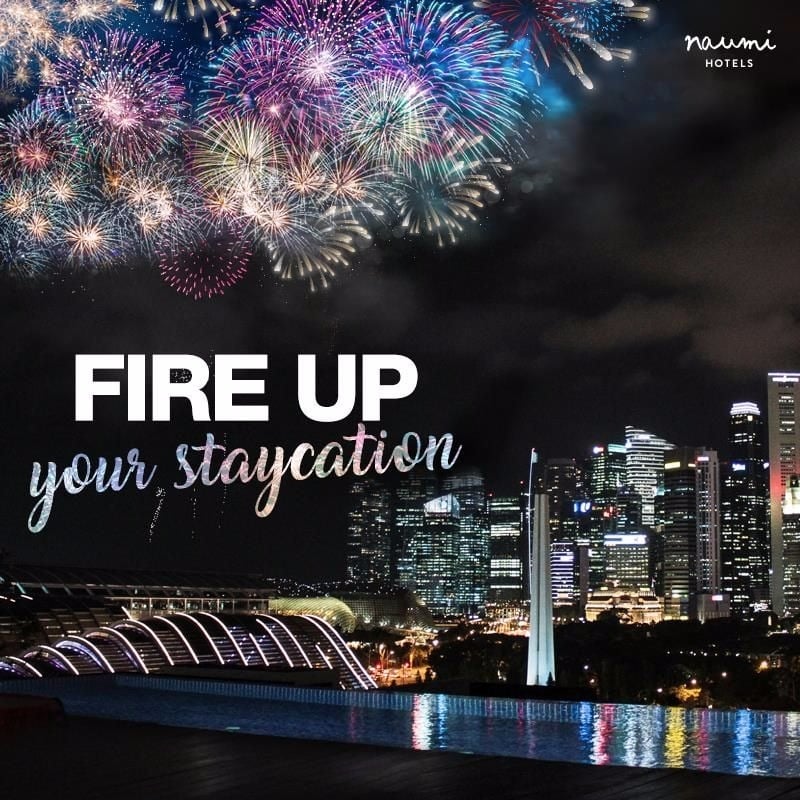 What are you waiting for? Book their National Day package deal now to get the most out of your stay! Access to Cloud 9 Infinity Pool & Bar on 9 August is exclusive only for guests who book this package, so you're definitely in for an awesome celebration!
Not convinced by front-row seats to the National Day Fireworks? Find out why a staycation at the beautiful Naumi Hotel is both quirky and unique!
2. The Scarlet Singapore
Decked in an alluring crimson red and housed in one of Singapore's iconic heritage districts, The Scarlet Singapore's interior and exterior facade screams patriotism. The boutique hotel's convenient location means that you're also only a stone's throw away from the parties and celebrations!
With lavishly personalised rooms to ensure maximum comfort and a unique stay, The Scarlet Singapore's National Day Celebrations package is for those who want that balance between solace and a pulsating celebration. Plus, you get to enjoy a complimentary bottle of Prosecco, complimentary breakfast for two at Casa Tartufo, guaranteed late checkout at 3pm, complimentary wireless Internet access in guest room, and complimentary use of FLAUNT and SODA! Awesome or what?
If you're curious as to what a staycation at The Scarlet Singapore is like, find out all you need to know right now!
3. The Fullerton Bay Hotel
Situated on the edges of the waterfront and across the Marina Bay Platform, The Fullerton Bay Hotel is a quintessential stop for anyone looking to spruce up your National Day celebrations! Indulge within the comforts of your sophisticated and posh room as you marvel at the dazzling fireworks, skipping the large crowds and cramped confines of public areas.
Furnished with modern touches and with a view to die for, the exclusive and exceptional service of The Fullerton Bay Hotel is sure to make your National Day celebration an unforgettable one. Especially since they're offering you a tantalising National Day package deal. You even get a complimentary Fullerton Merlion cocktail to complete your celebration!
4. Marina Bay Sands Hotel
Towering high above the Marina Bay district is none other than the Marina Bay Sands hotel, one of Singapore's most iconic landmarks. This world-renowned establishment offers expansive rooms that will provide you the optimum tranquil for your stay. Every single room in this gargantuan building offers a bird's eye view of the kaleidoscopic Central Business District!
The best part? Take a swim in the world's biggest (and perhaps, most Instagrammable) rooftop infinity pool and catch the bedazzling fireworks from 57 levels above ground. It'll definitely be a night to remember.
5. The Westin Singapore
Uncover this hidden gem poised off the straits of the South China Sea, with a vantage point of the National Day fireworks like no other. Located on the 32nd floor, The Westin Singapore's majestic panoramic views allow you to catch the fireworks – right from their GORGEOUS POOL!
But for those looking for a more intimate setting, their cosy rooms embellished with the exclusive trademark Heavenly® Beds make a perfect viewpoint for the National Day spectacle. If you're lucky, you might even have the best views to catch the F-15SG fighter jets roaring past!
Besides, did you know that the Westin Singapore's lobby is on the 32nd floor? Find out more fun facts about The Westin Singapore before booking your staycation!
6. Pan Pacific Singapore
With a glimmering view of the Singapore skyline, the Pan Pacific Singapore promises an idyllic haven amidst the eminent buildings surrounding it. This decadent and indulgent landmark isn't just a hotel, it is an institution well-revered by Singaporeans for its visually imposing presence in this peninsula.
That could only mean one thing:  an elegant view of the fireworks! Don't just stop there, the Pan Pacific has a feature unique to its hotel – a rooftop tennis court – the perfect place to catch your yearly dose of Singapore pyrotechnics with their patriotic promotion.
7. The Ritz-Carlton
Playing host to countless Formula One teams and sporting athletes over the years, The Ritz-Carlton's popularity amongst a growing international clientele is unparalleled – and we can see why.
A mere stone's throw away from the Marina Bay Float, the Ritz-Carlton is an oasis at the doorstep of the patriotic Singaporean celebrations every 9th of August. The synaesthetic ambience of the hotel, coupled with the pyrotechnics and marauding fighter jets will be more than enough to make your National Day an enthralling one. Guess what? To entice you even further, a National Day package is on the cards.
8. Mandarin Oriental Singapore
Exquisitely adorned with wood trimmings and marble finishings, the Mandarin Oriental is the epitome of opulence. Indulge yourself with their deluxe treatment as you countdown to the late night glitz and glamour of the many parties in your vicinity! Masquerade amongst the droves of Singaporeans dressed in red and white and have yourself a memorable National Day you'll never forget. After all, you're within the heart of the celebrations.
What're you waiting for? Get your flags out, drape it over yourselves and roll into the National Day spirit! Join the throngs of Singaporeans making their way to the heart of the celebrations and bask in the jovial singing of the one song we all know by heart – Home.
P.S. If you need any more resort recommendations, feel free to head over to TripZilla Stays

to check out other awesome options as well!