The June holidays are almost here and we could all surely use a great vacation. But sometimes, we just prefer to do with less planning and without the stresses of having to lug the kids across borders. Being the workaholics that Singaporeans are, you probably haven't had time to even do much research. Well, if you haven't planned anything for the family, don't despair. Escape exorbitant flight prices and forget immigration counters with an amazing staycation right here in sunny Singapore!
Staycations are a perennial favourite with Singaporeans as they're a fuss-free alternative to fall back on. They provide the perfect opportunity for you to unwind and reconnect with the family without having to travel far. To get you into the mood for the June holidays, we have sussed out seven awesome family-friendly hotels for the idyllic staycation. It's never too late to plan an equally gratifying "getaway" with the fambam!
1. Wangz Hotel

Located in the hipster neighbourhood of Tiong Bahru, Wangz Hotel is the perfect blend for guests who prefer a quiet, tranquil setting but still want to be in the heart of the city. Despite its unassuming facade, this hotel oozes sophistication, modernity and elegance.
Families would definitely love the hotel's Deep Suite, which is the biggest room in the hotel. With only one of its kind, the deep suite features two distinct areas – a multi-functional living space and an intimate, plush bedroom. The two spaces are thoughtfully separated by a full-length sliding glass door to give you and your partner much needed privacy even on a family vacation. The sofa opens up to a queen-sized bed for the children, so there's ample space.
Hesitate no longer, and book your next luxurious family staycation at Wangz Hotel. Furthermore, their Early Bird Promotion will grant you up to 16% off your room if you book 14 or more days in advance. Don't let this deal slip by!

The Tiong Bahru precinct screams a novel contrast of old versus new and it makes for an excellent location to expose your children to life in the olden days. Take the family on the Tiong Bahru Heritage Trail, designed by the National Heritage Board, and unravel the untold stories of the area. You can also cultivate the love for reading in your children by bringing them to the famous indie bookstore BooksActually, which stocks up on books by lesser-known authors and local writers.
Address: 231 Outram Rd, Singapore 169040
2. 30 Bencoolen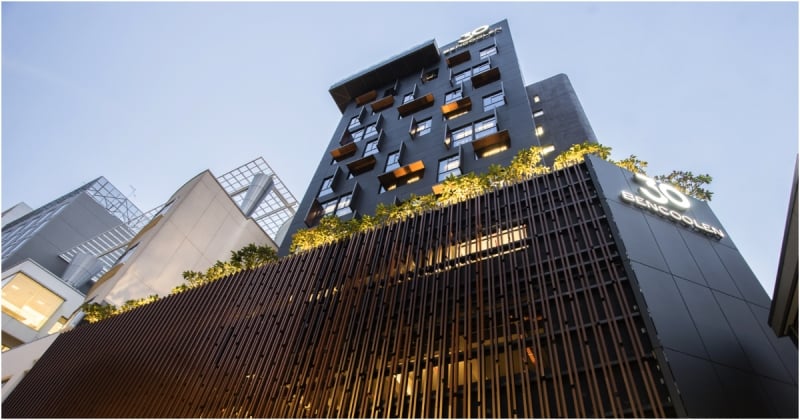 Enter the newest kid on the block! 30 Bencoolen is one of the latest hotels to open recently, and it offers one of the most spacious family accommodation options in Singapore. Set along the tree-lined Bencoolen Street in the heart of Singapore's art and cultural district, this cosy and modern establishment promises a contemporary ambience in a convenient location. Furthermore, you won't have to worry about breaking your bank – book 10 days or more in advance to enjoy 15% off your room and packages.
30 Bencoolen's Family Room has all the furnishings and amenities that you need for the perfect staycation. They feature a king-sized bed and a pair of twin beds, ideal for a family of four. The room also boasts a large balcony, providing ample space for the kids to roam freely. Don't fret or fuss in the morning over breakfast, and enjoy a daily buffet breakfast with the Bed and Breakfast package. The large variety of hearty and sumptuous will certainly keep the whole family happy and fuelled to take on a day of fun.
Located on the 15th floor, the enticing rooftop pool boasts scenic views of the skyline, high above the hustle and bustle of the city below. Relieve those aching muscles and toss away your worries as you take a dip in the jacuzzi pool, a favourite feature among guests. Don't be surprised if you end up spending the whole afternoon in the jacuzzi!
With Singapore's prominent museums and attractions just around the corner, you'll never run out of things to do when you stay at 30 Bencoolen. The National Museum and the Singapore Art Museum are just a stone's throw away and it makes for an excellent learning journey with the family. There are also three MRT stations within walking distance from the hotel which makes it really convenient for the family to head out and explore other attractions like the Esplanade and Little India.
Address: 30 Bencoolen Street, Singapore 189621
3. Hotel Boss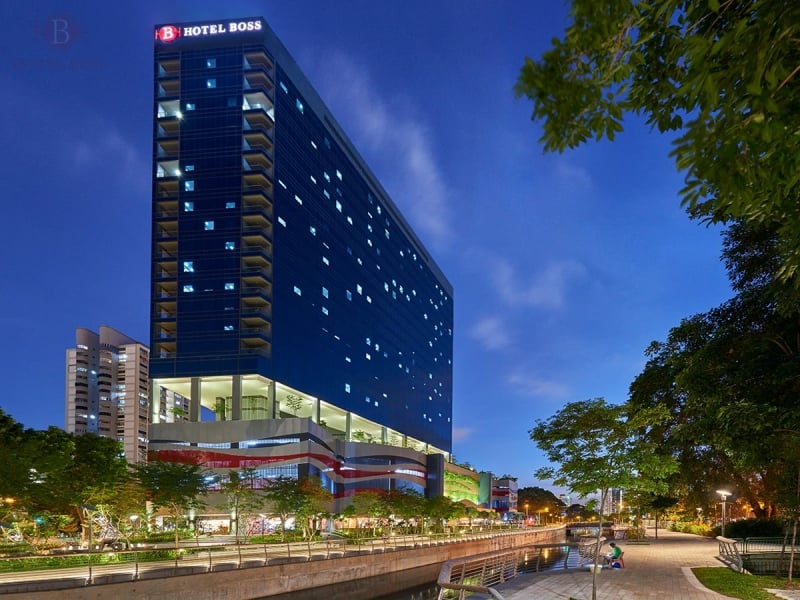 Boasting an impressive 1500 rooms, Hotel Boss is a no-frills establishment right in the heart of Singapore which comes at a very affordable price tag. And did you know that Hotel Boss is actually the second largest hotel in Singapore, coming right after Marina Bay Sands? Located just a three minute walk away from Lavender MRT, Hotel Boss provides easy access for you to explore the city.

The ideal choice for families, Hotel Boss' Family (Balcony) rooms come with two full-sized queen beds and a private balcony so there's ample space for everyone.

Don't worry about the kids getting bored! The numerous cable TV channels and the hotel's very own indoor playground are sure to keep the little ones occupied, rain or shine. And not to forget their outdoor swimming pool located at the Sky Terrace on the fourth floor, which boasts amazing city views for you to gaze at during your afternoon dip.
Pro tip: If you book directly from Hotel Boss, you stand to enjoy a guaranteed two hour late check out, and complimentary parking during your stay! (U.P S$10/day). Wouldn't you love to have these extra couple of hours to just rest and relax?

Feeling peckish in the middle of the night and need your supper fix? Well, there's a 24-hour food court right in the hotel itself. There's also two famous stalls located in its premises – Founder Bak Kut Teh and Tian Tian Hainanese Chicken Rice. You don't have to travel far for good comfort food!
Address: 500 Jalan Sultan, 199020
4. Winsland Serviced Suites by Lanson Place
Situated along Penang Road, Winsland Serviced Suites by Lanson Place is just a short walk away from Somerset Station. Yes, you'll be staying right in the heart of Singapore's shopping district, with Orchard Central and 313@ Somerset just at your doorstep.
The Two-Bedroom Premier Suite provides families with luxurious space and is cleverly designed to include a king bed, twin beds, two bathrooms and separate cooking, dining and working areas. So if you're looking for a home away from home without the hassle of household chores, this is your best bet! There's plenty of space for bigger families to have a cosy movie night or bond over some card games.
Fancy a dip in a jacuzzi tub while taking in the awe-inspiring Singapore cityscape? Do just that at Winsland Serviced Suites by Lanson Place ! The kids will love the azure pool, nestled 10 storeys up at the rooftop! And for the fitspo parents who need to get their workout in, break a sweat in the fully-equipped gym!
If you're looking for something a bit more compact and cost-efficient, take advantage of their promotional opening offer, and enjoy a week at their Studio Suite for S$238/night or at their One-bedroom Executive Suite for S$293/night . These newly-renovated apartments guarantee a rejuvenating stay, and perhaps could even give you inspiration for your next home-makeover!
Address: 167 Penang Road, Singapore 238462
5. Naumi Hotel
Located just a short walk away from City Hall and Bugis MRT stations, Naumi Hotel is right smack in the heart of town. Naumi Hotel might be a boutique hotel, but it screams indulgence and luxury. It's furnishings are super chic and thoughtful, and the attention to detail is simply extraordinary!
Naumi Hotel 's rooms are more suited for smaller families with younger children. There are four different types of rooms that you can choose from for your idyllic staycation – namely Habitat, Patio, Oasis and our personal favourite, the designer suites. Inspired by famous designers Coco Chanel and Andy Warhol, the Gabrielle and Camillia suites boast a classy, monochromatic theme which added to the rooms grandeur.
Aside from spending the night in these designer suites, why not also indulge in a designer bag for yourself! When you book directly from Naumi Hotel, you are entitled to a S$100 Reebonz in-store shopping voucher , which will go a long way to purchase your next favourite luxury handbag. In addition, you get to enjoy a complimentary breakfast for two and a 10% discount (off ala-carte items) at their in-house restaurant, Table by Rang Mahal. Also, take advantage of their Signature Sale - get 35% off their Best Available Rates, a daily breakfast buffet table and a complimentary minibar . It's a massive deal like no other!
Be sure to set aside ample time to enjoy Naumi Hotel's highly acclaimed and Insta-famous infinity pool! Despite its central location, the hotel's pool is a revitalising escape that doubles up as tranquil oasis away from the frenetic chaos of the city. Unwind with a cocktail from the Cloud 9 Bar as you take in the panoramic sights of the city.
Address: 41 Seah Street, Singapore 188396
6. Oasia Hotel Downtown
Surely you would have noticed Oasia Hotel while in Tanjong Pagar – the iconic red building draped in various shades of greenery. Well, why not quell your curiosity about this building and book a staycation there instead? Located just 30 seconds from the MRT, Oasia Hotel Downtown is indeed an invigorating oasis nestled in Singapore's Central Business District.
Since you're staying put in Singapore and saving on airfares, go all out and book your stay in Oasia's Club Room. Although it is slightly pricier than the Superior and Deluxe rooms, be assured that you'll be given some serious perks that will be worth every extra dollar.
Enjoy exclusive access to the Club Floor, Club Lounge and Infinity Pool, all day non-alcoholic drinks and snacks, and complimentary breakfast, evening cocktails and canapés! Need we say more?
Given the prime location of the hotel, you're only minutes away from Gardens by the Bay and the Singapore flyer. Bring the family out for a fun excursion into the Cloud and Flower Domes and end the evening with a ride up to the top of the flyer and treat yourself to stunning, whimsical sunset views. It simply can't get more convenient than this for some much-needed family bonding time.
Address: 100 Peck Seah Street, Singapore 079333
7. Sofitel Singapore Sentosa Resort & Spa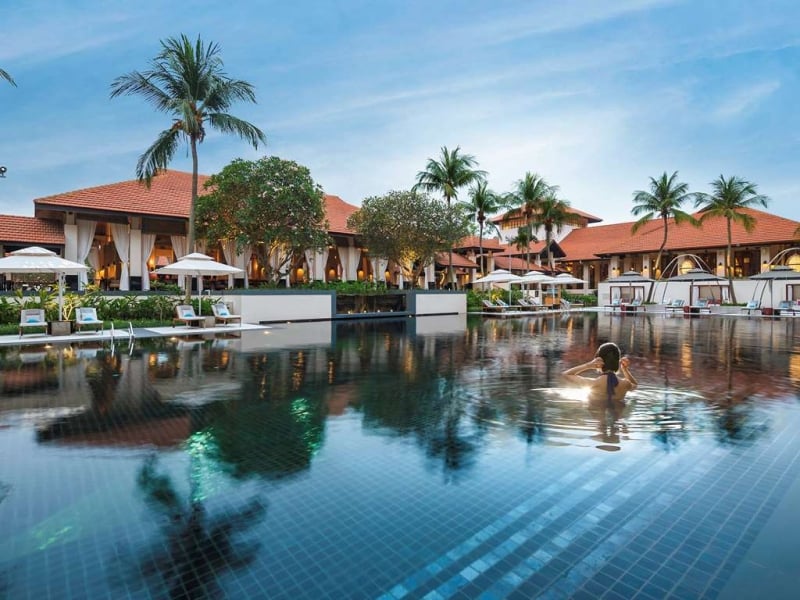 Be transported to your own Bali-esque paradise as you step into Sofitel Singapore Sentosa Resort & Spa! Set atop a cliff with scenic views of the South China Sea, Sofitel Singapore Sentosa Resort & Spa promises you a unique ambience for a memorable stay right at Singapore's State of Fun.
Family time is indeed precious, so why not reconnect as a family and give them the best by booking Sofitel Singapore Sentosa Resort & Spa's Prestige Family Suite for a night or two? The suite offers a separate bedroom and living area, and the sofa doubles up as a sofa bed perfect for the children.

Need we say more about Singapore's favourite leisure destination? Sentosa offers a myriad of attractions and things to do so that you'll never get bored. Let the kids try their hand at surfing at
Wave House Sentosa, or test your agility with an obstacle course at Mega Adventure's Mega Climb. Or just spend an afternoon by the beautiful Siloso or Palawan beach and end the night by racing each other on a Luge ride!
What's more, the resort hotel offers complimentary shuttle services to VivoCity Shopping Mall and Paragon in Orchard Road, so you're promised some much-needed retail therapy.
Address: 2 Bukit Manis Road Sentosa, Singapore 099891
So there you have it, our specially-curated list of seven family-friendly hotels for the ultimate June holiday staycation! Equipped with a multitude of amenities and facilities, these seven establishments will promise the ideal setting for an exciting time with the whole family.
Explore new places in Singapore and feel like a tourist in your own country – isn't that what staycations are for? So ditch the passports, pack your bags and head for that staycation experience that'll leave you with memories to cherish for a lifetime.