There's nothing quite like long, pampering soaks in a fancy bathtub to rejuvenate the soul. While many of us are contented with having a basic white tub in the hotel bathroom, some places really do take bathtub designs to the next level, creating a luxurious themed bath experience and setting a new travel trend among the bathtub lovers. Here are some of the most incredible hotel bathtubs in the world. There seem to be something for all - from the outdoor lover and exhibitionist to the hopeless romantic and conservative.
Also read: 5 Strangest Hotels That Make You Think You're Hallucinating
For outdoor lovers
These open-air bathtubs are surrounded by lush forests, serene nature and breathtaking views.
1. Upper pacific suite bathtub at Post Ranch Inn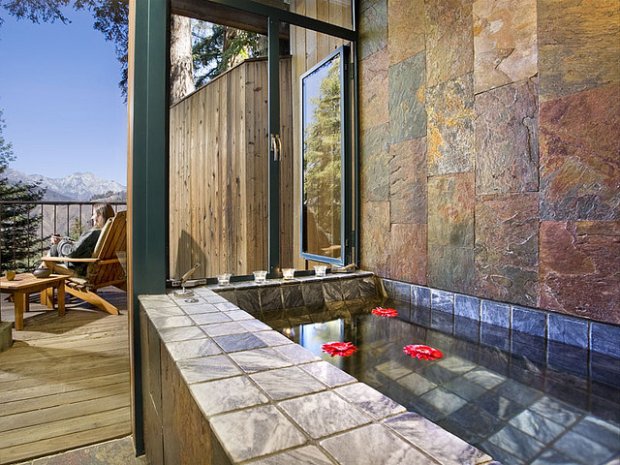 Image credit: postranchinn.com
Built amidst the wonderful setting of Big Sur, California, Post Ranch Inn features this adjacent terrace that gives its guest the chance to soak in the bathtub while taking in the beautiful scenery.
2. Claw-foot outdoor bathtub at GoldenEye Hotel & Resort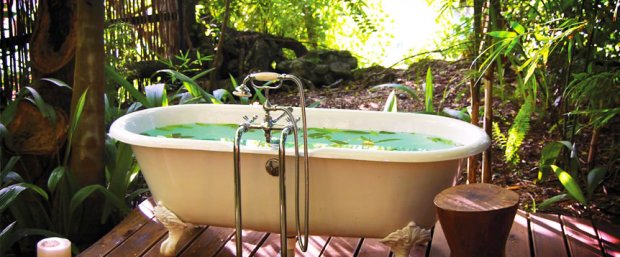 Image credit: goldeneye.com
If you love the tropics, you'll enjoy staying at the GoldenEye Hotel & Resort in Jamaica. This hotel features large foldout doors leading to an outdoor tropical garden where this tempting claw-foot outdoor bathtub awaits.
3. Rustic outdoor bathtub at Glen Oaks Big Sur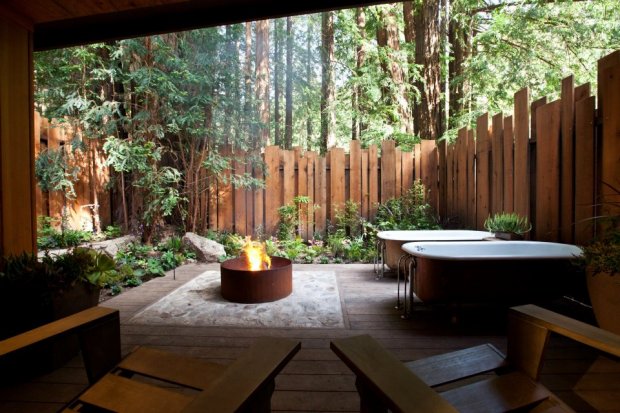 Image credit: hausotel.com/big-sur2
This outdoor terrace of Glen Oaks Big Sur is fully equipped with two outdoor claw-foot tubs that are ready to rejuvenate your senses amidst a rustic setting.
4. Afrika house bathtub at Bambu Indah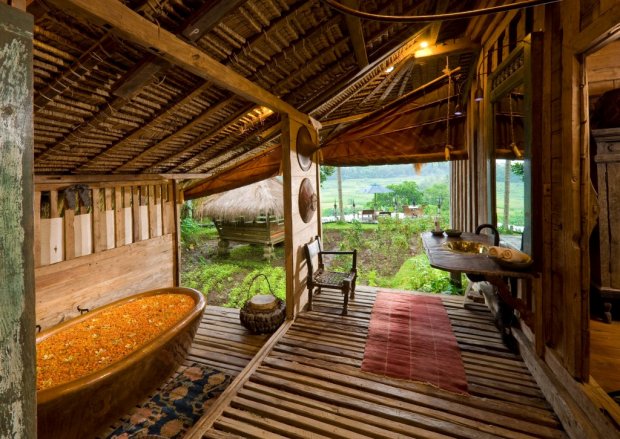 Image credit: bambuindah.com
Bambu Indah in Bali, Indonesia features an exquisite copper tub designed and hand-made by John Hardy, a notable jeweller and the founder of this eco-friendly boutique hotel. Hailed as one of the world's coolest bathtubs, this Afrika bathtub provides an indulgent experience.
5. Japanese open-air bathtub at Gora Kadan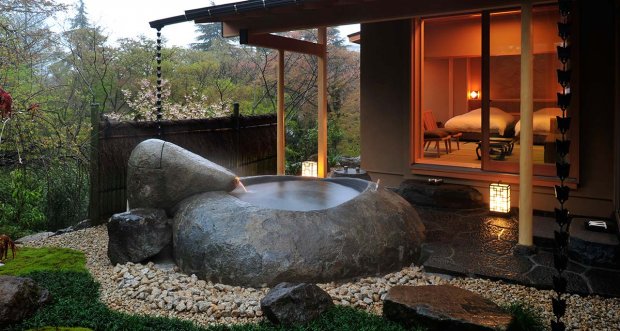 Image credit: gorakadan.com
Gora Kadan in Kanagawa, Japan makes sure its guests are well-pampered with its open-air big stone bath that is built in a Japanese garden a few steps away from your cosy room.
6. Sephiri bathtub at Molori Safari Lodge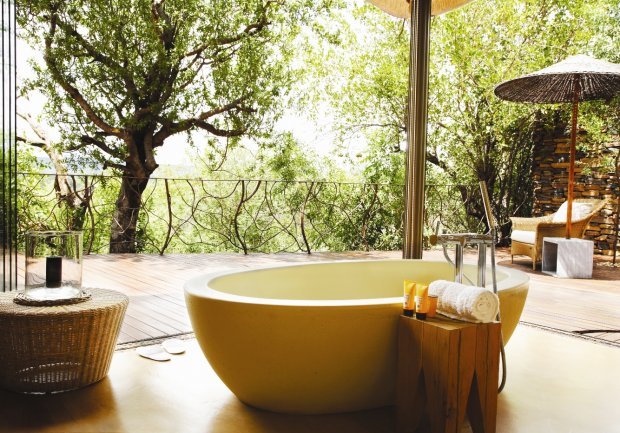 Image credit: molorisafari.com
If you are physically exhausted after a safari trip, Molori Safari Lodge in South Africa provides the best relief with its private Sephiri bathtub and an intimate terrace overlooking the nature reserve.
7. Safari bathtub at Belmond Safaris - Orient Express Safari Camps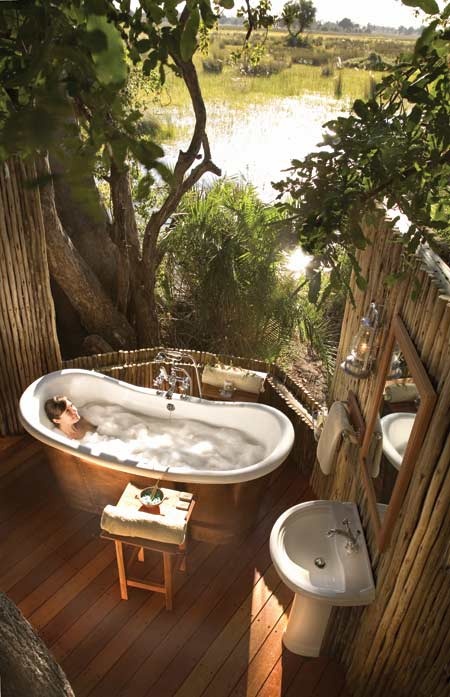 Image credit: fivestaralliance.com
Can't get enough of your safari trip? Why not relax and soak in Belmond Safaris' outdoor bathtub while still feeling the adventure in the Okavango Delta, Africa's best preserved delta that has just been listed as a UNESCO World Heritage Site.
Also read: Okavango Delta: Africa's Newest UNESCO World Heritage Site
For the exhibitionists
These outdoor bathtubs are perfect for those who are confident enough to risk someone seeing their exposed body.
8. Water villa glass bathtub at Six Senses Laamu – Maldives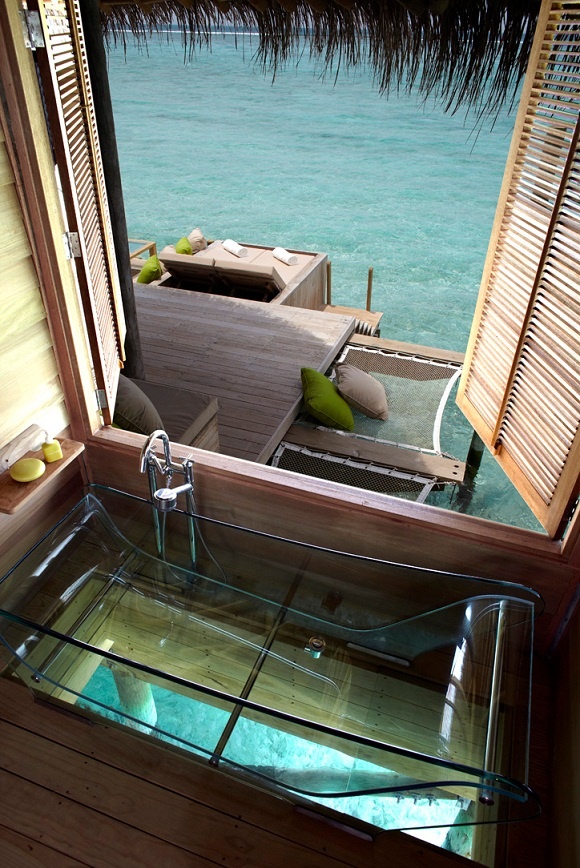 Image credit: butlerbythesea.com
Located in the lovely island of Olhuveli, in the Laamu Atoll, Maldives, this eco-friendly resort is an unforgettable retreat in a luxurious tropical setting. This above-water villa features a glass bathtub that won't let you lose sight of the surrounding turquoise waters, adding a more relaxing effect to the already pleasant atmosphere.
Also read: Take an Ultimate Indulgence at Six Senses Laamu Maldives
9. Glass walled bathtub at Four Seasons Seychelles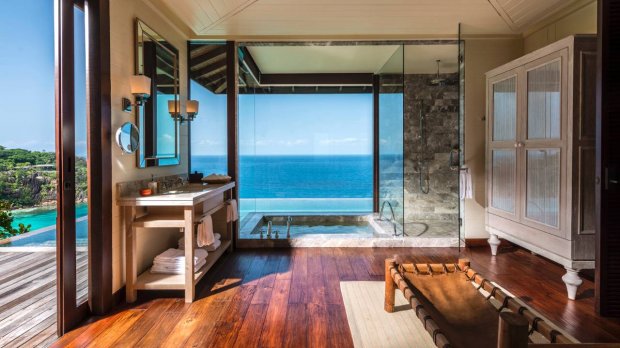 Image credit: fourseasons.com/seychelles
Set in a lush island sanctuary, Four Seasons Seychelles offers an unmatched bathroom experience with a glass walled bathtub that lets you see the tranquil azure waters of the Indian Ocean.
10. Balcony bathtub at The Stones Hotel - Legian Bali, Autograph Collection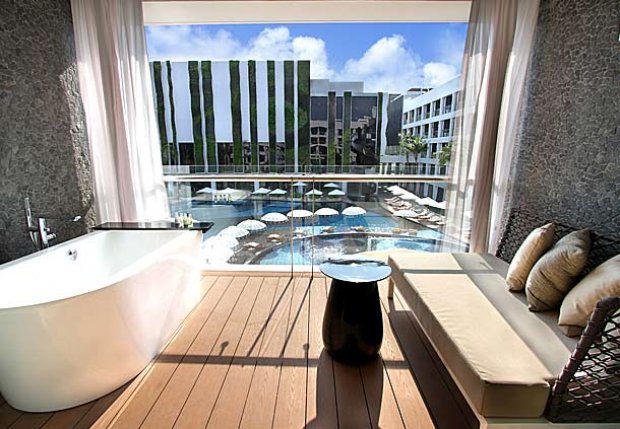 Image credit: marriott.com
Beautifully located in the southern tip of Legian Beach, The Stones Hotel - Legian Bali Autograph Collection gives you the finest comfort with this lavish balcony bathtub that is overlooking the pool area.
11. Spanish-style bathtub at Barcelo La Bobadilla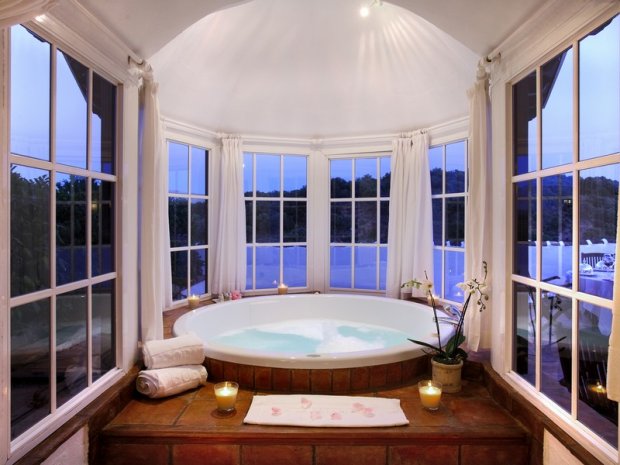 Image credit: barcelo.com
Barceló La Bobadilla offers a different kind of bathroom experience right at the heart of Andalusia. Guests may relax in a Spanish-style bathtub while seeing the outside beauty through the huge glass windows.
12. Bathtub with floor-to-ceiling windows at The Oberoi, Dubai
Image credit: oberoihotels.com/oberoi_dubai
Nothing is more pleasing than Oberoi Dubai's free standing bathtub on a spacious marble bathroom with floor-to-ceiling windows that allow you to gaze at the city's stunning skyline.
13. Presidential suite bathtub at Mandarin Oriental Macau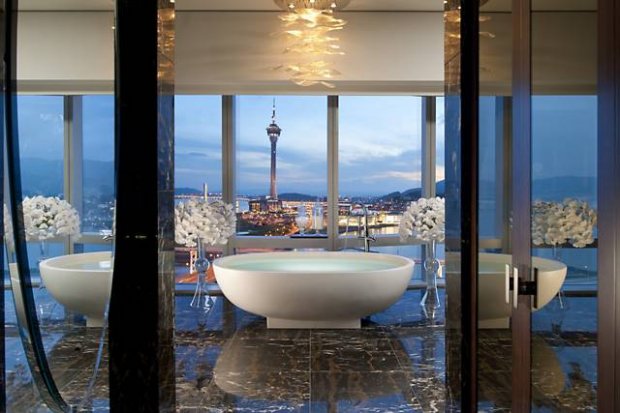 Image credit: m.mandarinoriental.com/macau
Dipping in Mandarin Oriental Macau's presidential suite bathtub will make you feel like the most important person in the world. Not to mention the modern glass windows that let you enjoy the overwhelming Macau cityscape.
For the conservatives
For the middle-of-the-road individuals, here are luxurious private bathtubs to let you soak in tranquillity with a peace of mind.
Also read: 5 Best Spa Destinations That Offer You the Royal Treatment
14. Hand-carved wooden bathtub at Mio Buenos Aires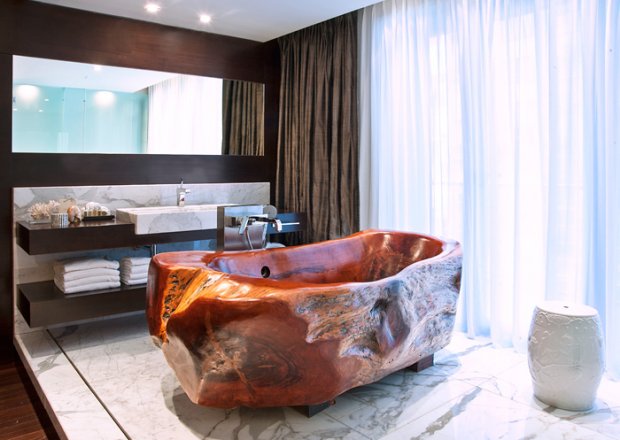 Image credit: miobuenosaires.com
Hand-carved by the Argentine artist Mario Dasso, this piece of native calden wood bathtub in Mio Buenos Aires rests in a spacious bathroom to give you a naturally refreshing experience.
15. Therapeutic bathtub at Amankora Paro, Bhutan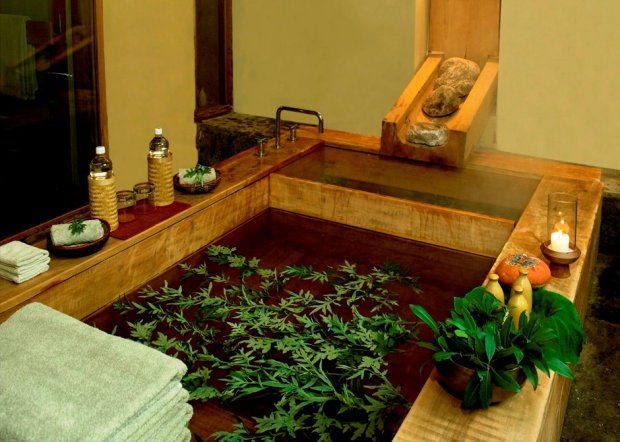 Image credit: ampersandtravel.com
A ritual must be done in order to enjoy the therapeutic effect of this bathtub. When the hot water begins to cool, the guest should strike a Buddhist singing bowl to signal the attendant to put the heated stones in the small portion of the bathtub. Instead of soap and bubbles, the water is filled with khempa, a local herb in Bhutan that is believed to treat skin conditions.
16. Tibetan wooden bathtub at Banyan Tree Ringha
Image credit: fivestaralliance.com
Located in a scenic area in Yunnan province, Banyan Tree Ringha's decor reflects the local Tibetan culture - from the intricate woodcarvings and smoky fireplaces to wonderful balconies and wooden bathtubs.
17. Gulistan cave suite bathtub at Museum Hotel Cappadocia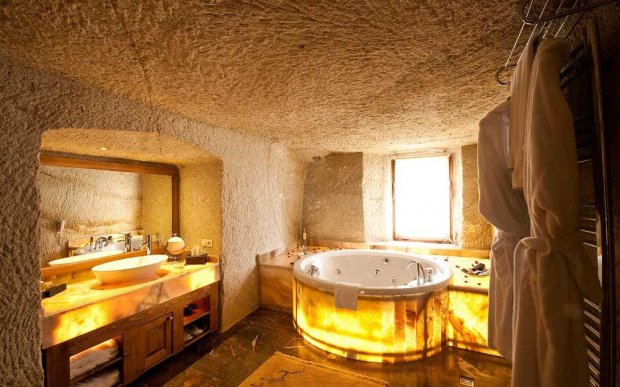 Image credit: fivestaralliance.com
Set in the majestic region of Cappadocia, Museum Hotel's Gulistan cave suite bathtub is designed and lavishly decorated to give you security and comfort inside a peaceful cave-like setting.
18. Simple white bathtub at Point Yamu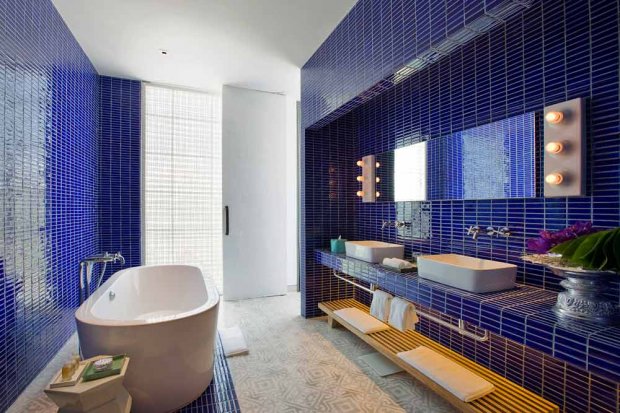 Image credit:  fivestaralliance.com
If you want to keep it simple, this tub is right for you. The white bathtub at Point Yamu by COMO in Thailand complements its blue wall accent, giving you a simple yet sophisticated bathroom experience.
For the hopeless romantics
Great not only for the hopeless romantics, these bathtubs also win the hearts of honeymooners. Rose petals sprinkled in a bath is a romantic touch that can ignite the passion of lovers.
Also read: 5 Luxurious Travel Destinations for Your Honeymoon
19. Champagne tower at Pocono Palace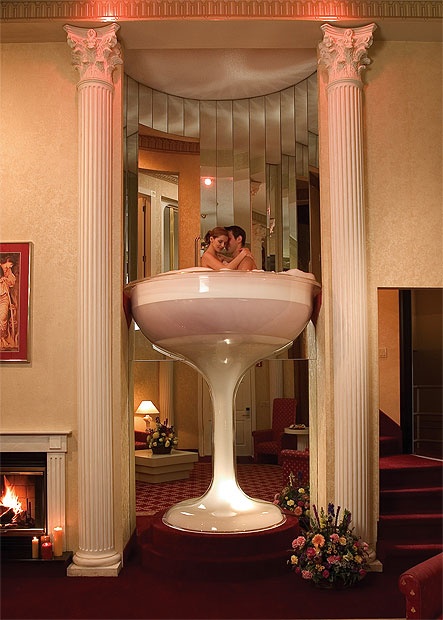 Image credit: messynessychic.com
Exclusively for couples, Pocono Palace features a Grand Roman theme bathroom with floor to ceiling columns, great arches, vaulted ceilings and the highlight of them all - the champagne tower bathtub. No, you're not dreaming! It's a real towering champagne glass that guarantees an unforgettably romantic bathroom experience.
20. Romantic oval bathtub at Thanda Private Game Reserve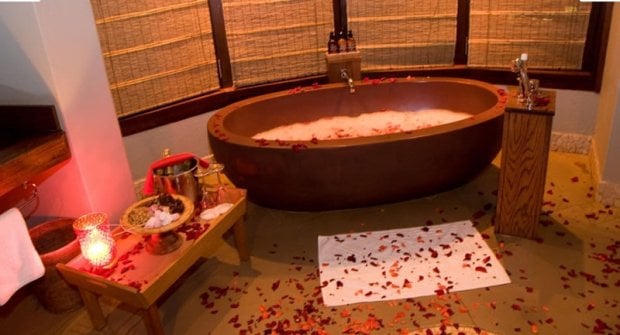 Image credit: 1000lonelyplaces.com
South Africa's Thanda Private Game Reserve lets you stay in a honeymoon tent complete with a shower, jacuzzi and a large romantic oval bathtub that will give you both exclusivity and adventure in a nature reserve.
21. Honeymoon suite bathtub at Kalima Resort & Spa, Phuket
Image credit: kalimaresort.com
Kalima Resort & Spa's bathtub is stocked with Kalimas's own marine essence toiletries. Indulge your senses with the romantic fragrance while enjoying the view of the magnificent vista.
22. Petal-filled bathtub at CK Villas Bali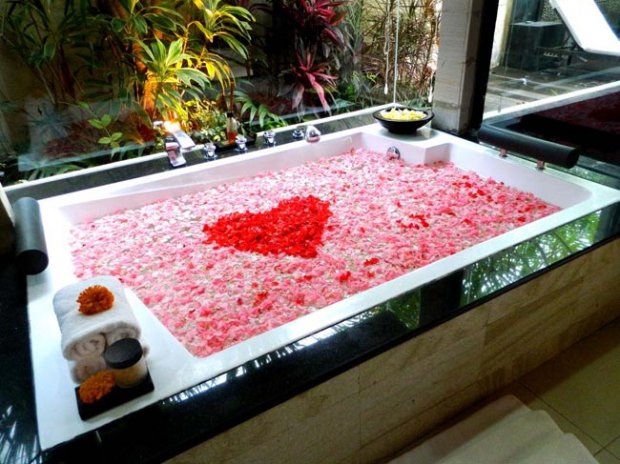 Image credit: ckvillasbali.com
Built in an outdoor tropical garden, CK Villas Bali's semi-jacuzzi double size bathtub filled with red and pink petals will keep the flame of passion burning. Don't get too excited when dipping into the water so you won't break the fragile petal heart too soon!
23. Barrymore bathtub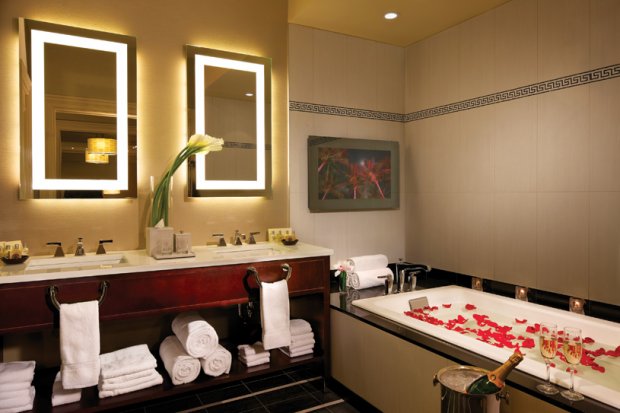 Image credit: fivestaralliance.com
Located in midtown Manhattan, The Algonquin Hotel Times Square, Autograph Collection presents a charming Barrymore bathroom with a rose-filled bathtub to give a romantic ambience while maintaining class and style.
Also read: 5 Plush Hotels That are Taking Good Sleep Very Seriously
After going through this list of soak-worthy bathtubs around the world, I'm sure you'll never quite view hotel tubs the same way again. I actually have much higher expectations now. What are some of the best bathtubs you've seen from your travels?