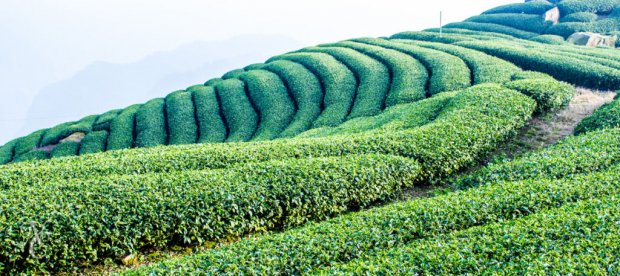 From Taipei, we took the High Speed Rail (HSR) to Chiayi to get to Alishan (阿里山). We chose 53.1 Homestay Min Su (民宿) as it garnered very good online reviews on its location, friendliness of hosts and cleanliness. 53.1 Homestay Min Su (民宿) arranged a taxi for us (NTD2000, SGD80+) which picked us up from the Chiayi HSR station to bring us to Fen Qi Hu (奮起湖, also spelt as Fen Chi Hu) before driving us to 53.1 at Alishan. Including the stop at Fen Qi Hu, the total journey was ~3.5 hours. For those who are prone to motion sickness like me, tip: I highly recommend you to take motion sickness pills and sit at the front of the taxi. The ride is windy and quite bumpy!
Also read: 5 Most Underrated Natural Attractions In Taiwan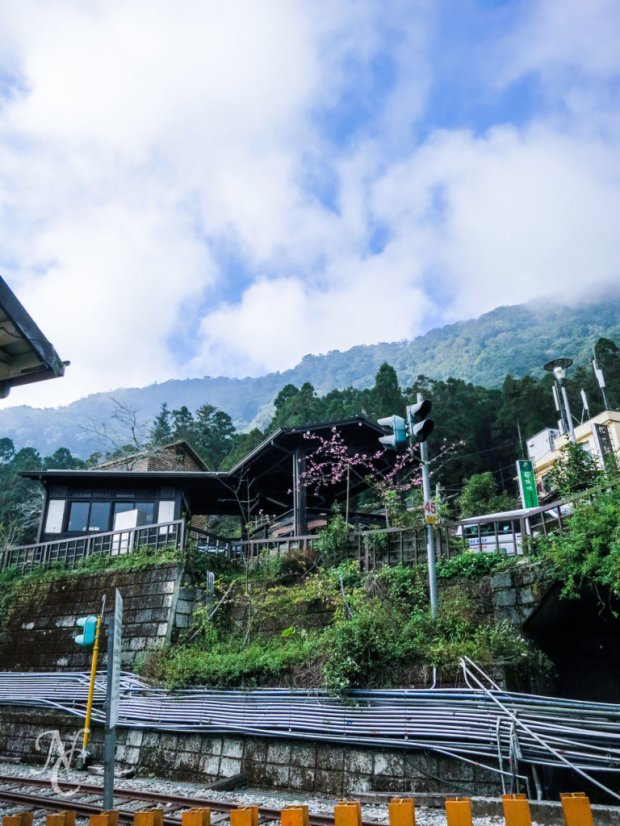 Pretty Cherry Blossoms welcomed us at Fen Qi Hu (奮起湖)
History of Fenqihu
Fenqihu (奮起湖) has a long history that can be traced back to 100+ years before the opening of the Alishan Forest Railways in 1912. As I learnt from the official Alishan site, Fenqihu is surrounded by mountains on three sides and with the ground low and flat, such that it looks like a bamboo dust pan (fen qi). When embraced by mist and cloud, it looks like a lake (hu), so the area earned its name as Fenqihu. The Alishan Forest Railway which runs through Fenqihu was built around 1912 by the Japanese during the occupation, which made Fenqihu a popular stop for lunch. According to historical writeups, "back in the days when the only way to reach Alishan was by rail, Fenqihu was the largest and most significant halfway point station that lumberjacks and workers would take a rest and have lunch."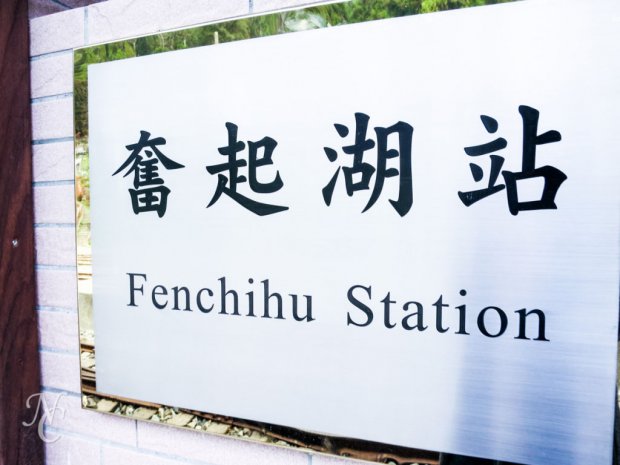 Fen Qi Hu (奮起湖) Train Station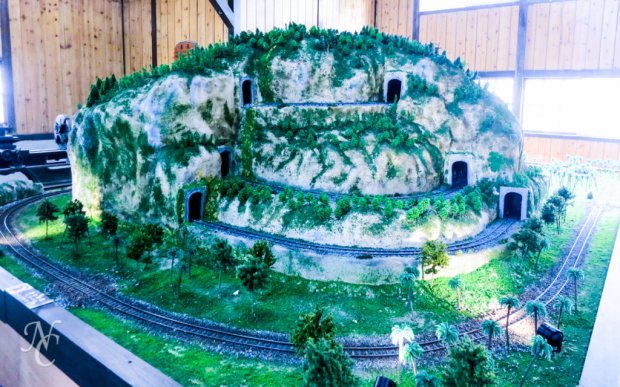 Model of what the historical train system looks like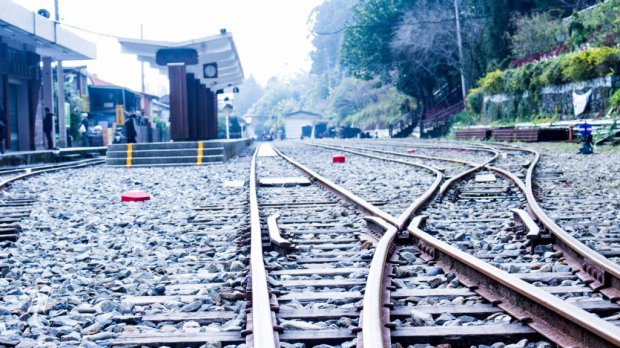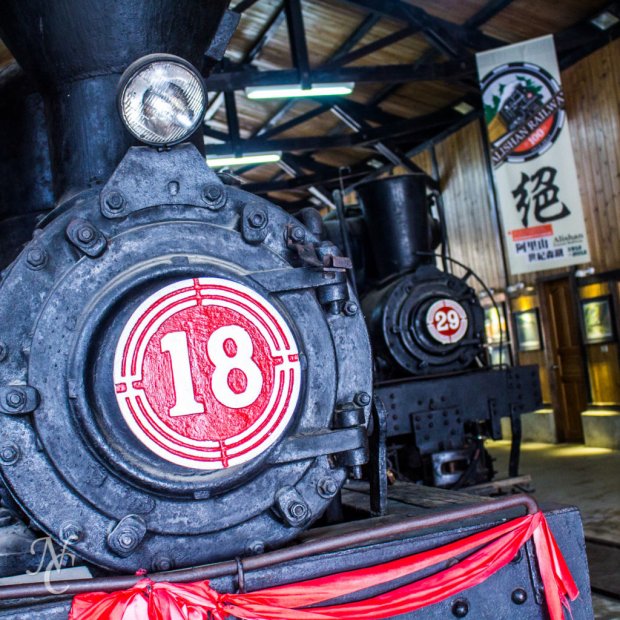 Historic trains exhibited
Lunch takeaways and mochis
Fen Qi Hu is known for its Bian Tang (便當, Lunch takeaways) and Mochis. I like the traditional old town feel in Fen Qi Hu. I also appreciate the effort the locals have taken to preserve the traditional trains that used to run through the area and also the Bian Tang food culture unique to Fen Qi Hu.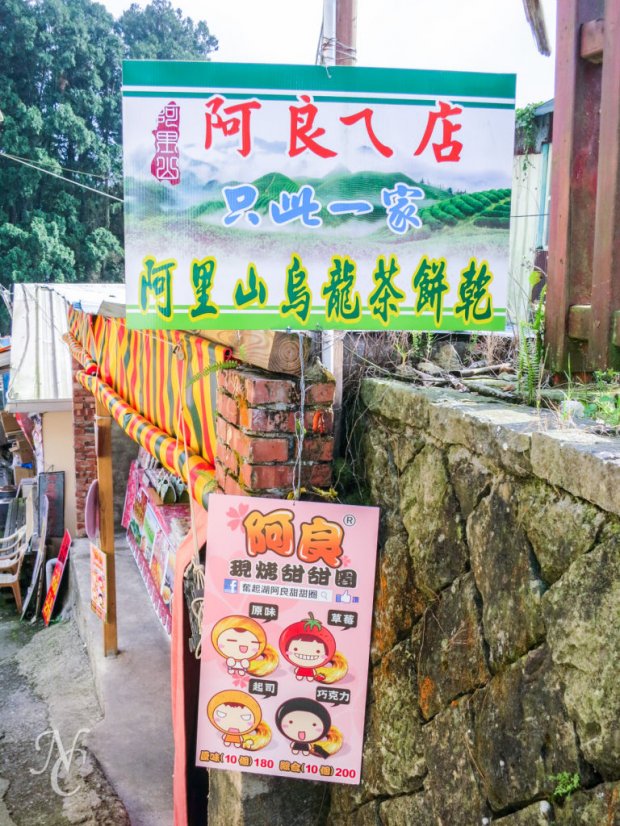 Ah Liang shop for its Bian Tang (便當, Lunch takeaways)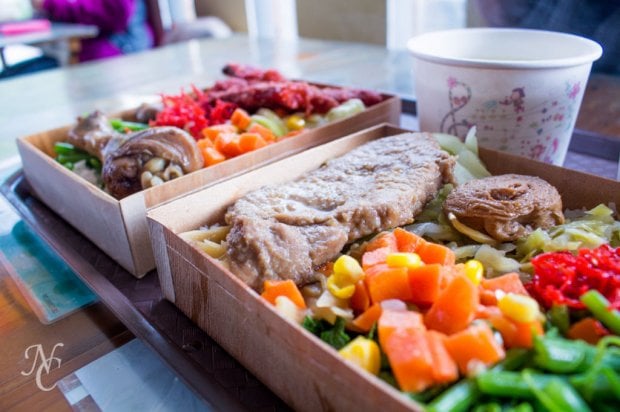 Chicken rice for lunch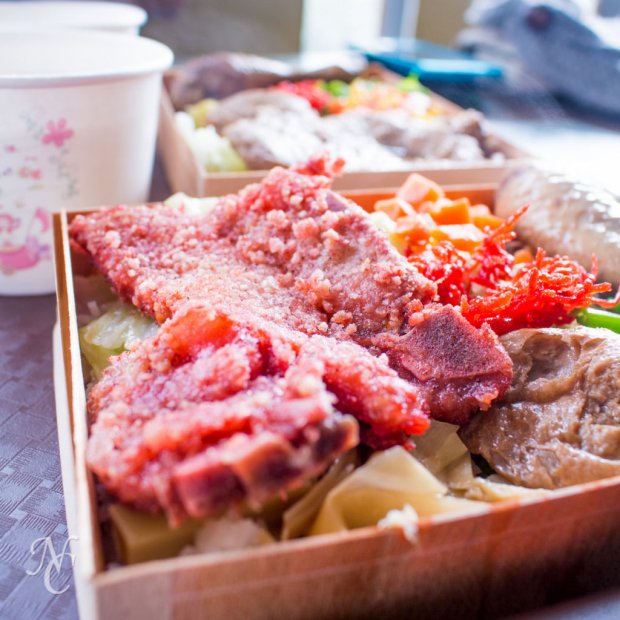 Historical Bian Tang place – pork for lunch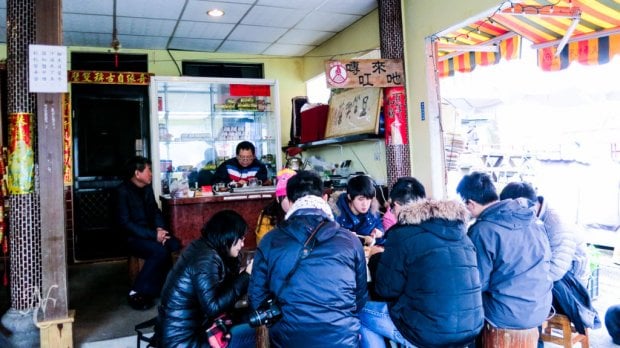 Popular Bian Tian shop among tourists
We chanced upon a very good kurobuta pork jerky store that comes in wasabi, black pepper and almond flavours. Recommend to buy back as snack/souvenirs!
Also read: 21 Taiwan Street Snacks You Must Try
Literally 混蛋 heh.. mixed eggs
The Mochis in Fen Qi Hu (奮起湖甜甜圈) are fresh and soft. I recommend the black skinned mochi that is the black sugar flavour native to Taiwan; a lot of the other mochi flavours can be found in Singapore already. 奮起湖甜甜圈 also sells good freshly baked cheese donuts.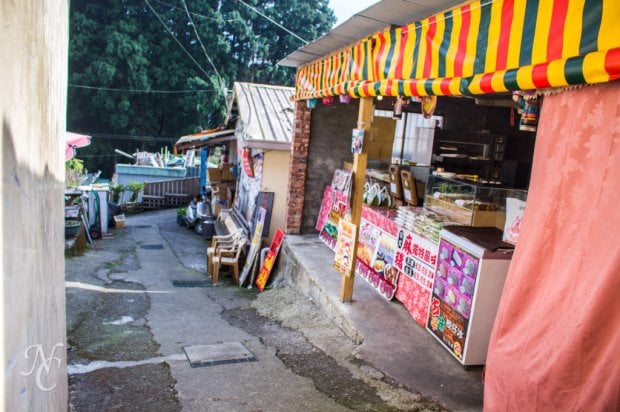 Exterior of 奮起湖甜甜圈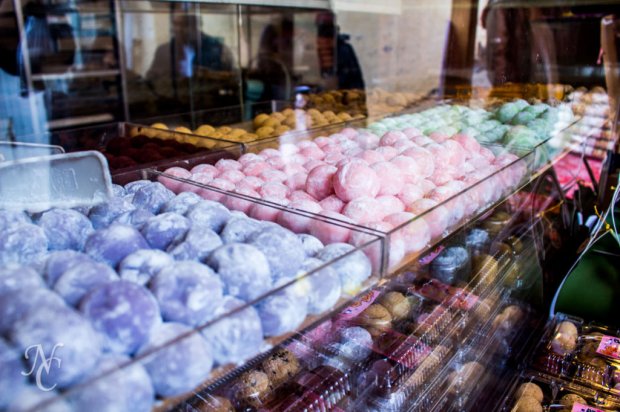 Pretty mochis at 奮起湖甜甜圈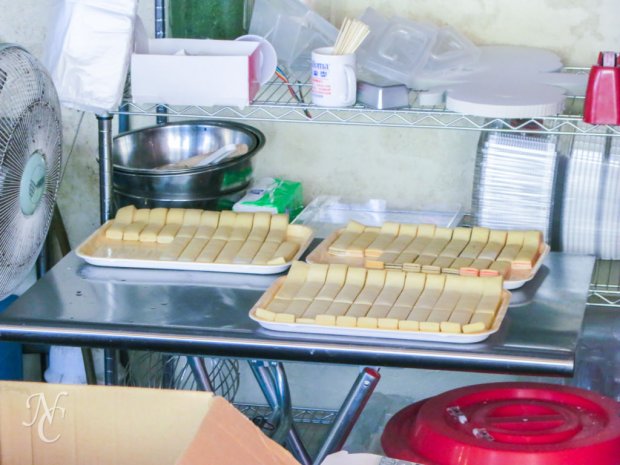 Raw donut doughs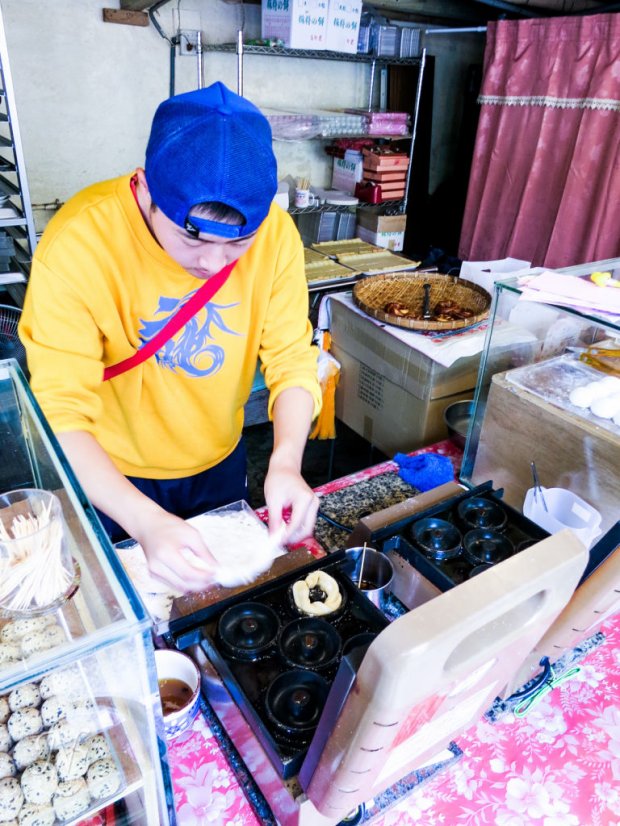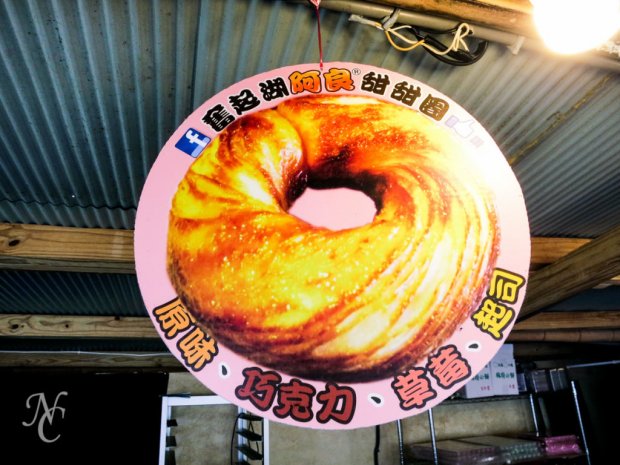 Recommended accommodation in Alishan: 53.1 Minsu
After 3.5 hours, I was very glad to arrive at 53.1 Minsu (民宿), which is a lot more modern looking than how I imagined. It is also the most modern structure in the mountain areas. 53.1 Minsu is a 2 storey home with glass panels from ceiling to floor, allowing for majestic views from within the Minsu. The hosts, Mr Cai and his wife, Lily, together with their 2 children live on Level 1, renting out the 3 rooms on level 2 to guests.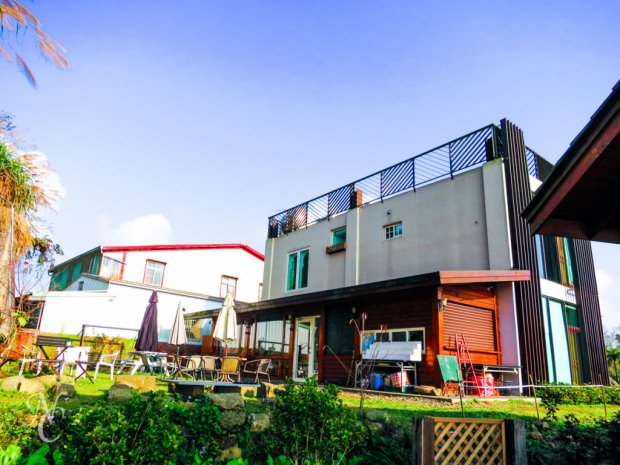 Modern looking 53.1 民宿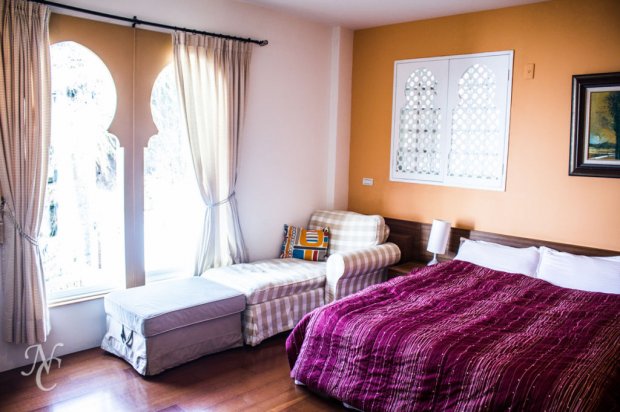 Room 53.1 – inside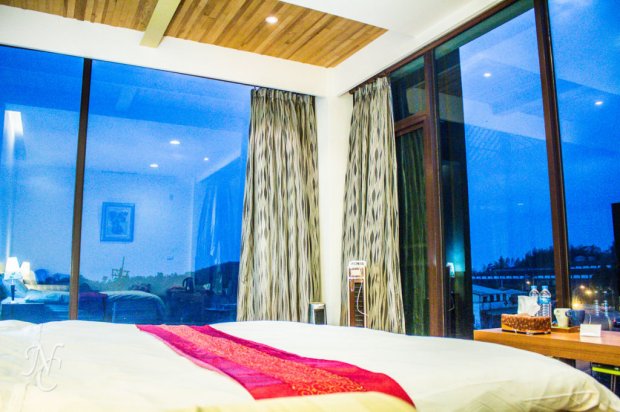 Room 53.2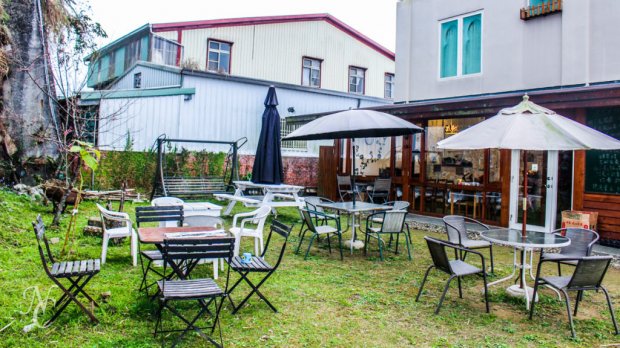 Roomy backyard of 53.1 to hang out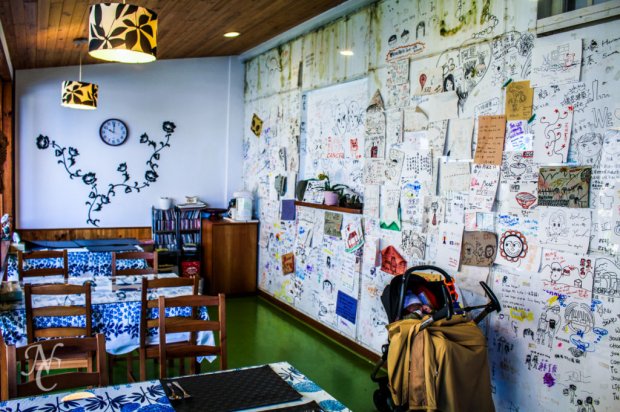 Many handwritten testimonials in the dining area of 53.1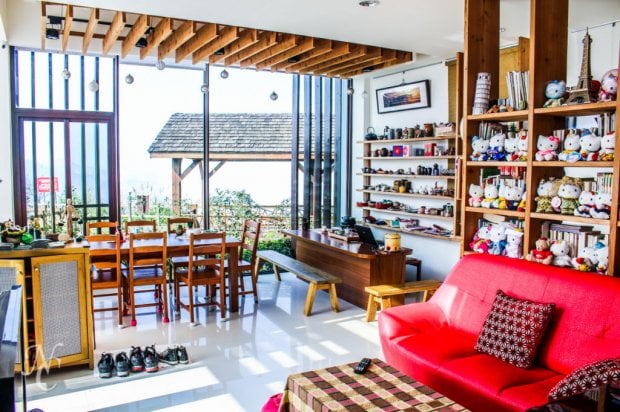 Helly Kitty Galore in 53.1 Common area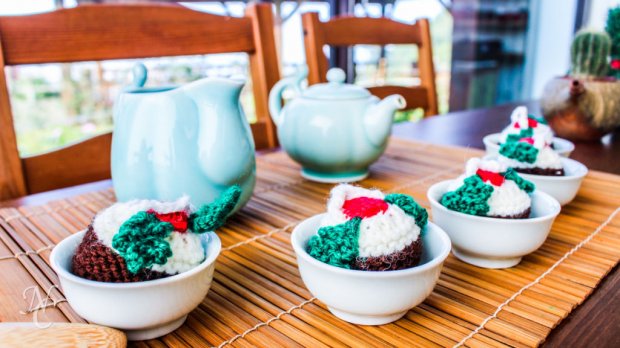 Cute tea set for the Christmas season
Herbal tea egg for breakfast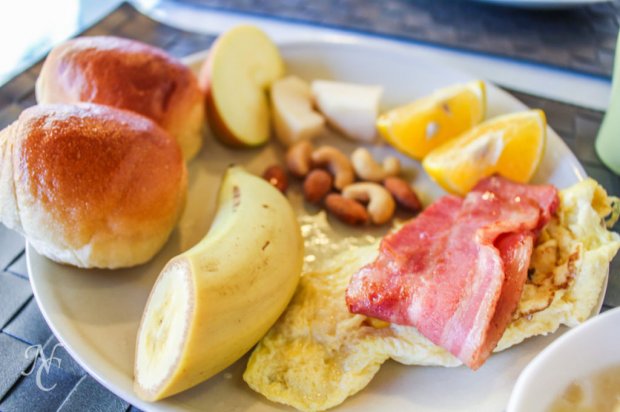 Hearty home cooked breakfast of 53.1
The famous Alishan sunset
53.1 Minsu is very conveniently located right next to a great spot to view the famous Alishan Sunset. One can climb up the trail in the backyard of 53.1 to view the famous Cloud Ocean (雲海) and Tea Plantations. The trail can take up to hours to complete so in winter,  do ensure you are able to return to your accommodation by 5pm as the sun sets early.
Also read: 8 Picture-Perfect Locations to Visit in Taiwan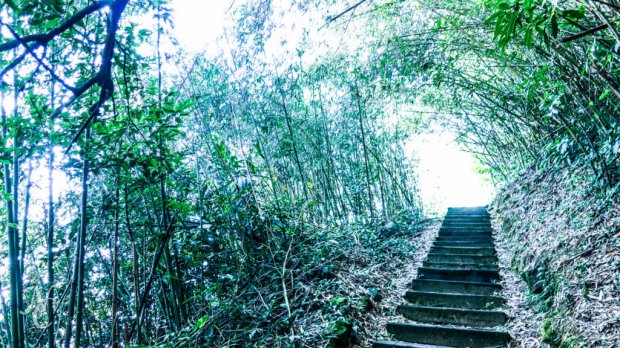 Slow climb up the trek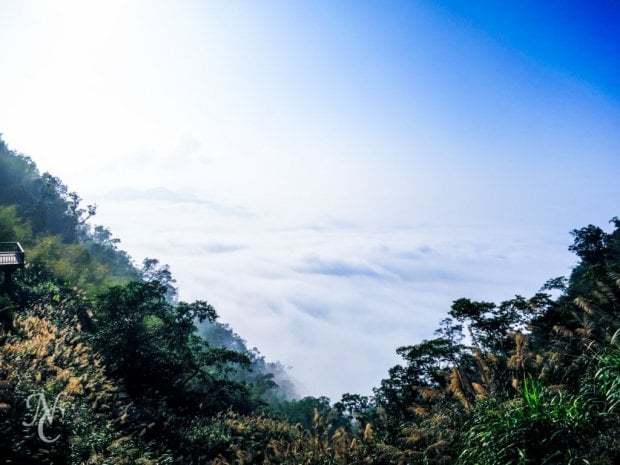 Sea of clouds… worth the climb :)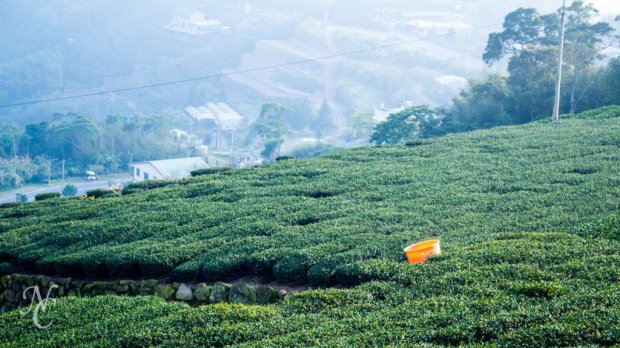 Endless rows of tea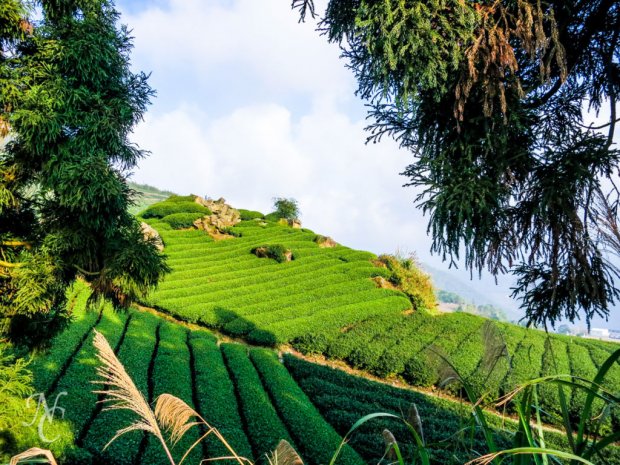 Camped outside 53.1 waiting for the famous Alishan sunset, and she didn't disappoint with her glory...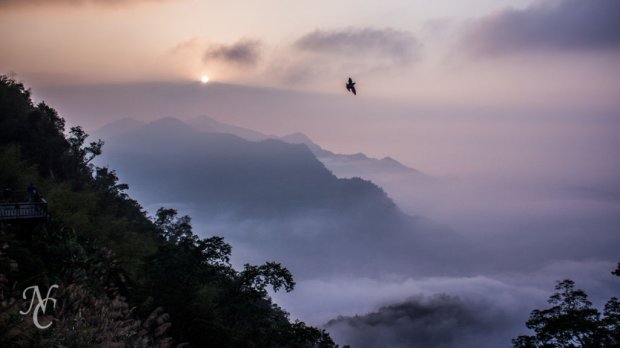 Amazing Alishan Sunsets with a bird soaring in the foreground
Before my trip, I always thought that Alishan was a particular mountain. I learnt on this trip that Alishan is actually a whole mountain range, and that 53.1 is still 1 hour from the main Alishan attraction where the historic trains and Sacred Tree (神木) station is. However, the public bus stop is right outside 53.1, and you can get to the main Alishan attractions area in 1 hour. When I saw the crowd in the main Alishan attractions area, I was glad we chose 53.1 for a quieter, homely stay. A bonus point is that we had the chance to view both the sunsets (right next to 53.1) and sunrise (Xi DIng viewpoint 200m from 53.1) from 53.1 Minsu.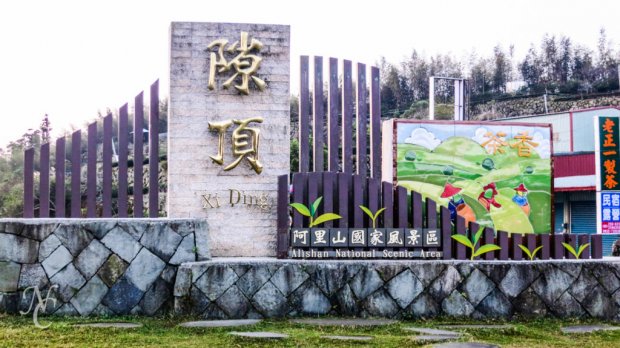 Viewpoint to catch the sunrise (~7am) where the sun will rise behind the highest peak of Alishan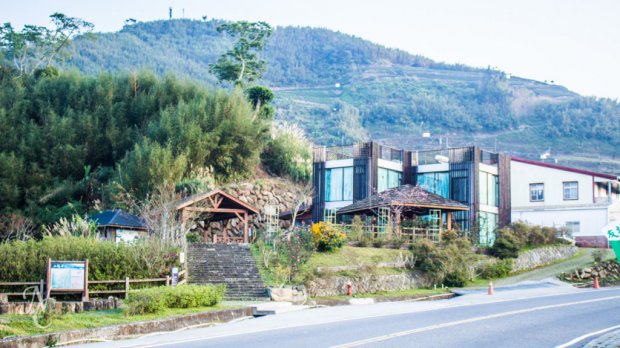 View of 53.1 Minsu from the VIewpoint. Yup, it is THAT close...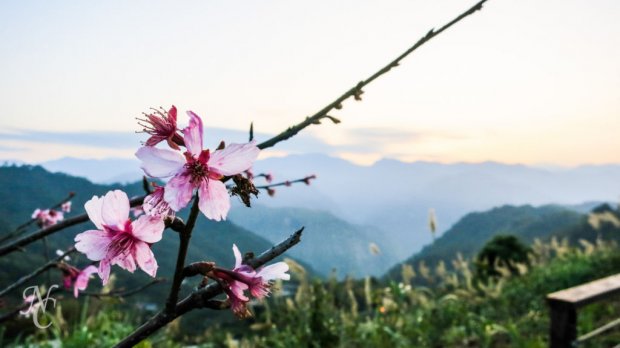 Cherry Blossoms, with Alishan sunrise in the background
Tea tasting in Alishan
On day 2 in Alishan, after our visit to the main Alishan attraction, we returned to Mr Cai and Lily's tea shop right opposite 53.1 for tea tasting. It was educational learning about the different types of tealeaves grown in the Alishan area. For example, the tea leaves grown in higher altitudes tend to have stronger tannin aftertaste. It was the first time I could really smell and taste the difference in the various types of Chinese teas.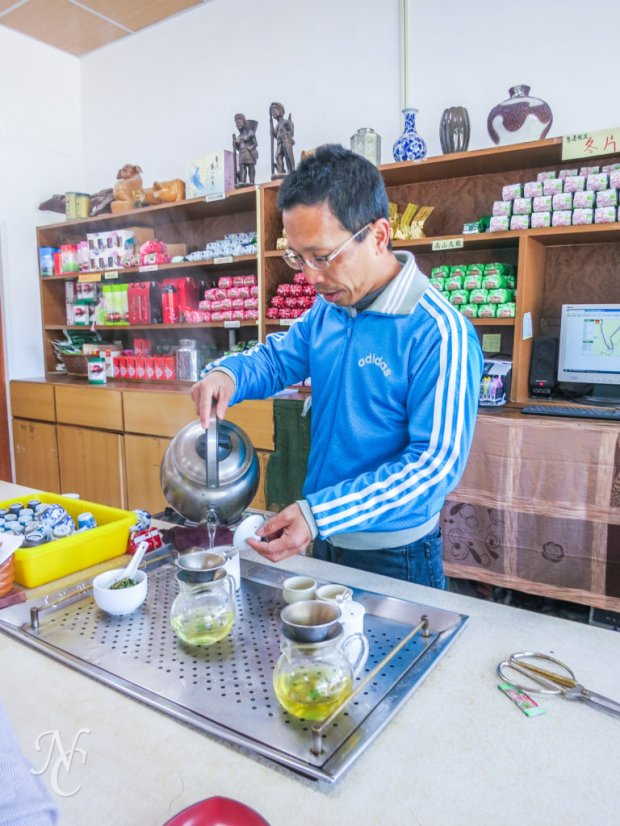 Mr Cai tea tasting session
After tea tasting, Mr Cai drove us to aboriginal Youbasi (means rich in the native tribal language) Restaurant, where we got to try some very traditional native tribal food of the aborigines. The rice was traditionally cooked in bamboo, givimg the starchy short grain rice a very unique taste. The Shrimp Wine is also very unique but has a very STRONG shrimp taste. Imagine taking the flavour out of over 100 dried shrimps and compressing it into an alcoholic drink. We do not recommend this t people who do not like prawns and shrimps. I tried the Honey Wine, which was sweet and also comes with dead bees, for a true tribal experience.
Also read: 5 Reasons Why Taiwan Should be on Your Bucket List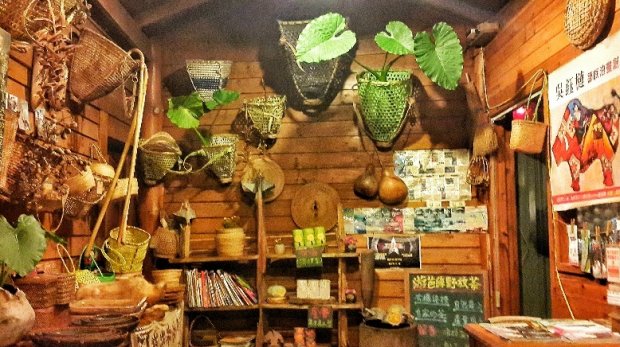 Aboriginal Youbasi restaurant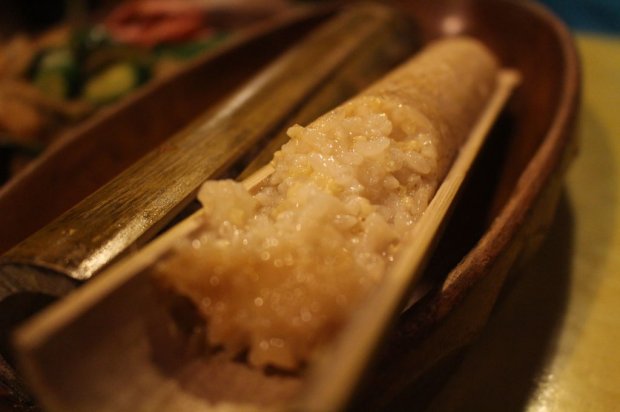 How rice is served traditionally in the tribes – in a bamboo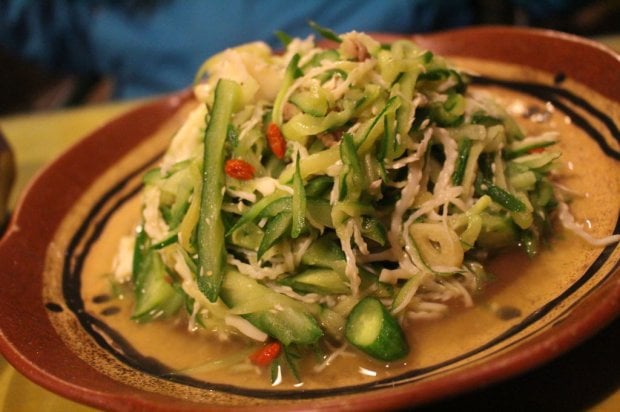 Mountain vegetables lightly tossed in oil
Spacious Youbasi Restaurant
Mr Cai and Lily left Taipei 20 years ago to pursue a quiet, simple lifestyle in the Alishan mountain range, running a tea shop across the road from 53.1, and 53.1 minsu. They regard all the guests who stay at their minsu as friends. This mindset explains their warm hospitality– they ensured that we flagged down the correct bus, explained to us in detail how to purchase our ticket back to 53.1 and also switched on the GPS to ensure that we only head to the bus stop when the bus is approaching. Conversations with Mr Cai, Lily and their children gave us a plenty of insights into the local Taiwan culture, and this made the homestay very meaningful. This is a highly recommended homestay! The only thing to take note of is the lack of heating during winter, so do request for the portable heating station or tuck some heat packs under the blanket!
Also read: 21 Days Around Taiwan With Just SGD1000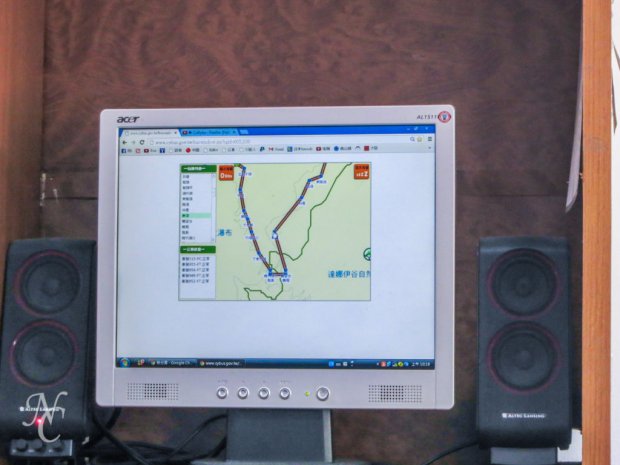 Mr and Mrs Cai turning on the GPS to ensure we only go out to the bus stop when the bus is near so we don't have to wait in the cold
阿里山53.1民宿
電話:05-2586263 手機:0937-350191
地址:嘉義縣番路鄉公田村第五鄰隙頂76之8阿里山53.1民宿
Website: http://531.okgo.tw
Contributed by Eat | Pray | Fly -ing.