February shouldn't be your only excuse to go on a romantic getaway with your special someone because you should be expressing your love and affection every single day that you are together.
True, it's nice to go on quick staycations once in awhile but hotels can be so overrated. You're probably considering roughing it out but if you aren't that keen to having an uncomfortable night in the mountains, there's always glamping as an option.
Also read: 12 Romantic Campsites in the Philippines to Get Away with Your Special Someone
Want to know your choices? Well, check out our list of the best glamping spots around the Philippines.
1. Crystal Beach Resort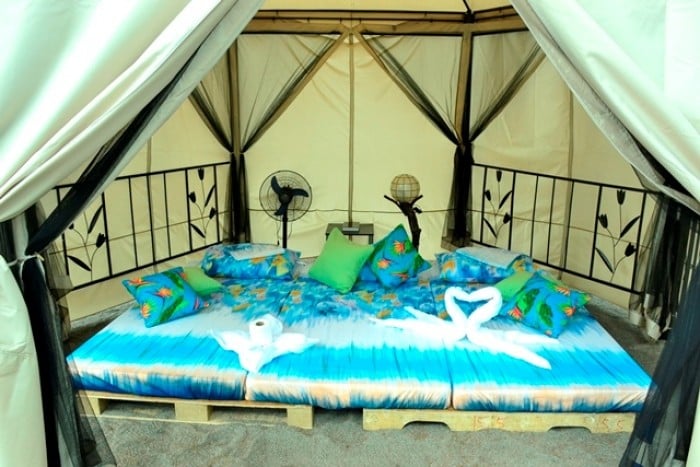 Image credit: Crystal Beach
Surfing in the morning then cuddling at night? I don't know about you but that certainly sounds like the perfect day for me. Head over to Crystal Beach and enjoy the most comfortable accommodations after a long day of catching some waves. If you've had enough of cuddling, you can also join the socials along with other guests in the resort.
Address: San Narciso, Zambales
Rates: Starts at ₱ 2,400 for three
2. Nurture Wellness Village
Image credit: Nurture Wellness Village
Tagaytay has always been known to be a romantic destination so don't be surprised why they have a glamping spot there! What sets this place from the rest is that here, you can also get to enjoy the best of healthy, organic dining. Not satisfied? What about a facial or foot massage? Nurture Wellness Village will keep not just your heart but also your body, mind and spirit happy!
Address: Tagaytay, Cavite
Rates: Starts at ₱ 3,190 per person
3. Aetas Glamping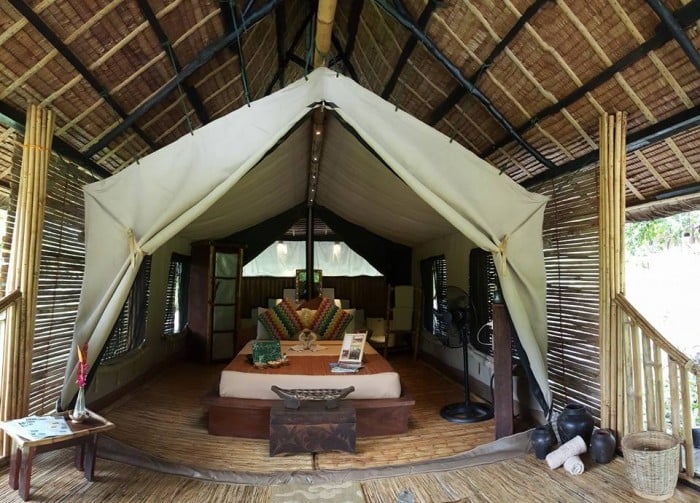 Image credit: Aetas Glamping
Aetas Glamping takes pride in offering the best of these three things: culture, nature and adventure. You get to enjoy the best of nature, with a breathtaking view of El Nido on top of a hill. Even the tents that you stay in are beautifully handcrafted by Filipino artists in Palawan. A big plus is that the site is just eight minutes away from the beach!
Address: Villa Libertad, El Nido, Palawan
Rates: Starts at ₱ 6,188 for two
4. Casa Antonio Vacations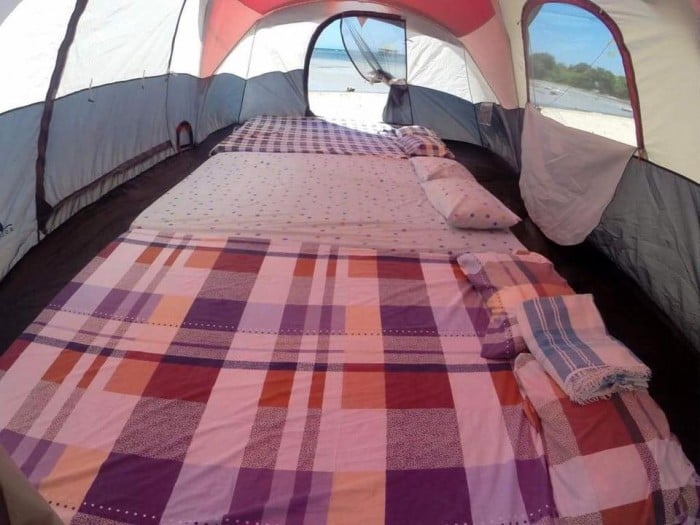 Image credit: Casa Antonio Vacations
Glamping and cuddling are best combined with the sun, sand and sea. Where to rough it out the glamorous way? Head over to Casa Antonio Vacations and feel like a king and a queen, a least for a day.
Address: White Beach, Calatagan, Batangas
Rates: Starts at ₱ 4,500 for two
5. Bloc Camp Site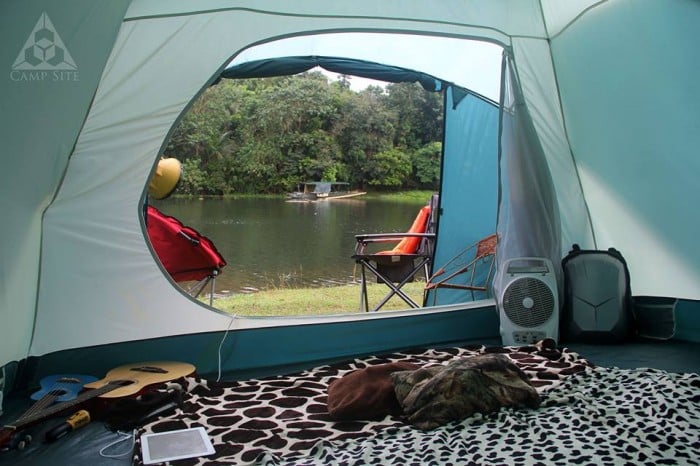 Image credit: Bloc Camp Site
If you can't get out too far from Manila, you have the choice to head over to Laguna! What makes this place different is that you get to enjoy a beautiful view of the lake. If you want to do more exciting things, you can also make your way to the nearby eco-park and even follow the trail to Pagsanjan Falls. Cool, right?
Address: Sierra Lake, Cavinti, Laguna
Rates: Starts at ₱ 3,650 for six
Also read: Camping in the Philippines: 10 Sites with the Most Incredible Views
6. Easy Adventure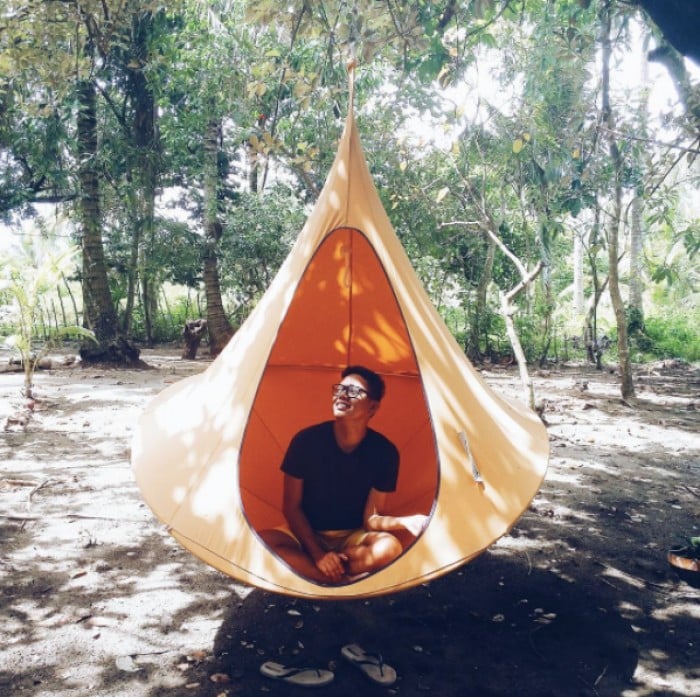 Image credit: Easy Adventure
What's your idea of an adventure? Easy Adventure is an advocate of doing nothing because, really, getaways are about relaxation. But, if you really can't just spend the entire day lying inside a glamorous tent (or hammock), you can also opt to do watersports and yoga or go on side trips nearby or even surf.
Address: Charlie's Point, Baler, Aurora
Rates: Starts at ₱ 2,300 per person
7. San Rafael River Adventure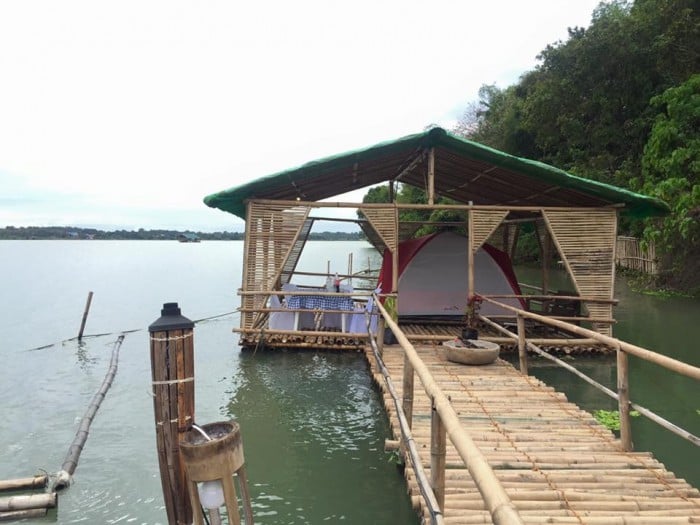 Image credit: San Rafael River Adventure
Is a bonfire by the river your idea of a romantic getaway? You can totally do that here in San Rafael! You can choose to stay for the day, for the night, or until evening the next day; you can even choose to have your tent on a floating raft instead of having it pitched on land. Then, you can awaken to a free breakfast and use their kayaks and paddleboards all throughout your stay.
Address: Talacsan, San Rafael, Bulacan
Rates: Starts at ₱ 2,000 per person
8. Ten Cents to Heaven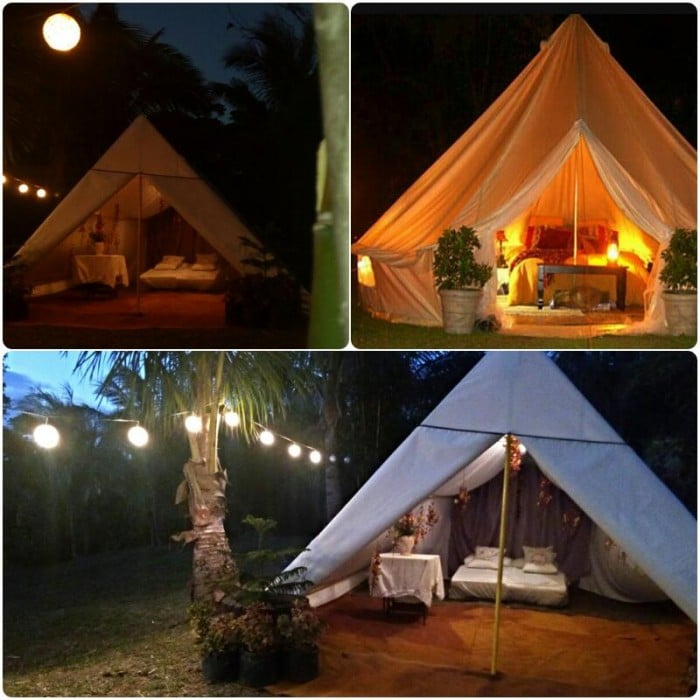 Image credit: Ten Cents to Heaven
Set on top of a mountain in Tanay, this glamping spot is the closest you can get to the Sierra Madre Mountain range but with less the stress for you and your significant other. It comes with a totally romantic setup and you can enjoy the place undisturbed.
Address: Sitio Mayagay II Cuyambay, Tanay, Rizal
Rates: Available upon request
9. Nayomi Sanctuary Resort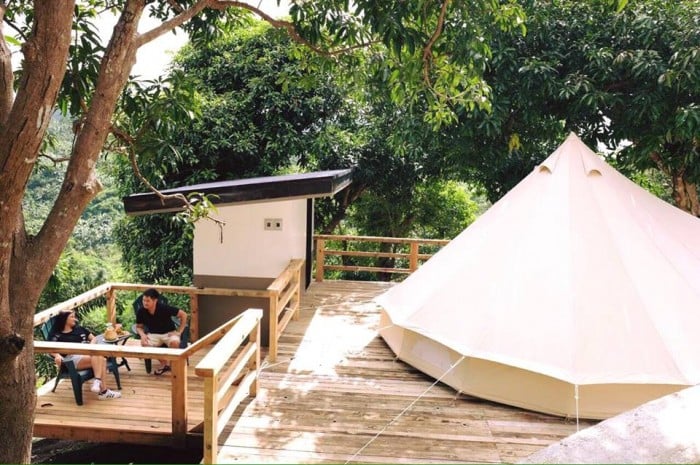 Image credit: Nayomi Sanctuary Resort
This resort is perfect for newbie campers who love to be close to nature. The tent's interior has a really cool vibe that will set the mood. *wink wink*. You will love the surroundings just as much, too. Plus, it's just an hour away from Manila!
Address: Balete, Batangas
Rates: Starts at ₱ 8,100 for six, includes breakfast
10. Bluewater Sumilon Island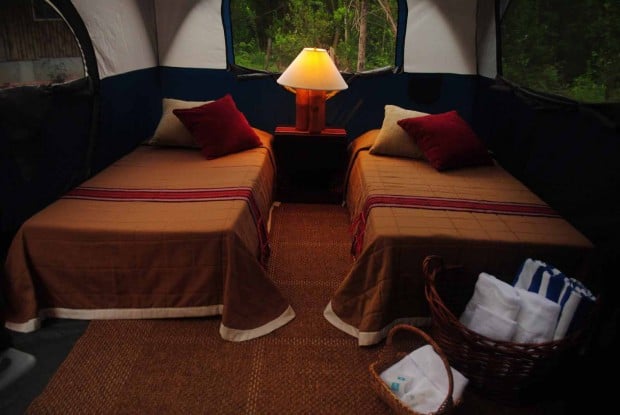 Image credit: Bluewater Sumilon
We didn't find a lot of glamping spots outside of Luzon except for this one in Cebu. While retreating to their beautiful and, indeed, very glamorous tent is a great way to cap the day, you and your partner will enjoy filling your day with fun activities around the secluded island. Yep, guests are limited so you can have that much-needed romantic vacation in peace.
Address: Sumilon Island, Oslob, Cebu
Rates: Starts at ₱ 12,000 for two
Also read: Why You Should Go Camping with Your Significant Other
Go on and share this post -- give your significant other a hint!