Have you ever considered going on a glamping getaway? If you have not tried glamping before, then the time is now! Glamping is the concept of "glamourous camping", which simply put, means camping in style. Just imagine: A camping site complete with instagram-worthy decorated tent and fully furnished with amenities and in some cases, even resort-worthy services (like spa sessions and nature hikes)! How awesome does that sound?
There many glamping sites in Malaysia which are located away from the hustle and bustle of city life. After all, Malaysia is blessed with various wonders of nature. From rivers, and mountains to parks and forests, Malaysia makes for the perfect glamping destination.
Excited to find out more? Here are some of the coolest glamping sites in Malaysia:
1. Tadom Hill Resorts, Selangor
Ever wondered what it's like to stay in the jungle? Look no further than Tadom Hill Resorts in Banting, Selangor! Here, you'll be able to take your pick from a selection of unique "room" accommodations...that are made entirely out of bamboo! That's right! Tadom Hill Resorts is an eco-friendly resort that was built with nature in mind. Choose to stay in a bamboo hut, eco tent site or you could channel your inner Tarzan and rock yourself to sleep in one of their hammock spheres!
There are also a plethora of exciting activities to look forward to such as the flying fox or abseiling activities. The younger ones can also indulge in playing congkak (a traditional game of Malay origin), volleyball, badminton or table tennis as sports and games equipment are provided for guests. Other amenities available include picnic huts and barbecue gazebos, so you can have a barbeque cookout party with your family too! Simply make a booking in advance with the staff.
Address: Kampung Labohan Dagang, 42700 Banting, Selangor
2. Sailor's Rest, Sarawak
Here's another popular glamping spot in Malaysia! Located in the highlands along with the famous Titiwangsa Mountain Range of Malaysia, Sailor's Rest is a place where you'll be able to get your fill of fresh air and magnificent views. This resort offers a variety of fun and interesting accommodation types – from a boathouse and bungalows to kampung or modern chalets!
Take some time off to stroll around the garden and admire the different fruit trees or go on one of their many adventure activities offered, which include waterfall trekking, river bathing and river walking too!
Address: Lorong Dato' Panglima, Kuala Lurah, Kampung Janda Baik, 28750
3. Glamping Pinang Sebatang, Selangor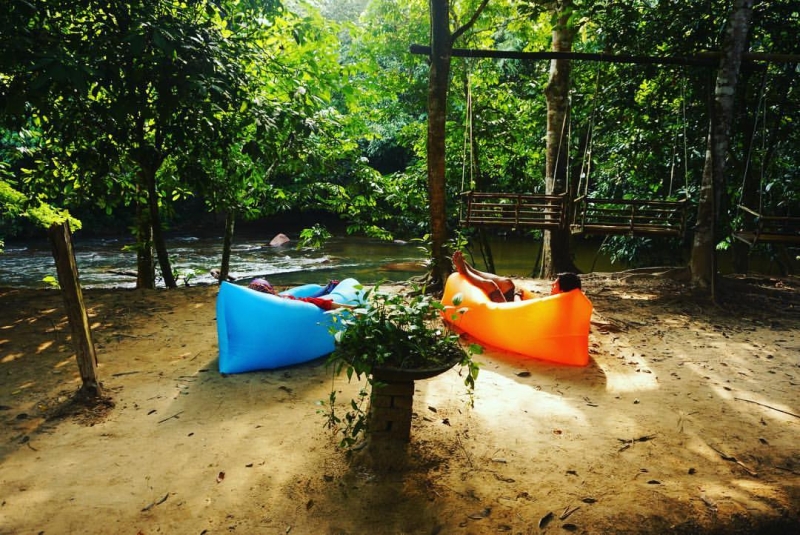 More of the lazy glamper who would rather just sit back and enjoy the view instead of making a beeline for the adventure activities? Then try going for a glamping retreat at Glamping Pinang Sebatang ! This glamping facility provides lots of comfortable inflatables for you to lean back and snooze in or you can even opt for the wooden swings or hammock stacks!
What could be better than waking up to the sound of chirping birds and rushing water from the nearby waterfall? There truly is no better way to relax and unwind than on this glamping getaway!
Address: 44000 Kuala Kubu Bharu, Selangor
4. Caravan Serai Exclusive Private Villas, Pahang
If you are in need of an escape from the sweltering heat of tropical Malaysia while glamping, then a retreat to Caravan Serai Exclusive Private Villas is just the place. In Caravan Serai, each private villa contains its own plunge pool for a dip whenever you like. Along with lots of rivers and a waterfall nearby the campsite, you'll find that cooling off on your glamping retreat just cannot get any easier! Apart from swimming, guests can also go fishing, jungle trekking or hop on an ATV for an adventure ride!
Caravan Serai also hosts nature walks where you get to go for a guided tour through the forest, wade through muddy streams and even have a go at tapping rubber trees for latex! This retreat is ideal for those who want to just take a break and escape into nature. What are you waiting for? Just choose one of the safari tents or villas and get ready to enjoy your glamping experience!
Address: Lot 3159 & Lot 3160, 12 3/4 Mile Jalan Tras, 28700 Bentong, Pahang
5. Canopy Tribes, Kota Tinggi
Canopy Tribes is one of the most popular glamping experiences in Malaysia and it is also the top choice for outdoor and adventure activities among locals and foreign tourists alike. Set yourself up in a bell tent out in the lush tropical rainforest of Kota Tinggi and get ready for an awesome nature adventure!
Other than camping in the great outdoors, popular activities at this nature retreat include ATV rides, water rafting and abseiling. Campers can even embark on a firefly cruise where they'll get up close and personal with little glowing fireflies! If you are travelling with your squad or extended family and worry that they cannot accommodate everyone, fret not as Canopy Tribes has professional instructors and tour guides on standby to cater to large groups.
Address: Jalan Lombong, Kota Tinggi 81900, Malaysia
Whoever thought that it would be possible to camp out in the great wilderness without compromising on comfort? Glamping is indeed truly a unique and exciting experience that's worth trying. It's time to gear up because your weekend plans just got sorted!